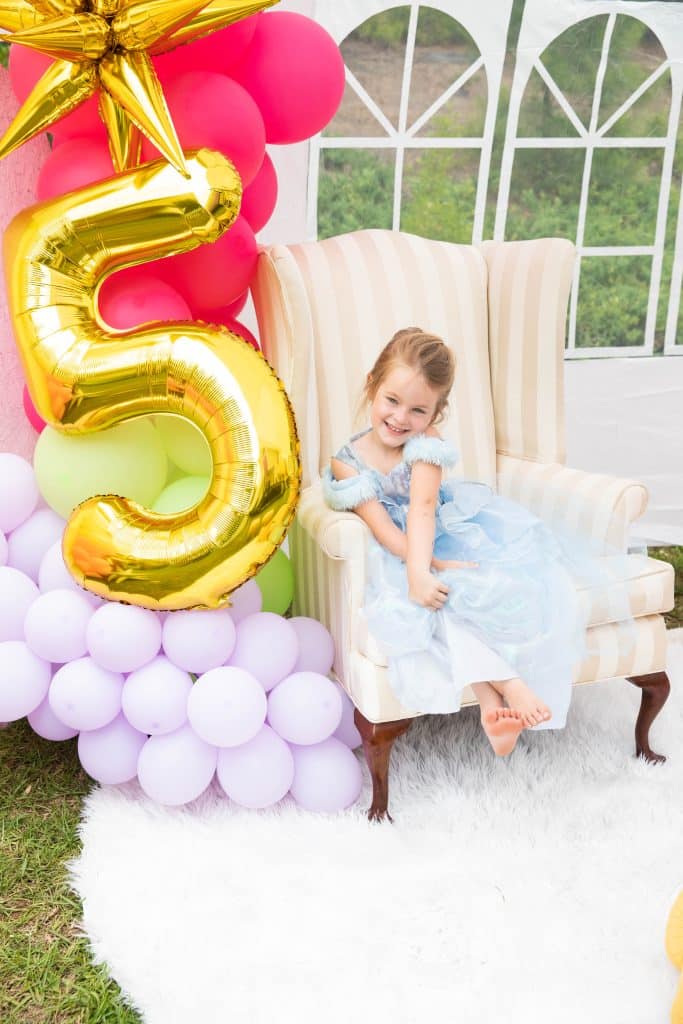 My girls and I are Disney Princess obsessed. Of course each of us has our own personal favorite, but we're princess lovers down to the very core. When Caroline turned 4 she had a Frozen themed birthday because Elsa has been her favorite forever. So when she decided on an all Disney princess birthday party, I couldn't help but feel a tinge of glee! The Happy 5th All Princess Birthday Party is a great way to let the birthday girl celebrate as every princess so she doesn't have to decide.
Most of this party was in partnership with Oriental Trading Company. It's my favorite place to go when planning a soiree where I know I can find tons of great decorations and party favors. I'll be linking all that I can, but feel free to comment or email me with any questions!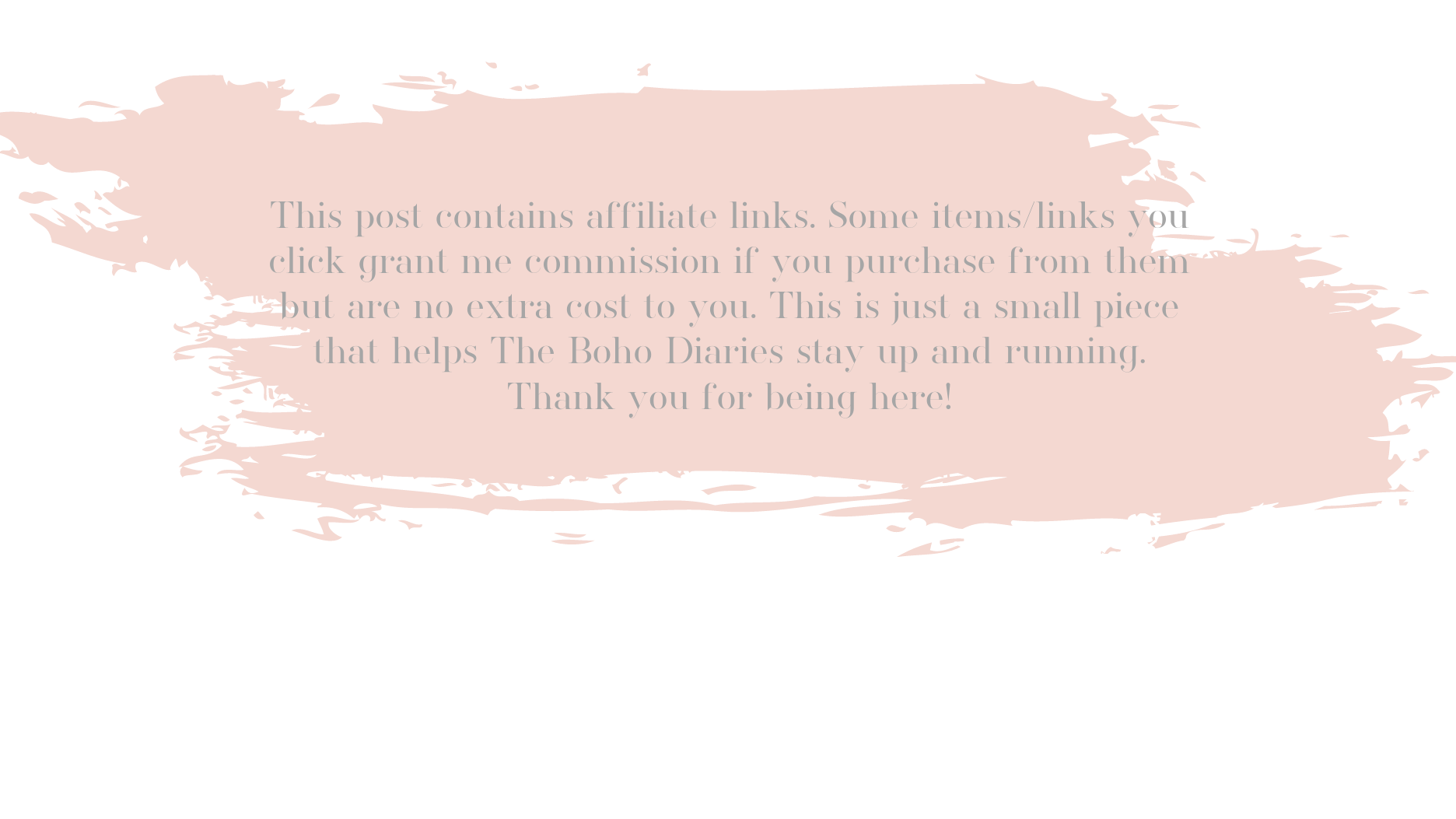 For the Happy All Princess Birthday Party
I stuck to my coveted three pillars to throwing a great party:
Party Formal Table
Party Food Table
Party Activity
This party in particular included a bit more because my mind raced with so many fun ideas and of course Pinterest is NEVER any help with minimizing a party and I can never stay away from it. So I technically had 3 activities for the kids to do along with two separate photo op zones. Oriental Trading has SO many cute full backdrop you can get for tons of different parties, but they have the best for throwing a Princess Party in the adorable princess carriage and Arendale mountains backdrop.
The royal grand entrance is made out of painted boxes turned into a castle for the day, with the royal carriage waiting at the gates, a balloon drawbridge, and princess color banners I made from jute strong and table cloths. I placed a Once Upon a Time Banner over the top of the castle to begin each little princesses journey through the party.
I will work on a quick little tutorial on how I made the tablecloth banner very soon so stayed tuned for that easy trick. They are great additions to any kids party elevate a theme when you stick to the main color story. I draped them through the entryway as well as over the back patio.
---


---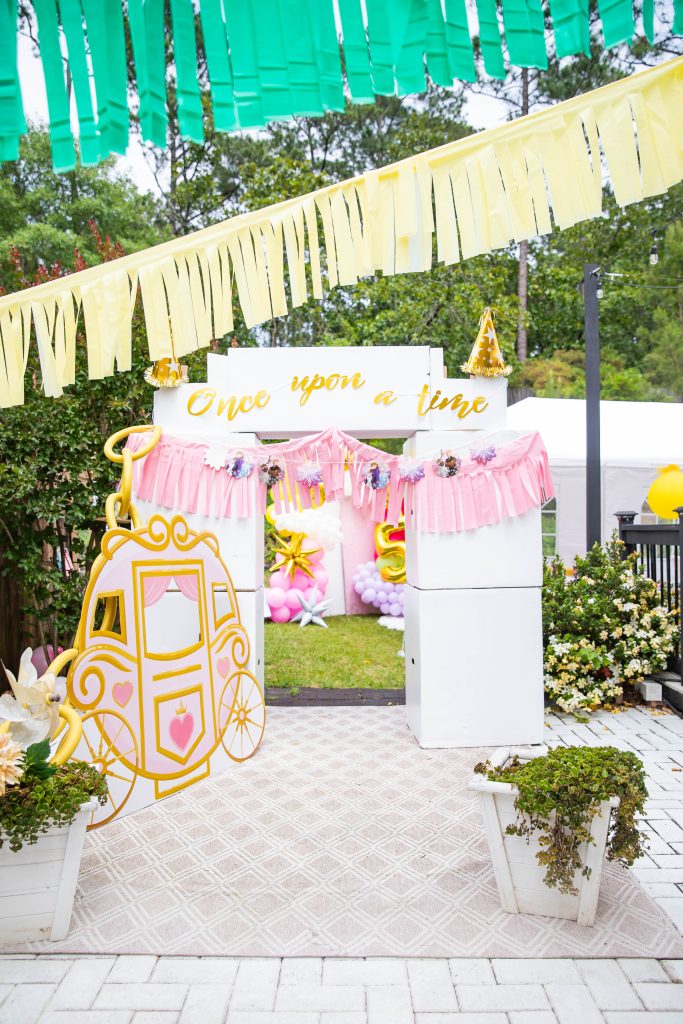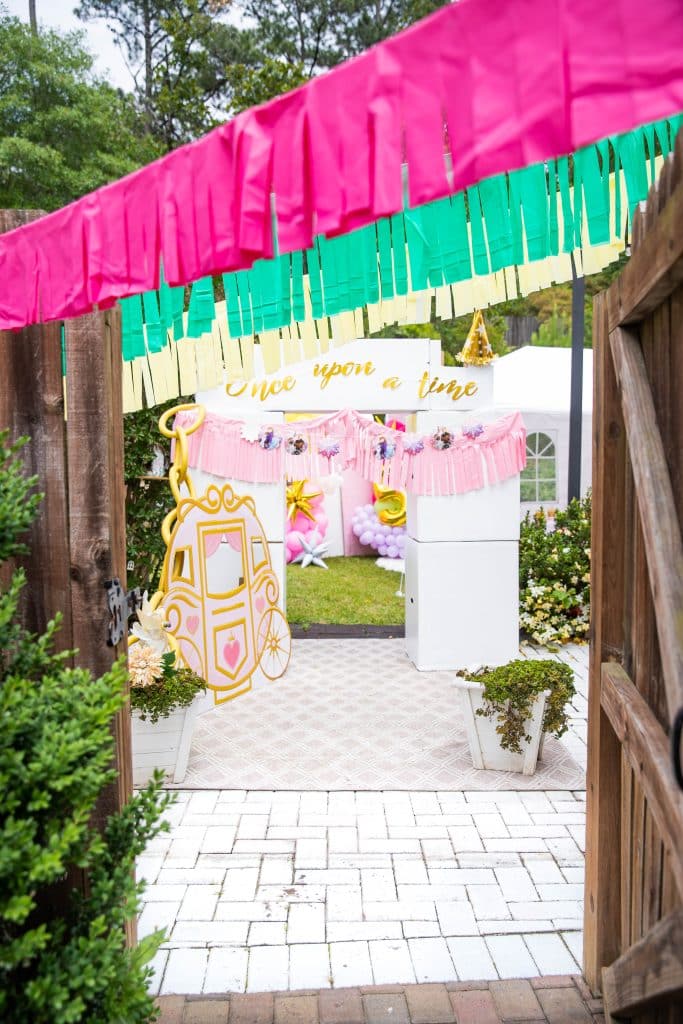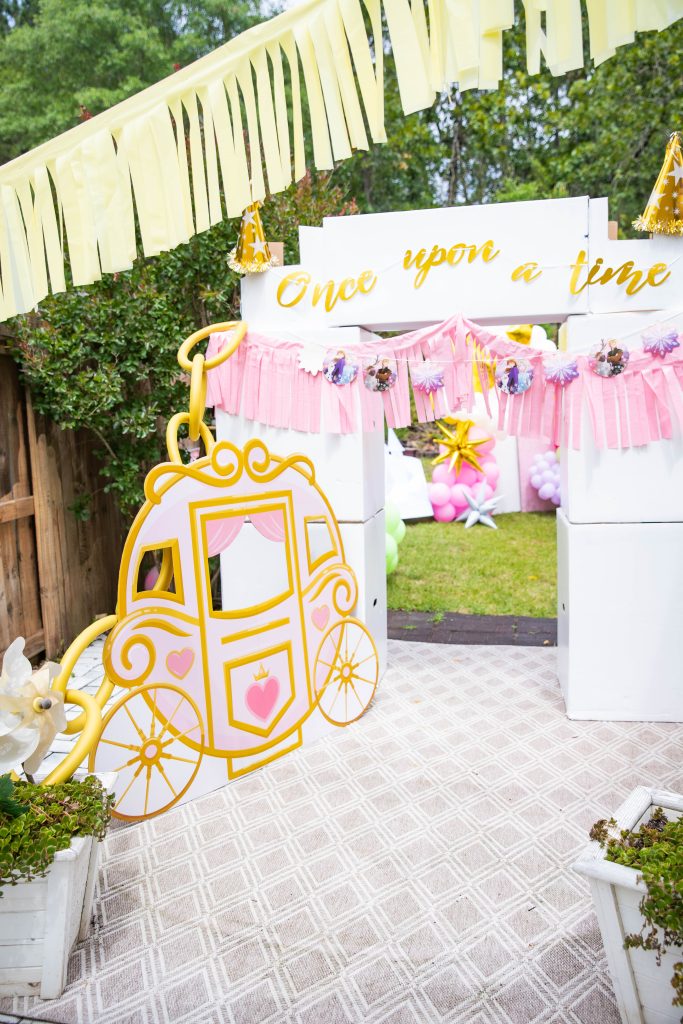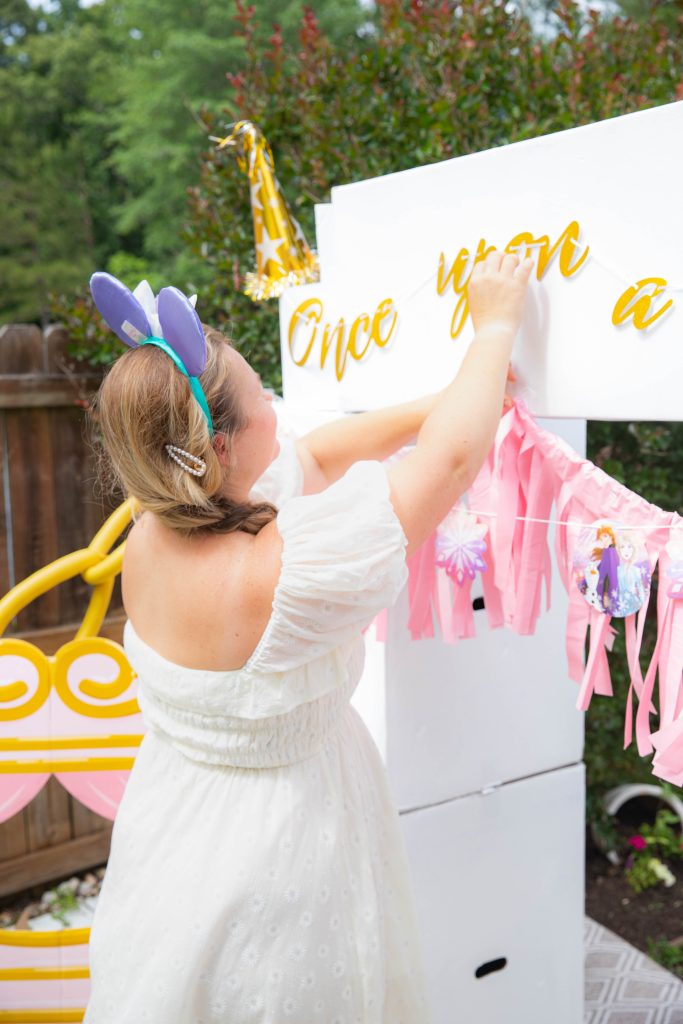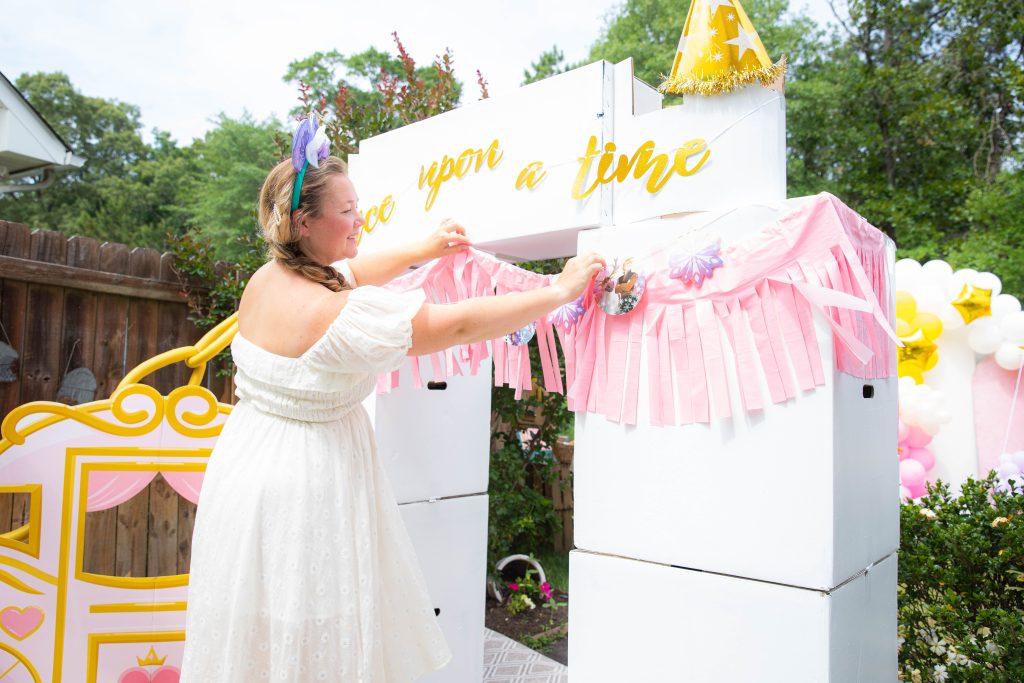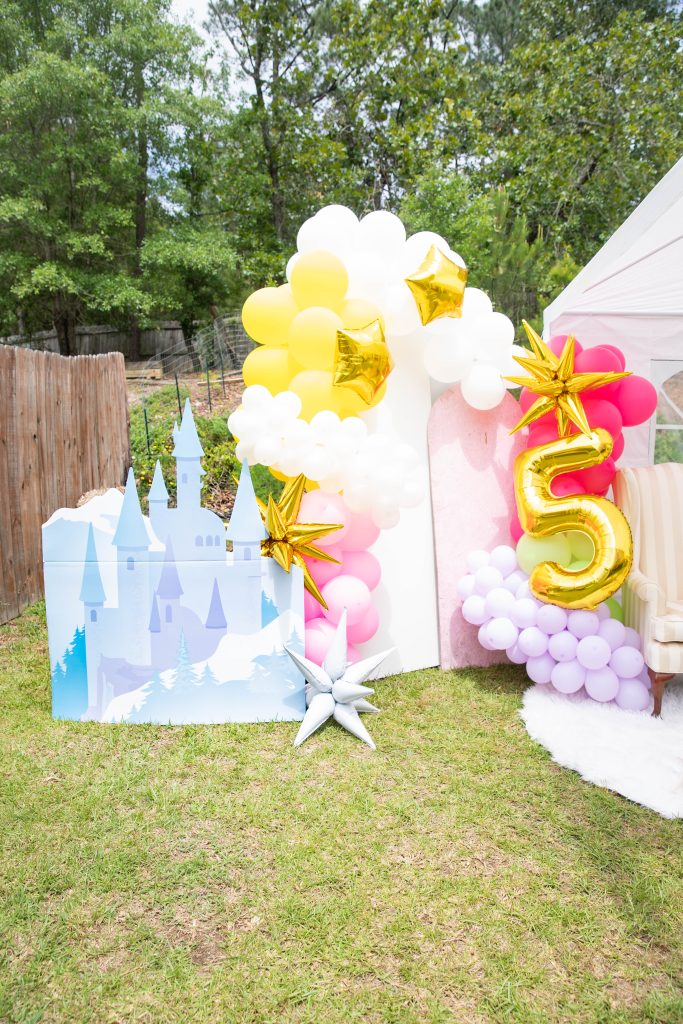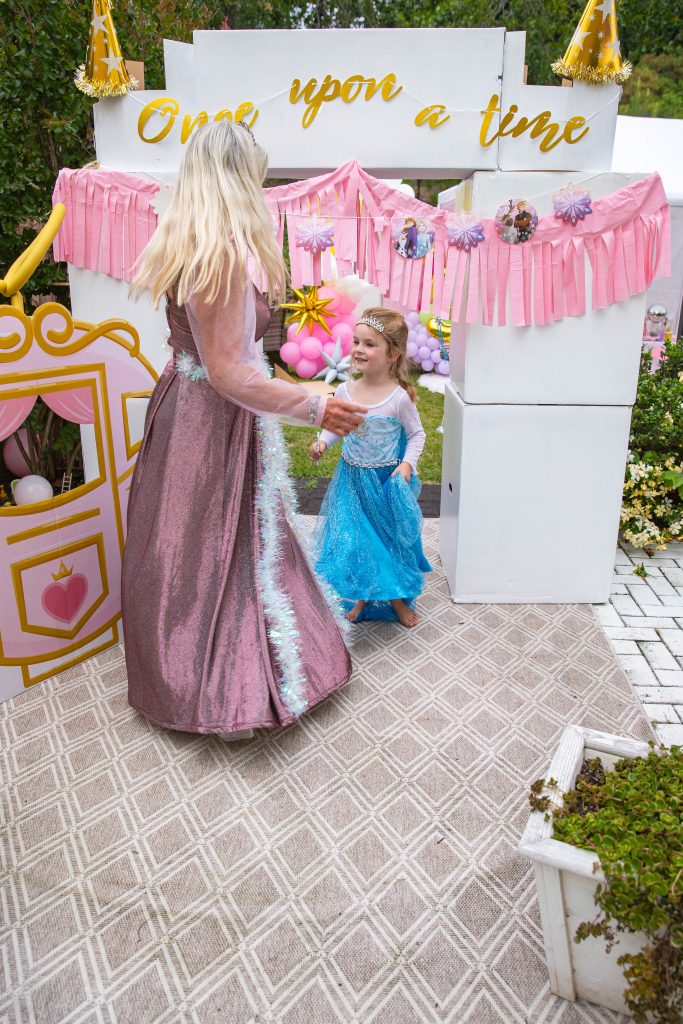 ---
Every Princess needs her own place setting
and with this party each princess had her own spot at the table. With this gold rimmed plates acting as a charger and these perfectly themed princess party plates, the tables came together perfectly! The princess crown bowls are a must have for this royal soiree as they are a very good size and can used for so many things!
Everything except the disco balls were found on Oriental Trading but even those I believe you can find there as well! I loved walking around and hearing Caroline's little friends look at each princess and talk about who was their favorite and why. Disney Princess sure bring magic to a girls' childhood and I'm so happy I get to share that with my girls as the princesses were so special in my own.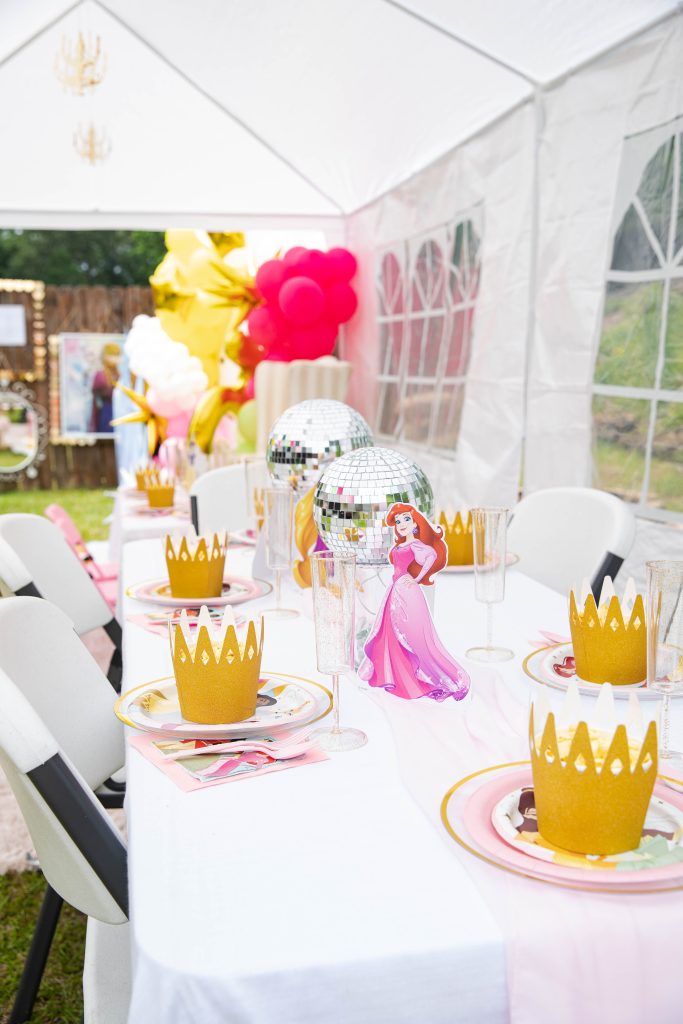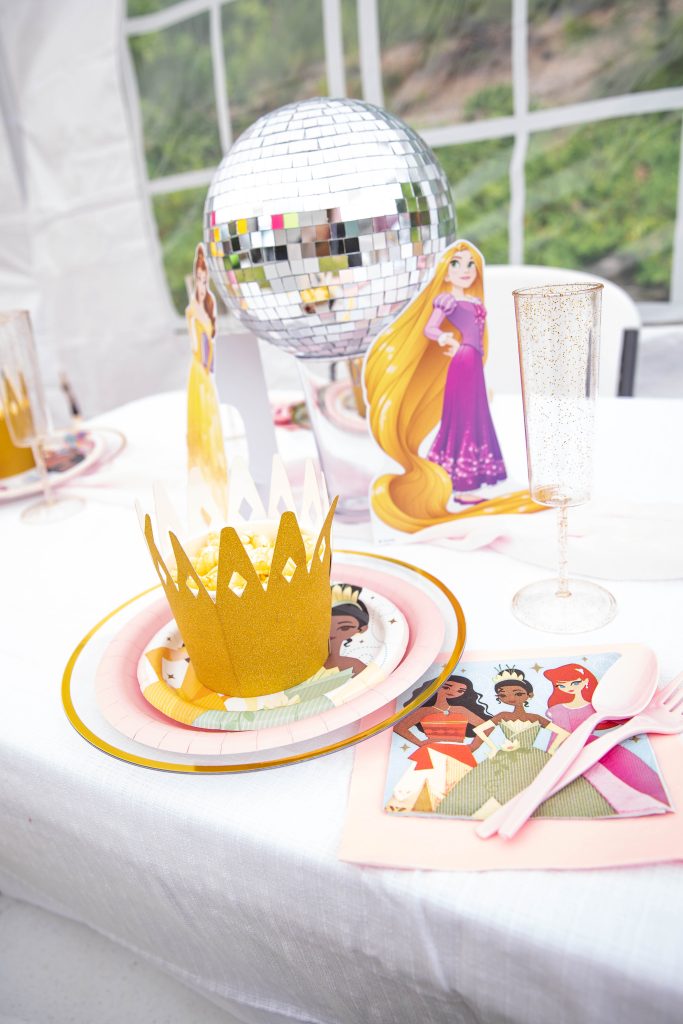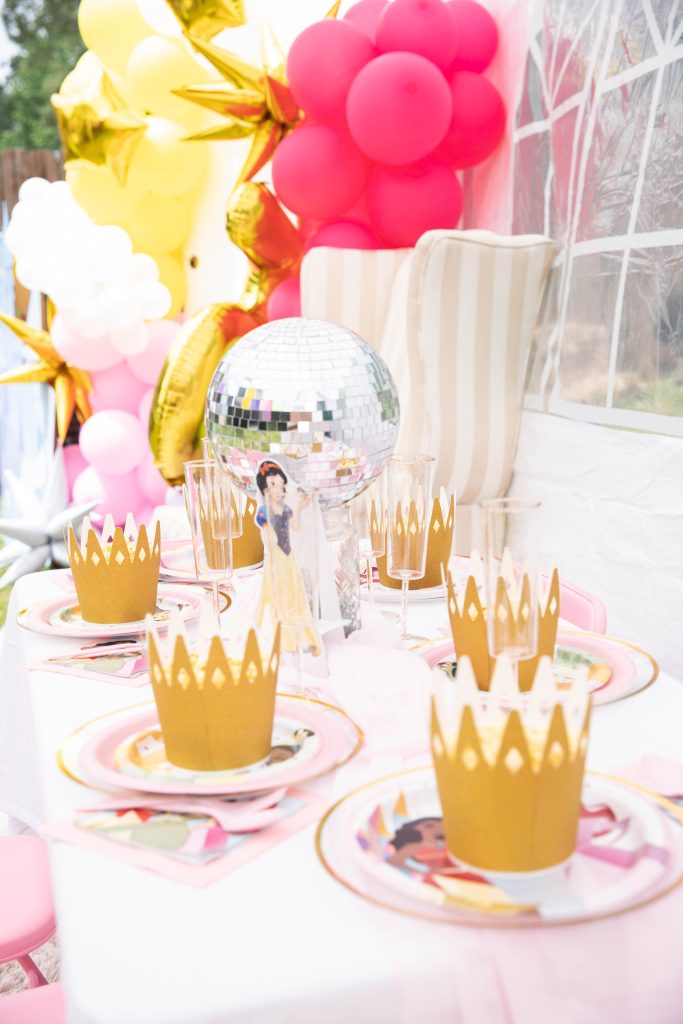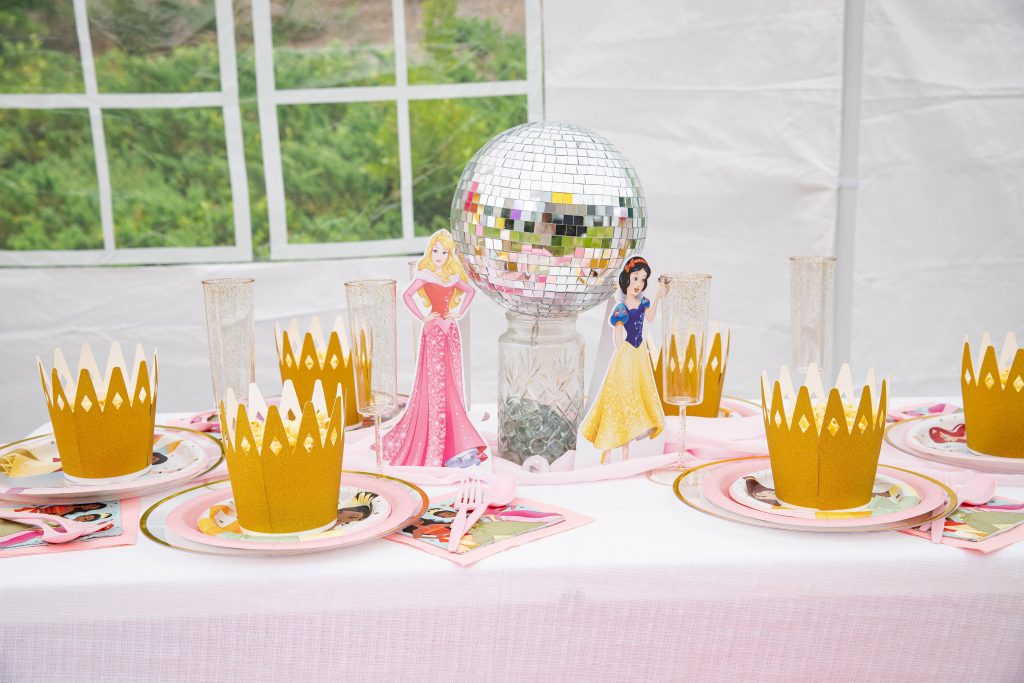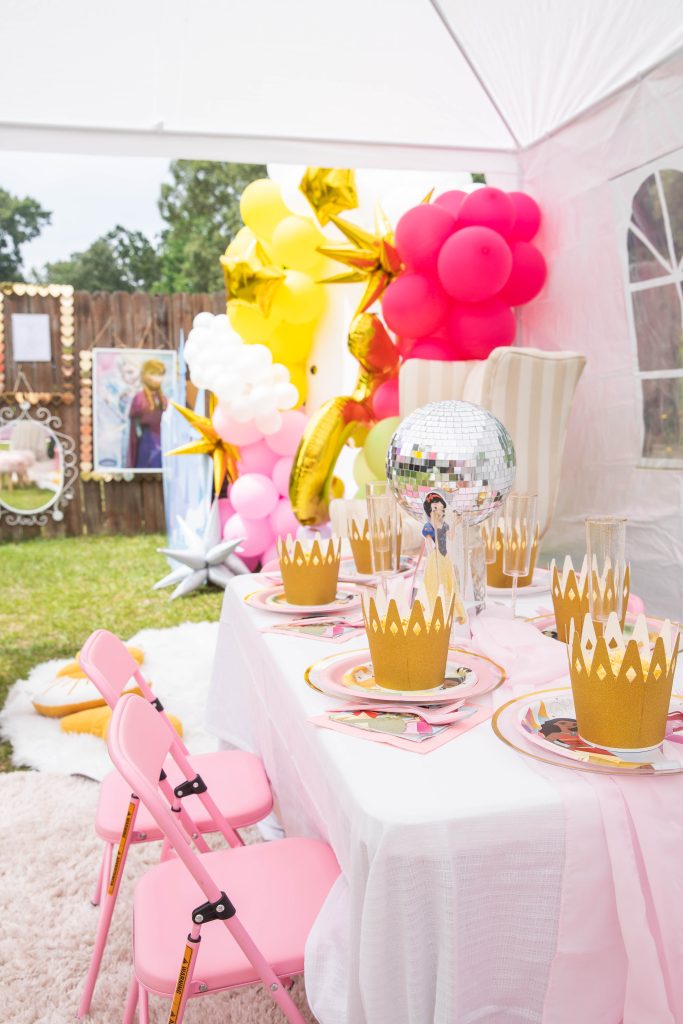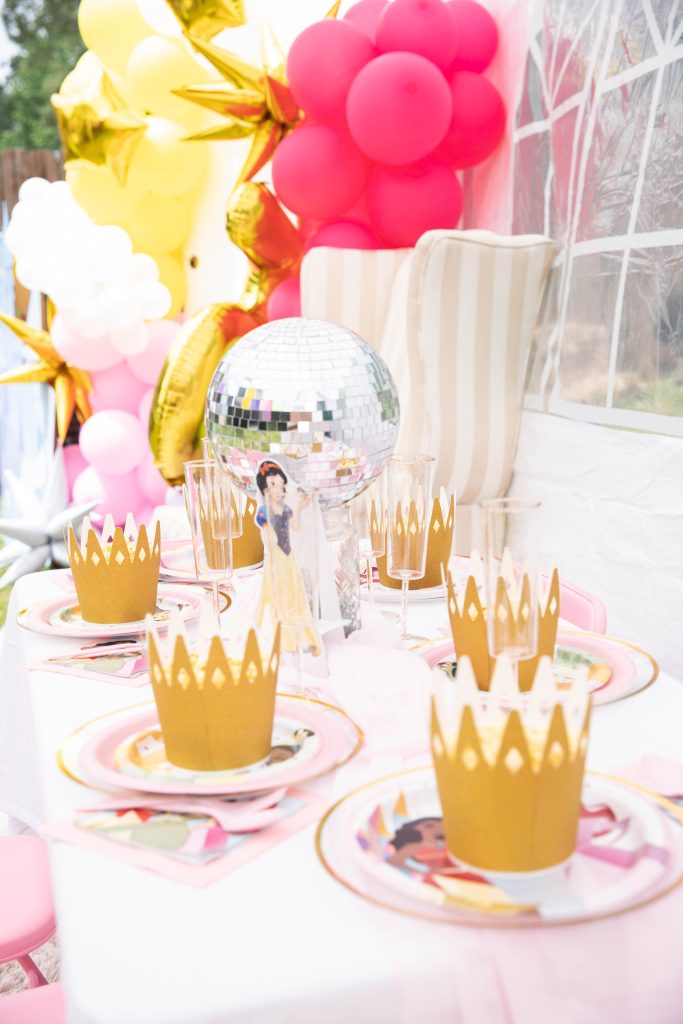 ---
IF you want to take your Disney Princess Birthday Party up a notch
I highly recommend bringing in a real live Princess! We have an amazing local company here called HanMarie's Performing Arts & Events that has all kinds of characters that will come out to a party for entertainment. Elsa made a very special appearance for Caroline's Disney Princess Birthday party and it was a HUGE hit. She and her friends are still talking about Else's visit, and Caroline has already asked if she will be coming back for her birthday next year since they were real life friends now.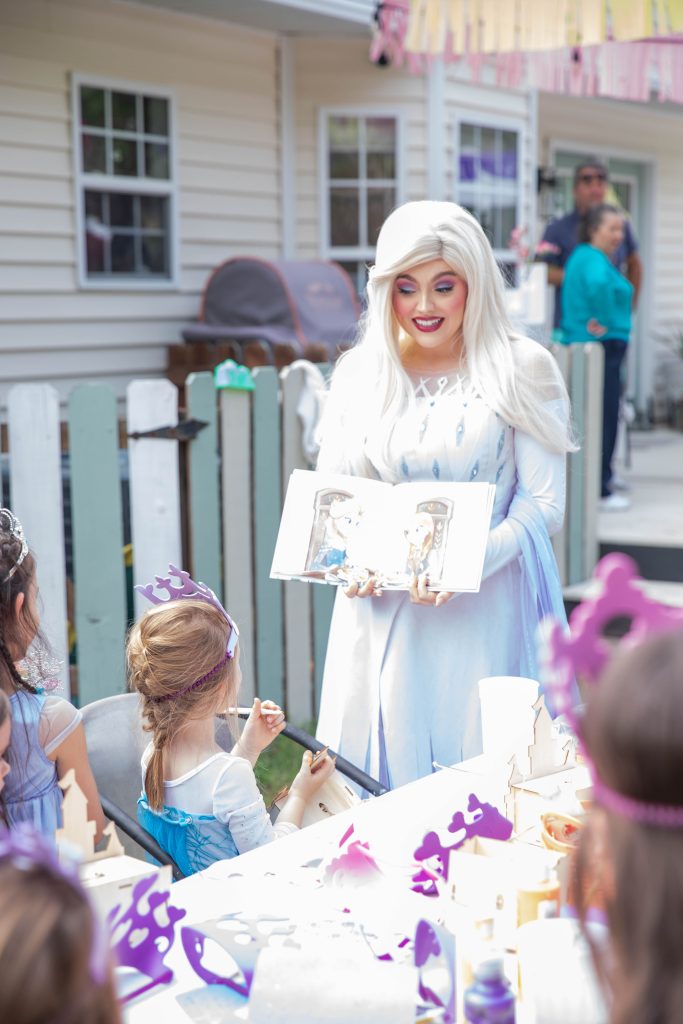 HanMarie's Performing Arts & Events has tons of Princess AND superheroes to choose from. When they come to your event you will be delighted by these special moments:
Make a "Joyous Entry" at your venue
"Getting To Know You" time with birthday prince/princess
Tell His/her Special Story.
Enchant Guests By Singing His/her Signature Song
Sprinkle Pixie Dust to Make All Dreams and Wishes Come True
Pose for Pictures
Present the Birthday Prince/Princess with a Keepsake Tiara
Sing Happy Birthday
Sign Autographs Before Departing for His/her Castle
It honestly elevated the party more than I could have imagined and I highly recommend booking them for your birthday parties!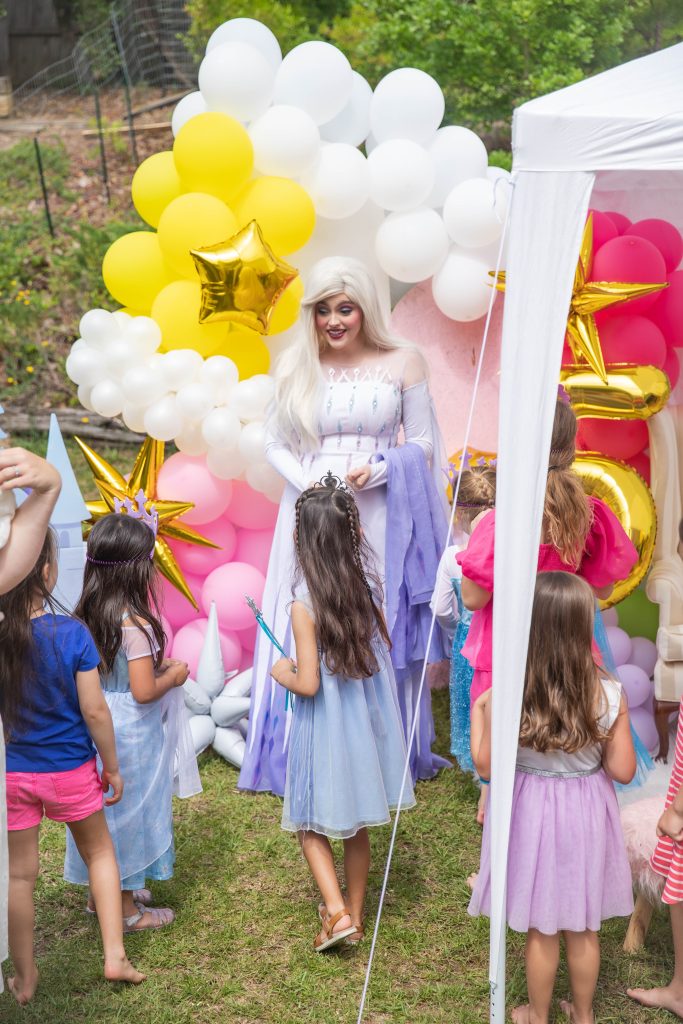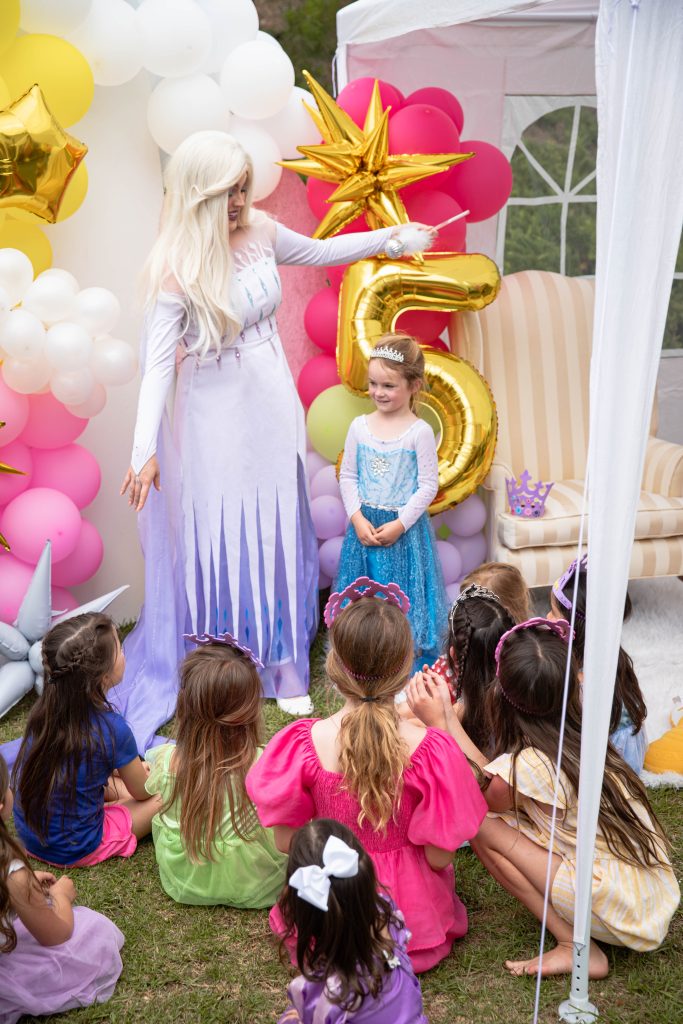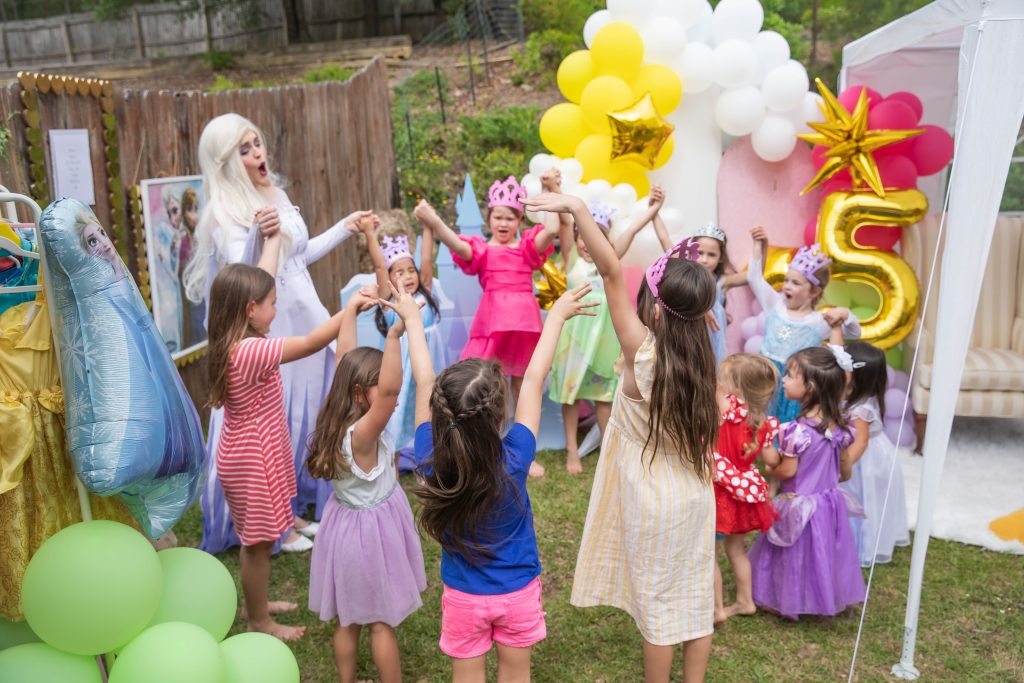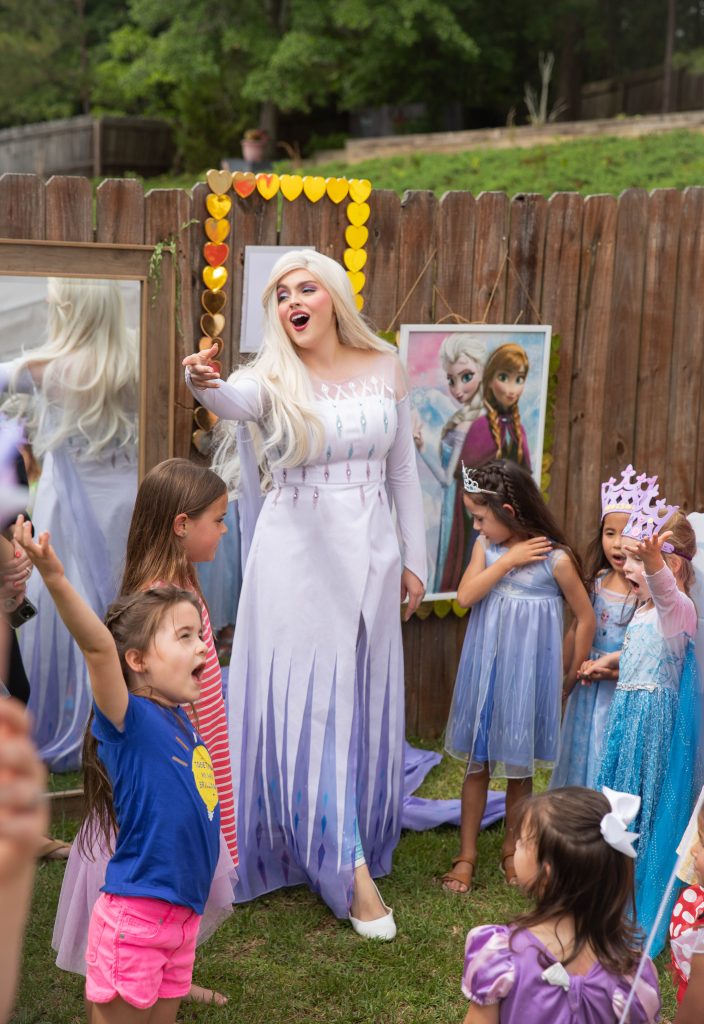 ---
The Disney Princess Birthday Party
snack and beverage table has been one of my favorites to prepare. The tiered trays, cupcake stands, princess cut outs, and bright colors just sing to my Disney loving heart! Since this party was later in the day, I provided treats and beverages instead of a full lunch. The tables was filled with sweets from the Princess birthday cake to cookies, sugar wafers, lolipops, and bowls of Caroline's favorite fruits!
The table cloth and Disney Princess Party decorations were all from Oriental Trading Company. They have SO many options on their site for piecing together the best princess party tables!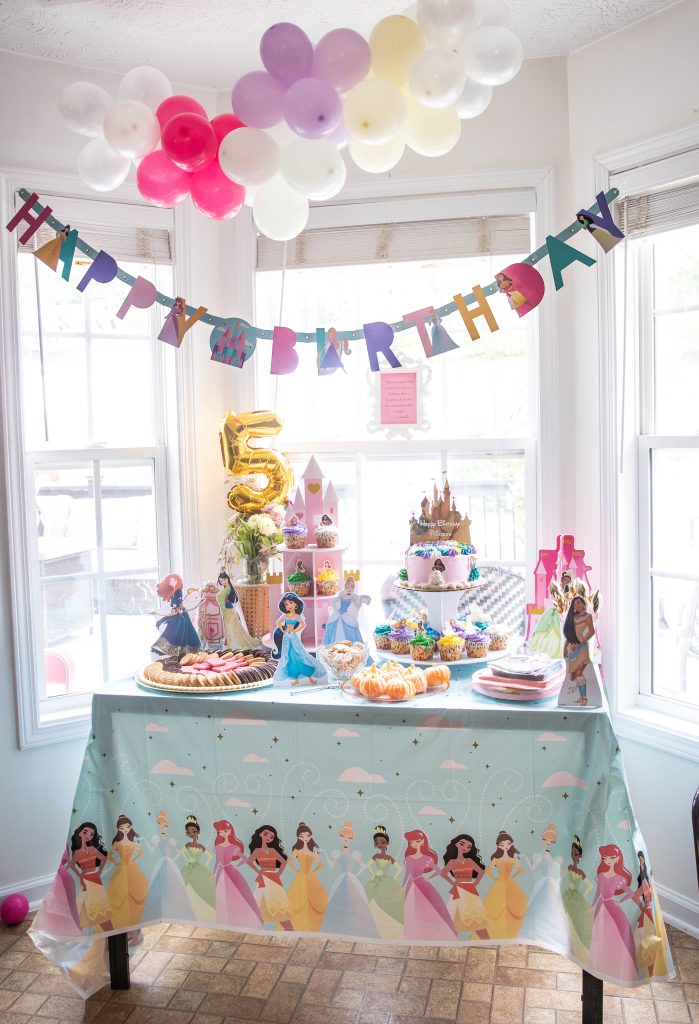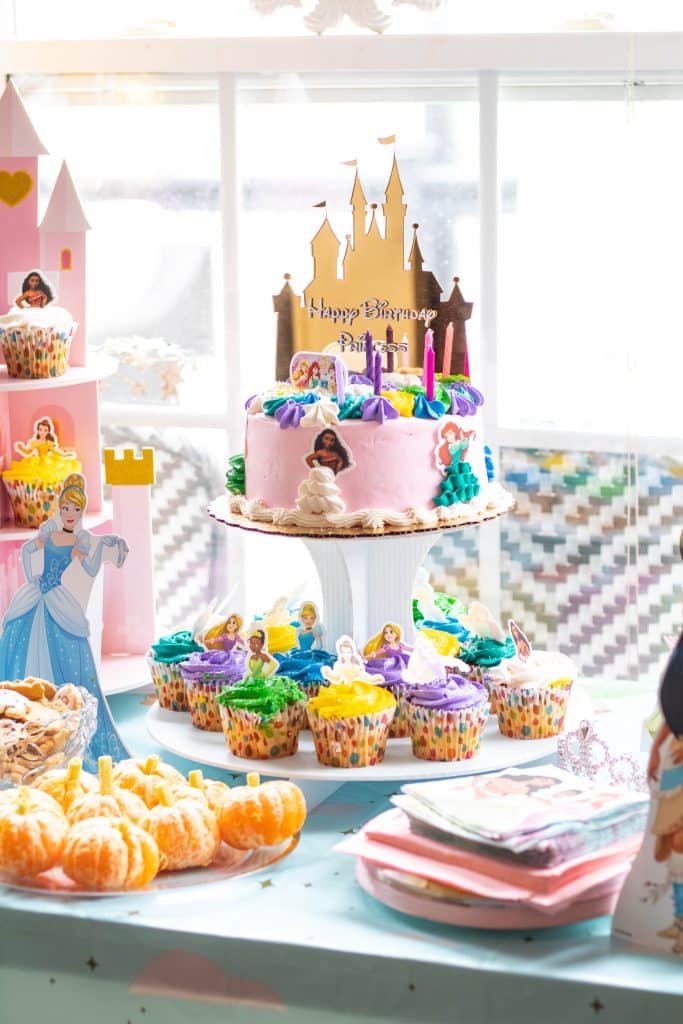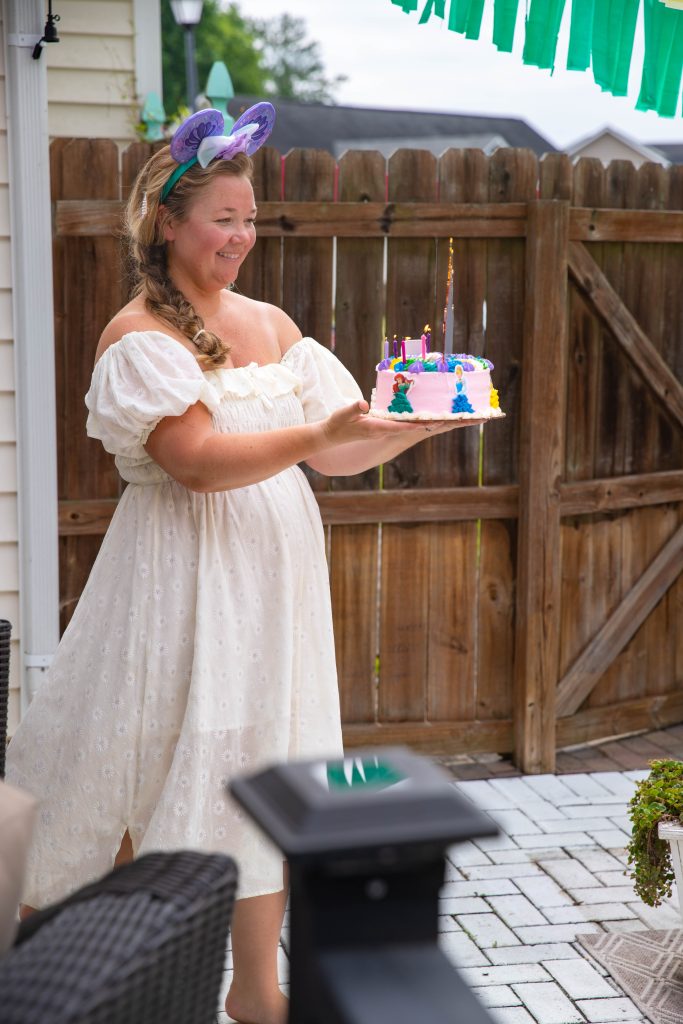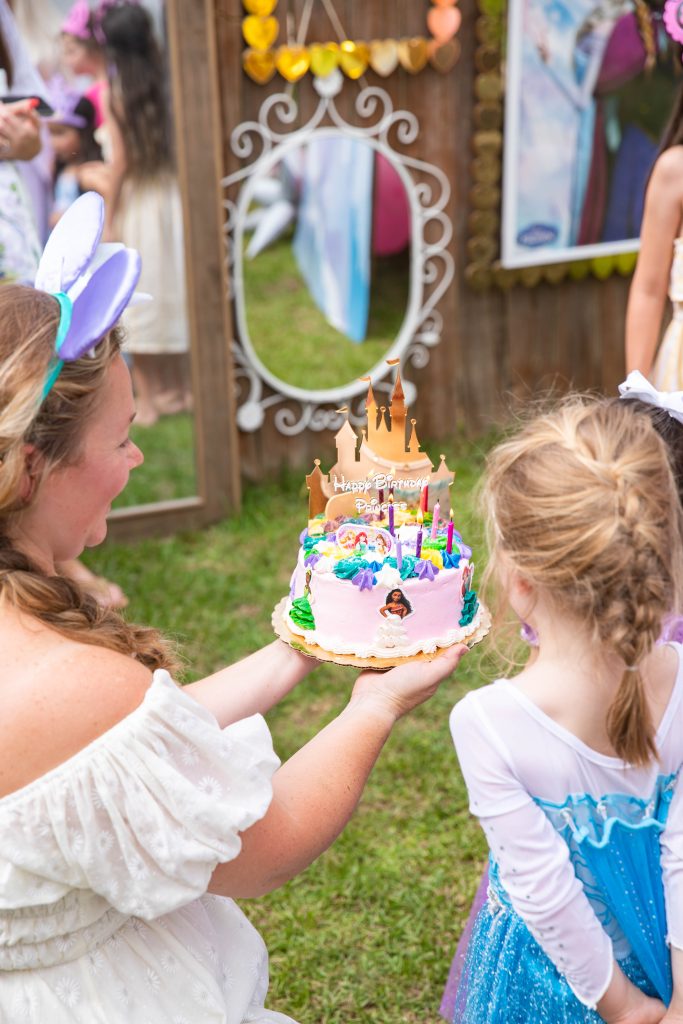 Disney Princess Snack Label Printable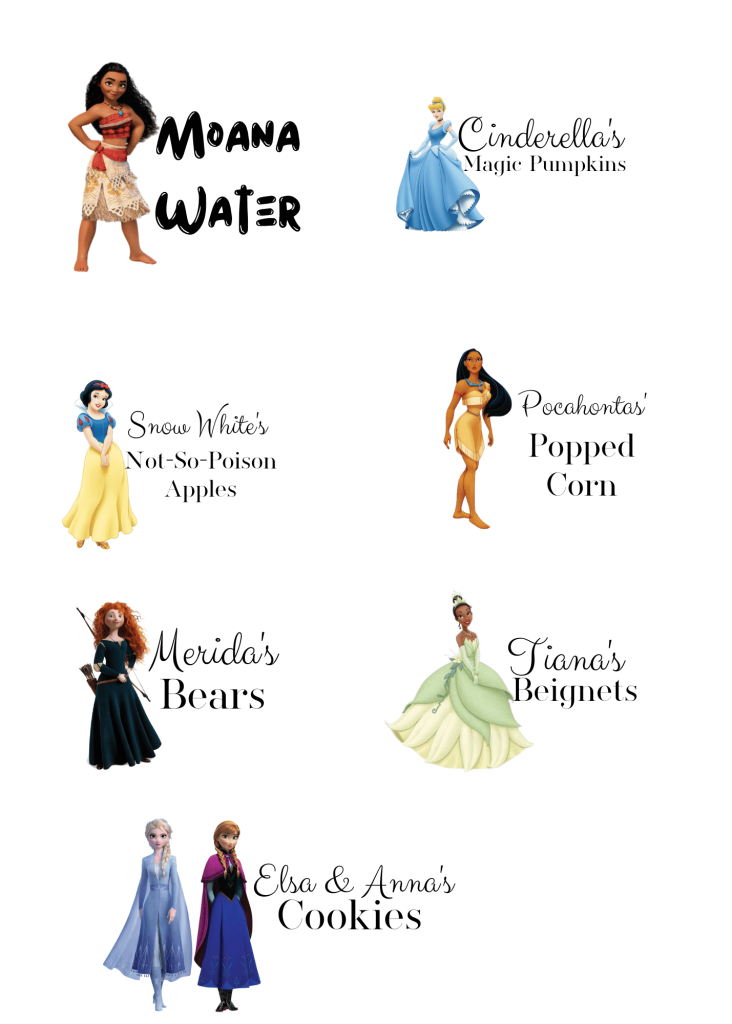 ---
I am a firm believer in Kids parties having designated activities.
A host should always try to prepare at least one activity for guests to participate in, but for kids parties I highly recommend more than one. The Disney Princess Birthday Party theme fit perfectly for letting guests get creative making their own princess tiaras. Each guest could DIY their own Princess tiara and wooden birdhouse castle.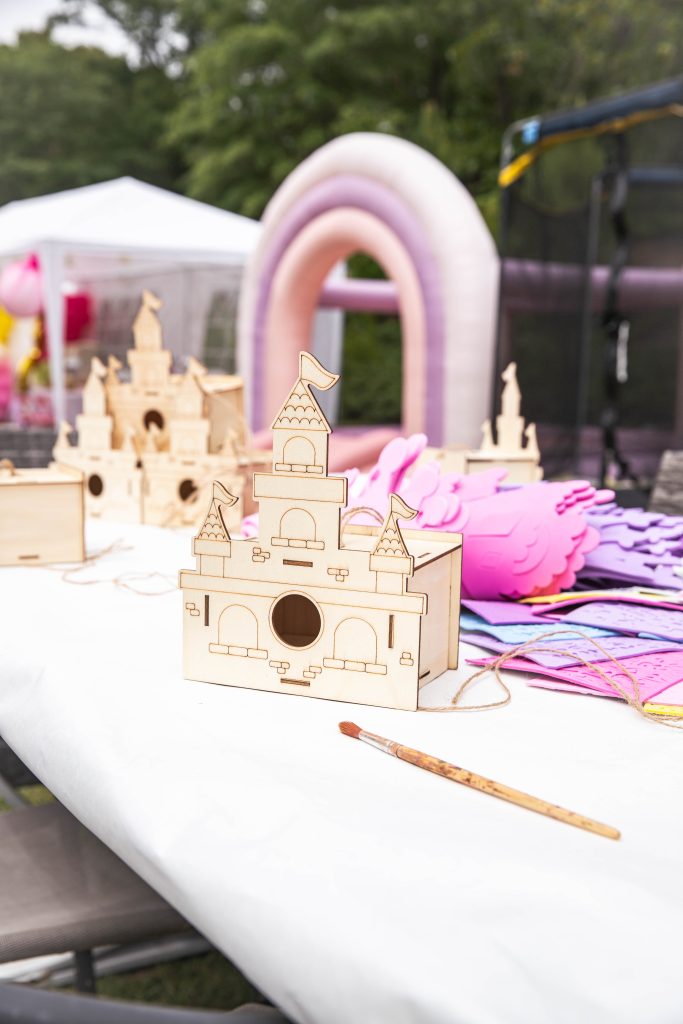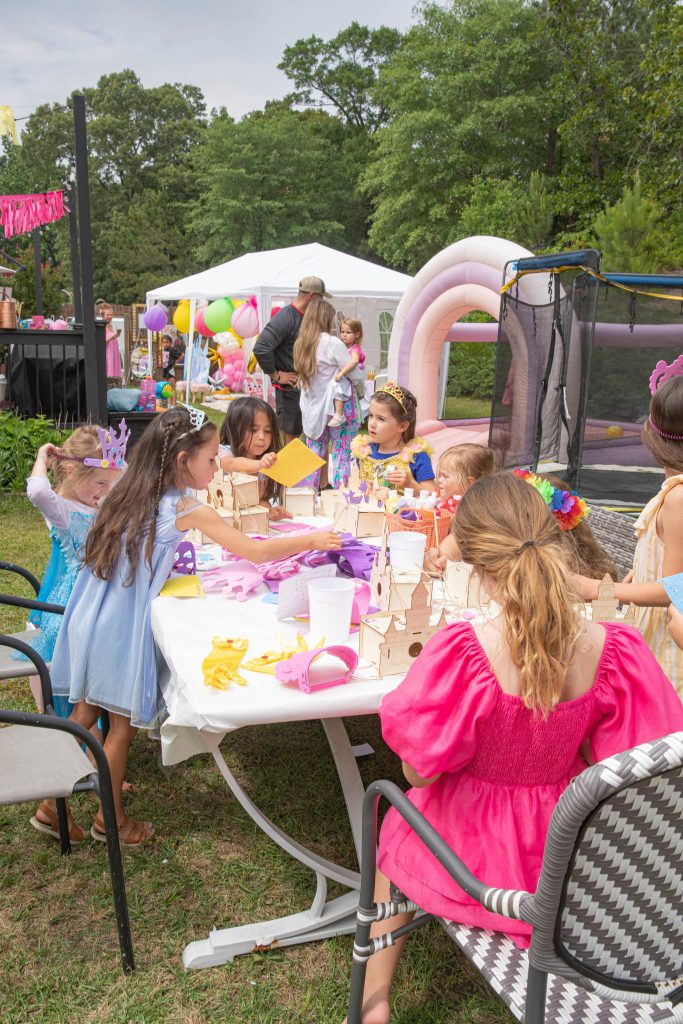 ---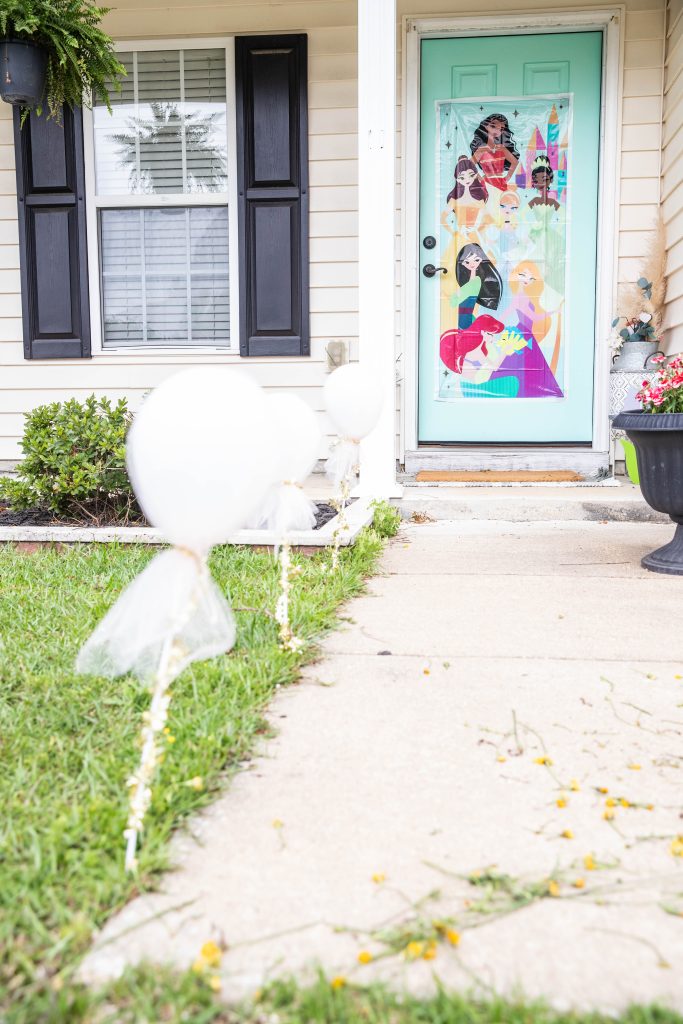 ---
This birthday party was truly a pleasure to put on and I know my daughter was on cloud 9. She continues to talk about it, and I have begun to think maybe I should tone it down a bit because I'm starting to set the bar higher and higher each year! It's really difficult to not go overboard when the theme is just too much fun!
When it appeals to any part of my childhood I tend to go above and beyond for the party. My mom always gave me wonderful birthdays throughout the years, and they've always been a big deal to me. I hope to pass those same feelings onto my children as well.
So what do you think? Will you be throwing a Disney Princess Birthday Party anytime soon? Make sure you check out Oriental Trading first to find SO many things to piece your party together! I would love for you to tag me if you do throw a Princess party and post about it! I will happily share it!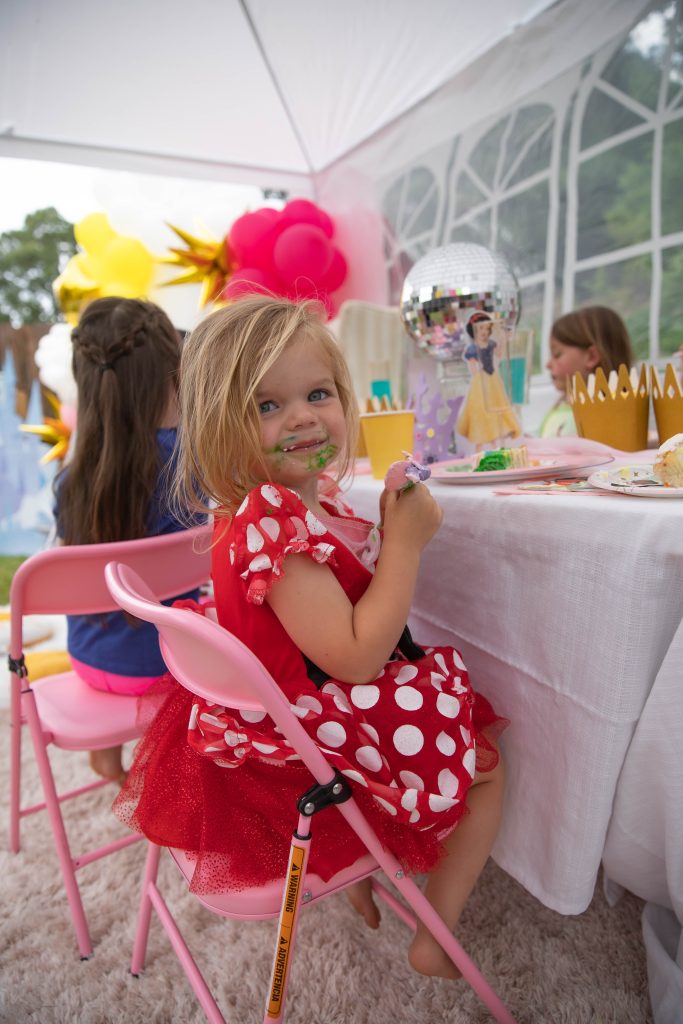 Until the next soiree! Thanks for reading!
---
Looking For More Kids Party IDeas?
You must see these to find more kids birthday party inspiration!
---

---