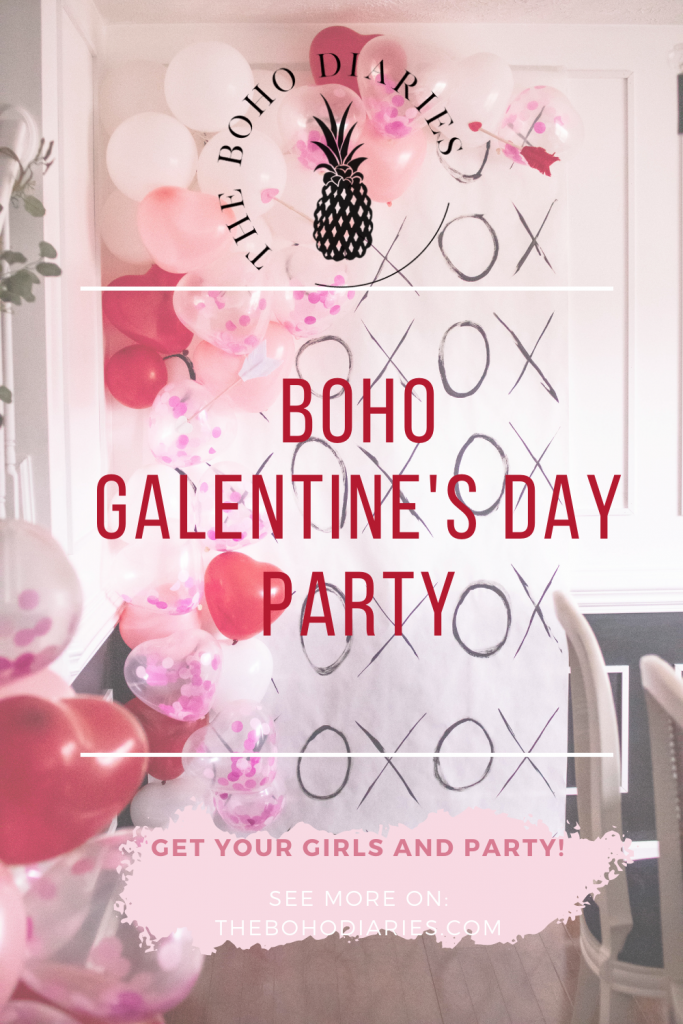 There is just something about celebrating my closest gals that brings me so much joy. The idea of peicing together a fun event where we can enjoy yummy treats, drinks, crafts, conversation, and watching the little ones play is the greatest motivation for why I do it. Especially now, with a year of Covid almost here, I could think of nothing more than celebrating these beautiful and strong women who mean so much to me! If you are not familiar with the origins of Galentine's Day, I talk about it in my first ever Galentine's Day party I threw last year. Click Here to read that. Some think it's a gathering of only single ladies to celebrate eachother, but I am on the side of just wanting to celebrate all of my wonderful ladies in my life.
I am hoping to one day be able to expand this party to a larger number of ladies that I care about and have impacted my life, just to say I appreciate you and enjoy some cocktails and conversation, so I'm praying hard by this time 2022 that this disease is gone! Going into planning for this year's get together, I wanted to have three key WOW moments, because I think we can all agree that getting fun, exciting pictures is one of the most fun parts about attending a party these days. 🙂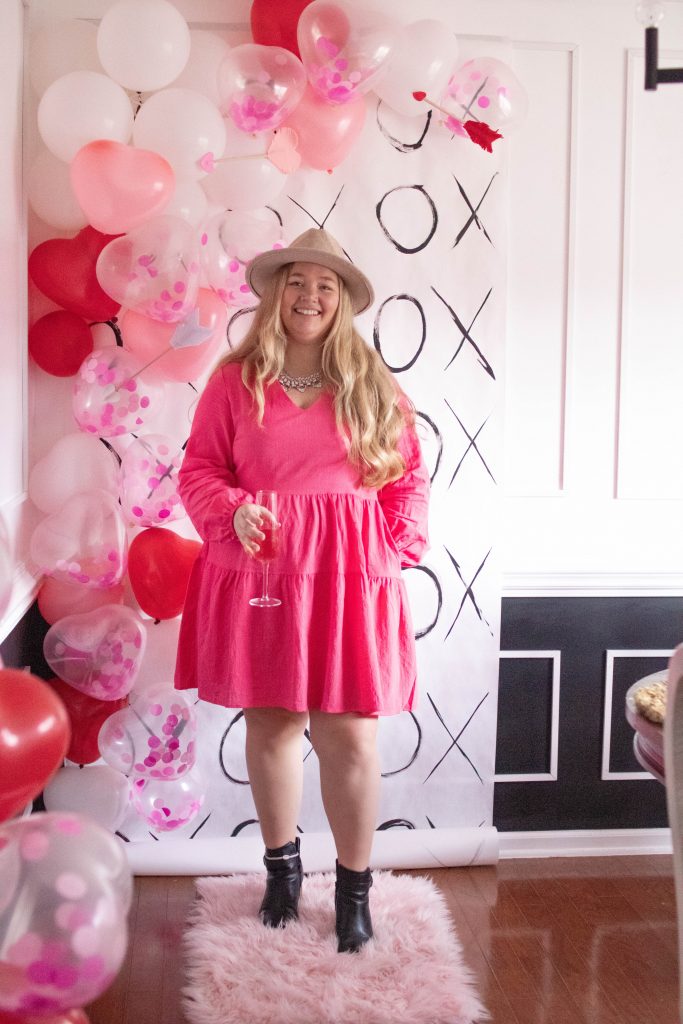 Depending on the type of party you are looking to throw (mainly depicting between kids/no kids or if there's an activity or just mingling), I believe there are at least three pillar spots you should consider making as a "moment" for guest to enjoy, snap pics, and have fun with.
The first would be
the ultimate glam spot.
This spot should be the biggest moment for a full body shot for all the ladies to show off their adorable Valentine's day looks. Even the little ones enjoy "walking the runway" at the glam spot and you can never get enough fun cameos of them working it for the camera! 🙂 For this spot, it was as easy as getting the white bulletin board roll of paper, the heart shape balloons, black paint, sponges, and a little painters tape to piece it all together and get it up on the way. Plus, I know I will be using this white paper over and over again for pictures and more parties, and it was inexpensive! I used the sponged to paint the XOXO background then secured it to the wall with painter's tape. Then pieced together the balloons with balloon tape and sticky dots (sticky dots are seriously my balloon banner BFFs).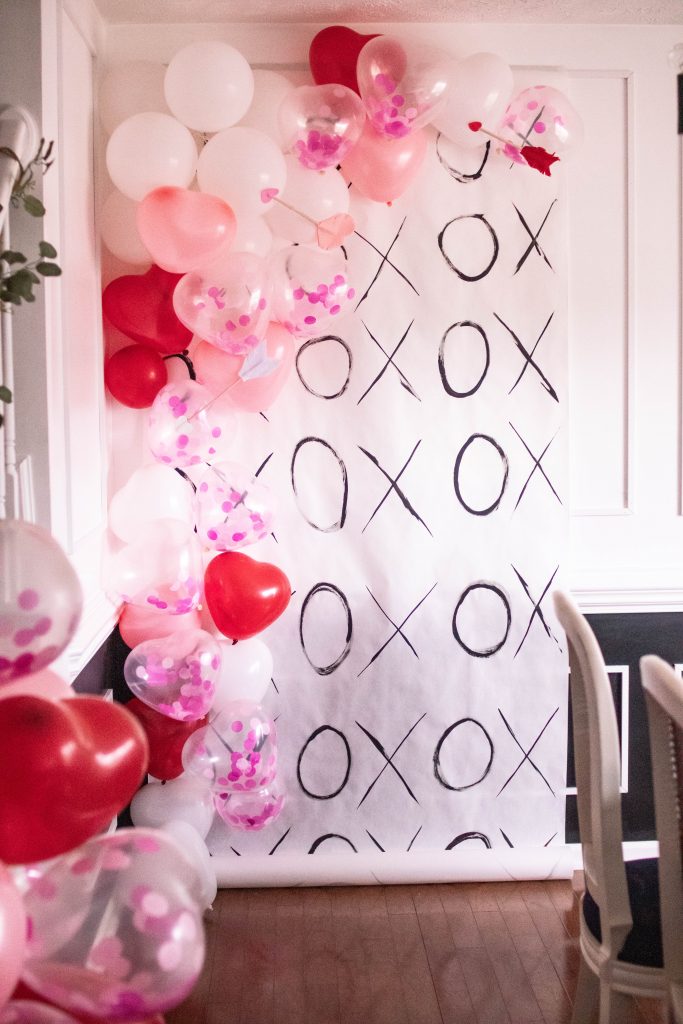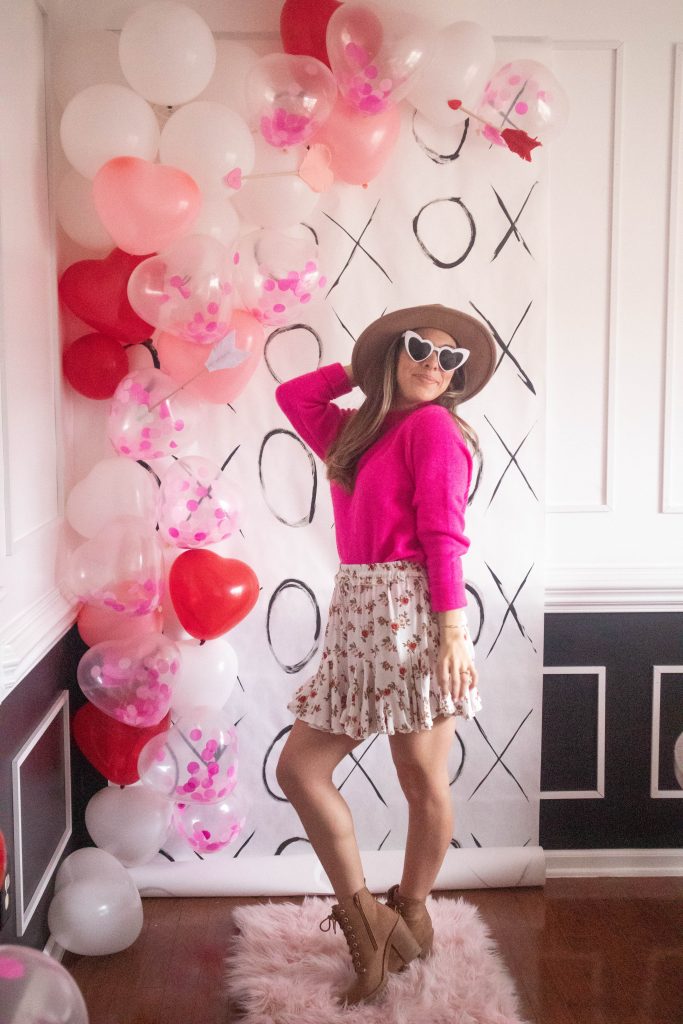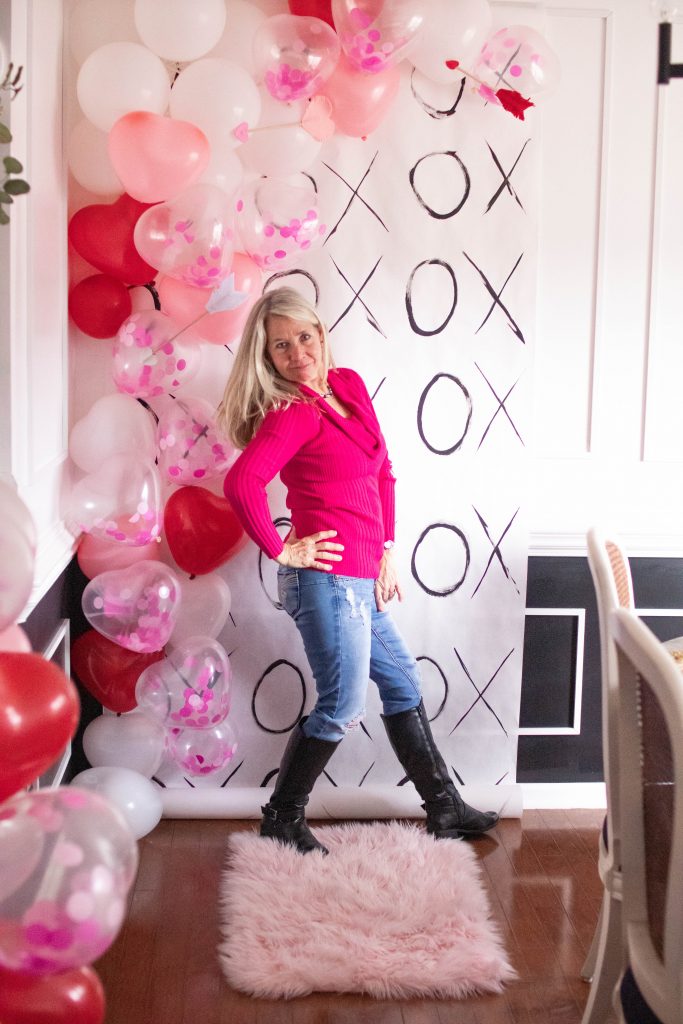 The second spot I highly recommend making fun and whimsical is
The kid zone.
Of course if you don't plan to have a kid friendly party this could also be the activity area ( if you were going to do a craft or some group activity maybe cards etc..). I love these areas because I feel like I can be a little more creative and it doesn't have to be perfect because the kids just think it's great no matter what and that's all that matters! For this area I decided to try my hand at creating a fun backdrop out of cheap, plastic party tablecloths you can get from the dollar store or for $.97 at Wal-Mart. I fell in love with this look thanks to Kara at Kailo Chic and think you'll be seeing a lot more of these easy but super cute backdrops! I grabbed the mylar ballons from Hobby Lobby to spell out Best Gals, and pieced together the backdrop one night while binge watching Bridgerton. Have you watching that by the way? I wonder if there will be a second season… That Duke of Hastings… WHEW! Am I right??..
Anywayy, I created this back drop to partition the area that was considered the mini-gals activity and play zone, but little did I know it would turn into the dance party zone after all the crafts were done and food was eaten. It was time to dance all that sugar off and those little babes did not disappoint!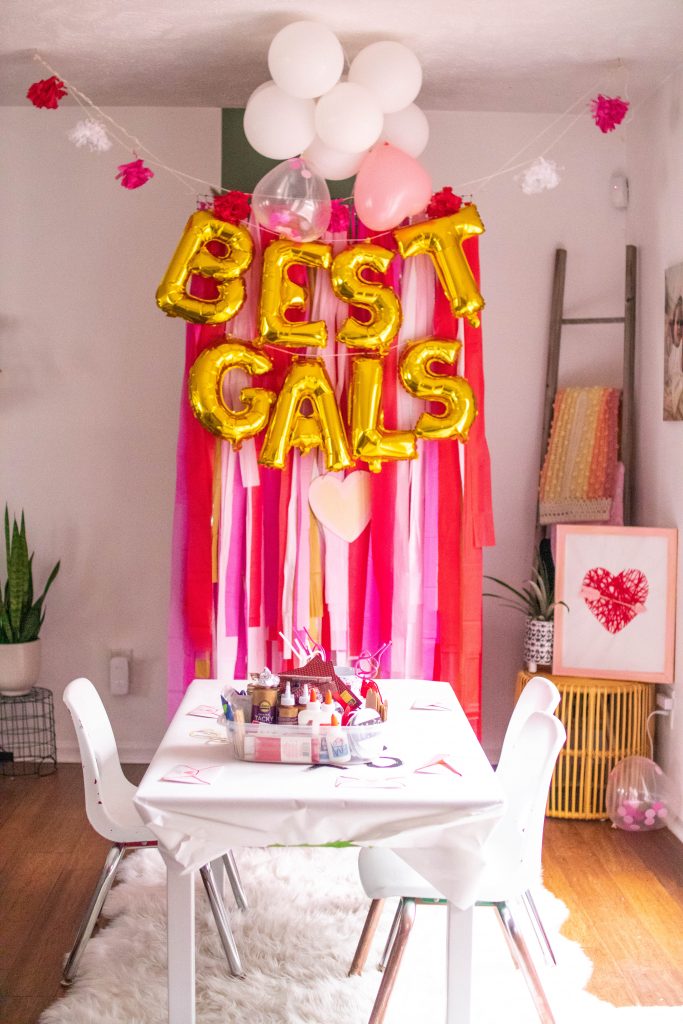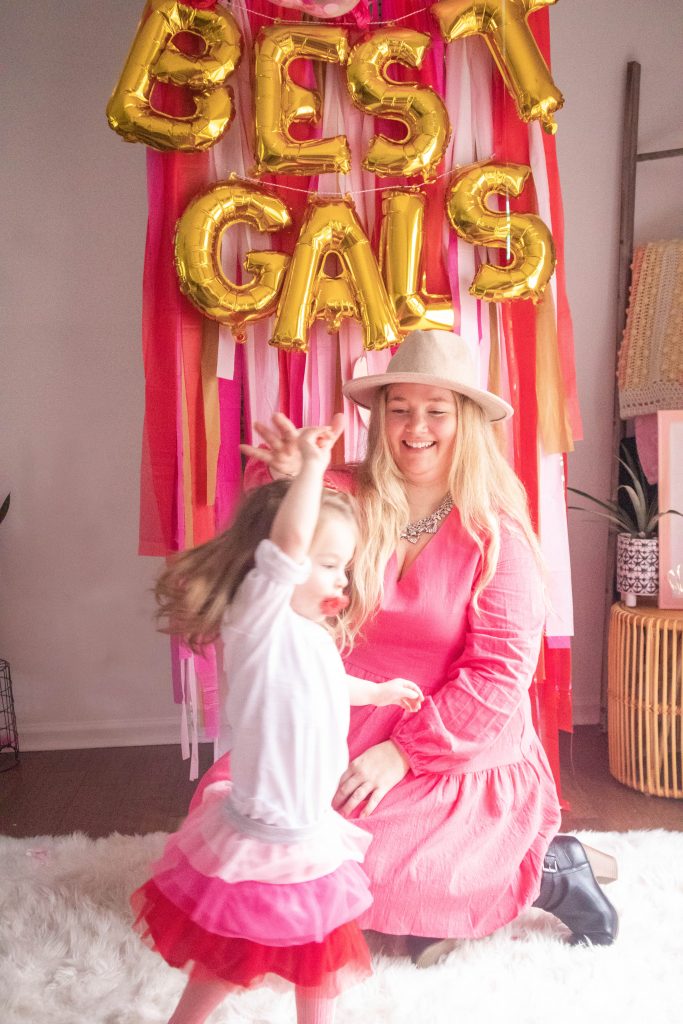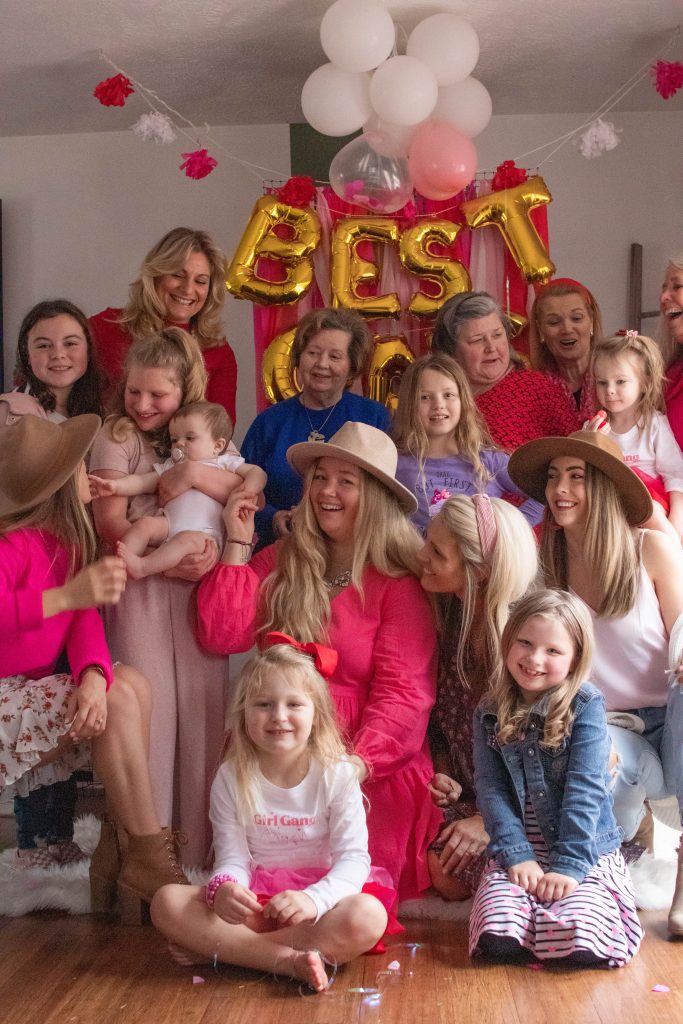 It definitely gives a pop of whimsy to the party and looks great in photos so why not right? It made for a perfect section for glamour shots for this girl gang.
Lastly, the third spot I loved to create a moment for is
the snacks and sips zone.
As a millennial, I grew up in the 2000s era, where I was OBSESSED with the Spice Girls for a few years. I mean posters, accessories, bags, outfits, everything. If it was sold at the store I probably had it if it was Spice Girl related. I've really been contemplating doing a full out Spice Girl party.. Would you be interested to see what I do with that? Let me know in the comments. The love for that British girl band led to this song forever being engrained in my mind so I brought it to life for the snack area. I used an old cardboard box, cut out a large heart, used artificial flowers I already own and created an Ombre border after painting the whole thing black. Once the flowers were hot glued in place I painted the lyrics in white and hung it centered in the food zone with the pink and white string. From there you can really decorate around the placed platters and shiny punch bowls with table scatter and fun little decor pieces found in the bargain areas of Target, Walmart, and Dollar Tree.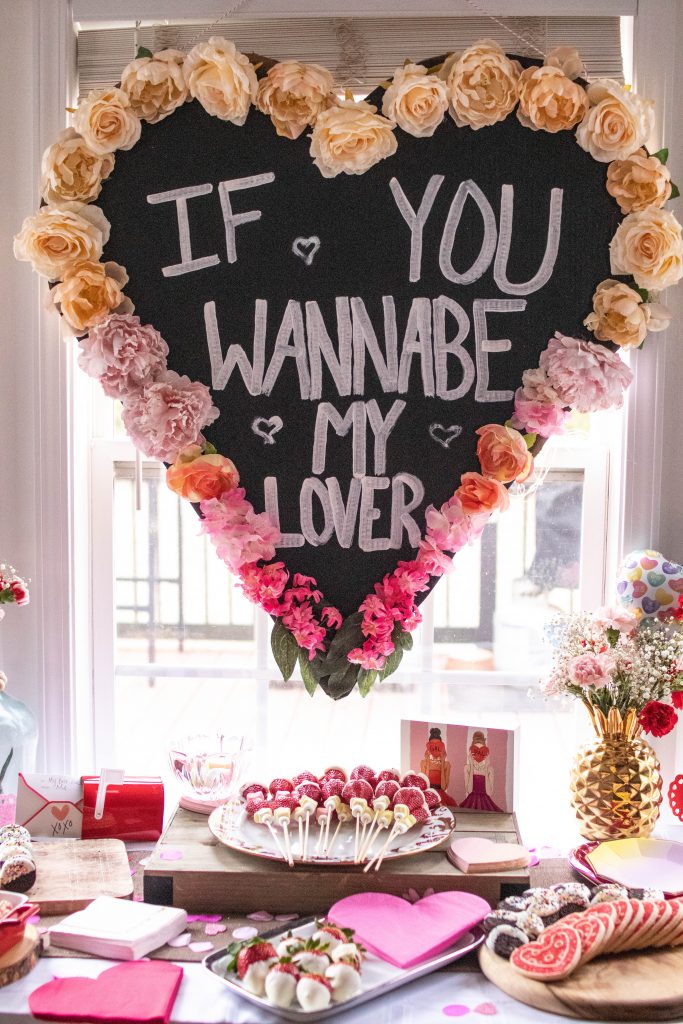 After roaming Pinterest for hours and hours prepping for this party (since like last August), there were a couple of snack and a fun drink option I found I knew I wanted to try. Food is NOT my forte at all so to "try" something in dealing with food for me can be a huge toss up. I thought up making the heart strawberry skewers and dipping them in white chocolate because I knew hand held items like that are always fun at a party. Something the guests can grab and go even without a plate are always a good idea. I always tried my hand at putting together a delicious and festive punch that I found on Best Friends For Frosting called the Frothy Pink Punch. It was SO delicious and made this fun fizzy look at the top that looked so pretty in the party glasses!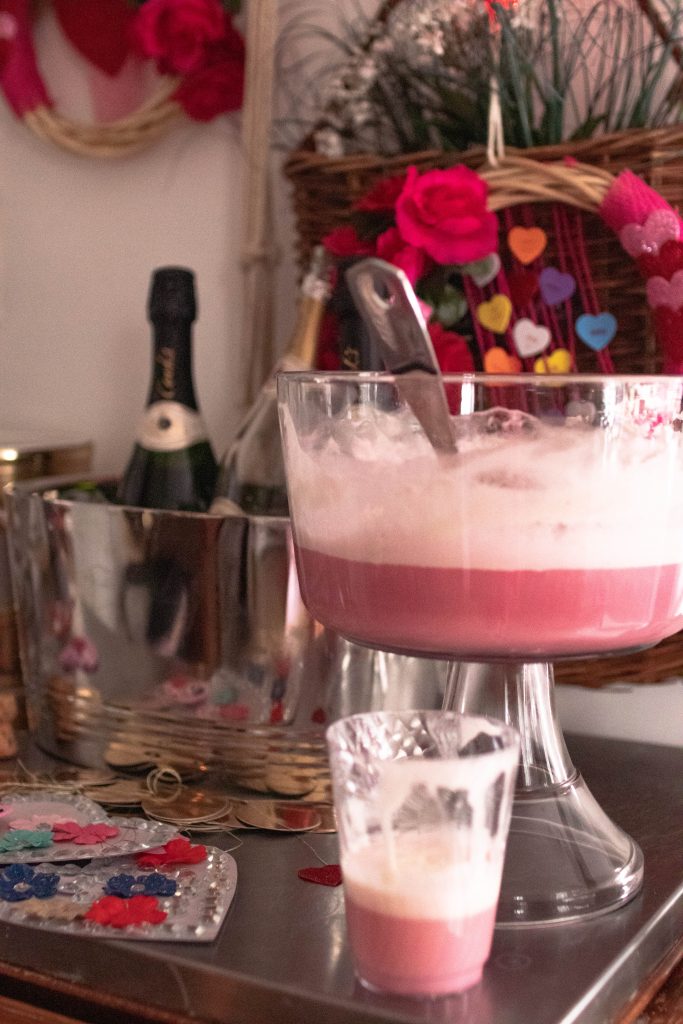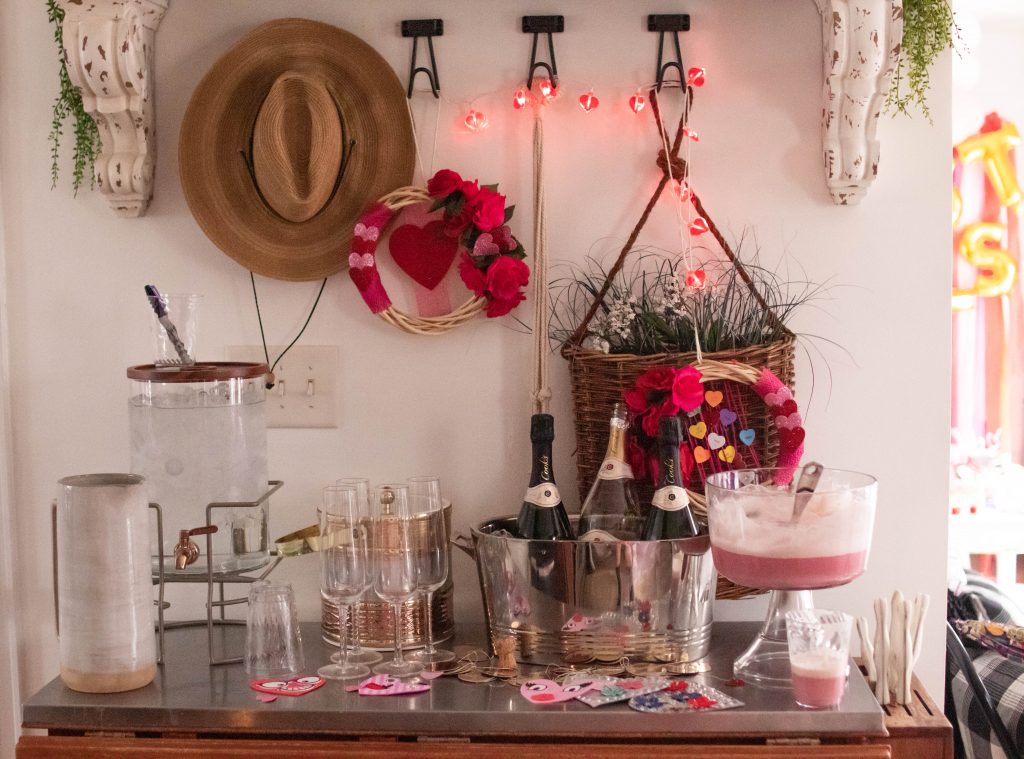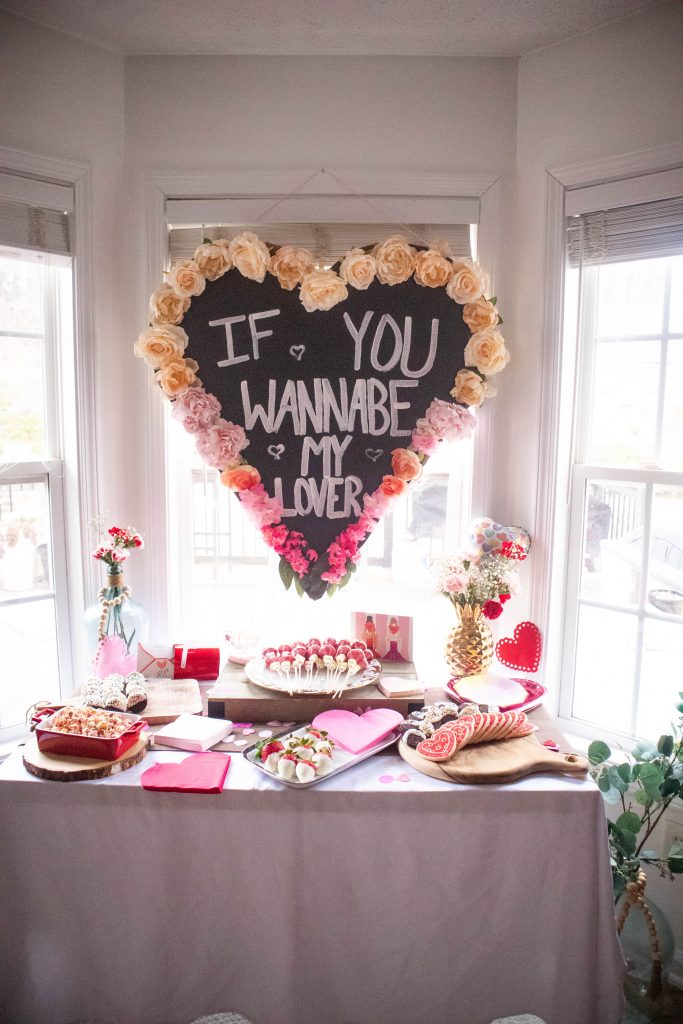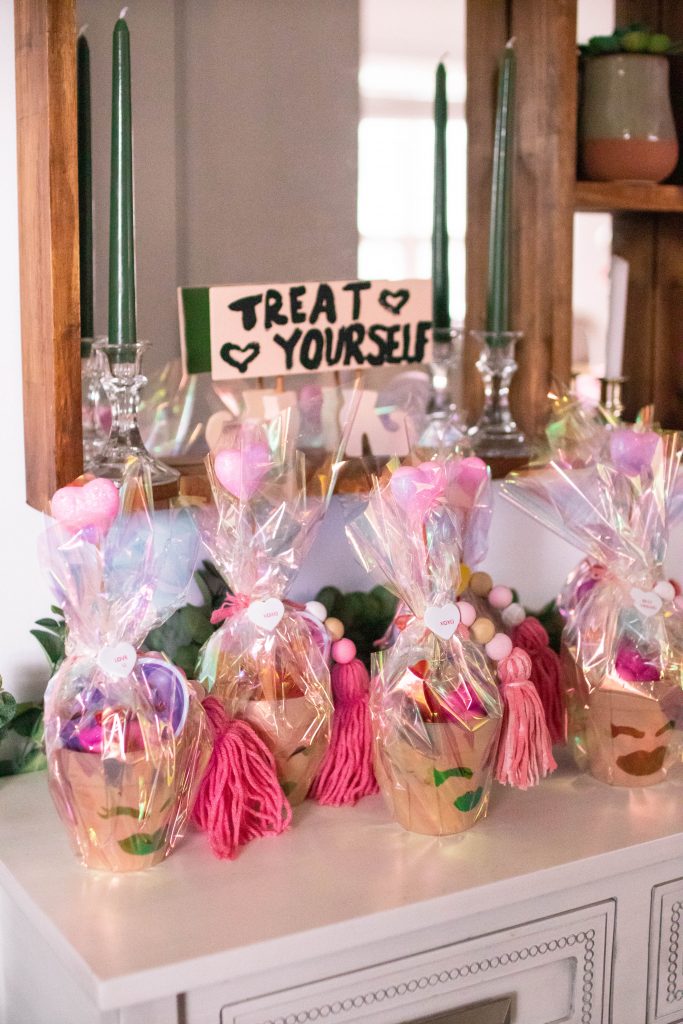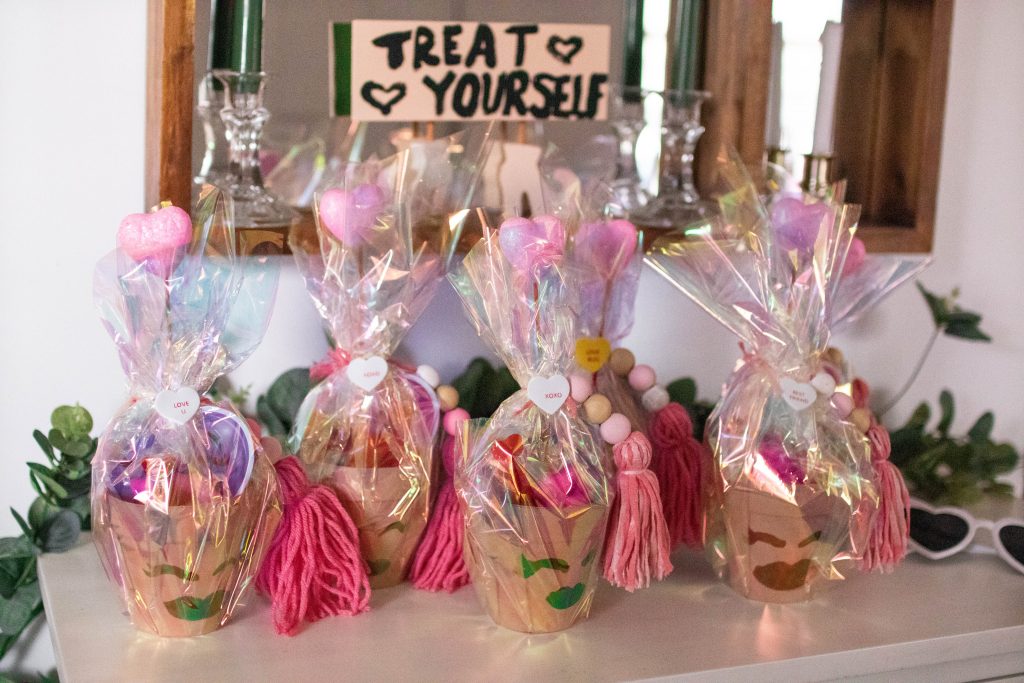 Providing parting gifts for the little ones are always a good idea because it gives them something to look forward to when the dreaded "ok it's time to go" is announced by their mom. I've always only done party favors for the little ones but they're so fun I think next year I am going to do a little something special for the adults too. 🙂 I just took Dollar Tree pots, painted these little pucker faces on them, and added my own personal touches of handmade boho beaded tie, lips lollipop, and more.
Galentine's Day 2021 was such a success, needless to say we were all pretty exhausted by the end of the day. It's always worth the work because I love providing a fun, different atmosphere for us gals to socialize and catch up, take pictures and just let loose.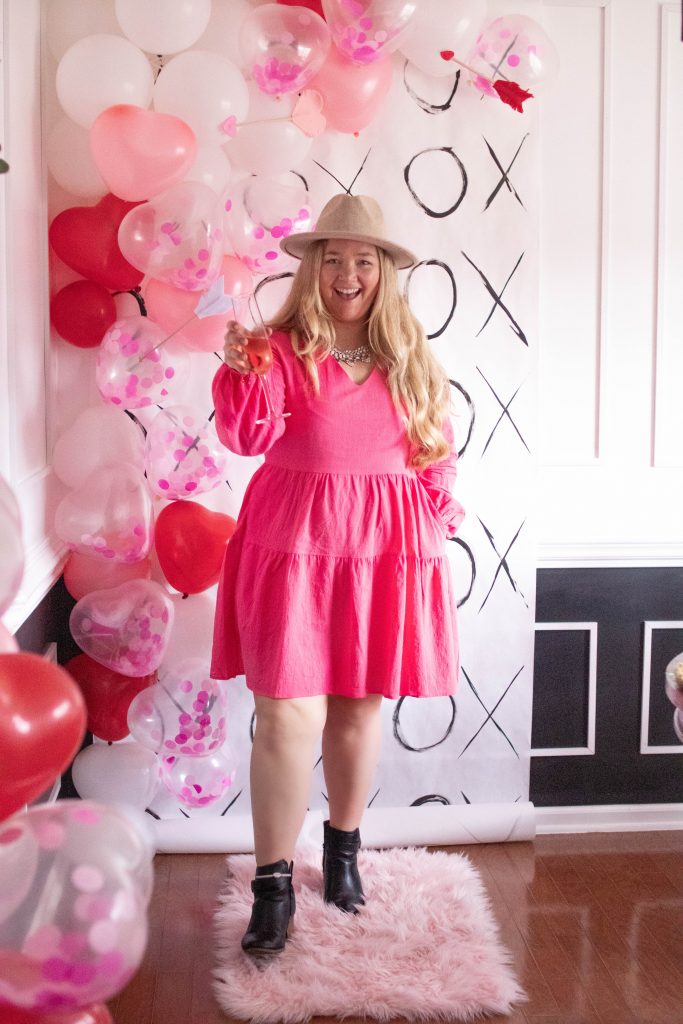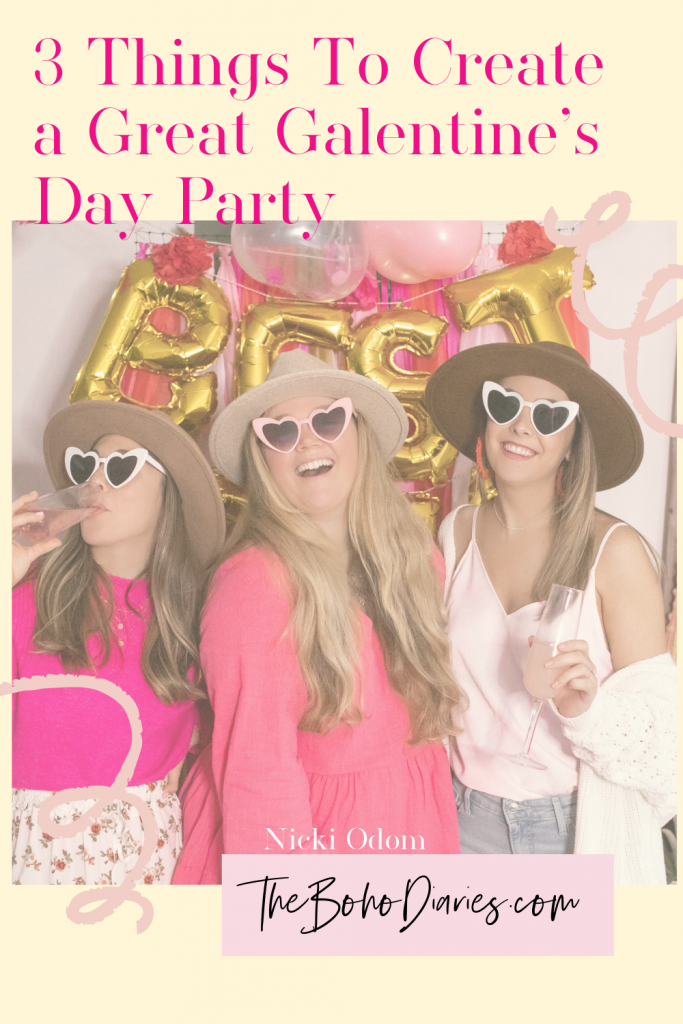 Another year of getting my girls together, another year celebrating beautiful, strong women. As I said before, it would be a dream of mine to build this gathering even bigger each year. I am hoping the future is bright for being able to freely hug everyone and have larger gatherings safely. I hope you found soe inspiration to throw your best gals a little something special, or even possibly just set up something small for your family at home. Some of the cutest things can be created with some leftover cardboard, paint, glue, and random craft items you probably already have in your home. Get creative and tag me when you make something you're proud of as I would love to celebrate it with you!
Now get out there, make something, pop the bubbly, and celebrate!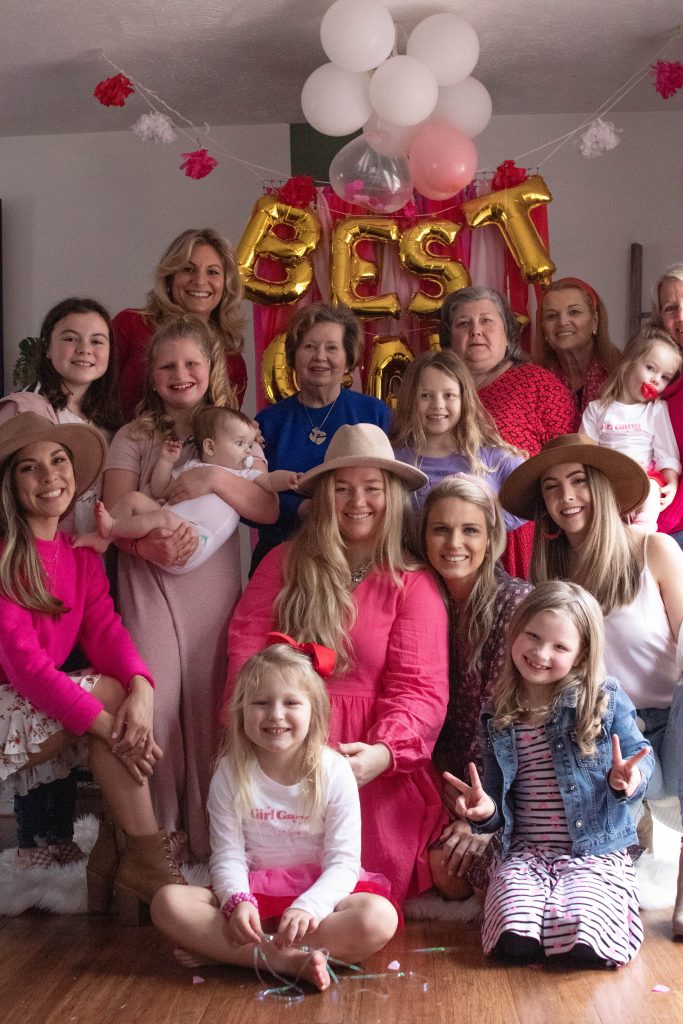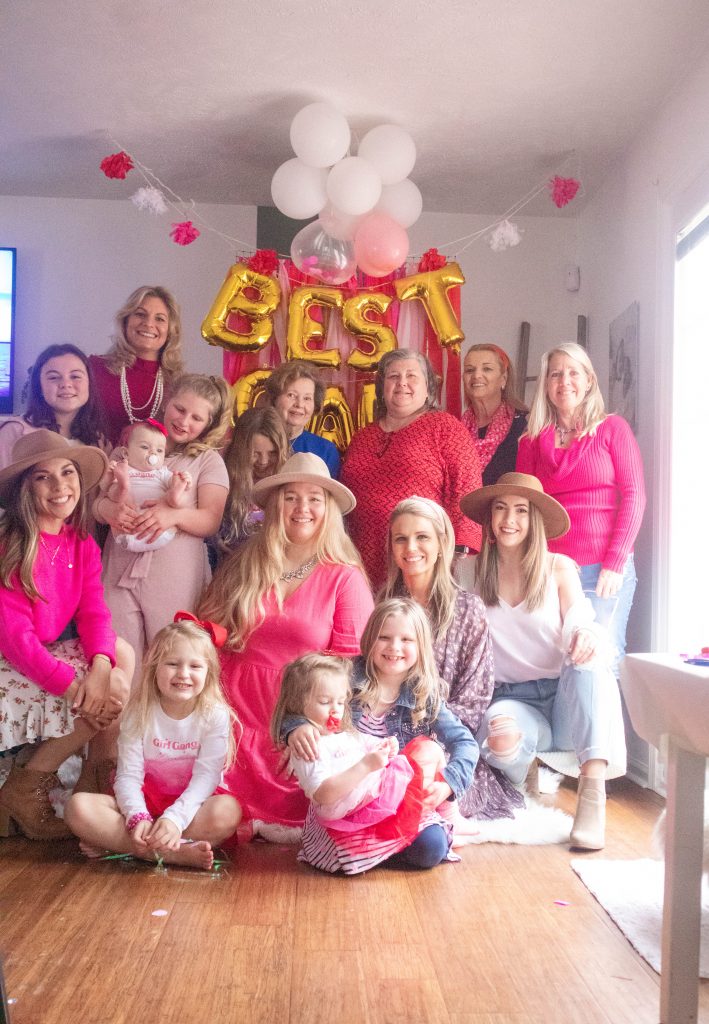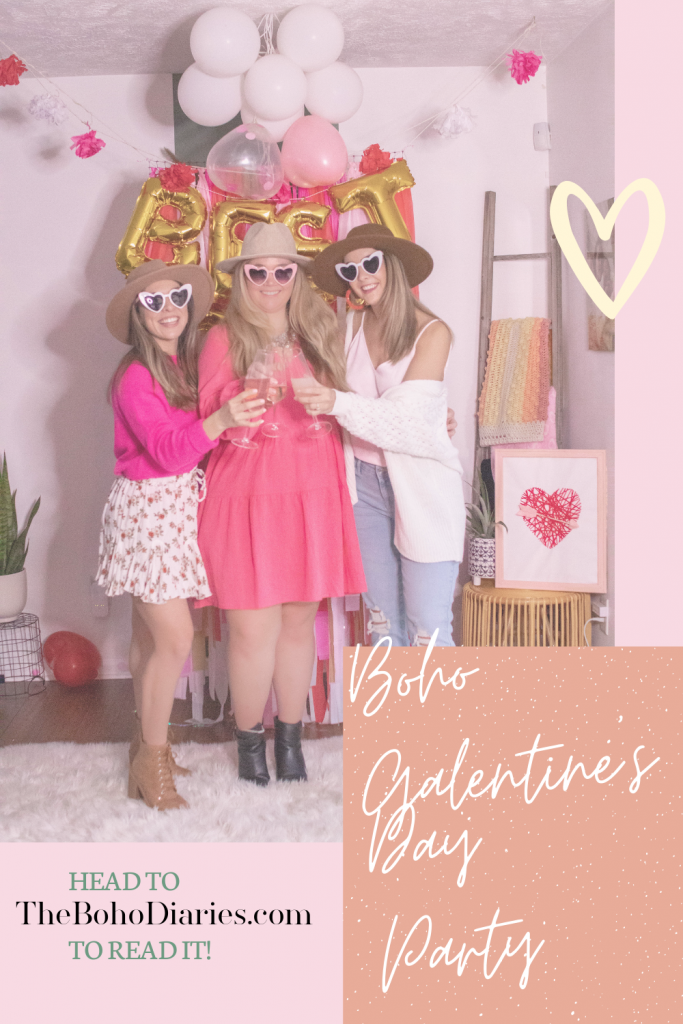 If you love this post you should check out these Galentine's Day
parties as well!