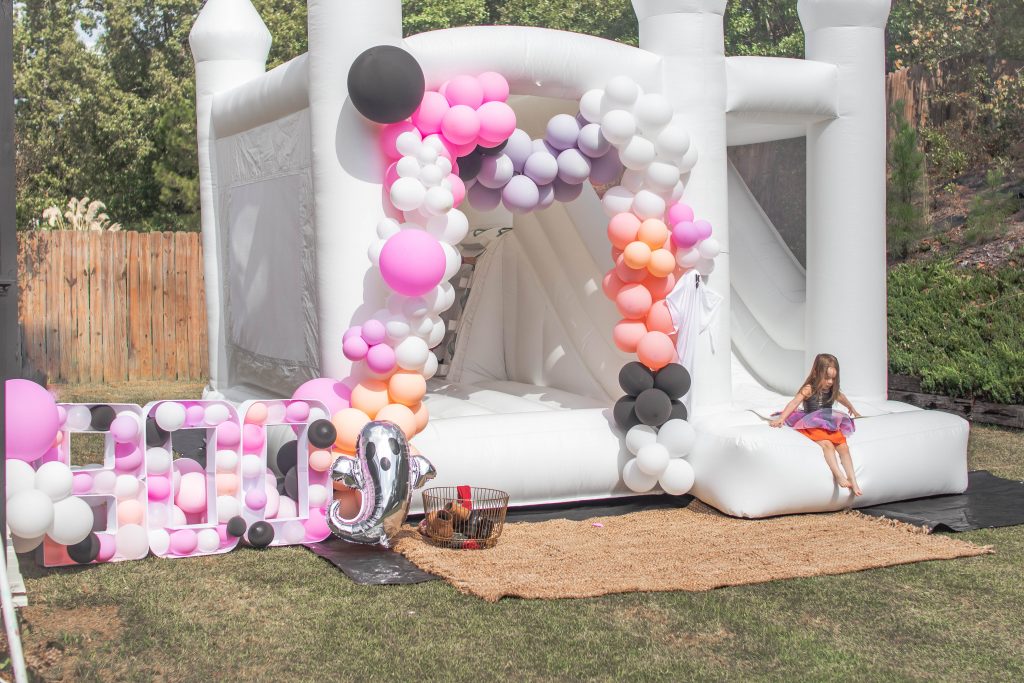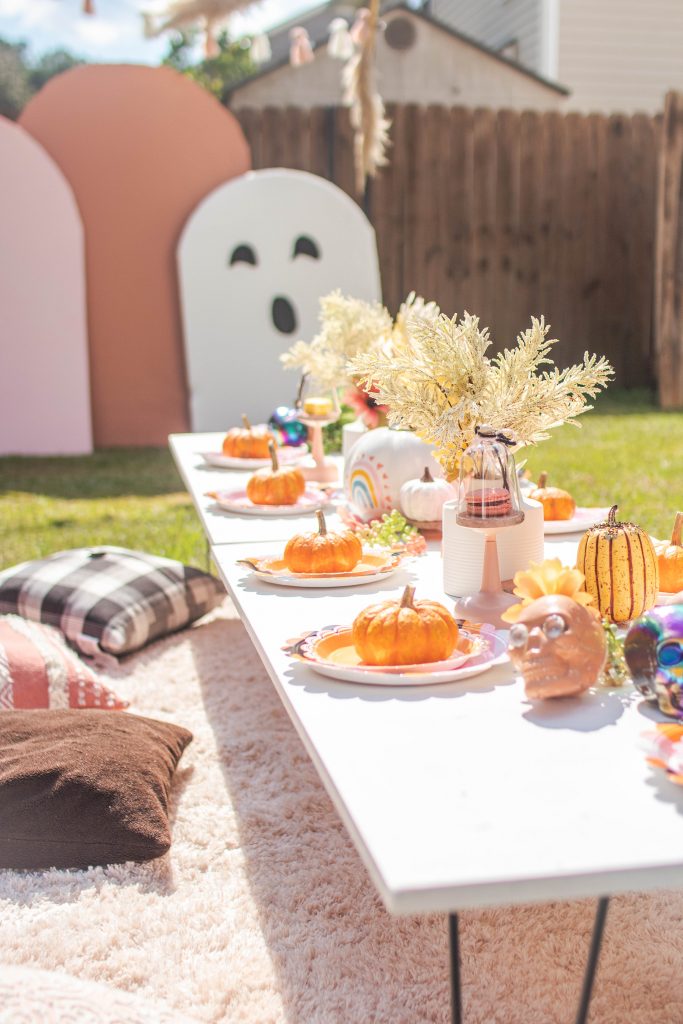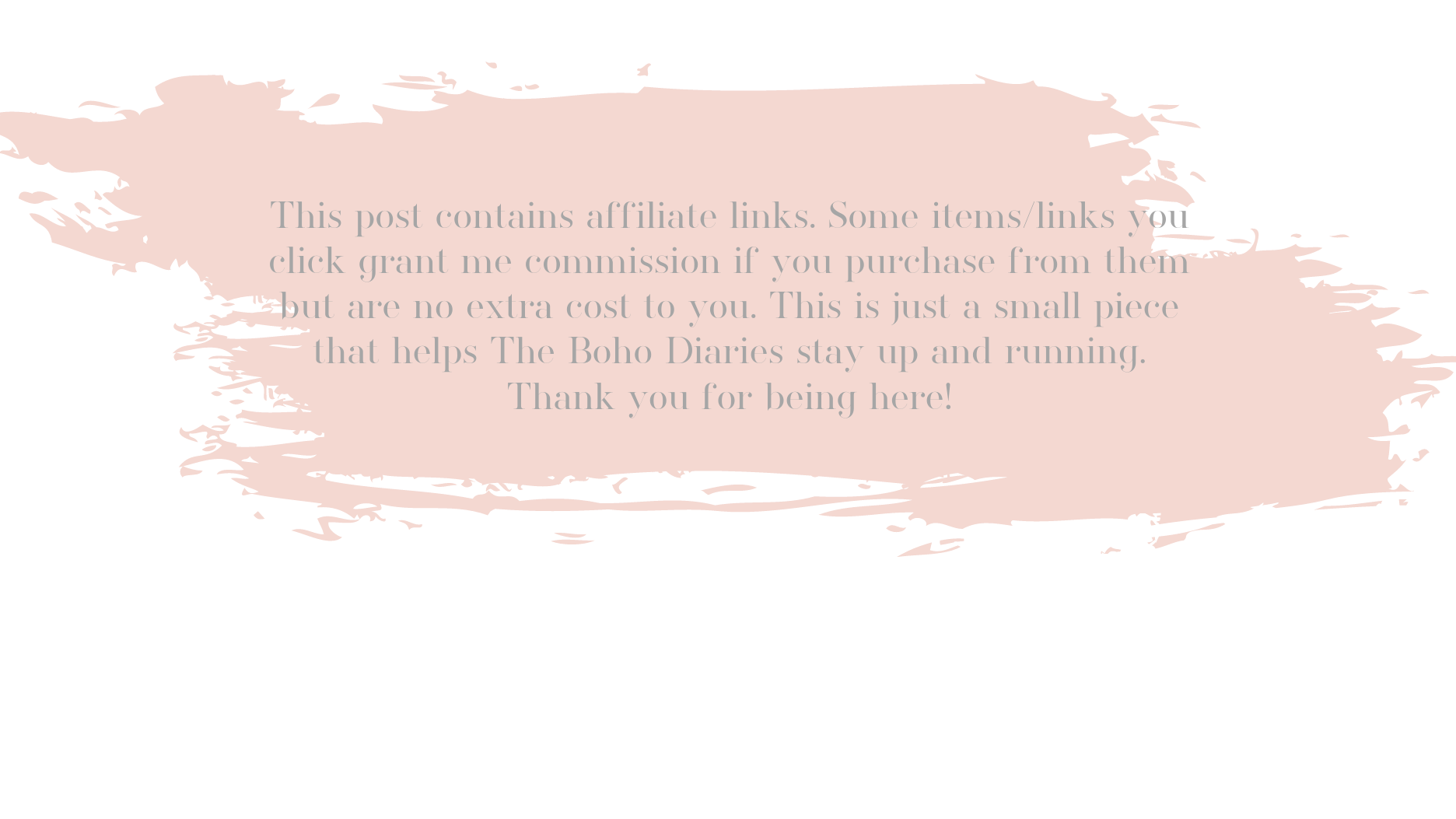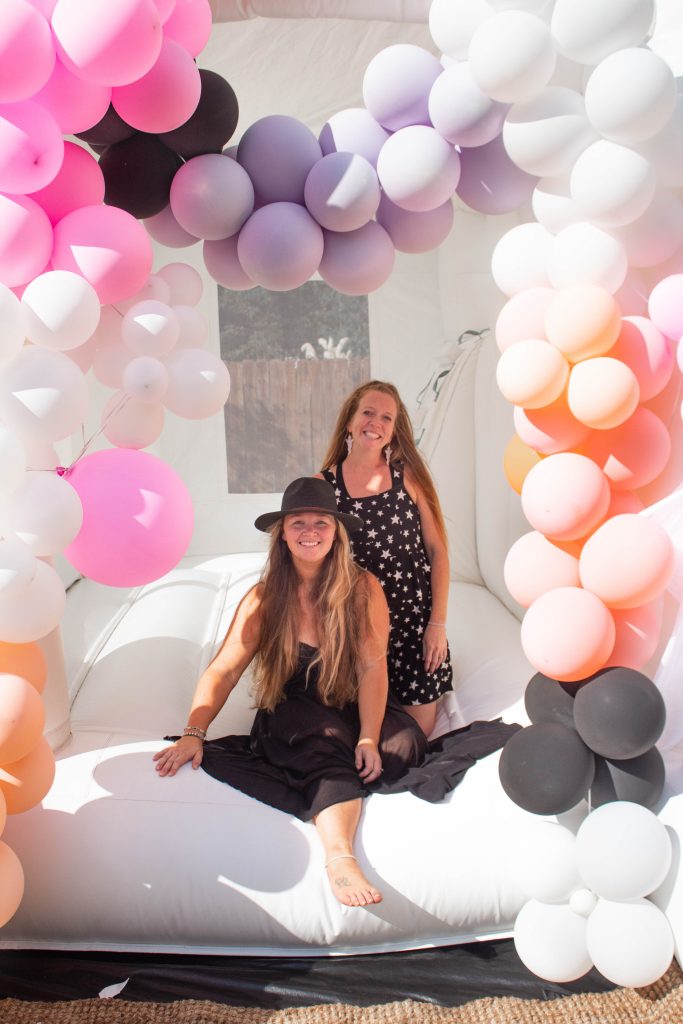 Halloween is one of my favorite times of the year to throw a party. The decorations are endless and could go in so many directions! Planning and piecing together kids parties have become a huge passion of mine since having my girls. Hopefully between last year's Ghoul Gang party and this year's Boo Crew Bash I have given lots of Halloween party ideas for kids. Last year was the first time I decided I wanted to throw a Ghoul Gang party for my friends and family, and it was such a blast that I committed to making it an annual thing. At least I will keep doing it until our girls get too old to be interested. I am truly hoping they inherit my love for parties, party planning, creation, and execution. But one could only hope. 🙂
For this year's kids Halloween party I was inspired to go very Boho with the decor, and offer more spots with photo opportunities and activities. I teamed up with Bounce My Way to provide the hit entertainment of the party, the beautiful Slide Bouncer! It kept all the guests (yes even some adults) entertained from beginning to end. It is definitely a staple you should look into renting for any big party or event you may have coming up because they're great for everything from Birthday parties to weddings! They were so quick to setup and super nice! I highly recommend them. Enter NICKI10 in the notes section when you book them for a special discount!
My party-ner-in-crime (you get it..) Ashley did an amazing job with the balloon install for the bounce house. I created the BOO letters and balloons setup with foam board and tape! We were up together prepping for a long time the night before with those balloons but it's worth it! Just look at how impactful the end result is!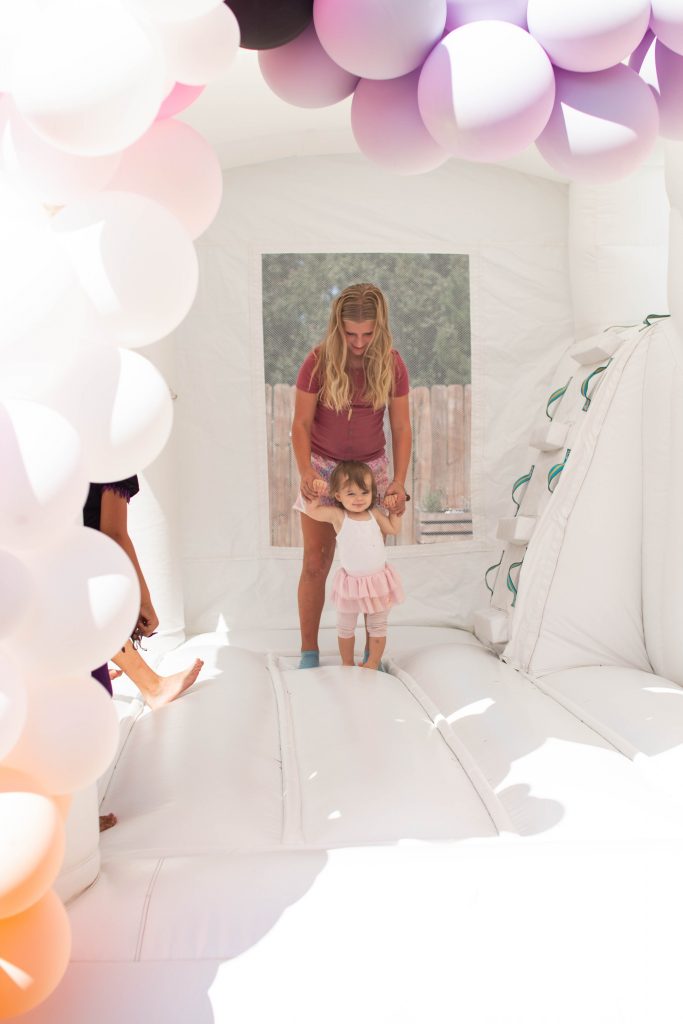 The Halloween decorations were for the kids, but I honestly get so much joy out of putting them together. I always wanted to have a little picnic table and found this party was the push I needed to bring my vision to life. I built the long white picnic table from scrap wood and hair pin legs from Lowe's. I will have a quick tutorial on it soon for ya! The super easy macaroon stand DIY that I made the first time for this party made a reappearance. I recreated the stands and bought our favorite freshly baked macaroons from Publix bakery.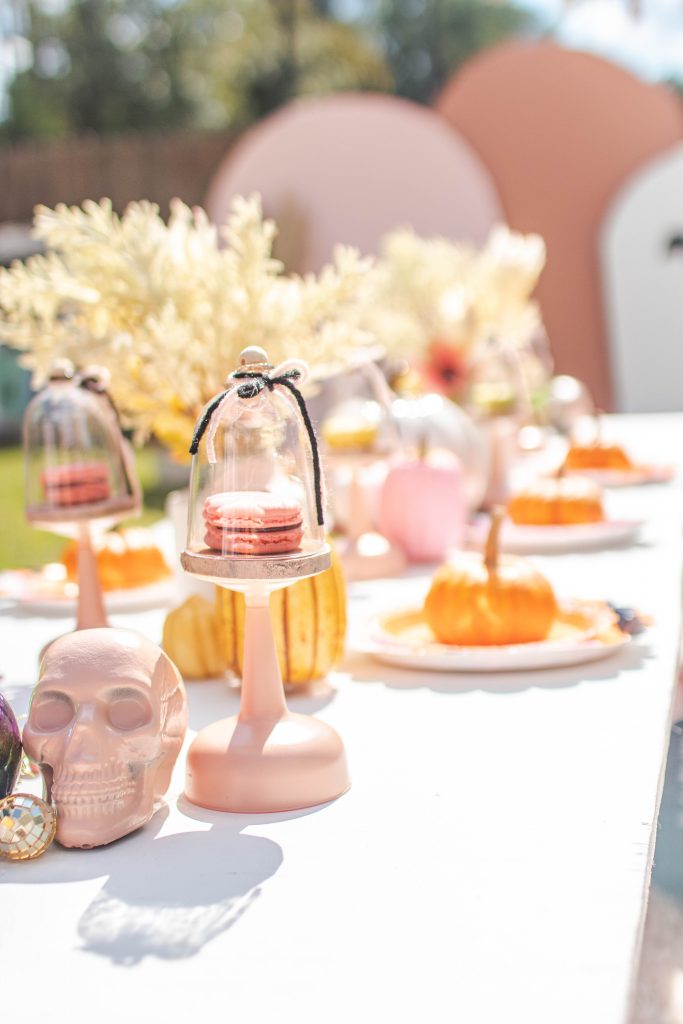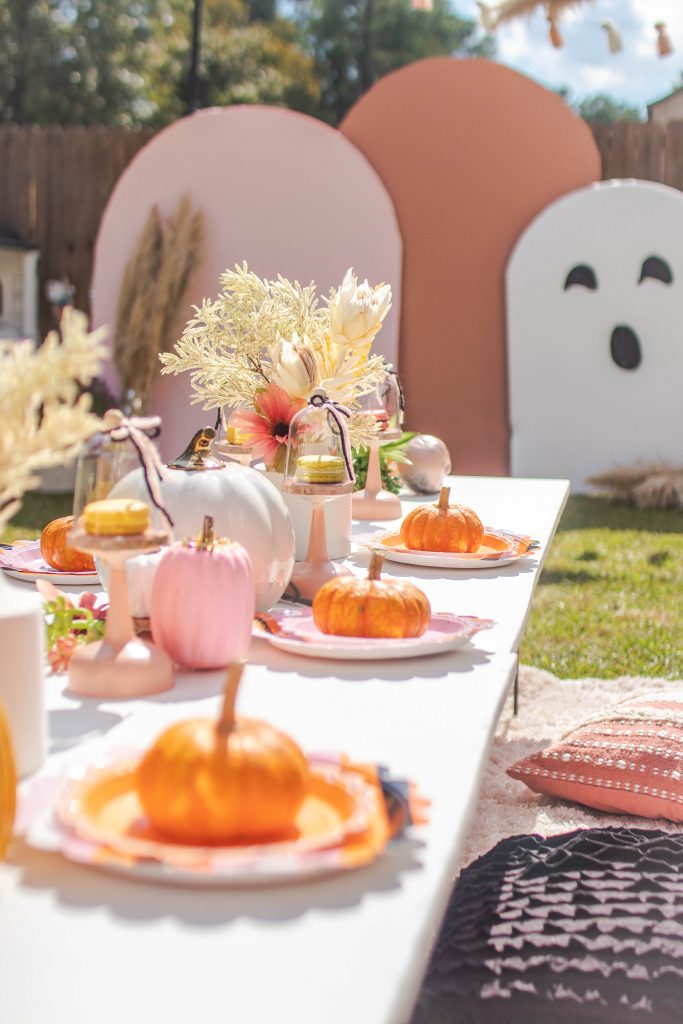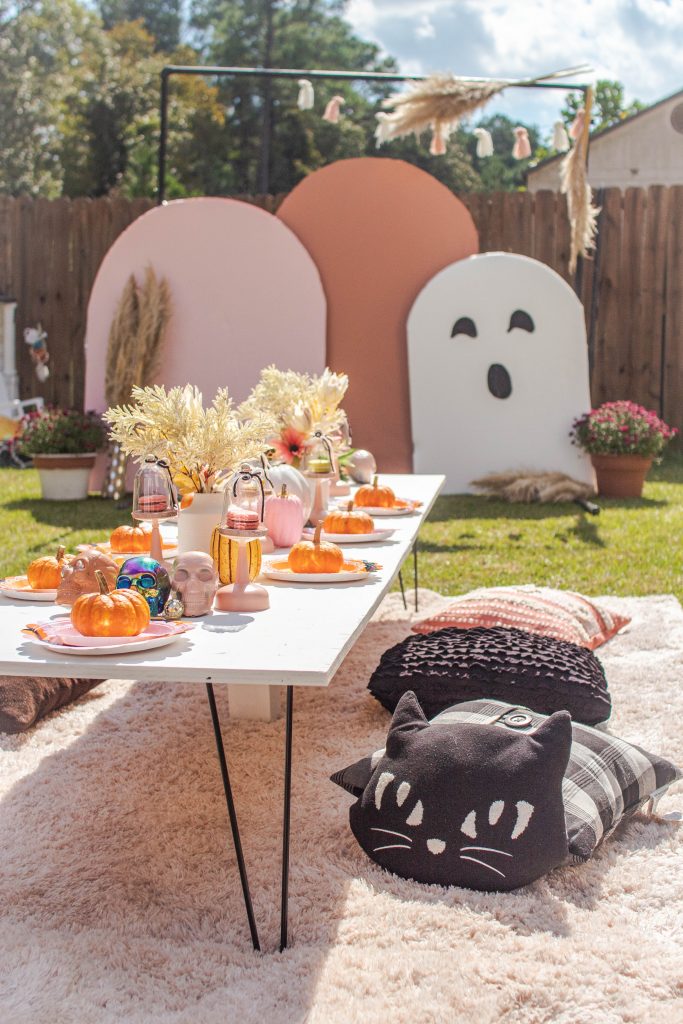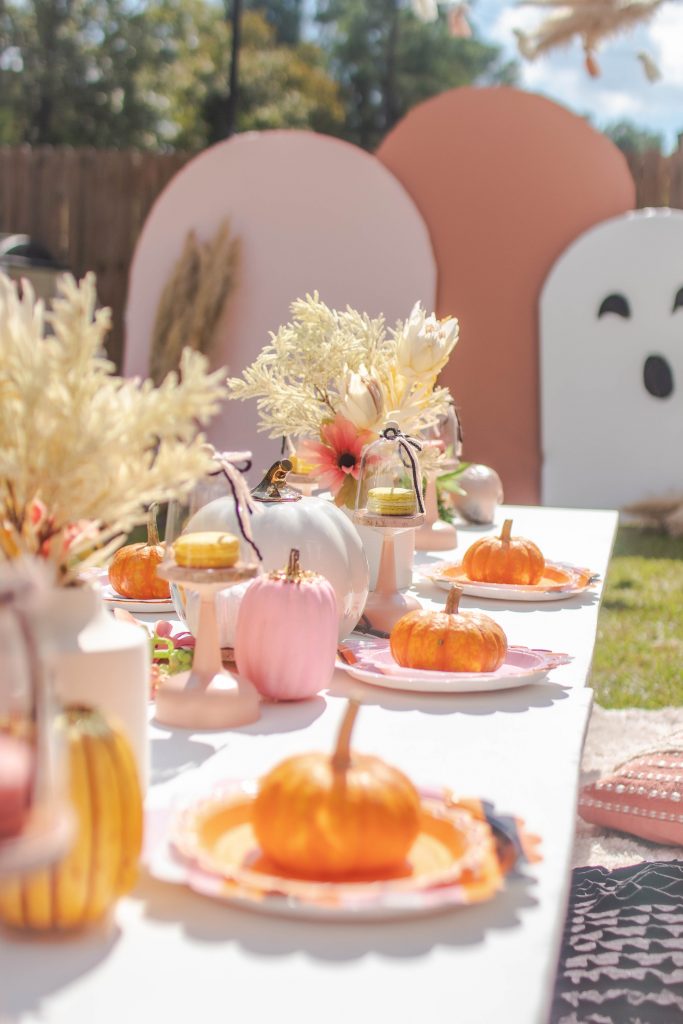 Now don't let the pictures fool you. We fought against upwards of what felt like 50 mph winds. A little insider tip, a little packing tape goes a long way! Especially with that arch installation in the back ground. That was a decoration fiasco against a really windy day. But slap on some serious amount of packing tape and anchor them to something and you're good to go. Ashley came in clutch with that idea! Staging a party, even a kids party, brings me so much joy, it's almost like I should be doing this full time. 🙂
Now for the good part, FOOD! Here are a few easy Halloween party food ideas for kids that are delicious and also serve as a fun activity to keep the entertainment going! Ashley is the half of us that does amazing work with sweets and fun treats. She made the delicious and spooky cute cake, the spider web cupcakes (with honorable mention to my talented niece Chloe who frosted them perfectly!), and monster rice crispies on a stick. I bought mini cauldrons and skulls at Dollar Tree and we filled them with cotton candy with a spider on top which was a big party snack hit!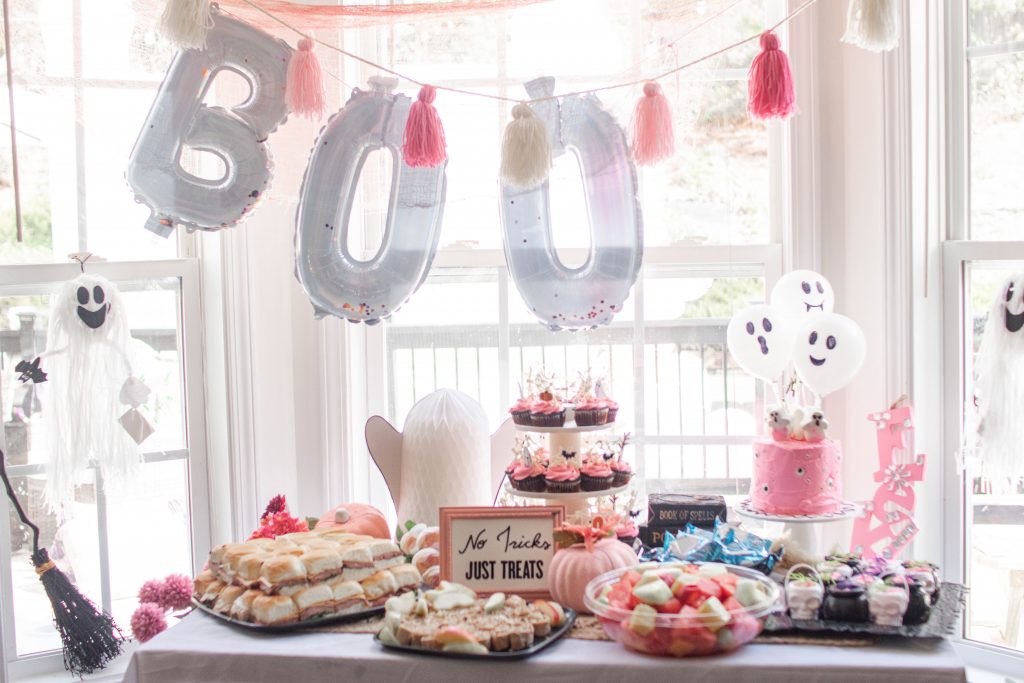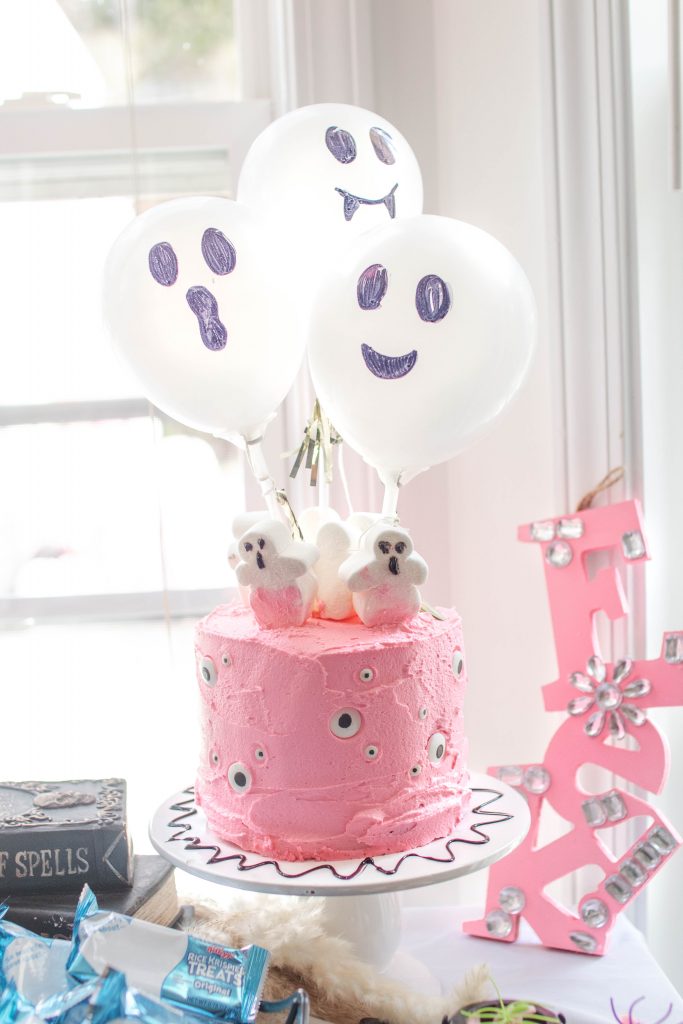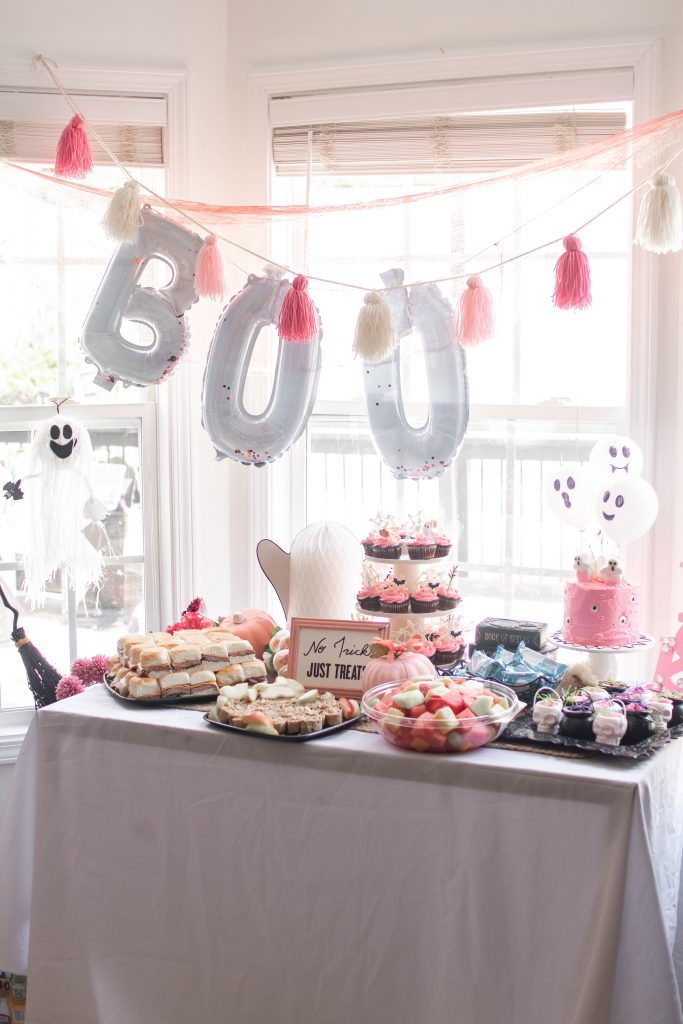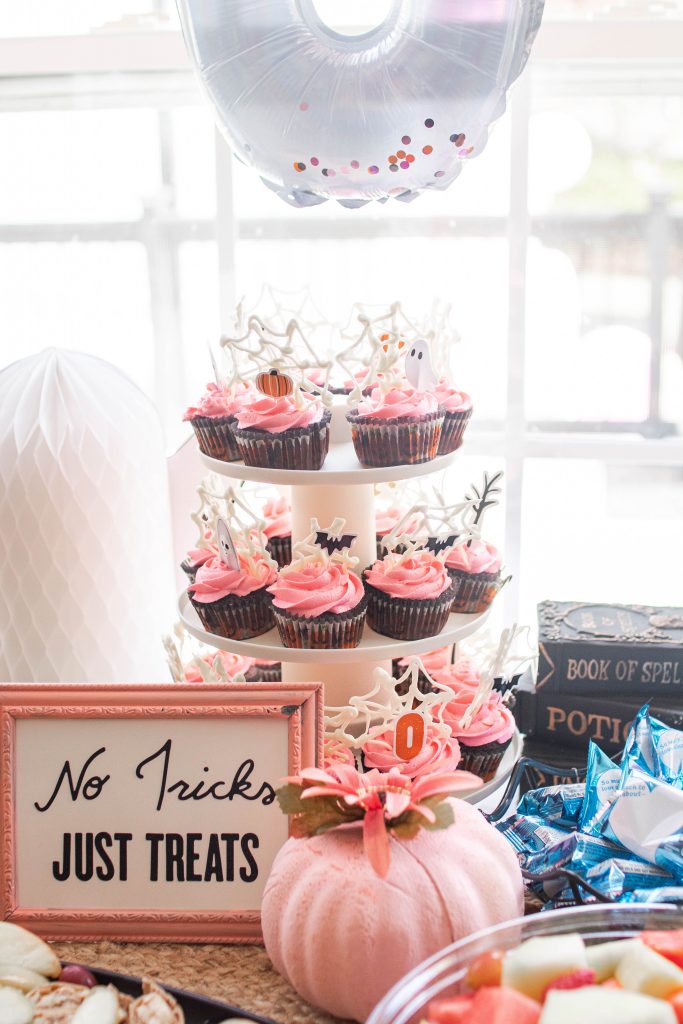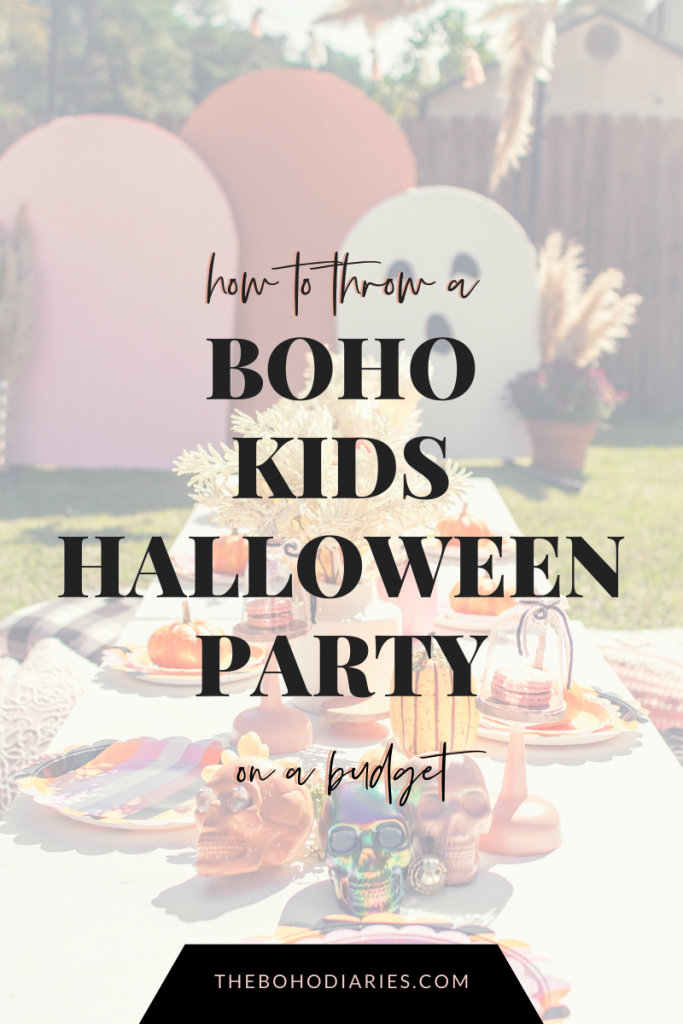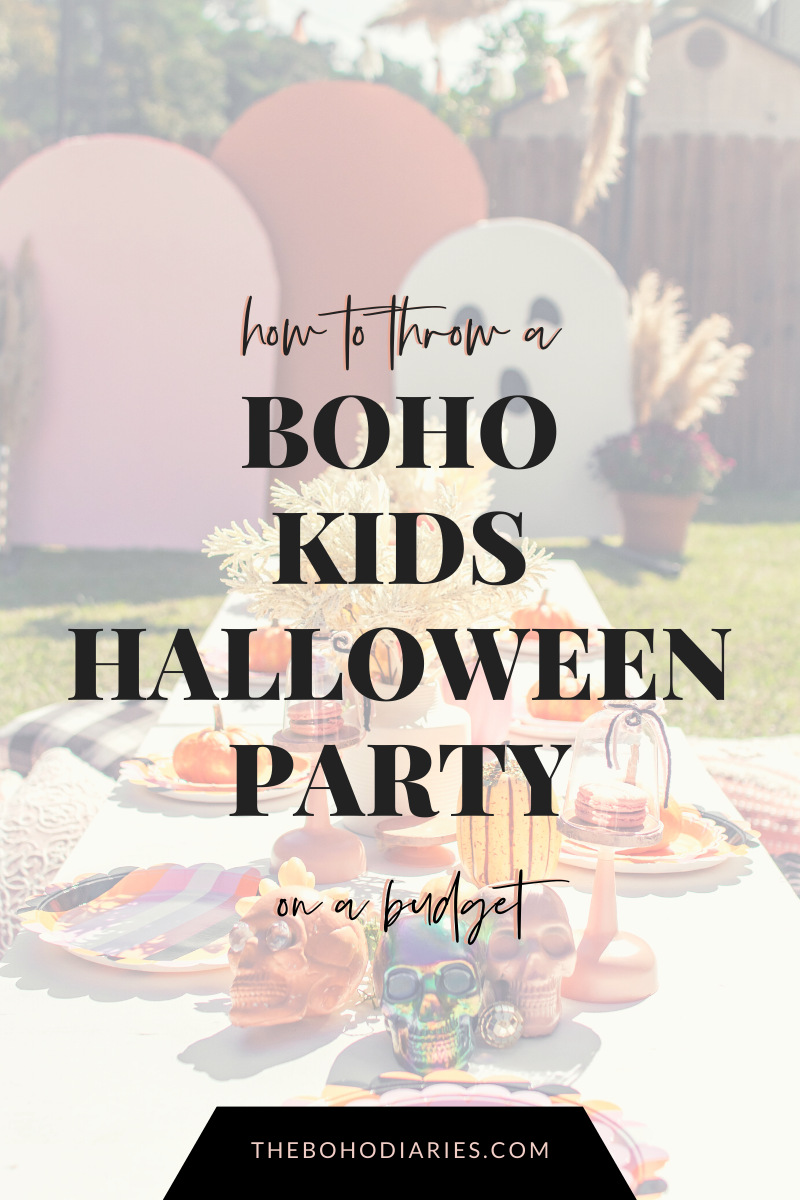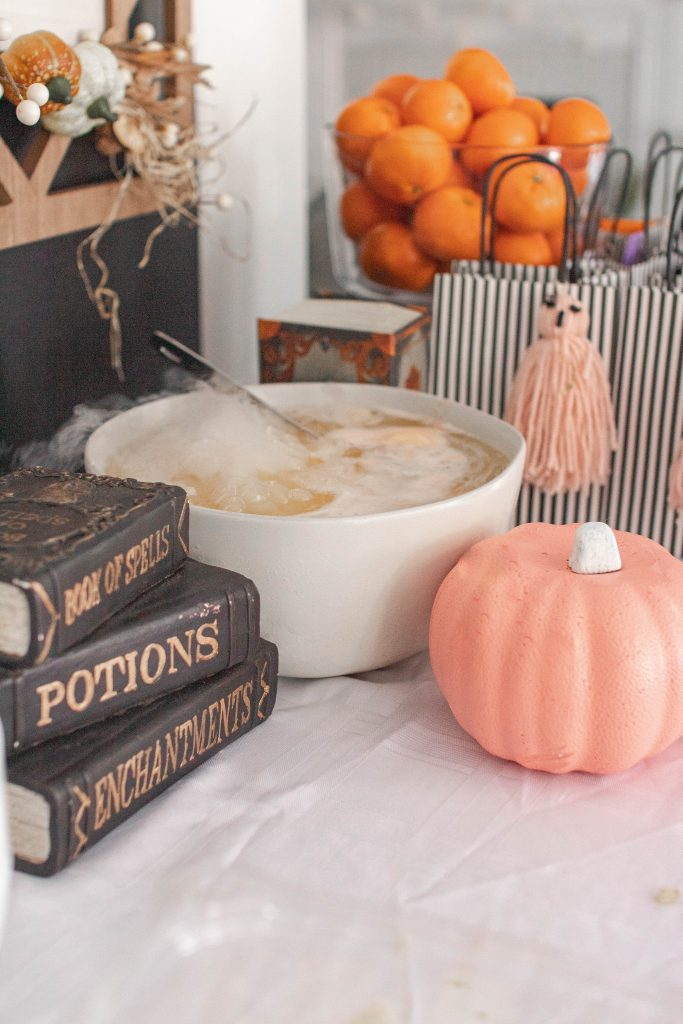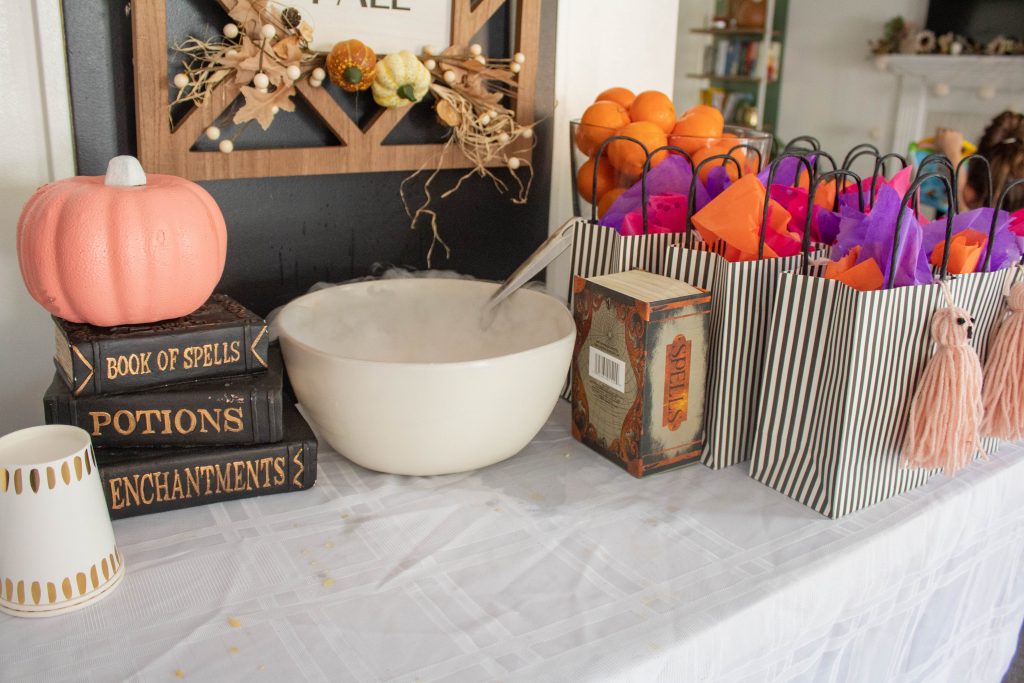 Fruity Witches Brew
Ingredients
Sherbet Ice Cream
2 Liter Sprite
1 Jug Pineapple Juice
Dry Ice Block (2 Lbs)
Directions
In large punch size bowl, pour in half pineapple juice and half Sprite
3 Scoops of Sherbert ice cream
Drop in half piece of dry ice and watch the cauldron bubble!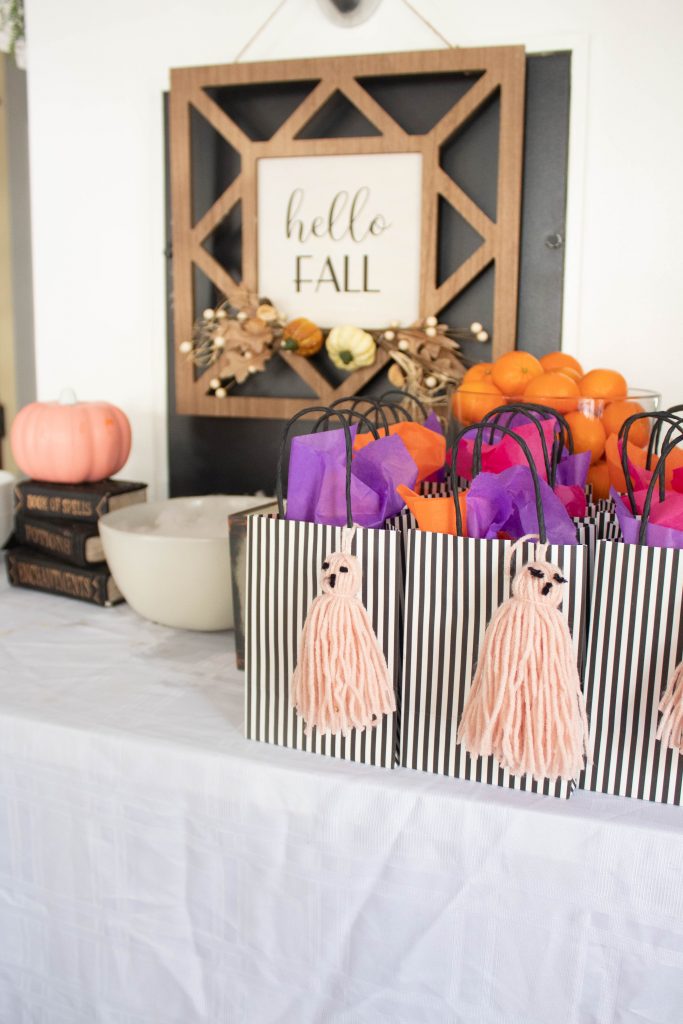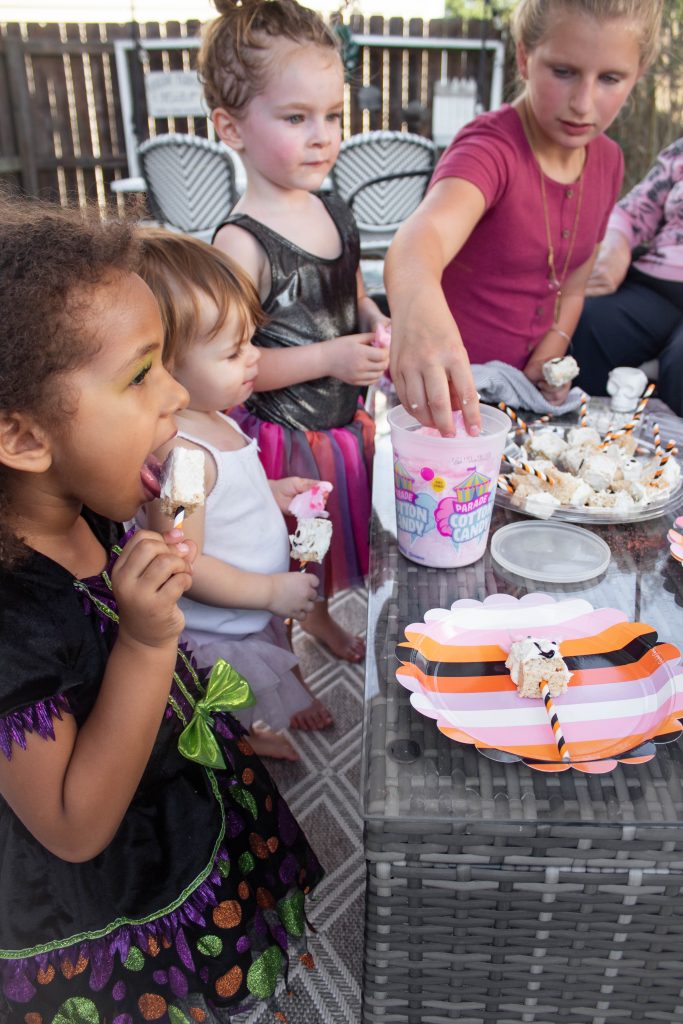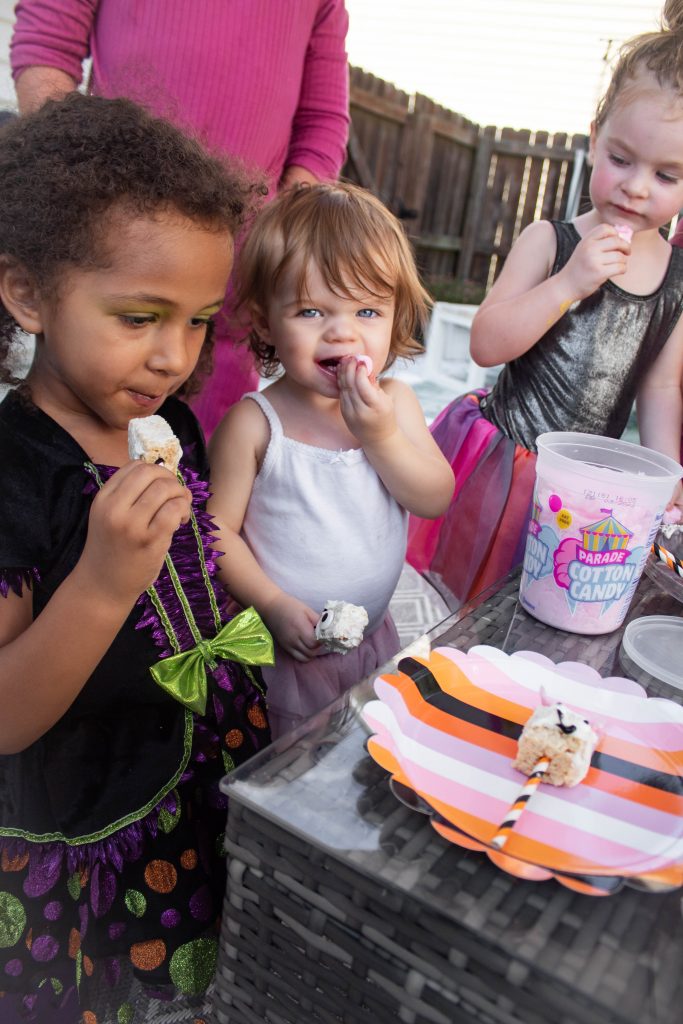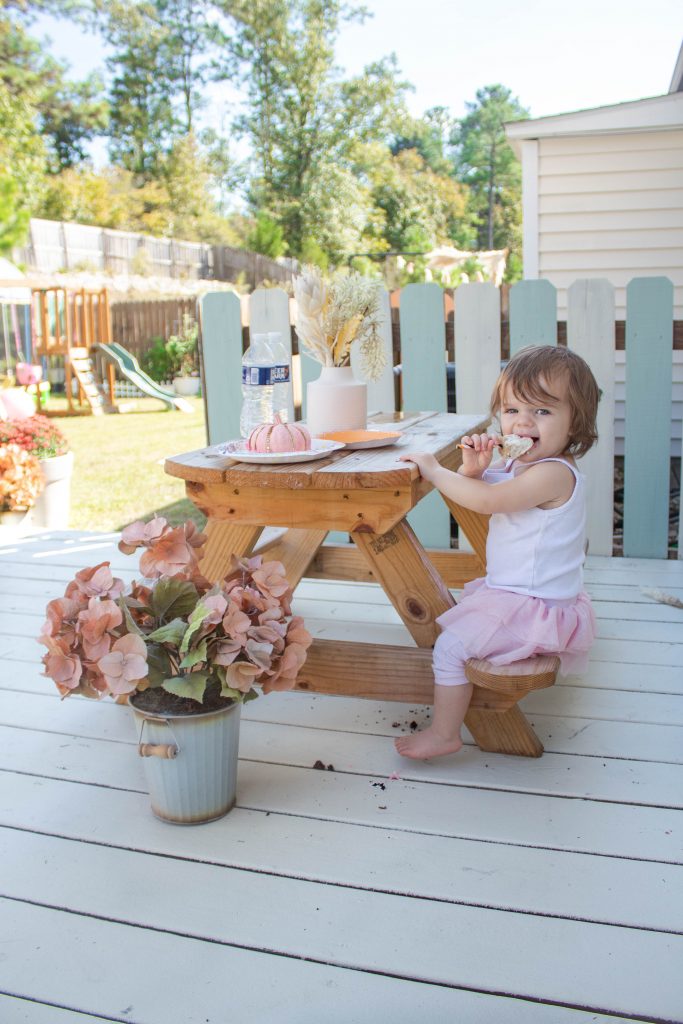 I think this little girl had one too many!
It's always a good idea to turn the kids party snacks into an activity. We had them decorate their own rice crispy monsters. In the past we've done decorate your own cupcake, or build your own ice cream sundae, decorate your own cookies to take home. Anything to keep them busy and engaged makes for a successful get together!
Although we had the snack activity, I also setup stations to decorate your own pumpkin, decorate your own wand, and Ashley brought Halloween pennants for everyone to decorate. I supplied mini pumpkins but also recommended everyone to bring one and paint as a family to take home for decoration.