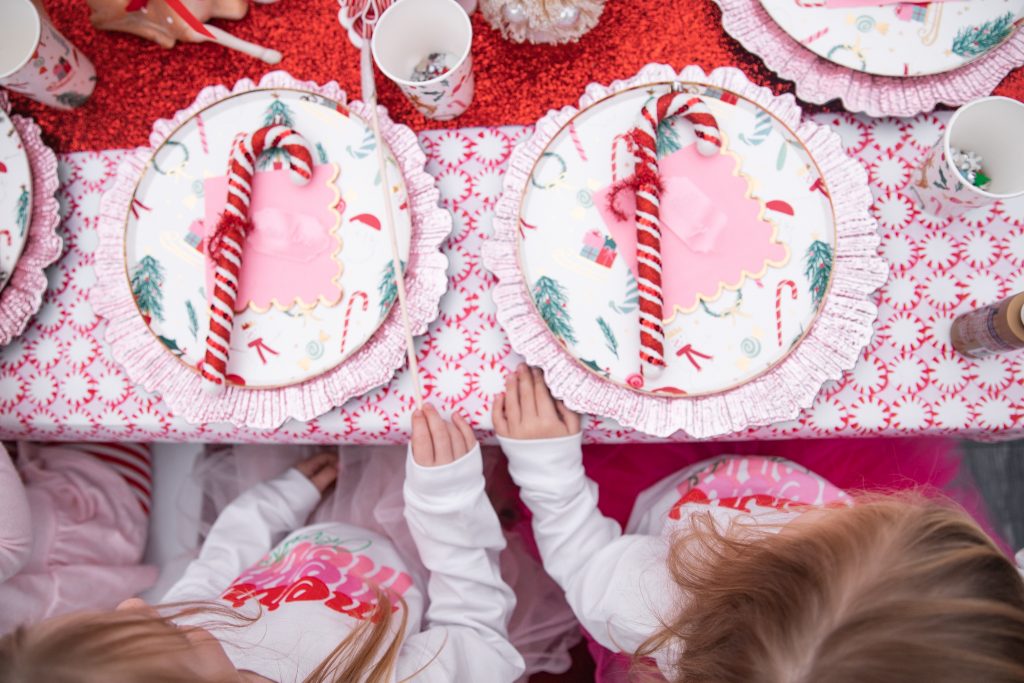 ---
At Christmas time there is no lack of
family activities to do around NC. I love to find new and exciting things and experiences for my family around our area, so when I found Haute House Kids' Candy Cane Tea party in Santa's igloo, I just could not pass it up!
This private event is in Santa's igloo at Fenton in Cary, NC. Haute House Kids hosts and designs elegant parties for little ones that is inclusive of so many things. The first activity the girls had was making a magic wand. They decorated their wands with gems and stickers, and finished it off with ribbon. Every little one loves a fun little magic wand!
Santa's igloo was the perfect space for this event, and the gorgeous Christmas decorations inside brought the magic to life. Of course, table-scapes are my favorite so I was swooning over the little tea party table setup.
---
---

---
---
---
The Candy Cane Christmas tea party had yummy sweet snacks and white hot chocolate for everyone. Once all the little ones were done with their wands, they got a special visit from Christmas Tink!
Tinkerbell made a very special appearance and she came decked out in her Christmas attire. All the little ones were so surprised it was very sweet. She made her way through the igloo and held story time for everyone.
Seeing Tinkerbell was a very fun surprise for the girls, especially since we are going to see Disney on Ice this coming up Thursday. Caroline told Tink she would "see her at the Disney on Ice!"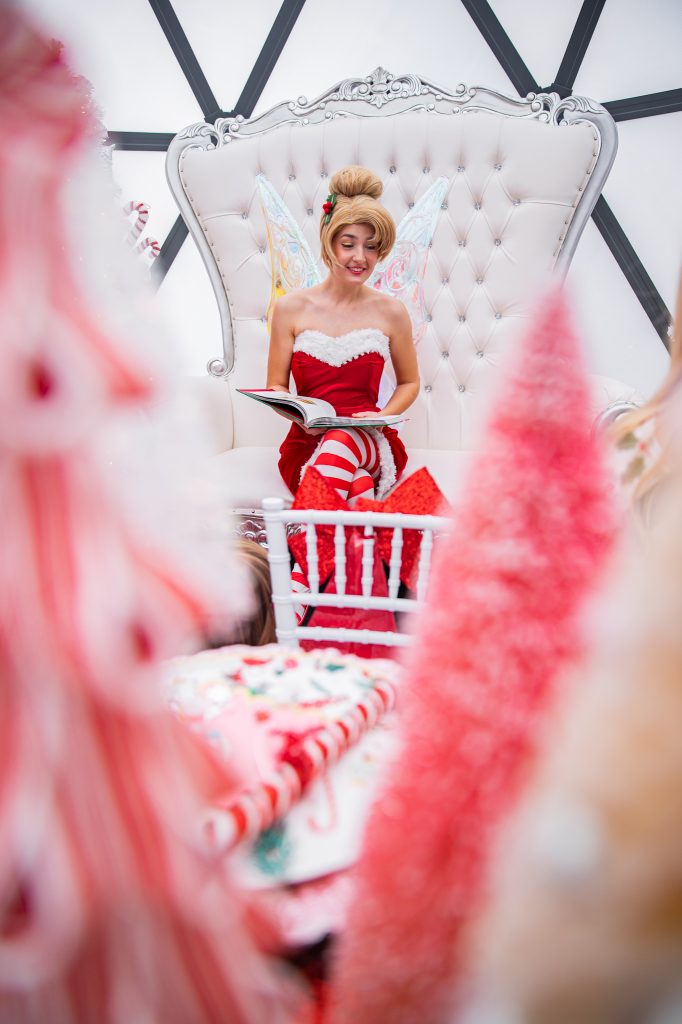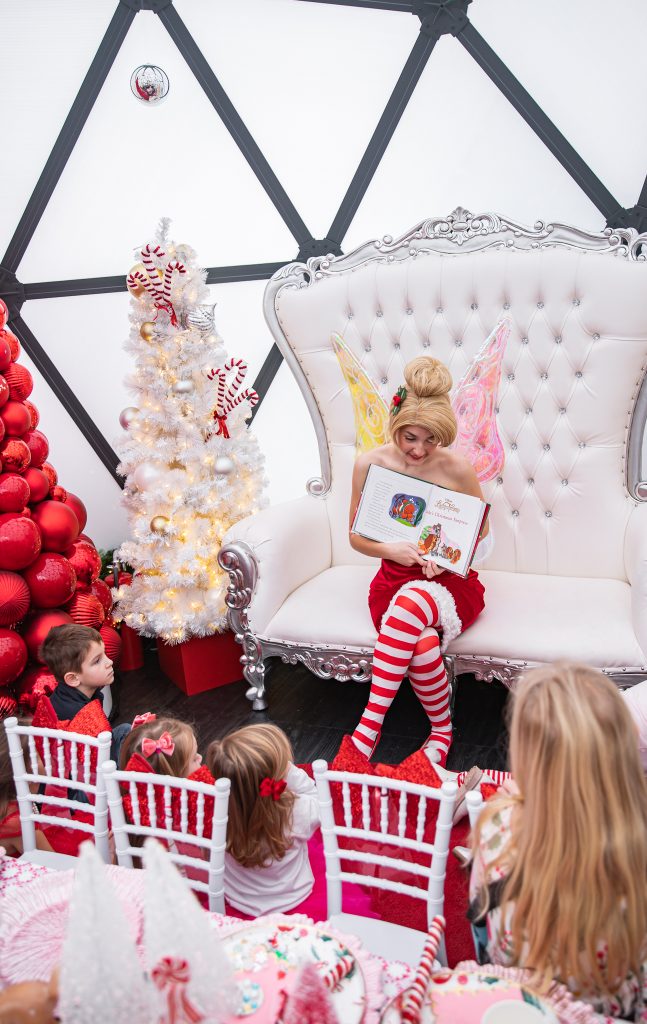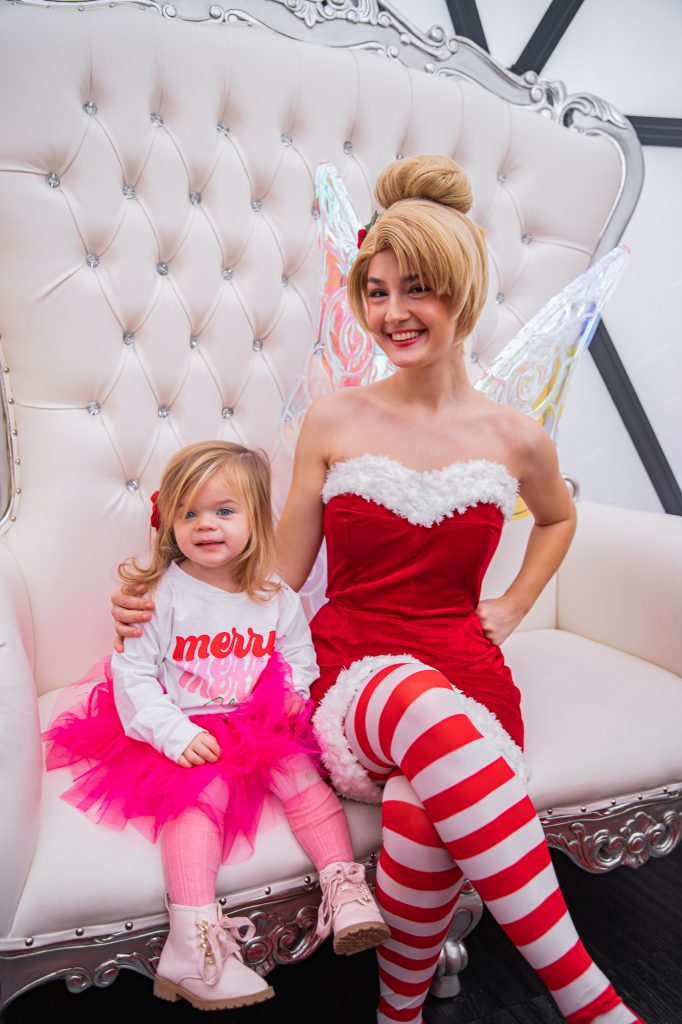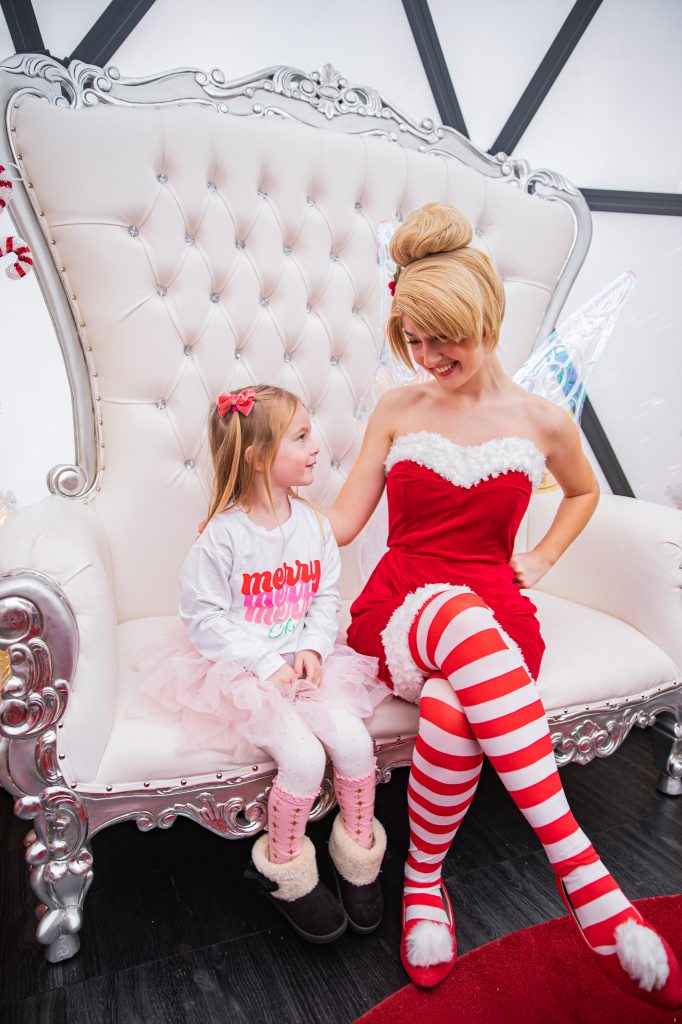 ---
The final activity for the Candy Cane Christmas Tea Party
in Santa's igloo was ornament making! Each little one had their own ornament they could fill with their own magic pixie dust. Jordan with Haute House Kids had each guest choose the fairy dust they wanted, filled their own little ornament, and secured it with candy cane ribbon.
The candy cane theme was showing up everywhere, my girls loved it. They love candy canes! On top of the ornament they made, they each got a candy cane ornament, with a personalized acrylic name plate to take home. Very special! I love that the private events she holds includes so much!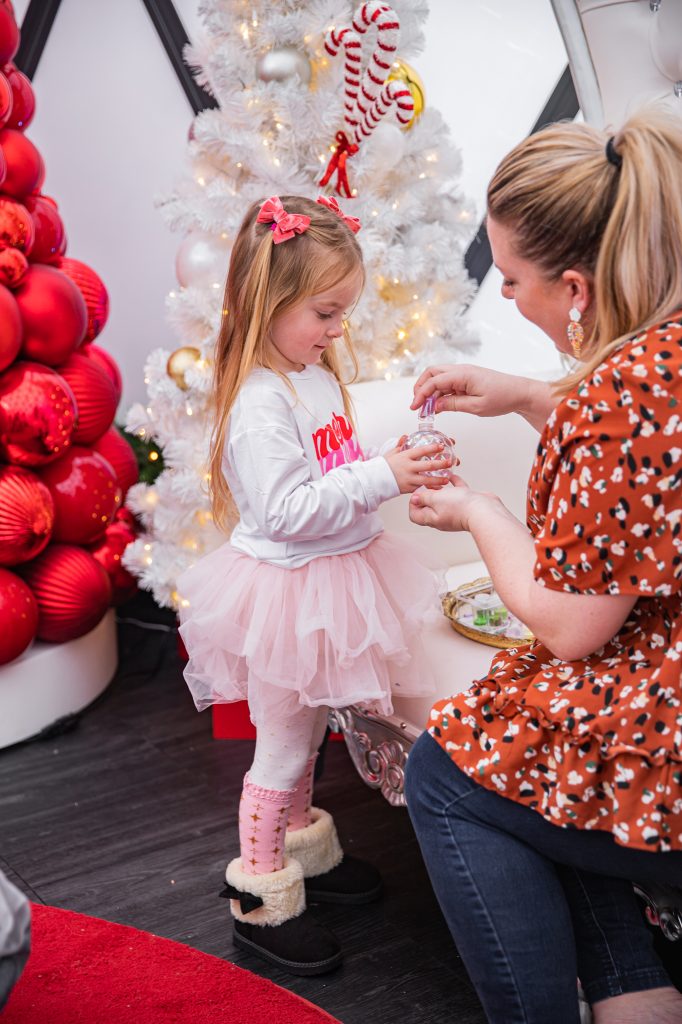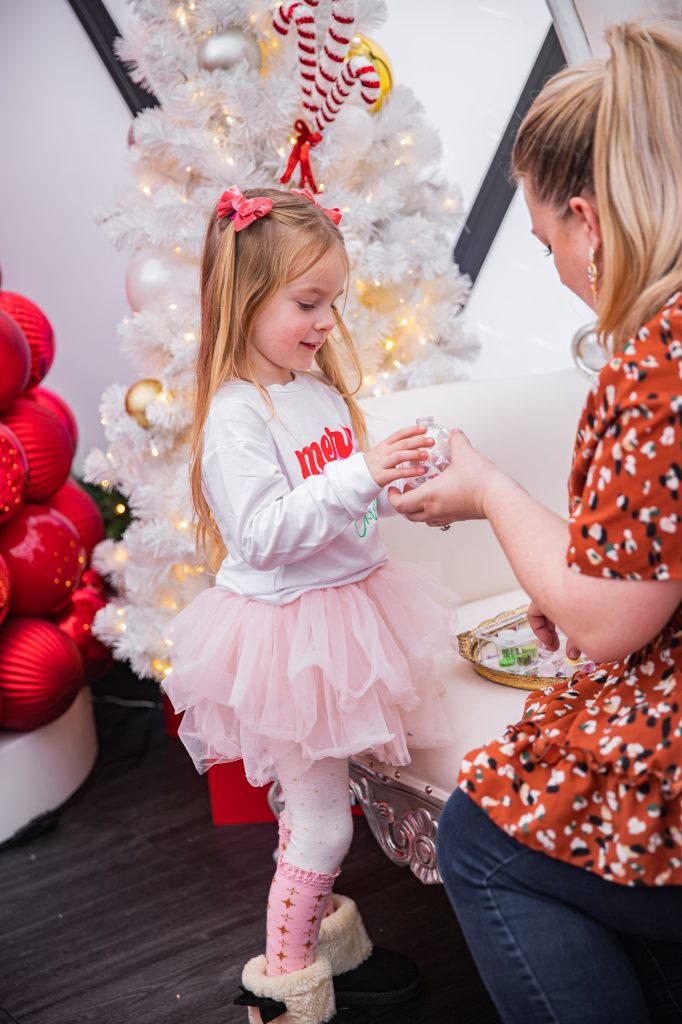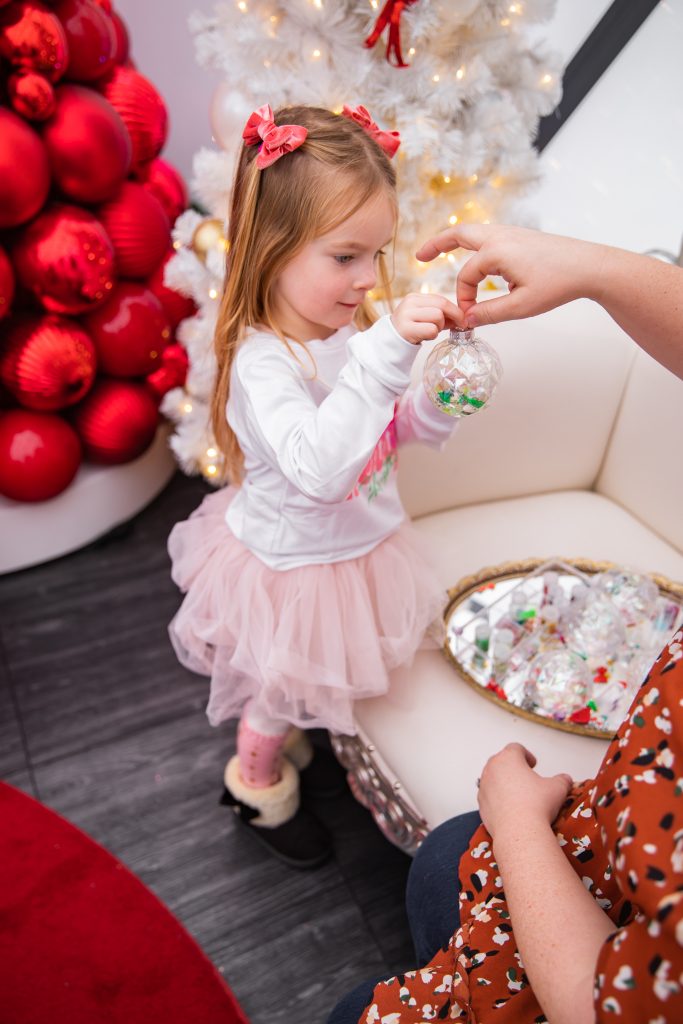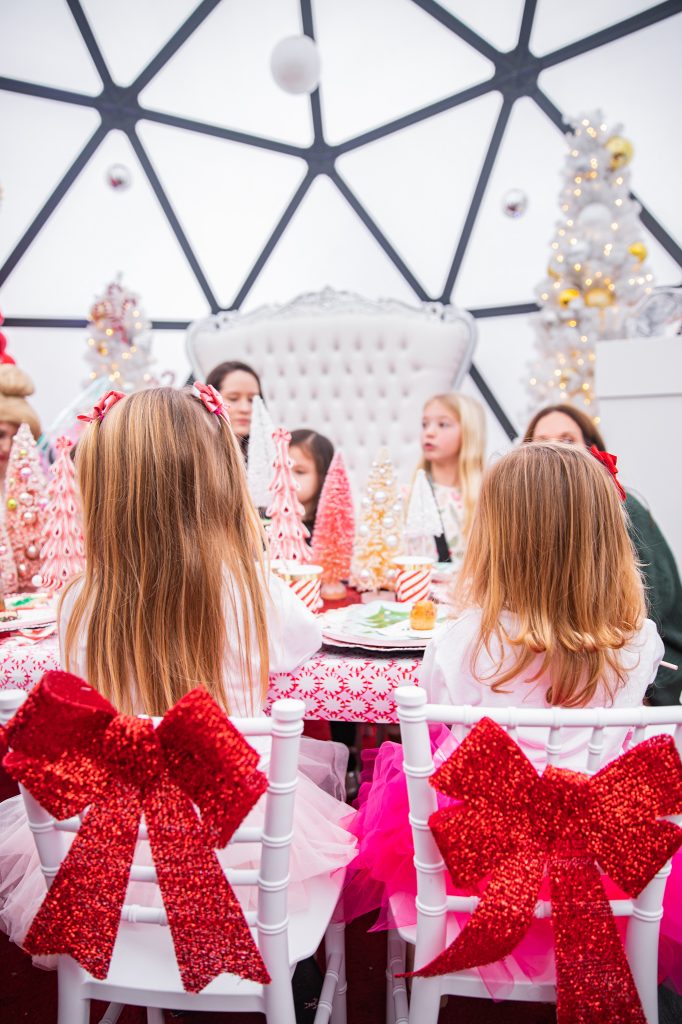 ---
After the wonderful Candy Cane Christmas Party in Santa's igloo
ended, we ventured around Fenton a little bit. Caroline had been dyeing to go ice skating since I showed her a video of Fenton a few days prior. So Morgan and Caroline strapped on some ice skates and looked adorable as ever skating around hand-in-hand. I attempted to for about 5 minutes and realized the maxi skirt I was wearing is probably not the best fashion piece to wear on a cold, wet ice rink.
Watching those two together skating in front of the giant Christmas tree warmed my heart so much! Ellowyn is just a little too small to skate but I think she will be ready to go out there next year.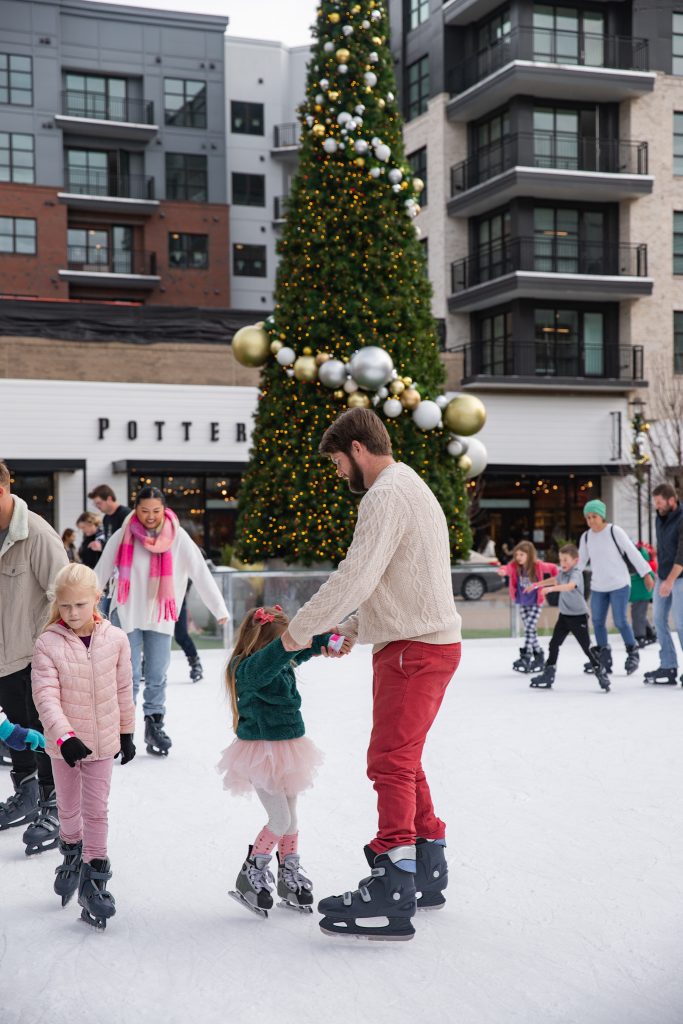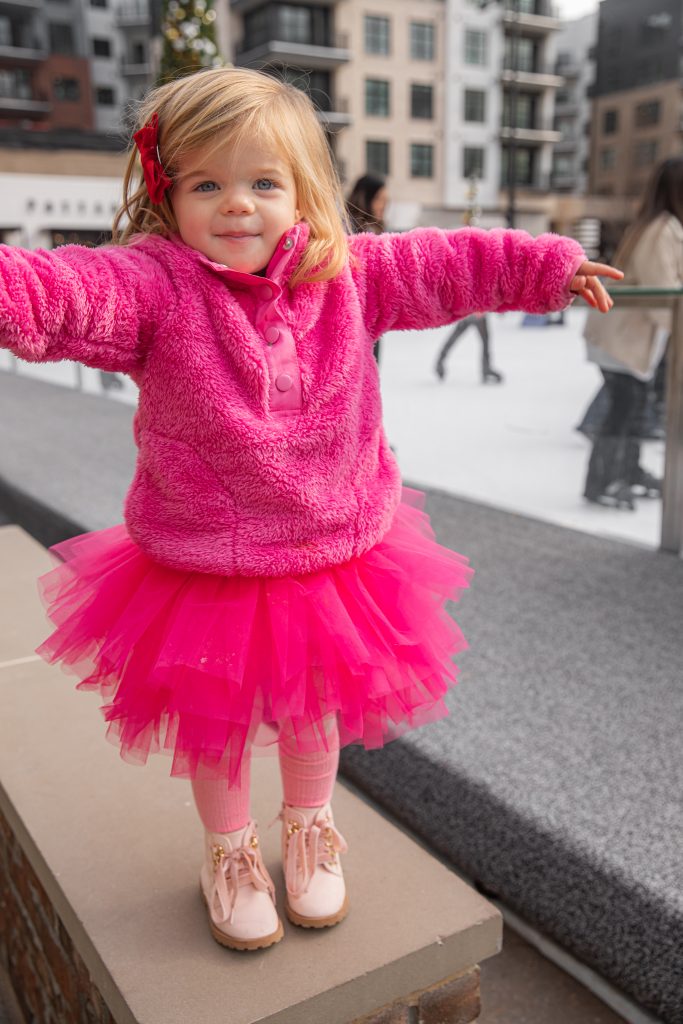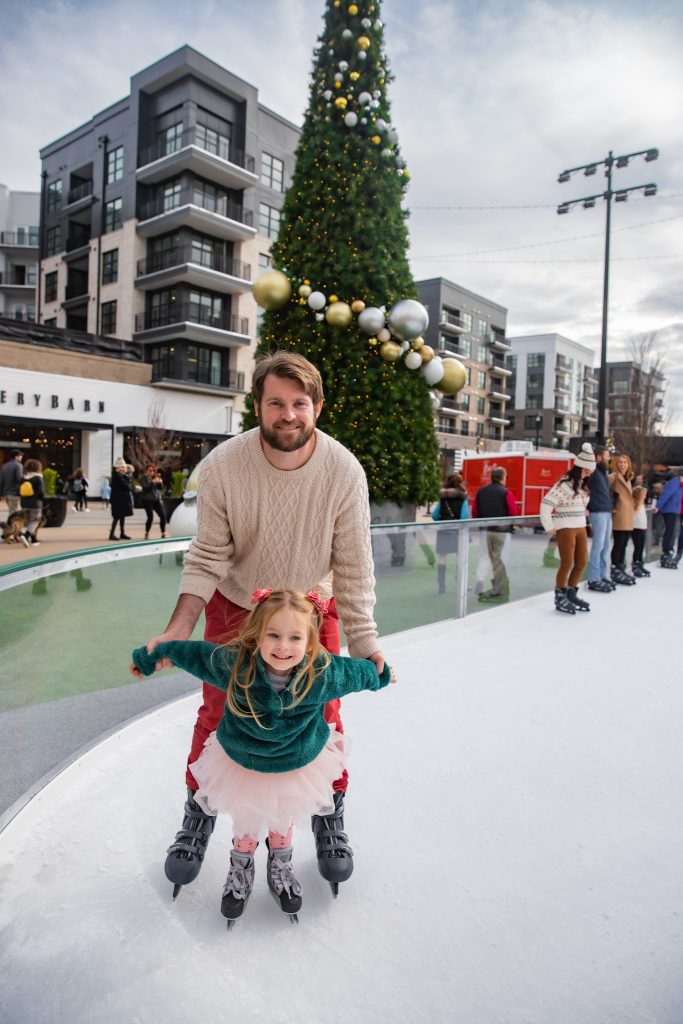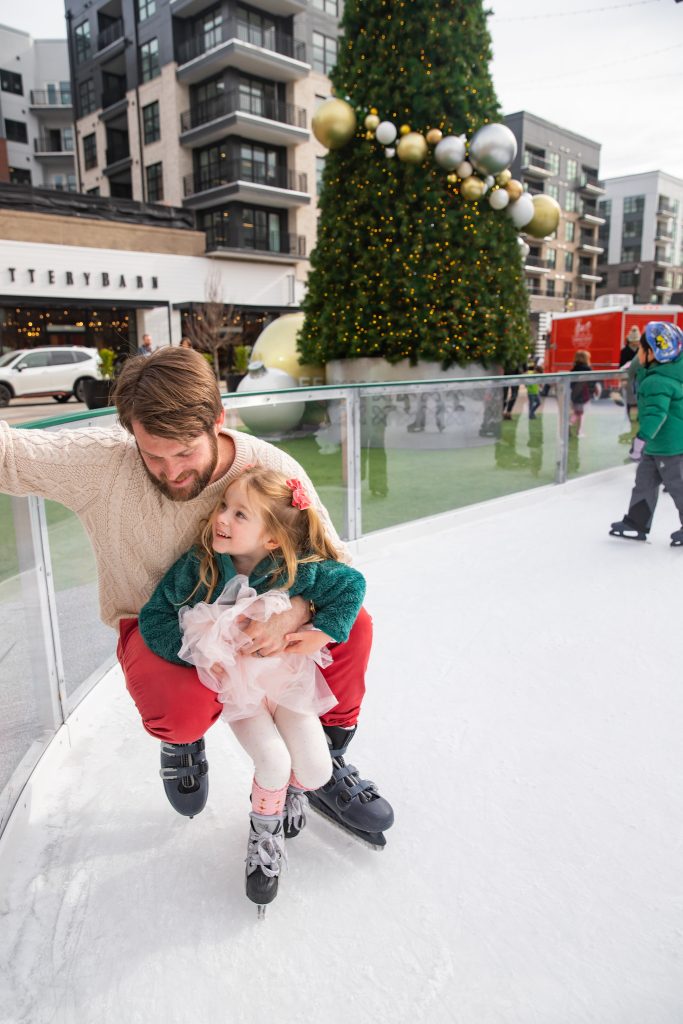 ---
For the grand finale of our already magic filled Christmas day
the girls met with Santa in his igloo after we went ice skating! We have been talking about what we were going to say to him, and what we were going to ask when we saw him. Caroline was SO psyched to see Mrs. Claus there too.
My mama heart was so happy when they both hugged on Santa with no problem and Caroline did not hold back with her list for Santa. Check out this adorable little Reel of the girls visit with Santa Claus!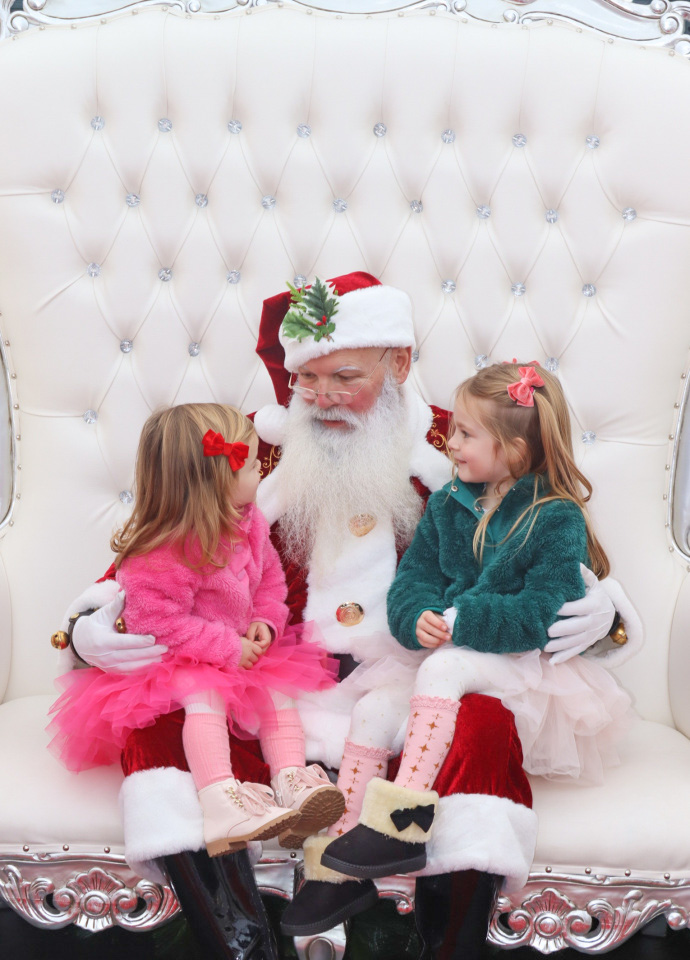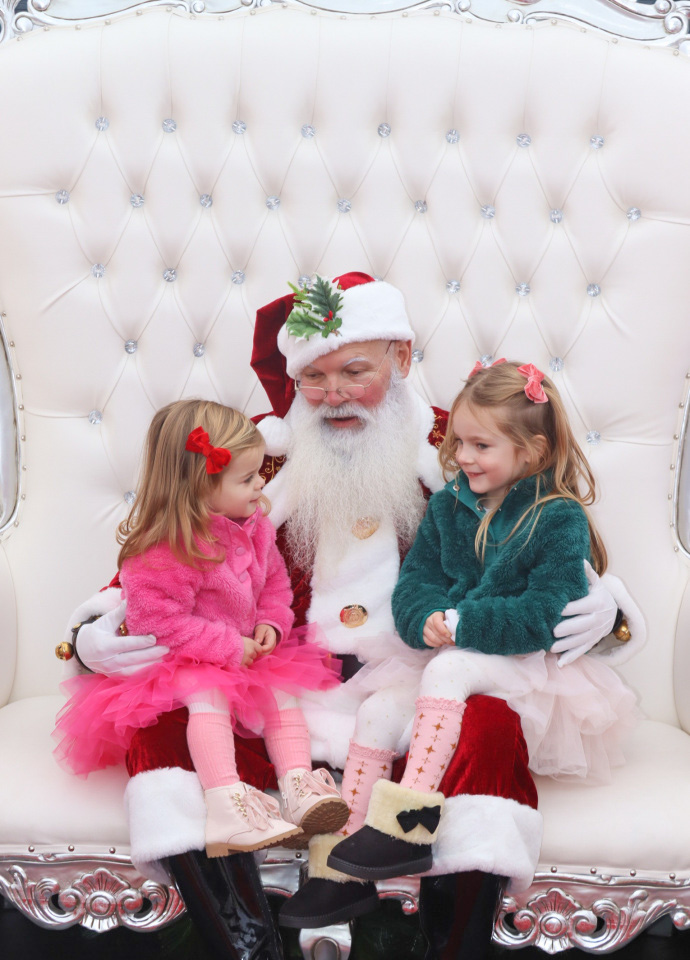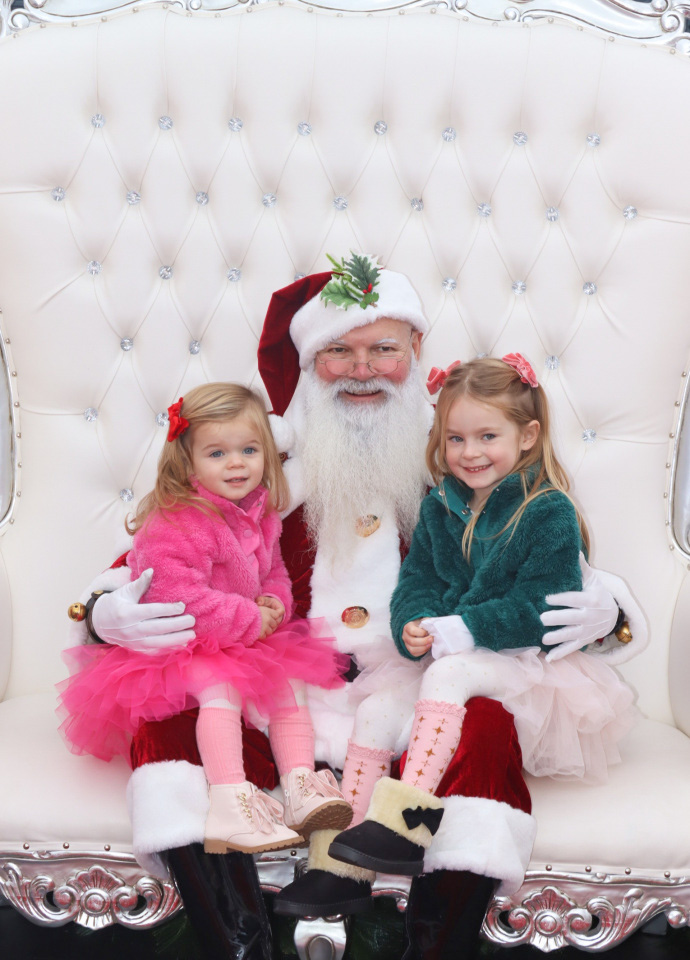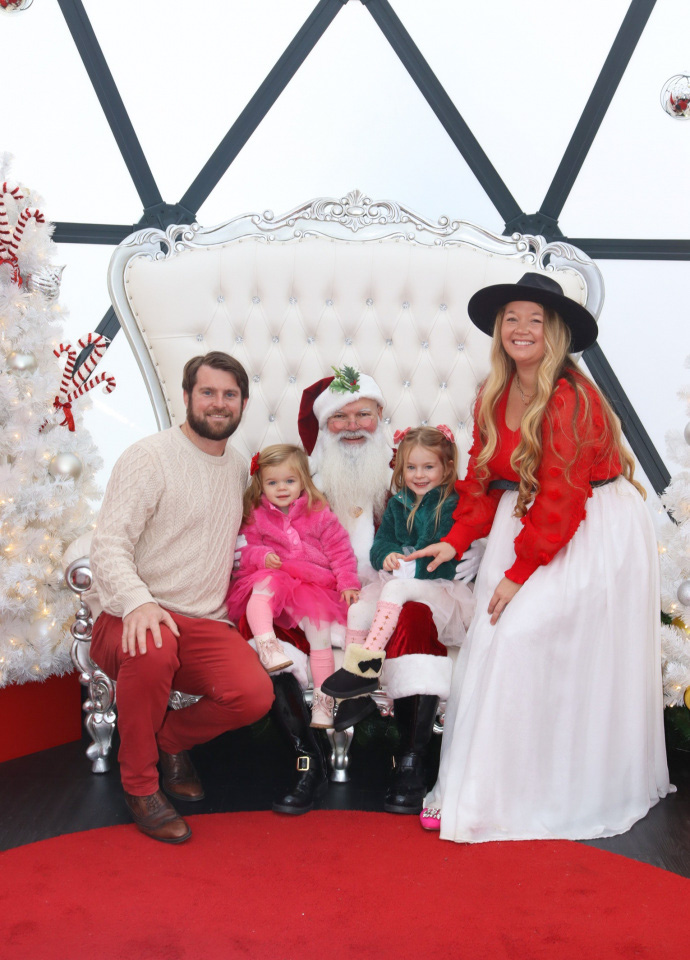 ---
The girls were able to ask all of their questions, and Santa had some funny answers for them. He asked what they wanted for Christmas and Caroline gave him a long list (some to include items she has never mentioned to me or Morgan) and Ellowyn said PEPPA PIG!
Honestly, my face started to hurt from smiling so hard. Watching them there with Santa was so special as a mom. To see my girls experiencing the magic I looked forward to as a girl every year made my heart burst!
You can make a reservation to visit Santa in his igloo and I can tell you, it is worth the wait!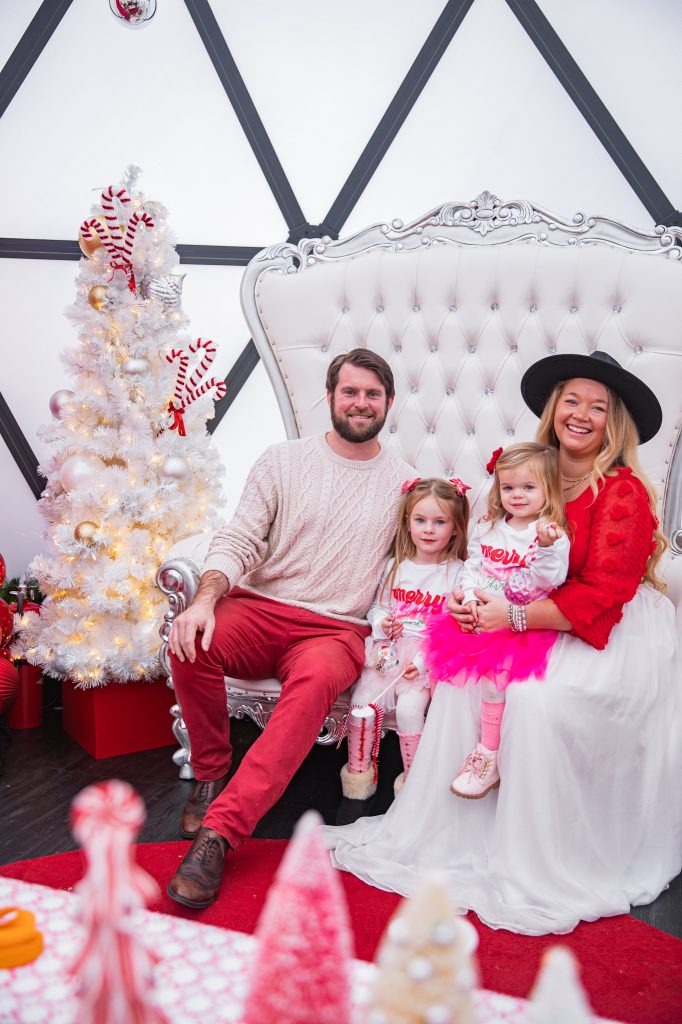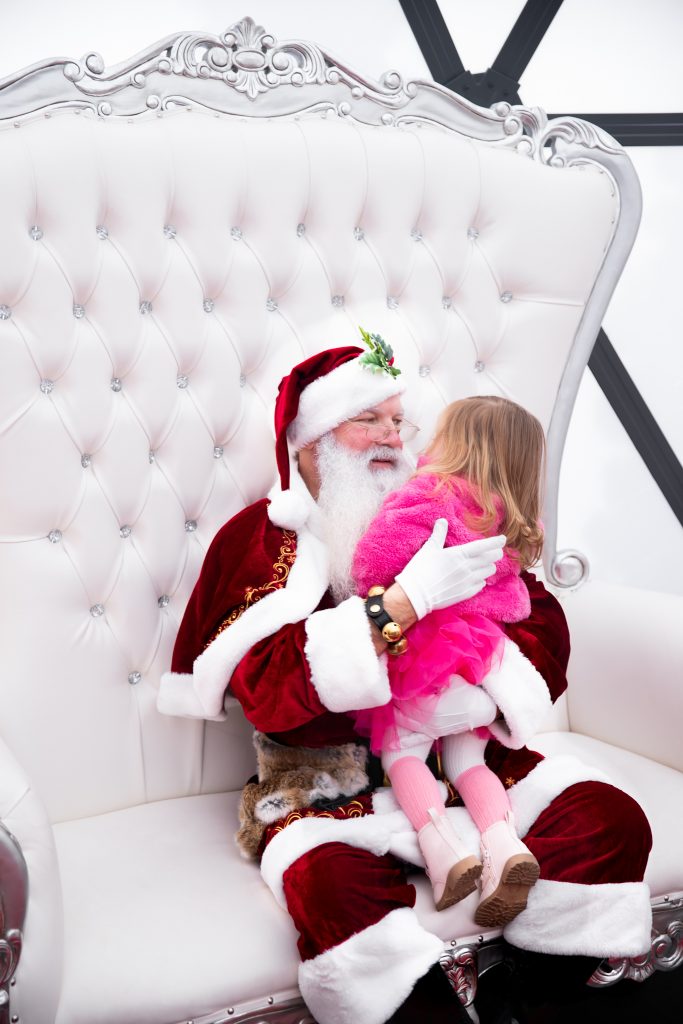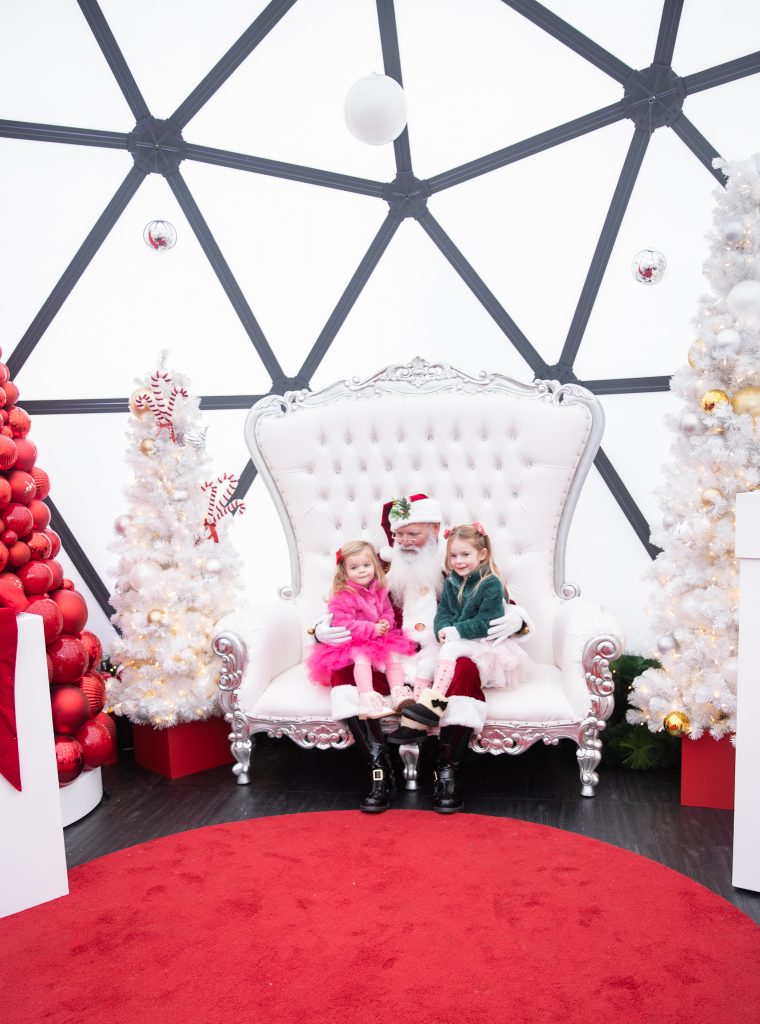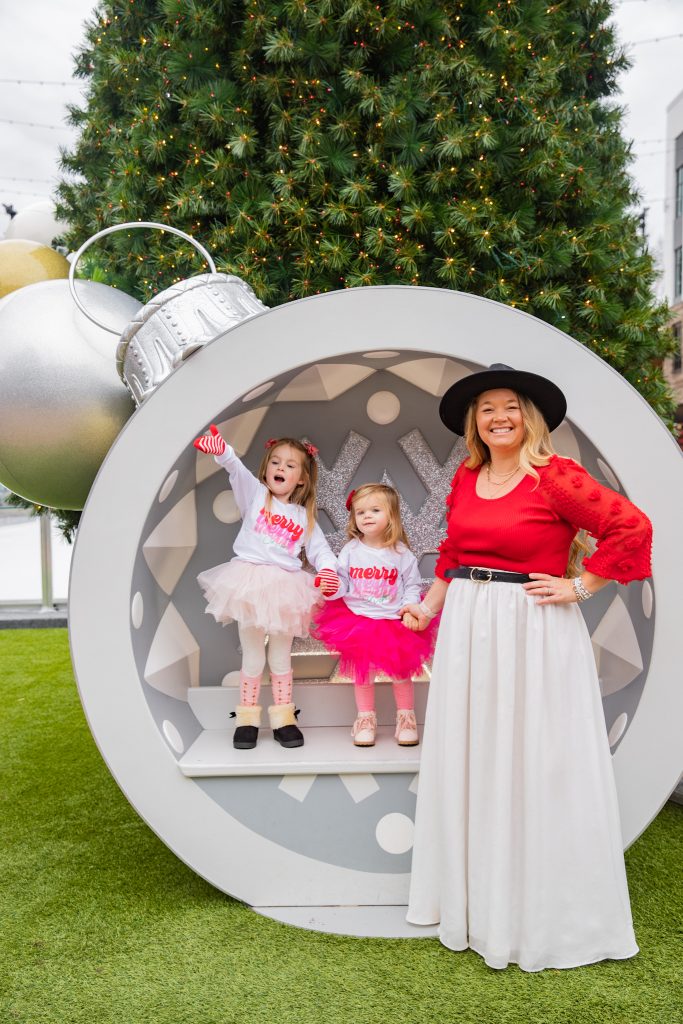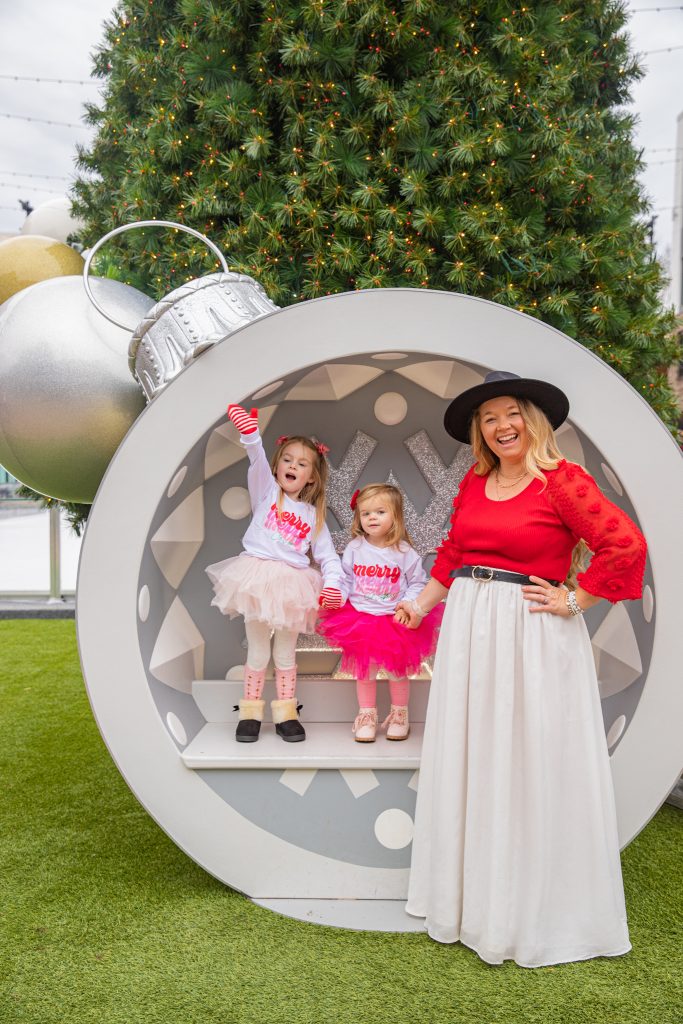 The magic of Christmas is alive
and well at Fenton in Cary, and I highly recommend planning a day with your family. Grab some ice cream at Honeysuckle while you're there!
There is only 11 more sleeps 'til Santa visits our home! Little tip, Santa told the girls his favorite cookies were snickerdoodle cookies, so be sure to leave some of those out on the 24th :).
If I don't talk to you before then, Merry Christmas to you all and thanks so much for reading! I hope you enjoy and find inspiration to explore with your family and experience new things!
---
Want more Christmas inspiration?
Check Out These Posts!
Baby's First Christmas Photo Shoot Ideas
Christmas Family Photoshoot The Gift That Keeps On Giving
Classic Christmas Dining Table Decor
---
Shop Christmas Family Christmas