Our first home remodel was taking our coat closet and turning it into the farmhouse pantry of my Pinterest dreams! I knew the closet was too big to waste on just a boring old space to hang jackets, so I scrolled through all the pantry makeovers I could find and landed on the biggest inspiration I knew I could follow to create the pantry I wanted.
Ashley from Little Glass Jar blog
has the easiest pantry makeover post to follow so I used hers as guidelines for remodeling our coat closet. See her farmhouse pantry makeover
here
.
When we moved in we knew right off we would need a little more kitchen space. It wasn't a deal breaker obviously, because everything else about the house was what we wanted, but we also know this is not our forever home, so we loved it even though the kitchen wasn't one of our dreams. I can make anything work for us even if we're not in love with it, and after living in our home for about a month, and using that coat closet for random junk storage while some kitchen items sat out in the garage, I finally said enough was enough, and showed Morgan my plans for turning that large closet space into more kitchen space. Of course he was 150% on board with the idea, especially after me showing him Ashley's blog post and tips, so we got to work on measuring, making lists, and dreaming of what it would do for us.
First we had to clean out the closet and actually start organizing our junk after moving in ( WELL OVERDUE). We took down the one wired shelf that was mounted in there and painted the entire inside of the closet white from the beige and scuffed colors it was. See before pics below. Don't mind the randoms. He had many people helping us move in and it was a little chaotic so I just started telling people to put things in random closets and I would go through them later… oopsies. 🙂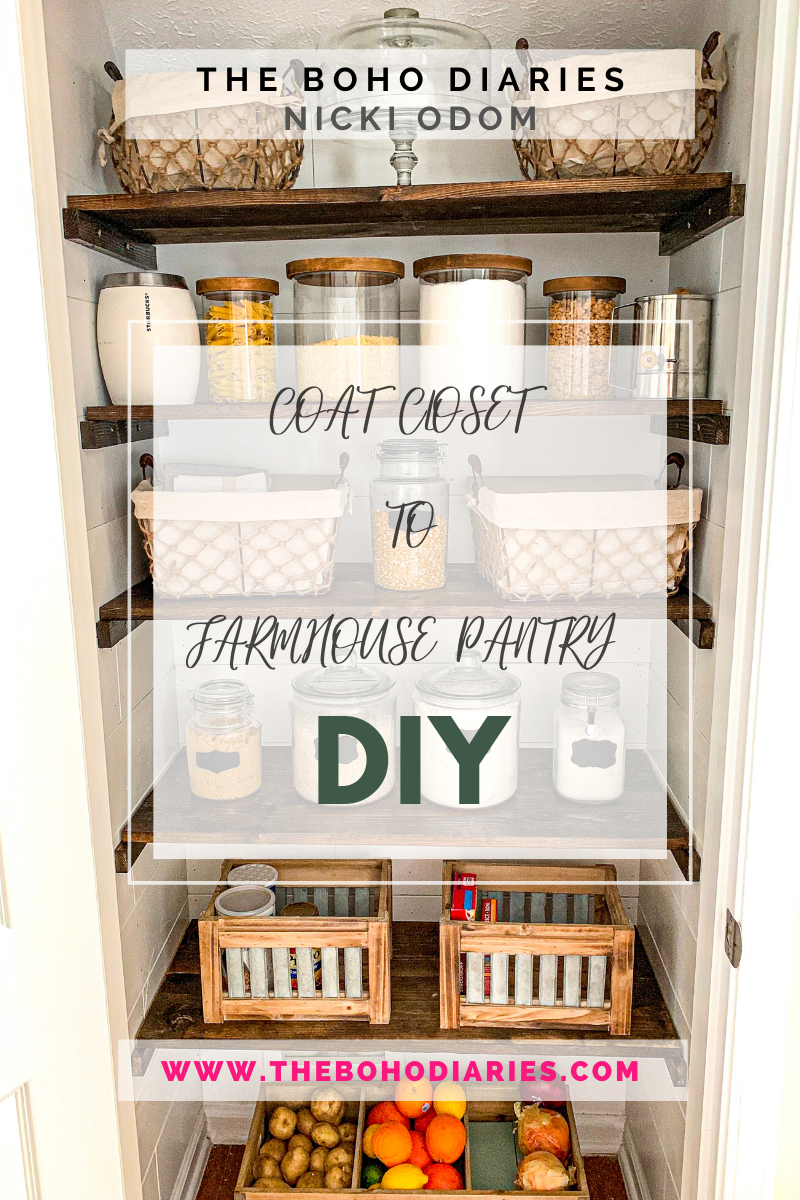 After painting the inside completely, while that was drying we took our measurements, our list, and our little cutie to Lowe's to gather all the supplies we would need. Here is what we used:
– 8×1&1/2 Inch Wood Plank (cut to your pantry width)
—
We had three of these cut to size
– 16x10x2 Inch Wood Plank (cut every 2 in for the shelf brackets)
– White Shiplap Board Kit
—
Click
here
for exactly what we used
– Decorative items like crates, bins, jars, etc. to decorate and organize to your taste!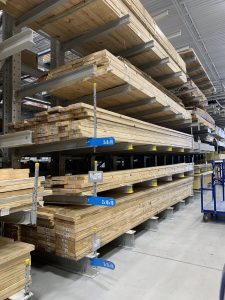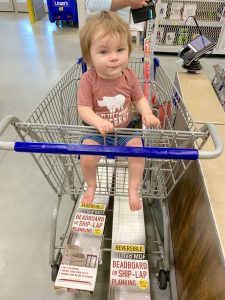 Going into this project I had the mindset of wanting it to be as professional and unique as possible, even though we are complete amateurs at shiplap and home remodeling. But I really prefer the offset shiplap look to the straight across look, which does make it a little harder and more tedious when it comes to the work that goes into getting the cuts right. Morgan is so amazing at trusting my judgement and he took on the task of completing my vision, so we got the exact measurements of the walls of the closet, laid out the shiplap how I wanted it (offset as you can see below) and measured where we would need the cuts to be. There were a few trial and error in this method but at the end of the day it worked well for us, as I am a completely visual person and Morgan is a completely numbers guy. This method helped both of us see what we needed to know it would come out right.
After measuring and cutting, Morgan brought in the pieces to ensure they would fit properly. If you are ever uncertain, I always suggest over measuring slightly so that you have to continue to trim the board, otherwise the board is too short and could be unusable. Luckly, most of the cuts were perfect so he continued to measure all the way down the closet, cutting each row as he went, making sure it would fit properly, and so on until the entire wall was done. I won't go into the minutiae of our measurements because our closet was a little wonky. It actually got a little more narrow toward the bottom so I'm glad he decided to do it piece by piece. It would have meant a good bit of wasted shiplap if he hadn't. He did the entire back of the wall first, and then the two side. I recommend doing it that way because then the two side overlap the back wall where they meet in the corners and I think that way looks much better and cleaner than the back overlapping the sides.
About halfway through Morgan getting the planks cut I realized the shiplap was a bit dirty, and not a true white, so I went ahead and painted them with an exterior white to ensure a clean, cohesive color. I originally thought buying them already white would save me a job, but ultimately painting is inevitable for almost any home remodeling job. I don't really recommend the shiplap we used only due to the price, but we did like it because it had the interlocking ridges which made it much easier to have that line separation between each board. If you read other tutorials you'll notice when they place their planks they use quarters or something small and thin as spacers to give that equal separation between the shiplap planks, but with the ones we bought you were able to skip that step. They locked in perfectly and had the straight lines that charming shiplap walls have when done properly.
So I painted as he cut and after they were dried he started placing them and used the nail gun to secure. Morgan did the corners first, making sure the nail spots lined up, and then did a line directly in the middle of the wall.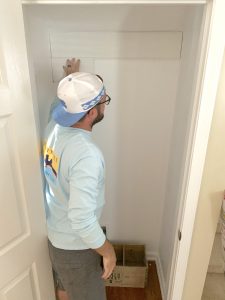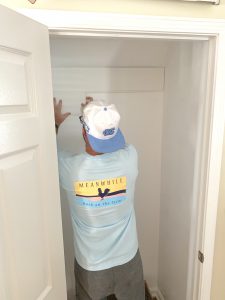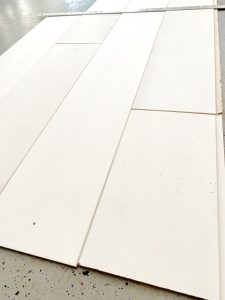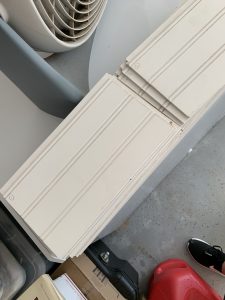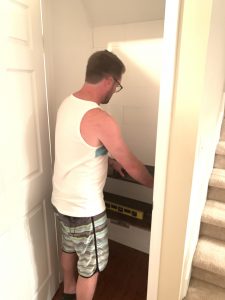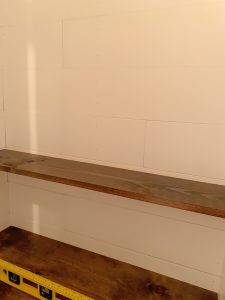 Even though the pictures show Morgan placing boards at the top of the pantry first, that was only to measure/make sure hey would fit. You need to start at the bottom when doing shiplap and work your way up, especially with the type of boards we were working with. He did the entire back of the space, and then started on the sides.
When doing the sides, we decided to use liquid nails as an extra precaution simply because it would be hold the weight of the shelves, so Morgan secured the majority of the shiplap on the sides in place with liquid nails first and then went back and used the nail gun.
You can see in the picture above how he did the offset pattern I wanted, and I decided I really like the way the raw nail looked so I left it like that instead of puttying and painting over them like many do. While Morgan was completing the ship lap installation I was staining the shelves and shelf brackets with the Jacobean stain and foam brush. It usually needs to dry overnight so I wanted to start as soon as I finished painting the shiplap.
Once he completely the back and the sides of all the ship lap, we measured how far apart we wanted the shelves. Because of the height of the closet we flipped, and the fact that towards the top the ceiling slants forward instead of going straight up, we decided 5 shelves, with the bottom 3 being 12 inches apart and the top two being 10 inches apart would be perfect. We only did the top two short distances because I knew those would be used for either decorative jars, and/or things we did not use quite as often (like cake plate and party supplies in the baskets) so we measured based on giving those items enough room to look nice.
We also decided to leave a little more space at the bottom because I am pretty sure over time I will find more cute crates and baskets to stack under there for produce and things. Currently it is one of Caroline's favorite places to play, and take baby bites in the potatoes and puts them back for us to later find and see two little teeth marks in. 🙂
Morgan measured where each shelf bracket needed to be based on the spacing we decided to go with, and then used the level to ensure the bracket on each side was perfectly straight. He did SUCH a great job, this was his first home project with me, and I just kept watching with heart eyes while he took this project on like a beast. He measured everything out first then went back and used the construction screws to get it through the bracket, through the shiplap, and into the wall. Those shelves are definitely not going anywhere!!
After all the brackets were in place we brought in the wood shelves. You can see our plan was to double up the wood planks to make on long 16 inches deep shelf with the brackets also being 16inch long it was perfect. The shelves fit in there perfectly and we are so happy with the outcome!
Of course after the project was done I was dying to rush out to all the stores and search for the perfect pantry organization I could find to fit the theme but not be too much. All of the items in the pantry are from multiple different home decor shops but I have linked a few for you, as well as tools we used, at the end of this post if you want to find them easily! You'll also see the potato biter at the end as well. 🙂
I hope you like the post and maybe it inspired you to take on your own project in the future! Leave us a comment below on what you think, or maybe even projects you would like to see us take on! I have a few more in the works coming up to stay tuned and thank you for reading!