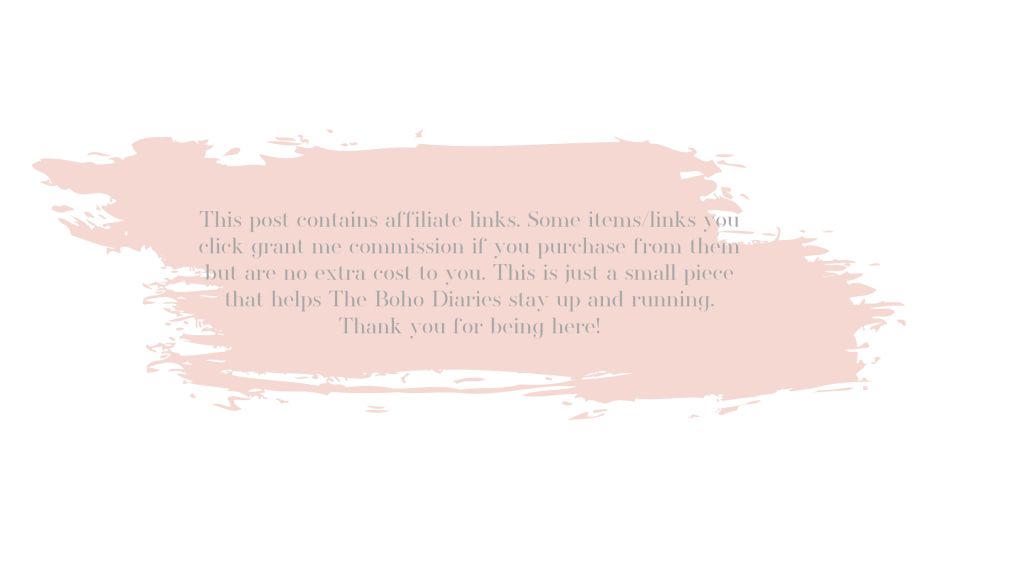 There are so many things you don't notice when you buy your first home. It's not until you are truly living in it when you begin to point out how small a certain space is or how much you want to change a floor. Of course we are SO happy and blessed to have this home and found it when we did, but the DIY fairy in me has continued to go wild with ideas on how to make the interior design of this builder grade suburban home feel like MY home. The dining room it a space we use when family and friends come over and I love for it to feel like a formal dining space. We love hosting so I knew this space would always stay a dining space. I say that because I have lots of friends that say they don't use their formal dining spaces and they end up turning them into offices or playrooms, but family dinners are VERY important to Morgan and I so I will always have a homey-feeling space for our family to congregate over dinner.
The first thing that excited me about planning out what I wanted to to with the space was the fact that I knew we would HAVE to get a miter saw. We continue to borrow (as kids do) tools and all sorts of hardware from my parents, but we are trying to slowly build our own repertoire of home improvement machinery. We got a great deal on the one we found which I will link for you below. I also decided to design the wainscoting around a more modern take on framing art. On average, builders use trim or molding to create the look. I wanted sleek lines and sharp angles versus the rounded trim. So I choose to use 1inch pine
Every home project will vary, but here is a list of the essentials we used to complete this project:


Once we started getting some of the first cuts done I knew I needed to get the frames in place before anything was permanently placed on the walls. I use my favorite Frog Tape for all my projects and it held the pieces in place perfectly for me to get the best alignments and that the look was right. I highly recommend this step so you can make sure you've space everything evenly. I've seen other DIY bloggers share their exact measurements they use, and I could, but honestly at the end of the day it ended up being slightly different than the original measurement and, of course, everyone's walls are different so my measurements wouldn't really help anyway. The main thing I recommend here is to nail down how large you want each frame to be first, center it in the wall, and determine how many would fit, equally spaced, on each wall. We are NOT professionals here people so we learn as we go. 🙂 The main things I tried to stick to was after I solidified how large I wanted each frame, how many I could equally fit on the larger walls with about the same spacing (of course so it all looks consistent). Luckily the other two walls (stair wall and window wall) had perfect spacing for one frame in each.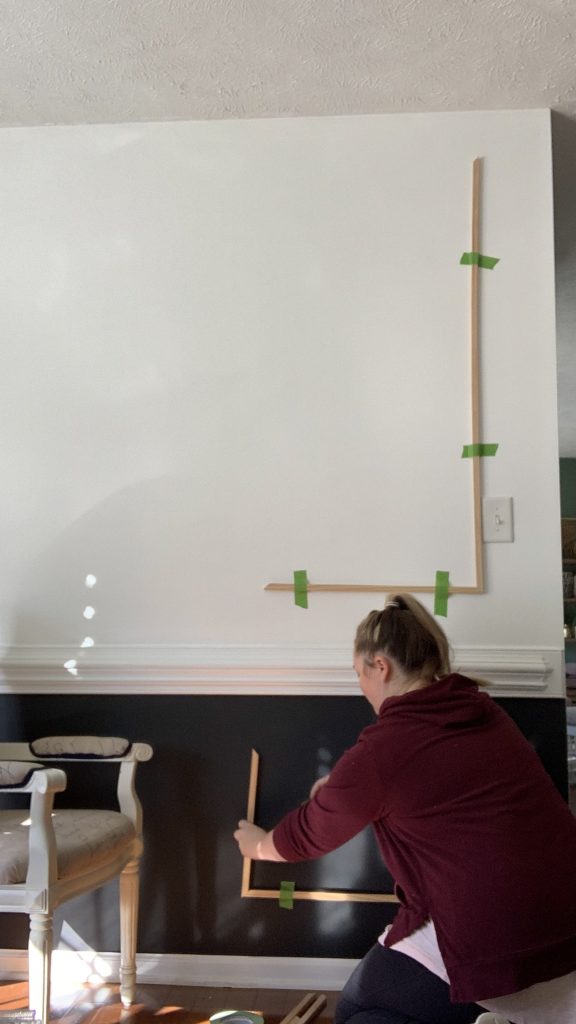 This project pushed us to (FINALLY) get a Miter saw, and since this project I think I've used that thing almost every week. Seriously LOVE IT. Morgan wanted to test it out first and he ended up doing most of the cuts for the frames all at a 45 degree angle. Measuring the entire exterior of the frame length and purchasing the parts based on that number made it that much more convenient when he made the cuts because he would flip the piece over after completing a cut to do another inward 45 degree angle which made the wood fit into each other like puzzle pieces. I hope that made sense, I wish I had a video to show you (maybe I will add one here later).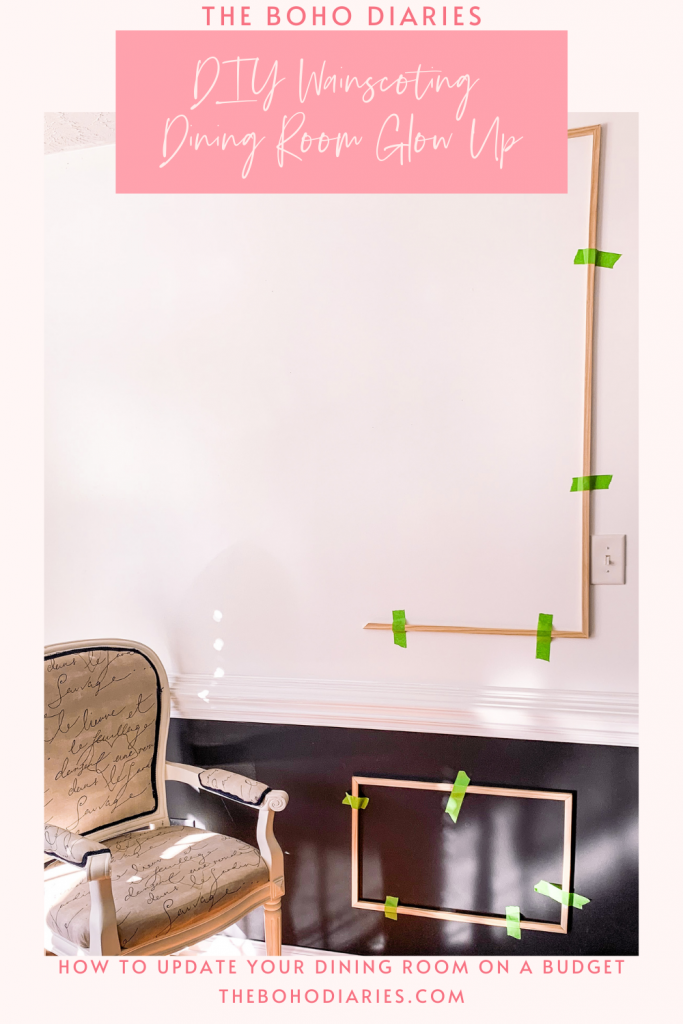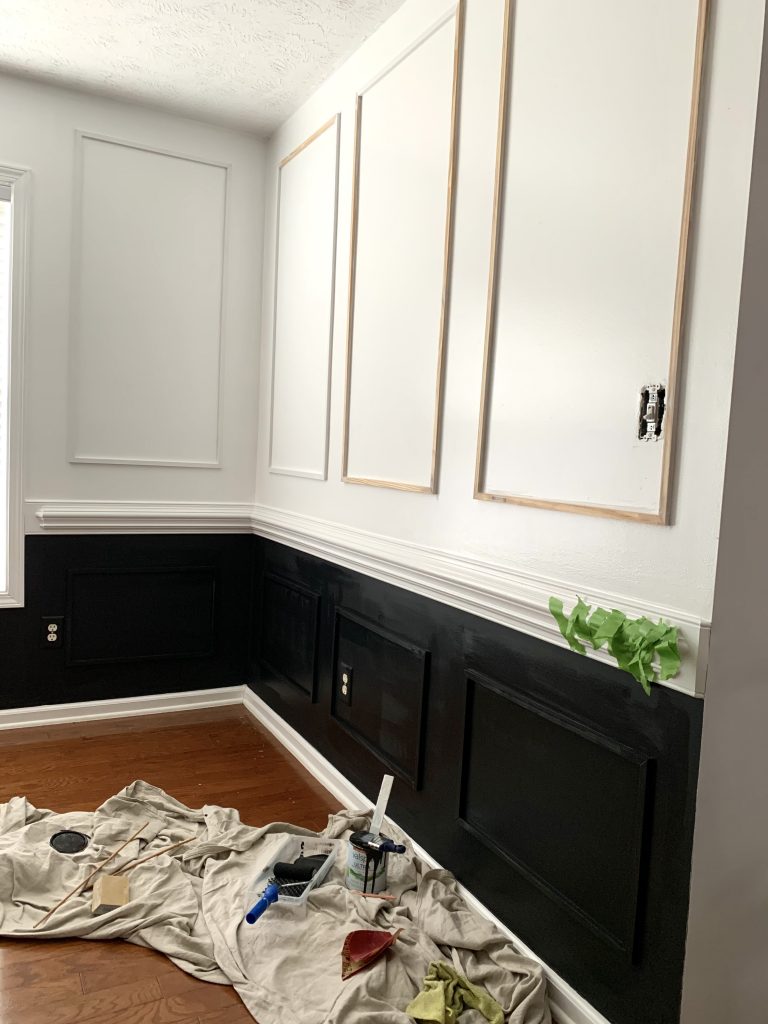 Once all of the frames were up in place, we went through and brad nailed them to the wall. To me this is a two person job, only because I am such a perfectionist with spacing that I needed him to nail it while I was checking the space (for the 1 millionth time) while helping hold each piece. Funny enough, Morgan actually finished the big wall by himself while I was at work one day and I about had a heart attack when I came home and saw it. Partly because I was so happy it was done, but also, I stood there looking for spacing issues for a good hour.. hahah… BUT he did a fantastic job! Just like the pantry makeover, whatever challenge he faces he freaking conquers. He is the main reason this project got done, and done right. Thanks babe <3
After all of the frames were nailed in place, we went through and caulked each side of each frame around the whole room. This is my VERY LEAST favorite part because it is messy and so tedious, but honestly it takes the difference between a regular DIY project to a professional looking job. It's a task, but you should never skip on the caulking for these types of projects!
After everything was fully caulked and dried, I applied the final coats of paint, even thought the top didn't truly need it since we used the white FEMDF boards, but after the caulking it makes everything truly even. And that's it! Please let me know if you have any questions. Don't be too shy to shoot me an email, I would be happy to answer anything! We were super nervous about this project, but after diving in head first there was no looking back and now we seriously have 0 regrets! Let me know if you end up trying this yourself!