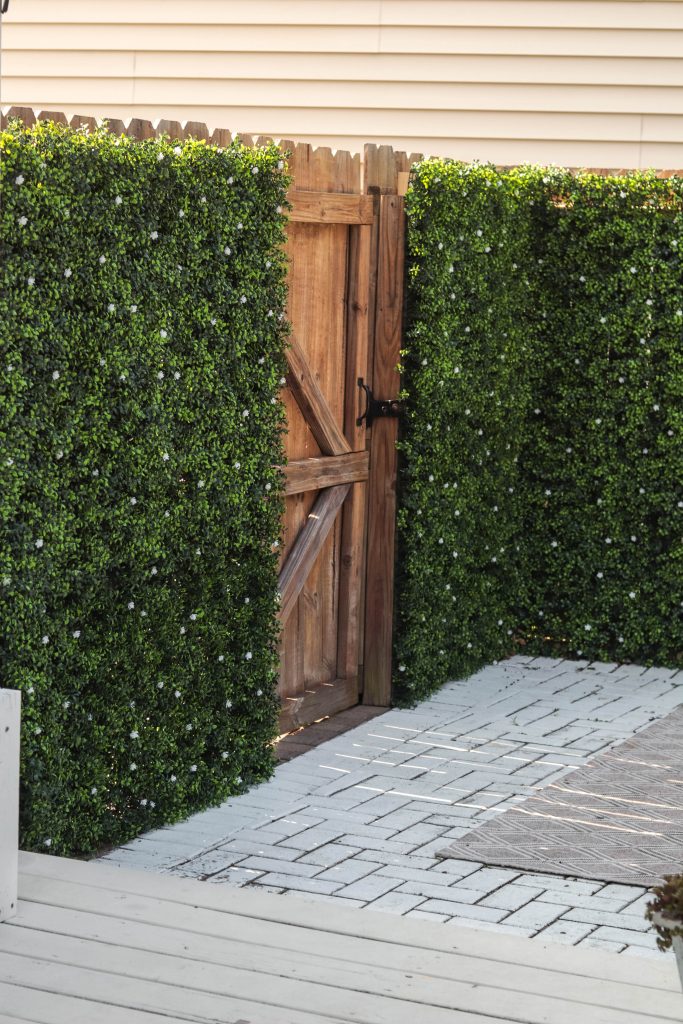 This post is sponsored by Designer Plants. All thoughts and opinions expressed are my own.
A well-curated patio serves as an extension of your home, a sanctuary where you can unwind, entertain, and create cherished memories with loved ones. This season, elevate your outdoor haven with a touch of timeless elegance with this easy DIY Outdoor Patio Transformation using White Flowering Artificial Boxwood panels and Luxury Artificial Green Wall Disc from Designer Plants! Discover why these panels are the ultimate choice to spruce up your patio and transform it into a haven of style and charm.
Hosting outdoors is something I SO greatly look forward to in the Spring and Fall seasons. Here in NC, the summer just gets so sweltering that unless you have a pool to go along with your party outside, it is somewhat unbearable to host a patio dinner night. But as summer is coming to end and the low temps are slowly but surely reaching back into the low 70s, high 60s, I want my patio to be the ultimate spot for my future hosting nights, and with the help of Designer Plants USA, I could not be happier!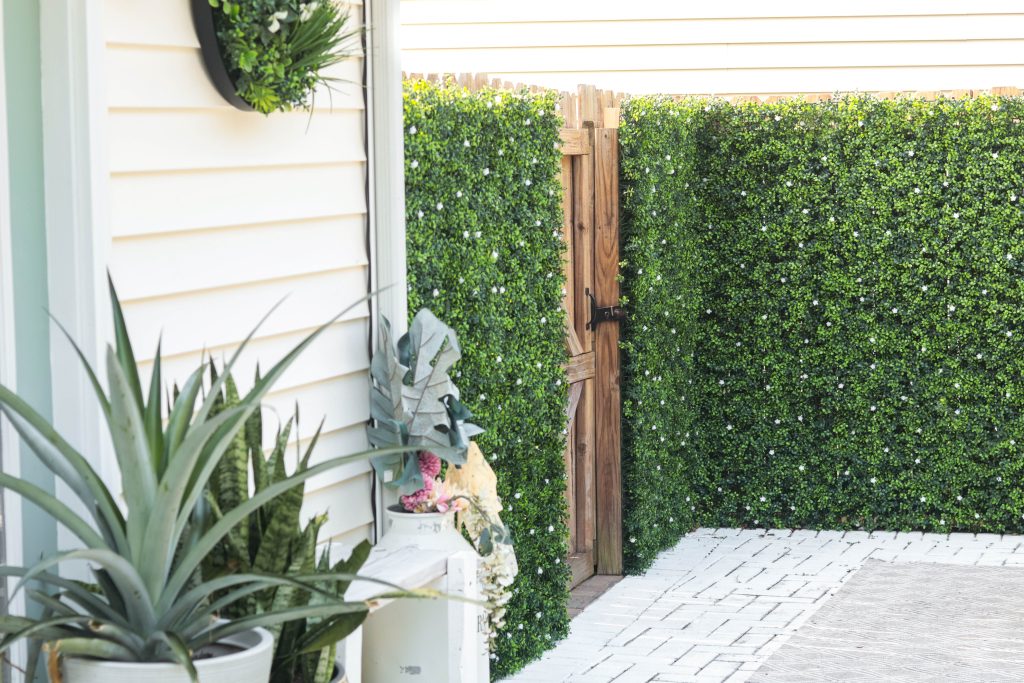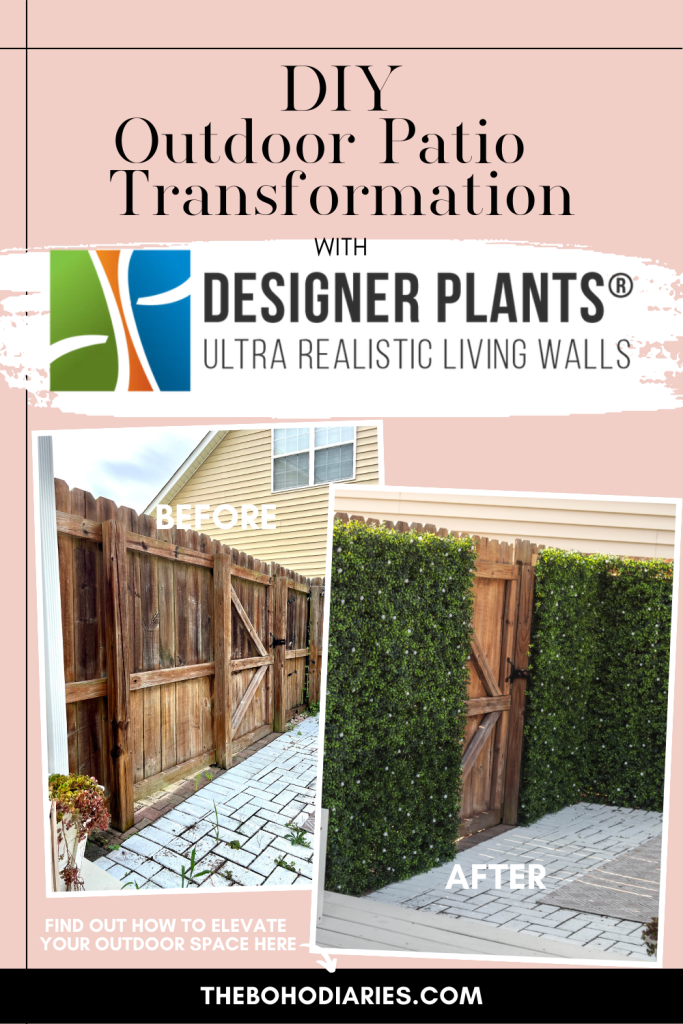 There are a few reasons why I recommend taking on a DIY Outdoor Patio Transformation
like this one. A wood privacy fence offers a smidge of charm, but if you're like me, you want a combination of charm, class, and luxury. Designer Plants has countless options to elevate your privacy fence areas in terms of style, seasonability, and texture. Being a party thrower and avid hostess, these panels also offer the perfect backdrop for tons of fun party themes!
My love for hosting primarily takes place around the holidays, and the changing seasons from summer to autumn gets me more motivated than ever to make my patio dreams come true. I designed this space with the idea of immersing my guests into nature, but keeping the elements of class, luxury, and a splash of whimsy! I love how the flowering boxwood turns a space into more than just an elegant, private dining space. It becomes a romantic evening in the garden!
The panels are VERY well made and extremely easy to install. You simply:
Measure out your space
Enter in your dimension on the Designer Plants website
They will do the rest!
Within the package, along with your panels of choice, they send a guide, and zip ties to assist with installation. Because this DIY Outdoor Patio Transformation is taking place along the wood privacy fence, I am using an industrial staple gun to secure everything.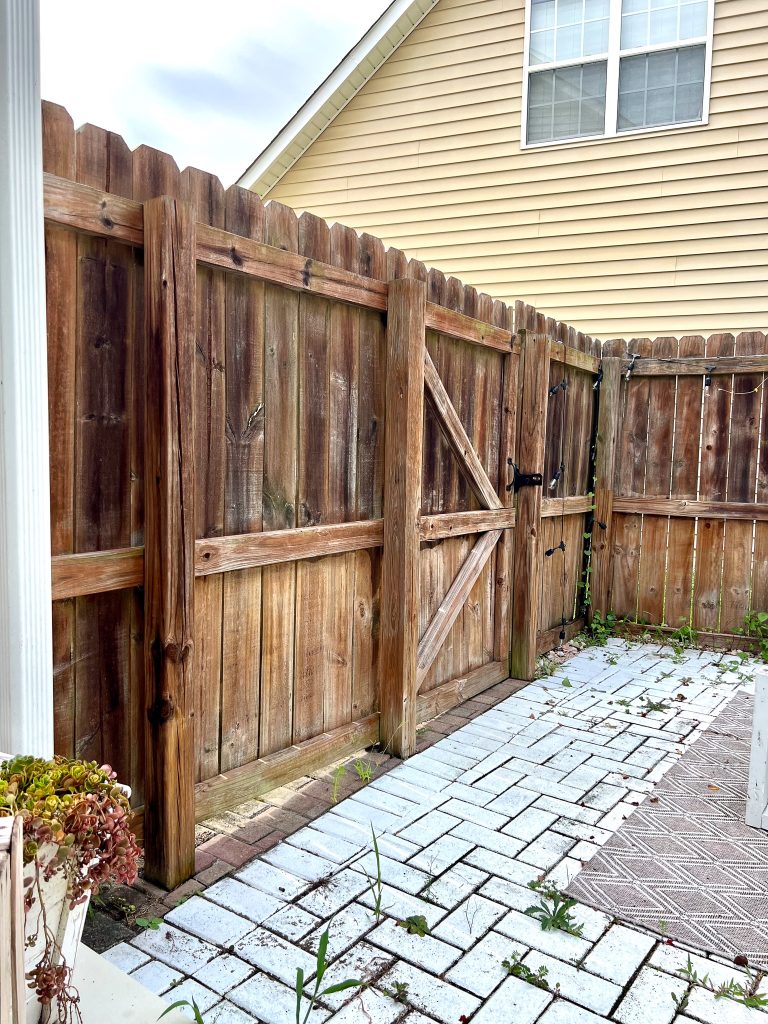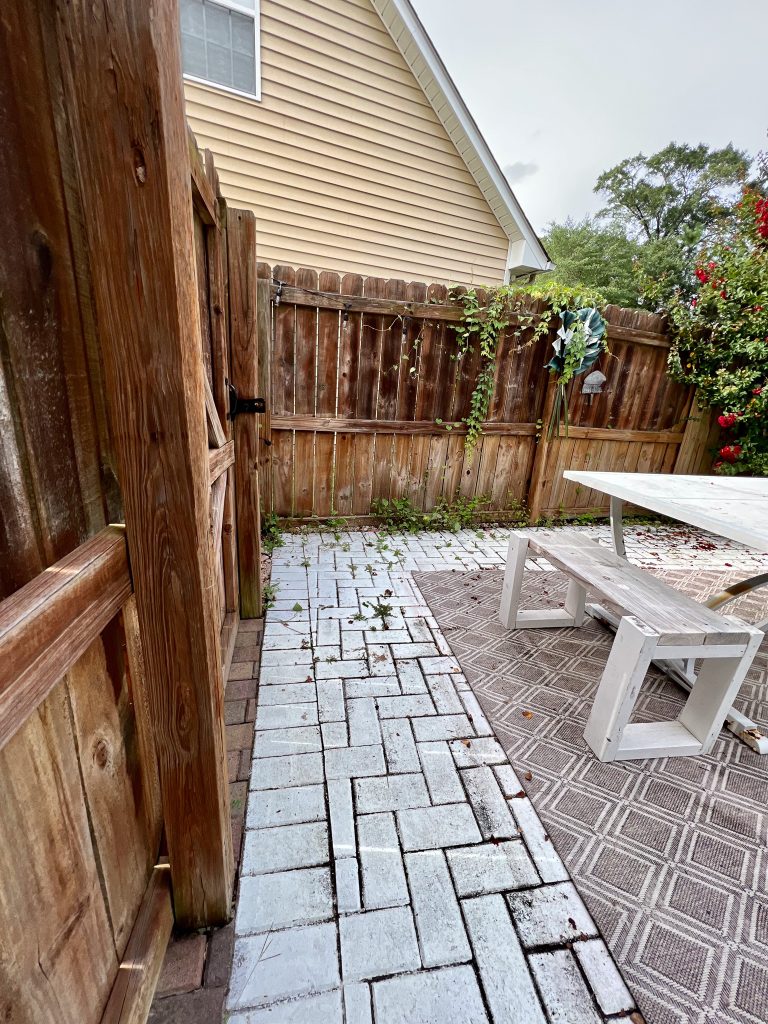 ---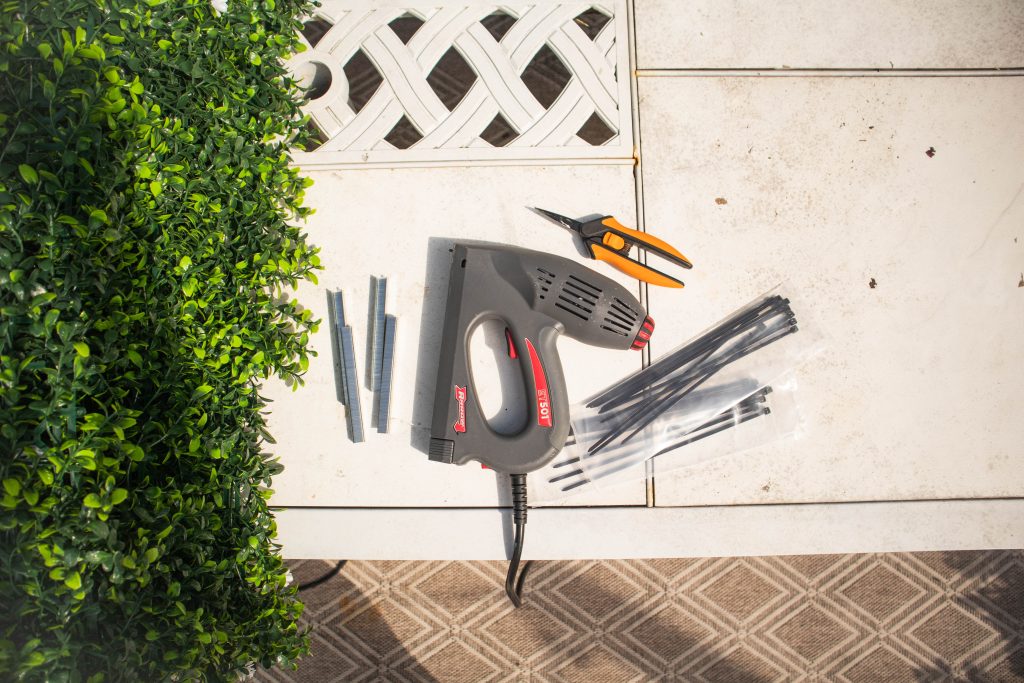 ---
Tools You Might Need:
Measuring Tape
Electric Industrial Staple Gun
18 Gauge Heavy Duty Staples
Wire Cutter
Extension Cord (if your Staple Gun needs it)
One of the many great features about Designer Plants' panels, is the quality of material you will be working with. I am not worried at all about these beautiful panels coming down. The layer holding the artificial boxwood together is extremely durable.
I began on the right hand side of our privacy fenced patio area and worked my way to the left. I completed the entire top and then went back and did the bottom.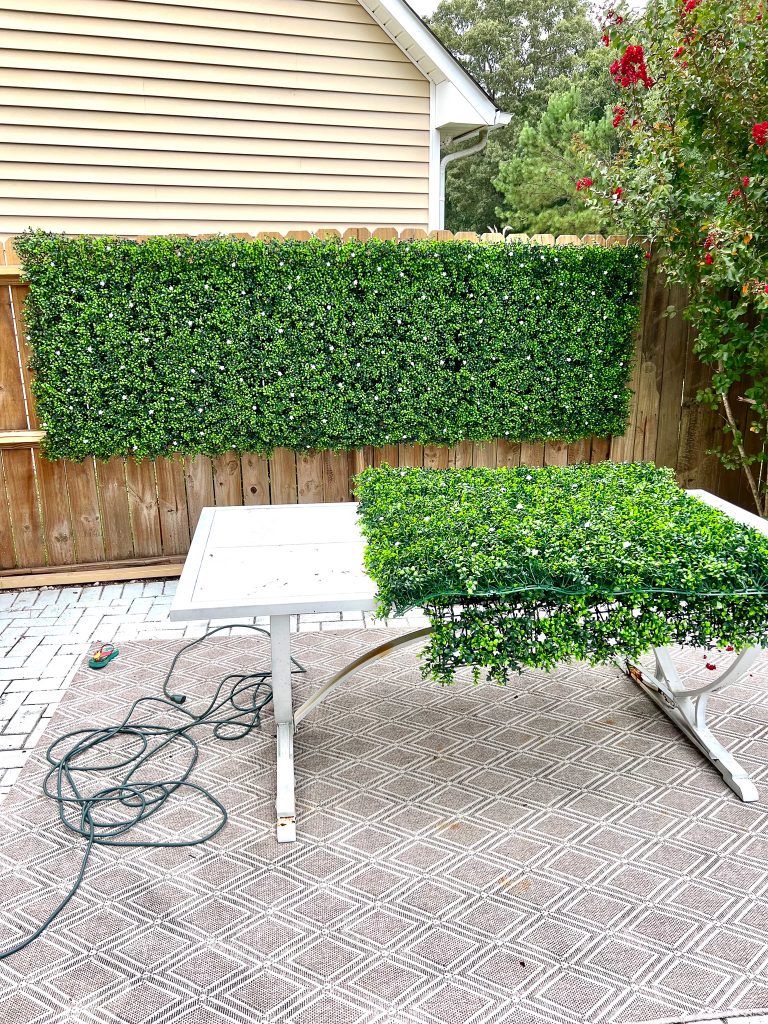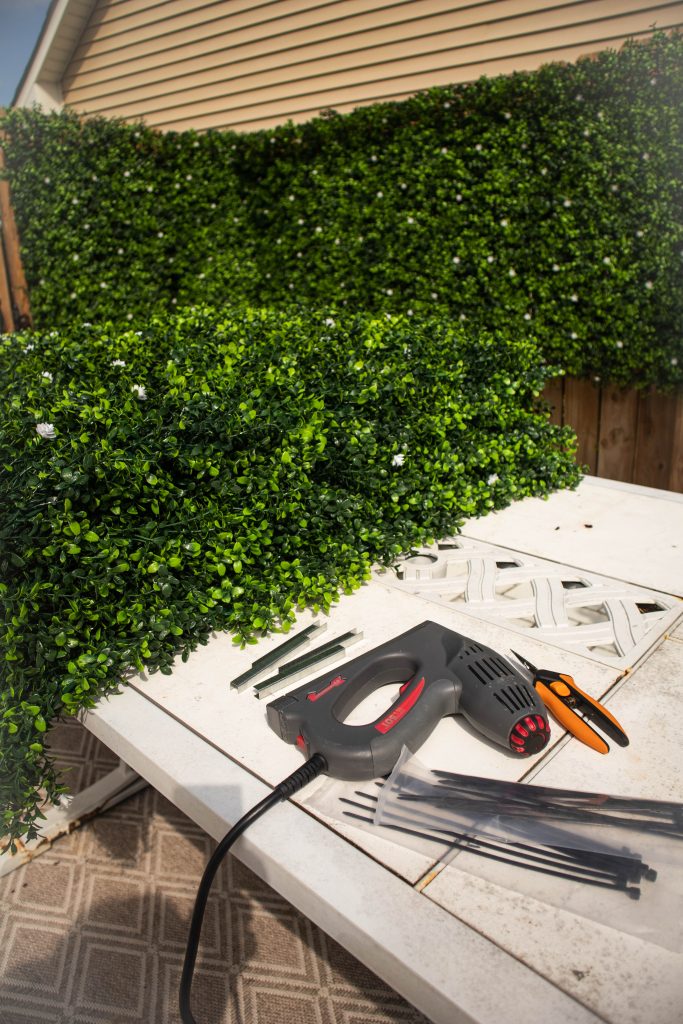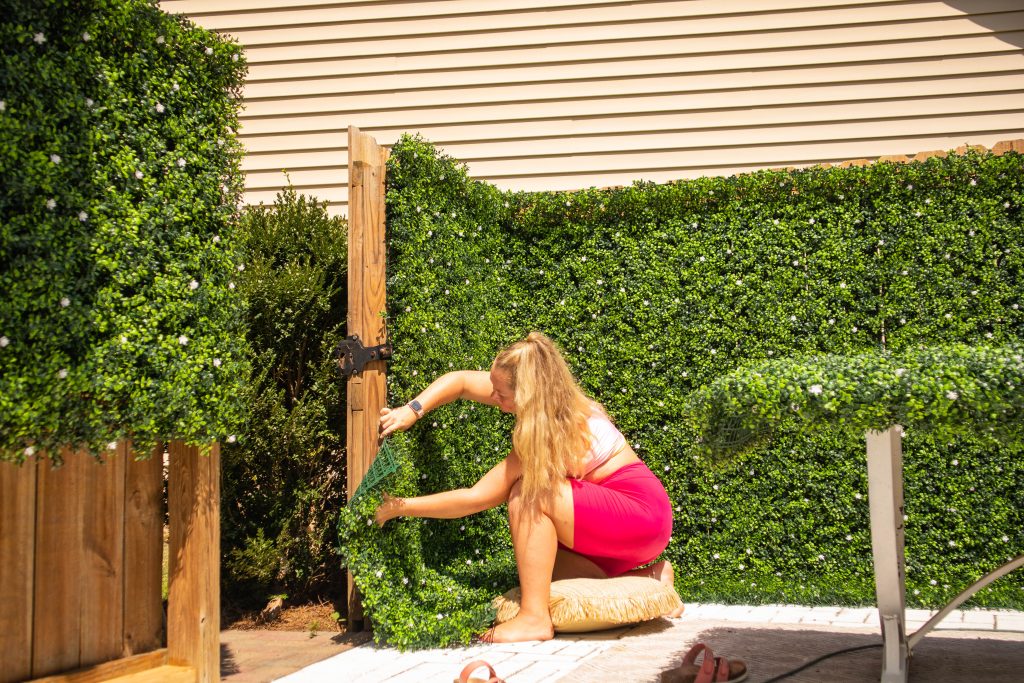 Designer Plants USA faux boxwood panels boast an innovative installation process that requires no specialized skills. With the easy interlocking mechanism, you can effortlessly create a seamless and refined look, transforming your patio into a striking canvas of style. These panels are incredibly versatile, allowing you to explore various layout possibilities. Whether you're covering entire walls, partitioning spaces, or accentuating specific areas, the panels adapt to your creative vision with ease.
With the unpredictable elements that outdoor spaces face, durability is of great importance. Designer Plants USA artificial flowering boxwood panels are engineered to withstand the harshest weather conditions, from scorching sun to torrential rain. Crafted with top-quality materials, these panels are UV-resistant, ensuring that their colors remain vivid and vibrant for years to come. Say goodbye to the worries of wilting leaves and fading hues, and enjoy an enduring, evergreen patio that requires minimal upkeep.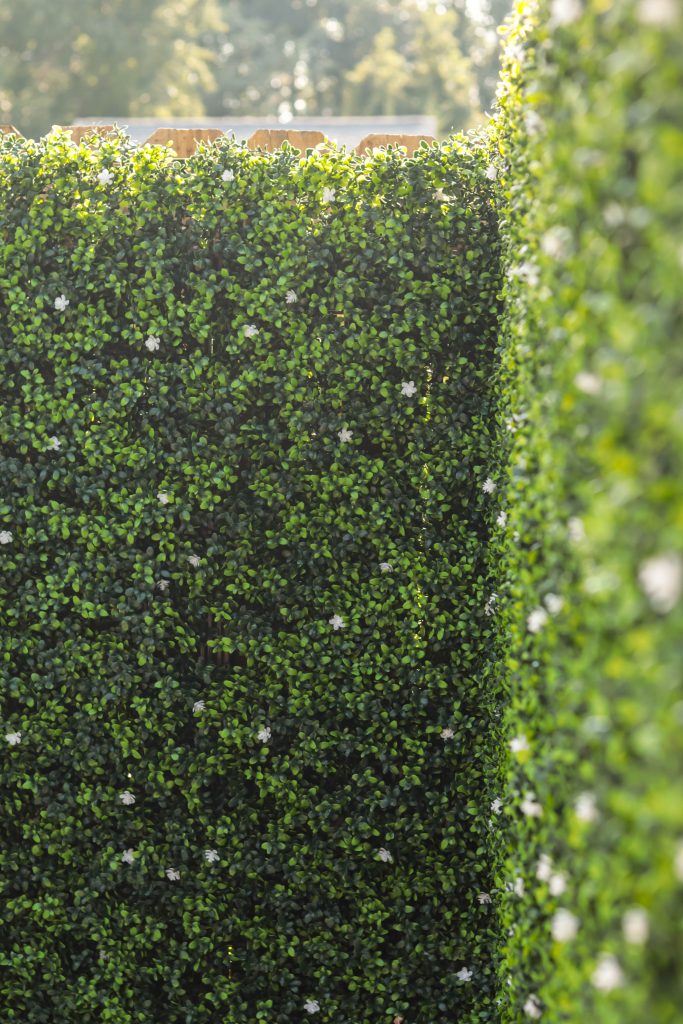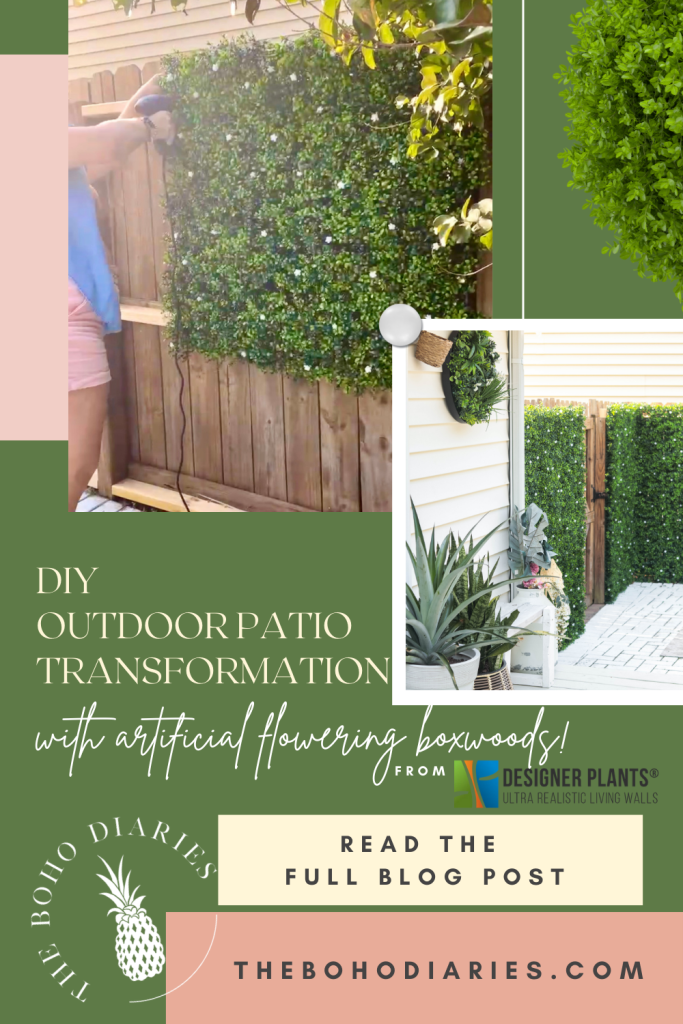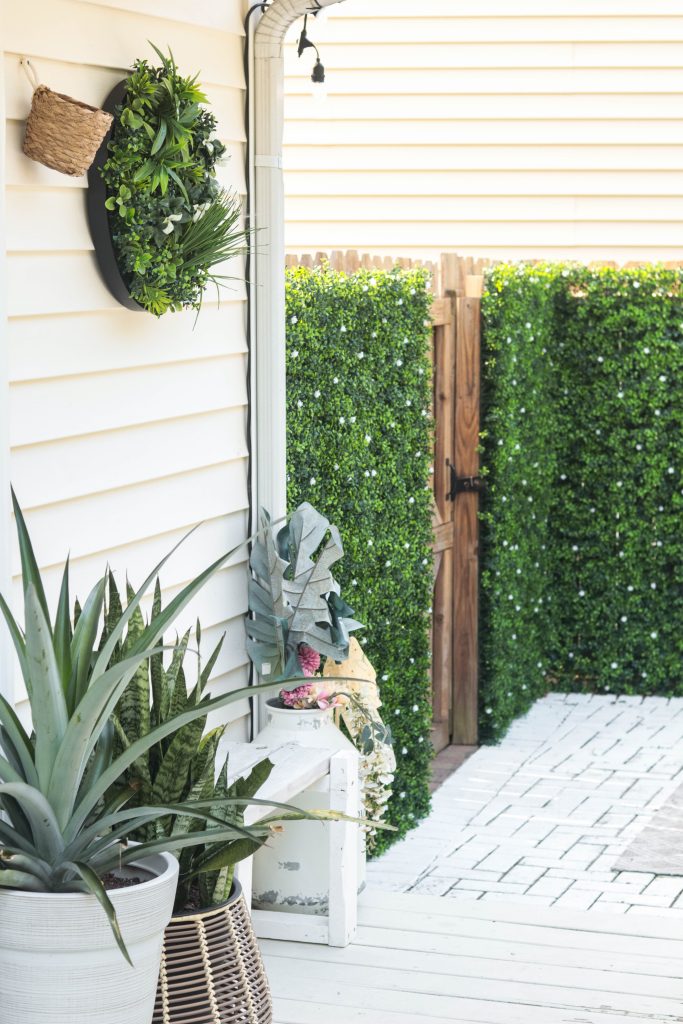 DIY Outdoor Patio Transformations
do not have to be extremely strenuous!
I could not be happier with how my vision for this patio space came to life! As much as I love a raw wood look, the beauty in an evergreen privacy fence is unmatched. I love how it instantly transports me to an intimate cafe atmosphere in France.
The Luxury Artificial Green Wall Disc is also a beautiful addition to any outdoor area! My blank wall is now a little corner of real and faux greenery and so much more pleasing to the eye.
As you think about ways to revitalize your patio area, think outside the box and add some whimsical, lush evergreen panels! Choose a DIY path that blends beauty, functionality, and sustainability. The faux boxwood panels from Designer Plants USA encapsulate these qualities, offering an exceptional way to spruce up your outdoor space. Check out Designer Plants and start planning your next plant wall asap!