February is definitely in my top 5 of favorite months of the year, probably due to the fact that pink is socially acceptable in all forms and you see it everywhere you go, and also because everyone gets a little more lovey dovey. I LOVE spoiling my ladies, and if you've been following thus far, you know I love any excuse to throw a party. In true Leslie Knope fashion I decided to shower my close gals with love, a day of fun, yummy food, and just true sisterhood bonding.
Putting together a fun party like this should consist of these important things:
Good Food & Drink
Since it was a luncheon, I wanted it to be light, finger food type options so people could grab, go, and mingle. We had catered sandwiches from Publix, a green salad tossed with pecans and feta cheese, ham and pickle rolls (moms classic that always goes first), and a wide variety of fruit. I made a pink lemonade for everyone and also had a bottle or two of bubbly for some fun mimosa mixtures. For a dessert, I had Godiva chocolate dipped pretzel twists and sticks, as well as tons of classic Valentine's day chocolate and candies. I wanted everything to be light, but still filling enough to be a great lunch.
As a fun activity, I also planned for one of the desserts to be baked by Caroline and her little gal pals, and it couldn't have turned out any better. I found some adorable Valentine's Day cookie stamps and knew I wanted to let the girls have fun with them(linked below). We made the cookies together as a team, and enjoyed them after they were done!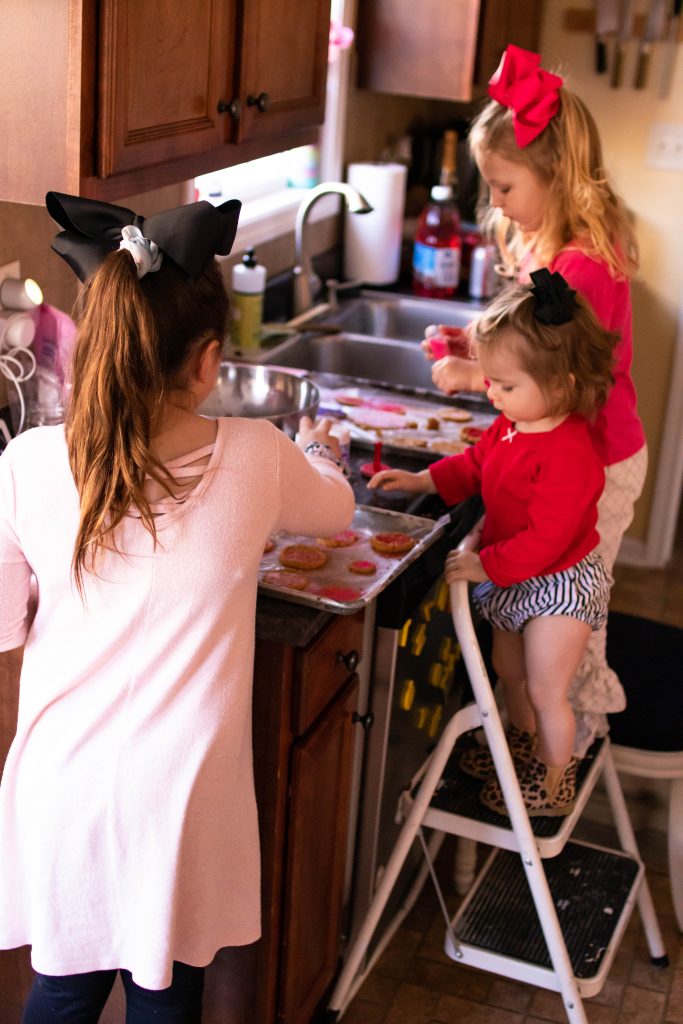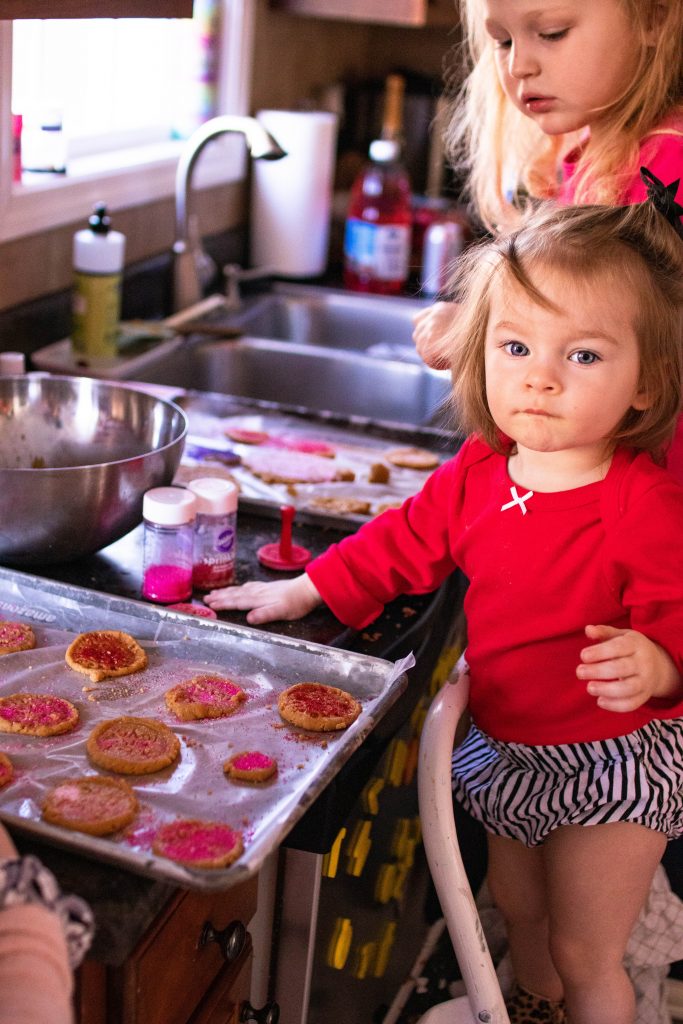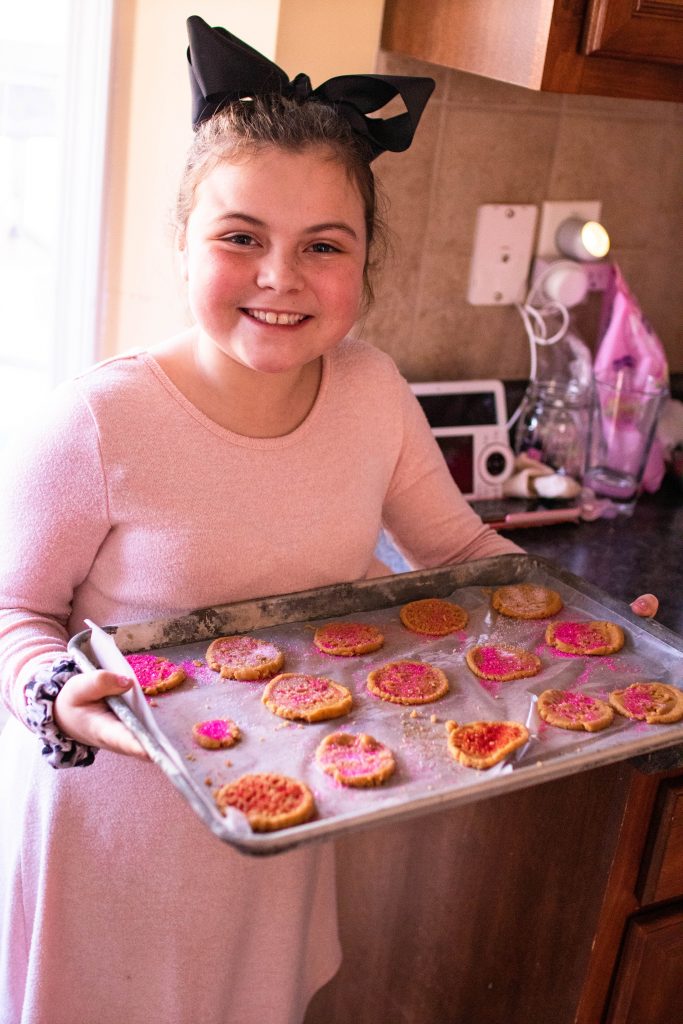 Pink and Red Valentine's Day Themed Decor
Okay, so maybe it doesn't HAVE to be pink and red, but you'll want to make sure you have some fun Valentine's day type decor to make it even more exciting and fun for everyone. I loved hearing my ladies talk about the details in decor and a lot of it was DIY! Dollar Tree can go a long way with supplies you need to put together a great party, and I always love to bring an idea together that I make on my own. These included the hearts and tassel garland draped on the mirror, the XOXO craft paper flower wraps, the beaded tassel on the gift baskets, the balloon chandelier, and a few others.
If you watch my stories on
Instagram
or on
my Facebook page
, you know about the crazy balloon popping incident where I almost lost an eye, now that is a party prep story I never thought I'd be telling!
I posted an easy tutorial for the beaded tassel charms on
my Instagram stories
a few days ago, and it is saved under my Crafts highlights so make sure you check out just how easy it can be! One of these days I will get around to documenting how I make my balloon arches and chandeliers I promise!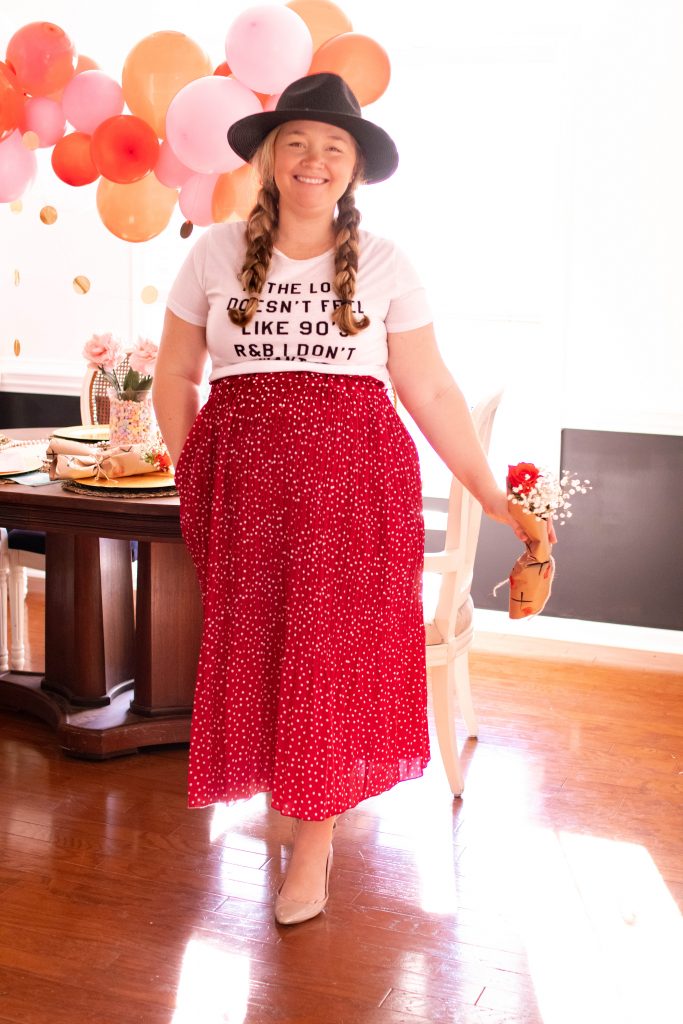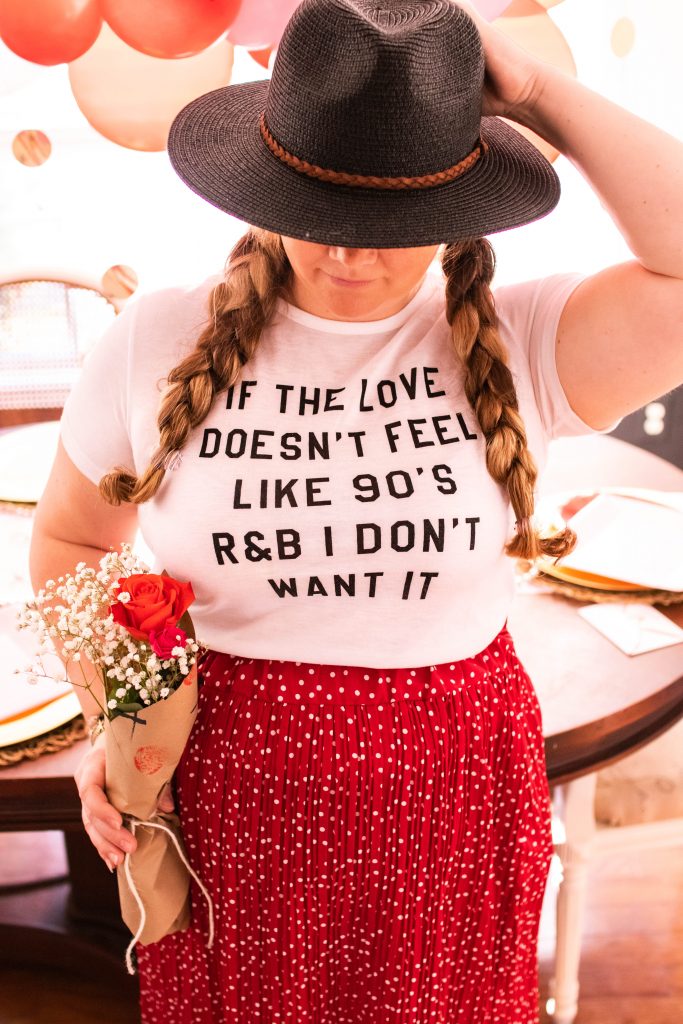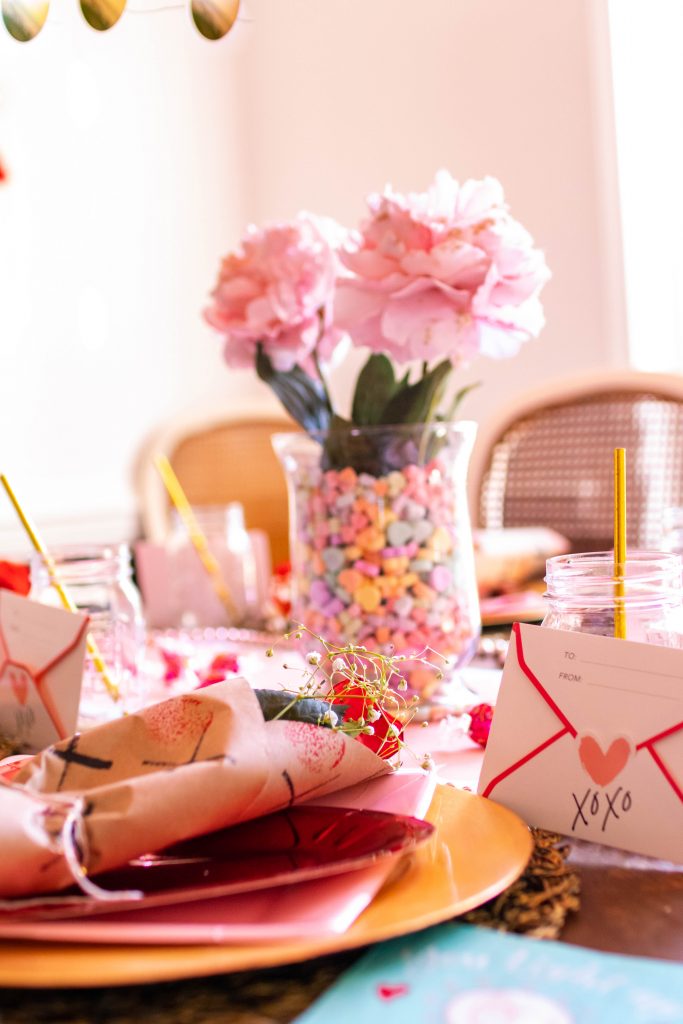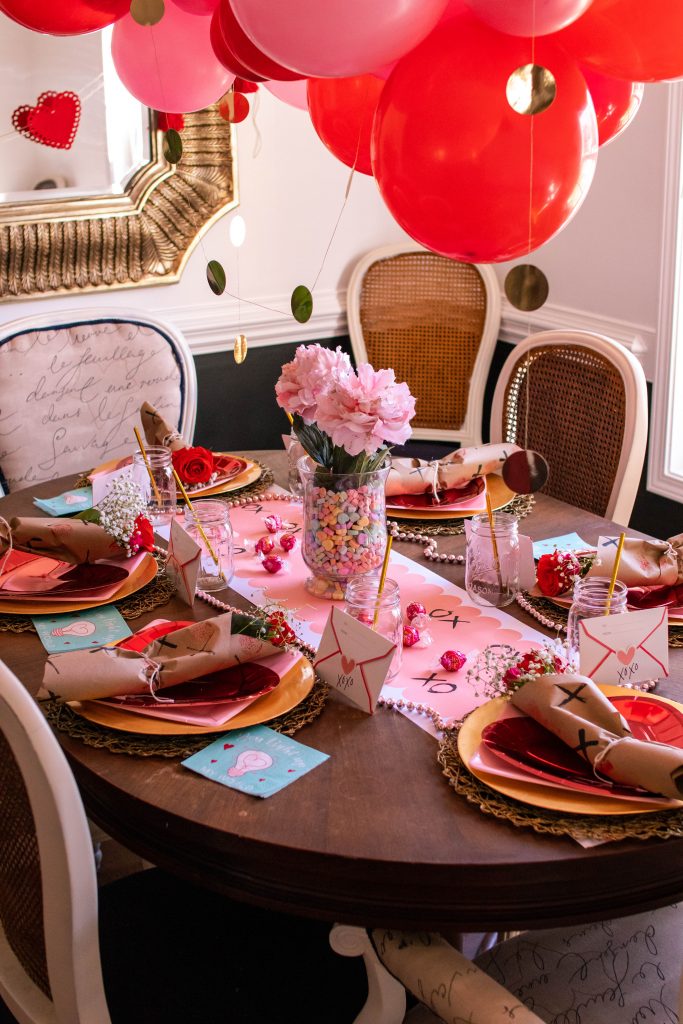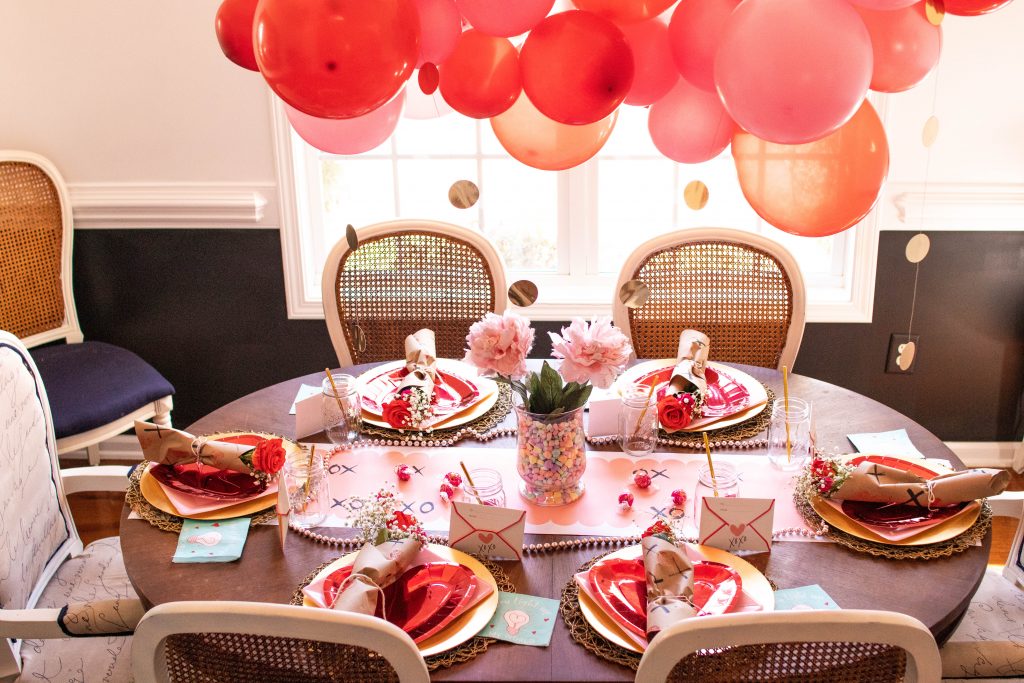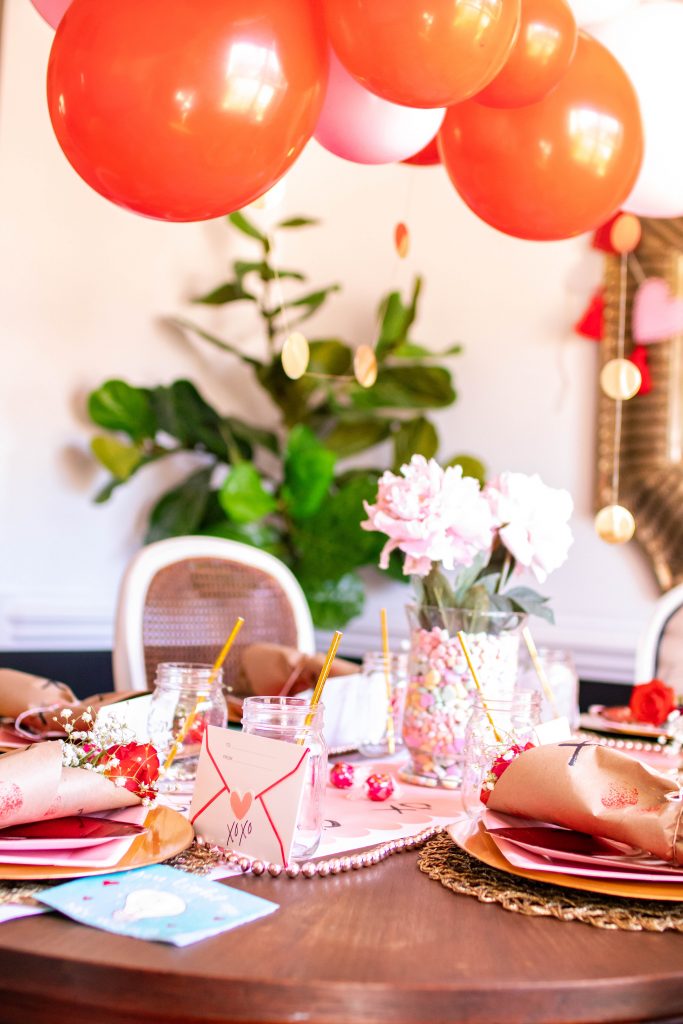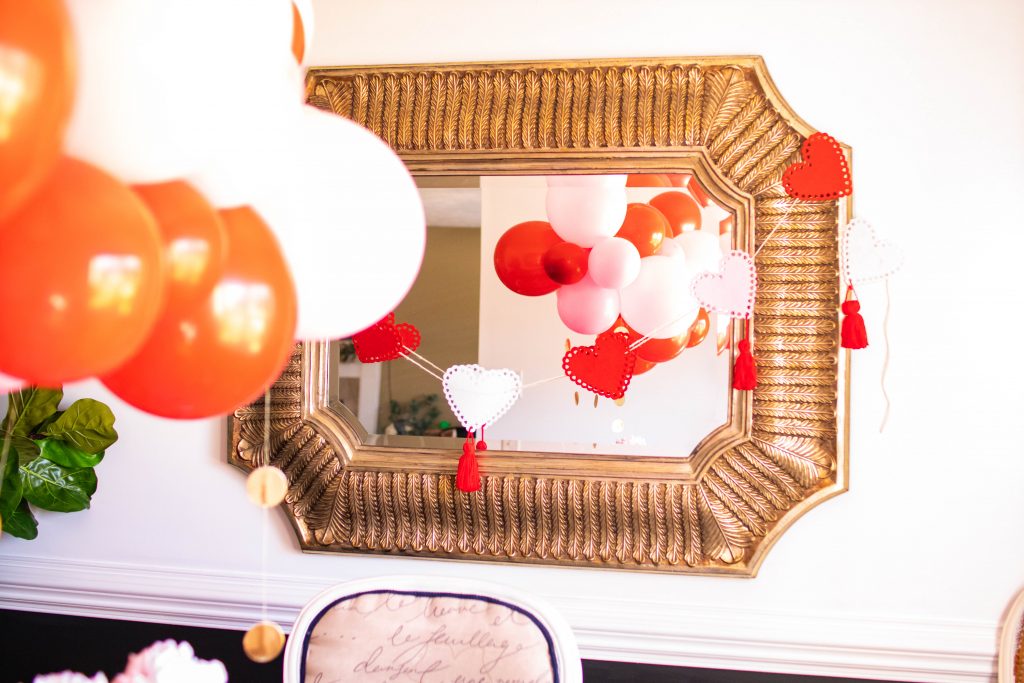 I will link as many things as I can find at the end for you guys but most of it I made at home! I love subtle details like the conversation heart candy vases, and layered themed plates, little things like those create such an eye catching dimension to get you in the party mode.
I used cups, utensils, and straws from Coterie Party (one of my favorite party companies), and most of the rest of the tableware was from Wal-Mart or Target.
Special Gifts For Your Gals
Nothing leaves guests remembering how much fun they had like a thoughtful party favor. For our Galentine's Day party I put together sweet little baskets for Caro's gals, and a pretty floral arrangement for the adult ladies. I went with the classic roses and baby's breath bundle, and also had individual love notes at everyone's seat that they could take home or write to one another as they wanted.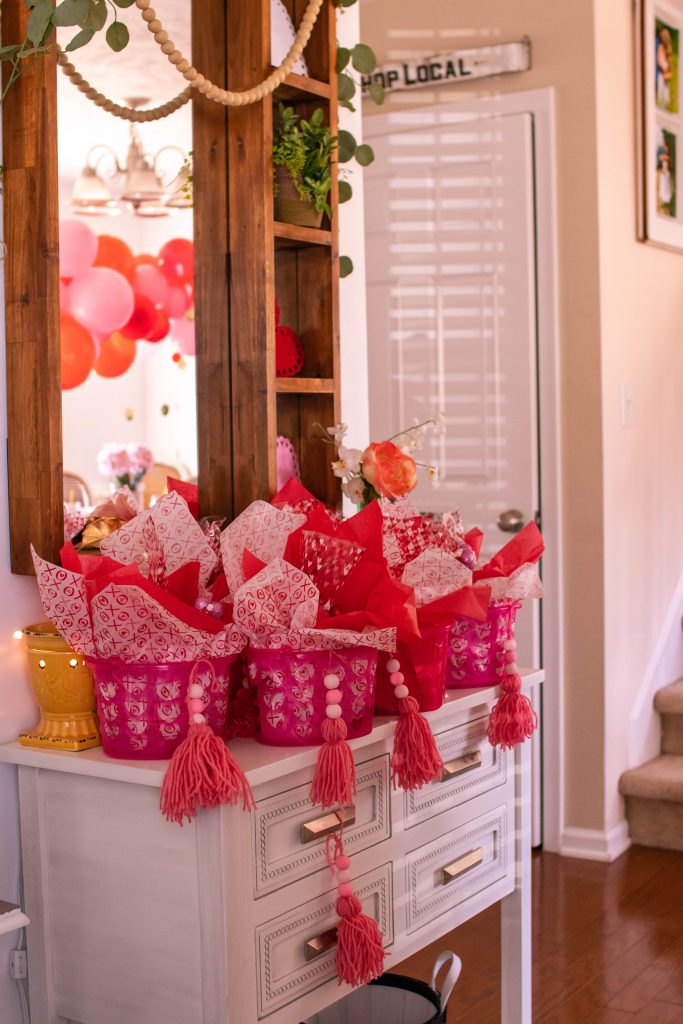 For the little gals, I put together a cute heart shaped basket that included fun items for the girls to enjoy like heart shaped glasses, Valentine's day pencils, stamps, Bitsys snacks, chocolates, and a party favor bag that they used to fill with leftover treats to take home (ie the baked cookies, chocolate dipped pretzels, convo hearts, etc.). I also included the handmade farmhouse style pink beaded tassels, which were a huge hit. I'm sure I'll be making plenty more of those in the near future. The girls were so excited to get a gift they could open and enjoy together, and were even more excited when they could fill more goodies in their baskets before they left!
Photo-Opt Selfie Station
There's nothing like a cute spot to strike a pose with a bestie and giggle while you pretend to shoot a magazine cover ad.
I had inspiration from a backdrop I saw made by
Jolity and Co
, but mine is on a much smaller scale. I love the idea of the heart envelopes, but I think next time I will do the whole wall like they did. Having pretty decor creates a lot of spots for photo-opts but there should be one dedicated spot you don't want the guests to miss to stop and snag a pic.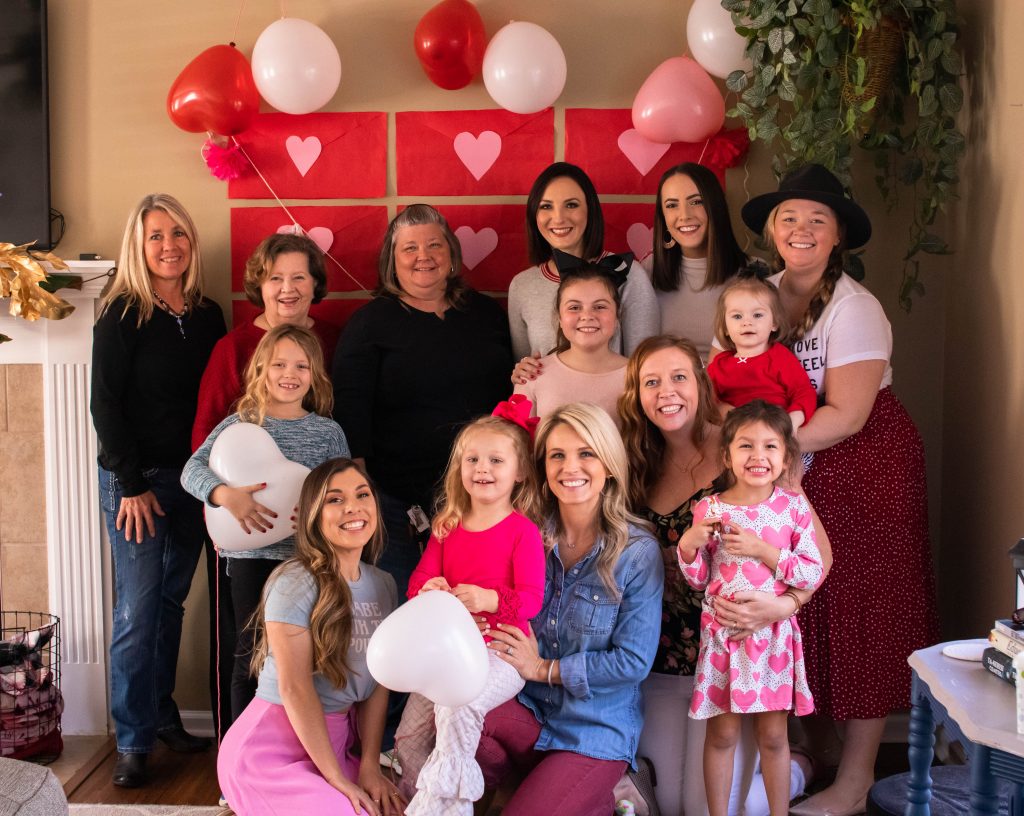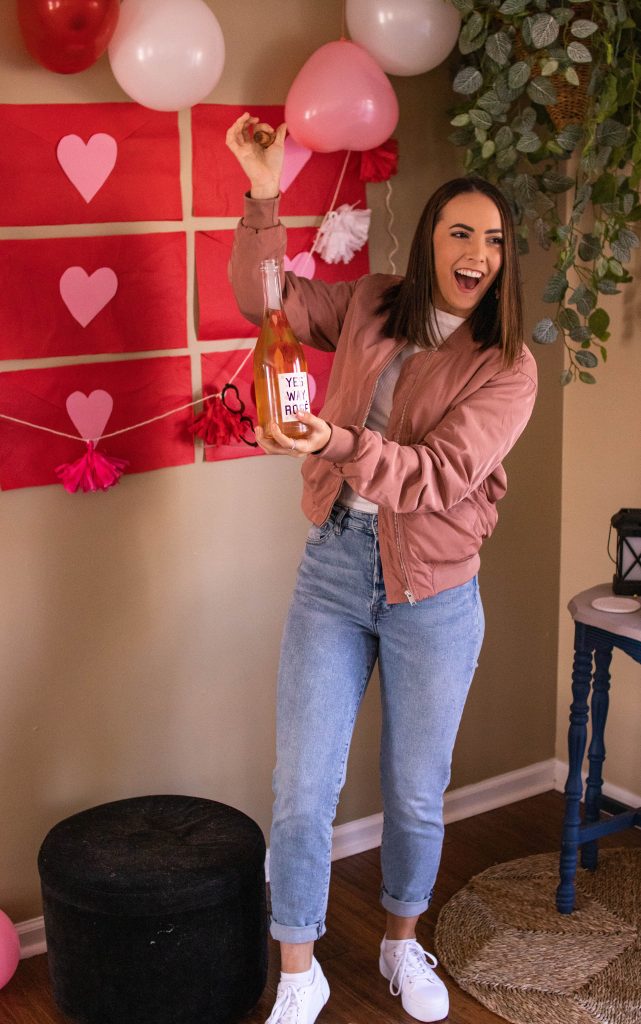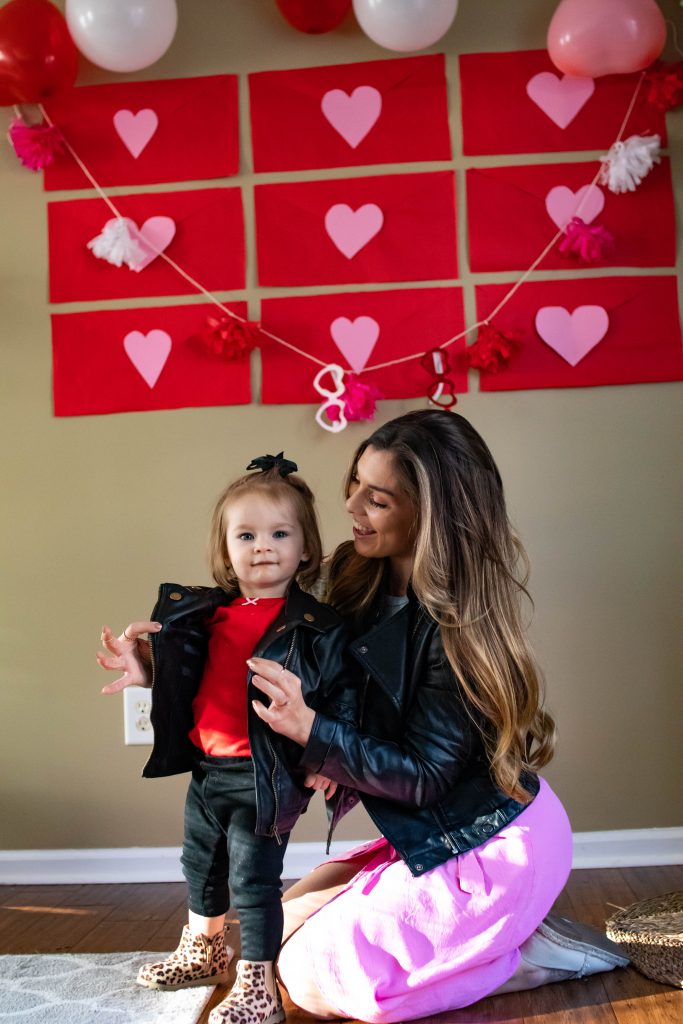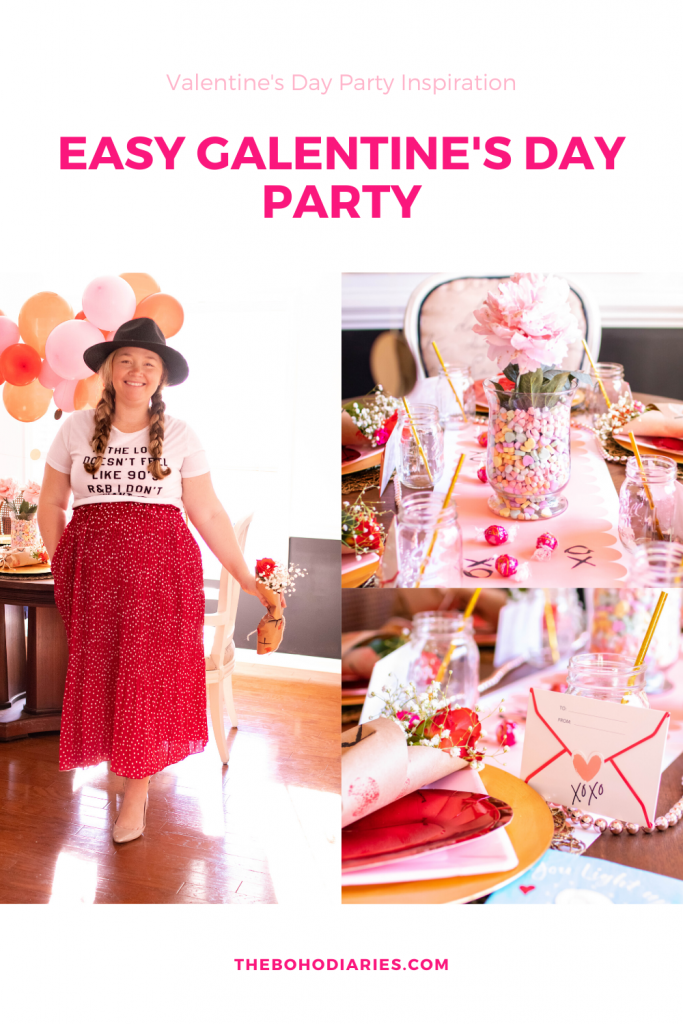 Activities To Keep The Fun Going
I setup a craft corner for the little gals to make Valentine's day crafts for their parents or siblings. They could make cards or decorate wooden hearts or frames how they wanted! It kept them busy for a while until it was time to eat. Even throughout the party they would be up and down stairs going back and forth to the playroom making crafts. I set out glue, craft pom balls, pipe cleaners, crayons, stickers, and a bunch more to spark some Valentine's Day inspiration.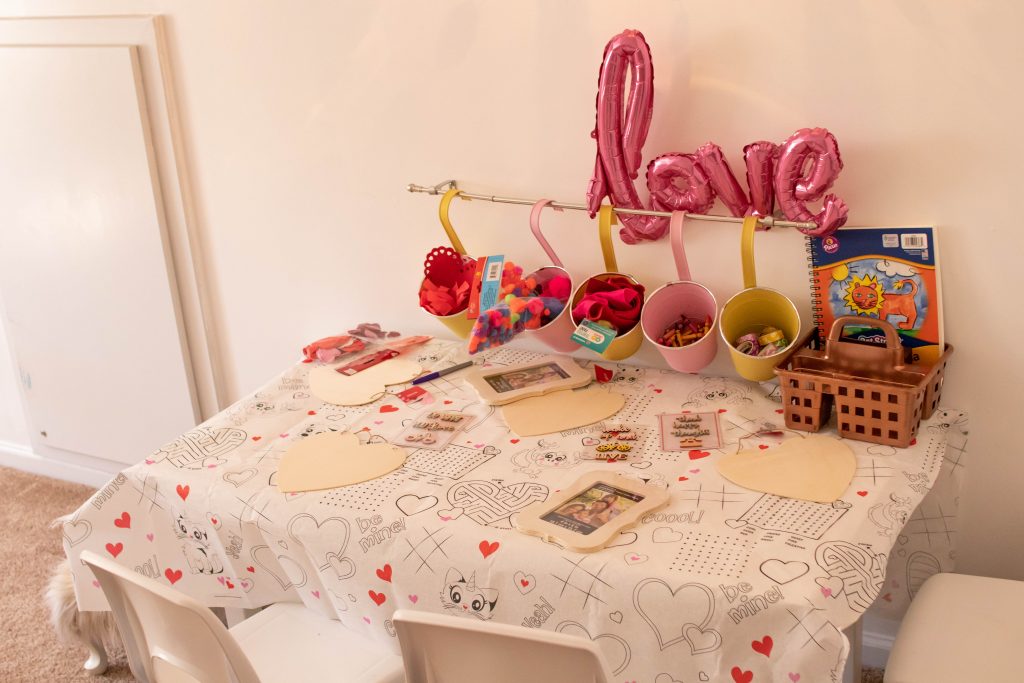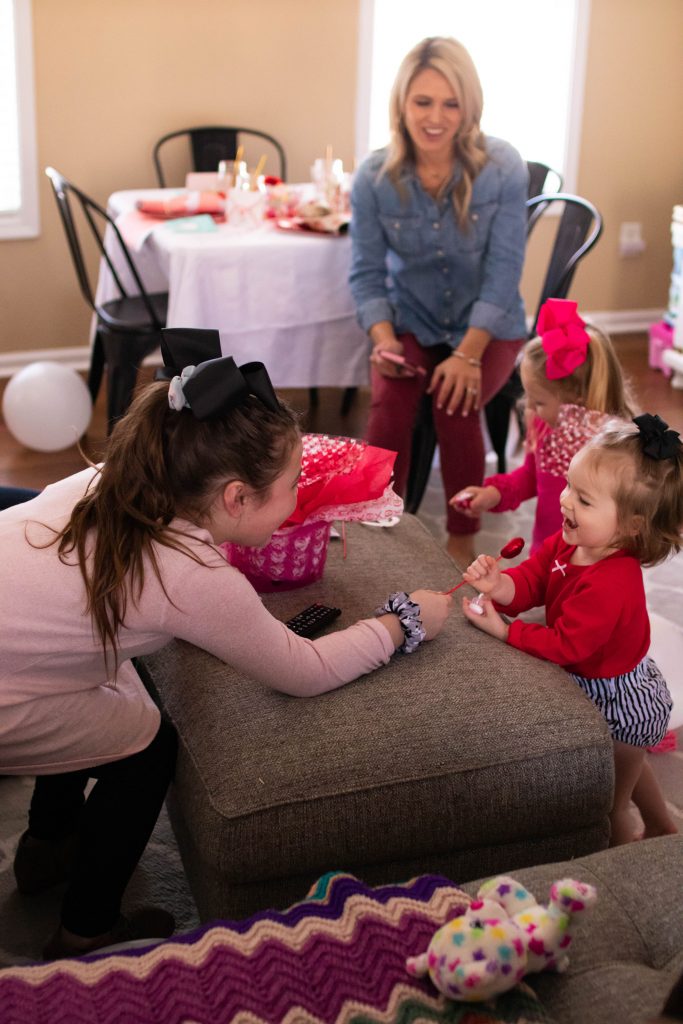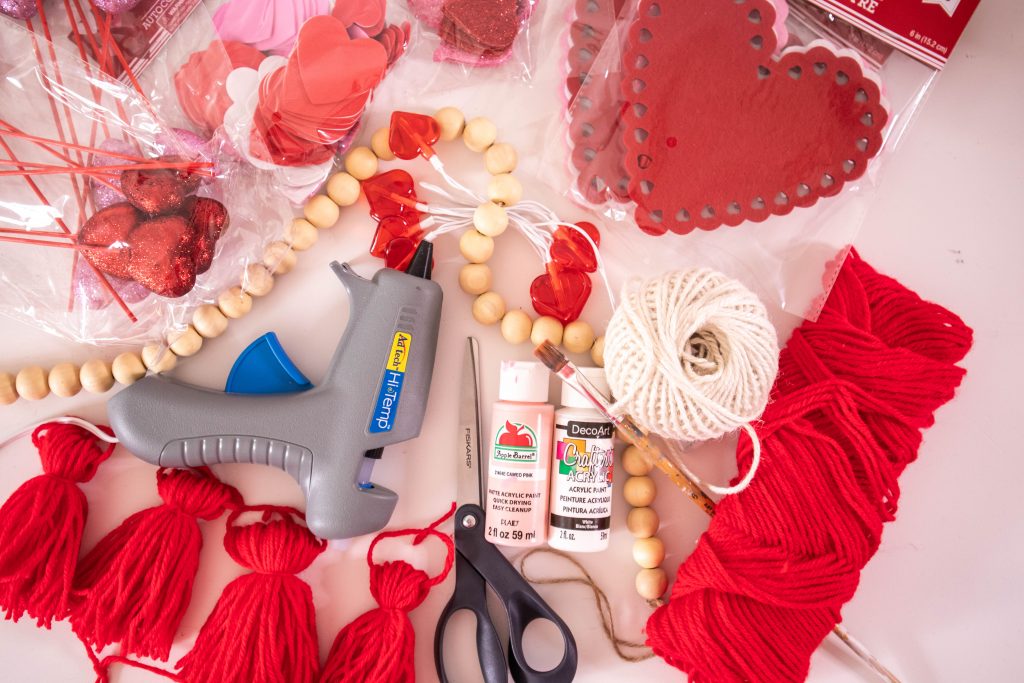 Overall I thought the party was such a huge success. Especially for it being my first year doing it, I definitely want to continue the tradition as long as I can. Parties don't have to be fancy rented spaces either. I love throwing parties in the comfort of my own home because everything is right where I need it, easy setup, easy cleanup, and the price is right! I could NOT have made it happen without my amazing and supportive husband Morgan, who prepared most of the food and helped clean the house before everyone got there. I wasn't feeling well in the days leading up to the event and he really came through. As much as I love putting on a party and seeing the end result, they can be truly stressful, so he took pity on his struggling pregnant wife and kicked it into high partner gear and I am so grateful, love you babe!
I hope you were inspired by my setup and can plan a get together with your gals. The gossiping and playing are so much fun, and added bonus, a lot of our guys got together and went golfing so really everybody wins! 🙂 Sometimes life can get a little crazy and you can go weeks-months without reconnecting with your ladies, so plan a fun day and catch up over drinks and snacks and watch it all come back so easily.
How do you like to reconnect with your ladies? Leave a note for me in the comments and let me know if you have something special planned for Galentine's or Valentine's day! I hope everyone has a wonderful week of love!