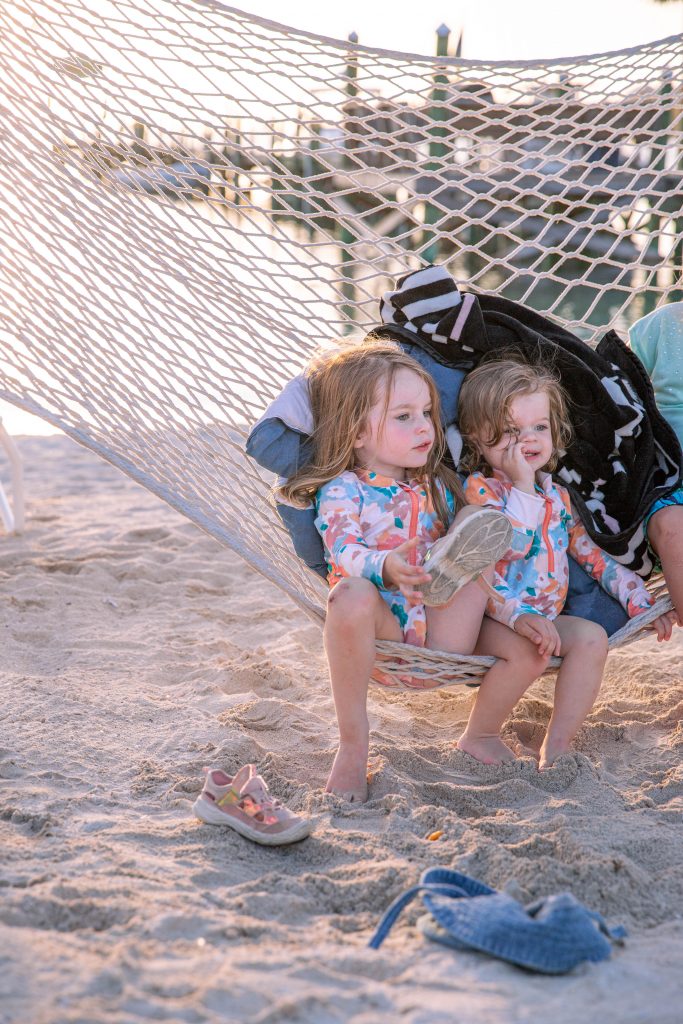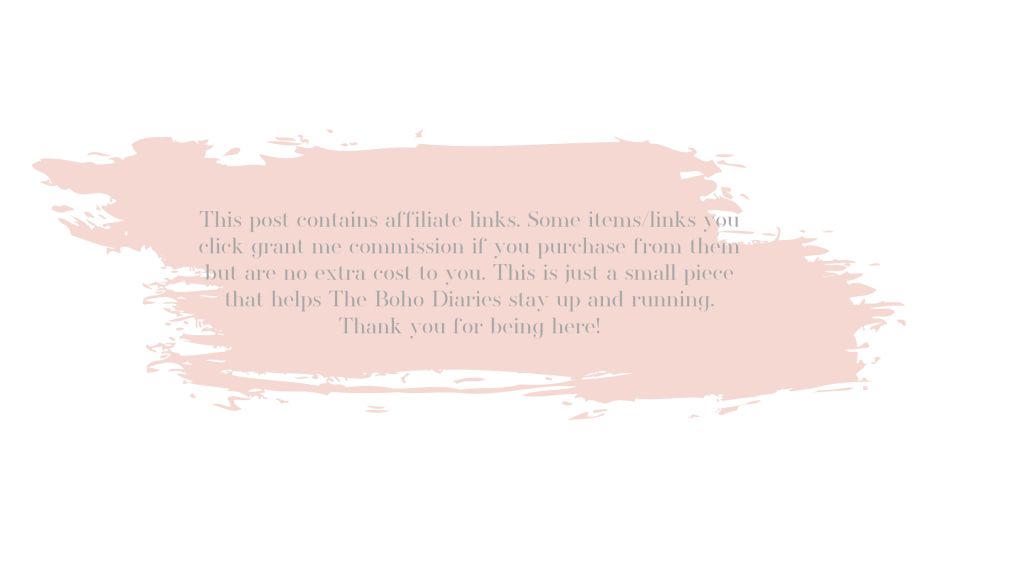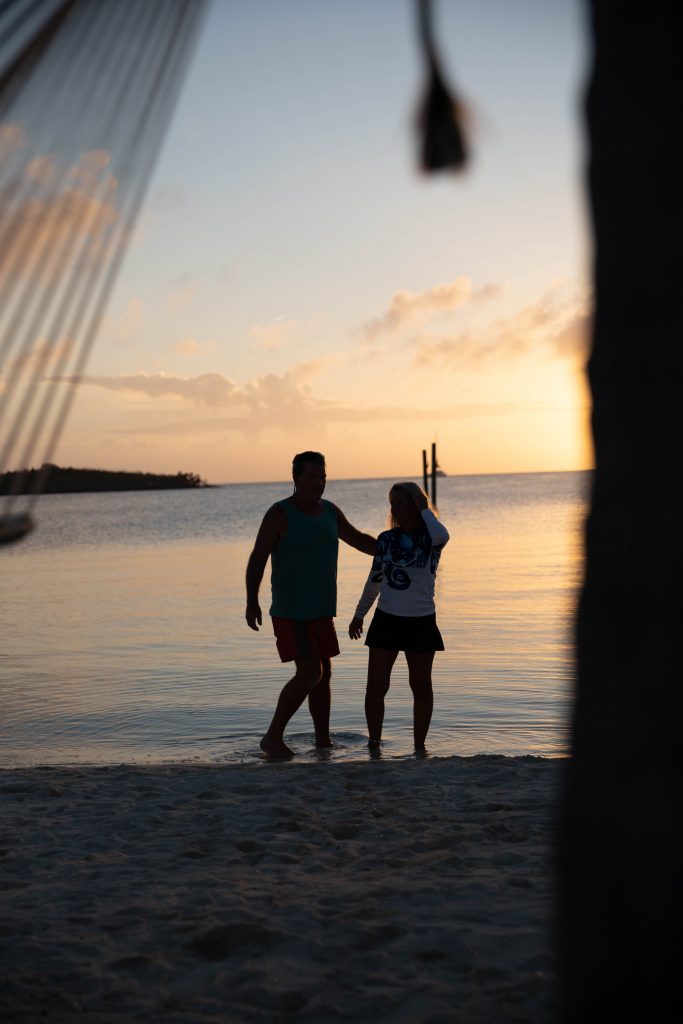 Have you ever been to the Bahamas? When I think about the many blessings I have had in my life, one of the biggest is the ability to travel to fun destinations, and experience so many fun and exciting things. This was my second time visiting the Bahamas, and I am going to share what I love about this spot as a destination for a fun family vacation. I will be sharing our Family Bahamas Vacation In Hope Town Day 1 & 2 only because there is just too much to share for just one post! I'll be sharing the fun, the struggles, the adventure and every detail I can and would happy to answer any questions! My inbox is always open so please don't hesitate to reach me Nicki@TheBohoDiaries.com.
I will start by talking about the first day, one that we don't actually consider vacation because it is a day full of travel, being the longest and drawn out day of them all. For where we live, you have to take a connecting flight to Miami International and from there we fly to Marsh Harbour, Bahamas. I knew this was going to be a long day as this was Ellowyn's (my 1 year old) first time flying and Caroline's (my 3 year old) second time flying, so I came prepared with all the iPads, snacks, a new compact double stroller, blankets, I was set.
Well, apparently Verifly check-in with American Airlines doesn't mean much because even though we did all the before arrival check-ins, because we had a lap infant ticket, we had to go through and manually check-in at the airport. Upon doing that, the American Airlines representative, though nice, told us that because it wasn't "an umbrella stroller" it was too big and had to be checked then and there. When I tell you I about cried at 5 in the AM in the airport I am not exaggerating. One of the main reasons we purchased this wonderful new stroller was to keep our girls comfortable during layovers, naps, eating, etc. And this woman killed all of my hopes and dreams and our trip hadn't even begun!
You may think I am being over dramatic about that, but I have seen SO many larger strollers in the airports and I was so ticked that this lady did this to us. Don't worry though, it's a much happier story on the way home to stay tuned to days 6 & 7 posts. 🙂
Overall the girls did pretty good. There were definitely stressful moments, but I can only blame myself because we packed WAY TOO MUCH for carry-ons, so we constantly had our hands full between kids and belongings. We ran into bad down pour in Miami which ultimately delayed our flight by 2 hours. This wouldn't have been as bad if we had been allowed the stroller, but alas we did not and our girls hit a wall that affected us all on the brink of loosing it. On top of the stress of our flight being delayed and adding more time to our layover, we also had to worry about getting to our ultimate destination, Hope Town. There is a ferry you have to catch from Marsh Harbour to Hope Town and it stops running around 5:45-6 PM I believe. With all the delays, our flight was then set to land at 5:45. There was no way we would be making that ferry!
Luckily, because we have cute kids who were loosing their minds waiting to board the plane, we befriended a nice gentleman named Don, who hooked us up with a private ferry over! We got to talking and realized we were going to the same place, so he made a call and we were able to join his private ride over. WHEW. Finally, we arrived to my parents' catamaran around 8:45 PM, got the girls to bed and finally relaxed.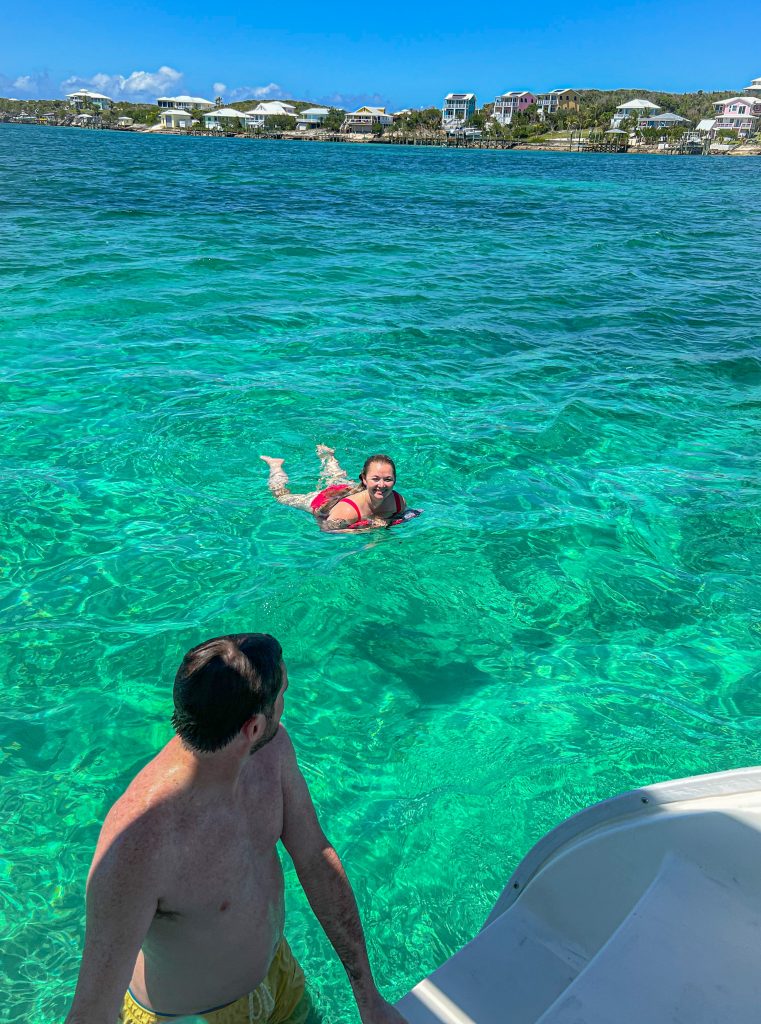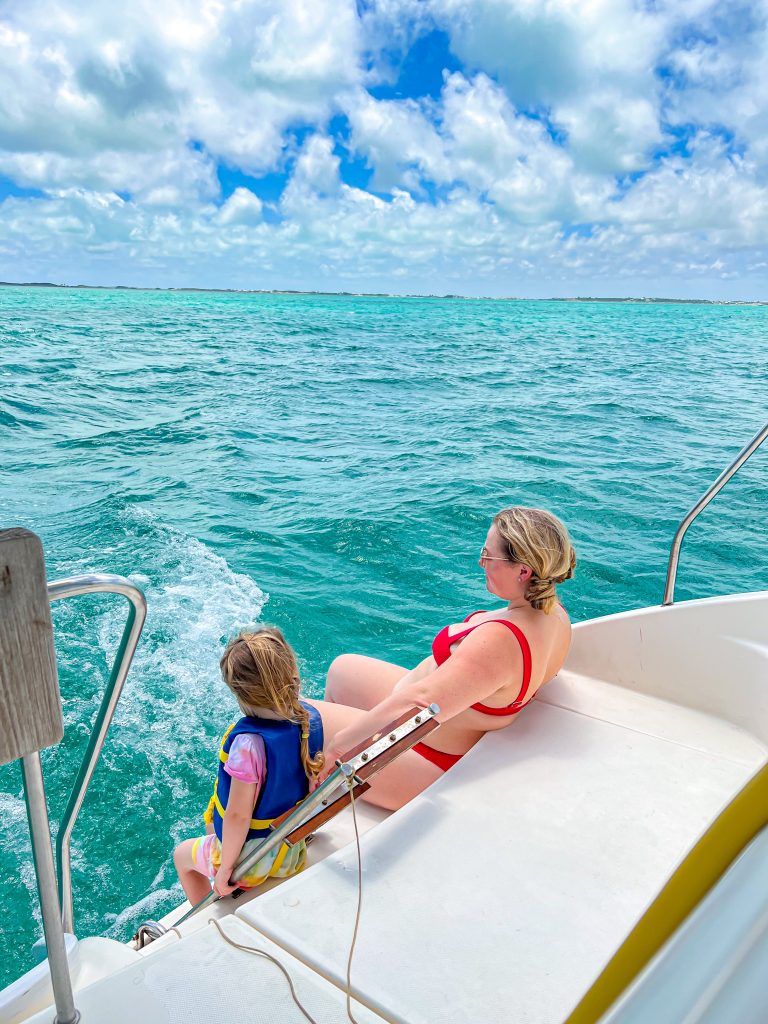 Our first full day of vacation was spent with a beautiful boat ride to Great Guana Cay. I would have to say, this is probably my favorite spot of the Marsh Harbour, Abaco, area of the Bahamas. It offers SO much from the beautiful beaches, snorkeling, and fun hot spots on the island like Nippers and Grabbers, we had to revisit these again this trip because they just can't be missed.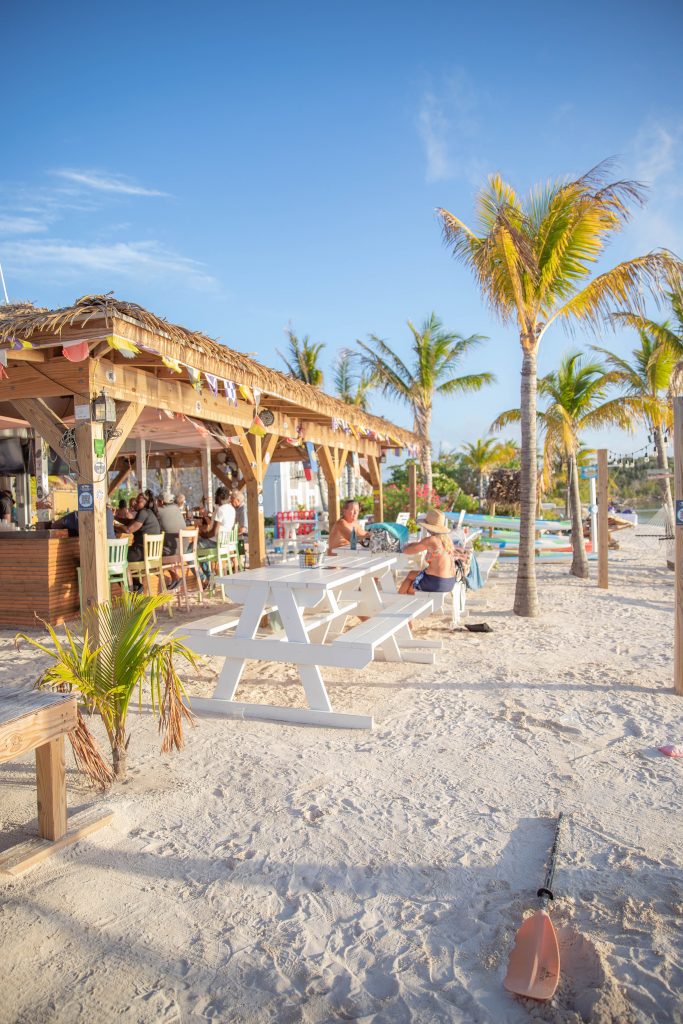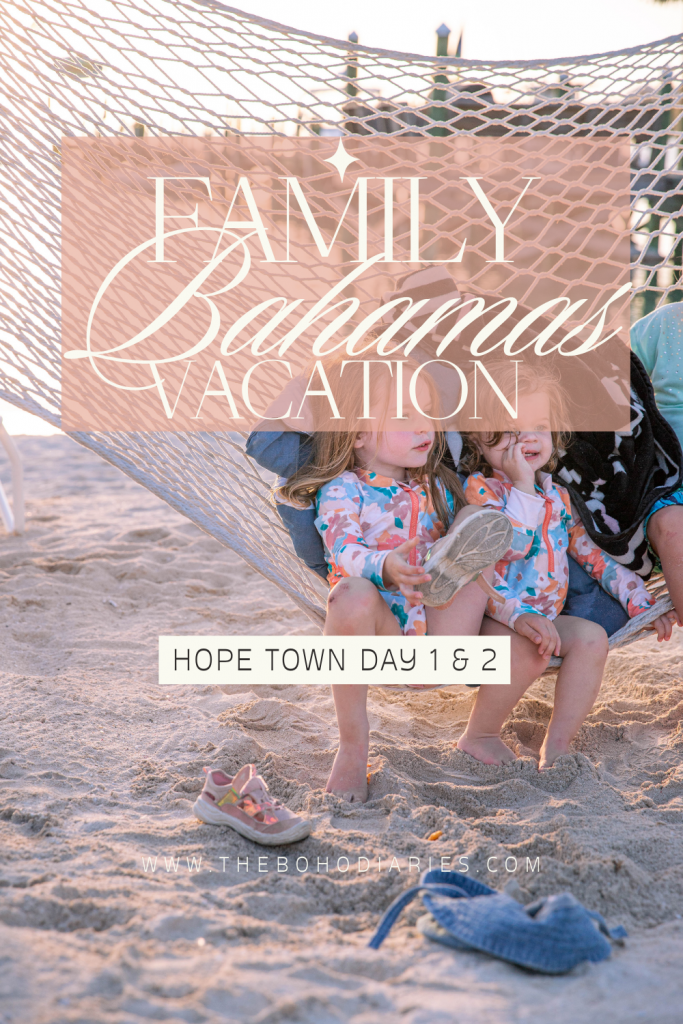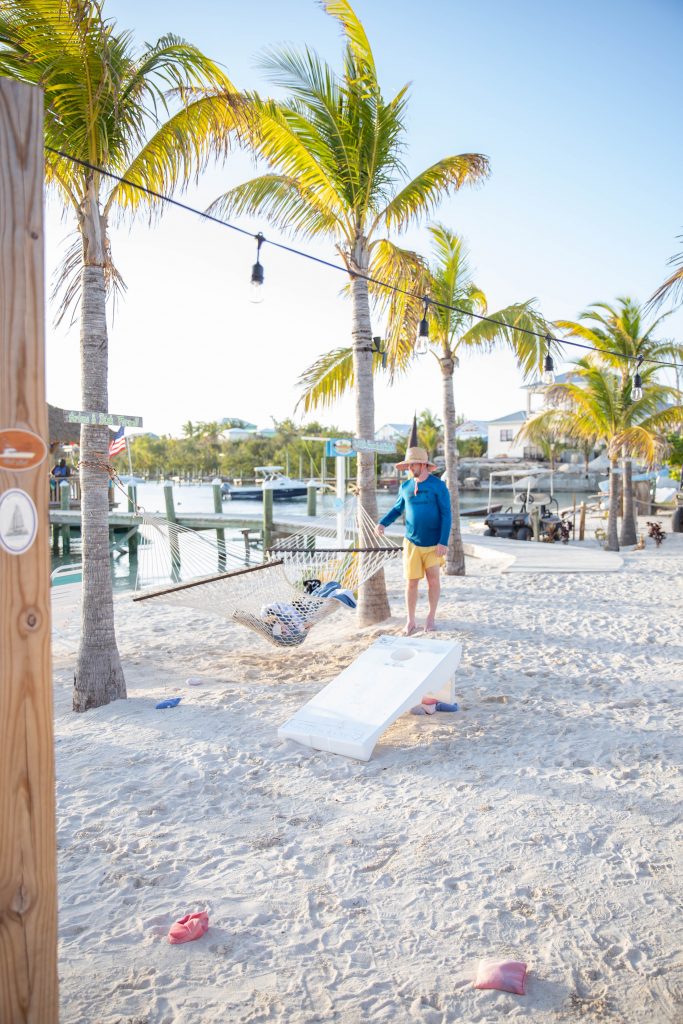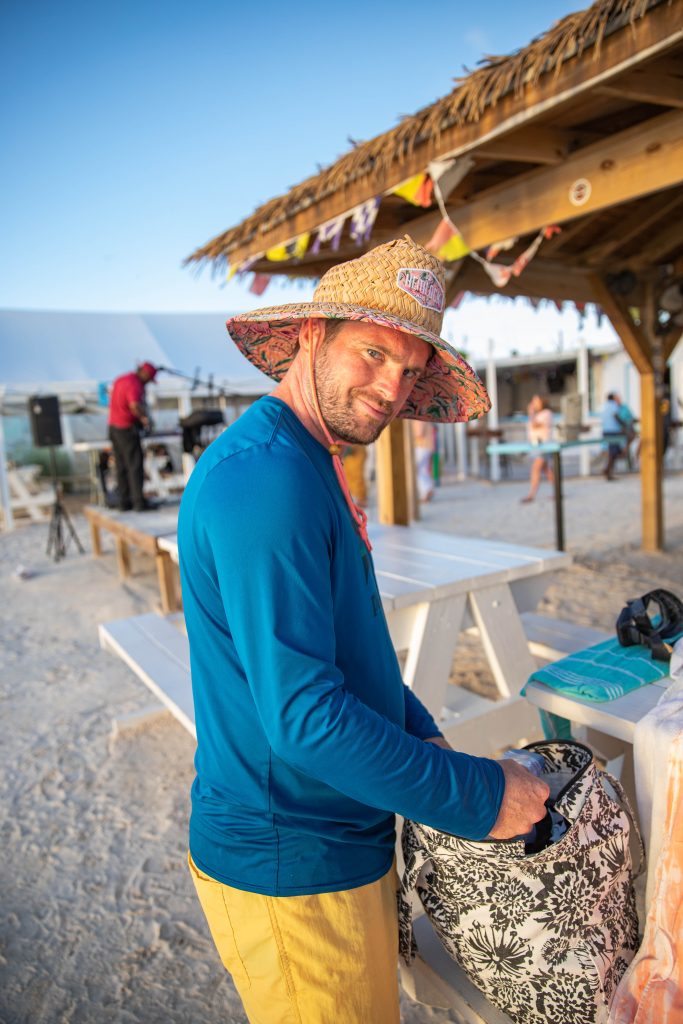 One great spot to hit
when you go to Great Guana Cay is Grabbers. Grabbers Bed, Bar, and Grill is the ultimate sunset spot the entire family will love. There is beach, hammocks, chairs, delicious food, great bartenders, games for kids, a pool, and we were there when they had live music. When we arrived in Great Guana Cay, we anchored, took the dinghy to the dock, got one drink to go, but knew we would be back.
We headed to Nippers Beach Bar and Grill next because they have mom's favorite beach spot, and I love their venue. It's basically on a cliff with a pretty steep stair climb to the water, but sitting up there looking at that view with an ice cold mixed beverage can't be beat. I definitely recommend making this a stop on your list and possibly a large part of your beach day! They have the perfect Ariel rocks to reenact our favorite scenes from The Little Mermaid. Don't take my word for it, follow my YouTube and Instagram, to watch Morgan in action, nailing the Ariel look.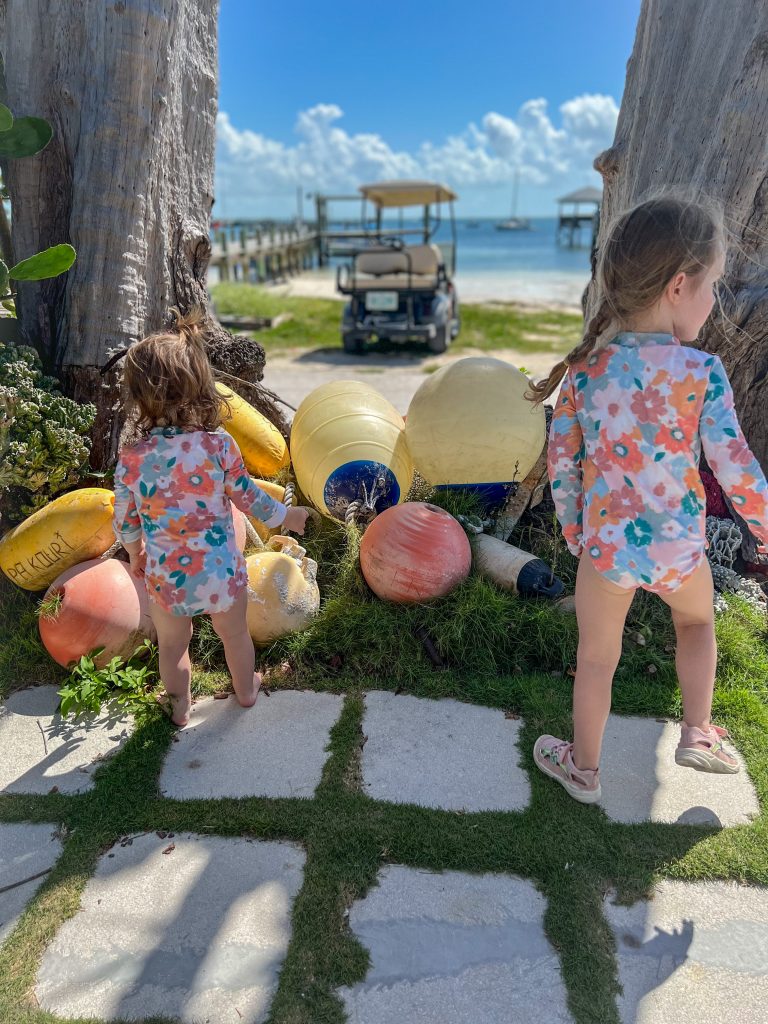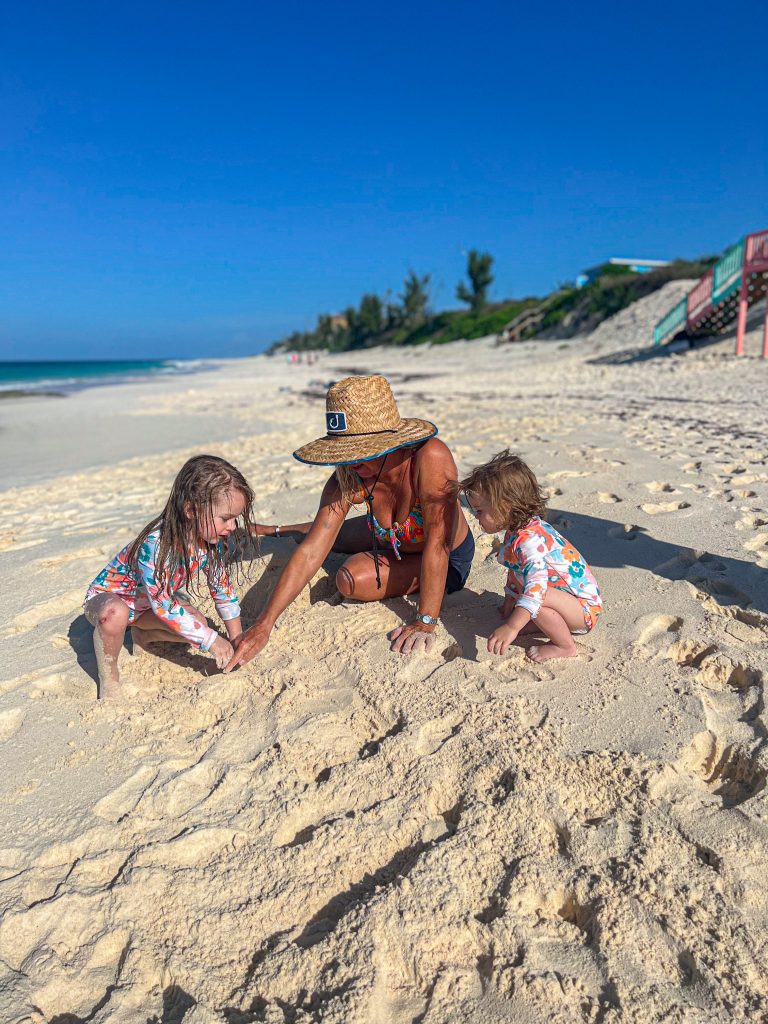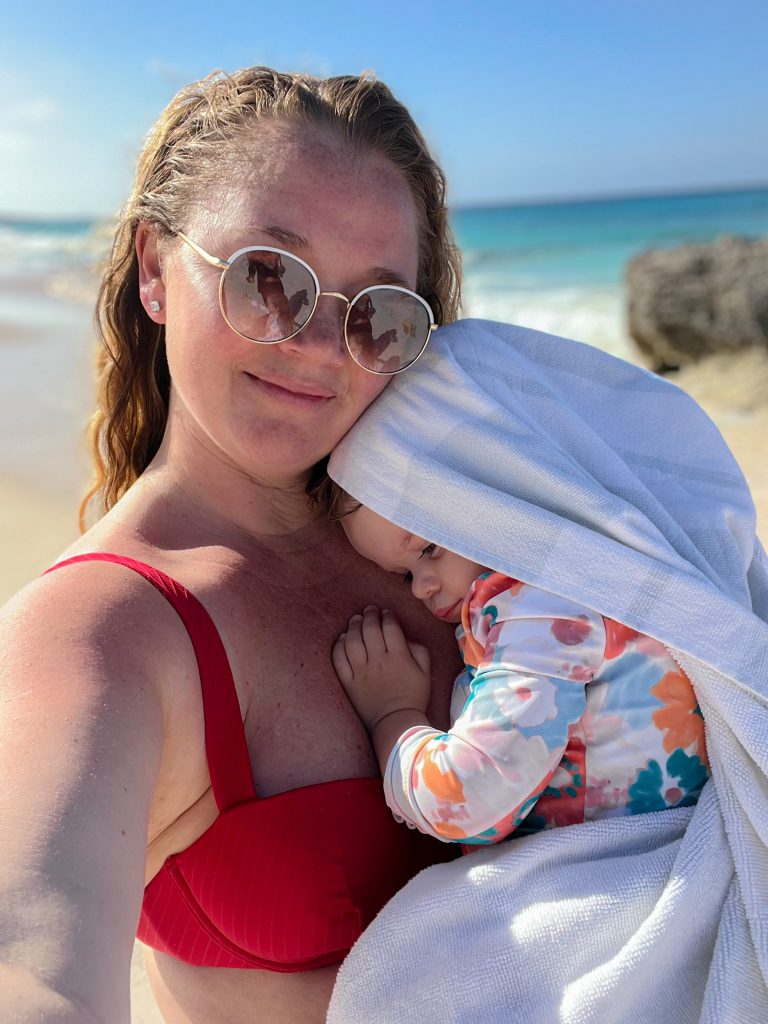 After lots of fun in the sun on the beach and in the pools at Nippers, we took the trek back to Grabbers for dinner and the sunset. I honestly wish I could remember what I ordered because I remember it was delicious, but all of us had great meals there. We drank Sands, their popular beer, and I had one Grabber's cocktail. Morgan played cornhole with a local and the girls even made new friends too. It was such a perfect night.
We danced to some live music, ate, swung in hammocks and watched the beach bonfire after sunset. There's something for everyone at this stop, so again, I highly recommend it!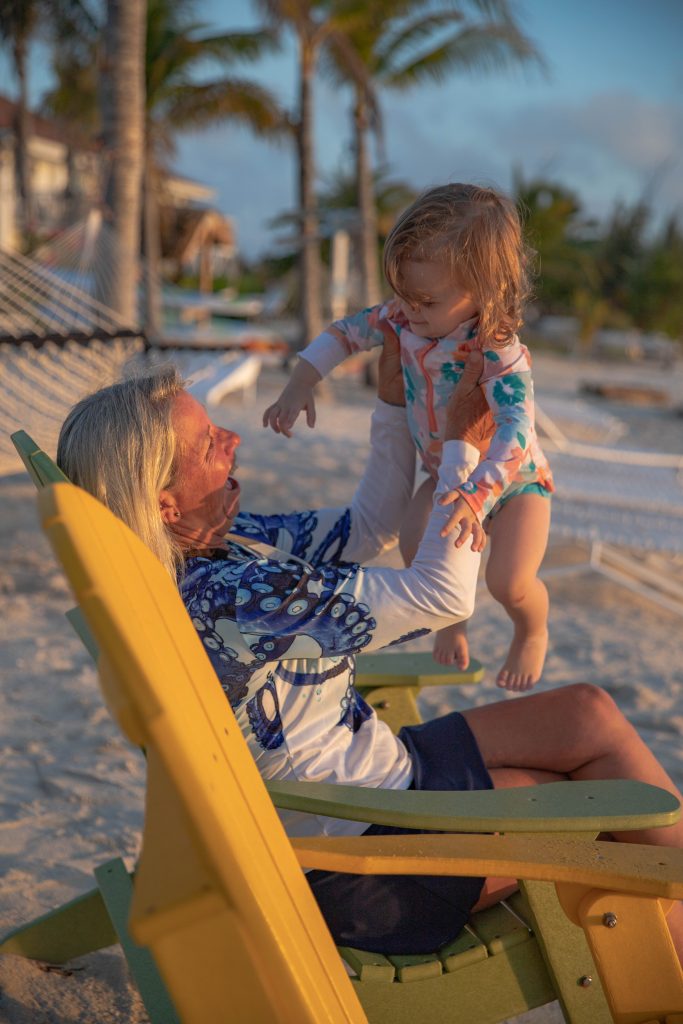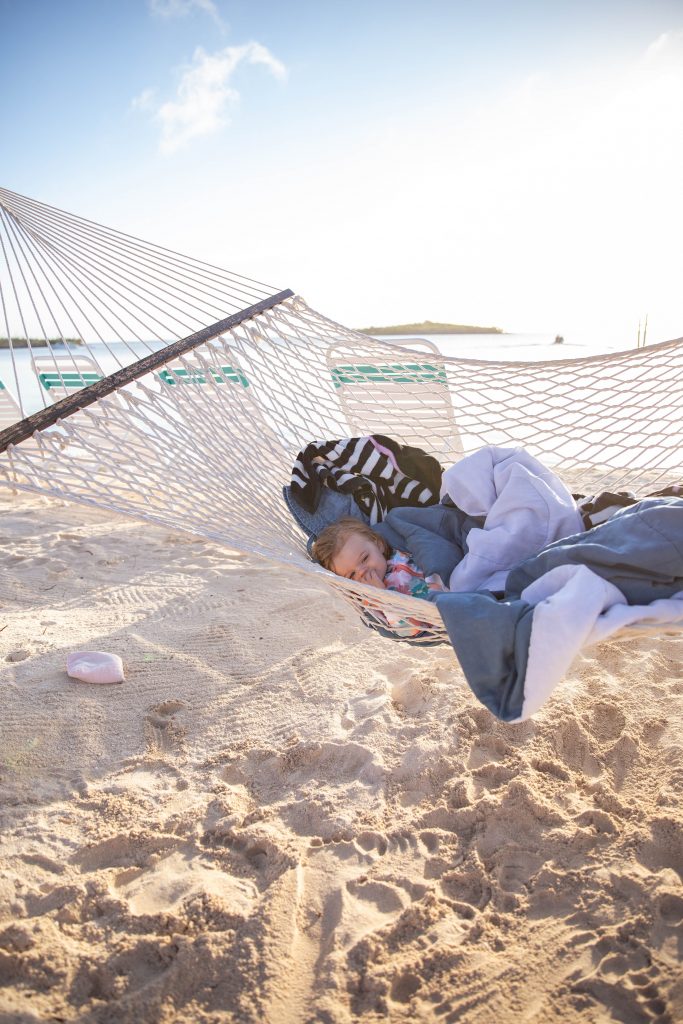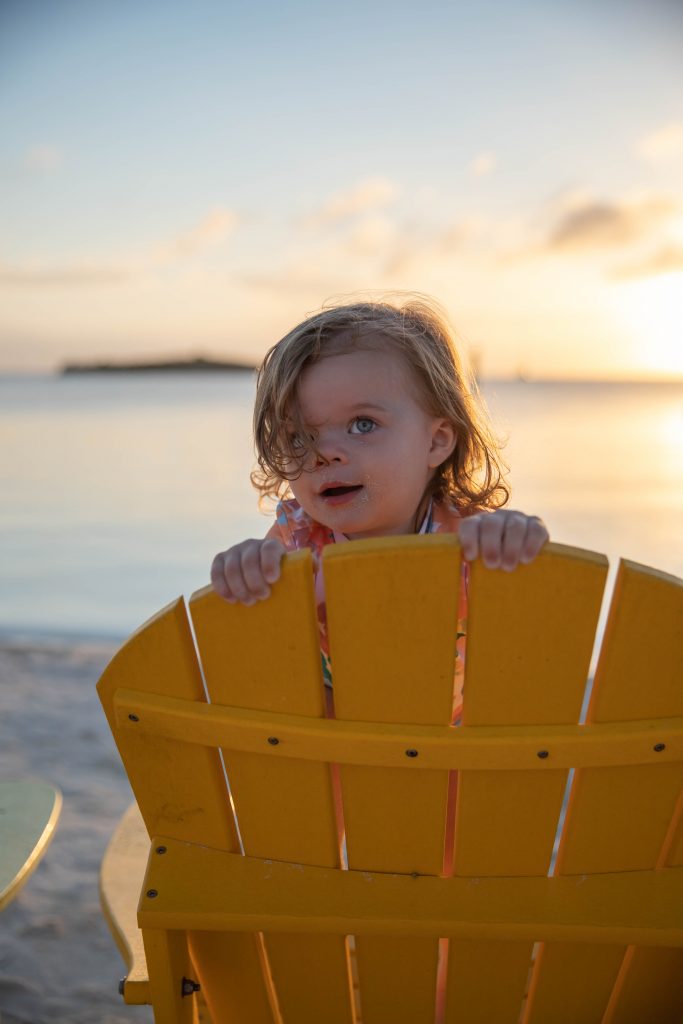 The sunsets at this location are killer. This is the second time in my life I have got to watch a beautiful sunset from this view and I relish every second of it. God's work in its ultimate beauty. I feel so blessed to even have the ability to be here with my family to see it. Even more so that I get to watch my girls experience it at such a young age. It is crazy to look back at the last time we were here, Caroline was younger than Ellie! You can see my coverage during my first YouTube family vlog attempt from our first Bahamas trip here.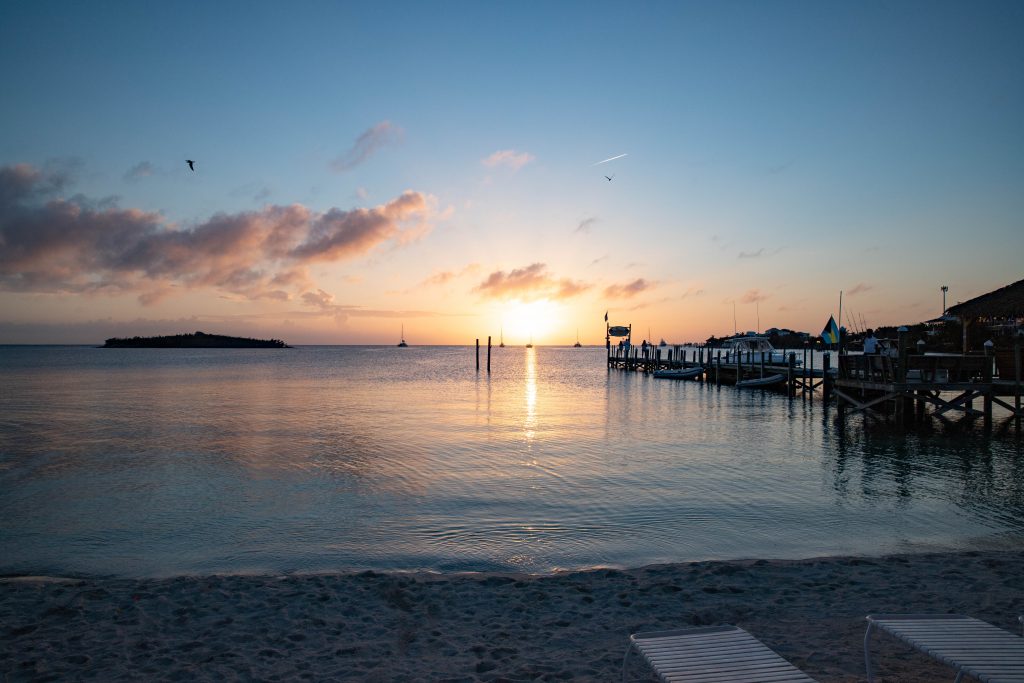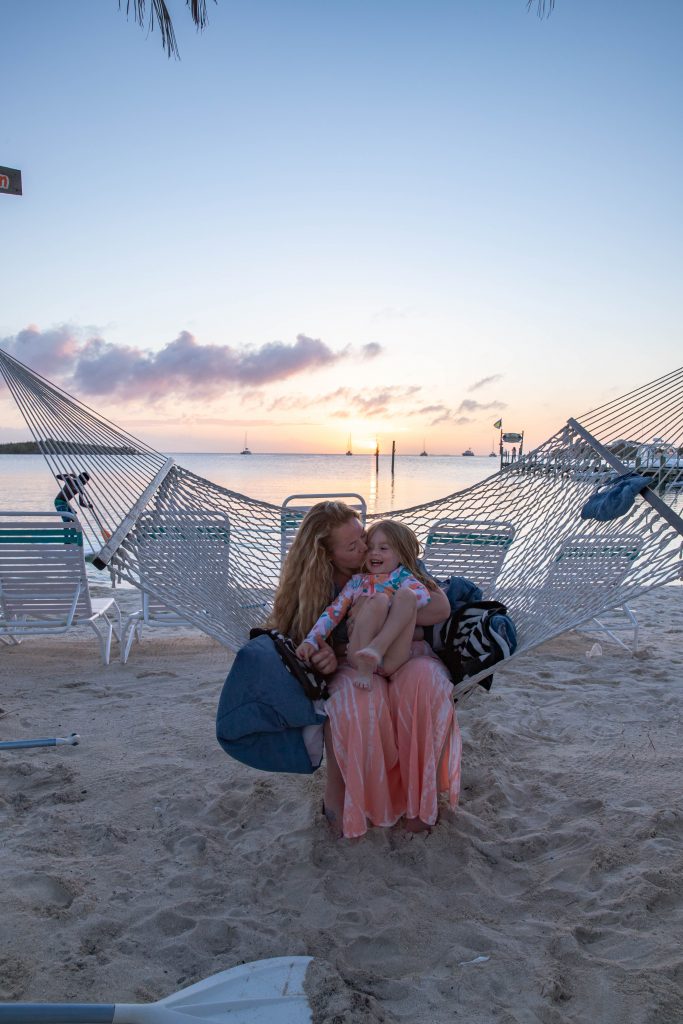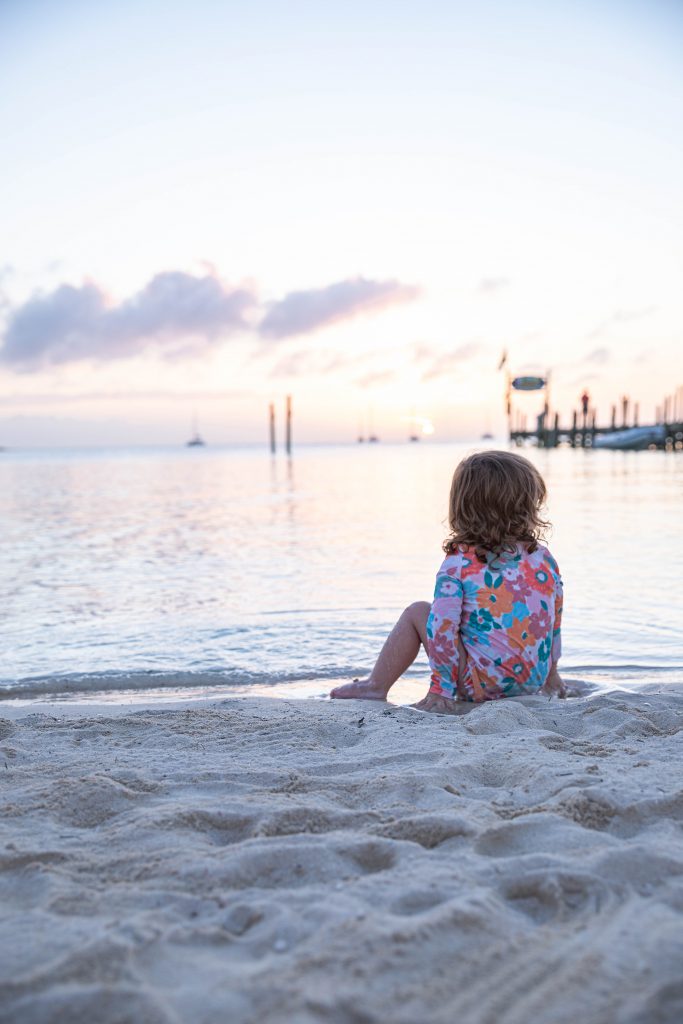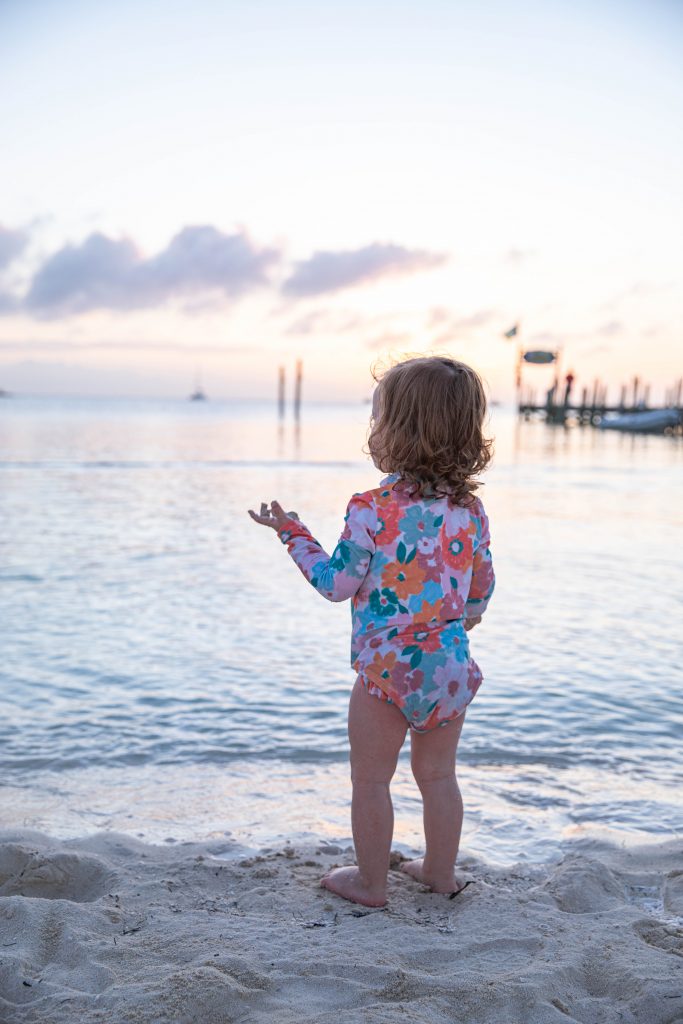 ---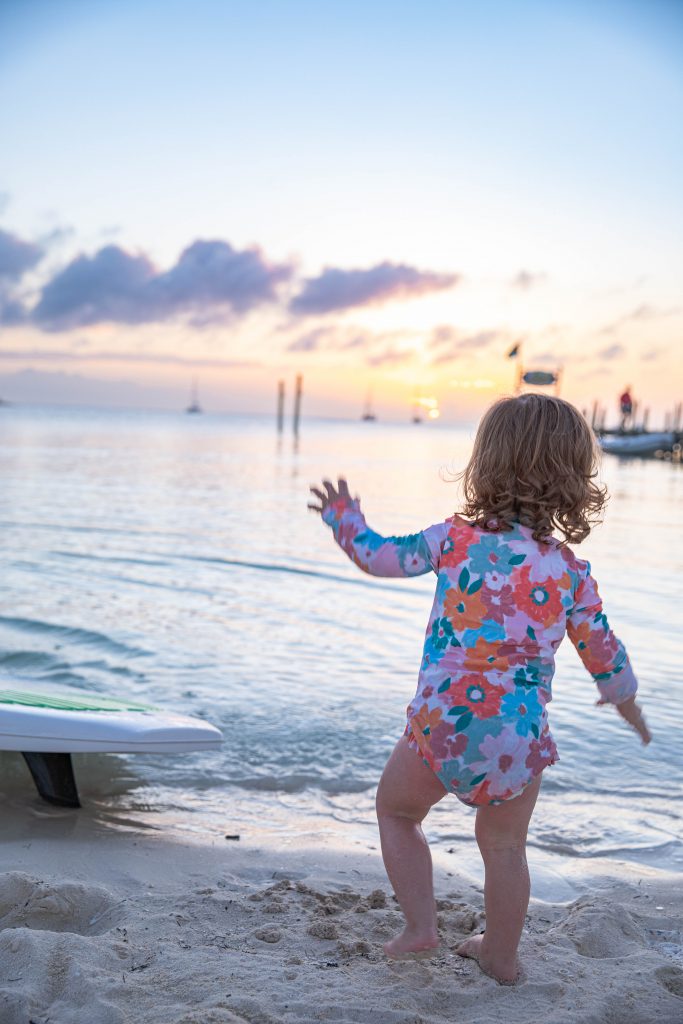 I hope you do subscribe and follow along on our adventures! Subscribe to this blog and to my YouTube channel! I'll be sharing the rest of our Hope Town Bahamas adventures and would love to answer any questions you might have if you're interested in going. You will see in the next posts and videos, there truly is SO much to see and do as a family. Thanks for being here!