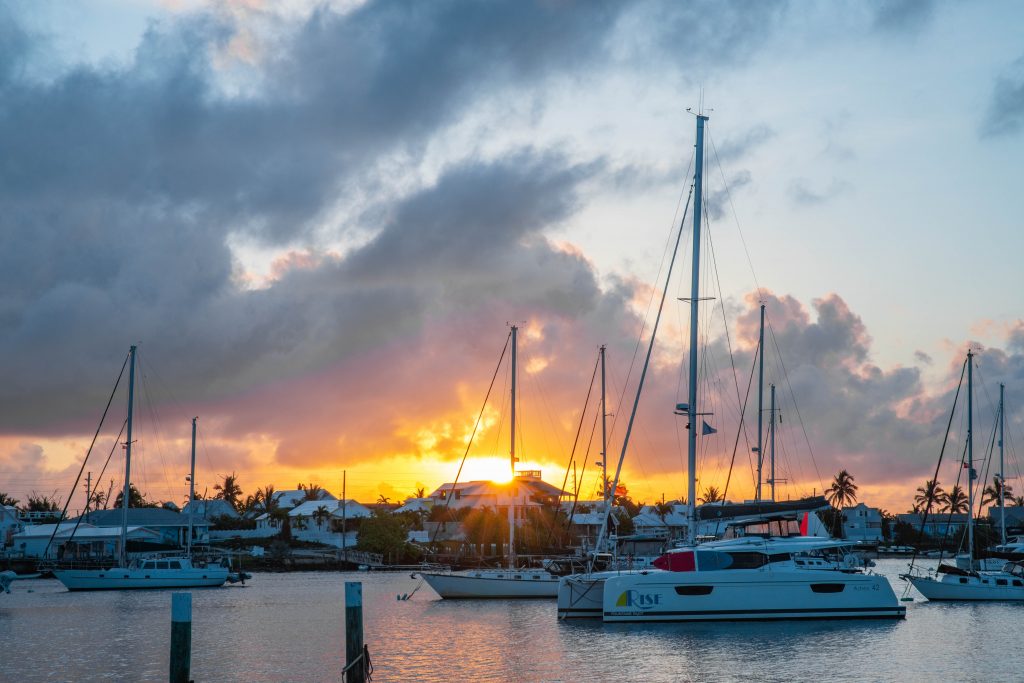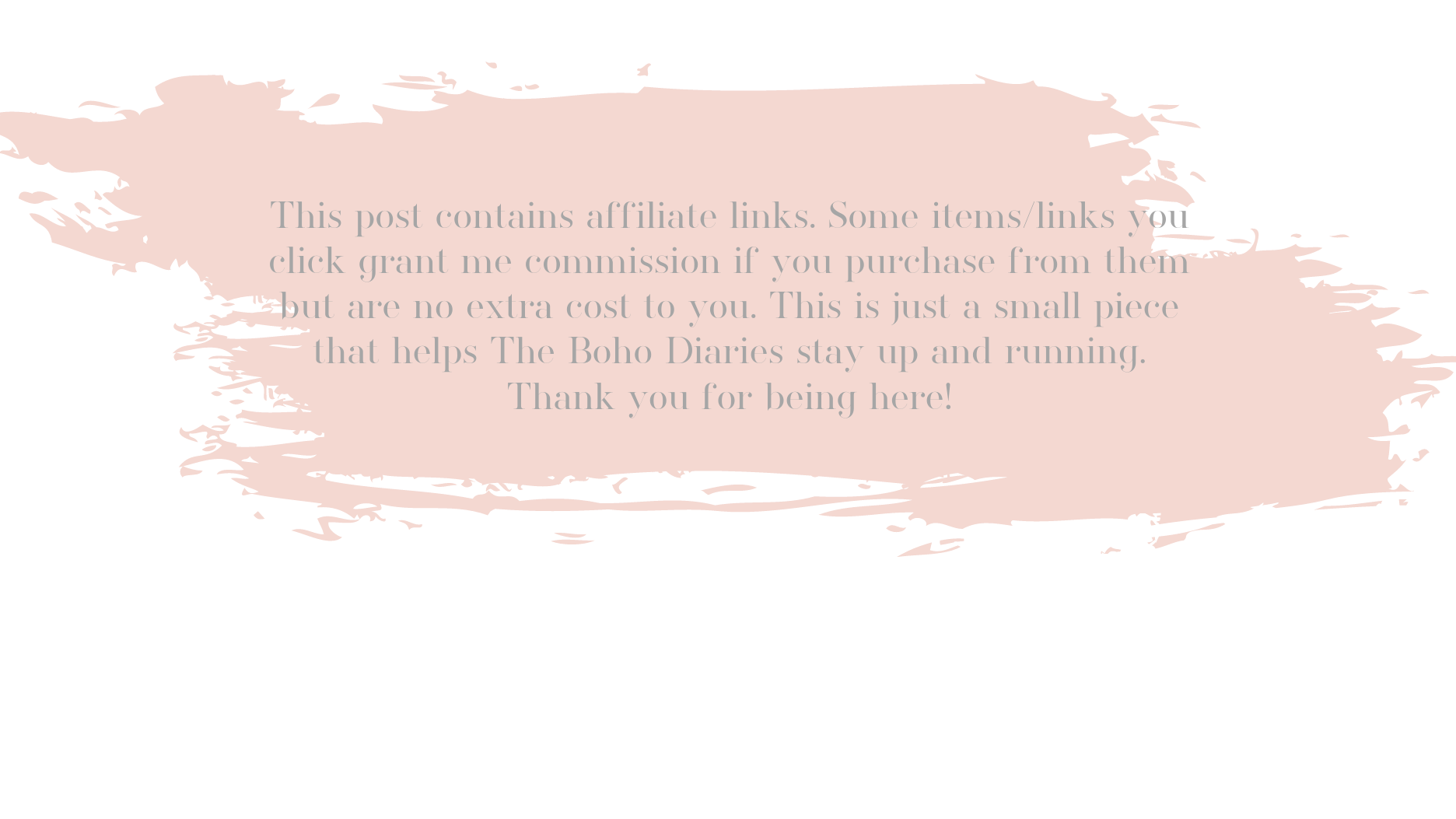 Welcome back to the continuation of our Family Bahamas Vacation in Hope Town! This is my second time spending Easter in the Bahamas and I can say without a doubt it is the best way to spend the holiday. I love how much the islands get into celebrating, for there is no lack of feeling like you're missing out. You can pretty much find and Easter service at any of their local churches, as well as many locations organize Easter egg hunts for the little ones.
This post is all about our Family Bahamas Vacation in Hope Town, days 3 and 4. If you missed the first one, you can get caught up here. In that post, I cover our travel day and the first full days spent in Hope Town and Great Guana Cay. You can also SEE the first couple days of our trip by watching the YouTube video here.
When I packed for this trip, in anticipation of us being there over Easter, and the Easter Bunny needing to find my girls, I brought the most compact forms of Easter basket gifts to package away in our checked bags. I will link some of the items below, but you can also find them in my Amazon storefront. I found things like a collapsible bucket, skinny books, pajamas, hair accessories, small toys, etc.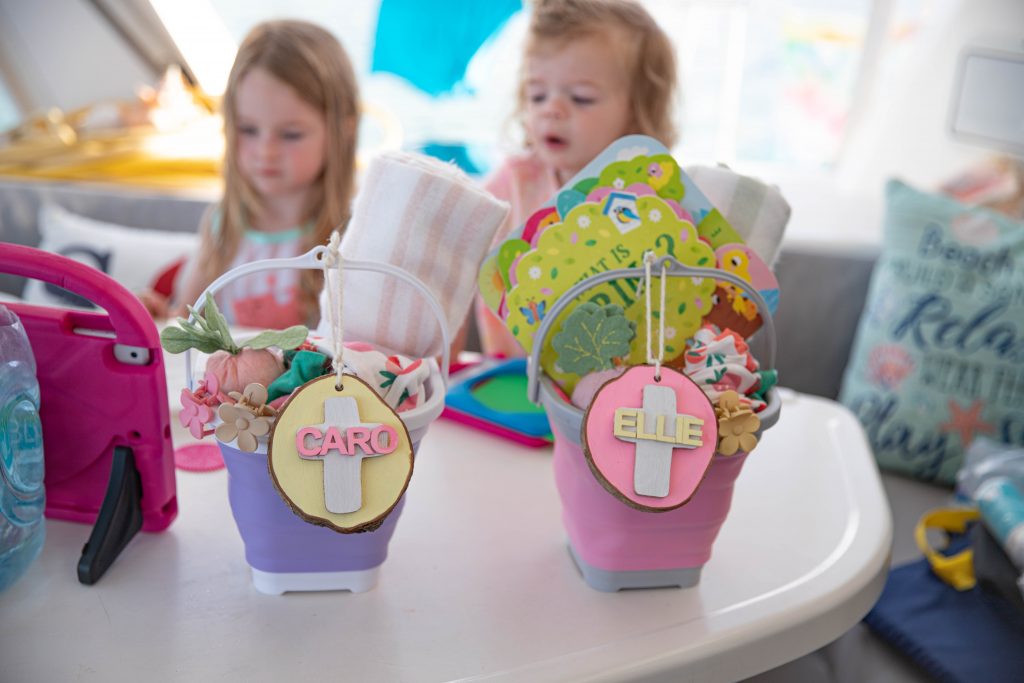 Amazon Items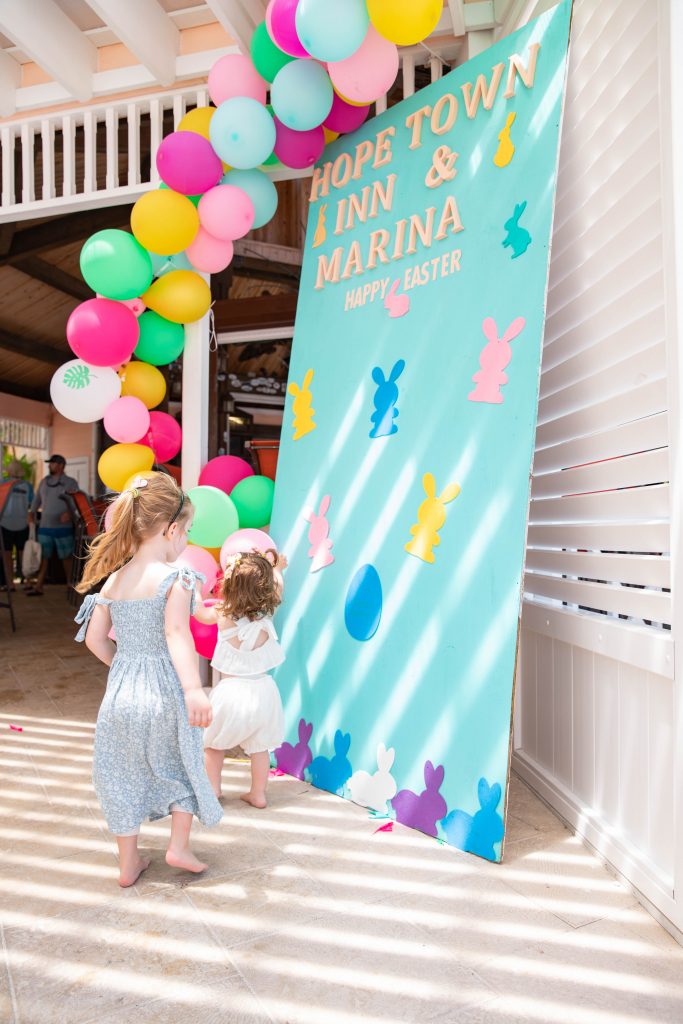 When we woke up on that 3rd day, TideChaser was anchored in Great Guana Cay. The girls woke up and immediately started searching for their Easter baskets. Caroline was so adorable looking for hers, and ecstatic that the Easter Bunny found them on Grandpa's boat. 🙂
After opening all of their goodies, TideChaser set off back to Hope Town. My older brother and his family were flying in that day and we were moving off the boat to Hope Town Inn so we had to get back to start moving everyone around. We also ventured back early because Hope Town Inn and Marina hosted a little Easter Egg hunt for the little ones! We took the girls with their new bucket baskets to join the fun.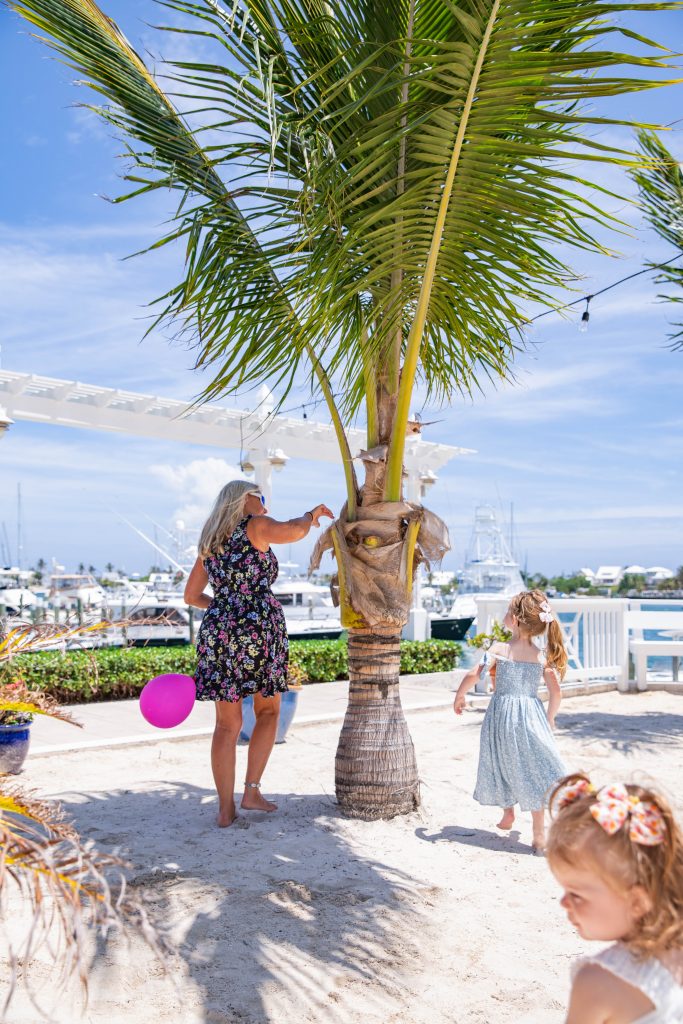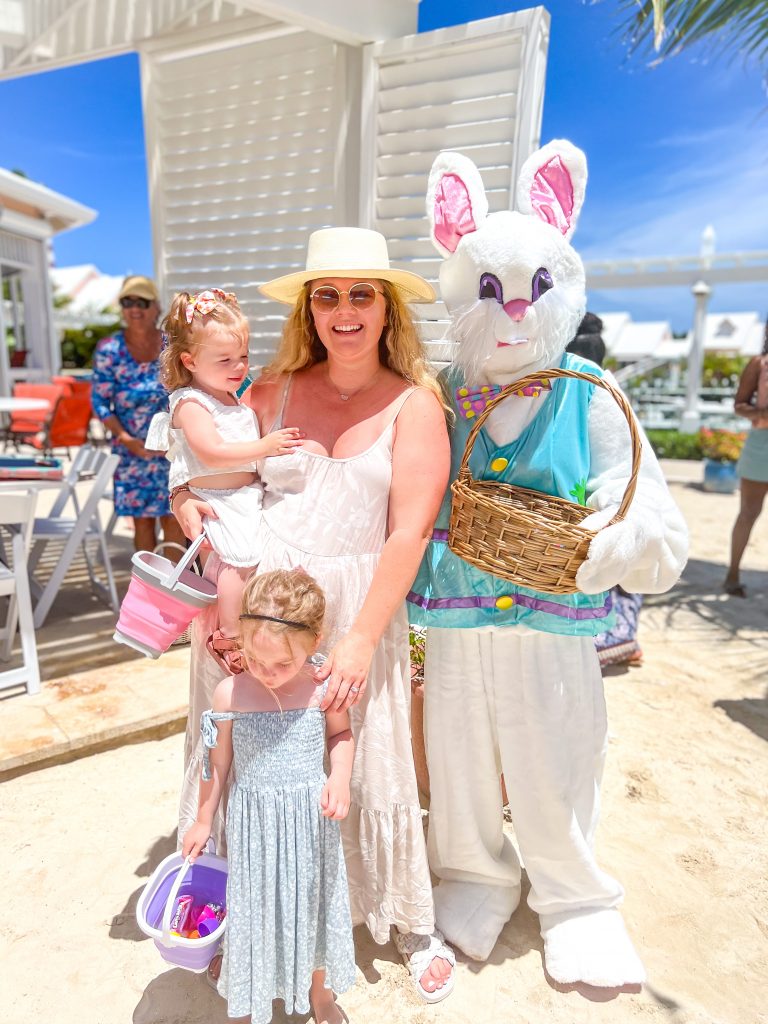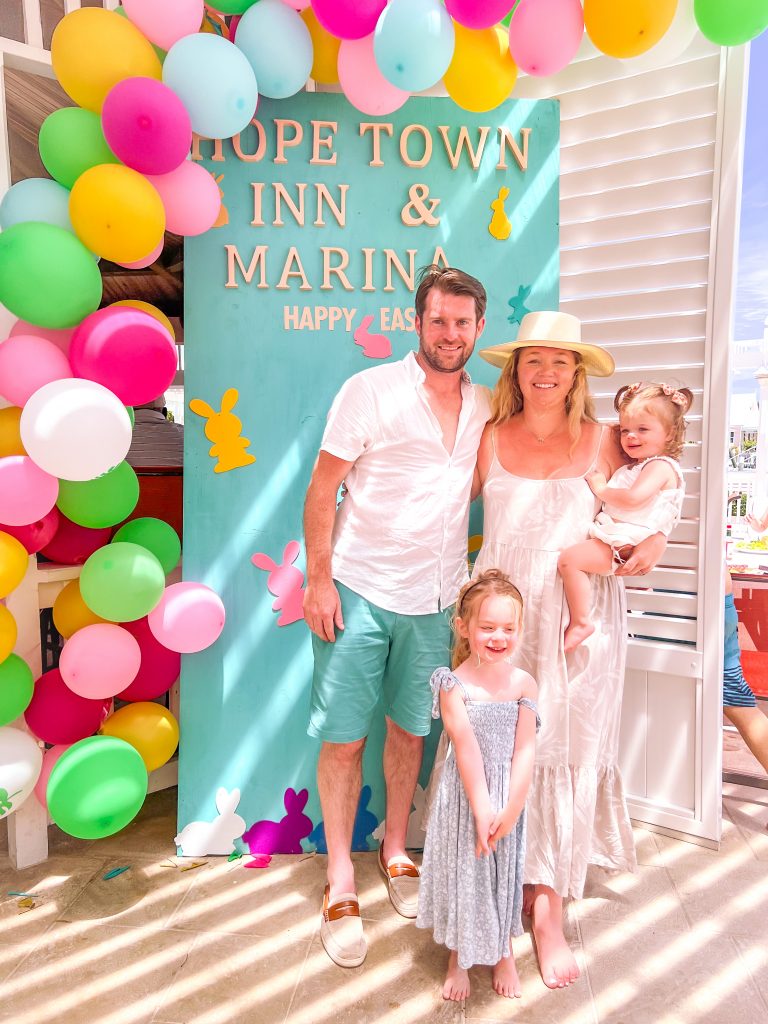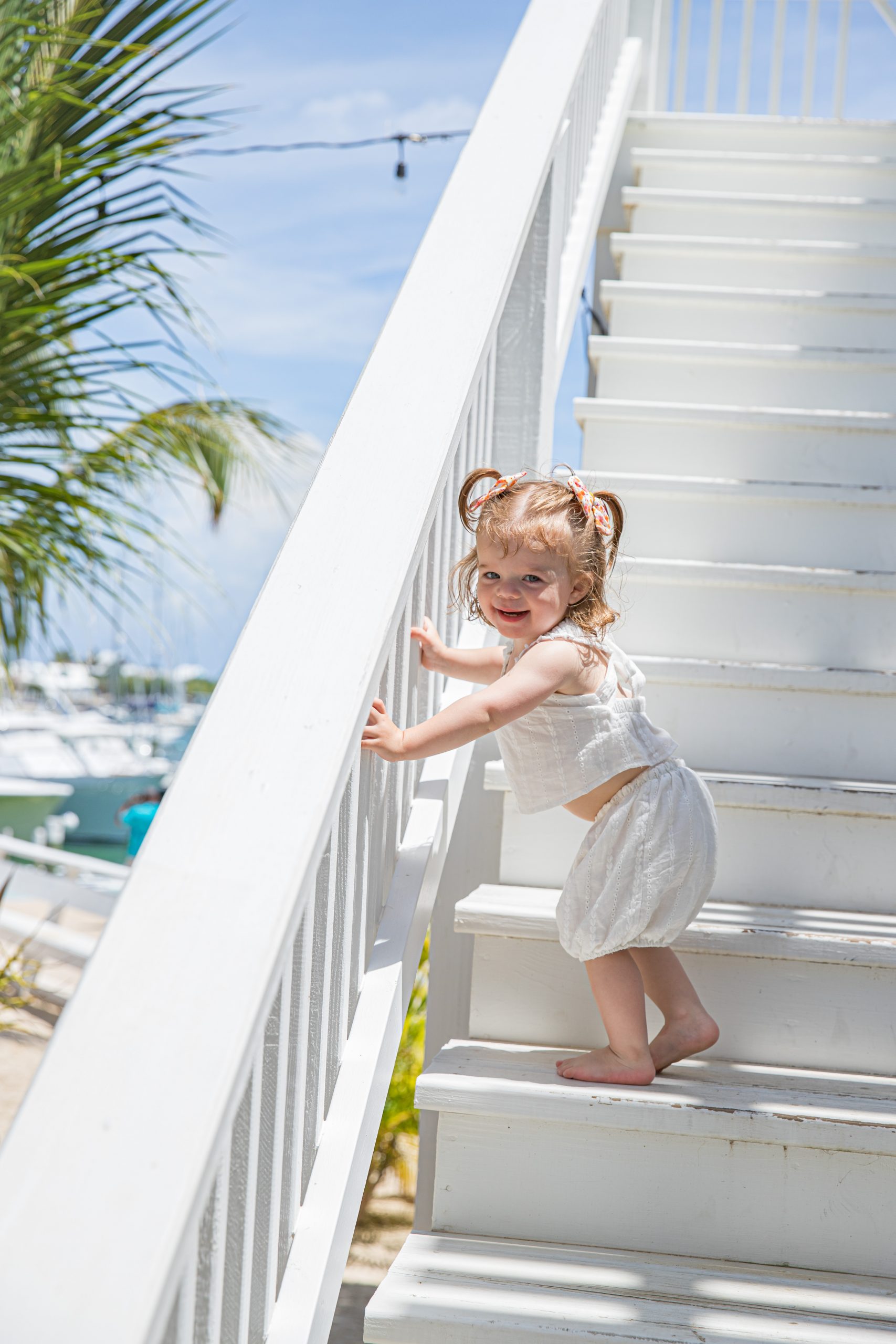 We had a lot of fun finding Easter Eggs and meeting with the Easter Bunny. The girls filled their baskets and looked through all their treats they found in their eggs while we ate lunch. After that, our room was available for an early check-in and we began to move our stuff in.
At first, we were a little sad we weren't staying on the boat all week. Obviously would be a cheaper stay, and we would have more time with my parents. But ultimately, staying in the resort really made this vacation a lot easier. We stayed in the Hope Town Inn and Marina and had a great experience. Our room was very clean, comfortable, great proximity to the pool and restaurant, and of course AIR CONDITIONED! That was a very hot week so being able to come into our room and immediately cool off, especially with a baby, was amazing.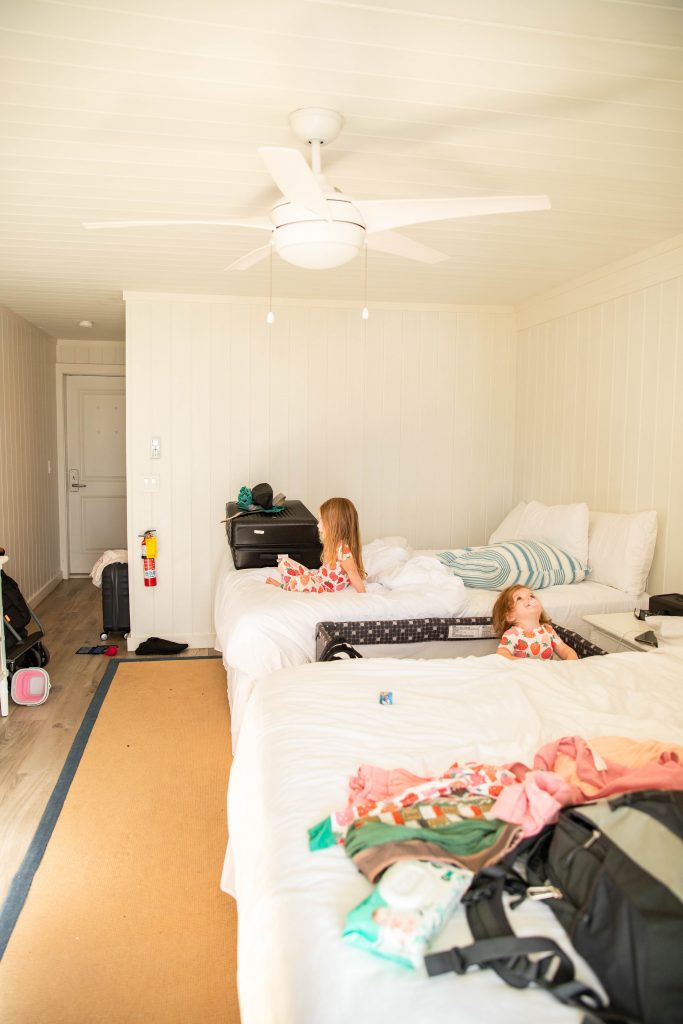 The staff were all so nice, especially to our crazy girls. By day 4 half of the bartenders knew Caroline by name. I wish I would have been able to get a picture, but our housekeeper always left the cutest little surprises for the girls like animal shaped towels, or lining up the girls toys in Ellie's pack-n-play like they were all talking. It was very cute. After we got settled in and my brother and his family arrived, we had dinner at Bridget's, which is the bar and restaurant on site, and it was all very delicious.
The next morning was a little stormy. We woke up to cloudy skies and thunder. Because of the high cost of just about everything there, we were hoping to save a little with food and decided to adventure to Marsh Harbour to Maxwell's, the full grocery store on the island. Hope Town does have smaller grocery shops, but for a full grocery trip, Maxwell's is where you want to go. Of course, if you're in Hope Town, you do have to take a ferry to Marsh Harbour and then taxi to Maxwells, and do it all again on the way back. But we didn't have anything in particular planned that day and the girls were constantly asking for snacks and fruit, so instead of going back forth from the restaurant we knew we needed some provisions in our room.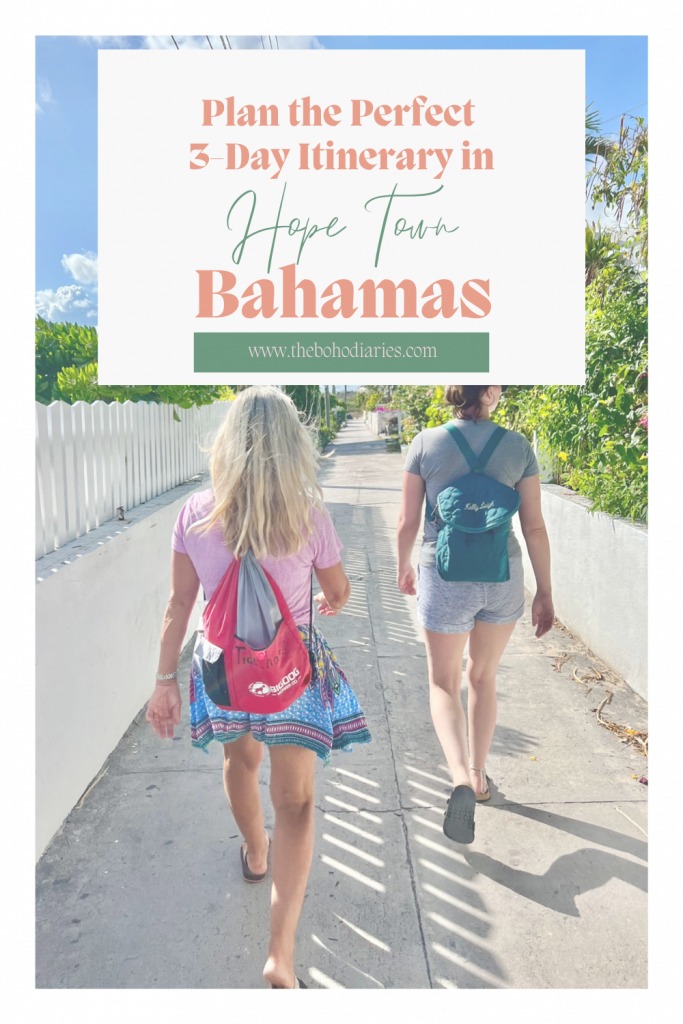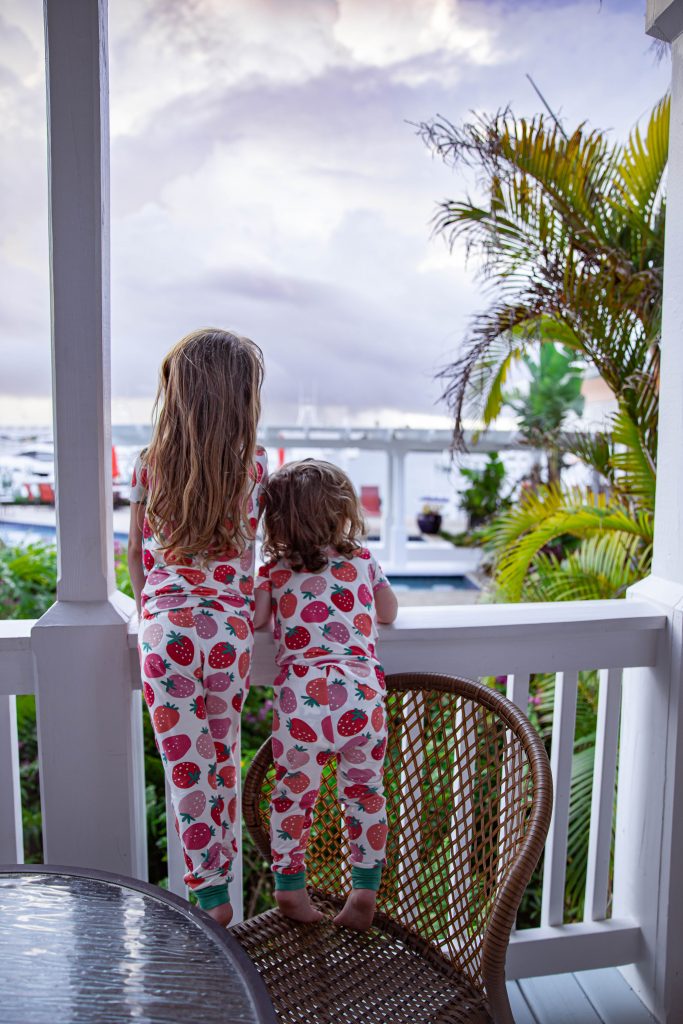 ---
Fruity Pajamas
---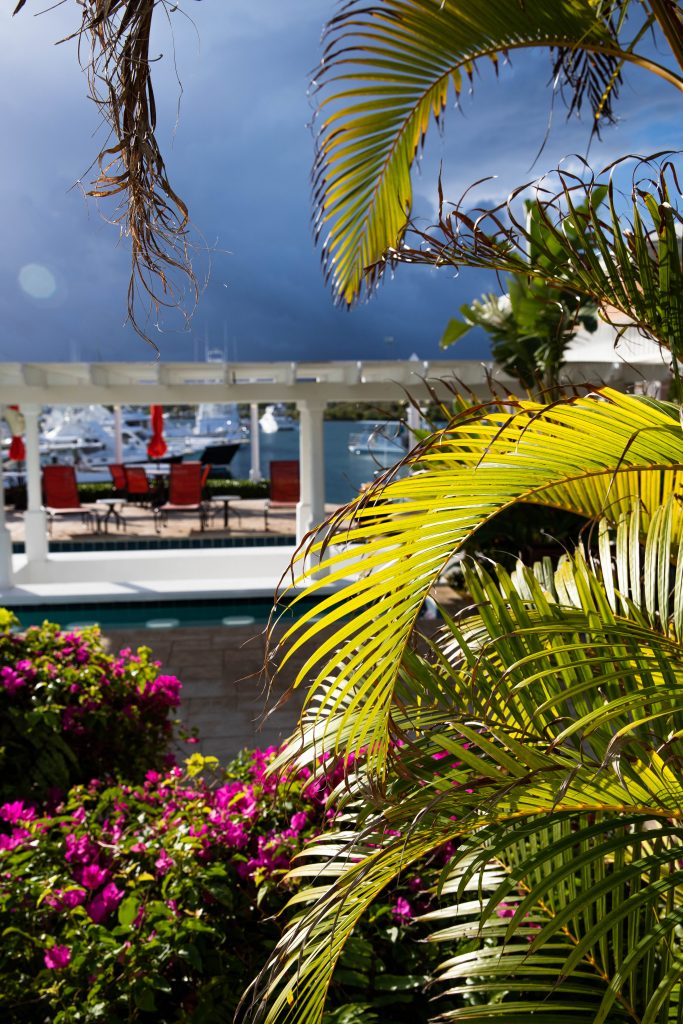 To catch the ferry we take a shuttle that is complimentary of Hope Town Inn and Marina. This part was a little stressful because you have to time everything just right to catch it at certain times. The G and L ferry stops at multiple docks in Hope Town and its home is Marsh Harbour. It is about a 20-30 minute ferry ride from Hope Town to Marsh Harbour, so with the girls I tried to make sure to have snacks or something to keep them busy.
From G and L Ferry there were almost always taxis around waiting for passengers. Maxwells was maybe a 10 minute car ride from the ferry docks. We loaded up on lots of lunch and breakfast stuff. Our room had a larger mini fridge and a microwave, so we knew we could get by with lots of fruit, hot dogs, mac and cheese, things like that for lunches for the week.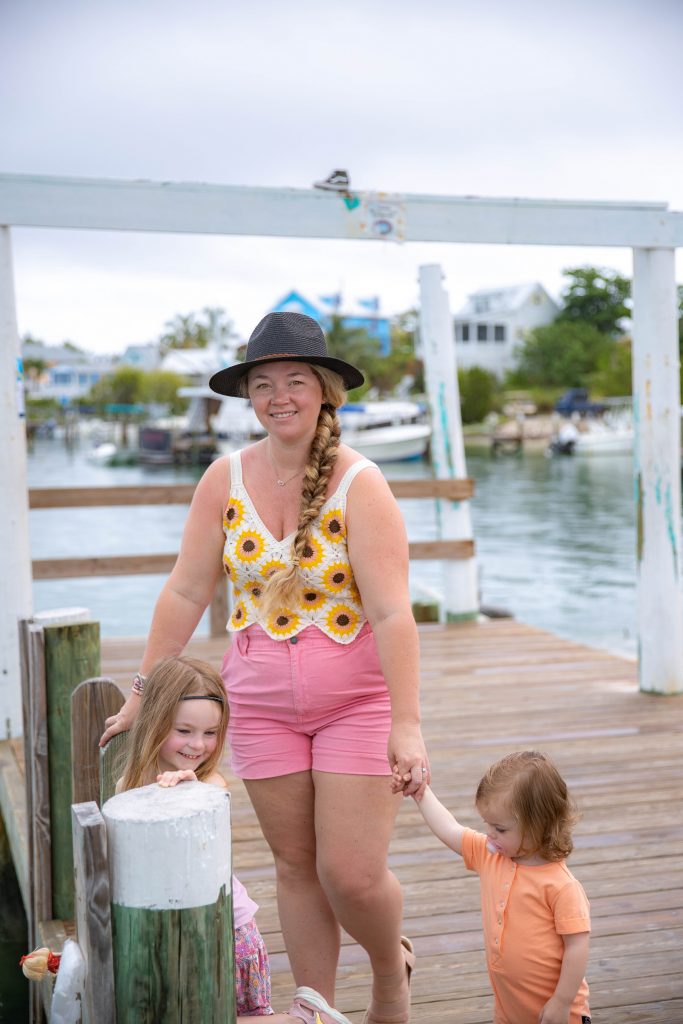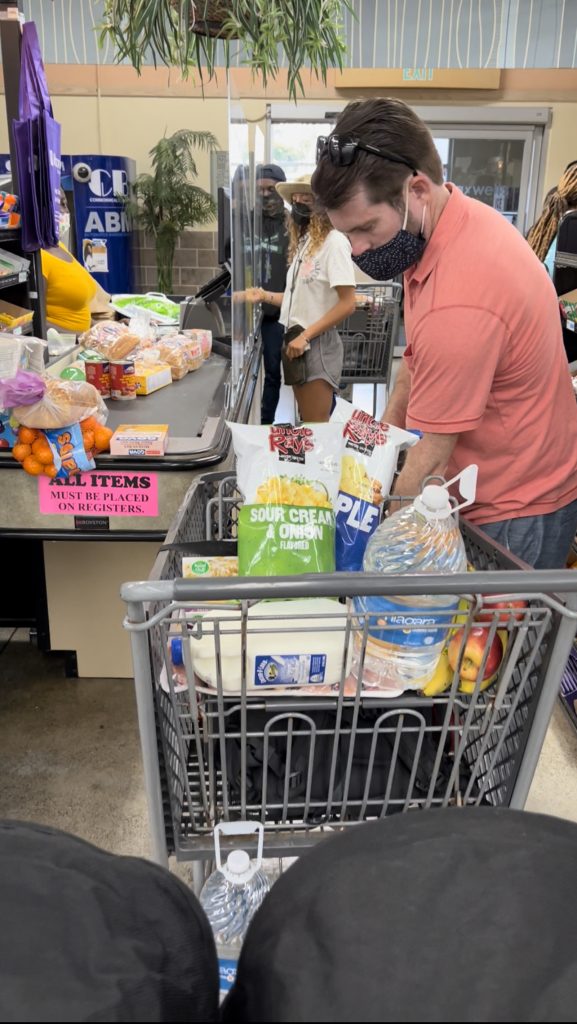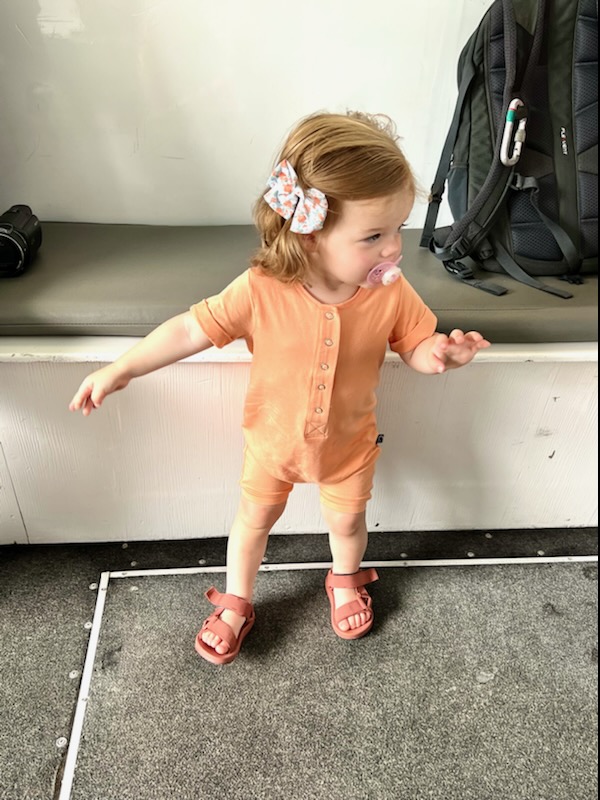 That journey took most of the day. We got on the shuttle to catch the ferry around 10:45 AM, and didn't get back to our resort until around 3. It was still well worth it though to save some money on food for the rest of the week. We also got to see a little more of Marsh Harbour too. It was crazy to see all the repercussions of Hurricane Dorian on the island. Some had rebuilt and were reopened, others were still in ruins. There has been so much work done since the storm and I was glad to see so many things reopening for the first time while we were there.
When we got back to the resort, we decided to have a little family pool time. We grabbed our suits and walked down to the pool to enjoy some drinks and quality family time.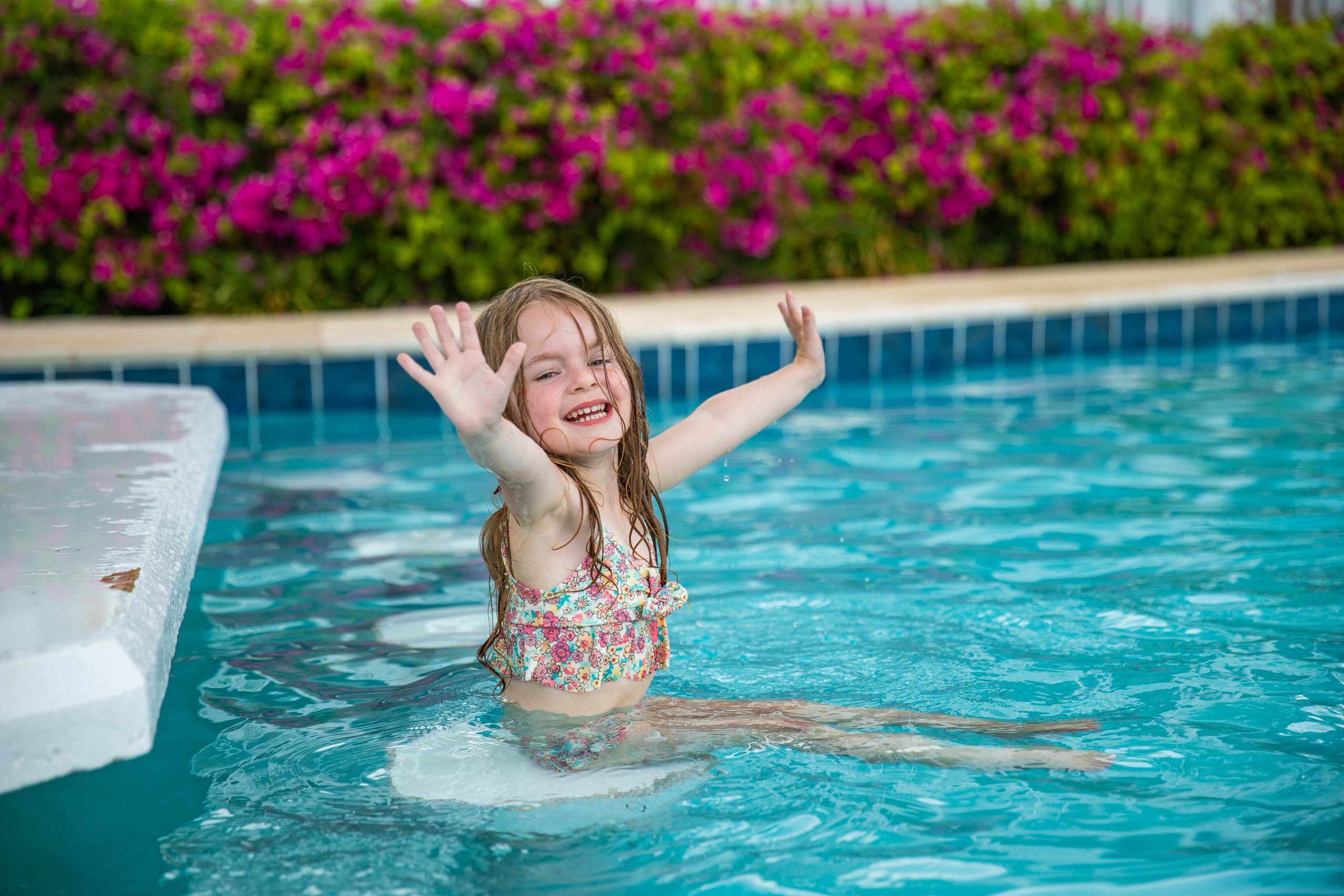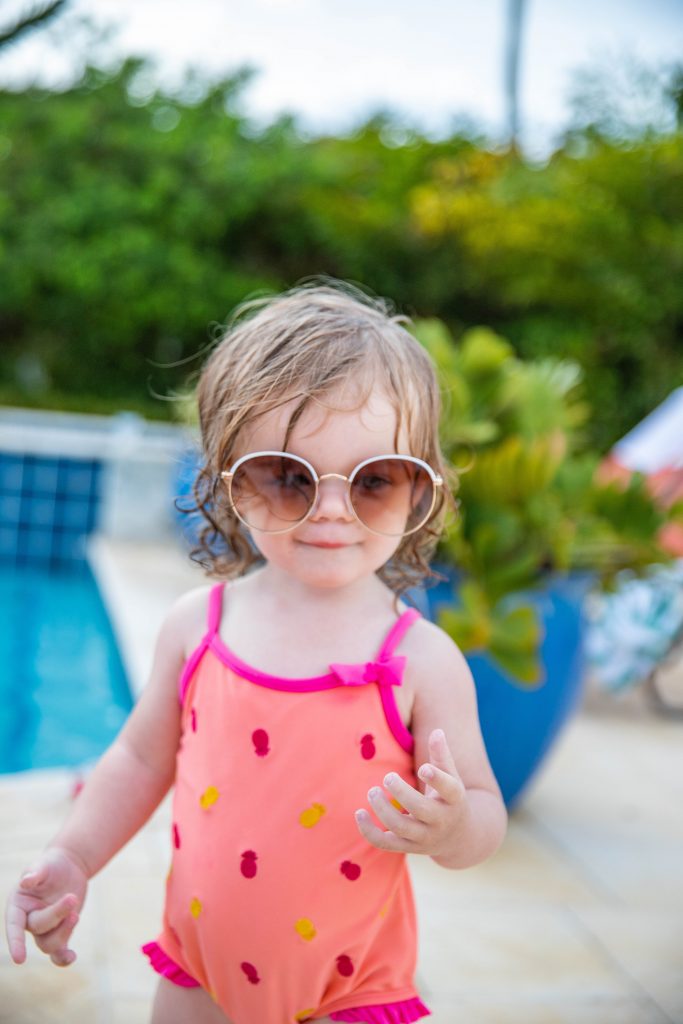 This was definitely our most low key day of the entire trip. We finished it up with ordering a little food from the restaurant as well as eating some we bought, snuggling in one bed together, and watching a Disney movie.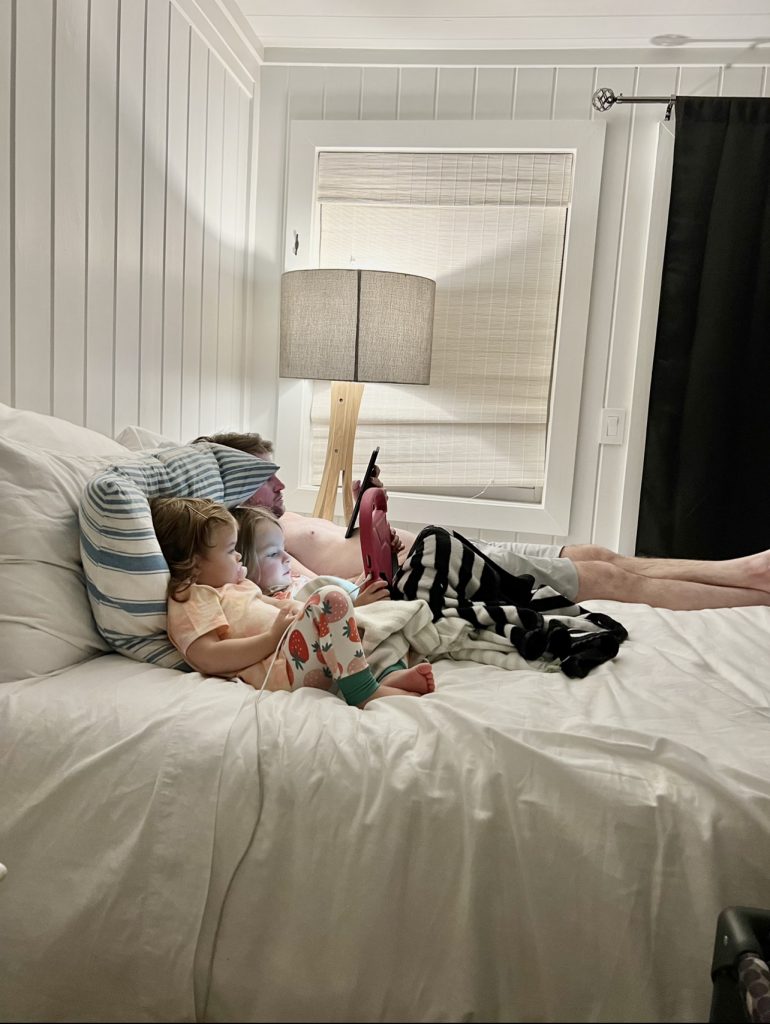 ---
Day 5
was definitely one of my favorites of the trip. It ranked right up with the trip to lighthouse which will be coming in the final part this week! I was woken up but Morgan that morning who had already snuck out of our room at dawn to catch sunrise pictures over the Hope Town Bay. Aren't these shots he got from the lighthouse awesome? Soon after, We all woke up and got aboard the TideChaser to head over to Tahiti Beach for the day with the entire family. It is not a far boat ride so we just took a day trip.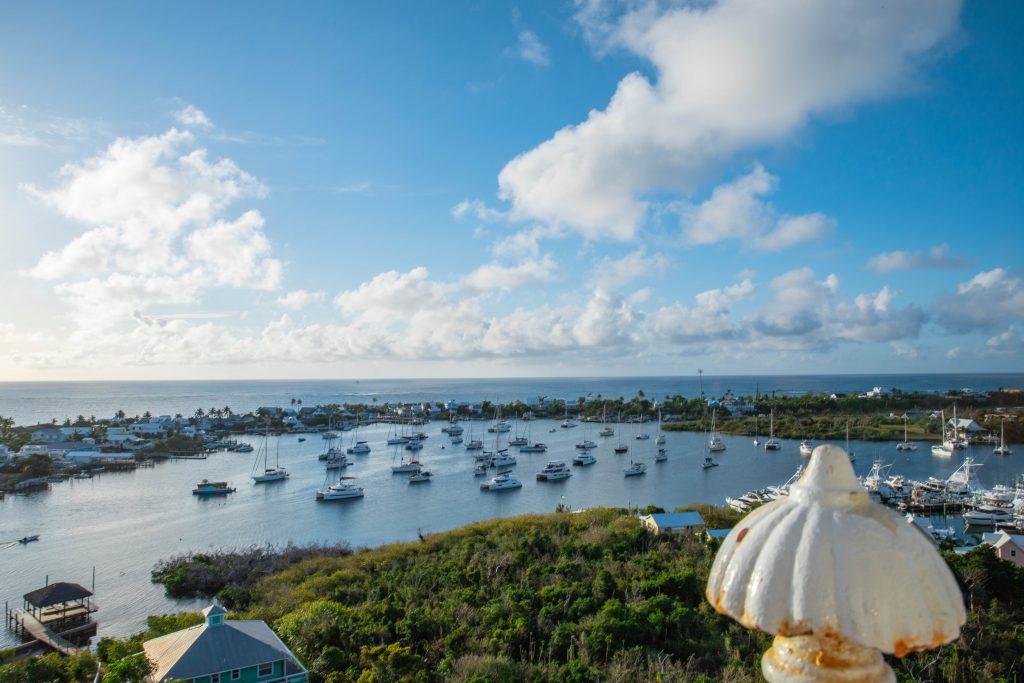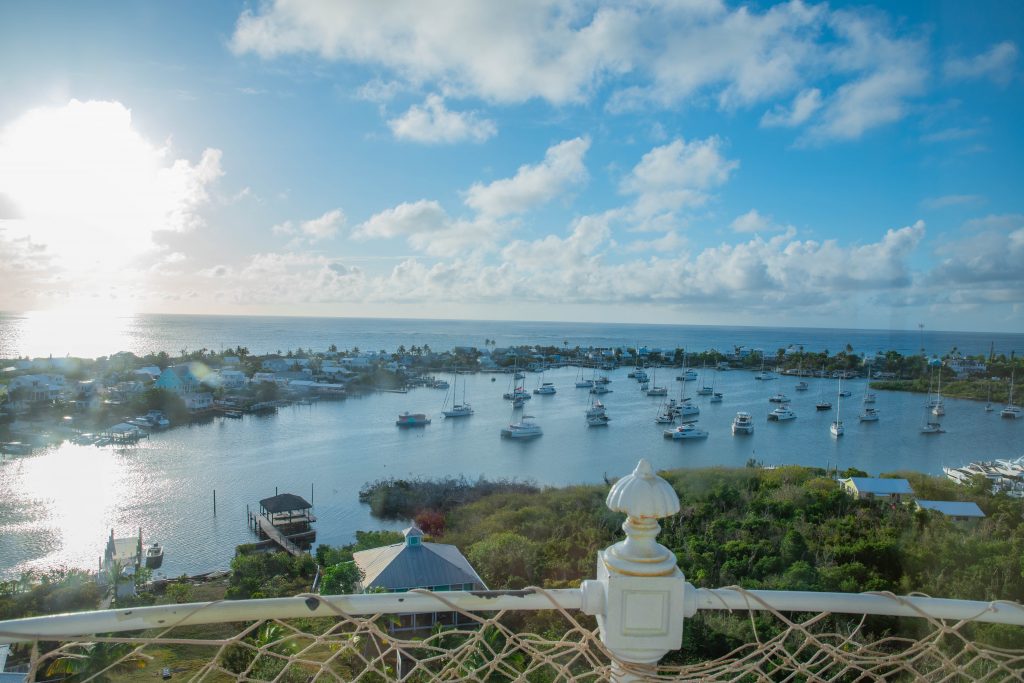 He did such an amazing job with those, I was a little jealous I didn't get to go, but I'm too much of a sleeper to force myself to get up that early. Anyway, we got aboard TideChaser and it was a short ride to our destination. I always enjoy the rides, but there's definitely something different about riding on crystal clear water that makes the experience so much more beautiful. The journey to our destination was during Ellie's nap time, but she didn't want to miss the action, so my mom set her up with a little spot on the trampoline and she took a cute little cat nap.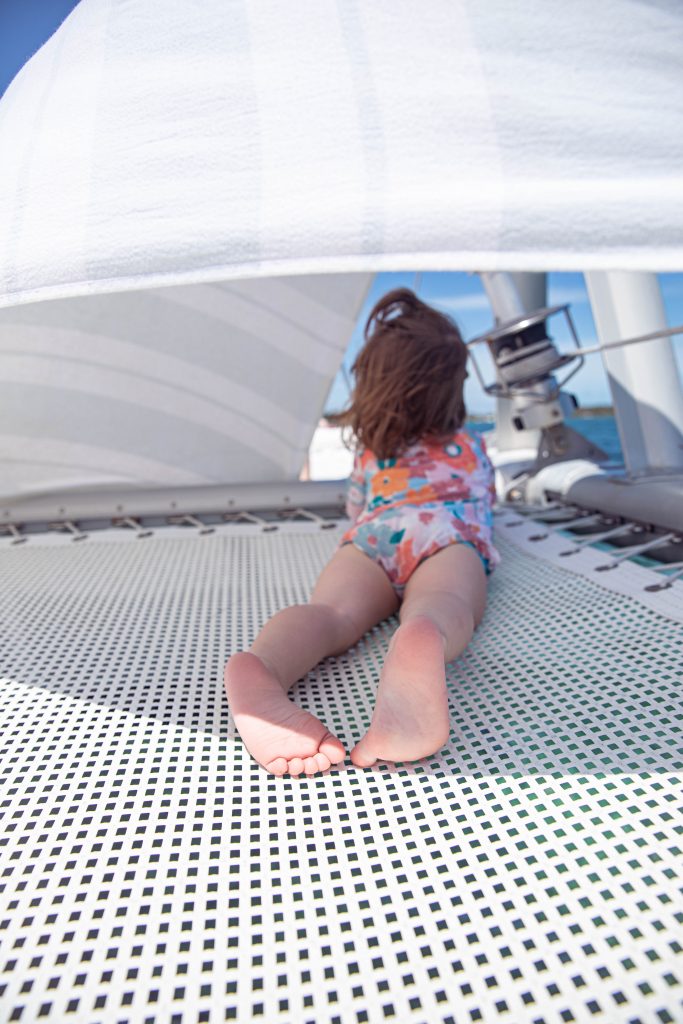 When we got there, we anchored out a little ways from shore to not run aground. It was an incredibly windy day so we had to make sure the boat was set in place before heading to shore. We did a little snorkeling, some jumps off the front and back of the boat and just swam around Tidechaser. Then we loaded up the dinghy and made trips to shore to go exploring. The girls absolutely loved it because it was flat and shallow in a lot of the area so they had the perfect tide pools to swim and play in.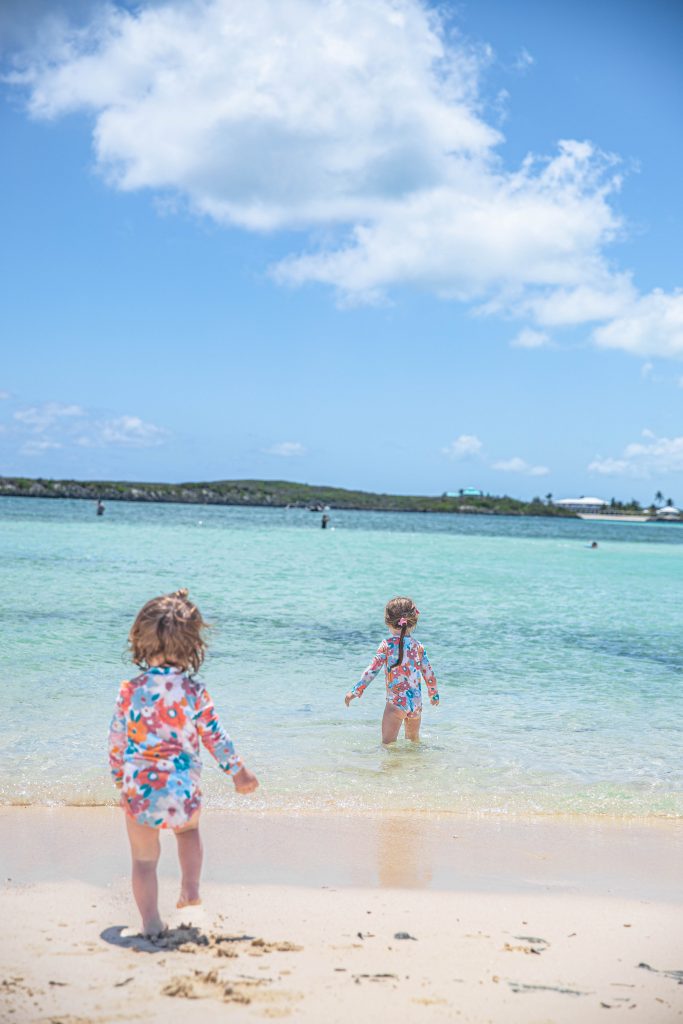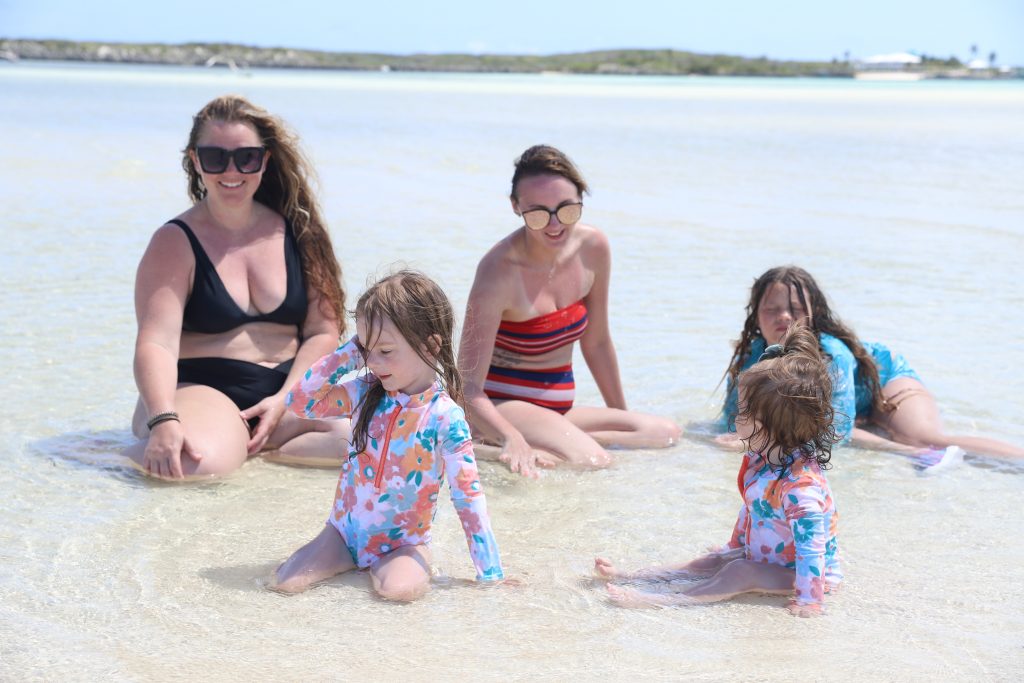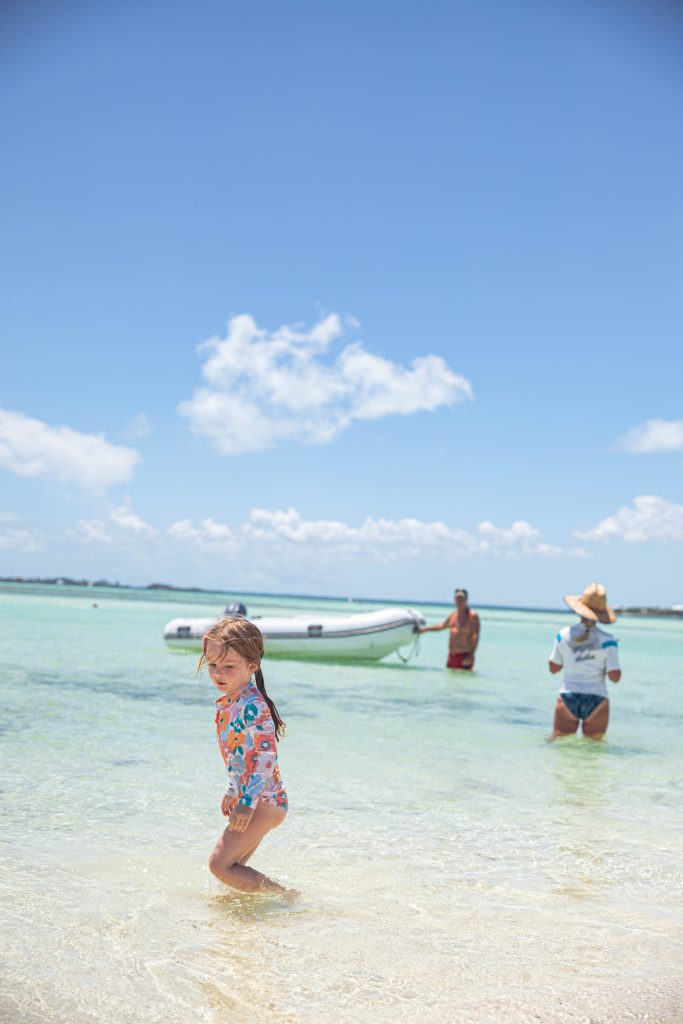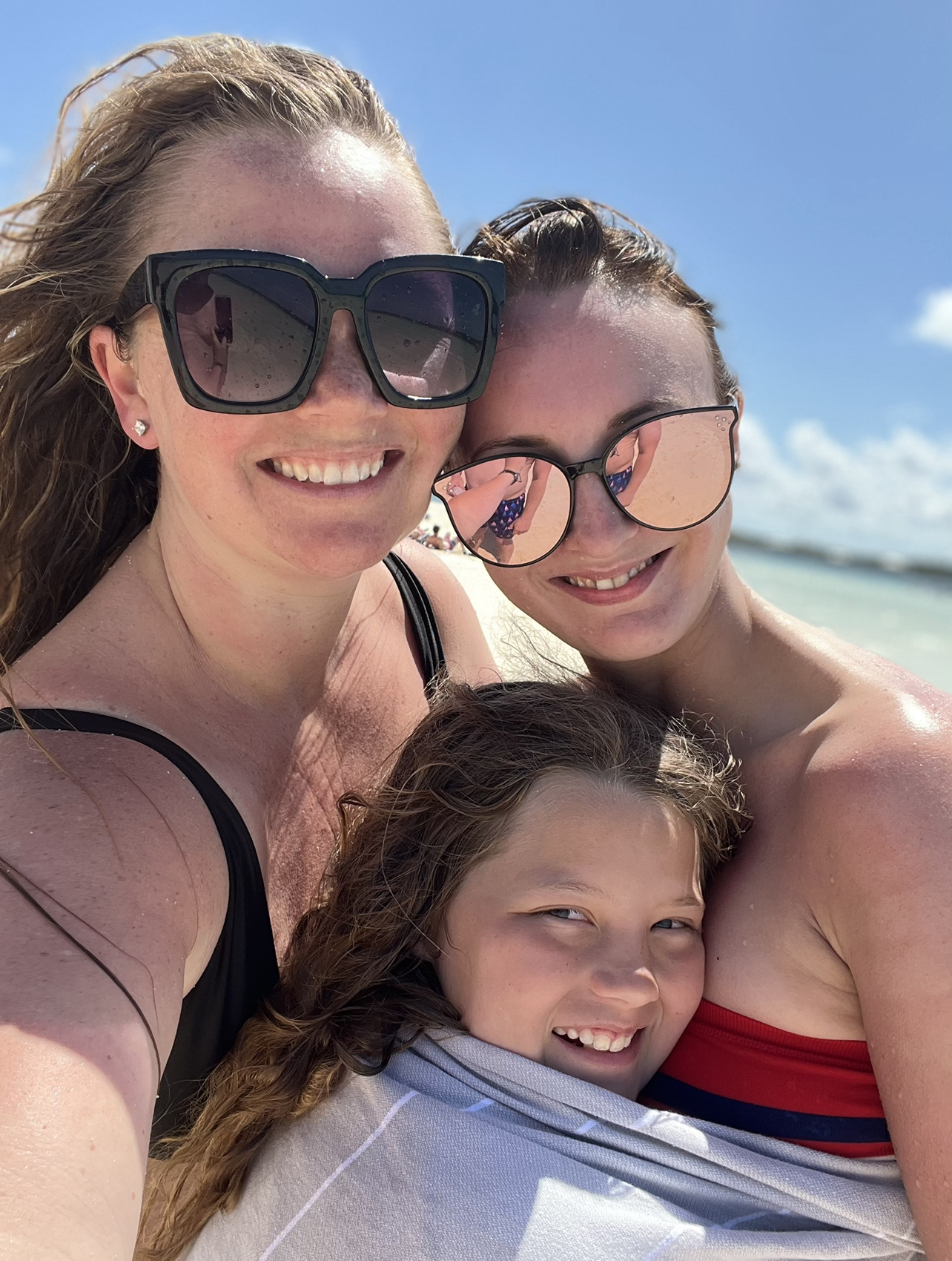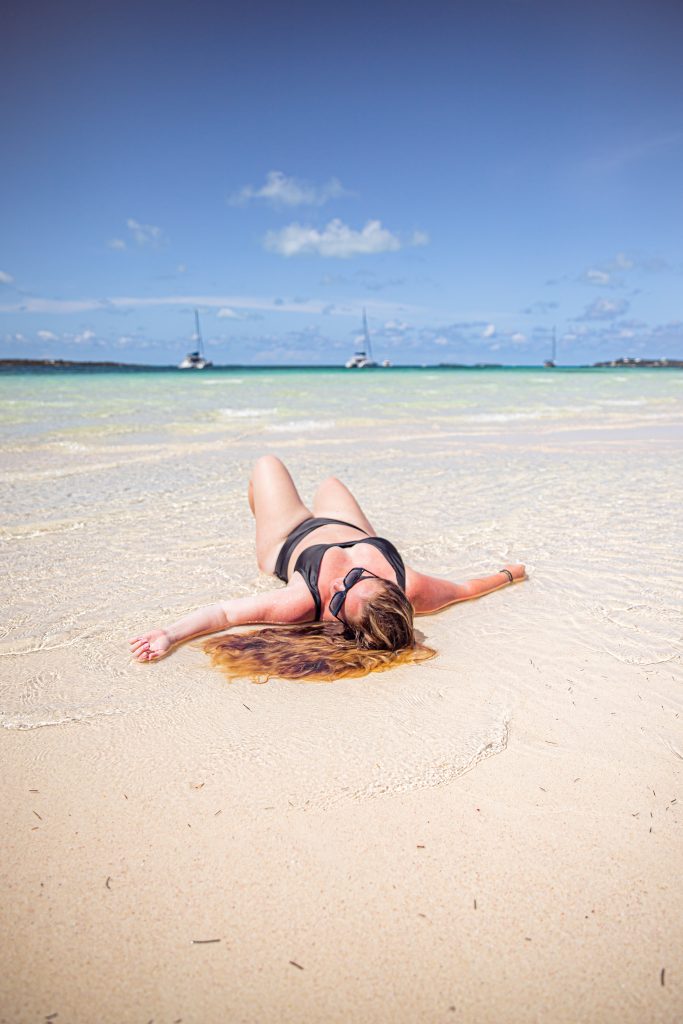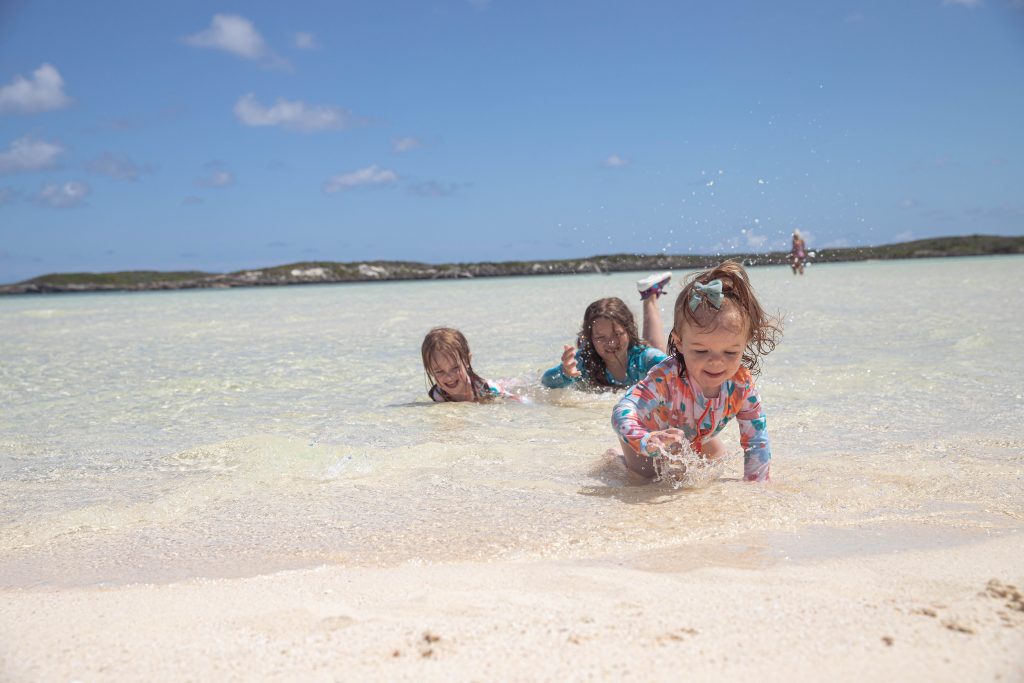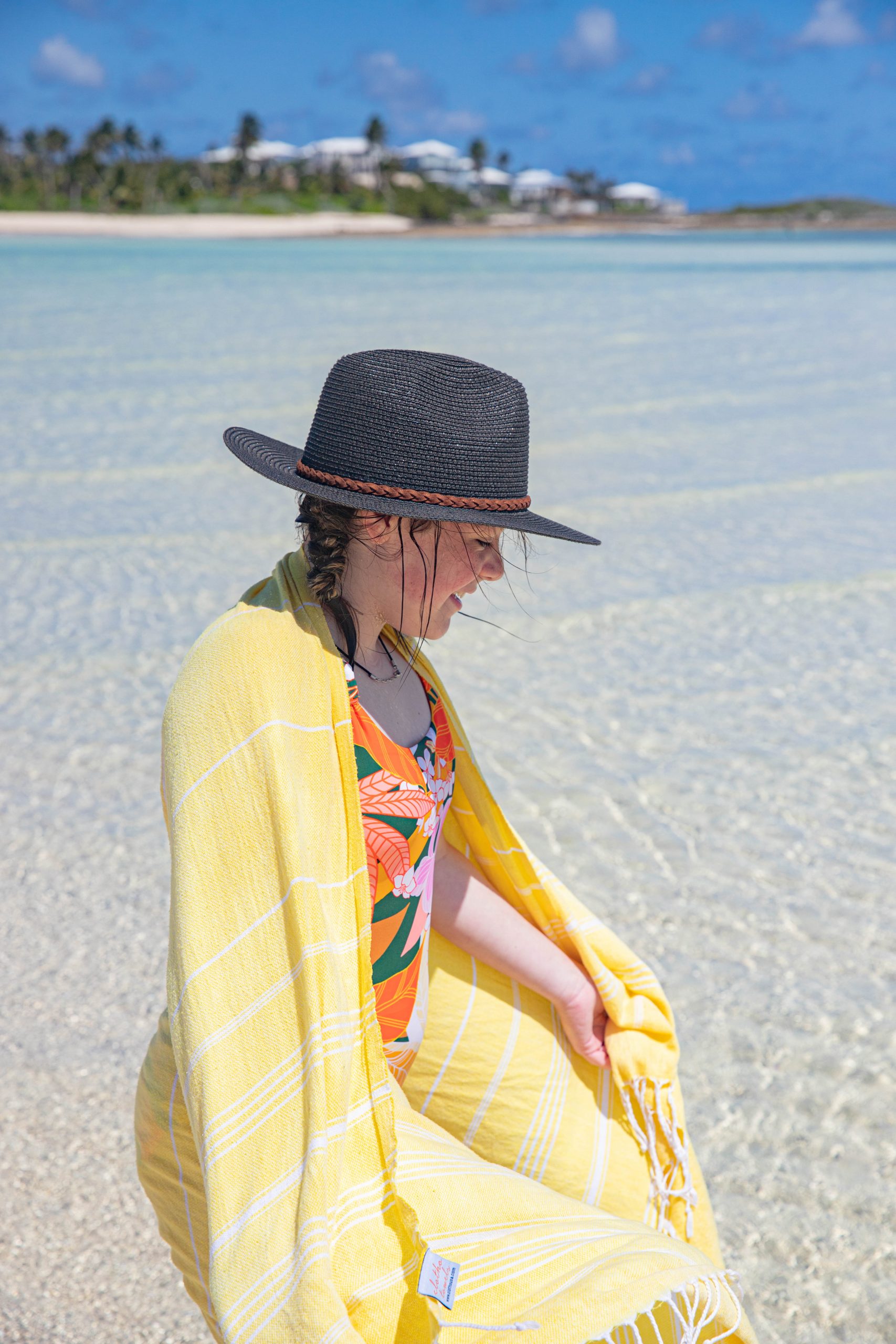 We stayed here most of the day playing in the water, and did some awesome snorkeling. The sand in the Bahamas is SO unique, I call it marshmallow sand. It's grainy like sand but the softest I have ever felt on my feet. When we were playing in the water, we couldn't help but continue to pick up handfuls of the sand and let it run through our fingers back into the water. It was just that cool. My mom and dad took some of us around a little rocky area in the dinghy for some good snorkeling. Definitely make sure you check out the YouTube video of our day at Tahiti Beach because it was SO beautiful. Those GoPros don't even do it justice. After a while, the wind picked up even more and the water started to get rough so we knew we need to make our way back.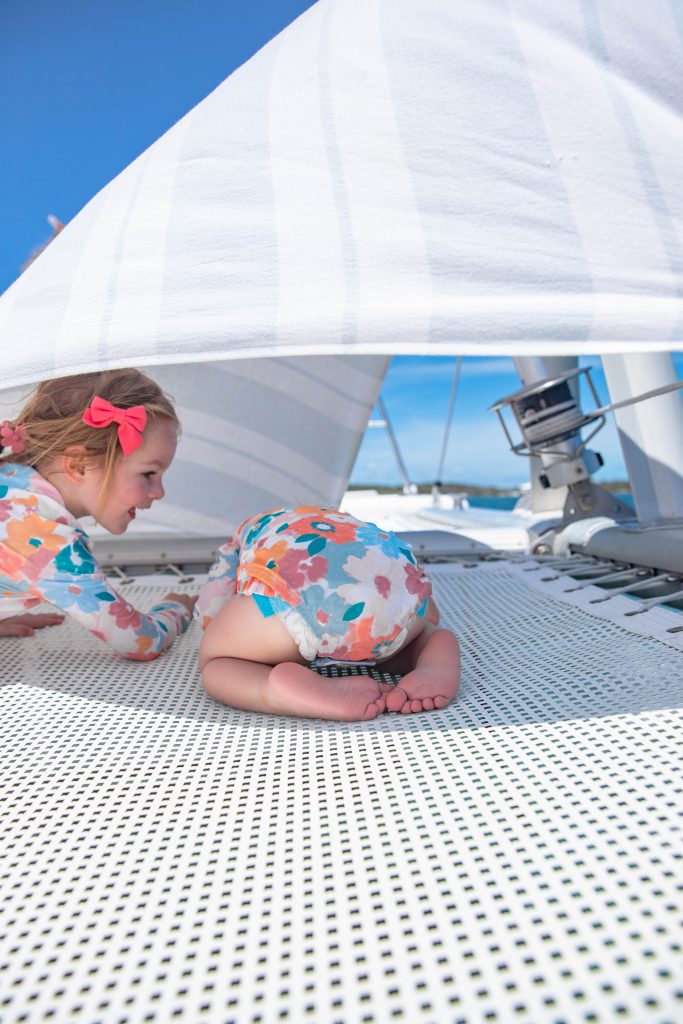 ---
The Girls Looks
---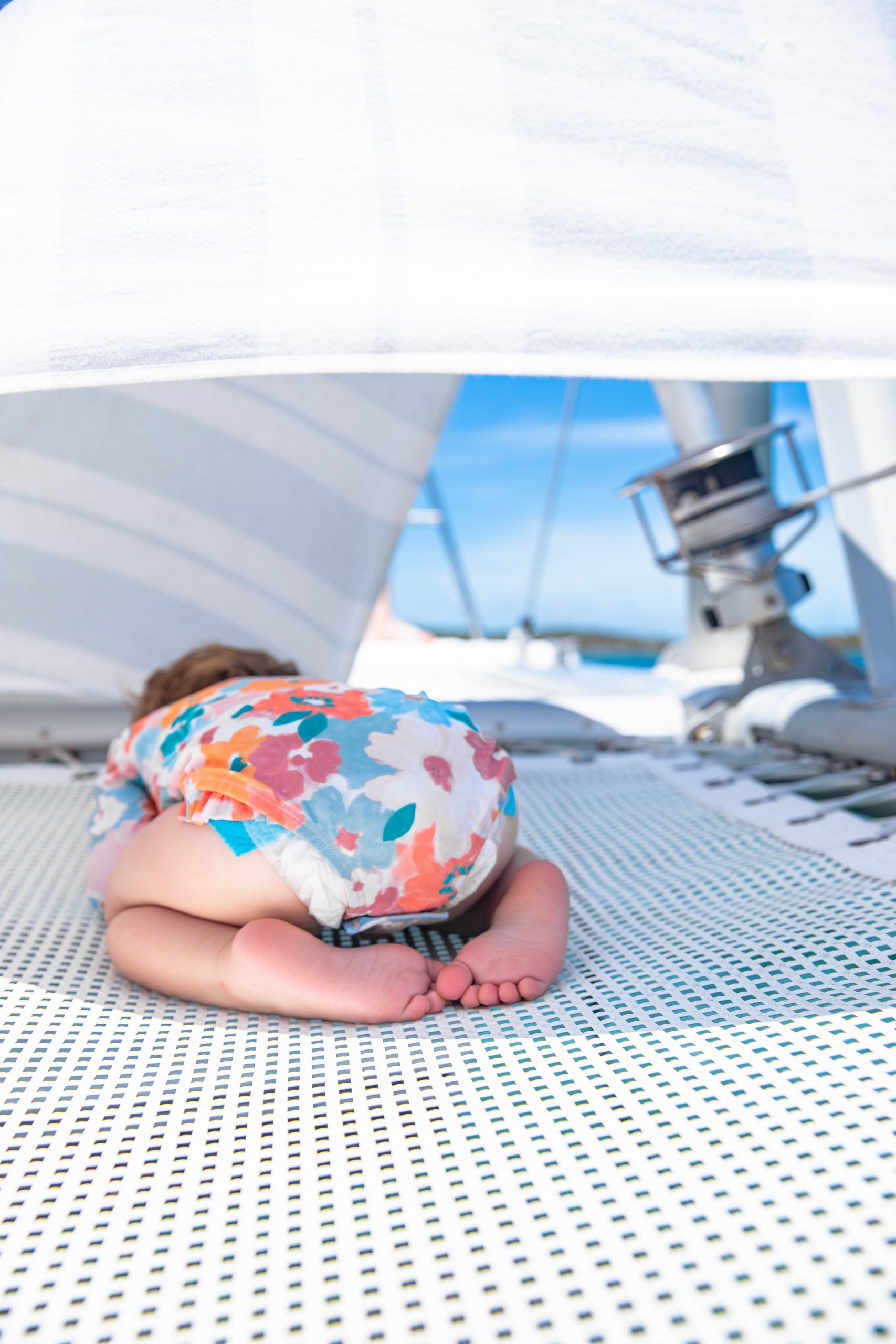 ---
Boat & Beach Essentials
---
---
When it got closer to 4:00 PM, we packed back into Tidechaser and set off back to Hope Town. It was probably our sunniest day there too so we all were feeling the weight of the intense sun all day. Everyone was exhausted, but in a good way! We got back to the mooring ball in the Hope Town bay area, and I called for a girls trip over to the local grocery store to pick up a few things to make for dinner on the boat with everyone.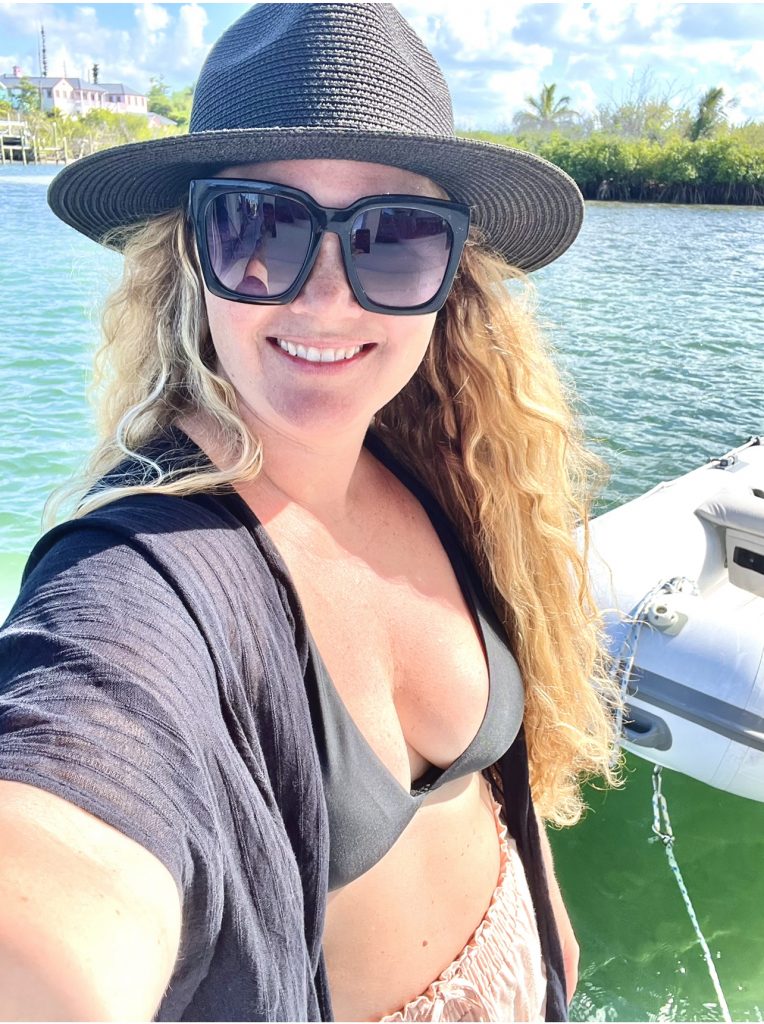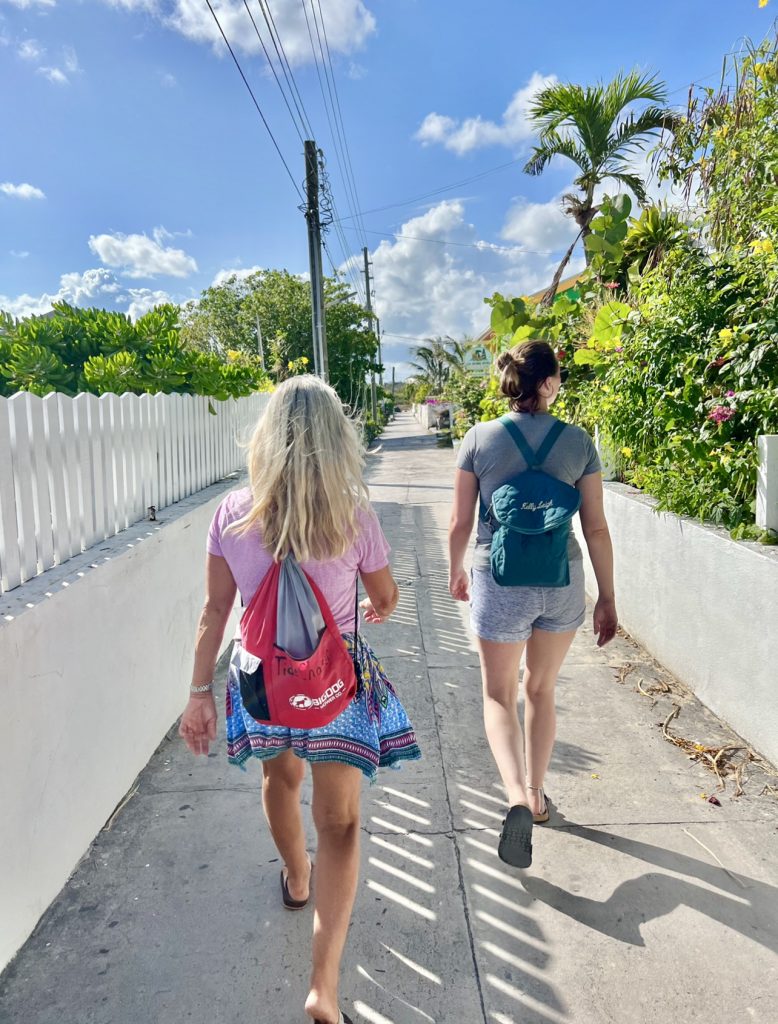 Vernon's Grocery is the main local store to get your groceries in Hope Town. It can be pretty limiting, and things sell out fast, but it does provide options when you need something to eat. He also sells home made baked goods which are SO delicious, and he's a really kind man. We went in a loaded up on what we could find that we knew our group would eat, and headed back to the boat.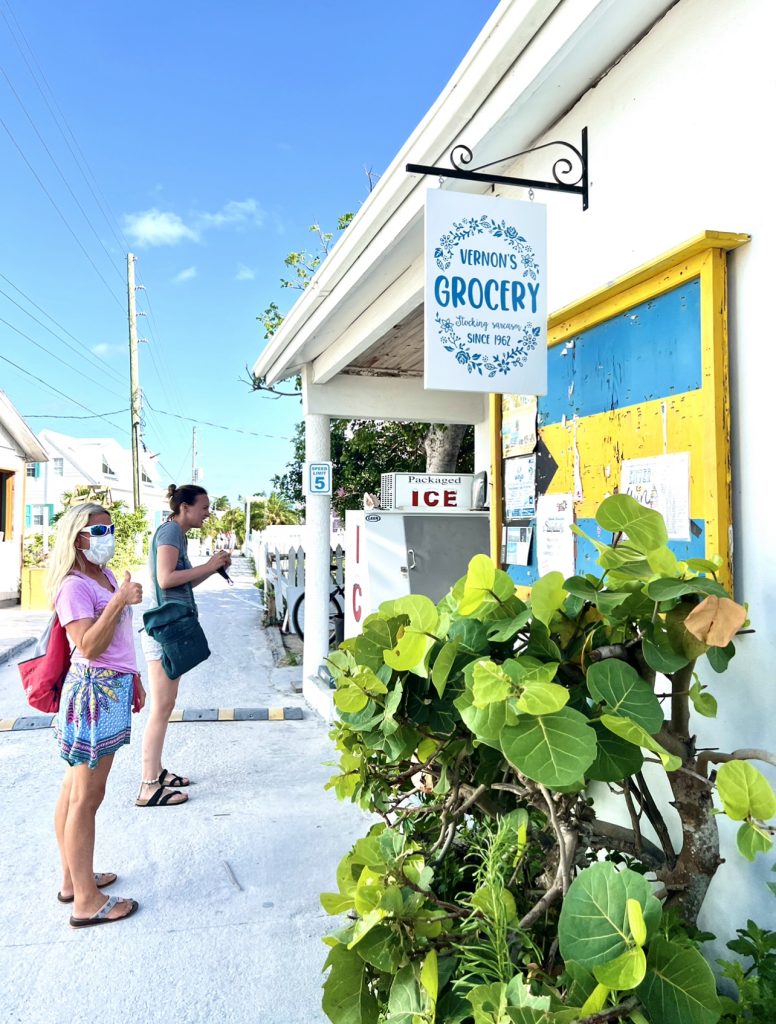 Overall this was such a great day for everyone. We enjoyed some tropical drinks on the boat, the kids swam, we had some great snorkeling, what more could you ask for?! Tahiti Beach is definitely a spot you want to try and see for crystal clear water and beautiful sea life. I was hoping I would see a turtle, but alas, no sightings yet. Head over to my YouTube channel to catch the vlog version of days 3-5 in Hope Town Bahamas. And if you missed the first could of days blog post, you can catch up by reading it here!
Thanks so much for reading along and you haven't subscribed to the blog yet, please do! I never spam and I send special messages just for those subscribers!
Until next time!