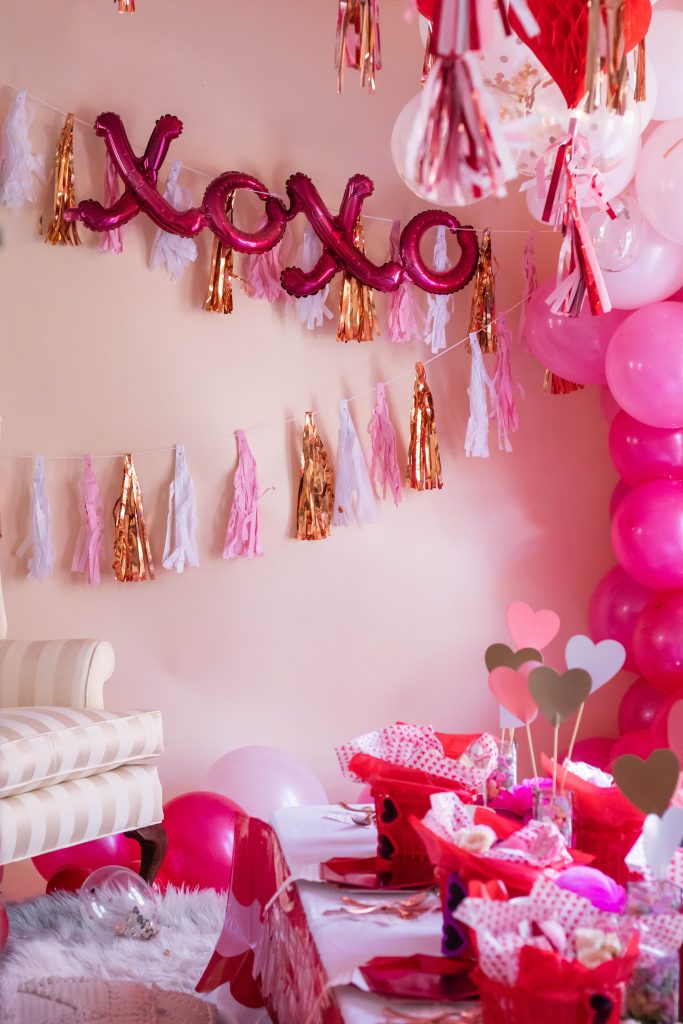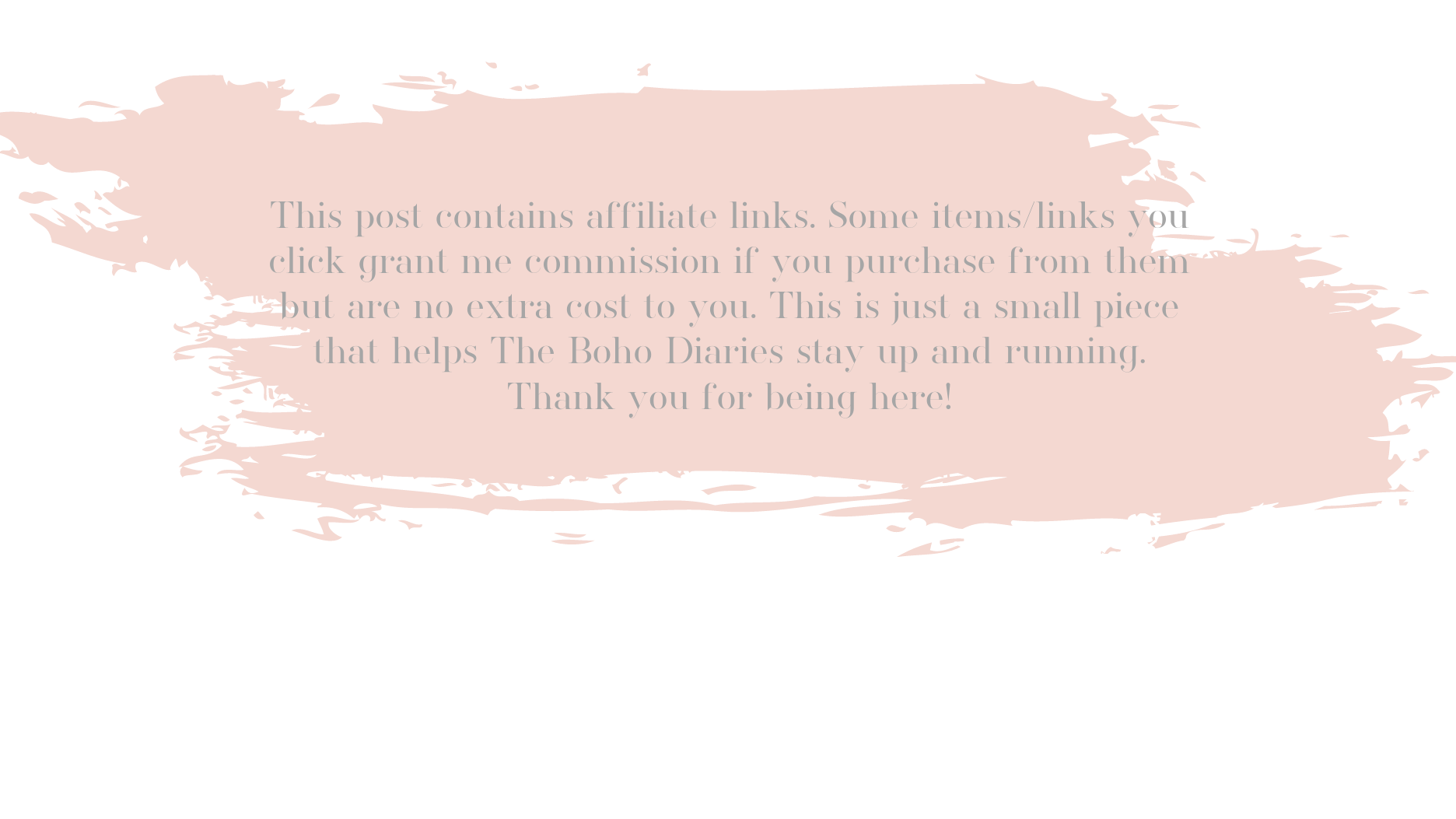 Bring on all the X's and O's because
I'm ready to celebrate Galentine's day in style! I partnered up with Oriental Trading Company and picked out so many awesome party details from their site to throw the best Galentine's Day Glam Bash ever. I love how many options they have to choose from to piece together the perfect soiree.
I am honestly so happy that Parks And Rec introduced Galentine's Day to us, and I don't foresee myself ever NOT celebrating my gals this time of year. Valentine's Day will still be special, since I will always have my forever Valentine, but telling my Gal's how much they mean to me AND showing it doesn't happen often enough!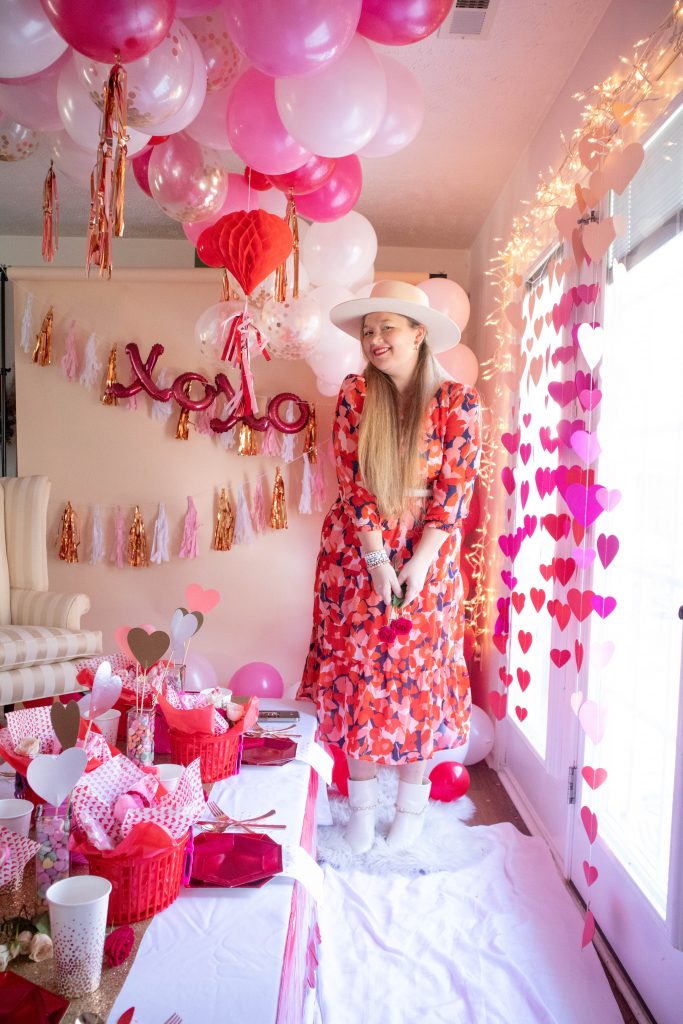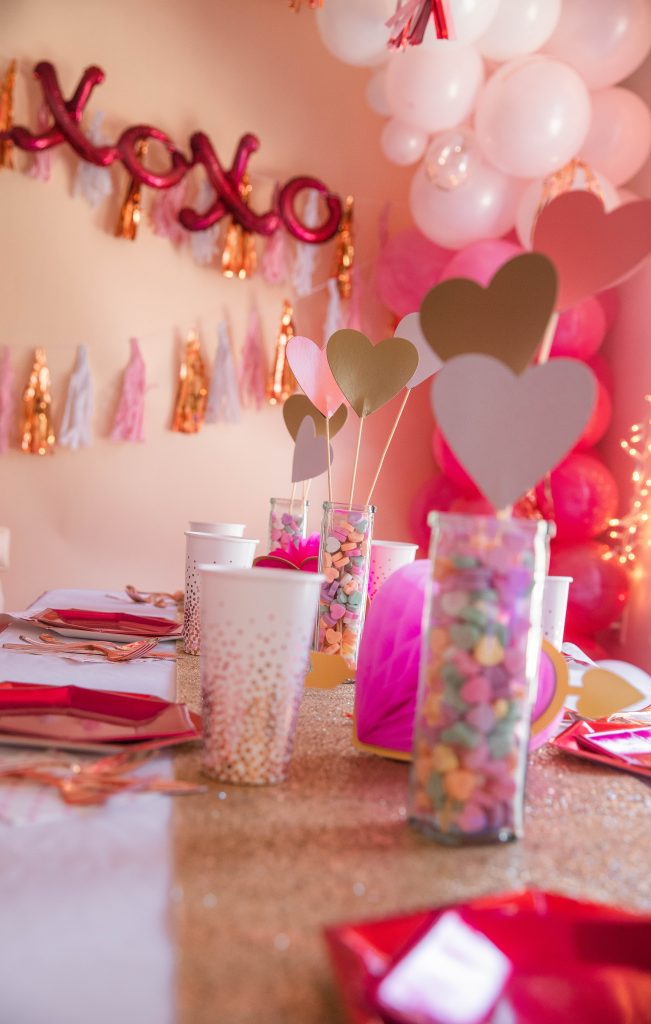 of Valentine's day decor that I combed through and found some perfect items for our Galentine's Day Party. I stuck with my 3 pillars, food, dining, and entertainment. The dining area is always my favorite as it is the fancy, well dressed, area where guests are invited to sit and congregate or eat the food available.
I found the cutest metallic hexagon plates, heart napkins, gold utensils, and other gold details on Oriental Trading that made the table just POP! I found the gold table runner and thought it would pull all the bright pinks, reds, and white together, and I was right! Oriental Trading has the super cute honeycomb hearts on their site which I used on the dining table and in the entertainment area for crafting.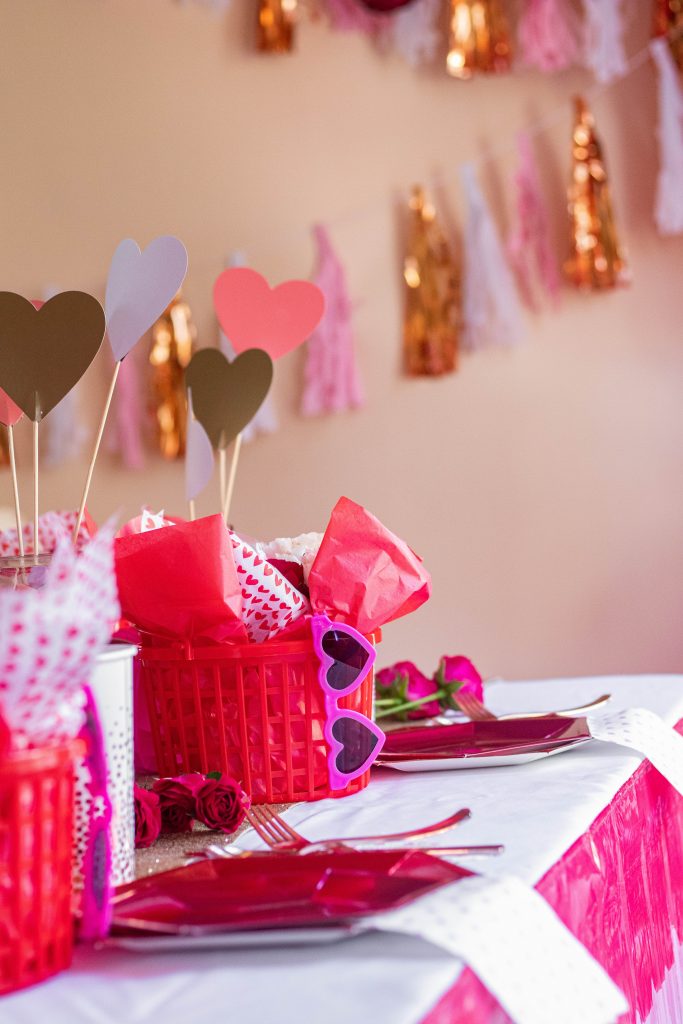 Heart Sunglasses are a must have
for a fun, glamorous Galentine's bash. Each guest gets a special party favor waiting at their seat at the dining table. The gift was formed from the adorable heart baskets, filled with a fluffy heart keychain, friendship bracelet, giant heart lolipop, heart sunglasses, and more!
Here is a quick look at the party details! I also have a full unboxing of everything I use at this party on my Instagram story highlights "Galentine's Day."
---
---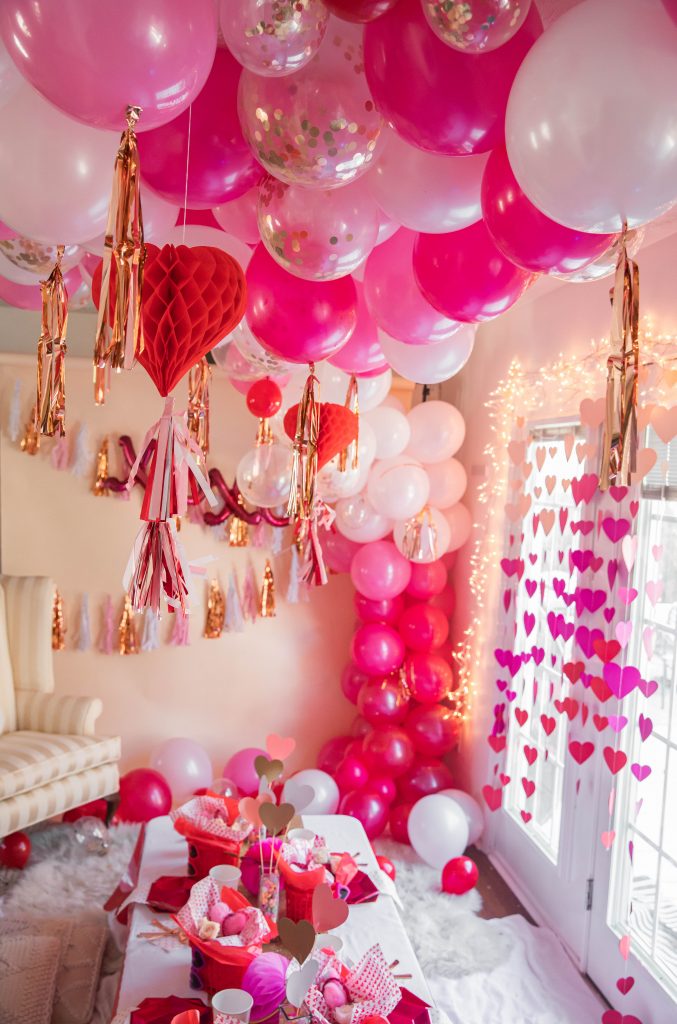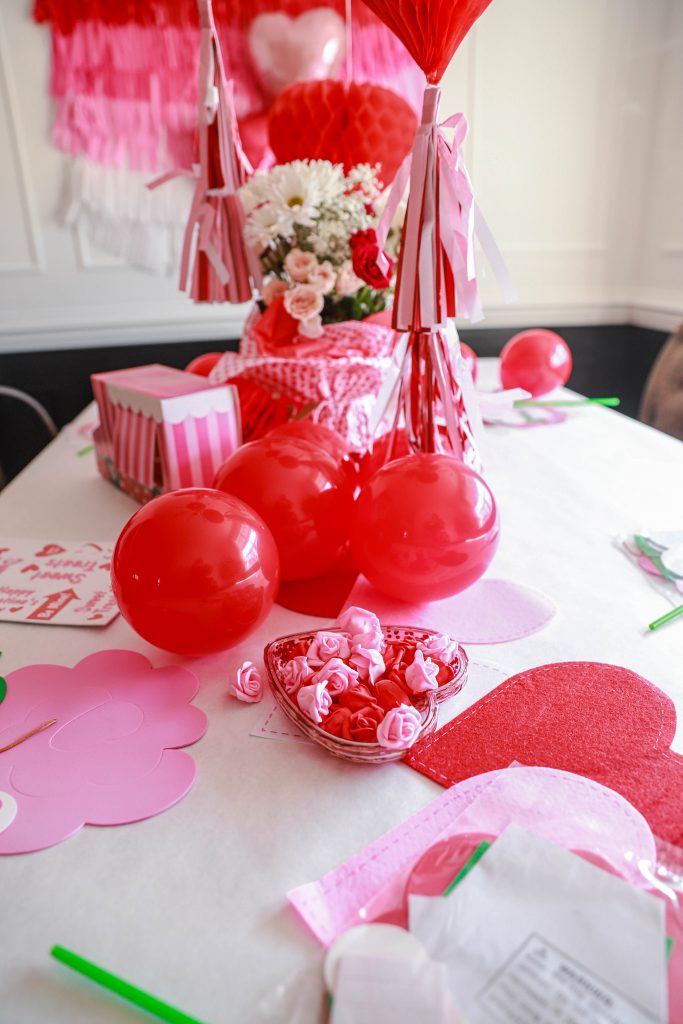 ---
On to my second favorite party zone
the "entertainment." This could look like a lot of things but usually I prefer to force guests into crafting and doing their own DIY type projects. Oriental Trading has SO many great options for crafting or mini DIY decor projects. I chose the Valentine's day food truck, over sized DIY foam roses, and Styrofoam heart wreath DIYs.
The food truck is fun for all ages because it challenges the older age grounds to piece together the truck as well as place all the sticker details on. At the same time, after an adult helps the young ones to assemble the truck, the stickers are so much fun for the younger guests!
The DIY foam roses were much larger than anticipated which I think will make an even bigger impact on the excitement around guests making these. The pack comes with each rose individually packaged for each guest, including sticky dots to piece together everything. My 10 year old niece put the first one together for me and they are TOO adorable!
The Styrofoam hearts came in a pack of 8 and will take the most time. I also provided pink and red rose buds found on Oriental Trading's site that guests can glue onto the wreaths, but I also offer yarn, paint and gems for guests to use their imagination!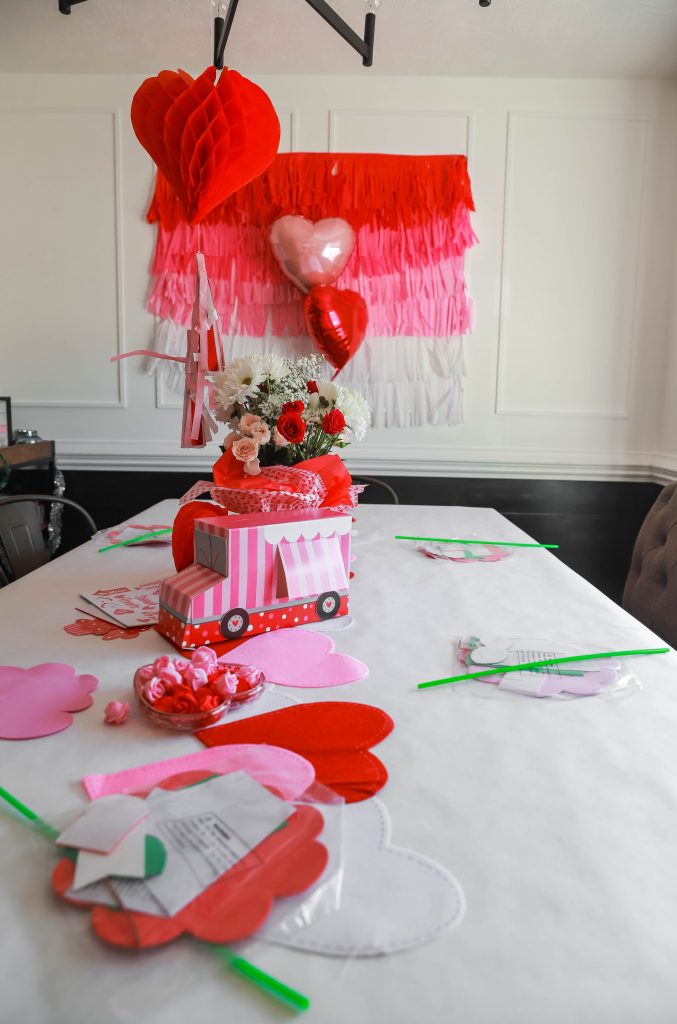 Glam Galentine's Day Bash
has always been on my list of types of Galentine's parties I have wanted to throw and I'm so happy to be able to partner with Oriental Trading to make it come to life. I am so excited to spoil the women who support and lift me up daily, and shower them with the same love I feel from them. That's what Galentine's Day is all about afterall!
For more Galentine's Day inspiration, make sure you check out these past parties too!