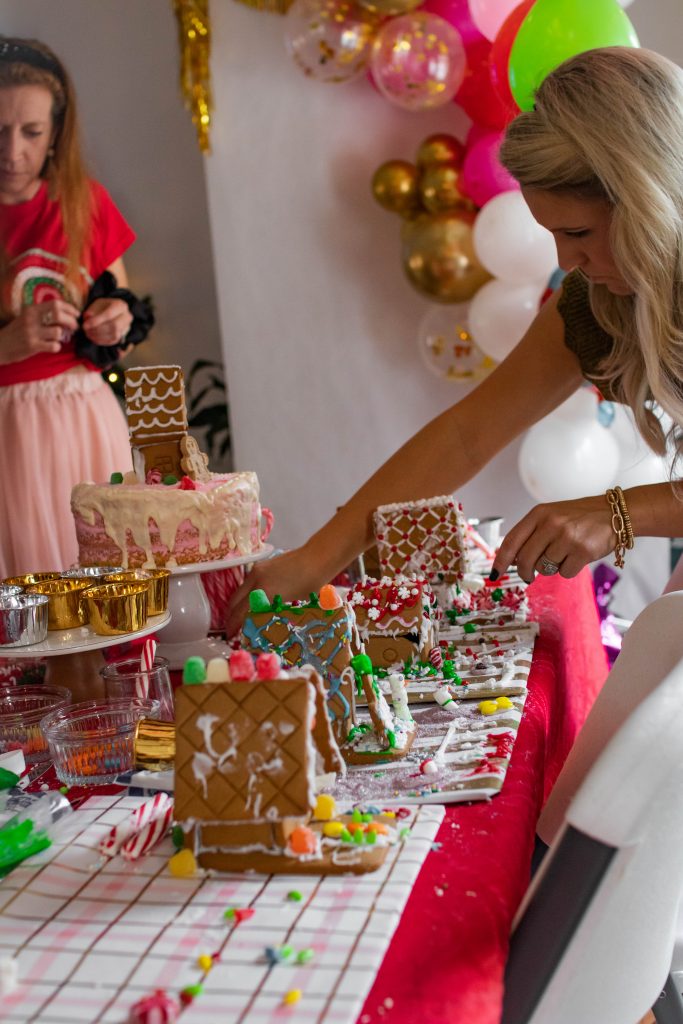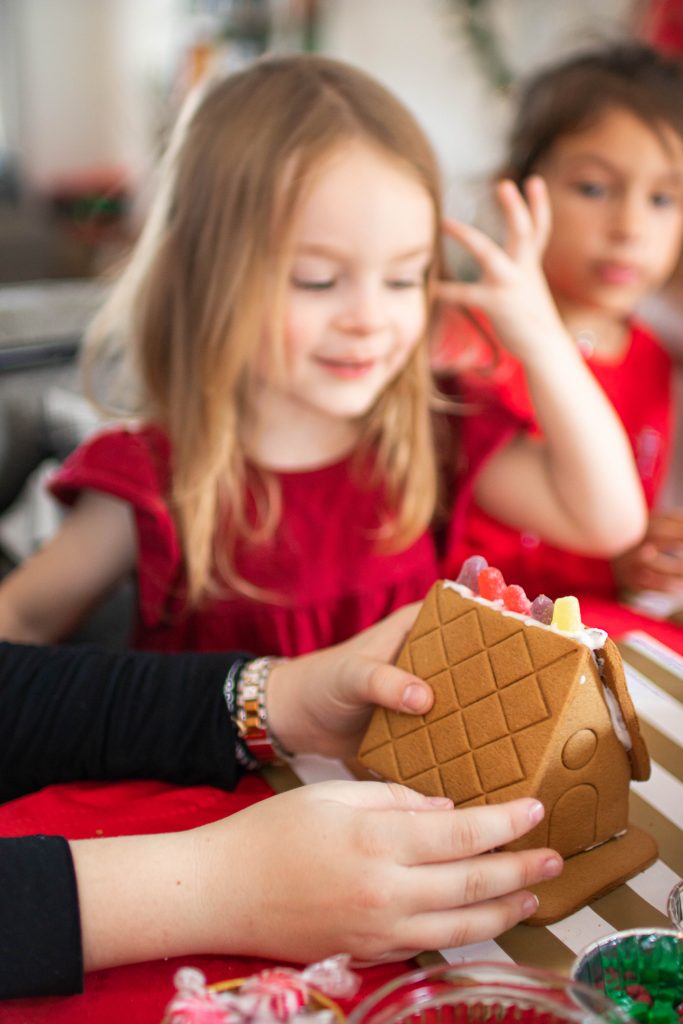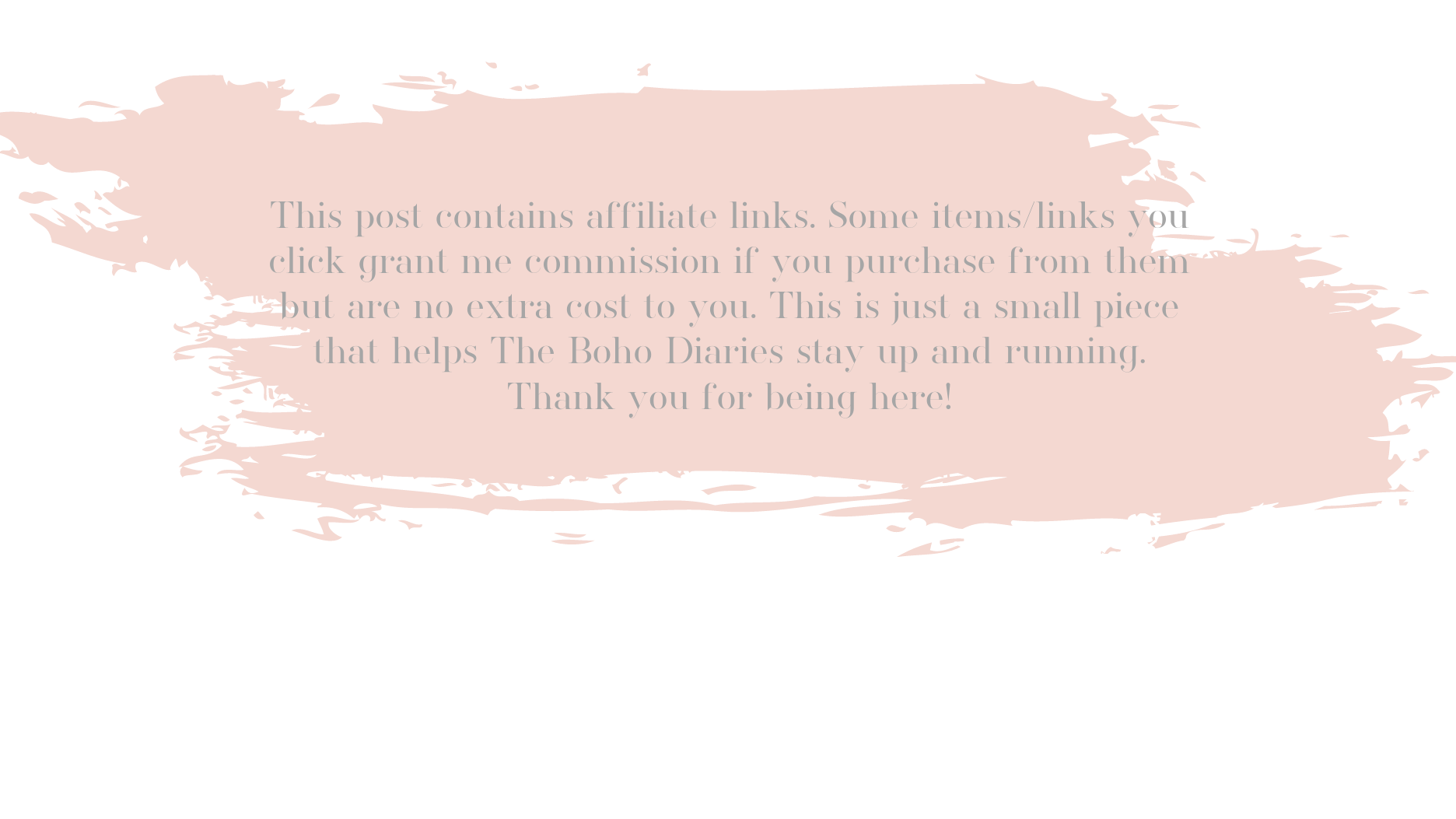 There are SO many reasons why I love this time of year, but I can honestly say that the fun, endless holiday parties I can plan make it even more magical and exciting. This year I landed on Gingerbread House Making Christmas Party where parents and kids could work together and build their houses! I had to admit at the beginning of the party that I personally had never made a gingerbread house myself. Maybe secretly I threw the party to force us into giving me the experience for the first time. Either way, it was a ton of fun and definitely something I want to try and throw for years to come. The kids were SO creative and even some parents got really into it!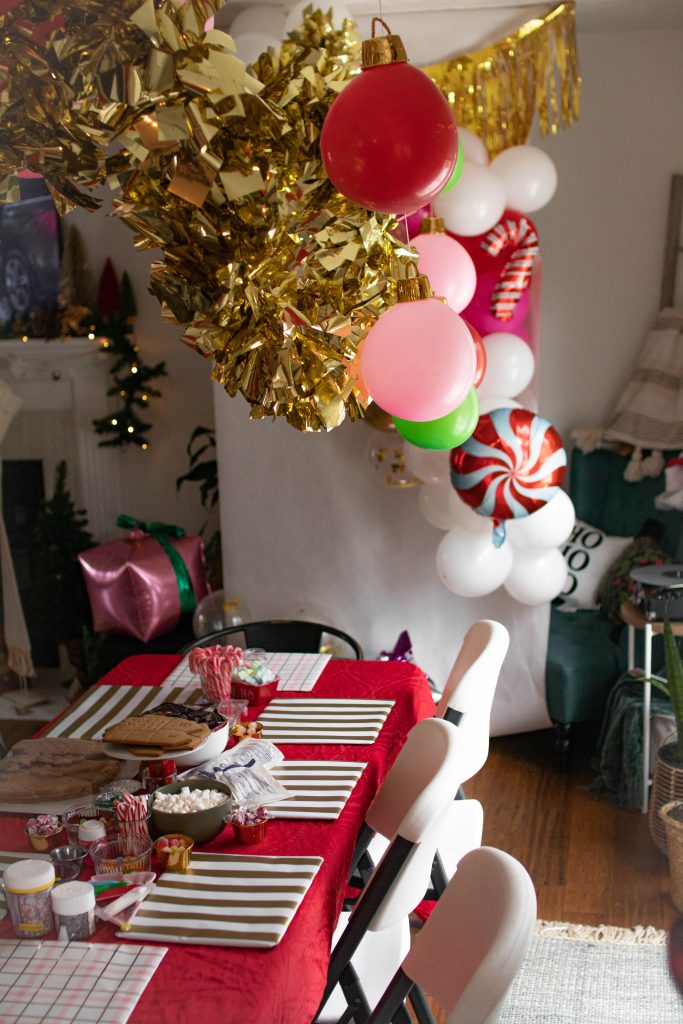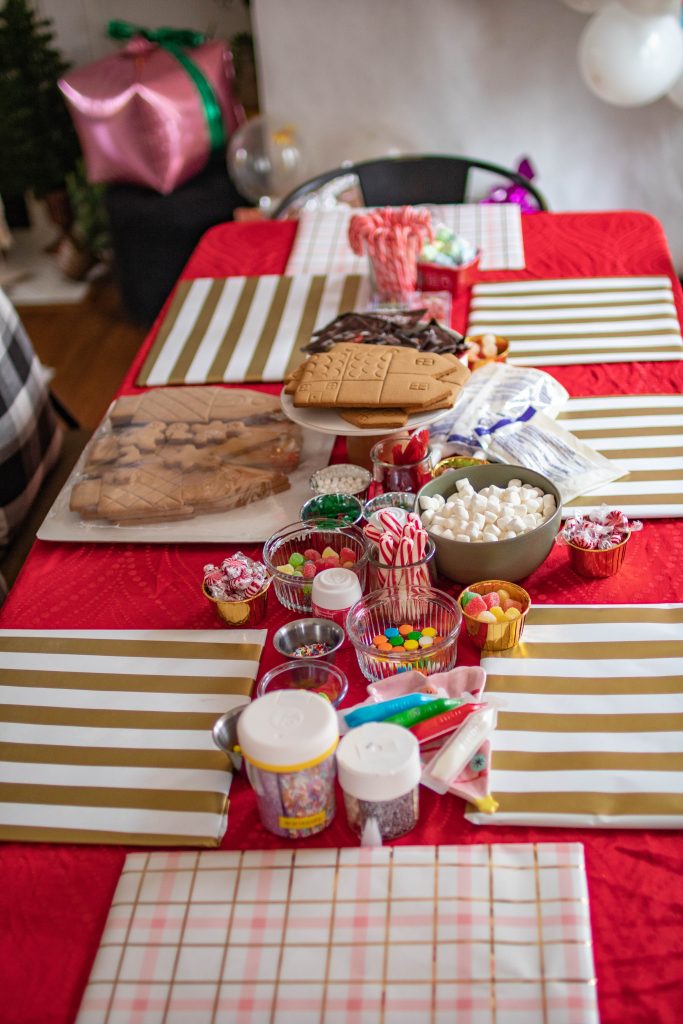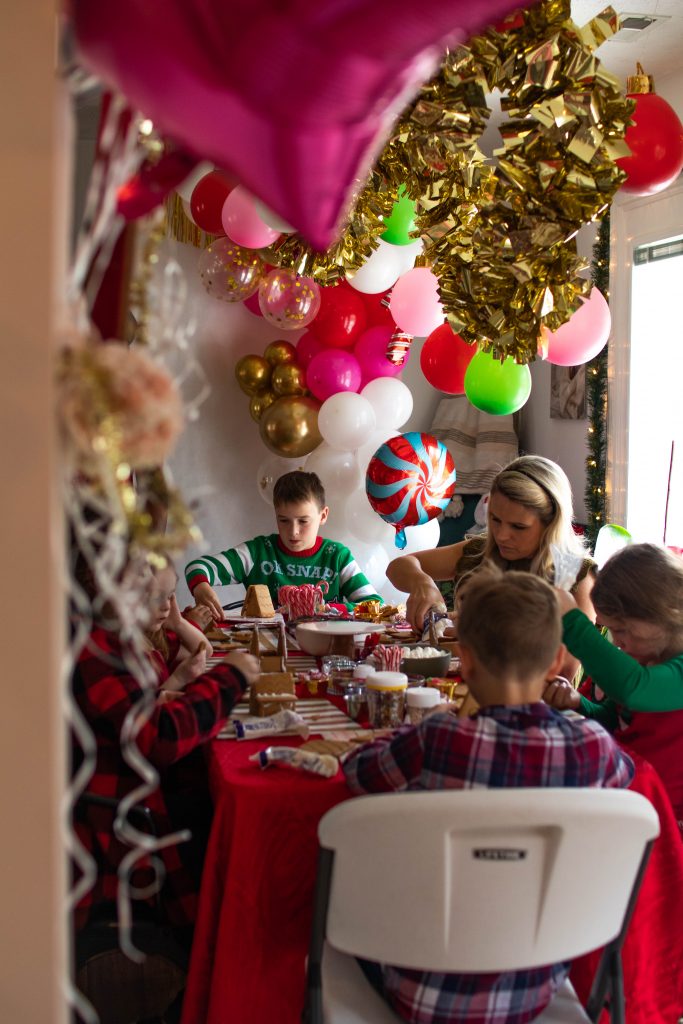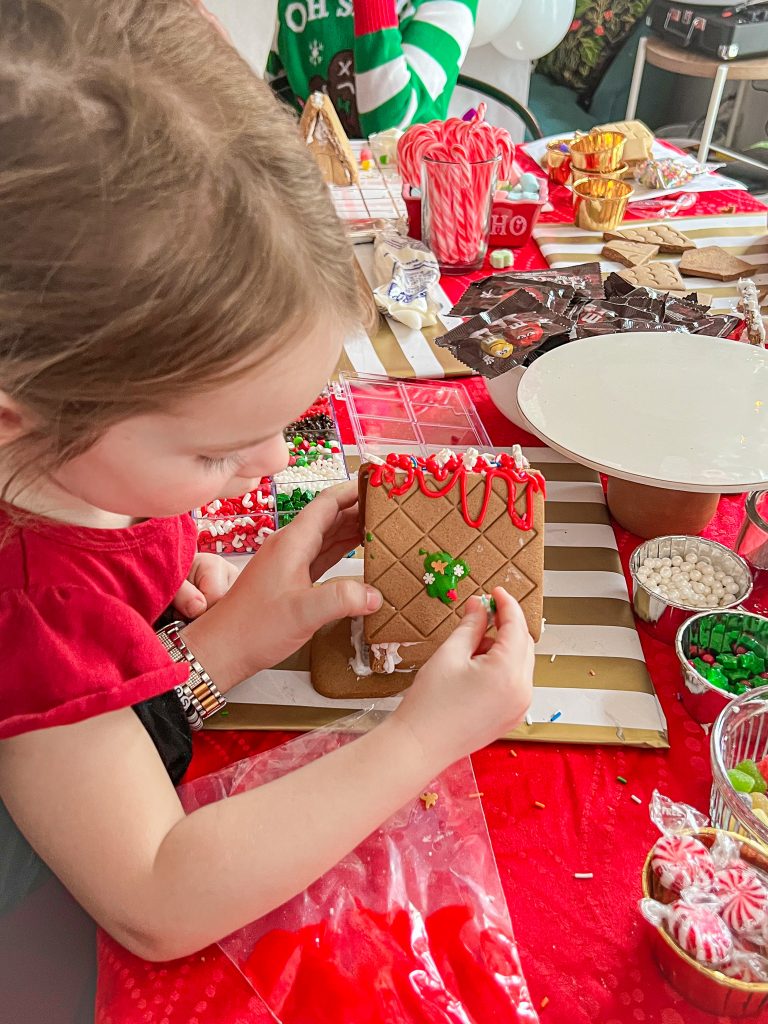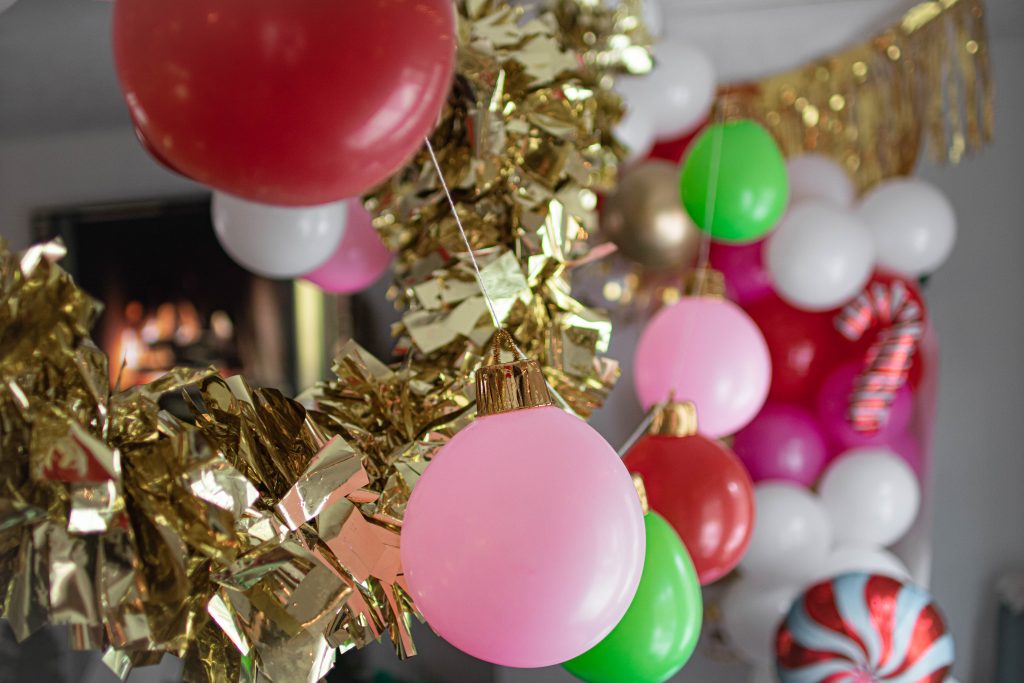 As I like to do with all my kids parties, I split the party venue (ie my home) into 3 different "zones." I originally was going to have the decorating zone setup on the back patio, but we had an unseasonably HOT and disgusting humid day out of the blue so I didn't want to put any of the party guest through that. Plus, I doubt anyone would have had success keeping their gingerbread houses together in melty, moist weather.
The three zones I went with for the Gingerbread House making party were, the house making and decorating zone, the food/cookie baking zone, and the dining zone. You can see in the above photos that I setup the table inside close to the living room. I used scrap cardboard and wrapping paper to make each guest their own base for their gingerbread house. This made it so much easier for everyone to transport their houses without damaging them. The gingerbread house making was the first thing we did. After most of the guests arrived, I got them started on their houses to ensure there would be enough time to dry before everyone went home.
It was so fun to watch the kids and their imaginations run wild as they created their fun gingerbread houses with tons of little decorations I had available. Parents chipped in and some even took it to a crazy awesome level, like my girl Sam who went from not keeping the walls up to full on Martha Stewart perfection!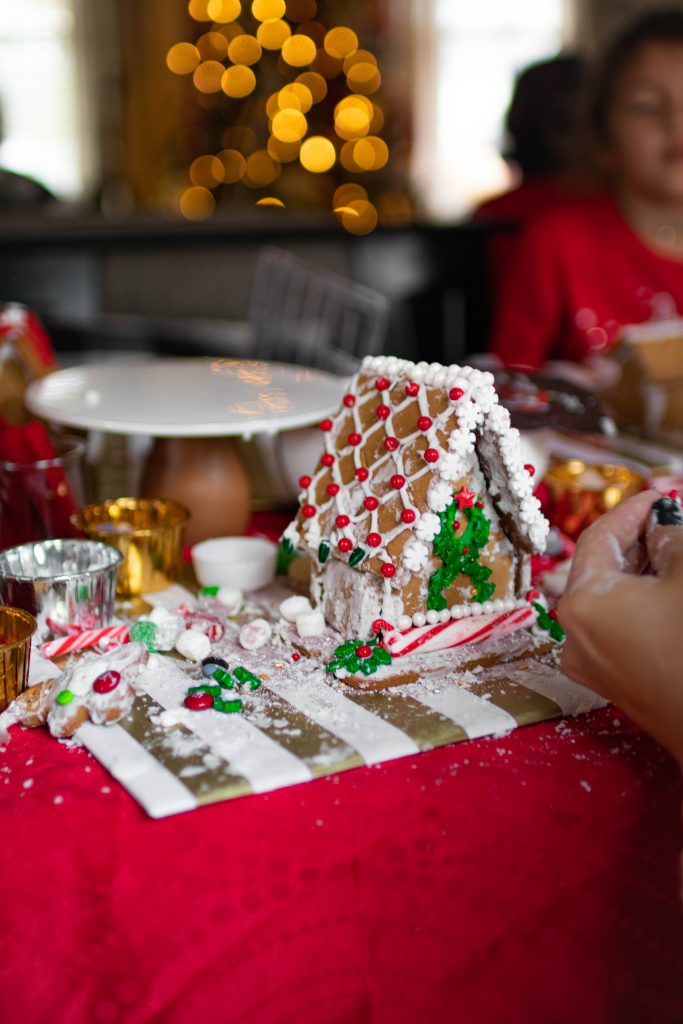 I mean how cute did this one turn out?! There is a little wreath and everything! It brought me so much joy to see everyone get their imaginative juices flowing and I even added onto Caroline's a bit after taking pictures and making the rounds.
After everyone was done decorating their gingerbread houses, I told everyone to leave them in their places to dry and to grab a plate to eat. The dining room was transformed into a whimsical dining wonderland with a hot chocolate and treats bar cart and adorable table settings. I have everything I used linked for you down below so scroll on down to shop them!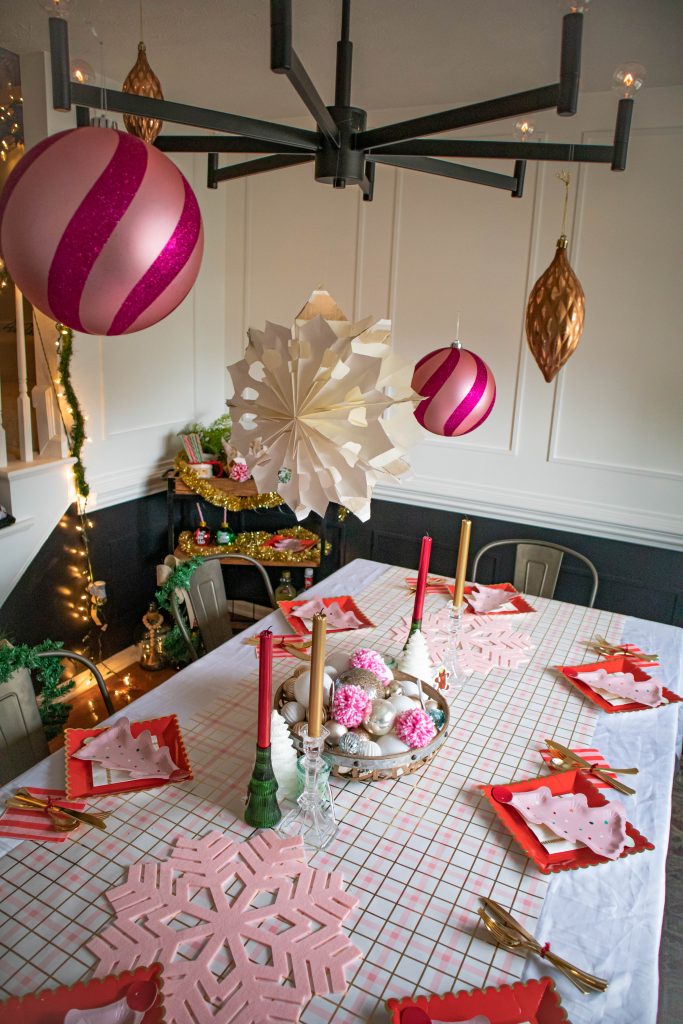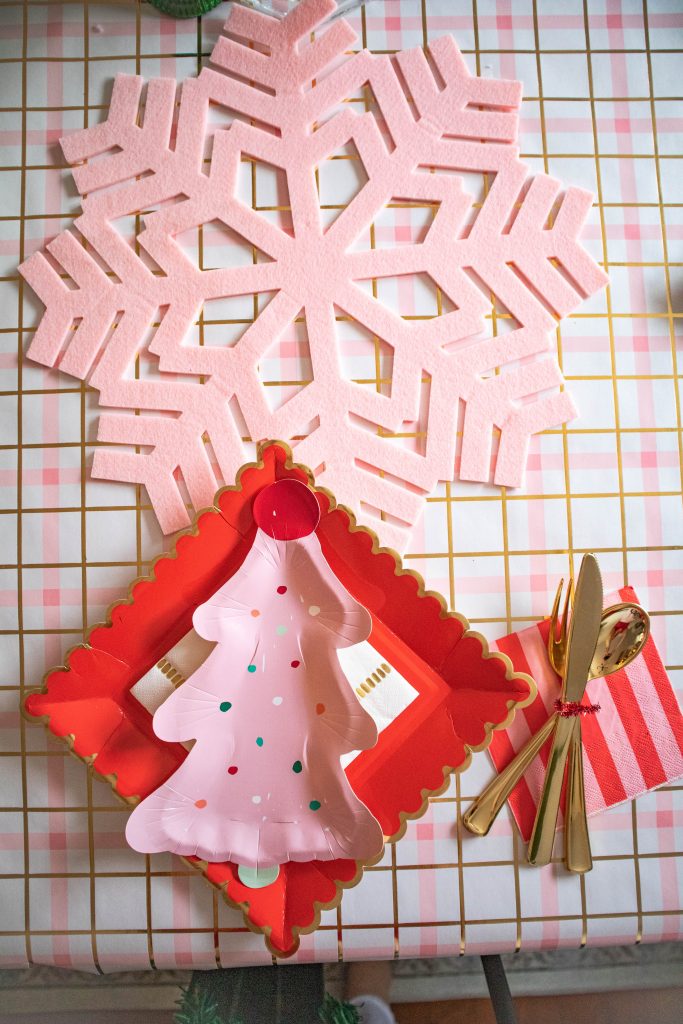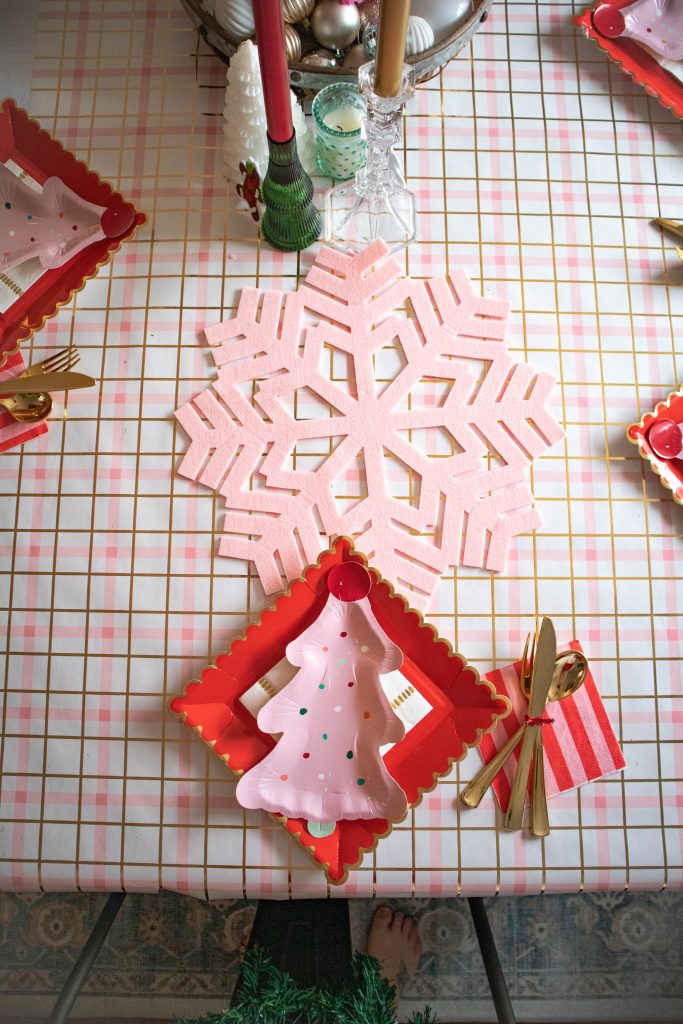 The food zone for the Gingerbread house making kids party was packed with all things Christmas themed. I found a couple of super easy festive snack ideas and was so happy with the result at the party. I made Christmas tree charcuterie party, candy cane caprese (a real crowd pleaser), Christmas tree drizzle treat, and gingerbread cookies. My bestie, Ashley, came through with the adorable Gingerbread house drizzle cake!
The only items I did not have were festive drinks for everyone (young and old) but I know there are a bunch of cute ideas out there. I picked up my tried-and-true sandwich platter from Publix and had chips and condiments available for the guests.
I break down the festive dishes and how easy they are to make for a little gathering in a separate post that's upcoming. All of these dishes were completely cleared out by the end of the party so I think it's safe to say they were a hit. Personally the candy cane caprese was my favorite. I almost always order a caprese salad if it is on the menu, and I just love the color contrast of this dish. It really stood out on the buffet table!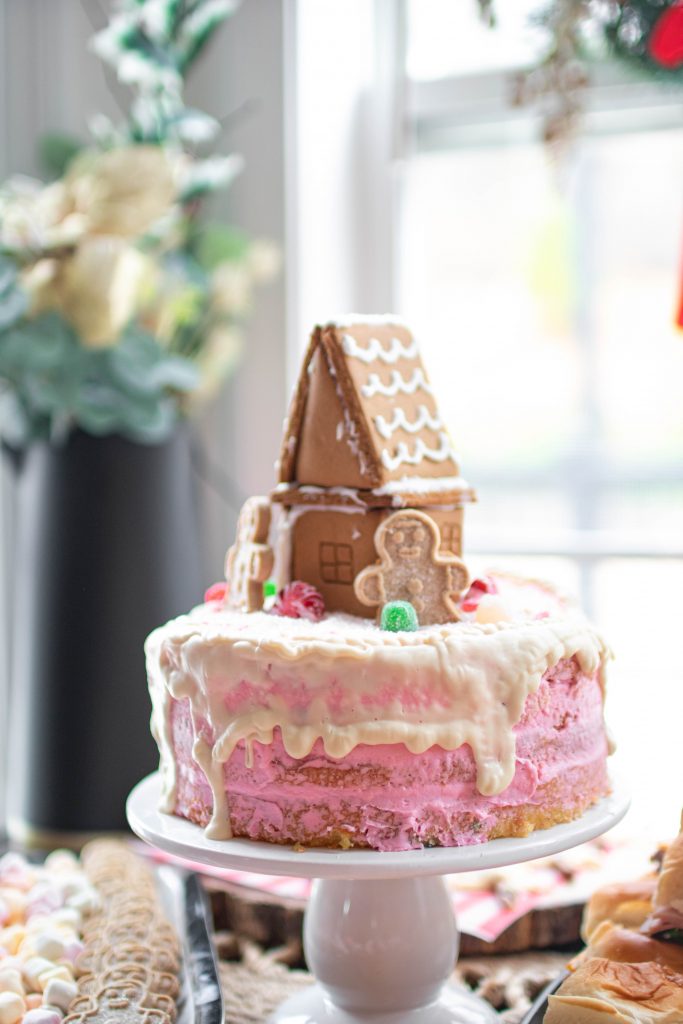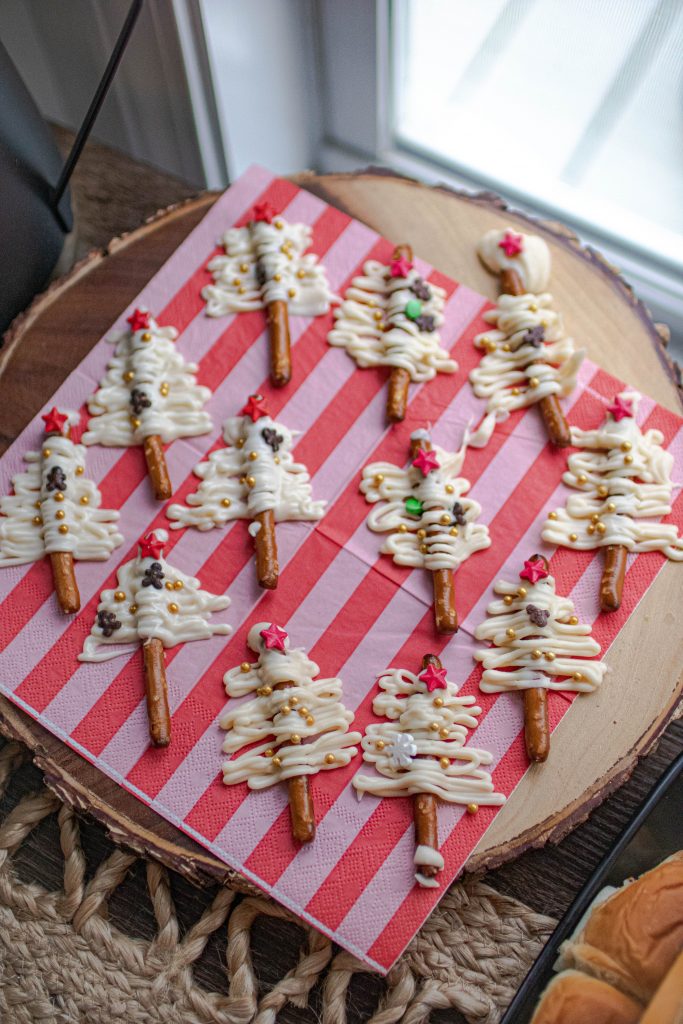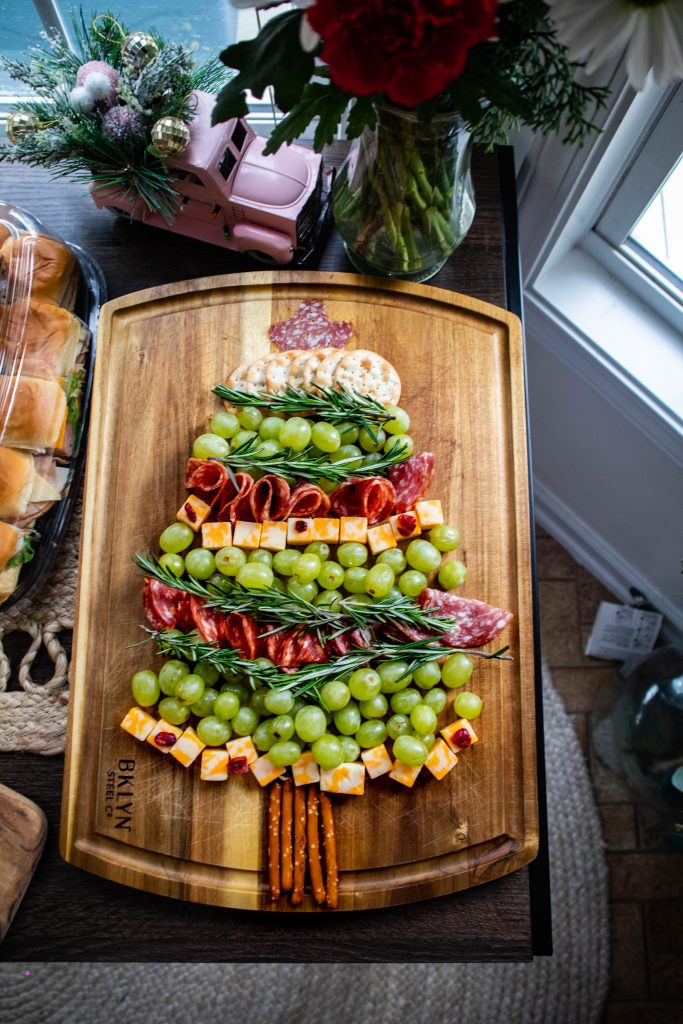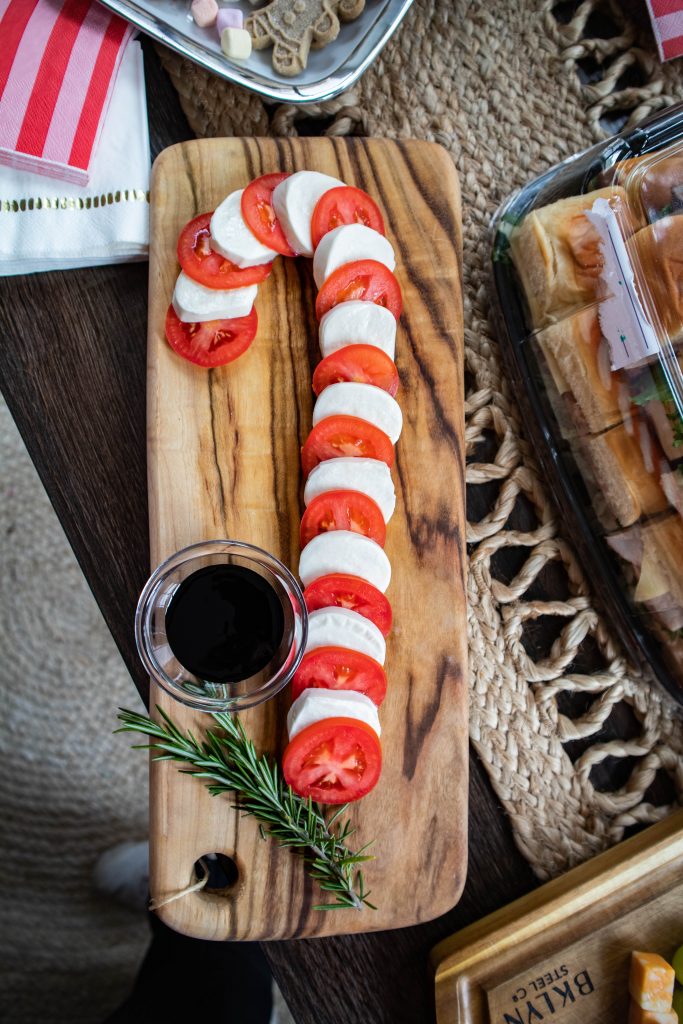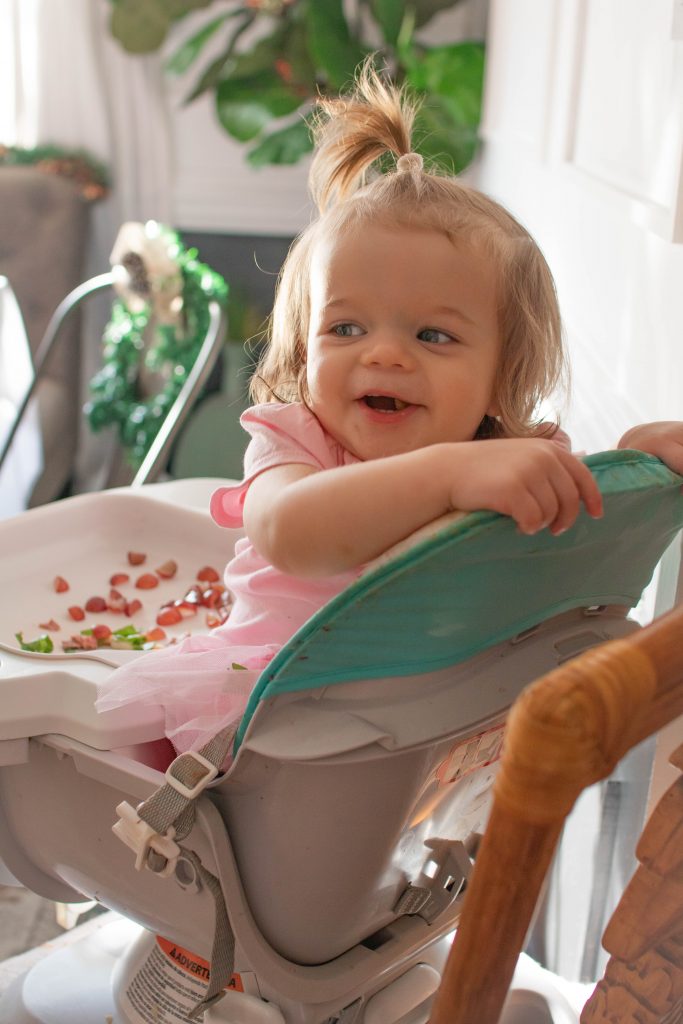 Piecing this party together was nothing short of pure joy for me and I learned a lot (as I do at almost every event). Things like, don't ever try to cram an activity table in the living room again Nicki because you just don't have the space GF!! Trying to help the youngsters with their houses proved to be a little difficult for adults because of the lack of space. We made do but each party adds another tick mark to the "live and you learn" column for me. Decorating a gingerbread house proved to be much more meticulous than I realized, but the kids seemed to really love it. In the end it was a smash hit and I look forward to planning more for my girls and family to enjoy for years to come!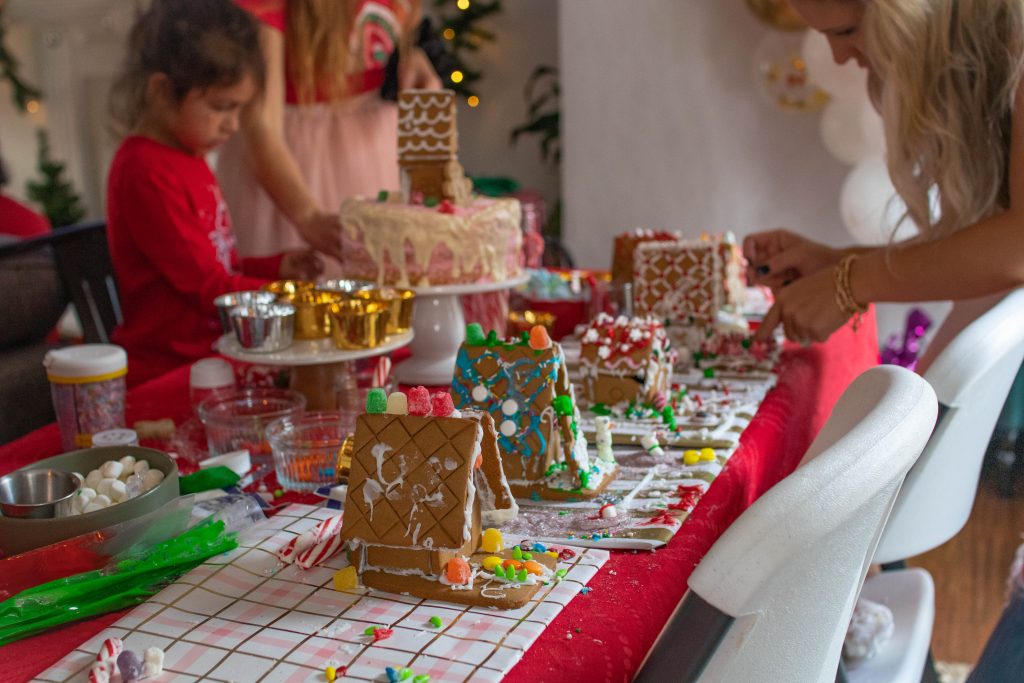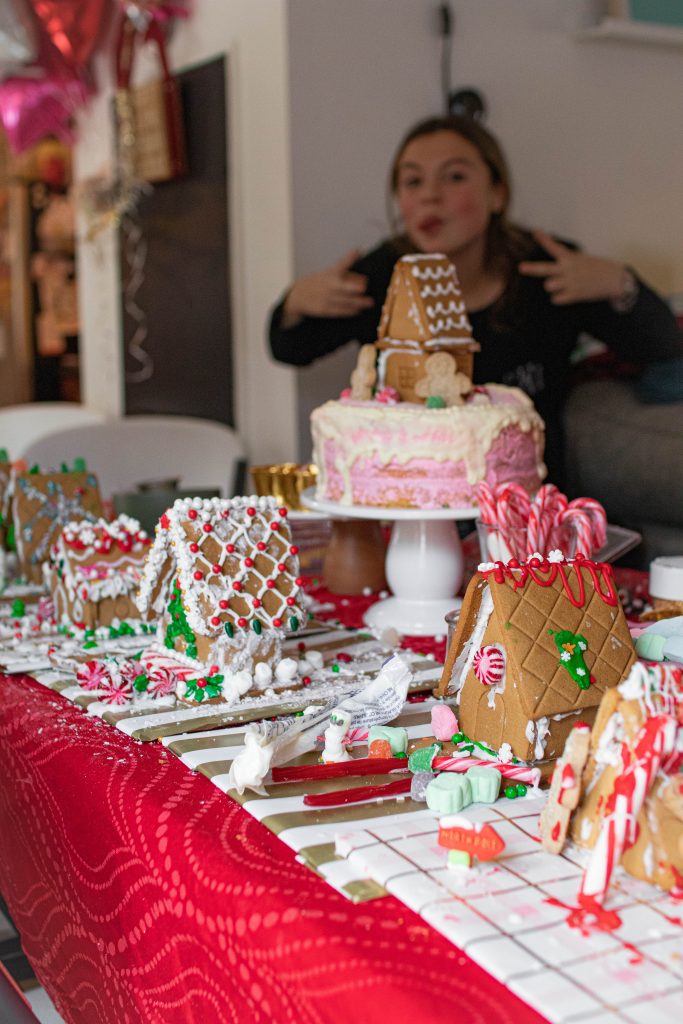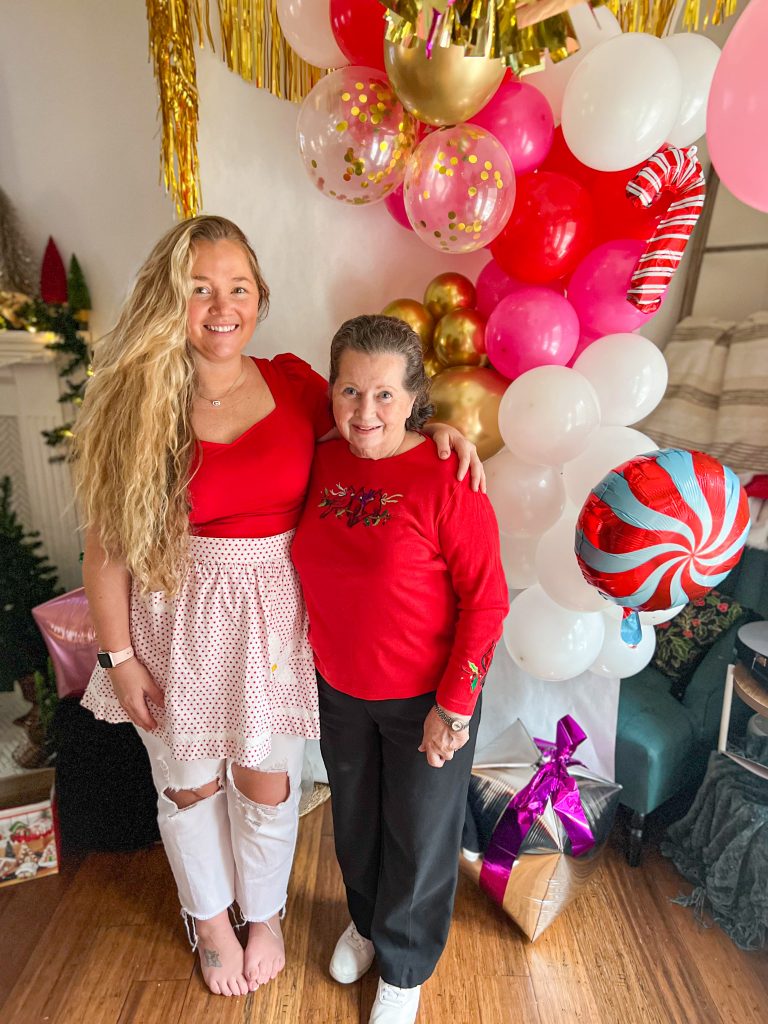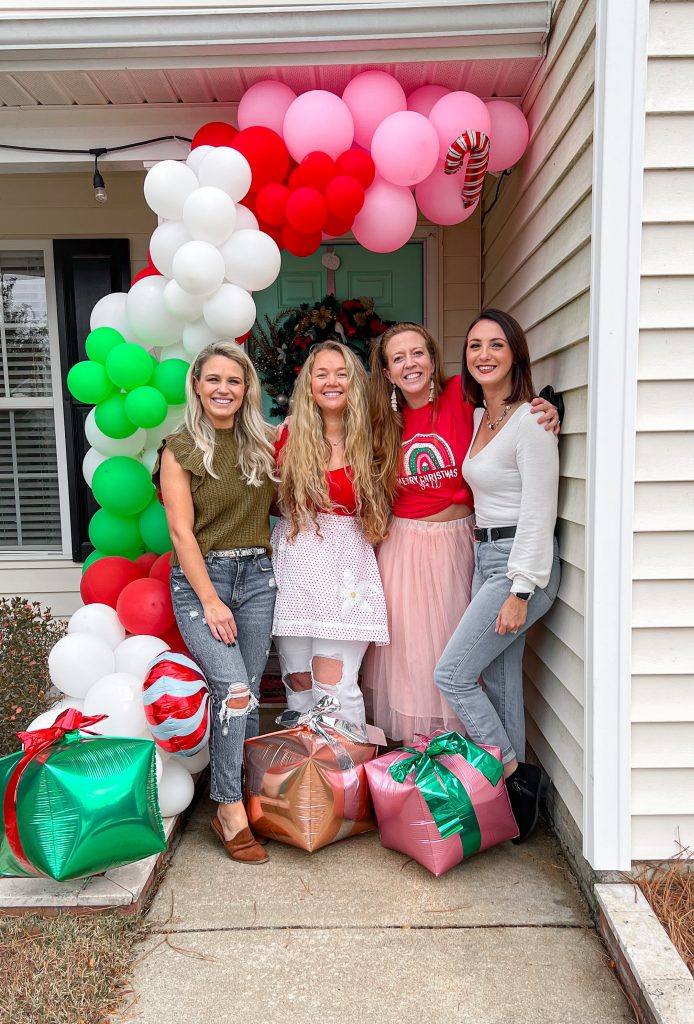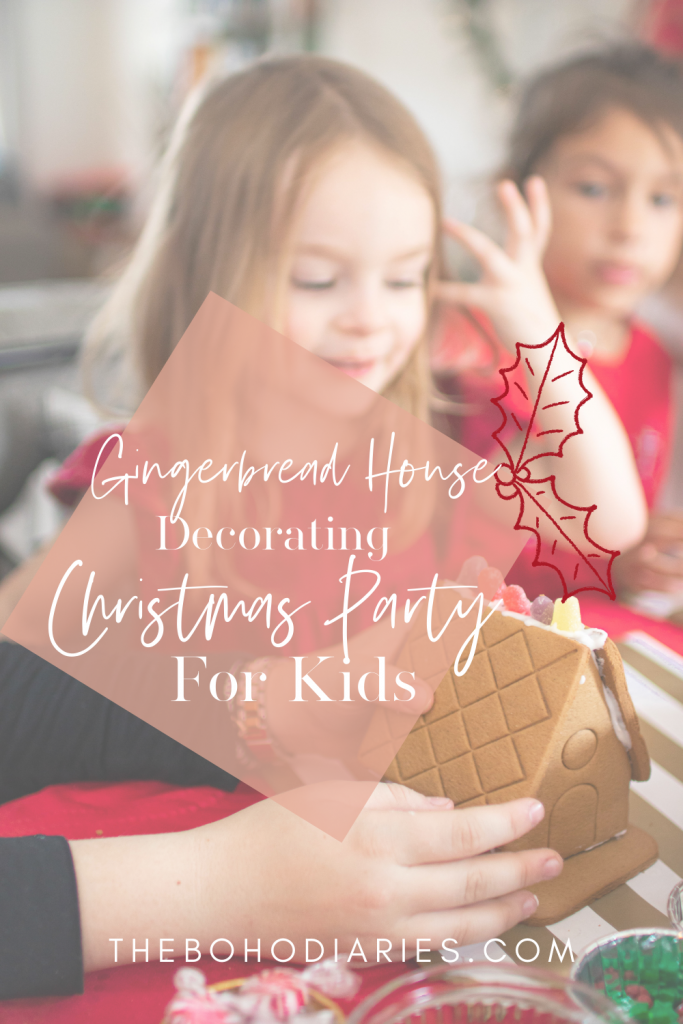 More Christmas Posts
Classic Christmas Dining Table Decor
Holiday Magic Event at Merrimon-Wynne House
Double Layered Christmas Tree Cookies