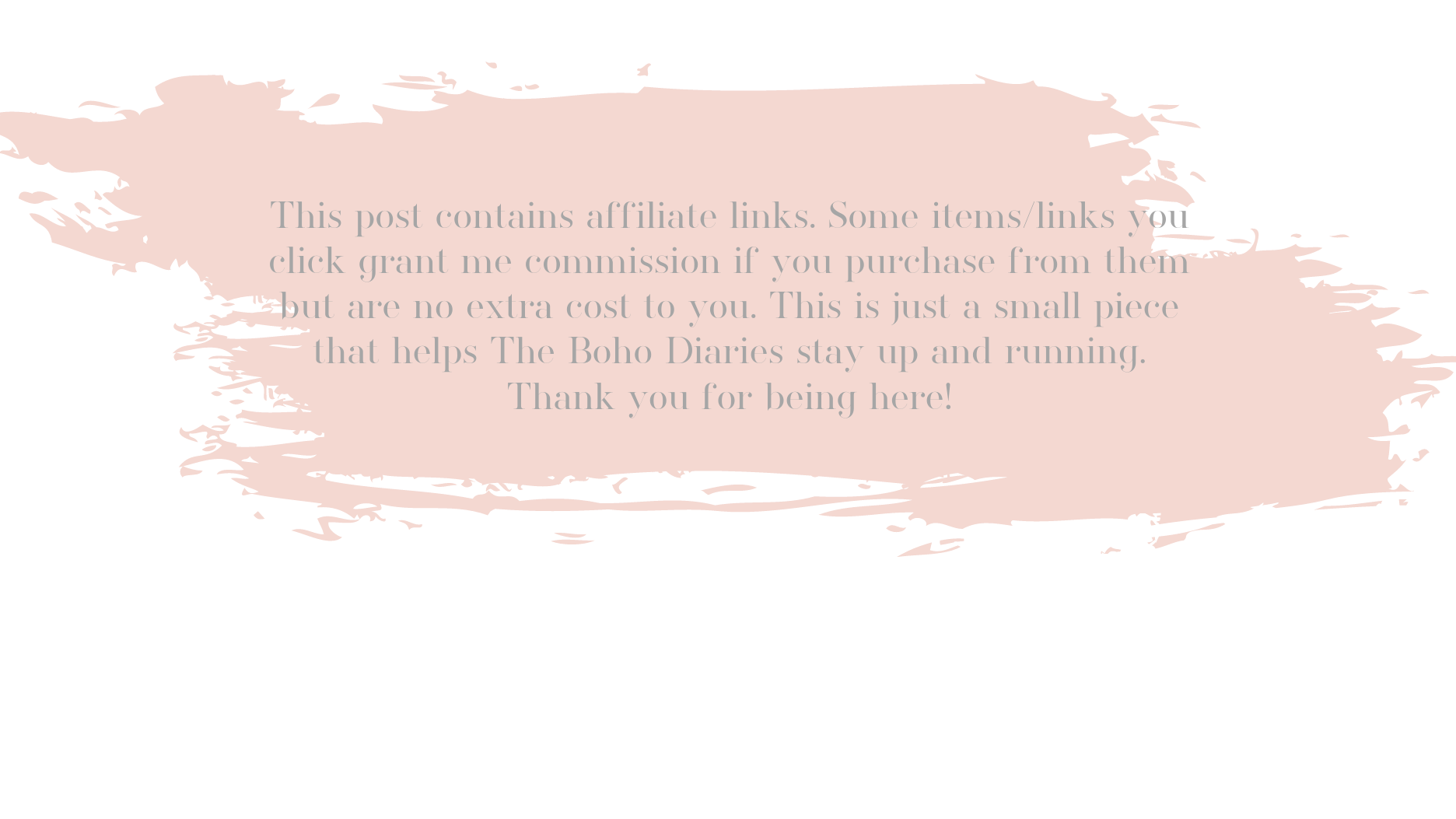 ---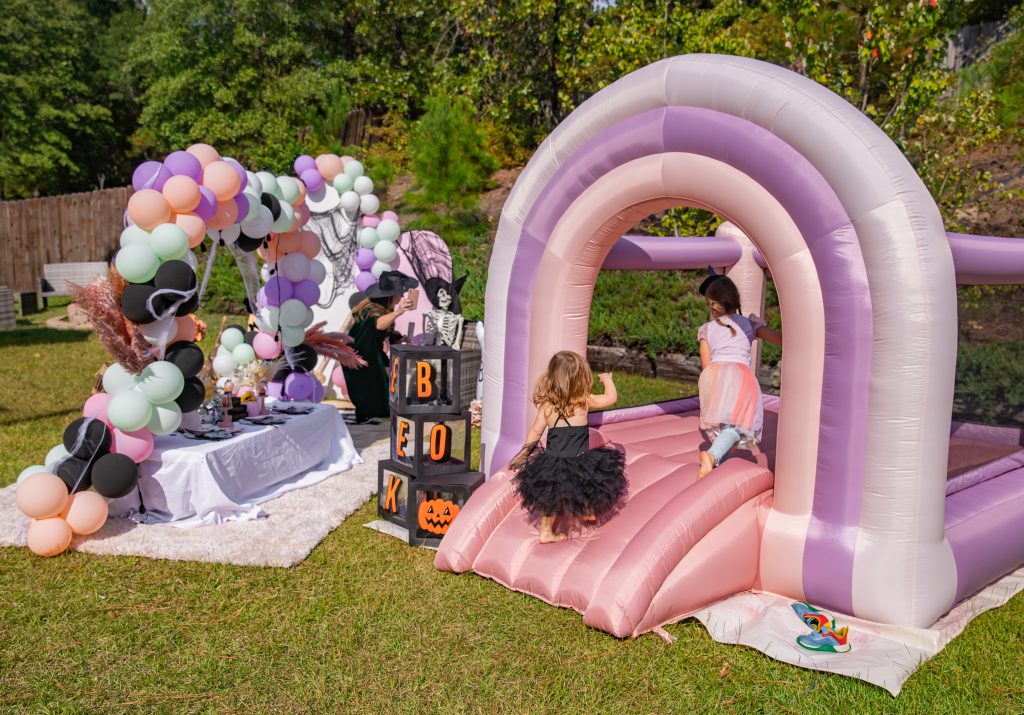 Use code: NICKIODOM when you checkout for $30 off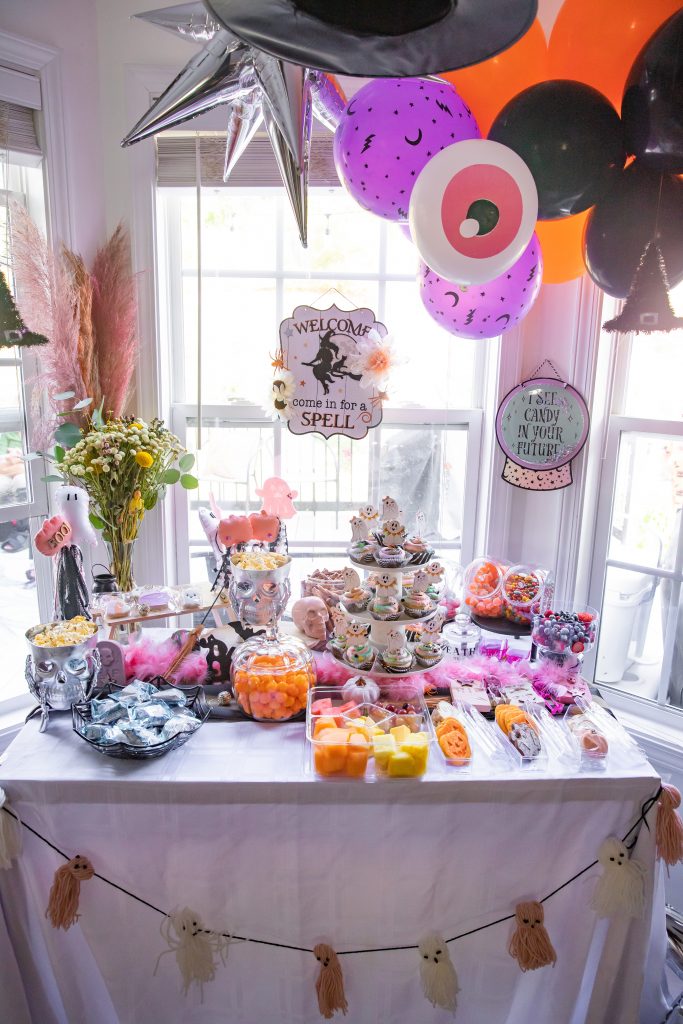 A Good Witch Ghoul Gang HALLOWEEN Party
is such a fun way to celebrate the spooky season. This was the third annual Ghoul Gang party I put on and we had so much fun with a focus on Good Witches! I try not to make it scary because even I myself am not a fan of horror or super scary things, but that still leaves a ton of fun stuff to decorate with and have fun with. Check out this post to see where this tradition all began.
My best friend Ashley came in to help me with the vision for this years party. The focus for this party is Good Witches so I invited all our friends and family with this fun invite!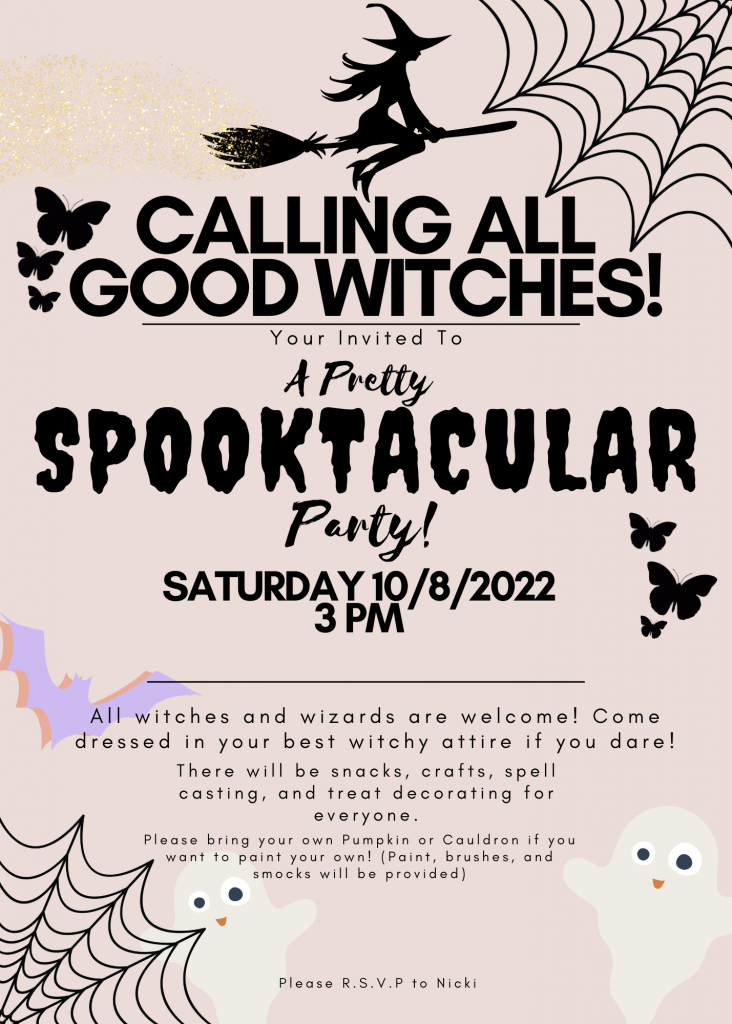 ---


---
We dressed up and have witches brooms for our guests. Cauldrons are a great way to play up the witches theme too. We had a cauldron balloon moment on the front entry to the party as well as some fun "poison punch" for the kids with dry ice and a big black cauldron.
For this Good Witch Halloween Party Ashley brought her bud, Gertrude (Aka Gertie) who was the bar cart attendant during the party.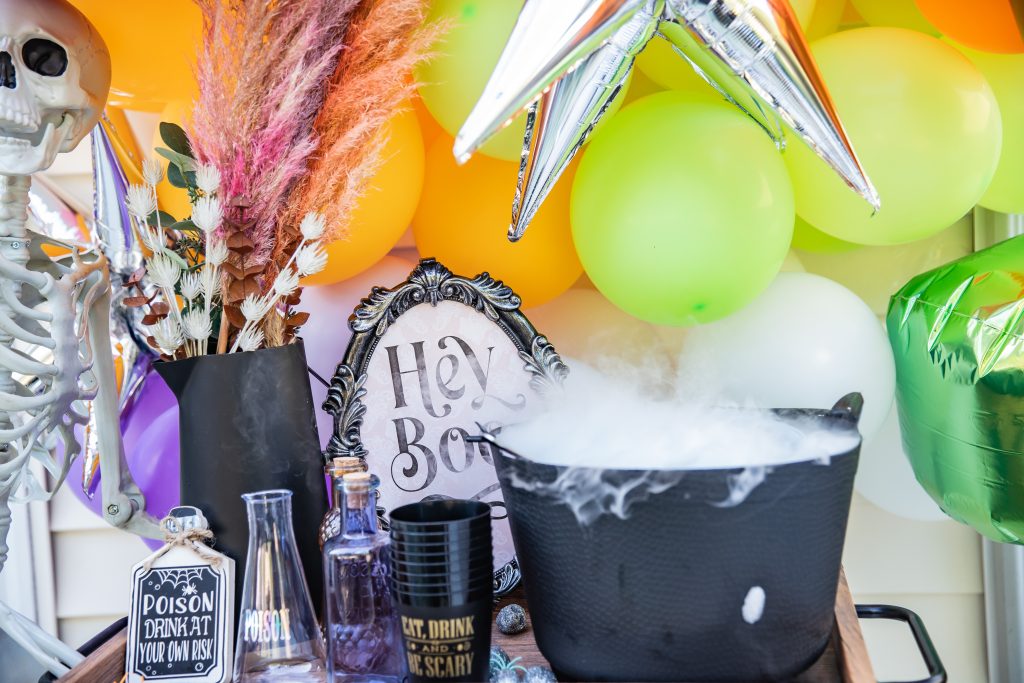 Poison Punch Recipe
Ingredients
Directions
Take your cauldron and place the large punch bowl inside. There needs to be enough room between the cauldron and the punch bowl for dry ice to fall between.
Simply mix the Grape Koolaid and place into the punch bowl. Add 2 Scoops of the Black Cherry Ice Cream.
Wearing gloves and using tongs, take dry ice pieces and slide them into the cauldron, between the cauldron and the punch bowl (not in the punch).
Watch the spooky smoke begin!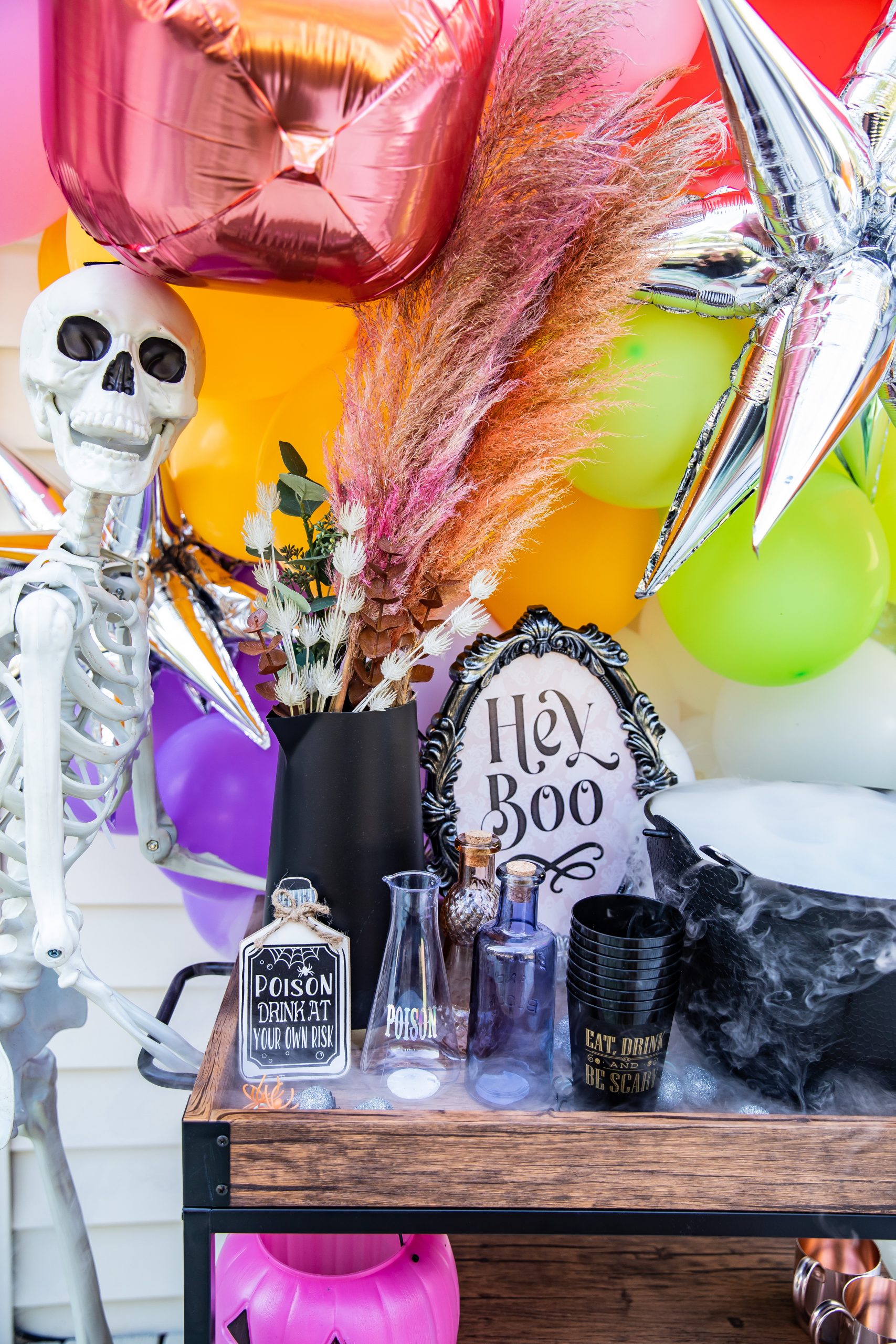 The smoke rising from the punch gives the perfect eerie factor for a spooktacular party effect.
---
Every Good Witch has
a special pumpkin at the ready for anything, like a carriage maybe? 🙂
I prepared fun activities for the kids to do during the party like pumpkin painting and edible wands. Every kid could bring their own pumpkin, but for those who maybe forgot, I provided faux pumpkins for each kid to paint!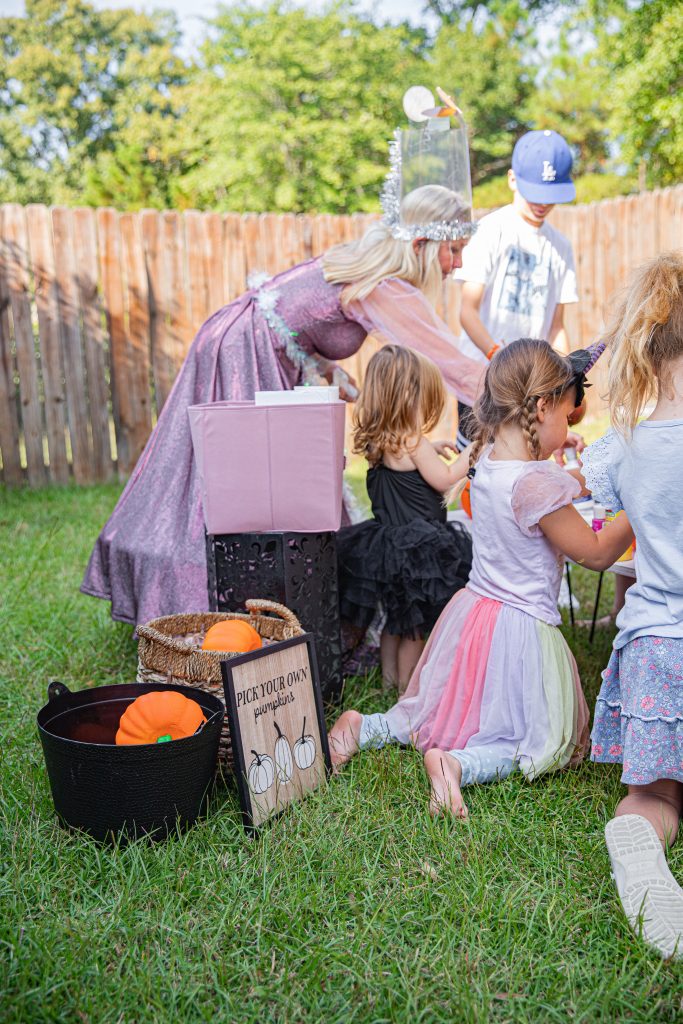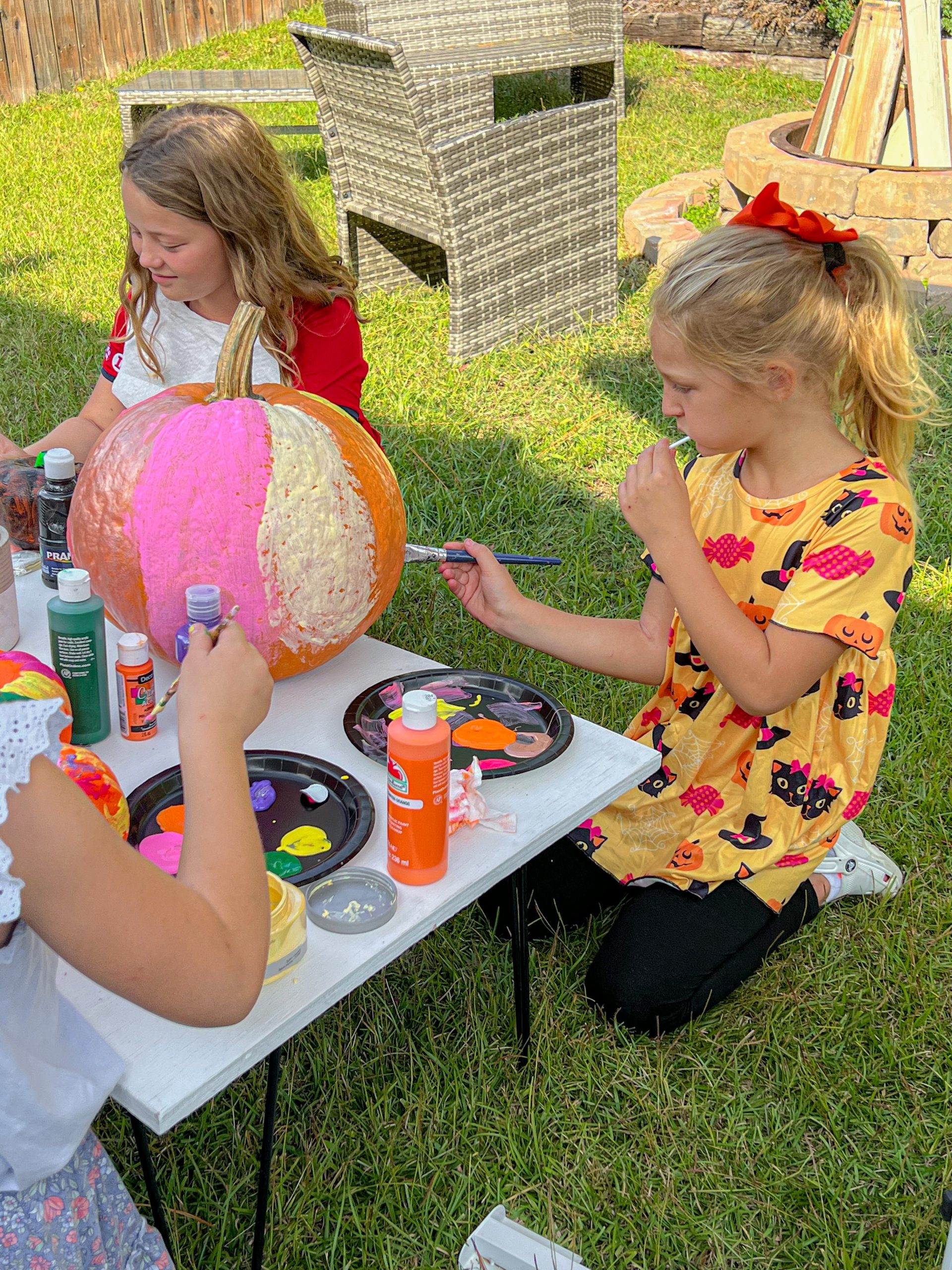 Acrylic pants, paper plates, lots of napkins, and water cups and the kids have a blast creating their special take-home pumpkins.
Another activity that they love is the DIY edible wand creation station. A mound of small rice crispy treats, paper straws, small squeezable icing, edible eyes, and lots of sprinkles. The kids love piecing together their magic wands and then eating them up after their done spell casting!

---
Putting these on is so fun for me, especially when I am teaming up with my partner in party crime, Ashley. Producing kids parties honestly feels like all my childhood dreams coming true and honestly a big part of that stems from my mom throwing me and my brothers some of the best parties when we were younger. Even when we didn't have much, my mom used her creativity and always gave us the best birthdays. She continues to inspire me, and of course she showed up and SHOWED OUT for this good witch party!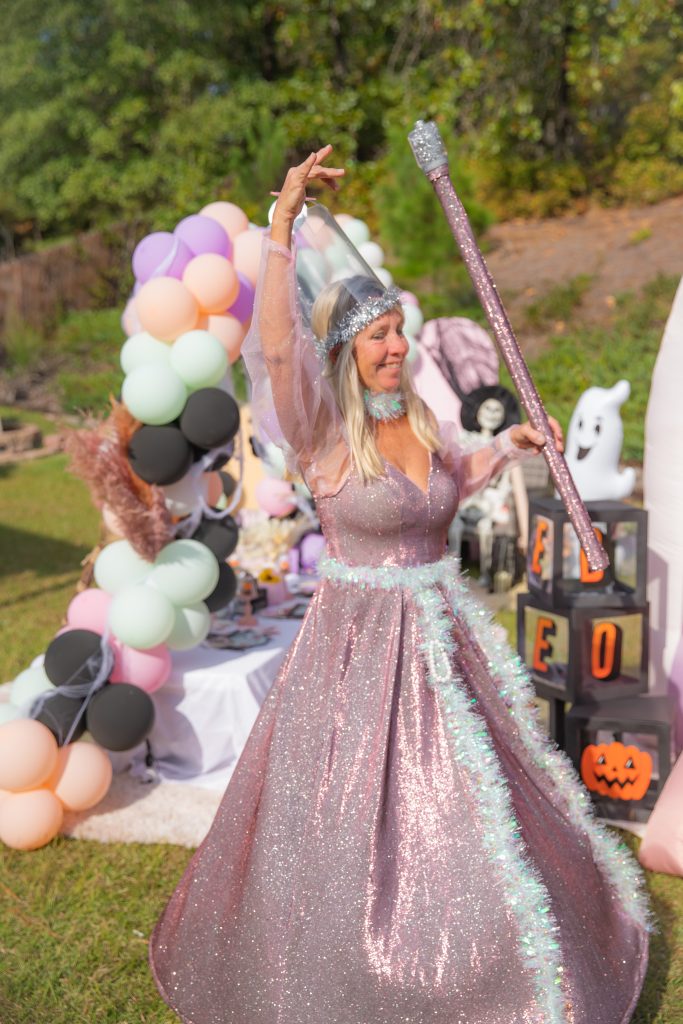 She found this dress at Good Will and DIYed it up to be Glinda the Good Witch for the party! Would you believe it if I told you her dress even lights up?! See, I can't help but be creative and innovative, it's in my blood. 🙂
---
Every Good Witch Halloween Party has to be complete with the most magical of treats . I made the time of this party later in the day and provided lots of sweet snacks. There was a "Death By Candy" station on the snack table too! Ashley made the most delicious cupcakes that we topped of with these fun cupcake toppers!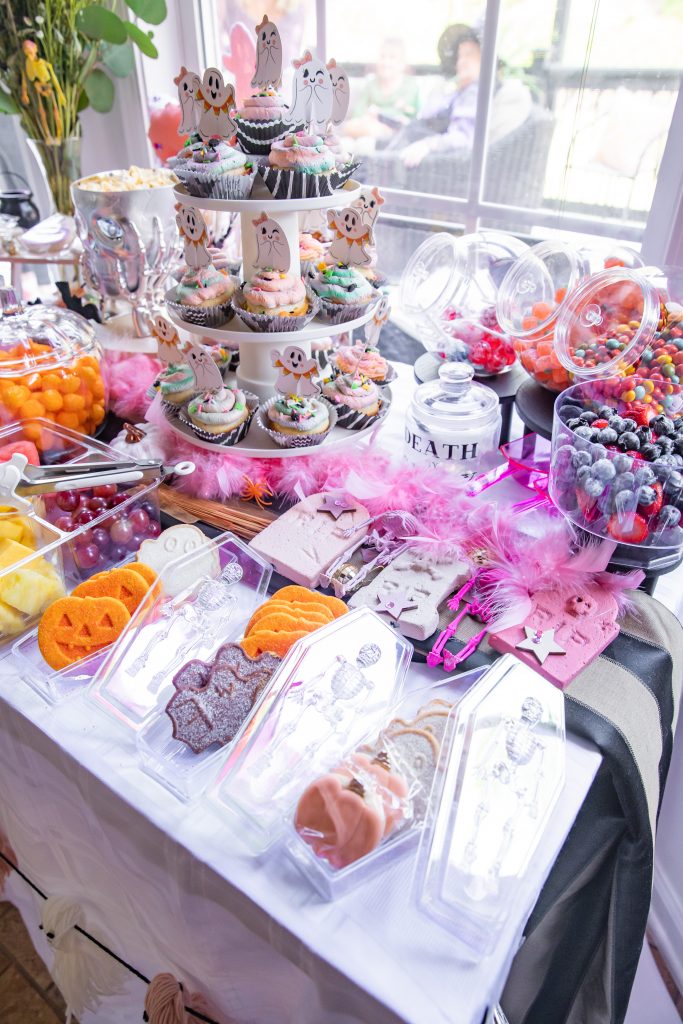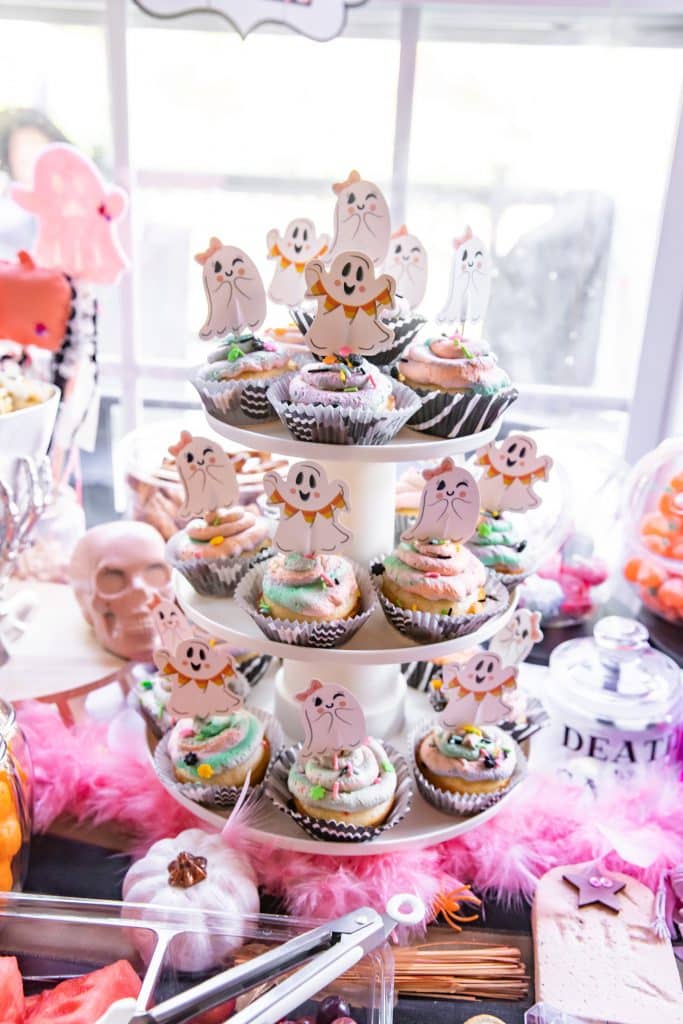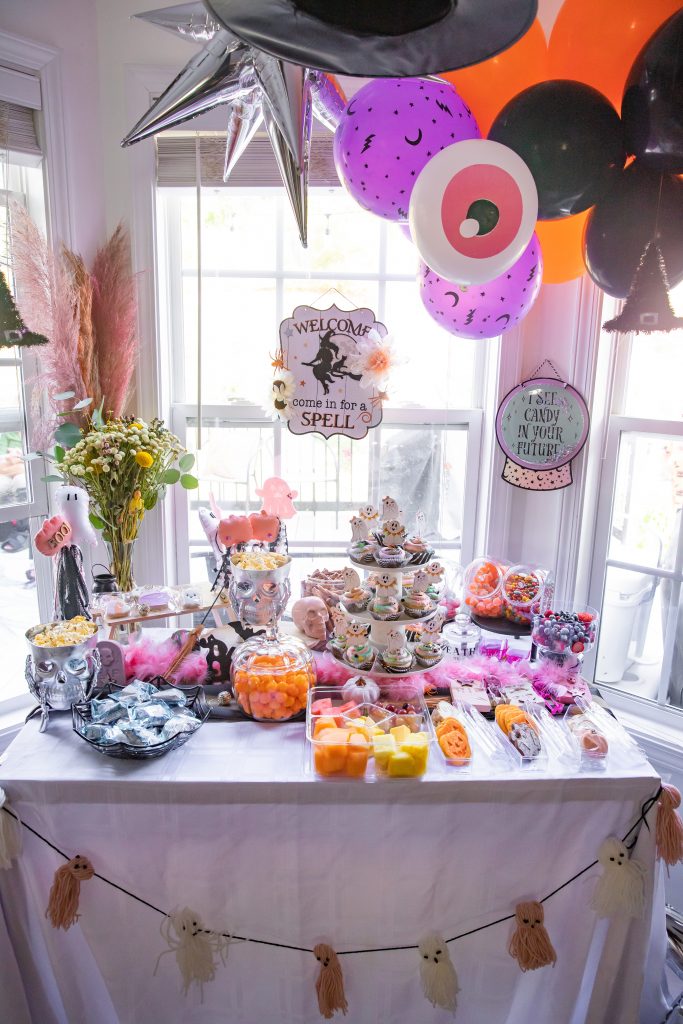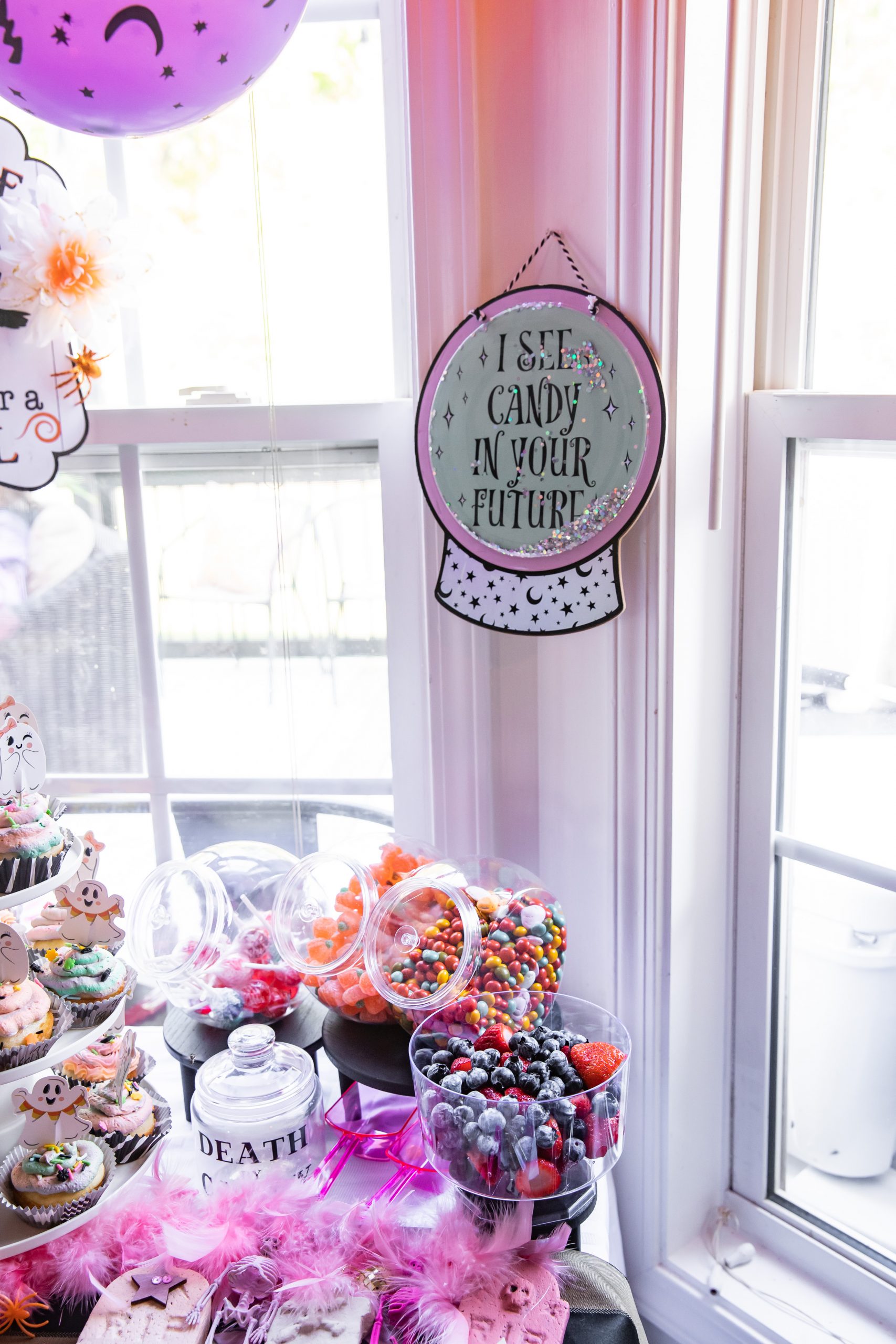 ---
Halloween decorations, and honestly decorating in general is such a huge passion of mine. Table scaping and setting gets my creative juices flowing and brings me so much joy to see the final result. I found the cutest Halloween tableware by Meri Meri that fit this year's party theme perfectly. I also was able to reuse my DIY pedestal cloches from last year!
HalLoween Tableware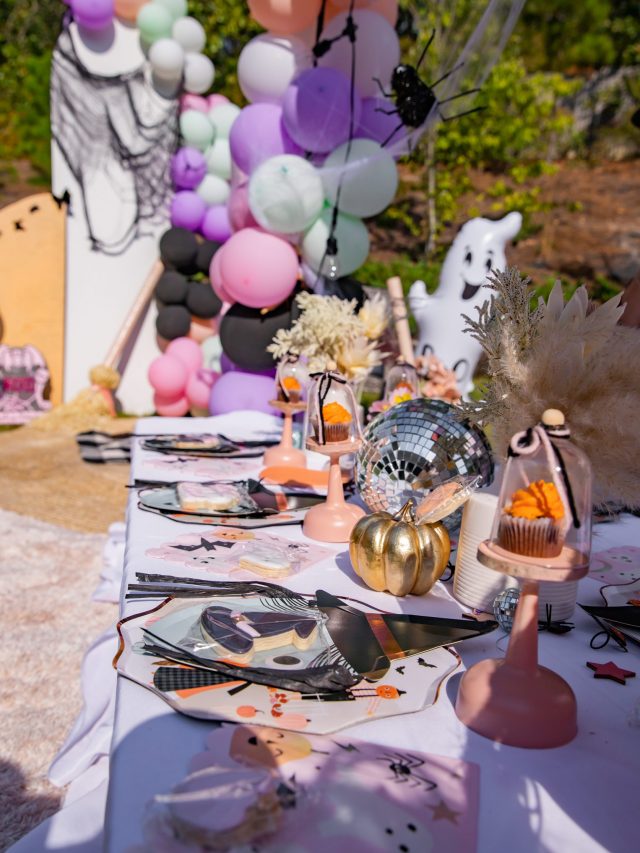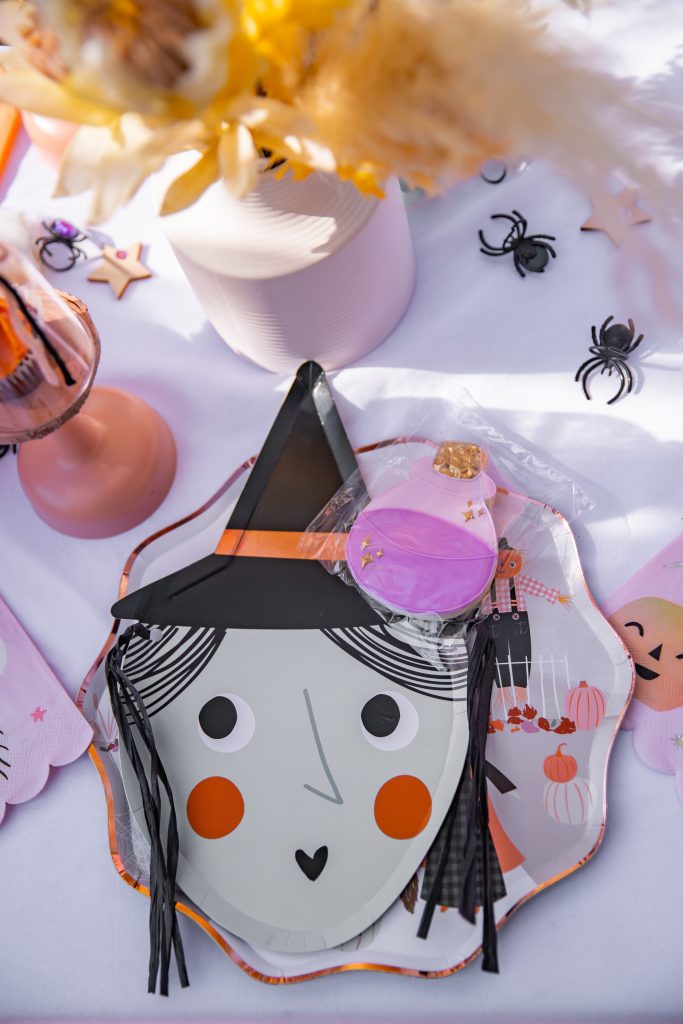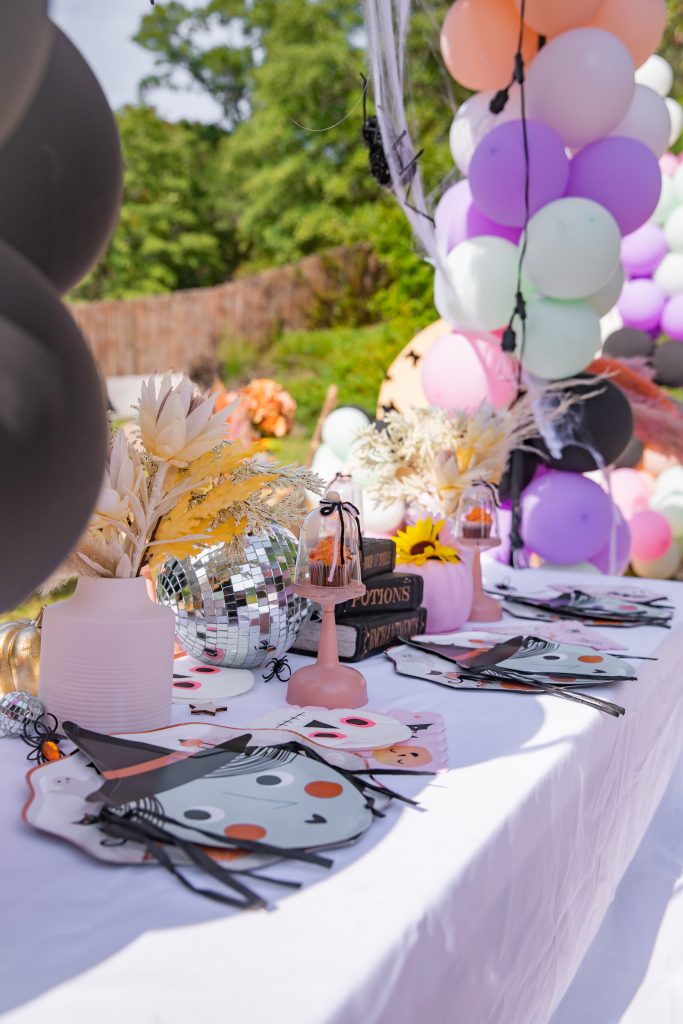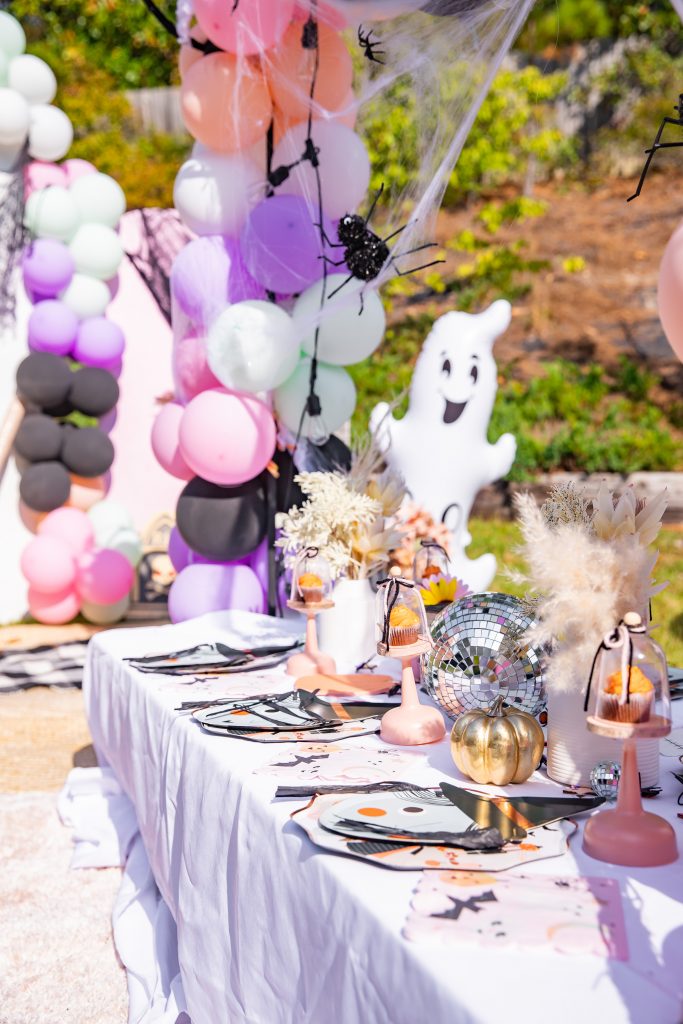 ---
I integrated the disco balls in with the Good Witch Halloween Party decorations to lighten up the spooky factor and with it being very sunny that day, it created some magic all on its own! Disco balls have been my go to for fun magical, whimsical moments.
---
Sometimes having too many activities for the kids backfires because hardly any of them sat at the kids party table. This fun moment was beautiful to photograph but I never had any "little witches" sitting there long enough to grab a photo! The shot of Ellie down below is about the closest I got to any of the little ones sitting at the table. Between pumpkin painting, edible wand making, and the bouncy house, all the guests were fully engaged.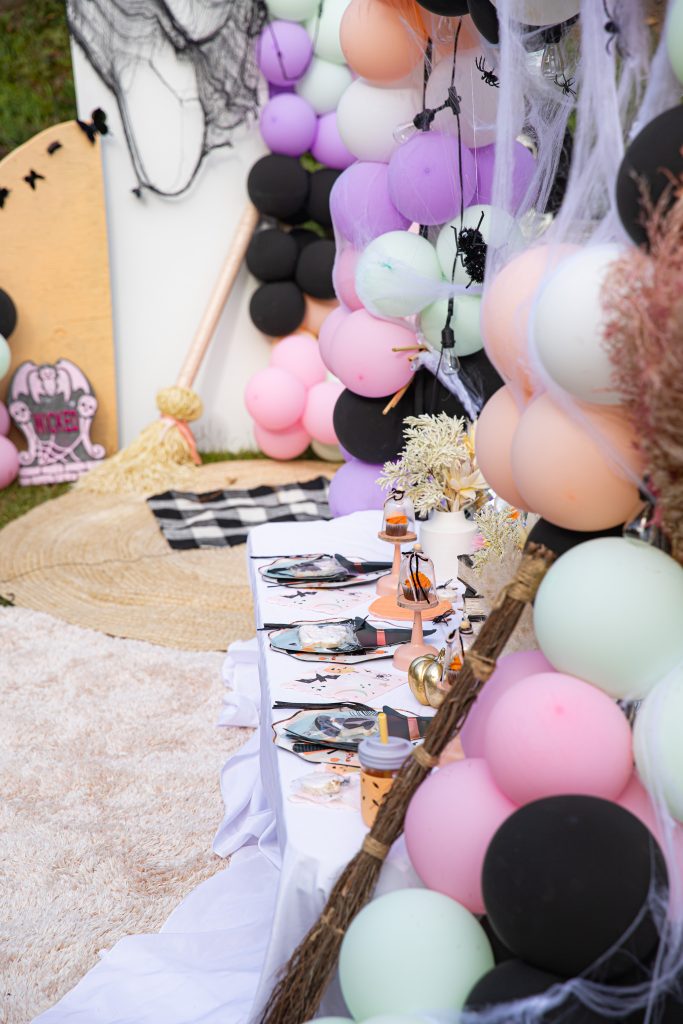 Ironically there were more adults dressed as witches than kids. I kind of loved that, almost like our own little coven hosting a party. Caroline and one of her friends were dressed up, but they said their costumes were too hot (it was a little warm). I was still happy that others were dressed up and in the Good Witch Halloween spirit!
---
My party partner Ashley and I
have big dreams of running a party biz and I have full confidence that we are getting closer and closer every day. I find true joy in creating these magical gatherings, and would love to show the world what more I could do. One day it will happen! I am so blessed to have her. She is a magician with balloon moments and all things baking, and completes this team. I couldn't throw big ones like this without her! You must check her out! I love you Ash!!