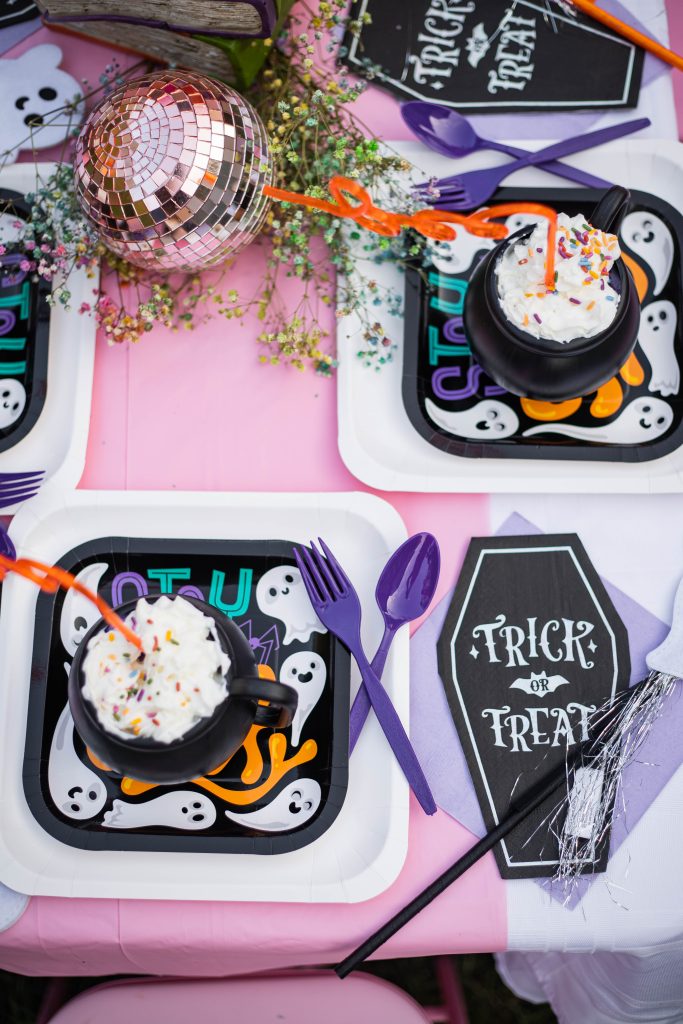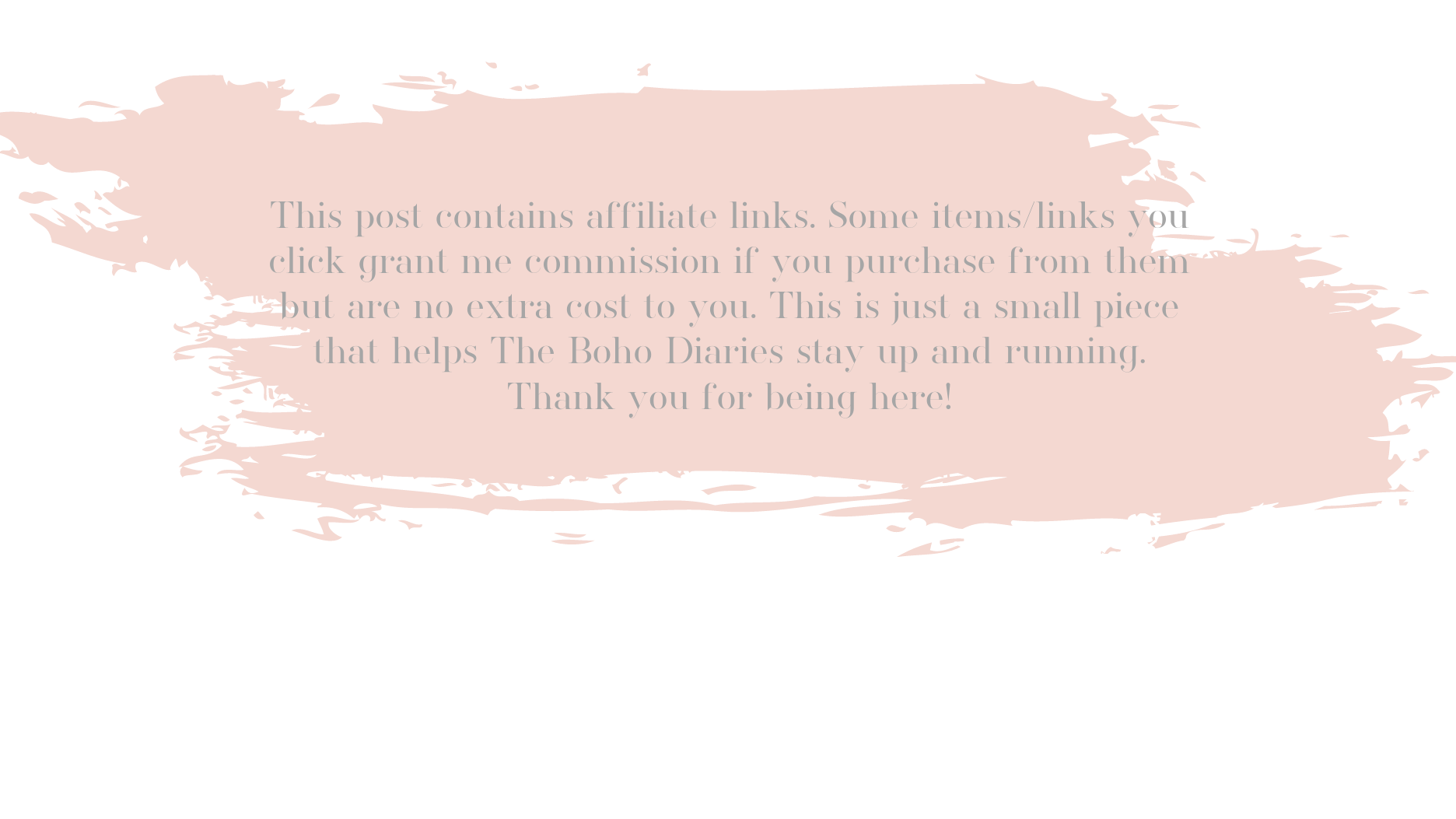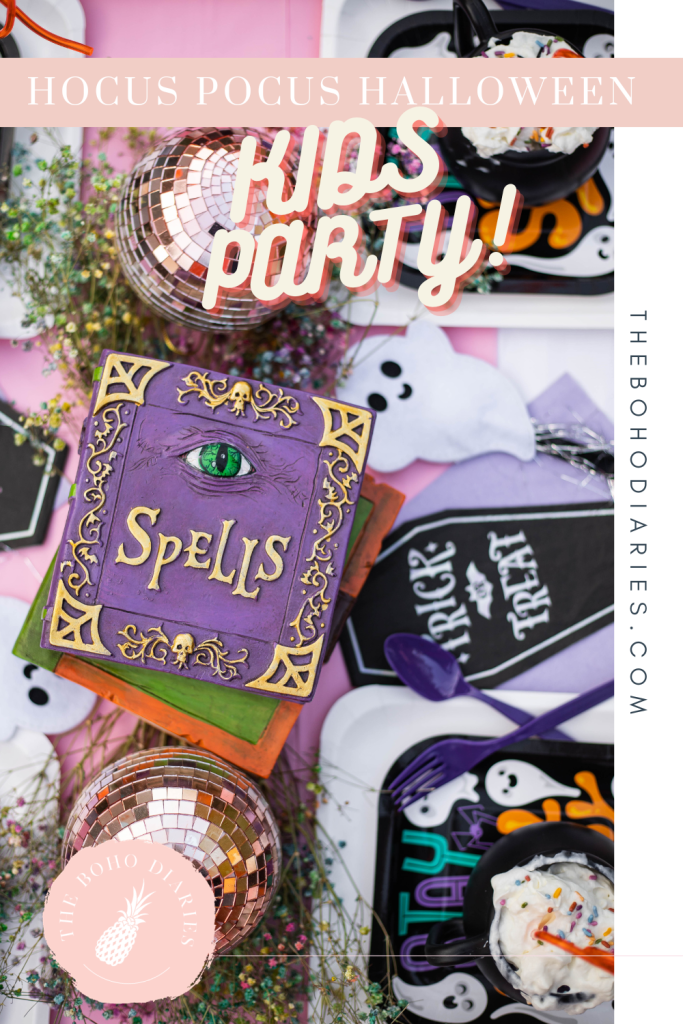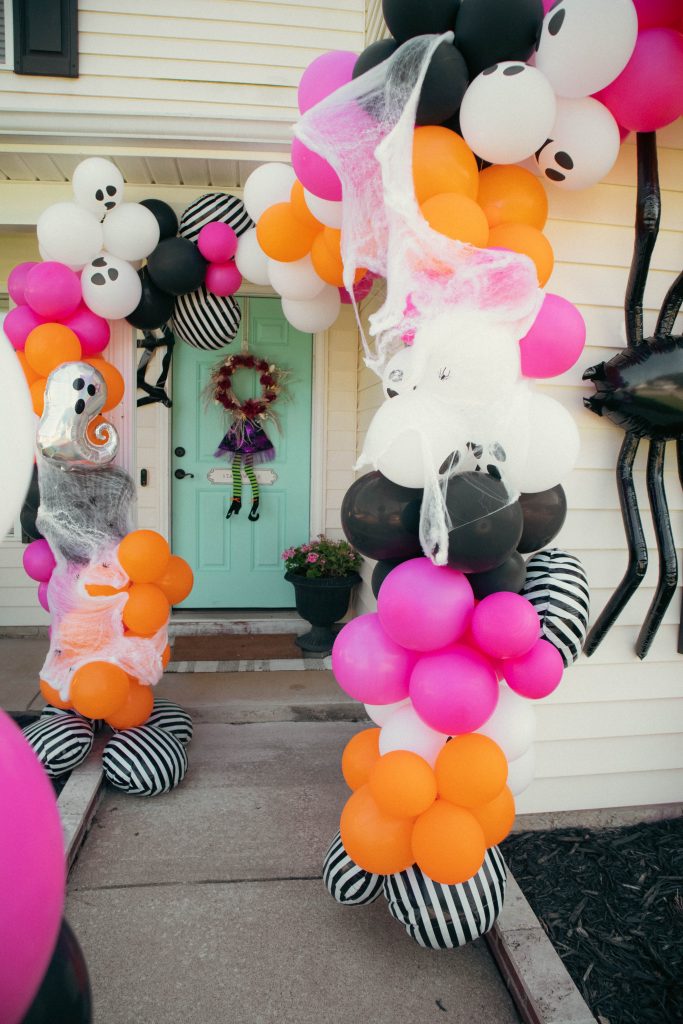 Hocus Pocus Halloween Party: A Spooktacular Celebration for Kids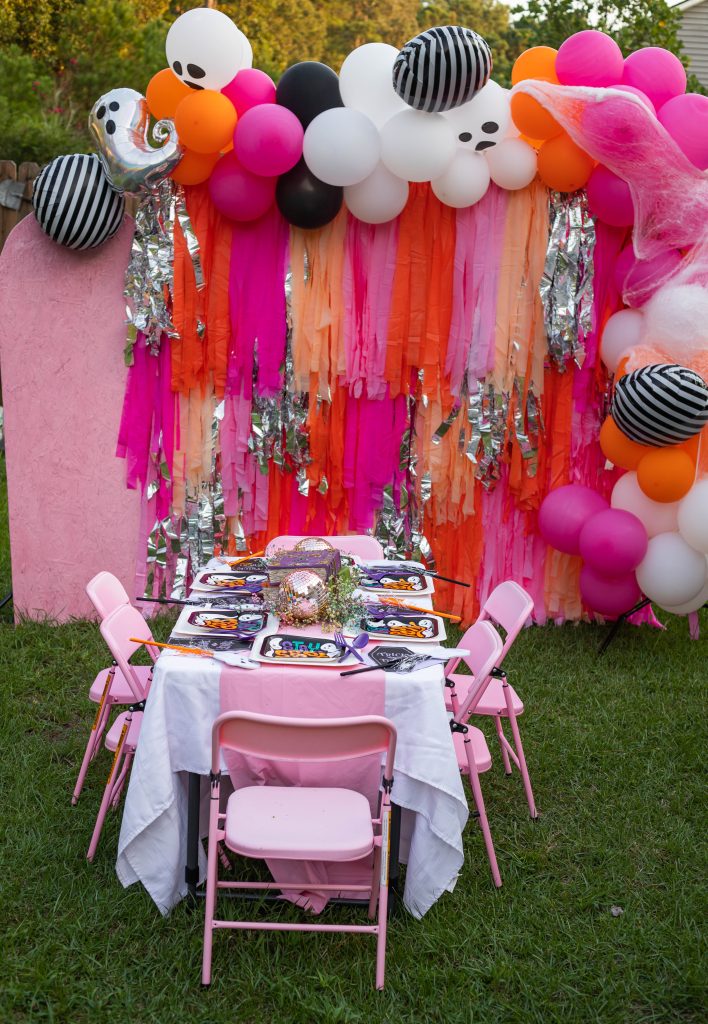 Halloween is just around the corner,
and it's the perfect time to conjure up some magical memories for your little witches and wizards! Get ready for a bewitching adventure as we dive into the enchanting world of Hocus Pocus. Whether you're hosting a spooky soirée or just a cozy gathering with close friends and family, we've got all the tricks and treats you need to make your Hocus Pocus-themed Halloween party a spellbinding success!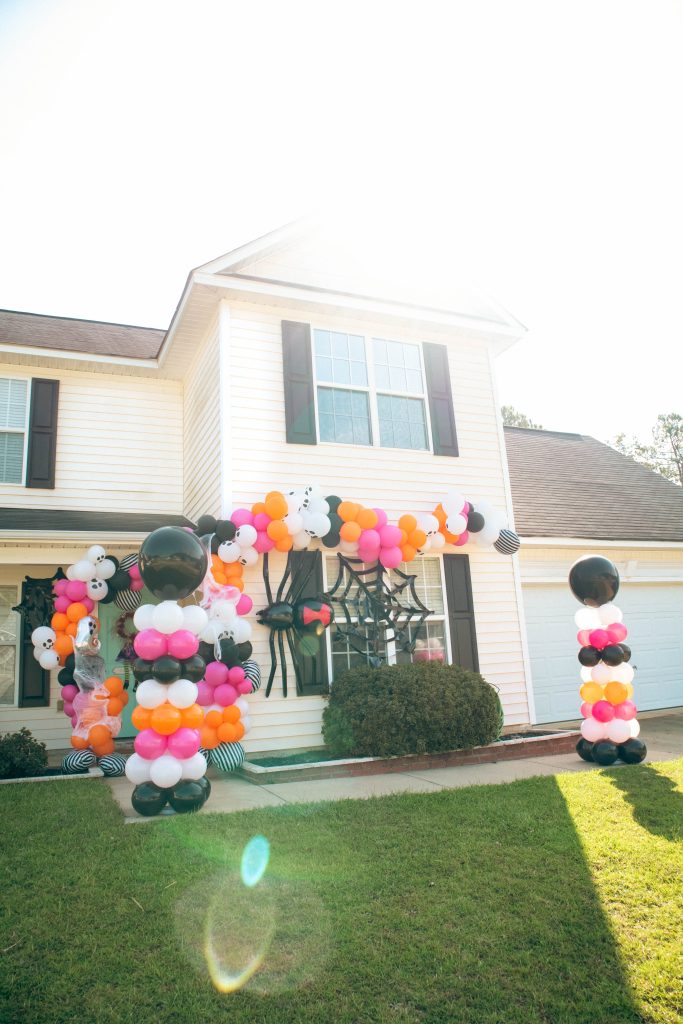 Setting the Stage: A Big Balloon Entryway
To truly immerse your young guests in the world of Hocus Pocus, start with a grand entrance. Craft a haunted atmosphere with a captivating balloon entryway. Here's how you can create it:
Balloons Galore: Fill your entryway with a sea of pink, purple, green, orange, and black balloons. Some of these colors are synonymous with the Sanderson sisters, and they'll set the mood perfectly. Arrange them in clusters along the path leading to your party.
Witchy and Ghostly Silhouettes: To add an extra layer of enchantment, cut out cardboard witch silhouettes and attach them to the balloons. Include spooky cute ghost mylar balloons with spiders and cobwebs draping the balloons. It'll make it feel like the Sanderson sisters are greeting your young guests at the door.
Welcome Sign: Hang a sign or piece of decor that says "Enter at Your Own Risk" to give the entryway an eerie yet playful touch. Caution tape is always a good addition!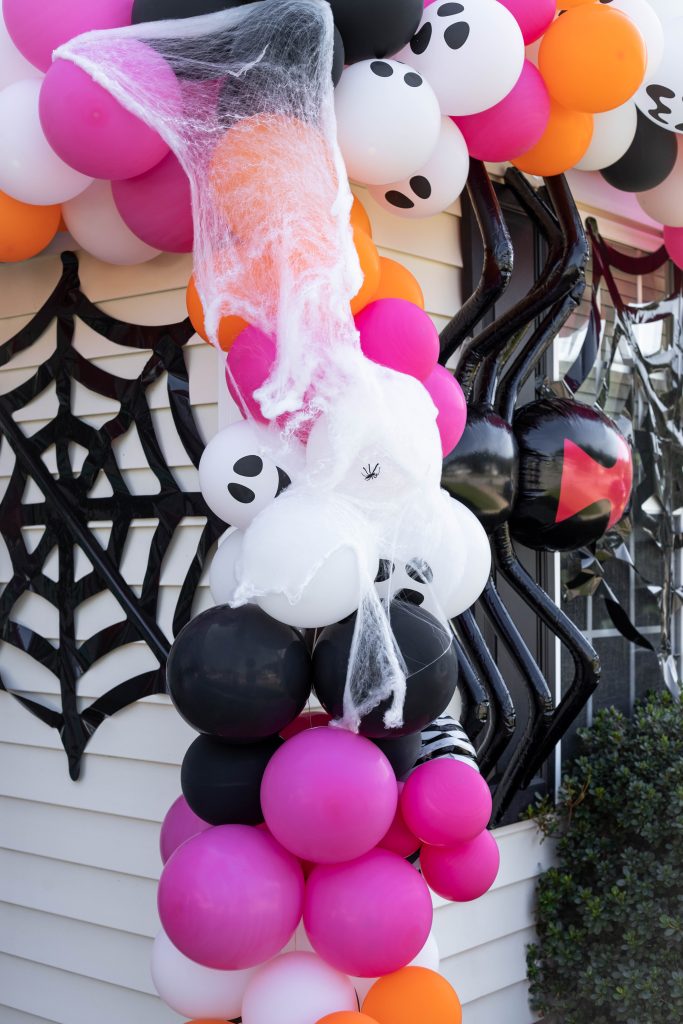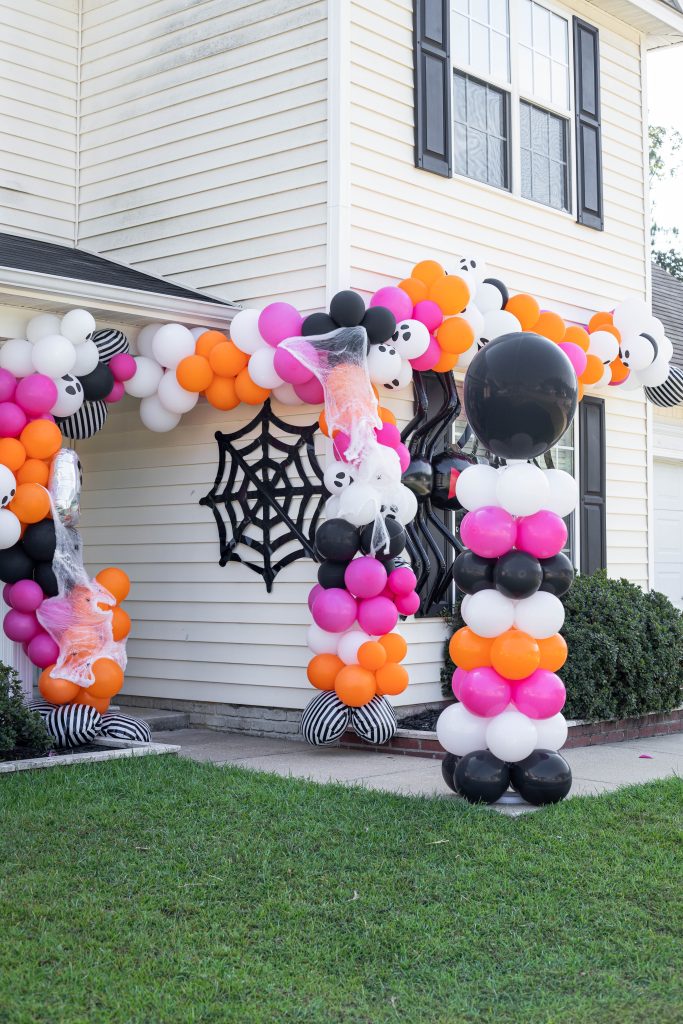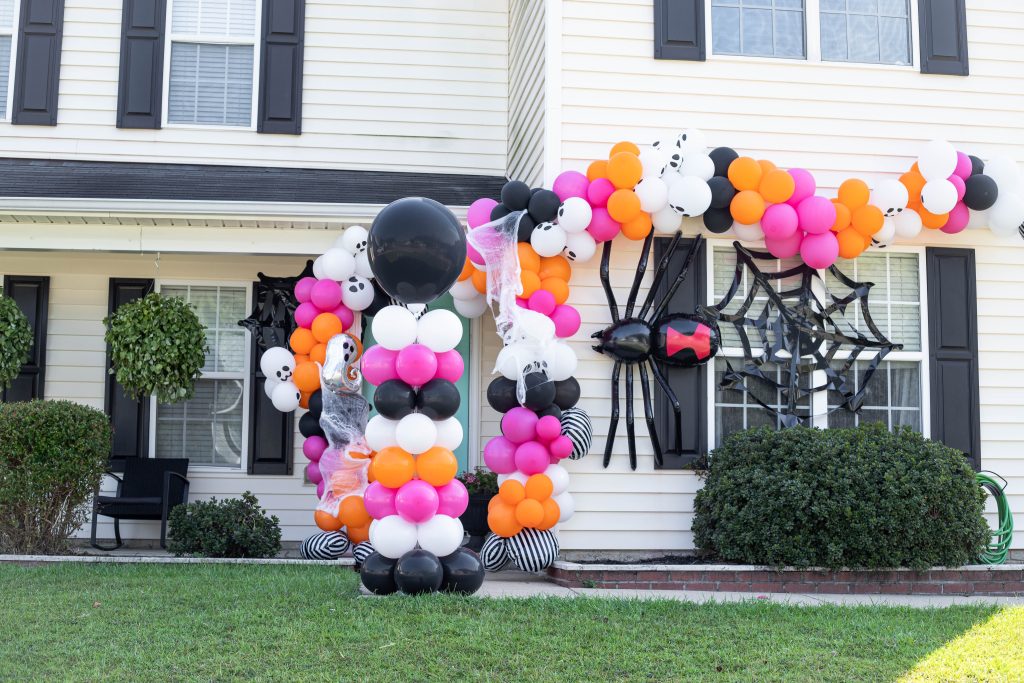 For the entryway this year, I envisioned a large spider web feel. Oriental Trading has large spider webs to hang on the exterior along with the over sized inflatable spider. Make it crawl down the balloons from one web to another like its on the move!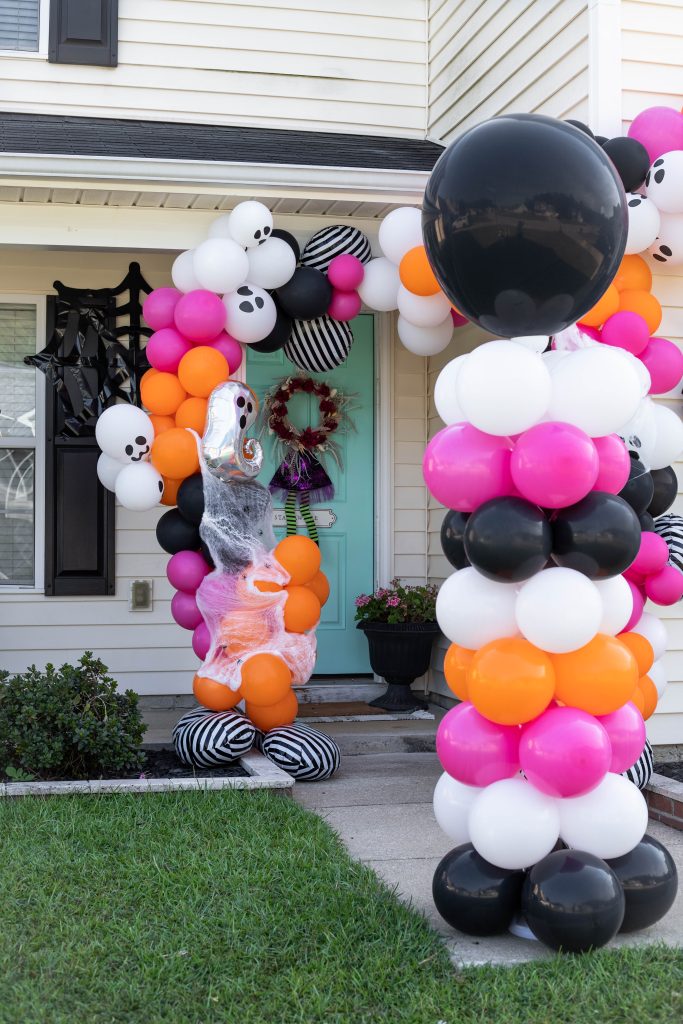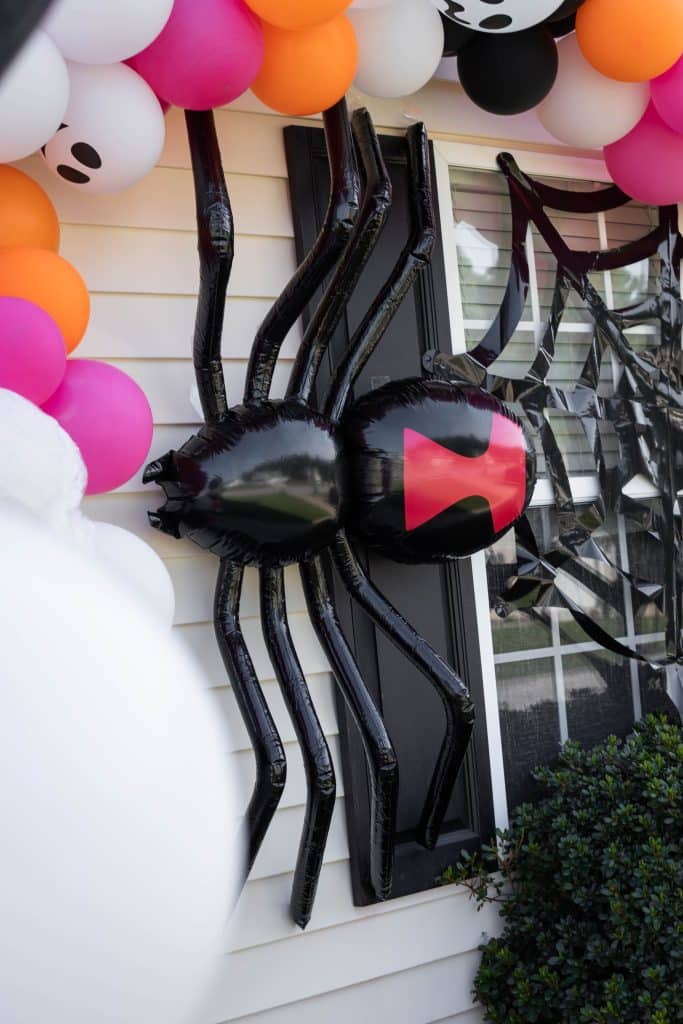 ---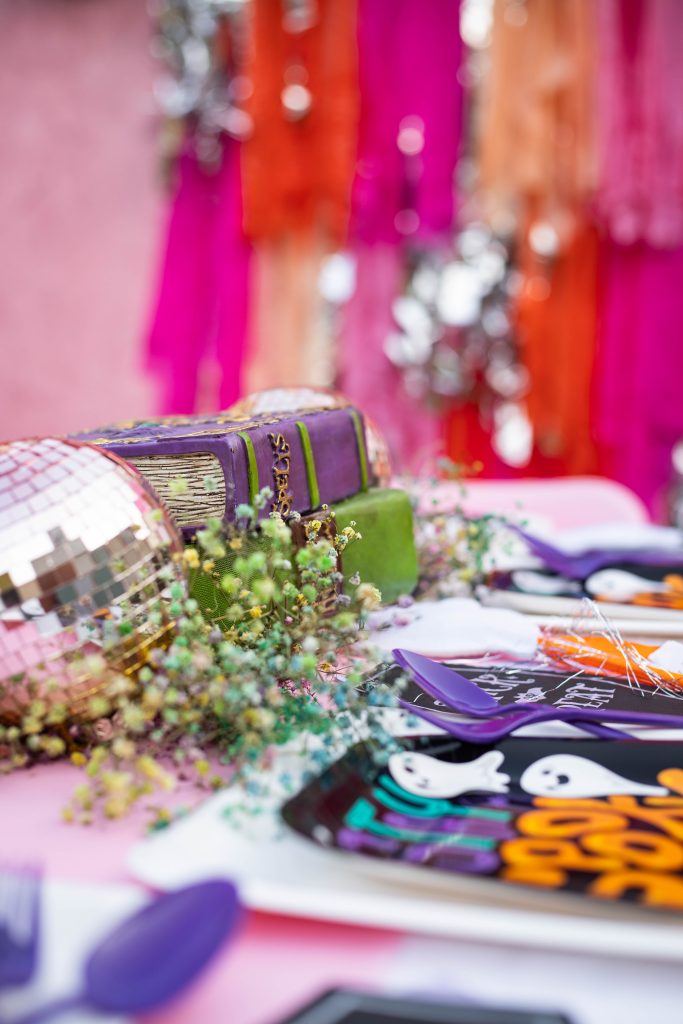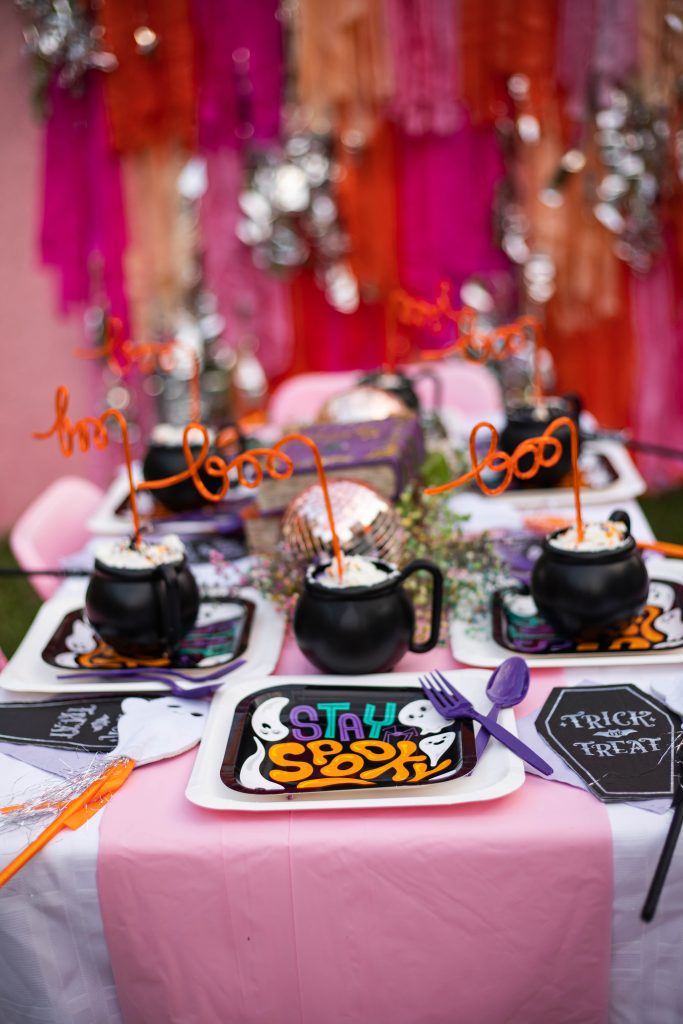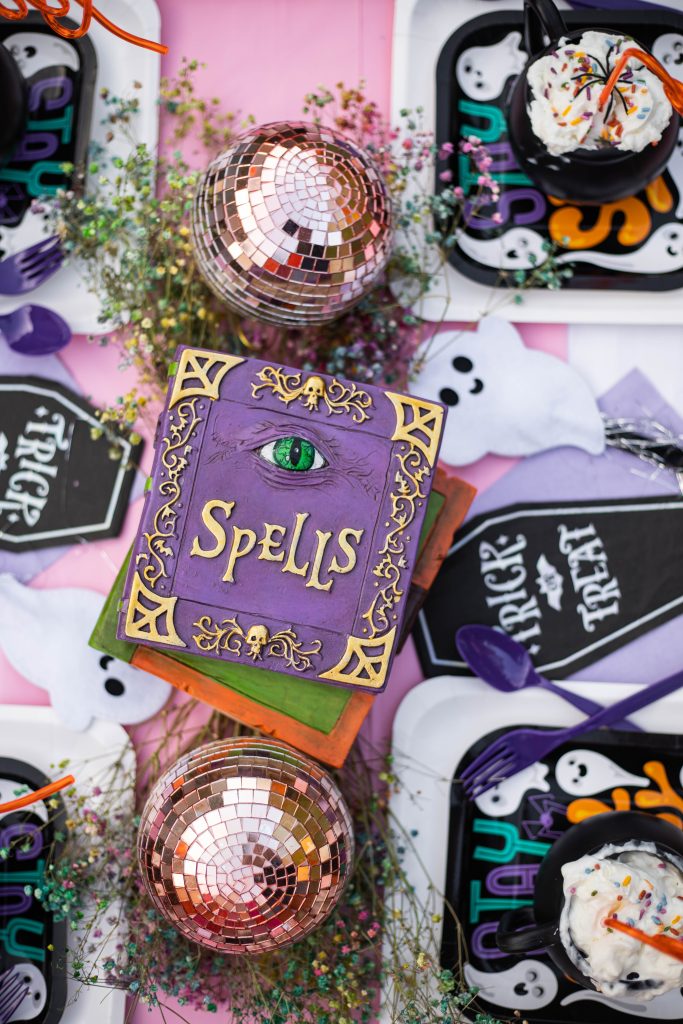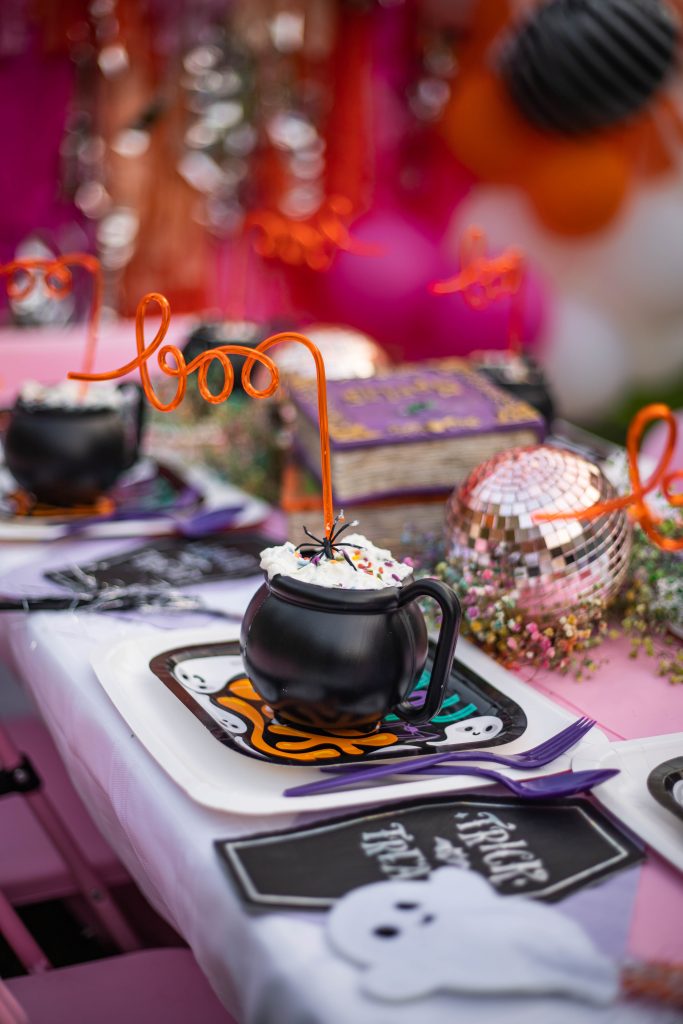 Enchant Your Guests With A Girly Hocus Pocus
themed party table. With this Eye Spellbook at the centerpiece of your table surrounded by spooky cute Halloween cutlery and tableware, the guests are sure to be awed by this party setup! The ghost wands are so fun to have at each place setting, as the kids can pretend to cast their own spells while enjoying their treats at the table!
The fringe backdrop from Oh My Darling Party is also a showstopper and makes for great party photo ops!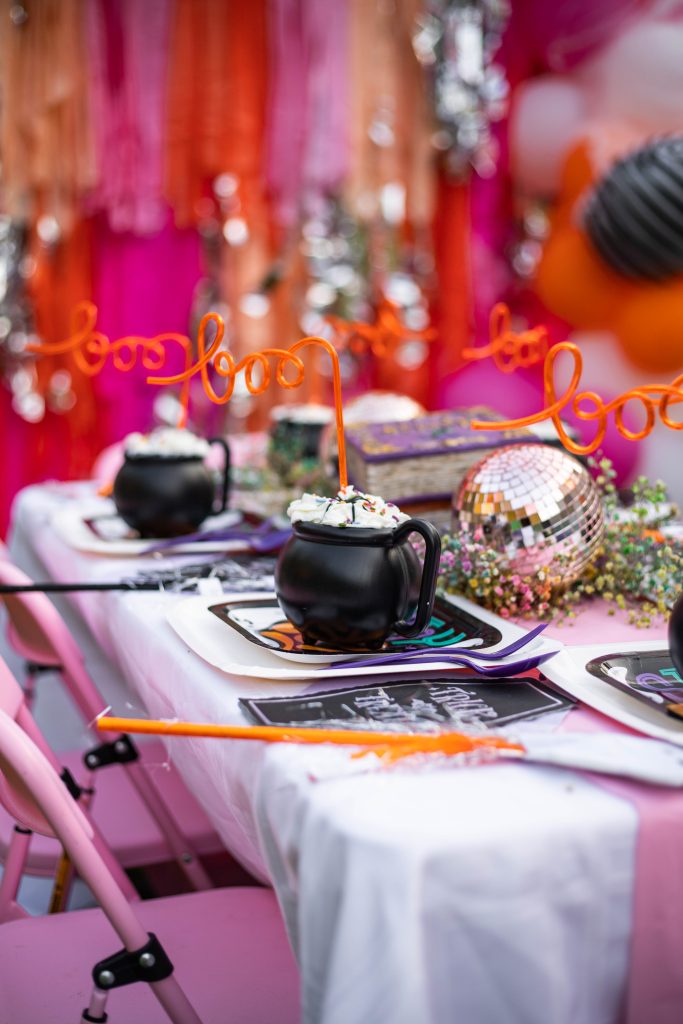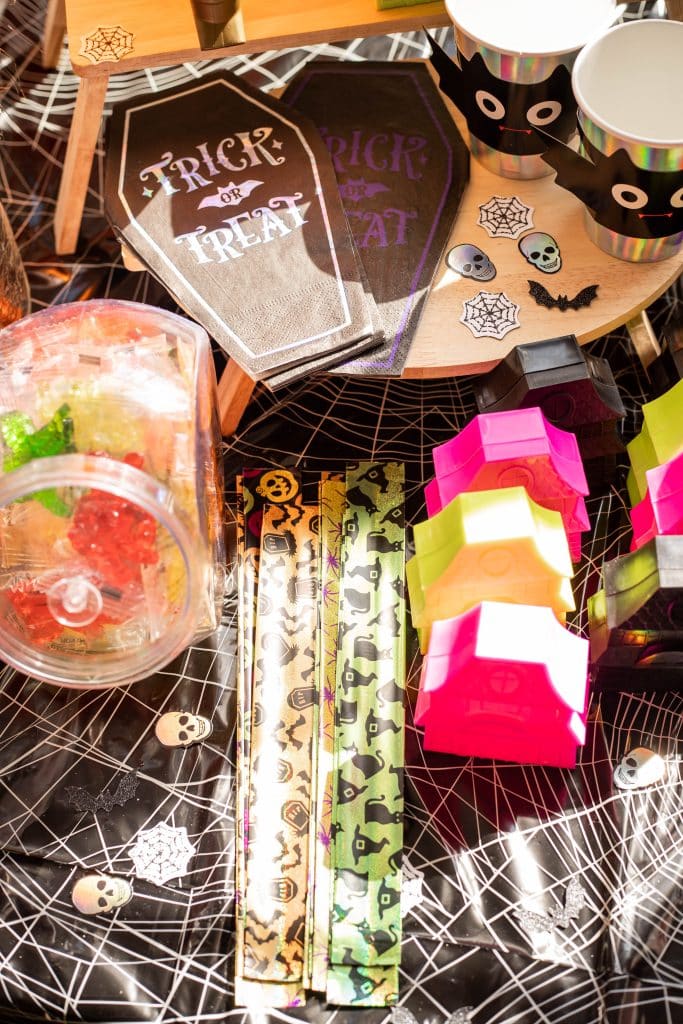 The Snack Table: No Tricks Just Treats!
No Halloween party is complete without a tantalizing spread of snacks and treats. For your Hocus Pocus-themed soirée, consider these wickedly delightful options:
Witch's Brew Punch: Create a vibrant green punch using lime sherbet, lemon-lime soda, and pineapple juice. Add gummy worms and eyeball-shaped ice cubes for an extra eerie effect.
Sanderson Sisters' Charcuterie Board: Craft sandwiches using creepy-shaped cookie cutters (witch hats, broomsticks, and cauldrons) and fill them with a variety of kid-friendly fillings like peanut butter and jelly or ham and cheese. Add fruit with Halloween themed picks, and themed cookies to make for a party perfect platter!
Spellbinding Sweets: Offer an array of sweets like witch's hat cookies, Jack-O-Lantern cotton candy, potion cupcakes (with different colored frosting), and cauldron cake pops. Decorate them with edible glitter and Halloween-themed sprinkles for that extra magic touch.
Mysterious Munchies: Fill bowls with snacks like "Bat Wings" (chicken wings), "Witch's Fingers" (mozzarella sticks), and "Goblin Grub" (popcorn).
Cauldron of Candy: Set up a cauldron filled with assorted Halloween candies and let the kids scoop out their favorites with a witch's broom-shaped candy grabber.
The snack table is always where the kids like to hover, so add plenty of Halloween surprise and delight to give guests something to look at while grabbing treats!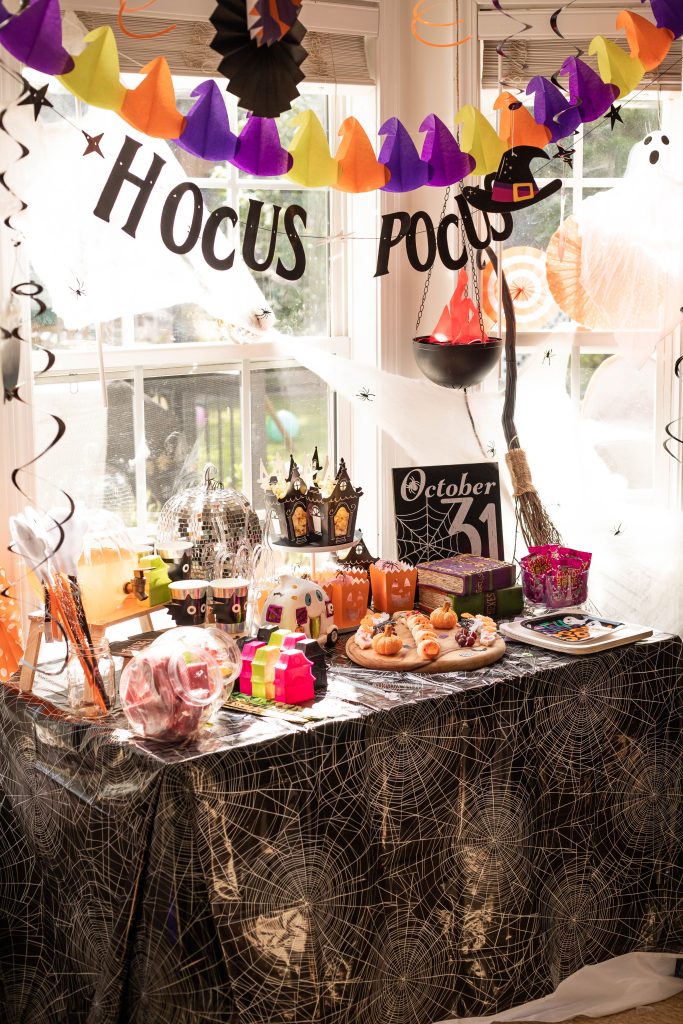 Fun Halloween Treats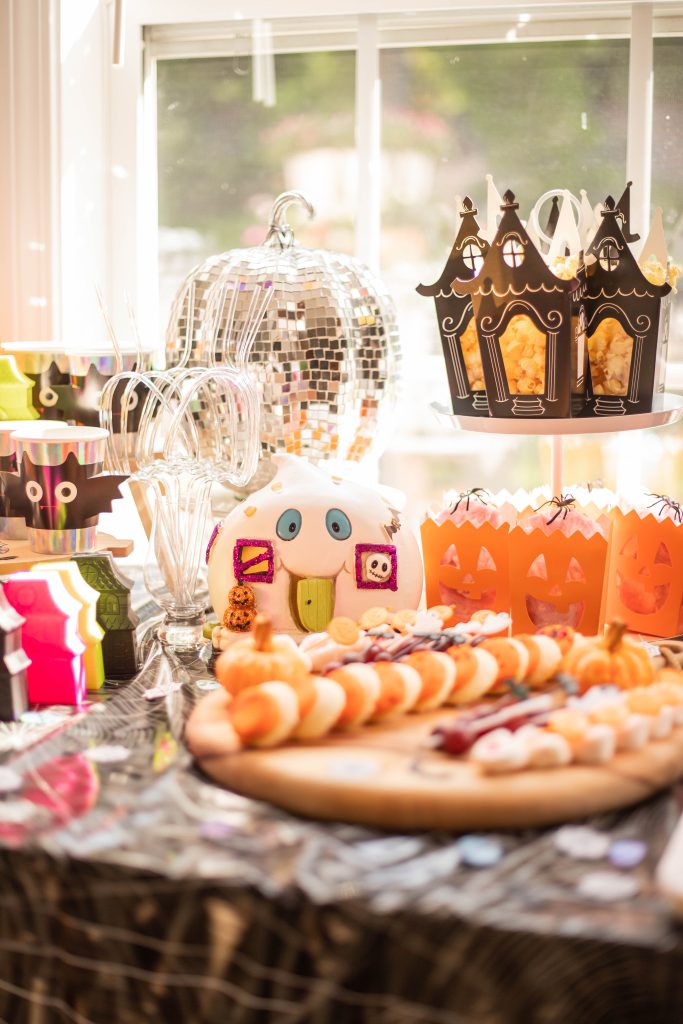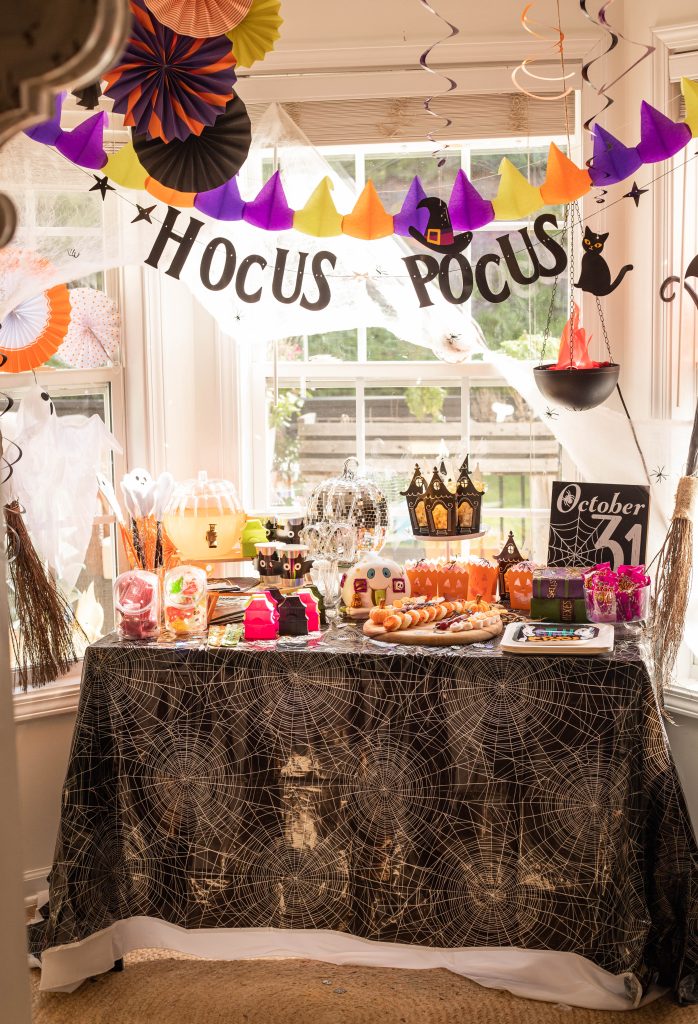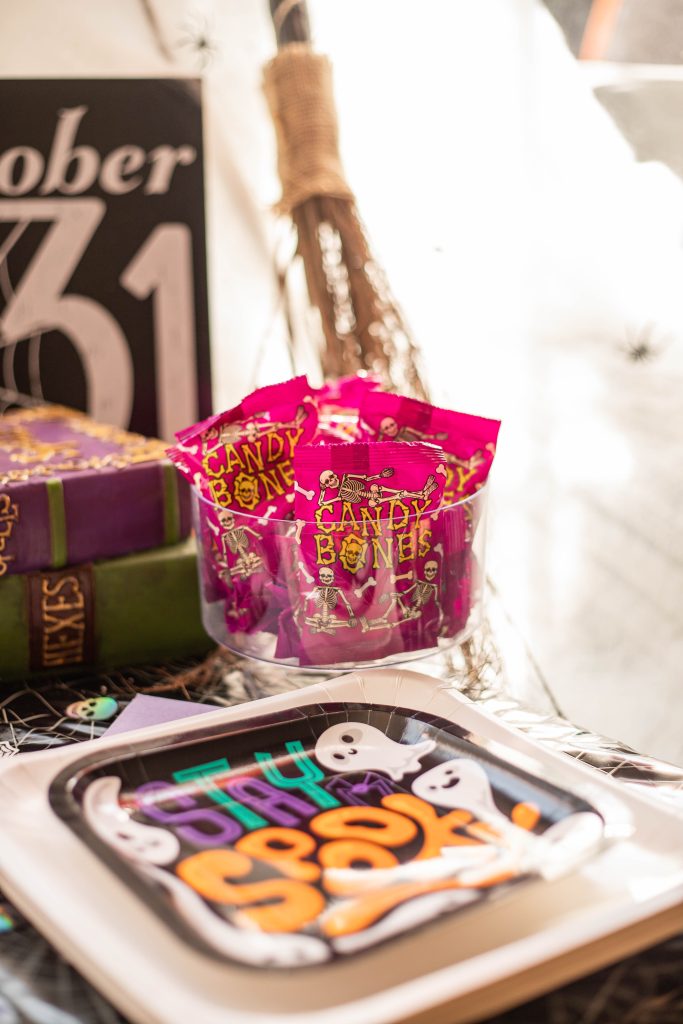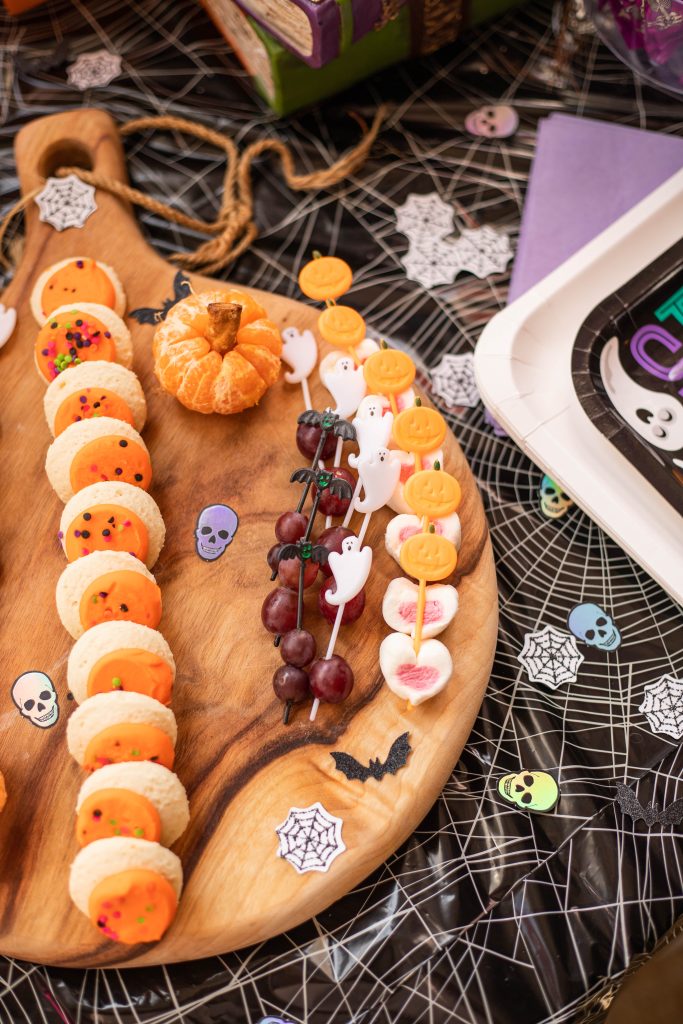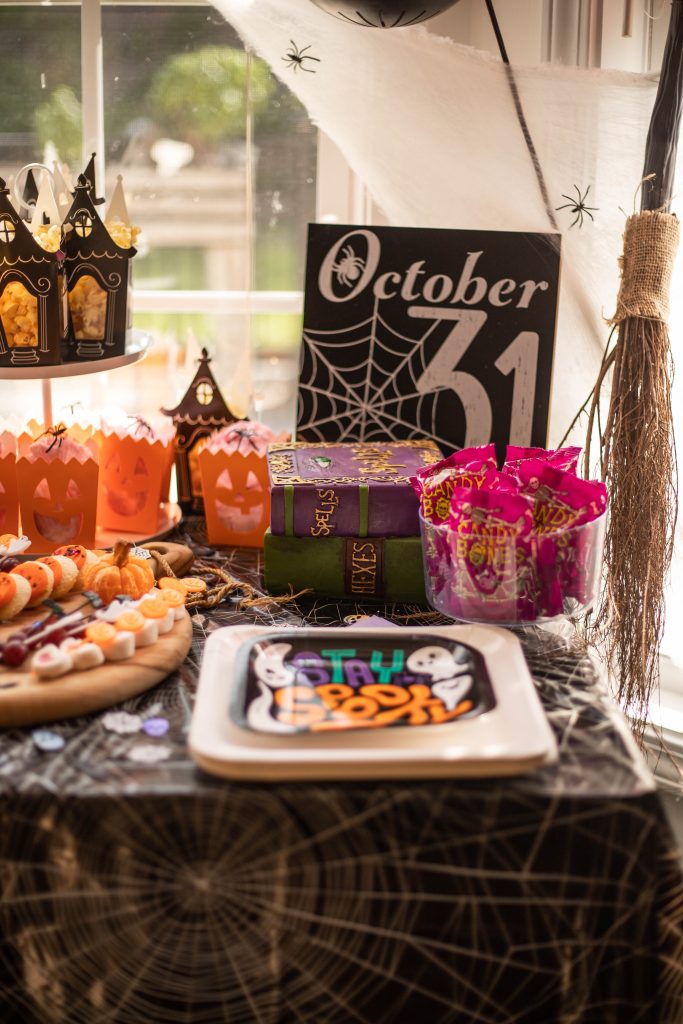 ---
Party Games: Bewitching Fun
Keep the little witches and wizards entertained with a variety of enchanting games:
Witch Hat Ring Toss: Set up this witch hat game with targets at varying distances and have the kids take turns tossing rings onto the hats.
Spell Casting Relay: Divide the children into teams and set up an obstacle course. Each child must complete a task (e.g., hop on a broomstick, wear a witch's hat, stir a cauldron) before passing a magical object (like a stuffed black cat) to the next teammate.
Wand Decorating: Provide plain wooden wands and let the kids decorate them with paint, glitter, and stickers. They can use these wands for a "wand duel" or simply as a keepsake to take home.
Cauldron Scavenger Hunt: Hide "ingredients" (Halloween-themed trinkets or candies) around the party area and give the kids a list of items to find and place in a cauldron.
Boo Toss Across: Just like being at the arcade, set up this fun targeting game for kids to enjoy!
Hocus Pocus Movie Time: End the party with a screening of the classic Hocus Pocus movie, complete with popcorn and cozy blankets.
Remember to encourage your young guests to come in their most magical costumes and provide goodie bags filled with themed treats and small toys as parting gifts. With these ideas, your Hocus Pocus Halloween party for kids is sure to be a spellbinding success they'll remember for years to come!
Halloween Party Games
---
---
Ellowyn is always my little helper with these party setups and she loves it! She helped with these balloon columns and also helped keep them in place against the wind! Getting my kids involved and excited to celebrate with friends is what it is all about for me.
I hope you find fun inspiration in this spooky cute Hocus Pocus Halloween party. Invite family and friends over to enjoy eachother's company, eat good food, play games, and be glamourous Sanderson Sisters!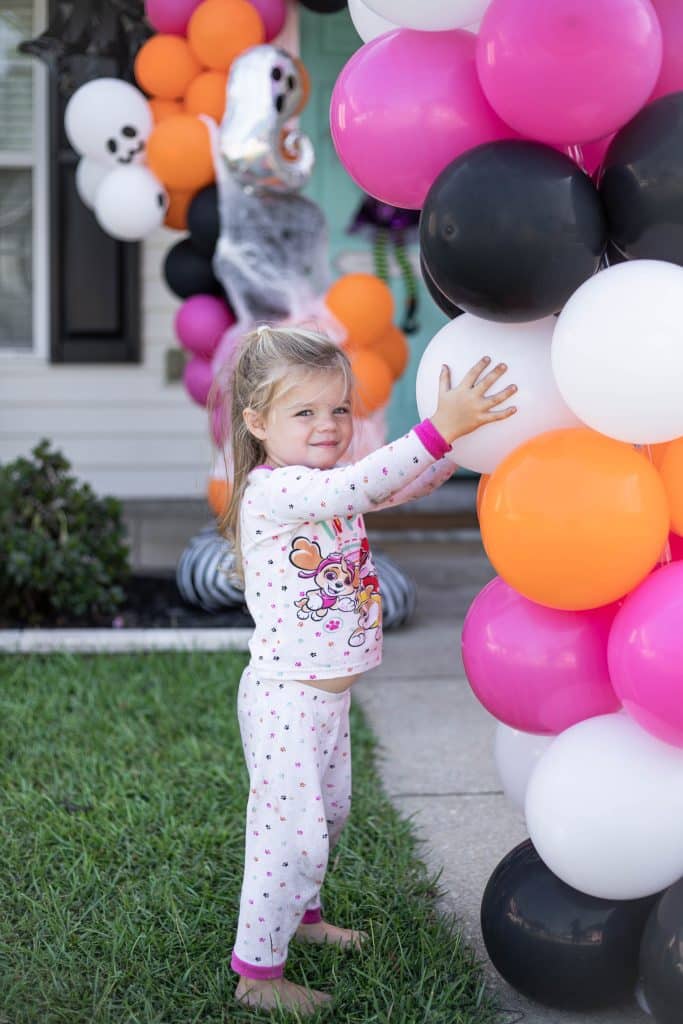 ---

---
More Halloween Party Inspiration!
BOHO KIDS HALLOWEEN PARTY
EASY FAMILY HALLOWEEN COSTUME IDEAS