---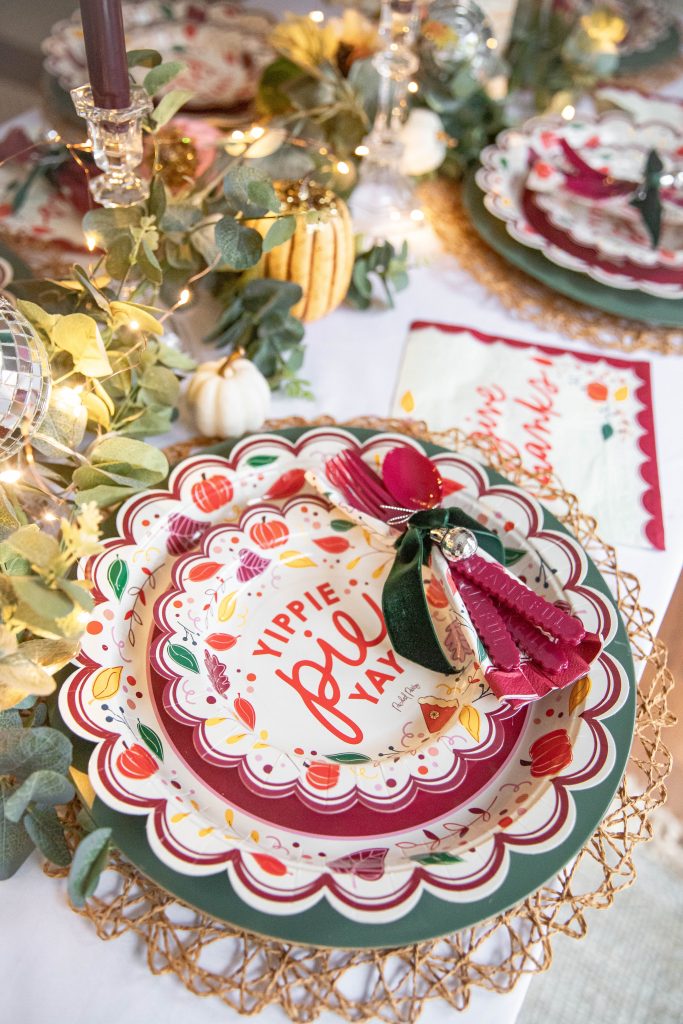 ---
Thanksgiving is at the top of my
list of favorite times of the year. The food is just… THE BEST! Right? We travel a lot during this holiday to visit family, but if we are at home we usually always host. This Hostess Tip For Thanksgiving or Friendsgiving Dinner is so simple that not many think of doing it. I enjoy having everyone over, but I do not enjoy the mess. Luckily, my family is very big in pitching in to make sure who ever is hosting is not left with a crazy frat house looking home when the party is over.
To make cleanup even easier, I found this super cute disposable table setup from Packed Party at Walmart!
The items linked under my shop lists are affiliate links. They do not cost you extra but I want to be transparent and let you know I get a tiny commission if you purchase straight from clicking those links. It helps this blog stay running so I can continue to inspire as I hope you wish I can! Thank you!
---


---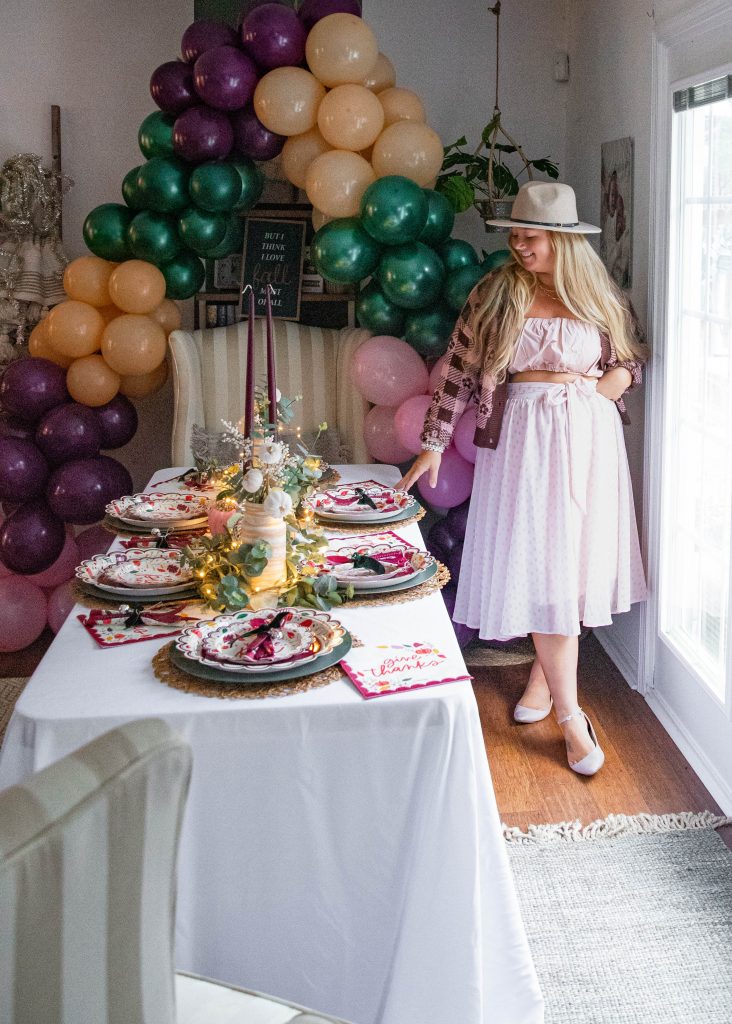 ---
My biggest tip for hosting at the holidays
when you have over 8 people (and especially children), is to find beautiful disposable flatware and plates! There are SO many options out there that will make your party look just as elegant as a ceramic plate could. This way you have very quick cleanup, and less likely for something of value to be broken.
Packed Party is usually one of my first go-tos for table ware when I'm hosting my fun parties. But there are tons out there! I get lucky at TJ Maxx and Home Goods often too. Being a hostess for Thanksgiving or Friendsgiving dinner can be a lot of work, but having everyone together makes all of it worth the time and effort!
To finish setting the look for this fun Friendsgiving dinner, I used balloons for a cute moment at the head of the table. I also brought it dramatically long tapered candles, greenery, fairy lights, and of course, my favorite, DISCO BALLS!
Layering the paper table-ware with a place mat and a charger plate elevated the look the most. Adding layers always makes a place setting look more fancy. Using contrasting colors makes is pop even more as well!
---


---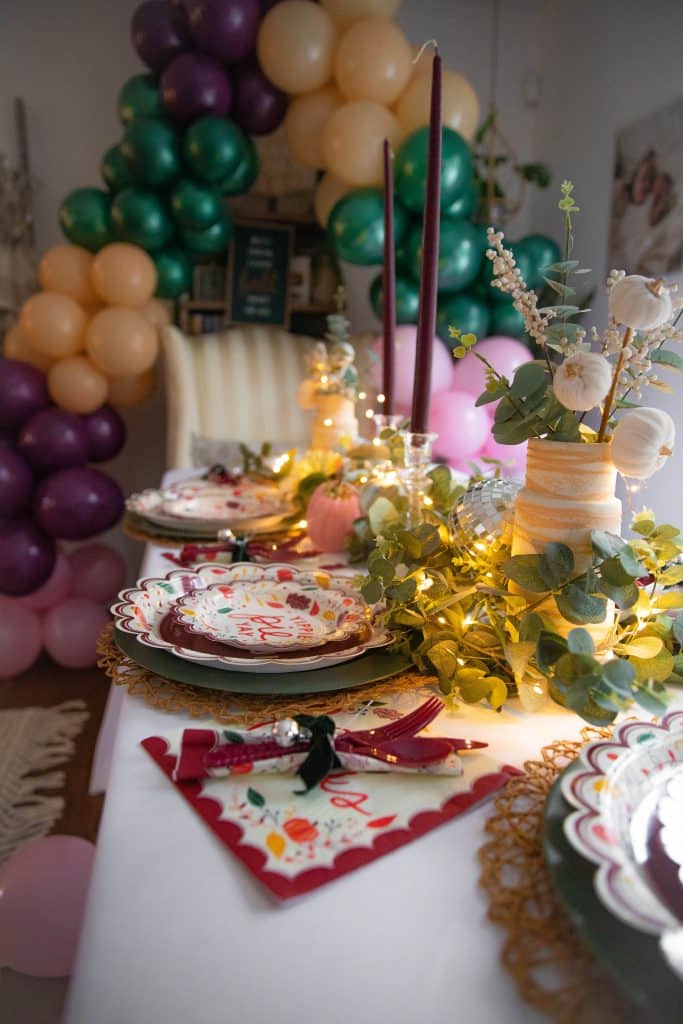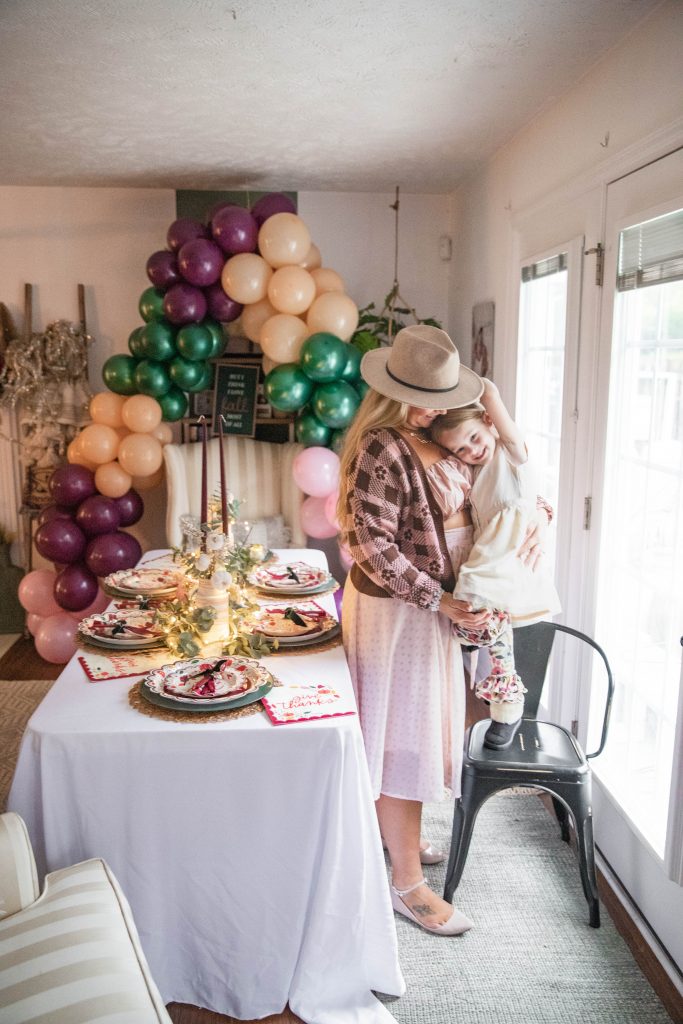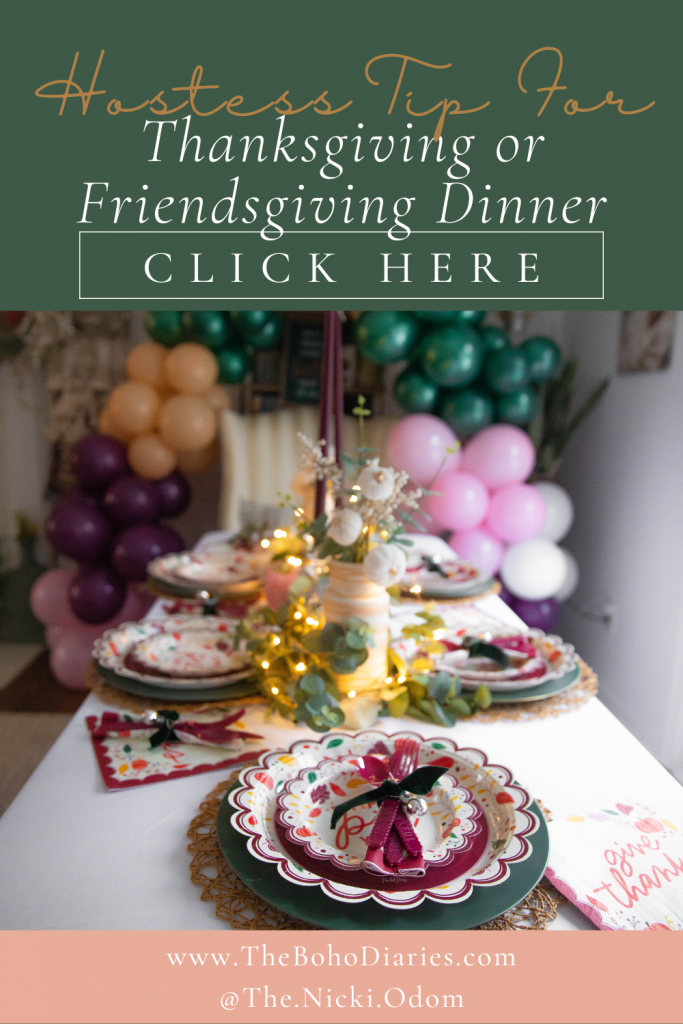 ---

---
Are you hosting Thanksgiving this year?
Have you ever hosted dinner in your home? Since we became home owners 3 years ago, I was honestly most excited to be able to host all the things. And there has been no lack of parties here! If hosting intimidates you I recommend to start with something small. Maybe 6-8(at most) people, and possibly just adults. That way you can get the feel of the natural flow guests create. No matter how many times I host, there is almost always the same flow of traffic. This knowledge has helped me understand the best layout for the most successful hosting at home!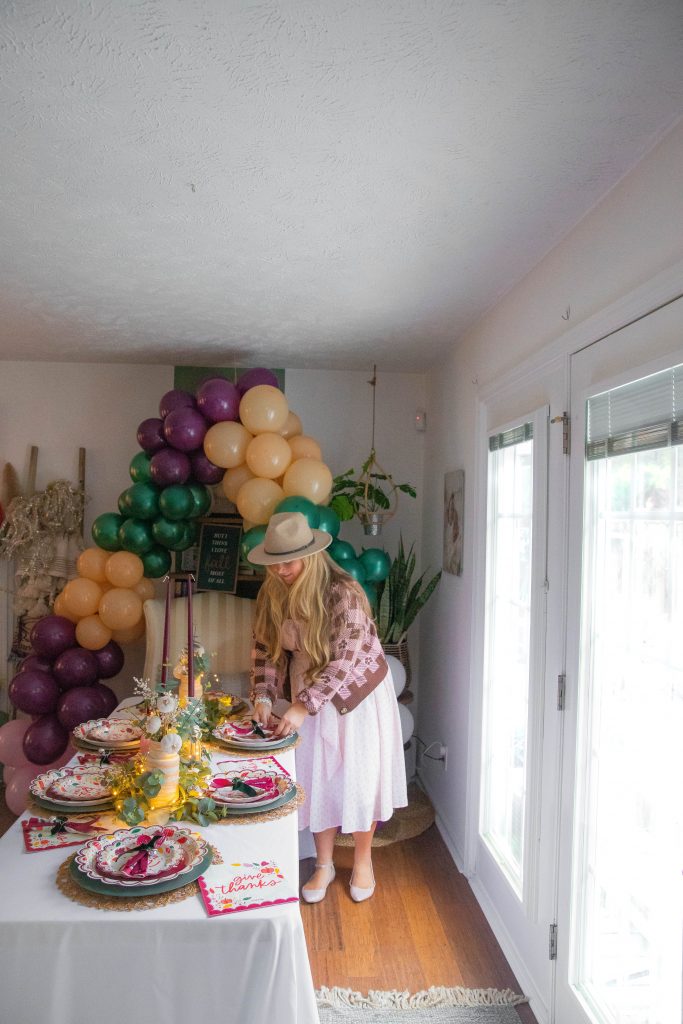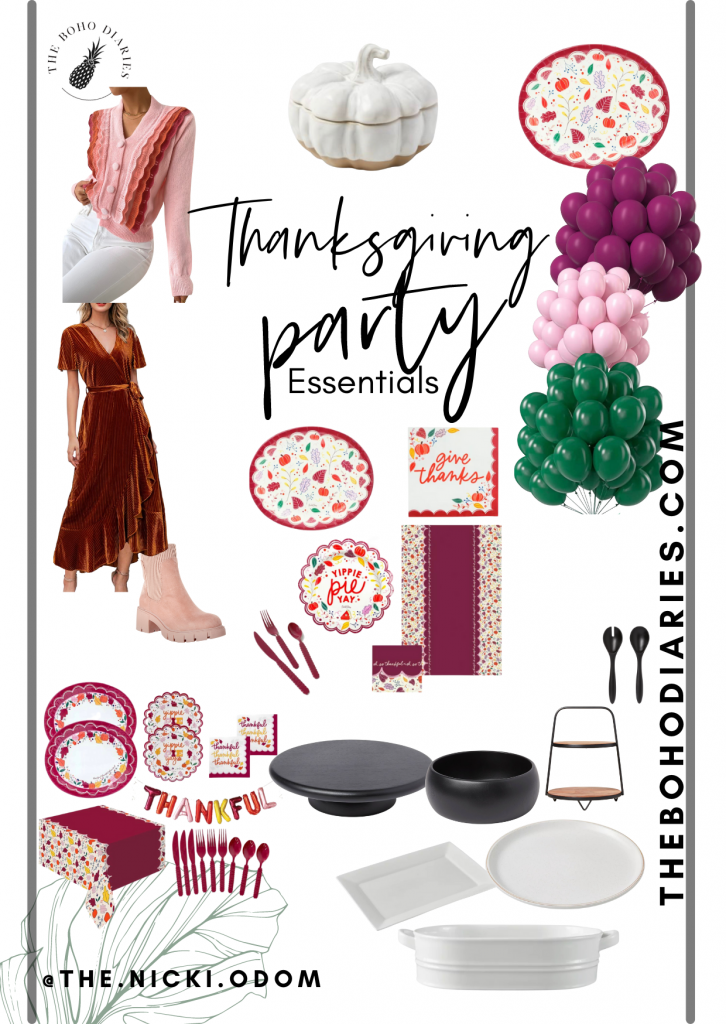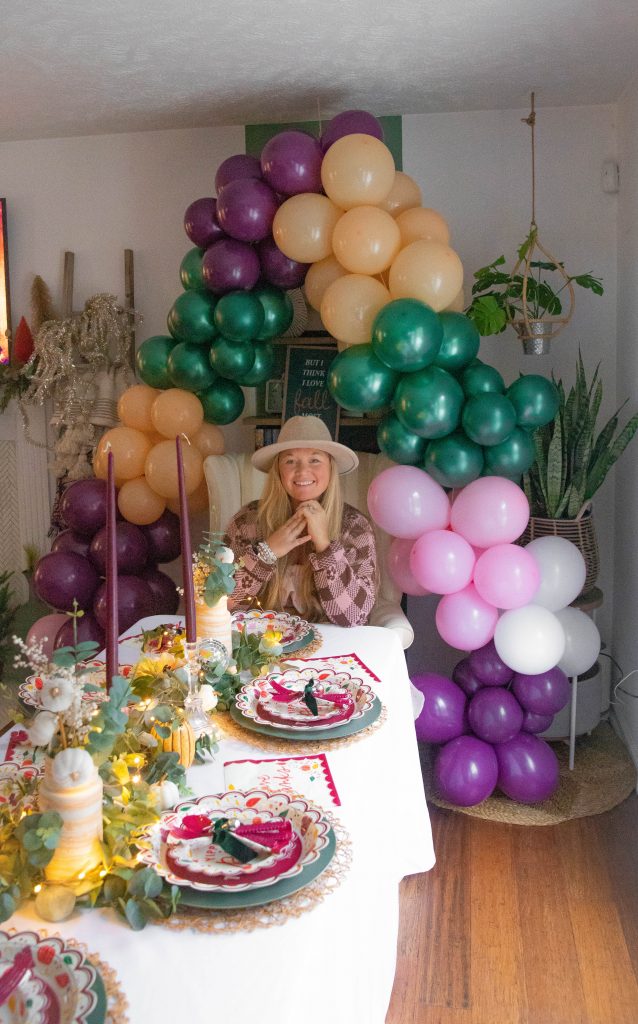 ---
This table setup is actually my secondary setup for Thanksgiving. It decided to rain on our Friendsgiving day, so the setup I originally dreamed up for outside did not get to happen. I rallied and used our dining table and created this table setup in the only other space available. Weather is definitely the most unpredictable obstacle that can come between making hosting smooth vs. incredibly stressful, but sometimes you just have to roll with it!
If you are hosting this year, I wish you the best of luck! It's not an easy task but getting friends and family together for good food and great company is what it's all about! Thanks so much for reading and I hope you all have a wonderful Thanksgiving!
---
---
Looking for more hosting inspiration?
Check out these posts:
CLASSIC CHRISTMAS DINING TABLE DECOR
GIRLS' WEEKEND GETAWAY TO YADKIN VALLEY WINE COUNTRY
SPOOKY HALLOWEEN SNACK BOARD FOR KIDS