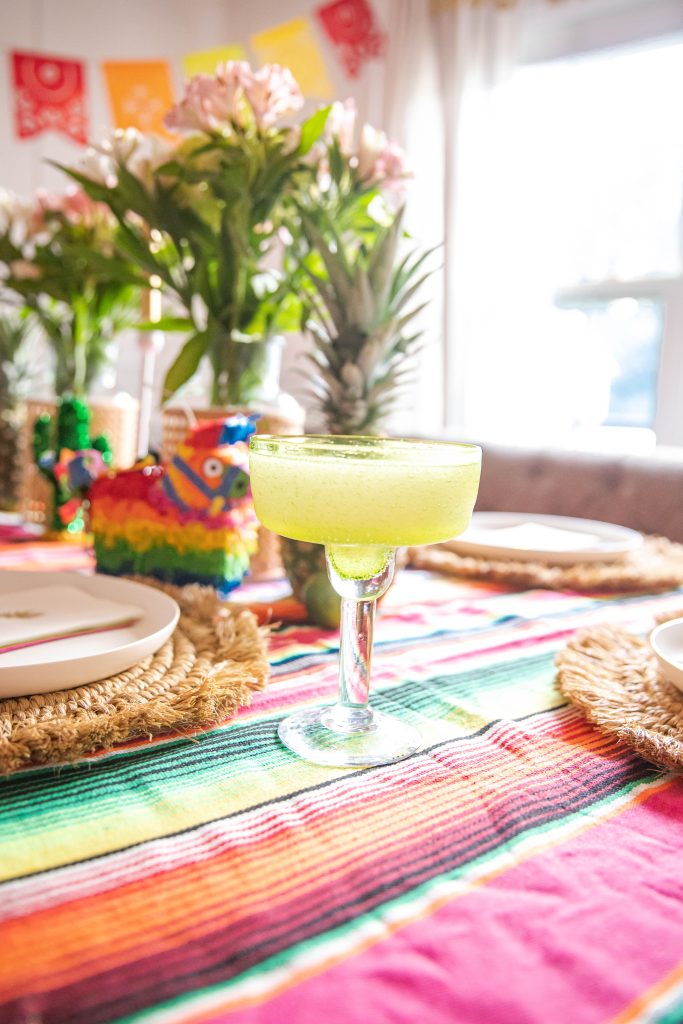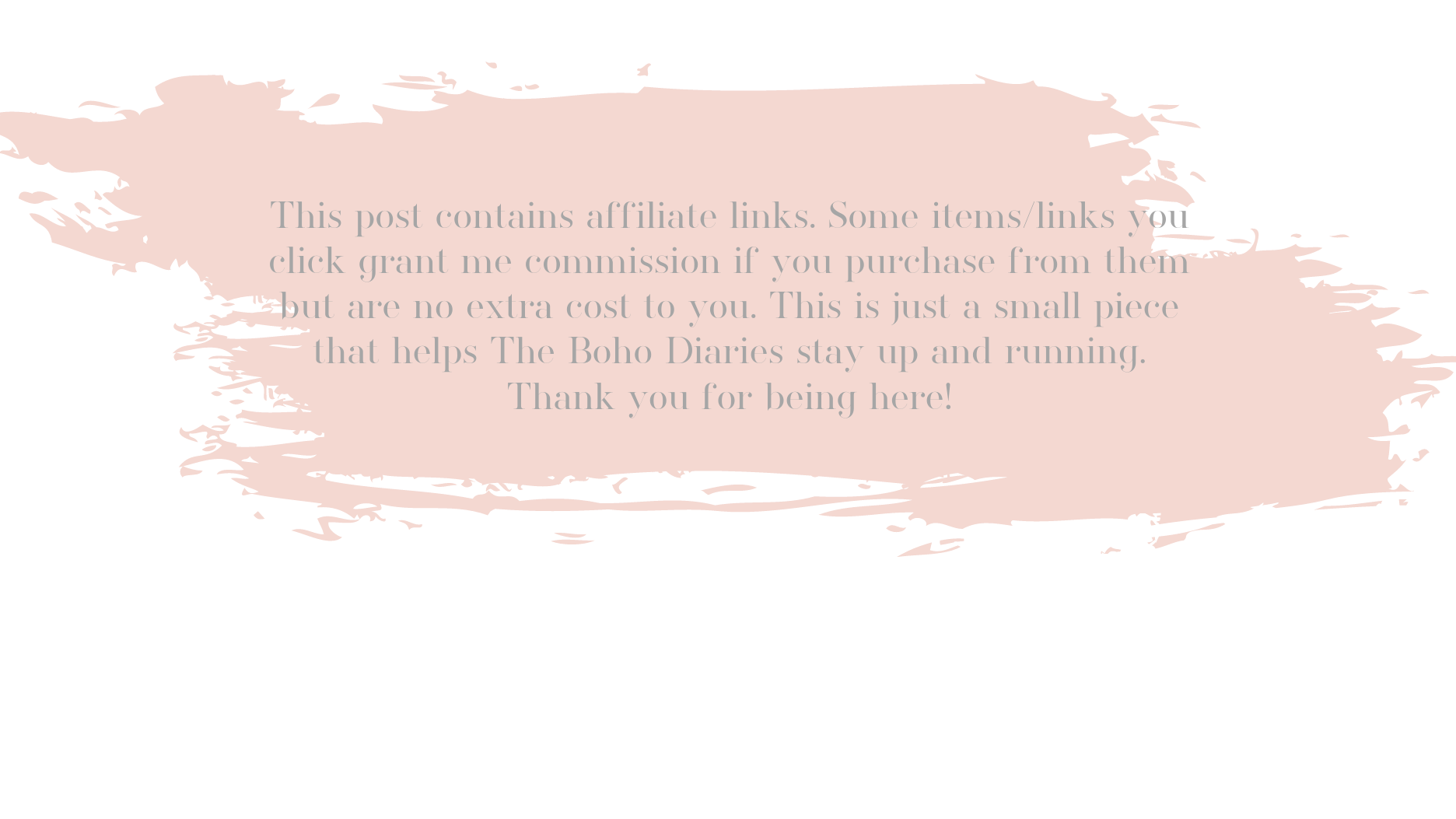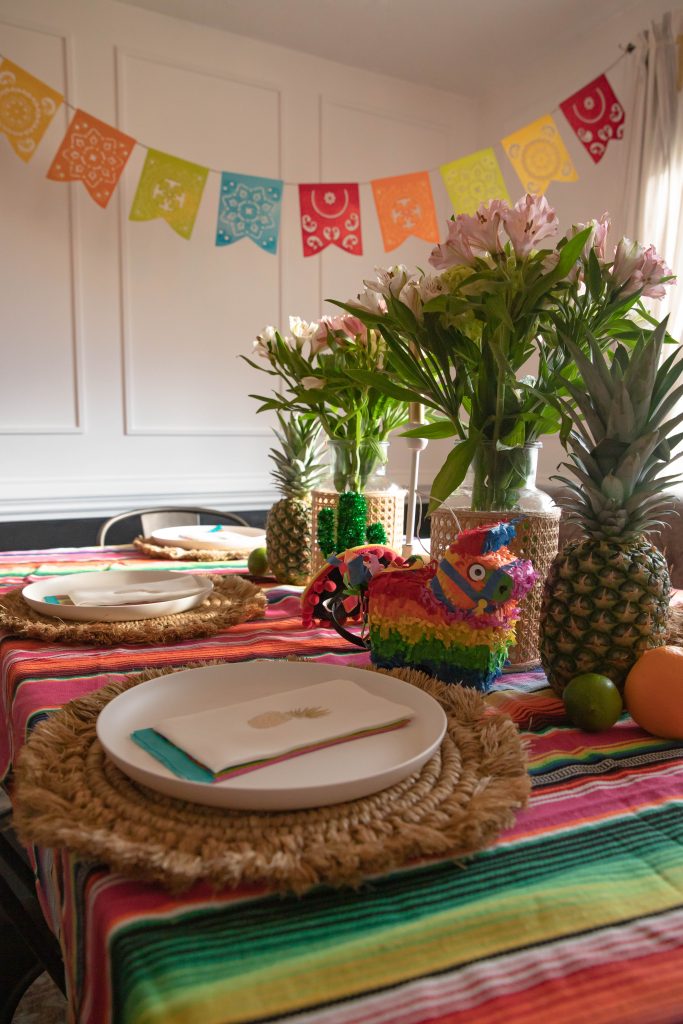 If there is one thing to know about me it's that I genuinely could live off of tacos. Any chance I get to have a taco night I take it! I love hosting dinner for Cinco de Mayo for so many reasons. Mexican food is my favorite meal of choice, and when I say my husband Morgan makes the best tacos in the world, it's no exaggeration.
He should seriously have his own cooking show. I'm working on trying to get him to start cooking on social media because every time I post what he cooks in my stories on Instagram, I get SO many messages for recipes or more details. He has IMMENSE cooking talent! But that's a post for another time. Just know, if you see an Odom cookbook release within the next 5-10 years you could say you read about it first here. 🙂
There are tons of fun ways to enhance an evening when hosting dinner for Cinco De Mayo. I am sharing a few ways I like to elevate the evening and what we serve our guests!
To host the best Cinco de Mayo dinner, consider serving authentic Mexican cuisine and drinks, decorating with festive colors and decorations, and incorporating traditional music and games. You could also invite guests to dress up in traditional Mexican attire to add to the fun. I wore my mini sombrero headband and a few guest wore large sombreros as well.
I am no stranger to a good fiesta. One of my favorite party themes I have done so far was my daughter's 3rd birthday I threw her a Three Esta birthday. It is a party theme I highly recommend for any little one turning 3, especially during the summer time!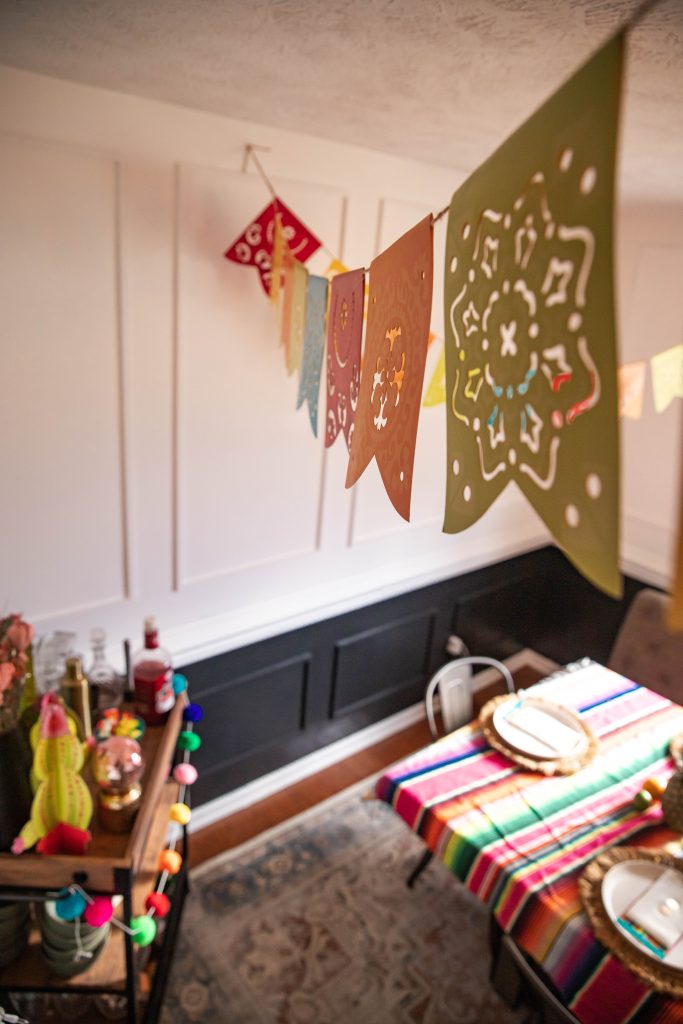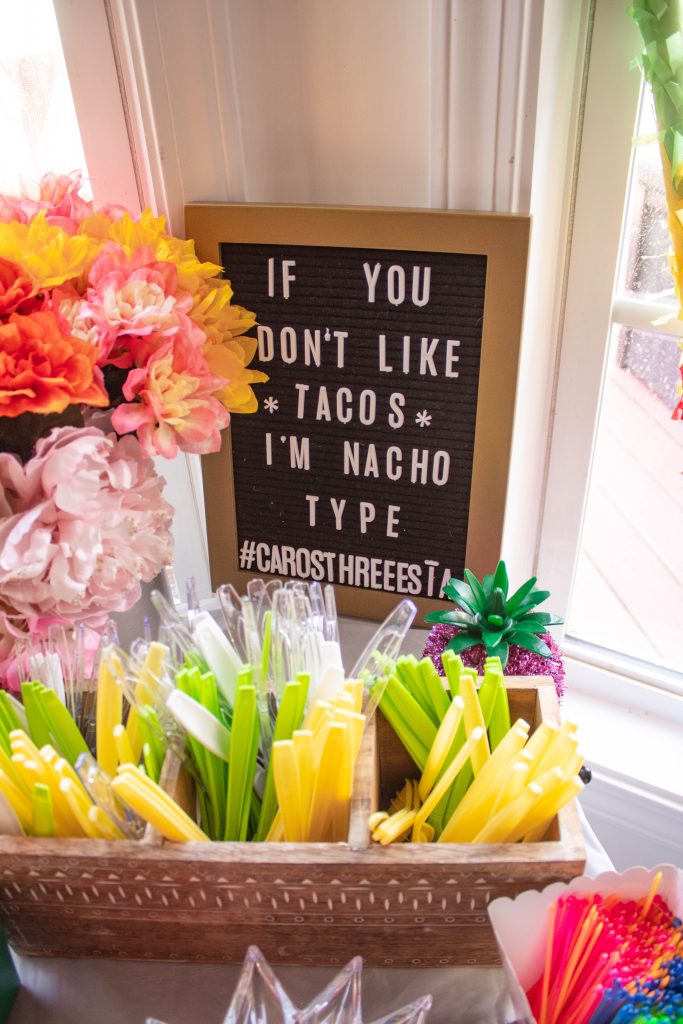 Hosting dinner for Cinco de Mayo is a great time to gather family and friends to enjoy delicious food family style. Before I dive in to the decor I want to talk about what it's all about, THE FOOD.
This is what we had on the menu for dinner this year:
Smoked Pork Carnitas
Spicy Corn
Cilantro Lime Rice
Chips & Guacamole
7 Layer Been Dip
I will probably come back and edit this post later when Morgan can give me his recipe, but I will tell you he cooked the heck out of that pork shoulder and everything else. If at the smallest of dinner gatherings he typically over-cooks, but this night in particular there was nary anything left.

---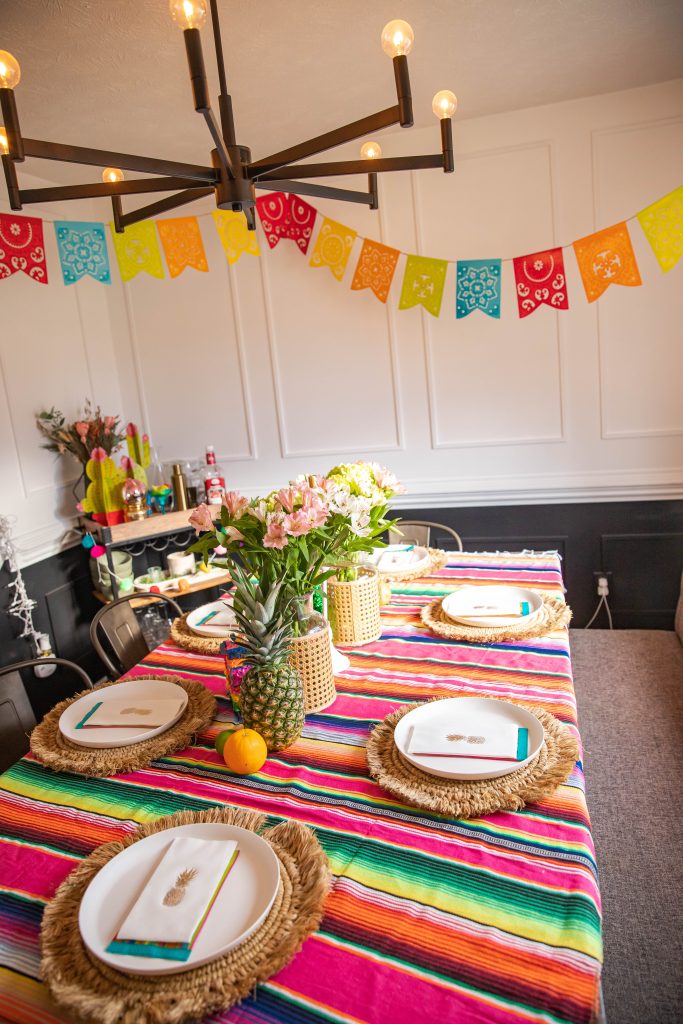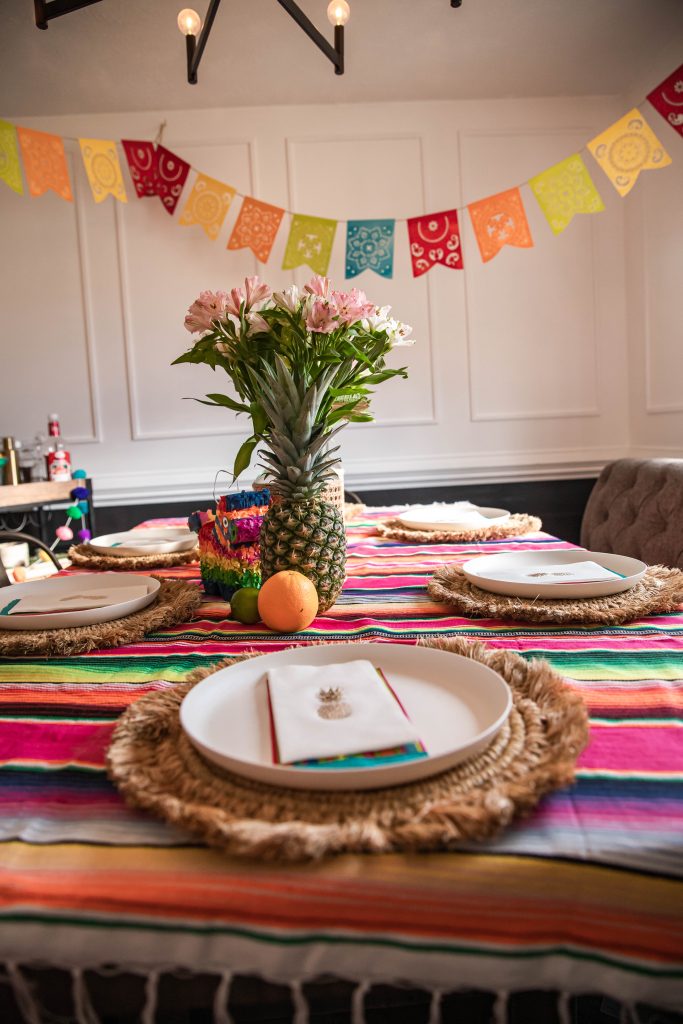 ---
---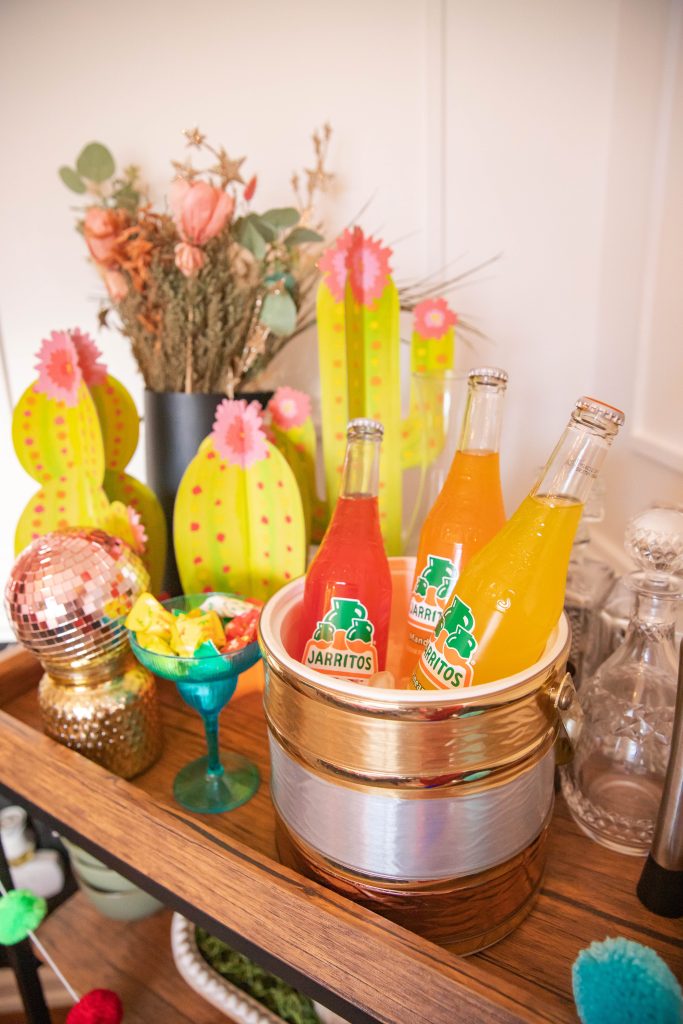 Now, my real favorite part of hosting dinner for Cinco de MAyo
is getting to decorate! A very important part of entertaining successfully is making the guests feel welcomed and happy to be there. Spice it up with traditional Mexican decor like a blanket tablecloth, or these Picado banners. I layered the table with fun raffia chargers, these awesome white plates, and fun napkins!
Deck out a bar cart spot with festive drinks like margaritas, and Jarritos. Encourage guests to dress in something fiesta festive.