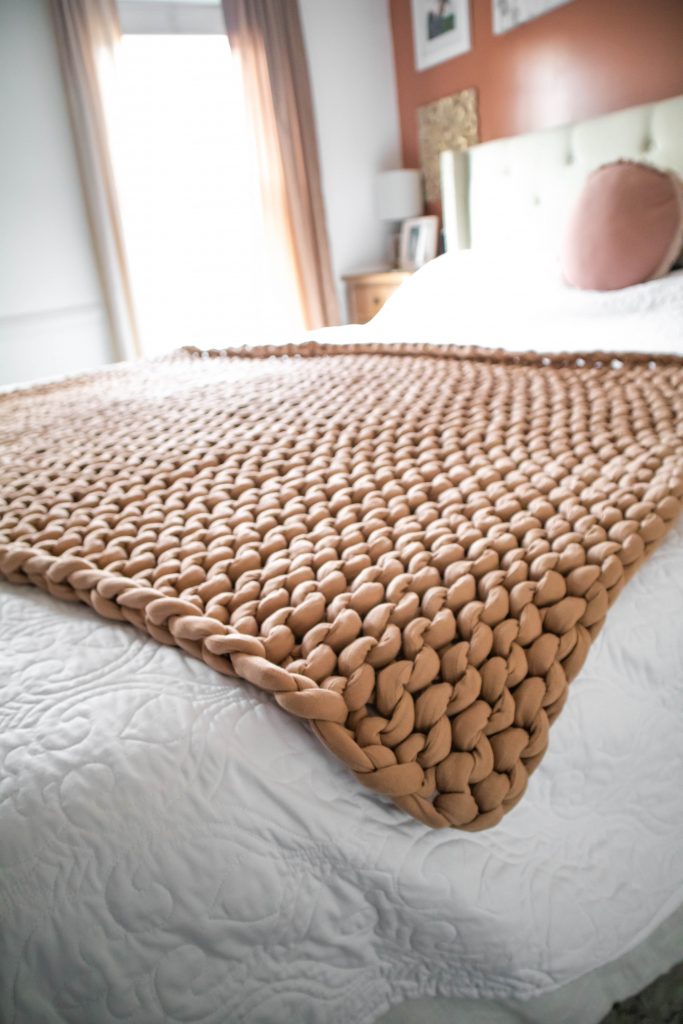 This is a sponsored post by Bearaby. All thoughts and opinions are my own.
Have you ever used a weighted blanket? Let me just start by saying, if you haven't experienced one, now is the time. I have partnered with Bearaby to share with you just how impactful a good cooling weighted blanket can be. This post shares how to decompress with a weighted blanket when you feel overly stressed. The Tree Napper weighted blanket from Bearaby is a great asset to add to your decompressing routine. And truly, your sleeping routine as well. I am a naturally curvy girl, so sleeping has been a sore spot for me. To truly get deep, relaxing sleep I have had to try many different avenues, all to pinpoint certain pressure points. To counter balance the pressure that is on my hips on the mattress, the Tree Napper weighted blanket has proven to give my body the relief it needs to get a truly relaxing sleep, or a feel of deep comfort when I need to relax.
There are 5 ways I like to decompress with a weighted blanket during the craziness of the holiday season. The hustle and bustle of prepping for festivities should also be balanced with a necessary period of relaxing. I like to use my cooling weighted blanket along with these activities to ensure I am decompressing like I should.
1. Take Nap Time When Your Kids Nap
I know I know you may be thinking "but this is when I get things done," or, "this is the only time I can catch up on cleaning." Now, I am not saying to do it all the time, but this is something I do occasionally when the days have been overrun with activities and errands. Try not to think about the dishes overflowing in the sink, or the toys that may have been left out in the living room. I need that mental health break to rejuvenate (just like my kids do). So I get the girls down for their naps, I draw the curtains, and pull my cooling weighted blanket up to my chin to get the deepest relaxation I can. The Tree napper gets me to sleep super quick every time.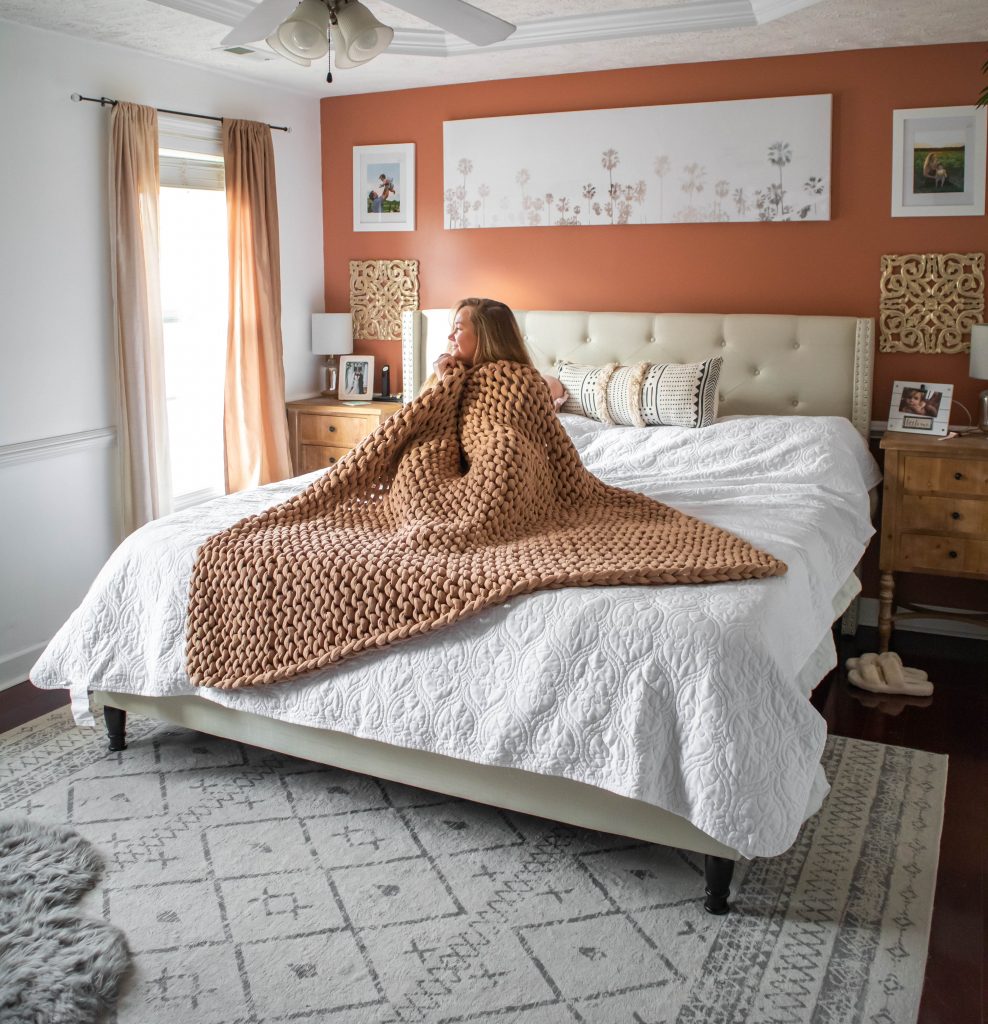 2. Find Time For Reading Or Journaling
Journaling has been such a go-to for many years when I need to release some thoughts, emotions, plans, etc. Putting it out in the world somehow makes my heart feel lighter. Mental and emotional stress can carry just as heavily as physical stress at times, so we need to find outlets for relaxation against all of those. I grab my Tree Napper weighted blanket and take to my comfy spot on the couch to enjoy a good book. Even if it is just 30 minutes in the morning or evening, try to fit in that time for your mind to focus on one thing and let the weighted blanket (and maybe a yummy cup of coffee) do the rest. Read on for a few more ways of how to decompress with a weighted blanket this crazy holiday season!
3. Get Comfortable For Work
When I work from home, I find that I am more productive when I am comfortable. I know for many it's the opposite, but I find that when I am supported, and in a comfortable spot I can truly get in the zone and get my creative juices flowing. This may not necessarily be full relaxation, but to help I bring in my Tree Napper weighted blanket to give me the extra comfort I love. I make sure I have my favorite beverage and all my utensils I need to get the jobs done and nestle in for a long work session. The compression of the weighted blanket adds a level of anxiety relief that is natural and comforting.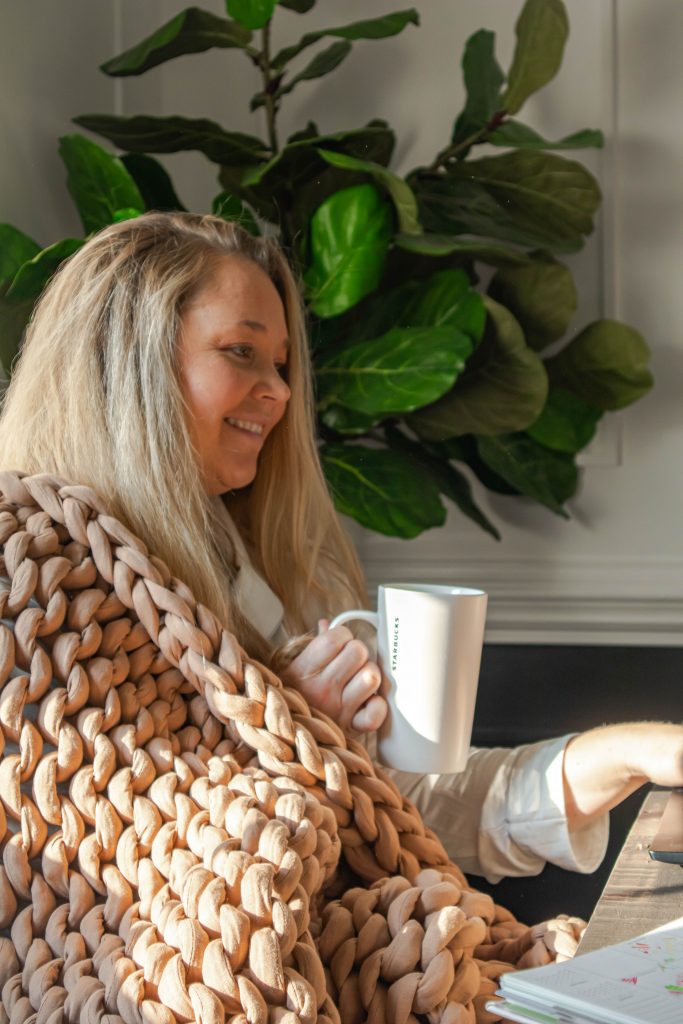 4. Go Screen Free Atleast 1 Hour Before Bedtime
This can be such a hard task, especially when your work is on computers and social media, but I have been doing this for quite some time now and it makes such a huge difference in the type of sleep I get. It is no secret that screens are addicting to many, but our minds need time to rest. How many of you feel like even when you finally get to bed, your mind doesn't let you sleep until maybe another hour or so later? There are so many studies about the light emitted from screens affecting normal sleep patterns, so I highly encourage you to try putting down and turning off screens an hour or more before you plan to go to bed and see how much more deeply you can sleep. Pull on your cooling weighted blanket from Bearaby and you won't want to get up in the morning!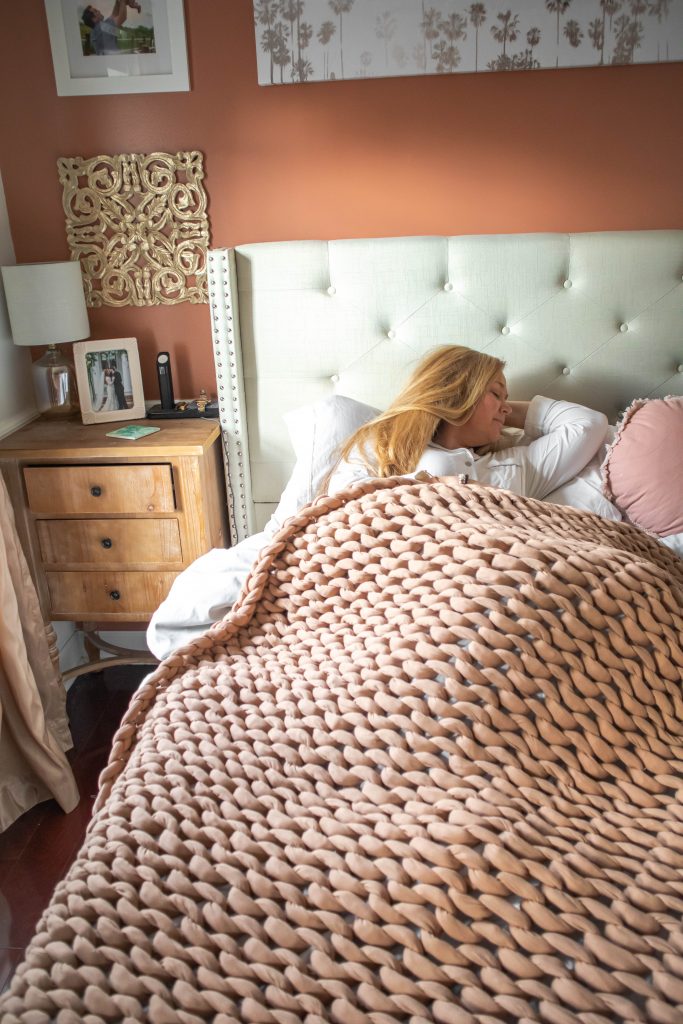 5. Deep Breathing Exercises
Sometimes the stress gets all too much. Decompressing is a major part of keeping my sanity so I try to take at least 5 minutes a day, usually in the morning before I start my day, to get in some breathing exercises. Yoga has always been one of my favorite workout days, but truthfully, shavasana is always my favorite part of the class. So I practice my own shavasana at home with my Bearaby weighted blanket before I start my day and it helps to put me in a positive outlook on the day.
I lay in the bed, arms and legs out, pull the cooling weighted blanket over me, and take 5 long deep breaths. Inhaling and exhaling rhythmically to open the chest cavity and get the blood flowing. The weighted blanket adds the perfect amount of pressure to relax my body while I am doing the exercises. These are just a few ways of how to decompress with a weighted blanket and get ultimate relaxation.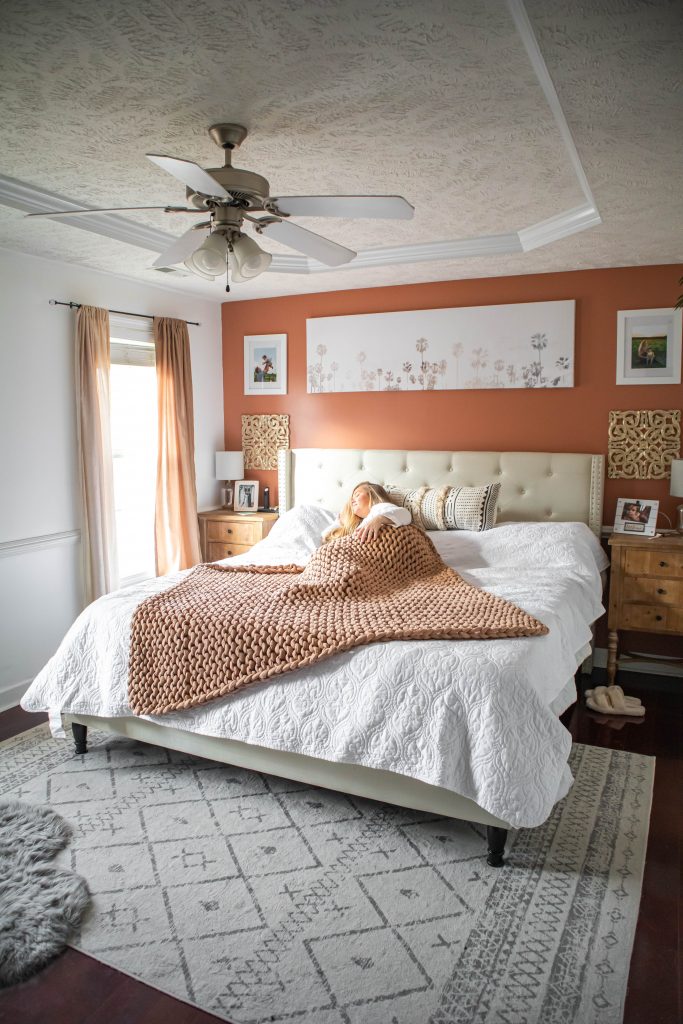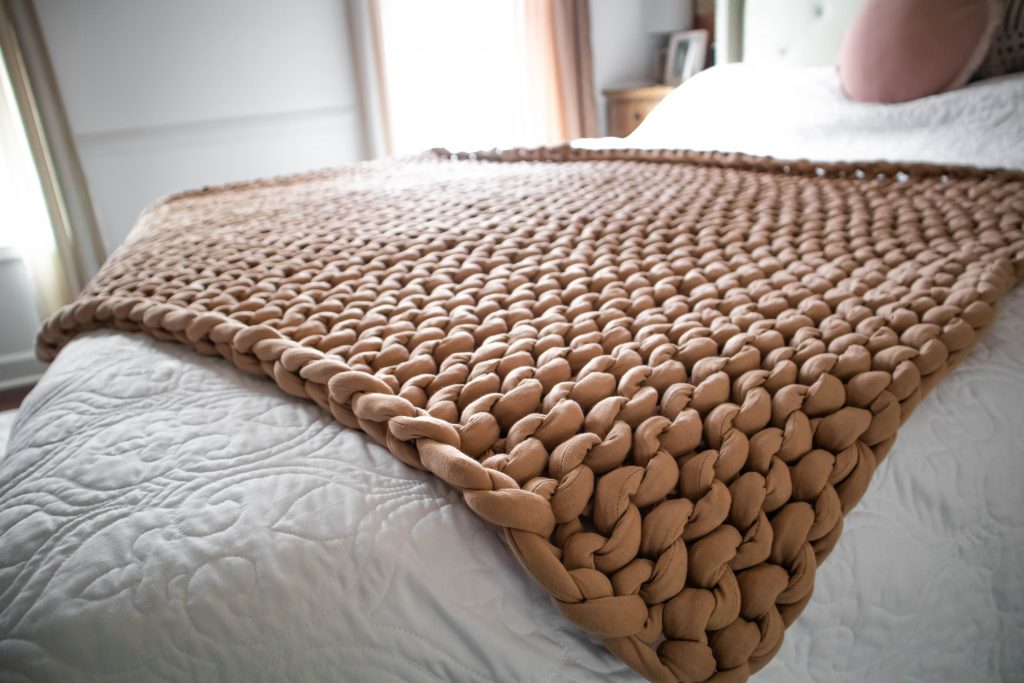 Self-care this time of year is important more than ever. The stress, guilt, anxiety, all the bad emotions that can come along with this magical time of year should not be pushed to the side. Dealing with your tension and getting the best rest possible is not only good for your health, but helps your family too. I know I am a much better mom, wife, friend, and daughter when I have cared for myself.
The Bearaby Tree Napper weighted blanket would be such a great gift for someone in your life that has trouble with relaxing or sleeping deeply. Even for the person who may not take time for themselves, the Tree Napper is a great way to show you care for them by encouraging them to take time for self-care. I love the design style Bearaby produces in the Tree Napper and other blankets they offer. Bearaby products are all made with quality, sustainable materials steering clear of plastic, looking out for the future of our planet, and that is a company I can get behind. Thank you Bearaby for providing me with my new favorite form of relaxation, I look forward to many restful sleeps with my amazing weighted blanket!