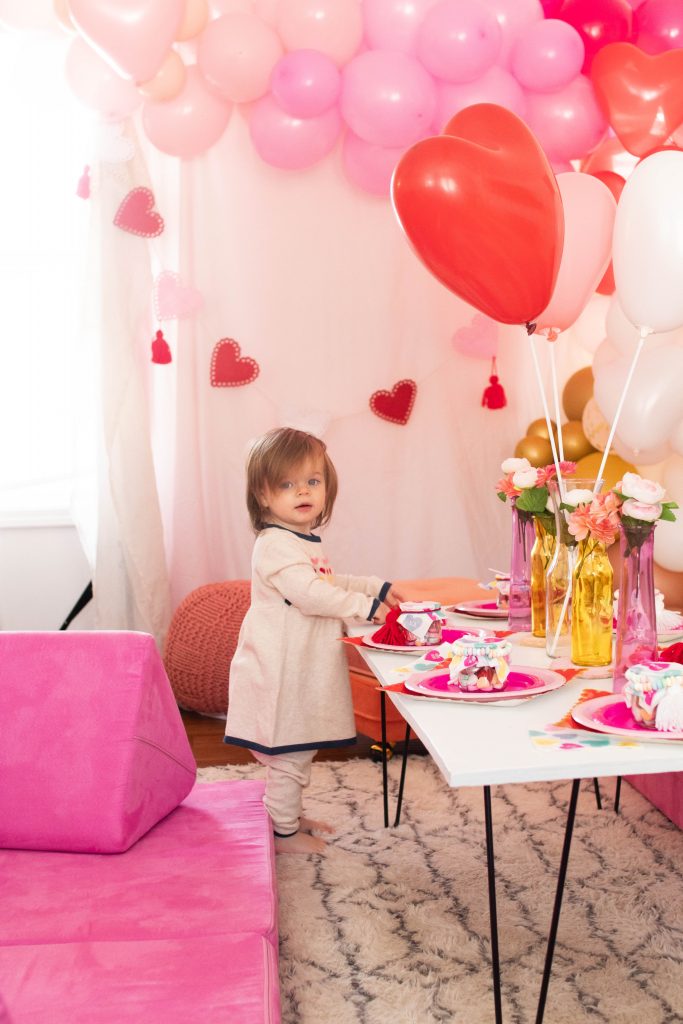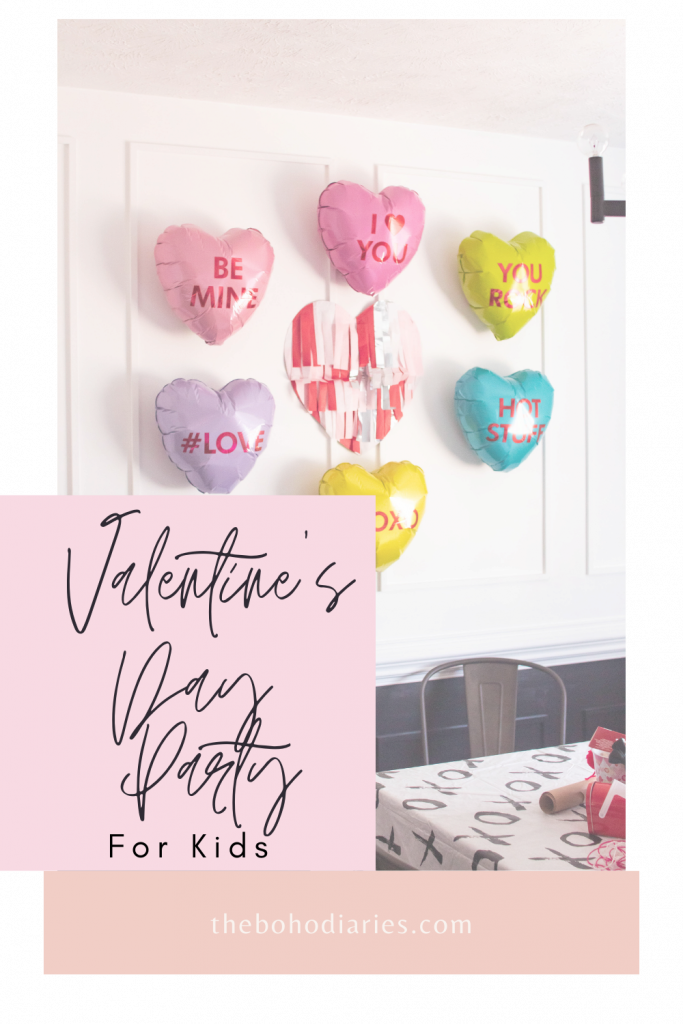 Being a girl mom has been one of the greatest blessings of my entire life. The idea of sisterhood, besties, and all things girly bring me so much joy and light passion for much of what I love to do. This years Little Girly Galentine's Day Party was such an exciting one where I gathered my besties, and my little one's besties to have a fun day of Valentine's Day card making, baking cookies, taking selfies, and just having fun girl time. This was my third annual Galentine's Day party I have thrown, and if you missed the previous years then take a few minutes to check those out here and here.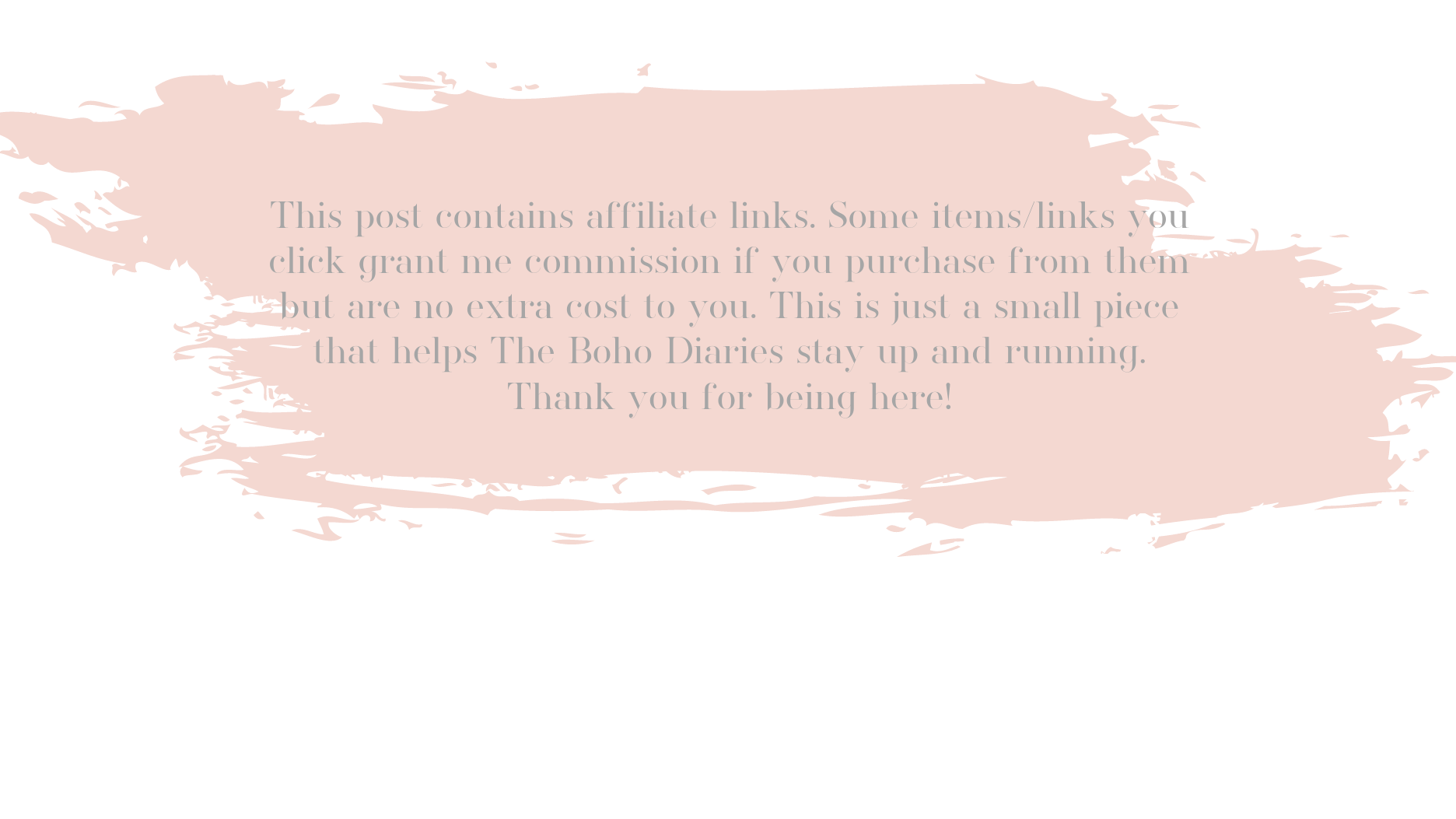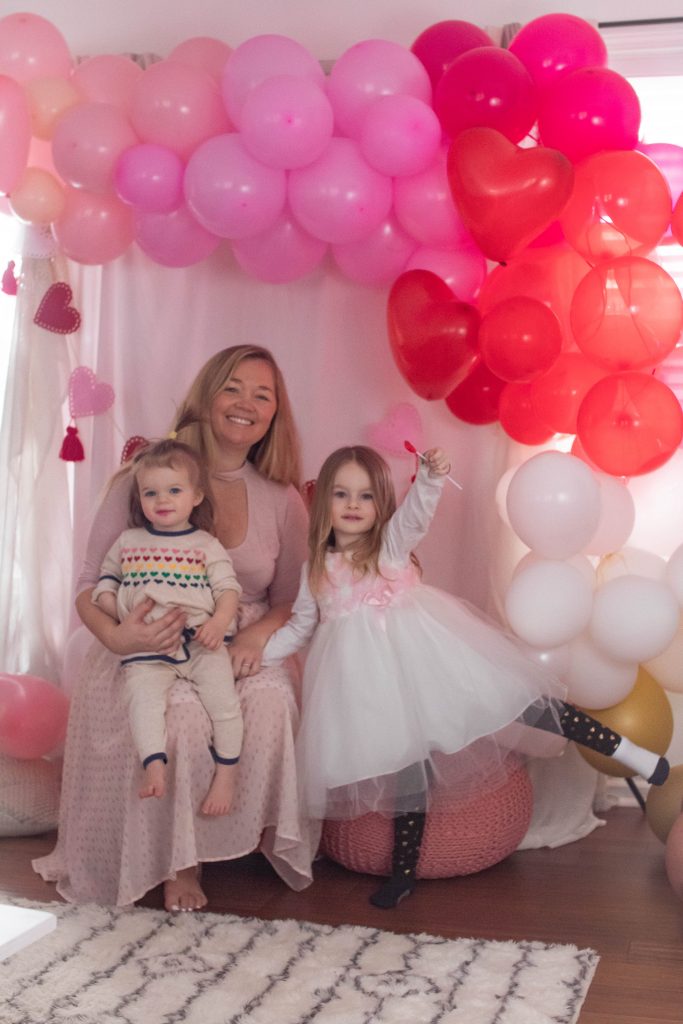 For my Little Girly Galentine's Day Party this year, I went with a playfully boho decorative theme. Of course I kept to my three pillar zones: Eating zone, activity zone, and food zone. Each one of these brought together make up a great party when they are all decorated in a cohesive theme and styled in the same colors. I'll start with the food zone, because when it comes to brunch served parties, I don't mess around!
Brunch Table
When you think of brunch, what is the first thing that comes to mind? For me it's always coffee, croissants, and mimosas. Well one out of three made it to this soiree! The brunch buffet was laden with croissants and chocolate covered strawberries from our local favorites Burney's Sweets & More. The chocolate covered strawberries did not last long at all proving to be a huge brunch hit. We had two boxes of croissants and I was happy that I had a few left to eat the next morning with my coffee :). I highly recommend if you're in the Fayetteville area to visit Burney's Sweets & More and I thank them for providing the croissants for our brunch! I believe they also have a Raleigh location as well so for my Raleigh or Triangle readers, you must look them up and try them!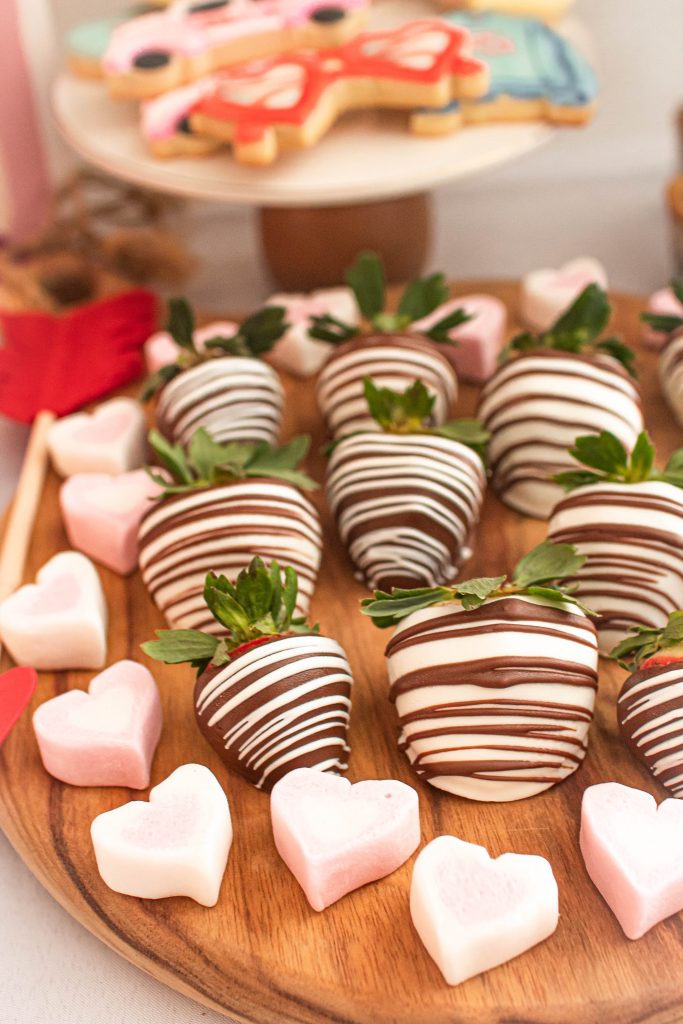 Dining and Photo Op
Photo ops are my jam! A party without a strong photo opt is a hugely missed opportunity to take your event over-the-top. I can honestly say, when I think up parties I want to throw, the photoshoot setup is one of the first things I plan, and then form the theme around that. There's nothing like a classic semi balloon arch. I created this ombre Valentine's themed arch from pieced together packs I have linked below, and added heart shaped balloons I found at Dollar Tree. I am very partial to creating moments directly behind the main party table setup. It frames the main party area, and results in great pictures from many angles. I found the cute colorful vases at Dollar Tree and added some faux stems I picked up at Hobby Lobby.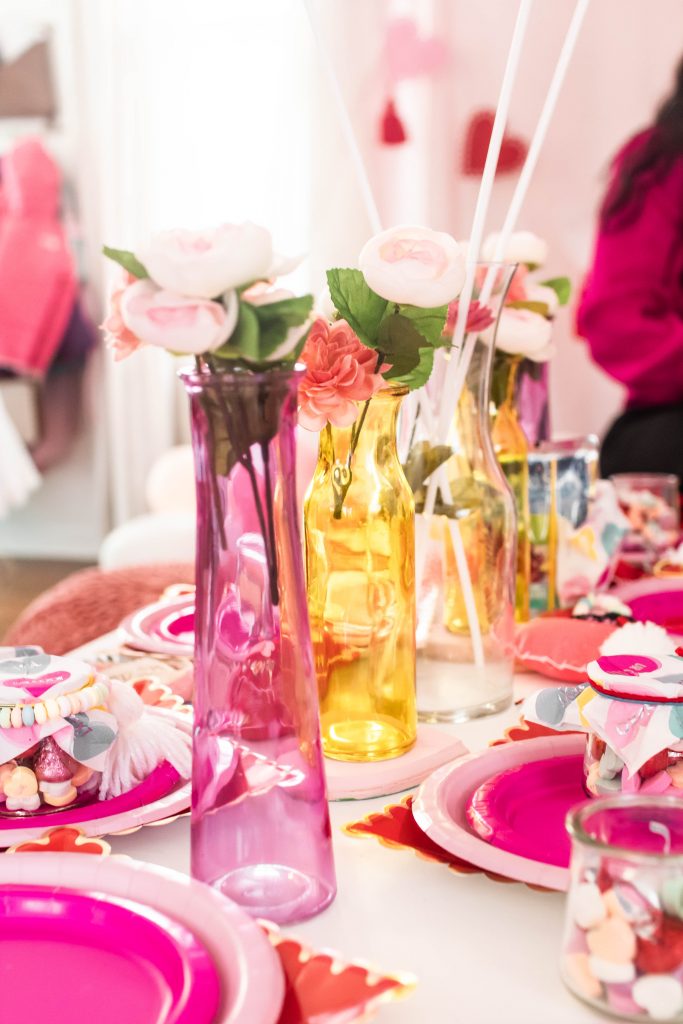 Layer each place setting with the red, hot pink, and light pink plates, and top off with my DIY Candy Jar Party Favor gift. If you missed that fun, environmentally friendly craft, then catch up on it here! The DIY Boho Table I made a few months ago came in handy again, and I surrounded it with large cushions, ottomans, and the Nugget.
The Candy Jar Party favors are so fun and are so easy to piece together. I have recently become kind of obsessed with the Yoplait yogurt Oui, which are packaged in larger glass containers and make it a DIYer's dream to reuse for future projects. I have also contemplated using them for DIY candles, but that will be a post for a later date. Here's a quick and simple step-by-step on how to do it yourself:
Collect jars over the course of a couple of weeks
Soak the empty jars and peel the label off
Clean the jars thoroughly
Fill the jar with desired treats or gifts
Use hair tie (I got a pack from Dollar Tree of pink ones) to secure down a themed napkin as the lid
Use two candy bracelets as a cute accent over the hair tie holding the napkin down as an extra treat
Add yarn tassel for flare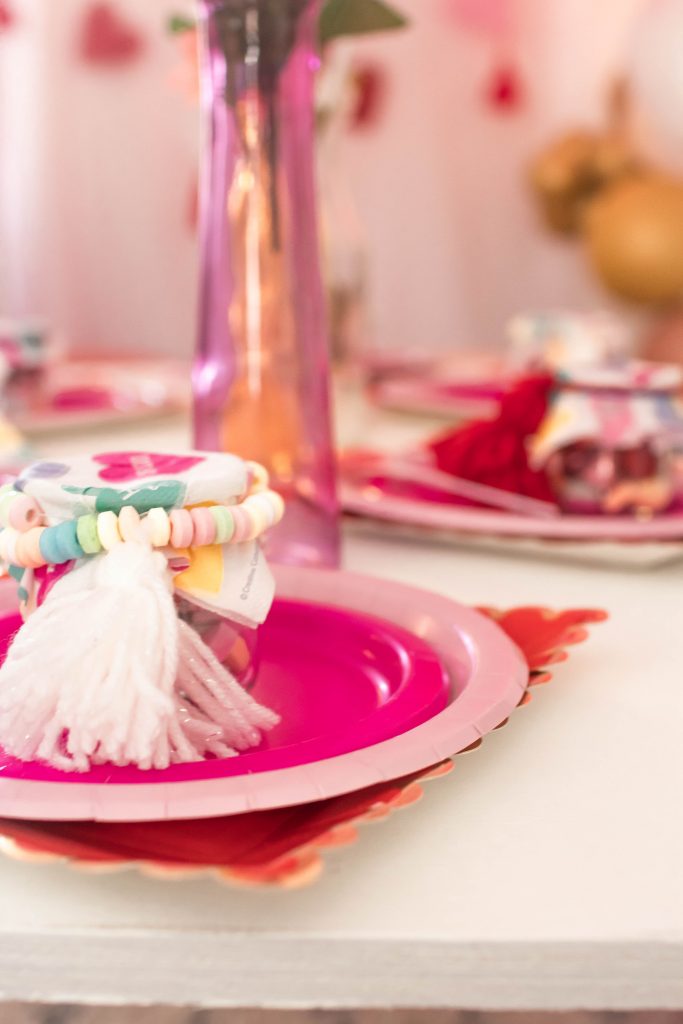 Shop DIY Candy Jar
---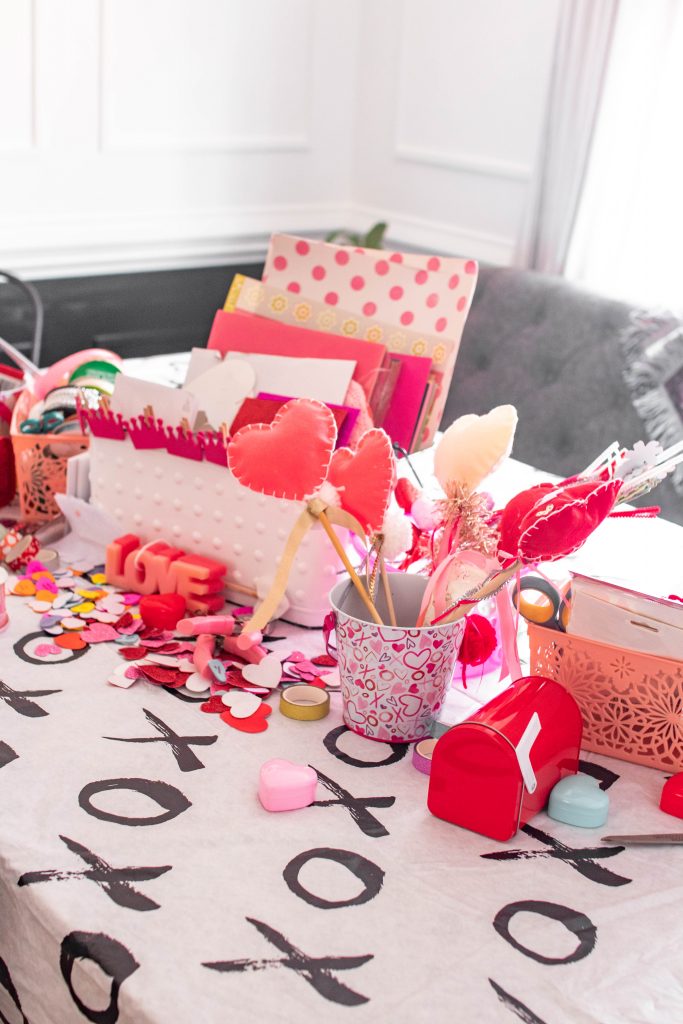 Valentine Card Making
This area started as an idea to make Valentine's/Galentine's day cards, but ultimately it ended up being a fun craft station. Some made cards and others made sweet little hearts and gave them to each other. I enjoy watching my girls and their friends make gifts for each other, it warms my heart so much!
Take a fun pack of Mylar Conversation Hearts balloons (these I found at Party City) and stick them to the wall, with painters tape, as an accented back drop to the craft table. Are you a fan of mylar balloons? Morgan often jokes that I single handedly am keeping the Mylar balloon business going. I just love that they are reusable, if you take care of them properly. These brightly colored Valentine's Day decorations drew the eye in my dining room while the guests worked on their crafts and had fun hanging out as girls do.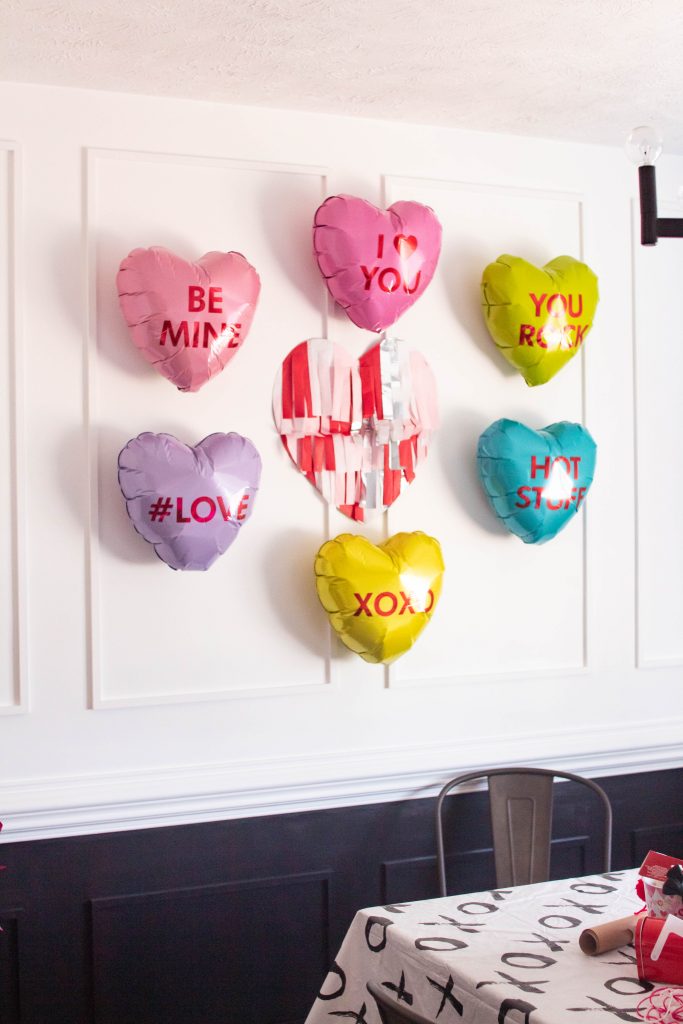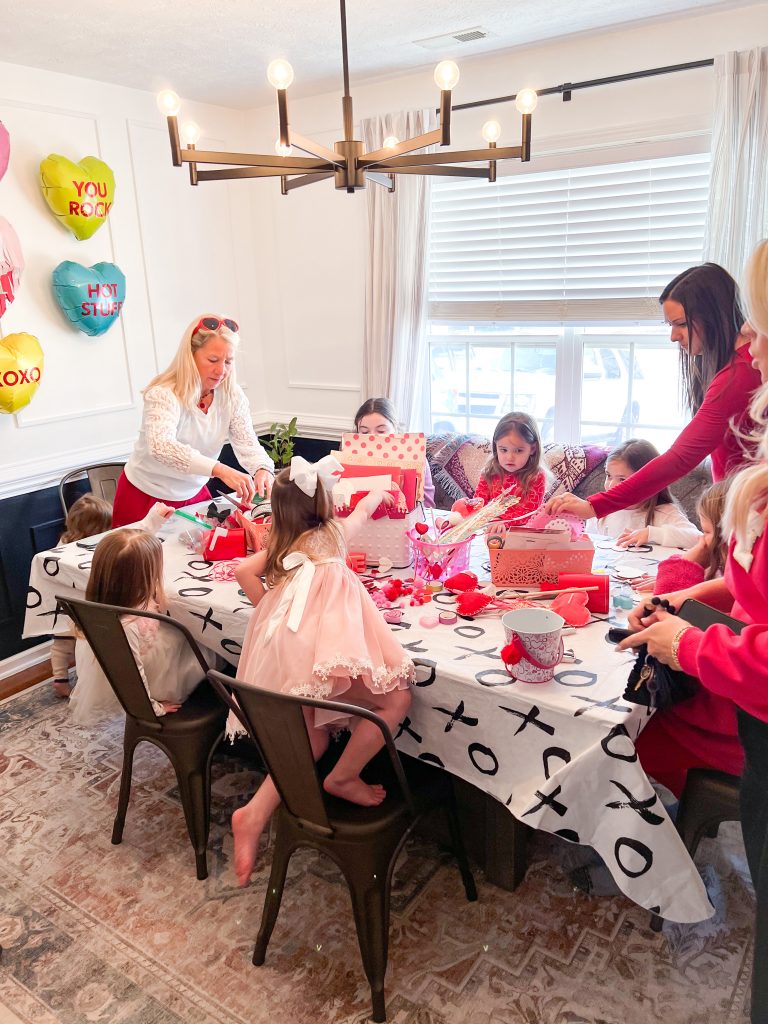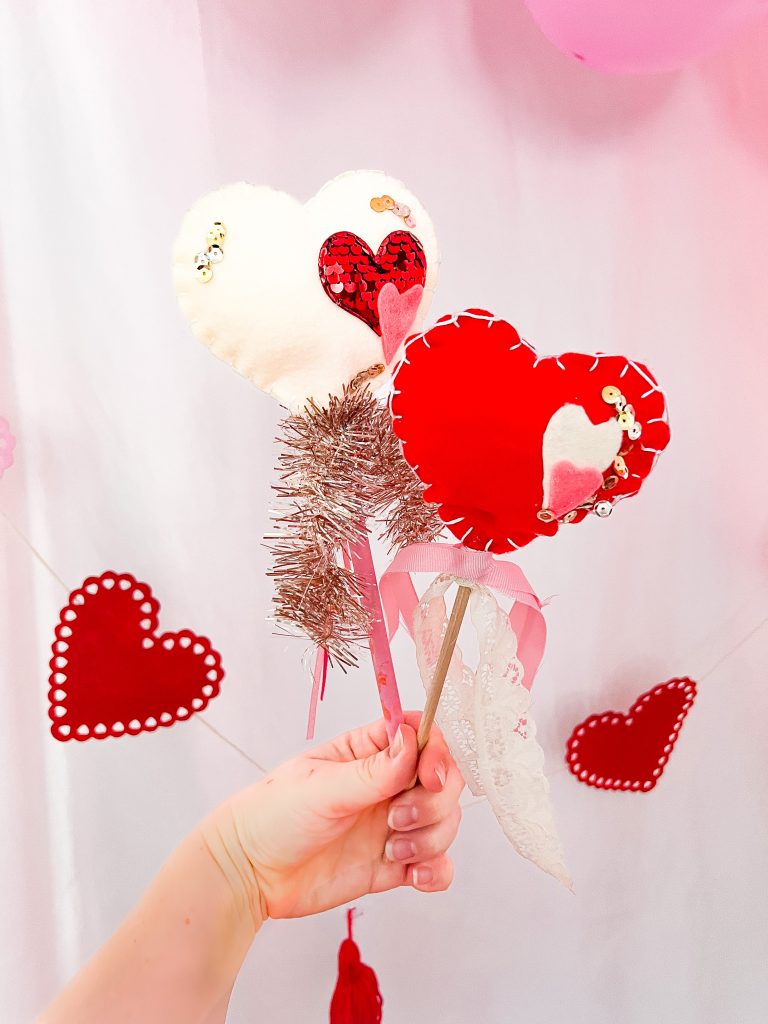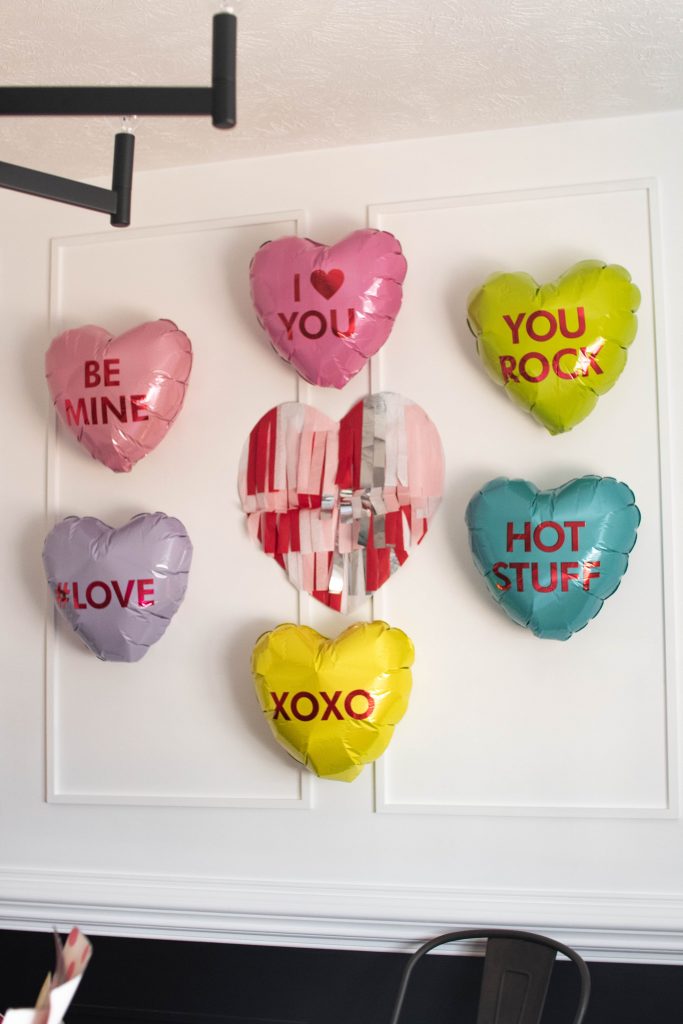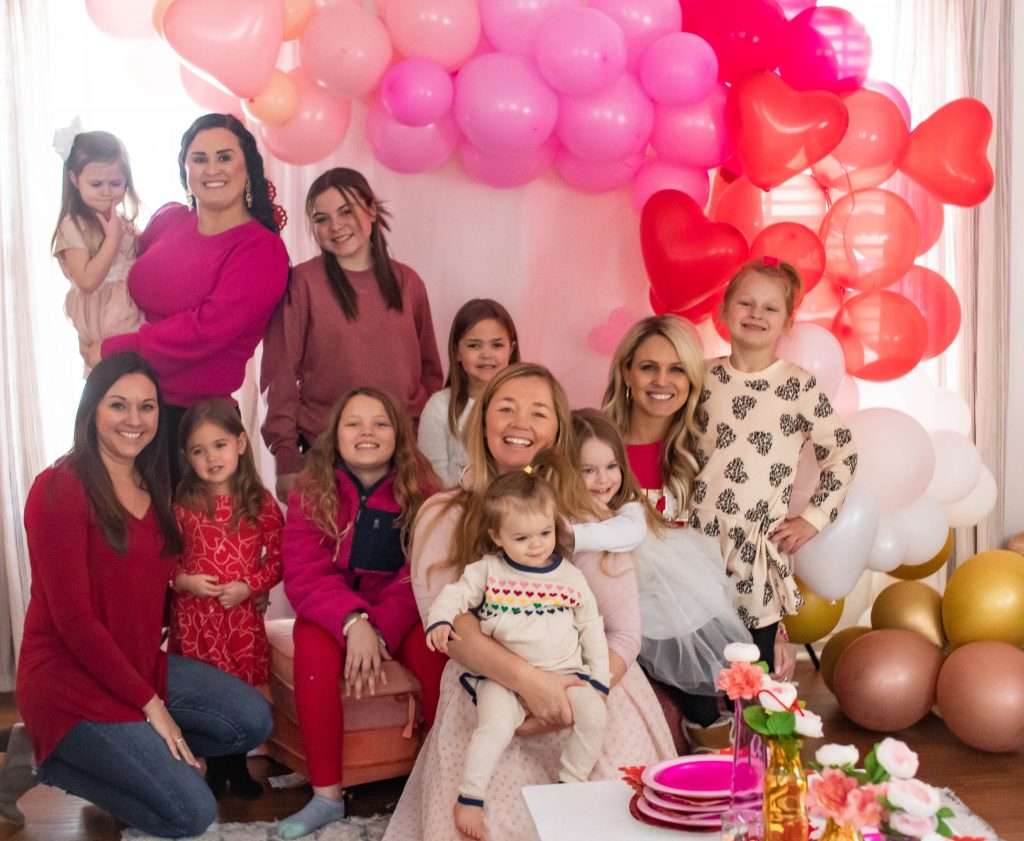 If you are looking for more Valentine's Day or Galentine's Day party ideas then you should definitely check these past parties out next:
I also have some pretty DIY Valentine's day crafts or food that anyone can do at home with a little time and the right supplies! You can see those below: