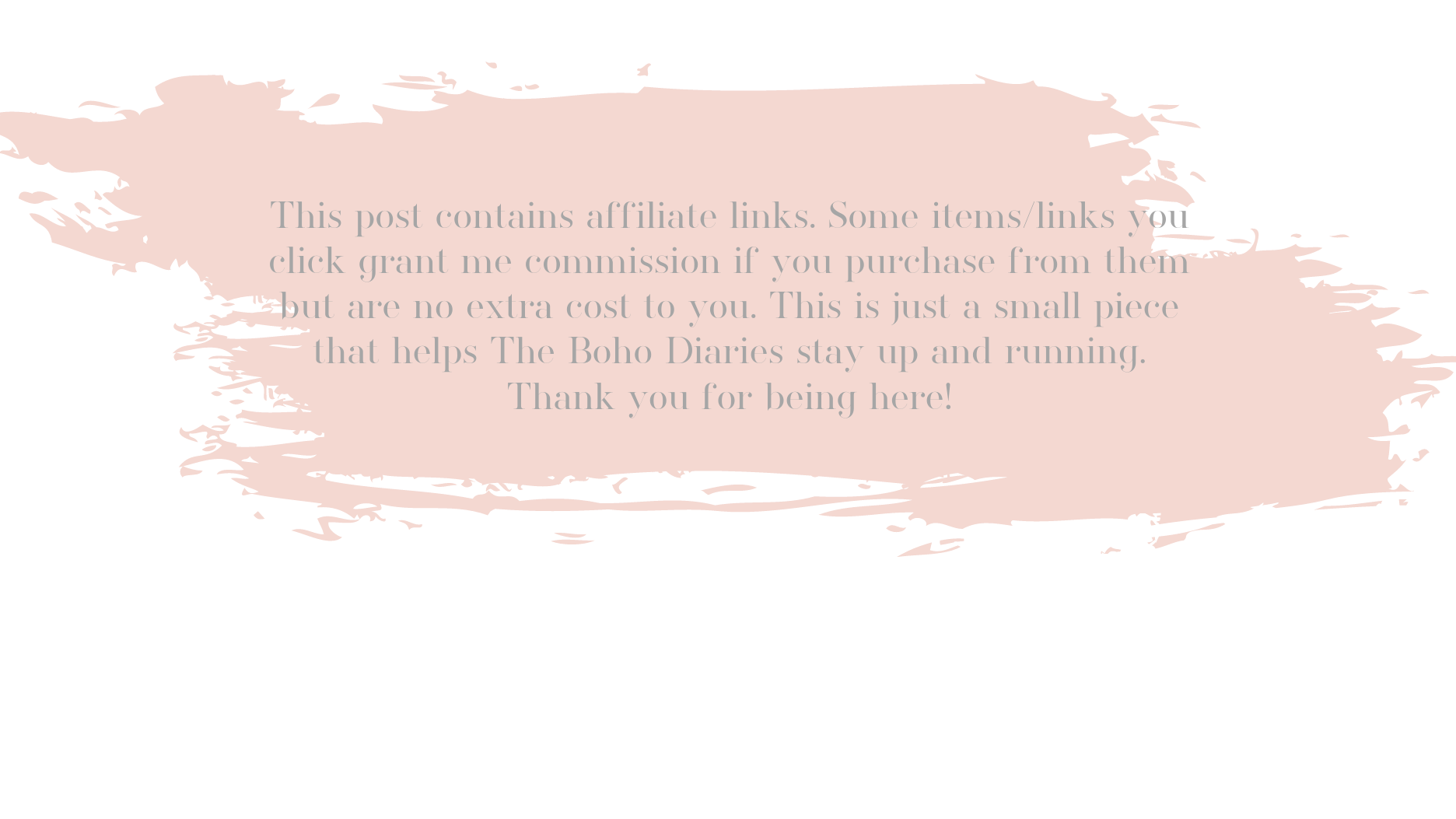 We have lived in our house for almost 4 years now and with each year I have transformed it little by little into the home I always dreamed of. Watch how I take our master bathroom from blasé to boho chic with just a couple of upgrades!
There are a few specific changes I made, and if you are looking for easy ways to update your bathrooms, I hope this brings you inspiration. Paint was of course top of the list for me. I was lucky enough to partner with a company who is new to the US.
Lick is a modern and contemporary paint and wallpaper company who prides itself on bringing sustainability into the home design department. I was thrilled to have the opportunity to be apart of their US launch, and will be giving my full honest opinion of my experience with their paint, wall paper, and tools.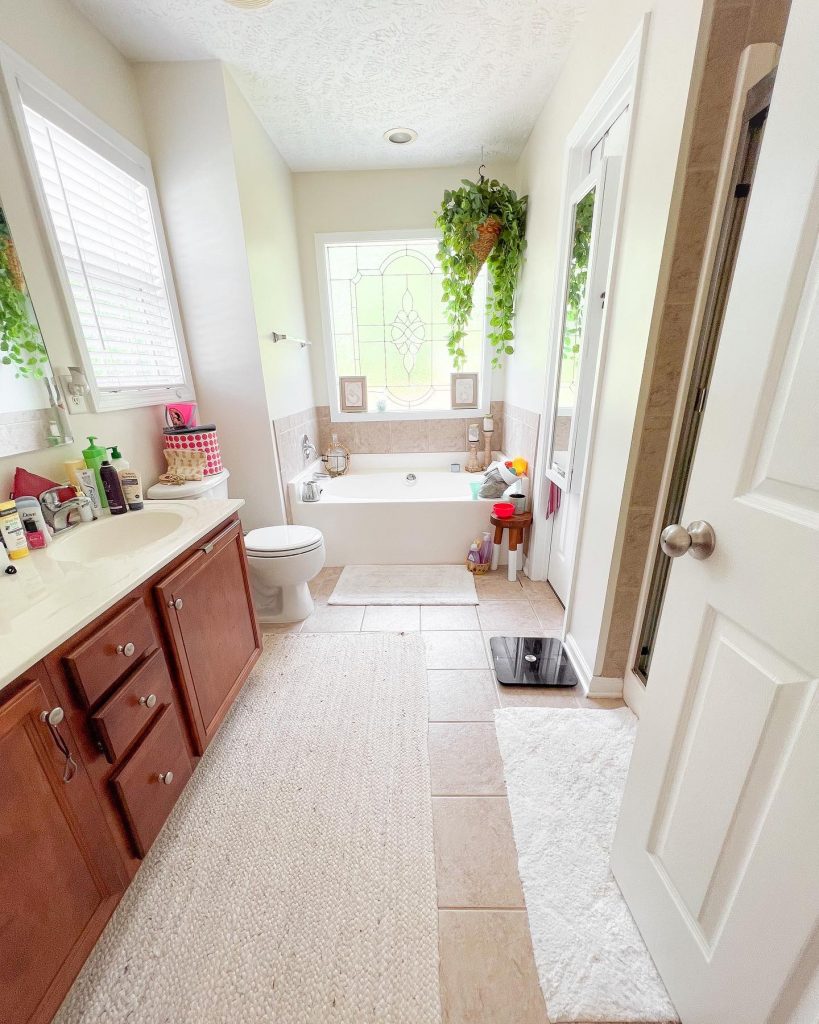 Incase you missed the first post
this Master Bathroom makeover project was my first ever involvement in the One Room Challenge. I heavily under estimated the amount of time I would have to put into getting it done within the parameters of the ORC timeline, but I am still proud of myself for sticking it out and seeing it through. If you missed the initial post about my involvement with the One Room Challenge, get caught up here.
I couldn't stand to have such a blah bathroom anymore so this easy master bathroom makeover needed to be done. With Lick, you can order these really unique samples of any paint you wish to see in your space. I sent off for my color choices and set them up in the bathroom to see which ones I liked.
Below I am sharing 3 ways to update your master bathroom and how I did it!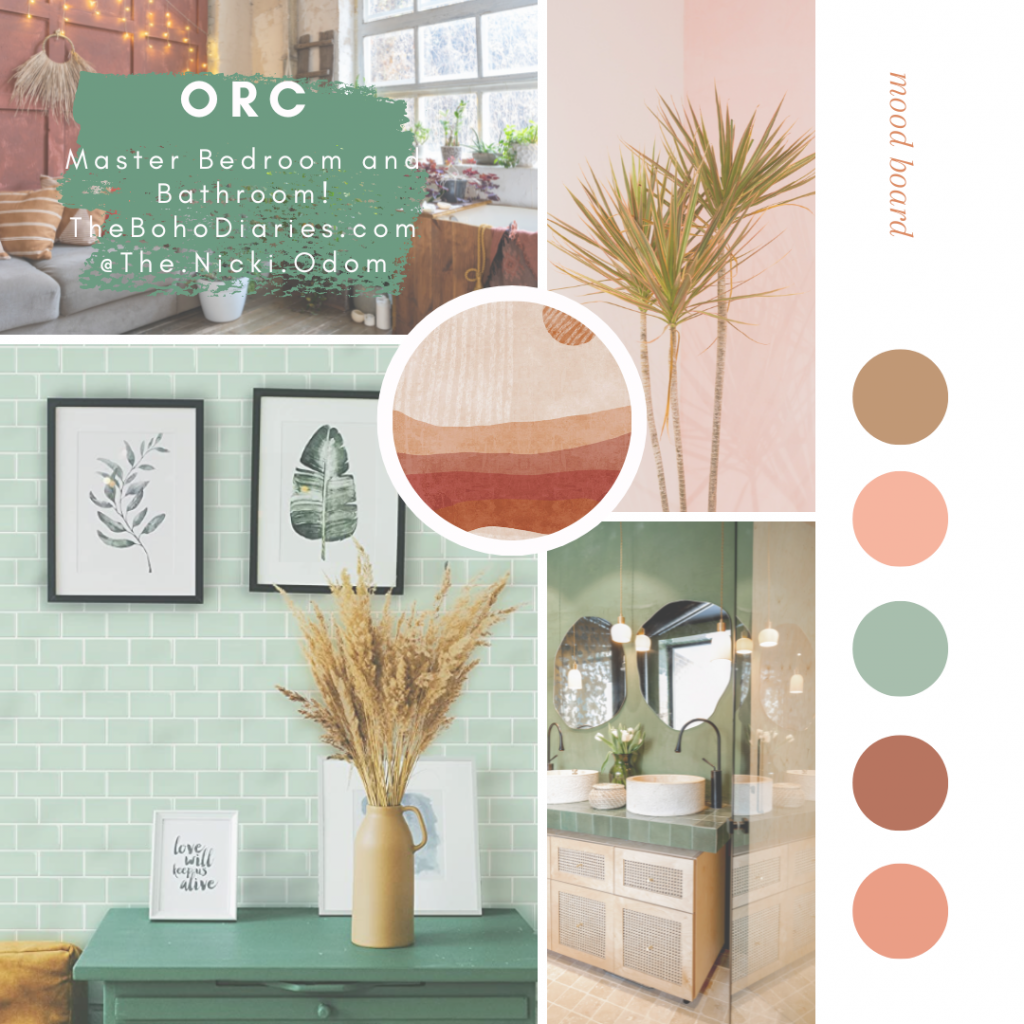 Here is what I used for this Master Bathroom Makeover
Lick Paint (Green 17, Pink 01)
Lick Wallpaper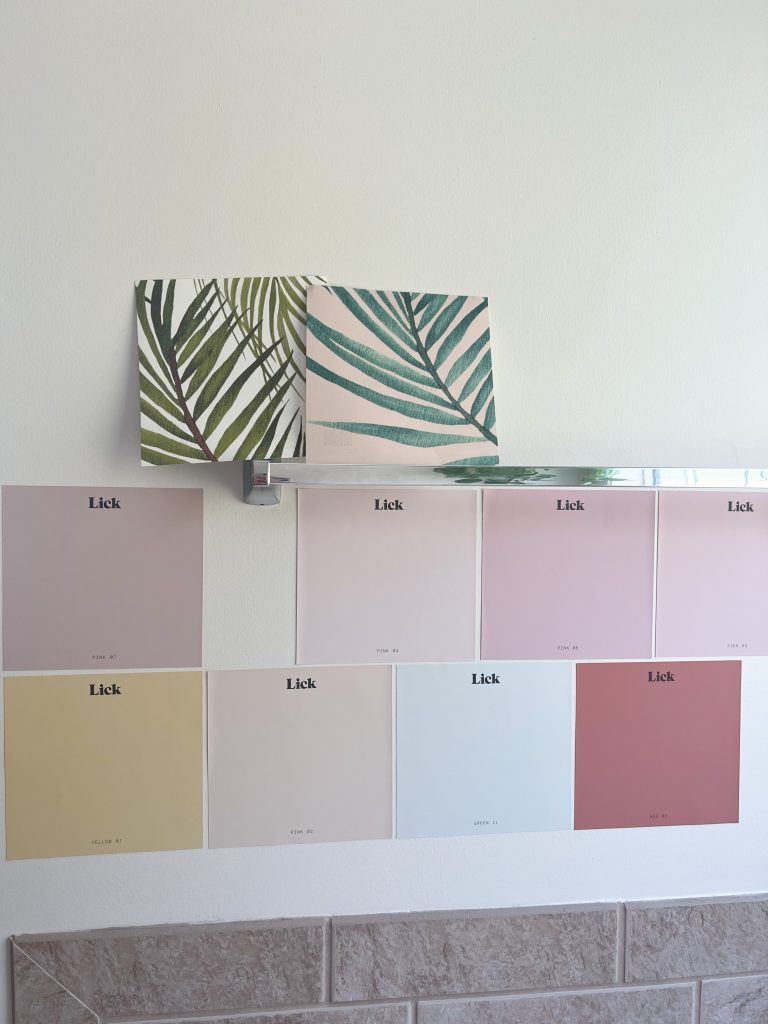 ---
The First Change I wanted To Make
was turning the vanity from the basic wood to a pop of color. Painting is my favorite thing to do in DIY projects so this is what I started with. With this master bathroom makeover taking it from Blasé To Boho Chic was not going to happen overnight.
I started with painting the majority of the walls the Pink 01. All but 1 and 1/4 wall were to be kept a light and bright color, while the others were saved for accents. Using the 1.5" cutting in brush, I got the top edges, bottom edges and corners first. I absolutely loved using Lick paint for a few reasons, but mainly, as I started with the Pink 01, I noticed it was going on so smoothly that it would only need one coat. Also, the smell was actually pleasant, and not a strong chemical smell (in my opinion).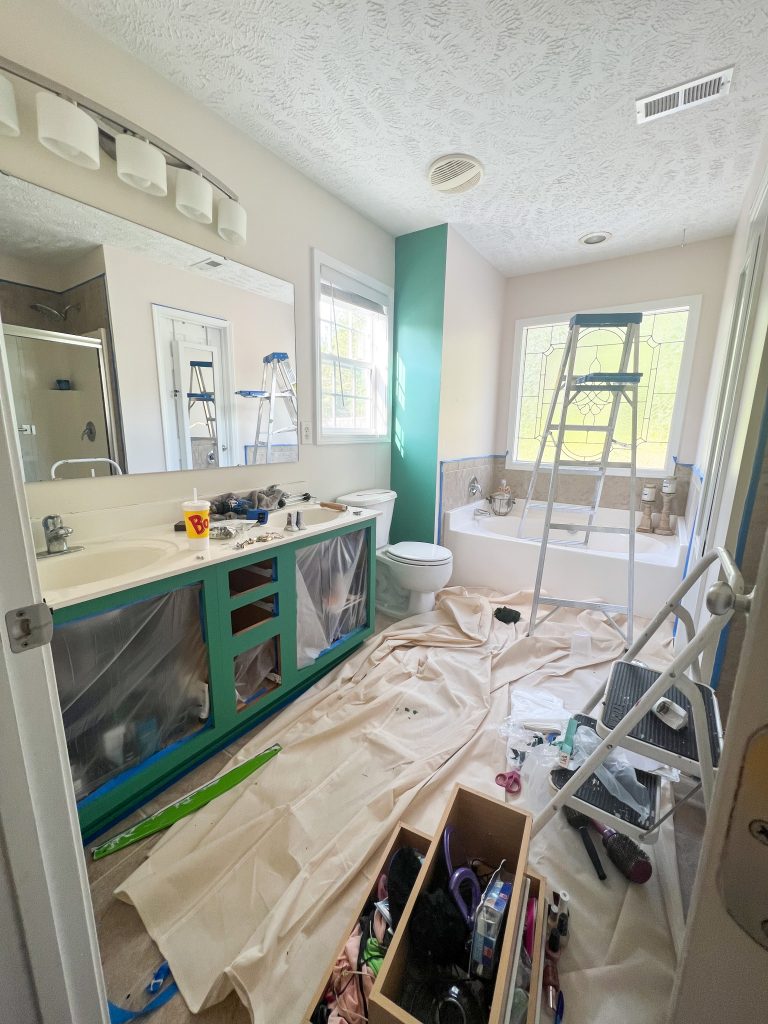 After all the Pink 01 was done I moved onto the Green 17. You can see in the picture above, I choose to do the cabinets and one sliver of wall to add more accent and pop. I chose to do the small wall in Green 17 also because I wanted to fill it with art, pictures, and thought about possibly finishing it with a whimsical boho stripe in the Pink 01. For now, I kept just the solid green and am adding the decor over it.
For the cabinets, I took the doors and drawers off, sanded a little to prep, and got to painting. Again, the 1.5″ cutting in brush did an amazing job. For the green color, however, I did have to apply two coats to both the wall and the cabinets.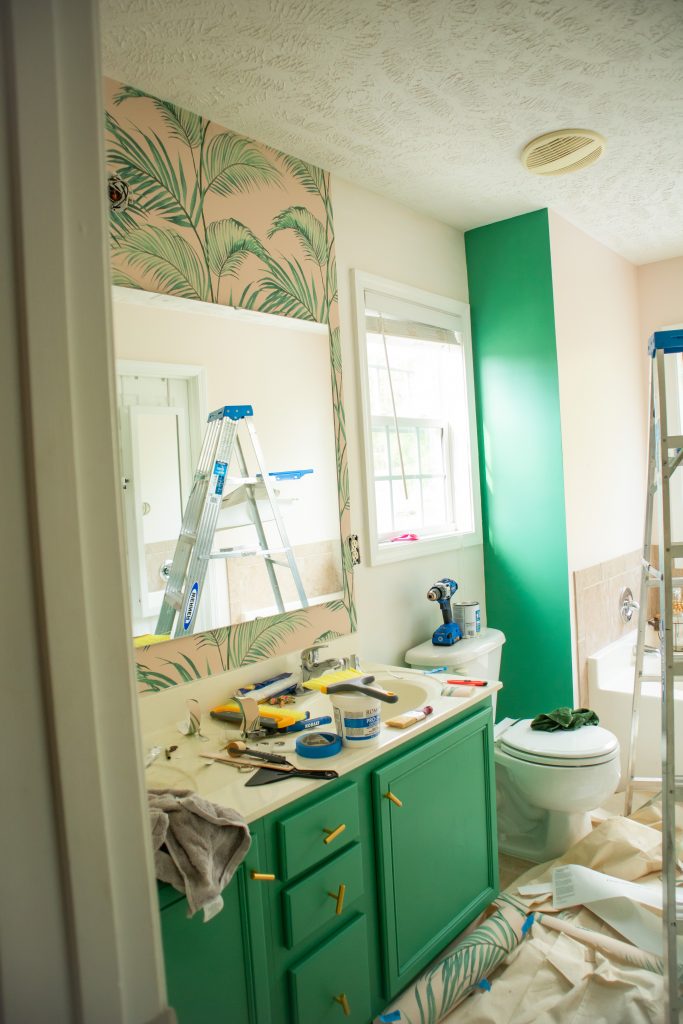 After the painting was complete I
moved on to the last and hardest portion of this project, the wallpaper. If you are also following me on Instagram, I had a saga of stories where I felt almost paralyzed by the thought of doing the wallpaper. I have never taken on wall paper and of course I picked the worst wall do it on for my first time. I knew I wanted to make sure the seams lined up perfectly and that I had a lot of obstacles to get around.
It took a couple of days, a few tears, but I powered through it using the paste, a brush, and an exacto knife. Morgan bought me this kit to do it with, but I ended up just going for it as I normally do, and did it my own way.
Most of it was not as hard as my mental block had made it out to be, but when I got to the wall behind the toilet, I was over it. I mean, I finished it, but the minute cuts and finding exact match ups of the wall paper for perfect seams, drove me a little crazy.
I highly recommend if you decide to take on wall paper and it's your first time, choose a wall that is as plain and flat as you can. Meaning no windows or obstacles. I truly love how it turned out though and don't regret it for a second! Now when I walk into this bathroom space I feel proud of the hard work that went into it.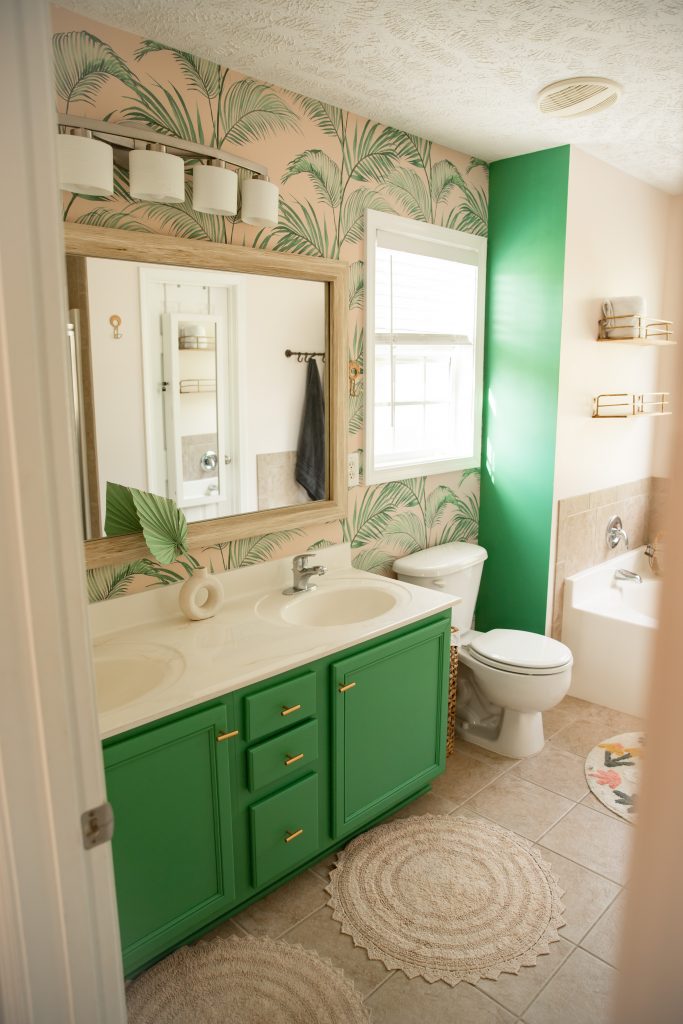 The final game changer for this room was the custom frame we were sent from MirrorMate!
If you haven't heard of them they create custom frames of all colors, textures, and sizes, that form directly onto your vanity mirror to give it a more upscale look! You can take any blank vanity mirror, send in the dimensions, and choose your very own custom frame. It was very simple. They lay out all of the information for you to fill in on their website about the mirror you are looking to upgrade. Then you choose the frame finish and color, and a few days later it shows up on your doorstep!
They also have the cool option to order a couple of samples if you are just not sure which color or finish you want to go with, you can see them in person before you buy! Head to their website to shop!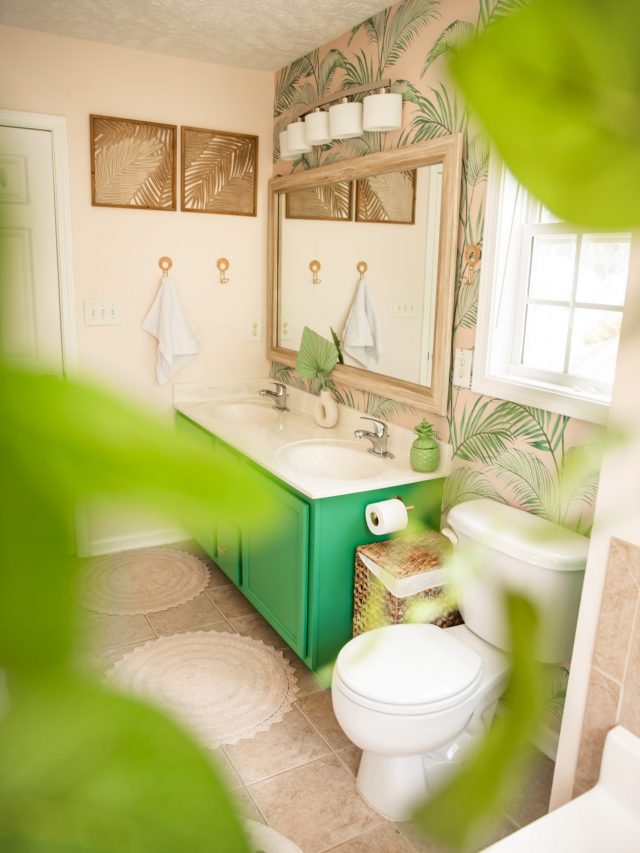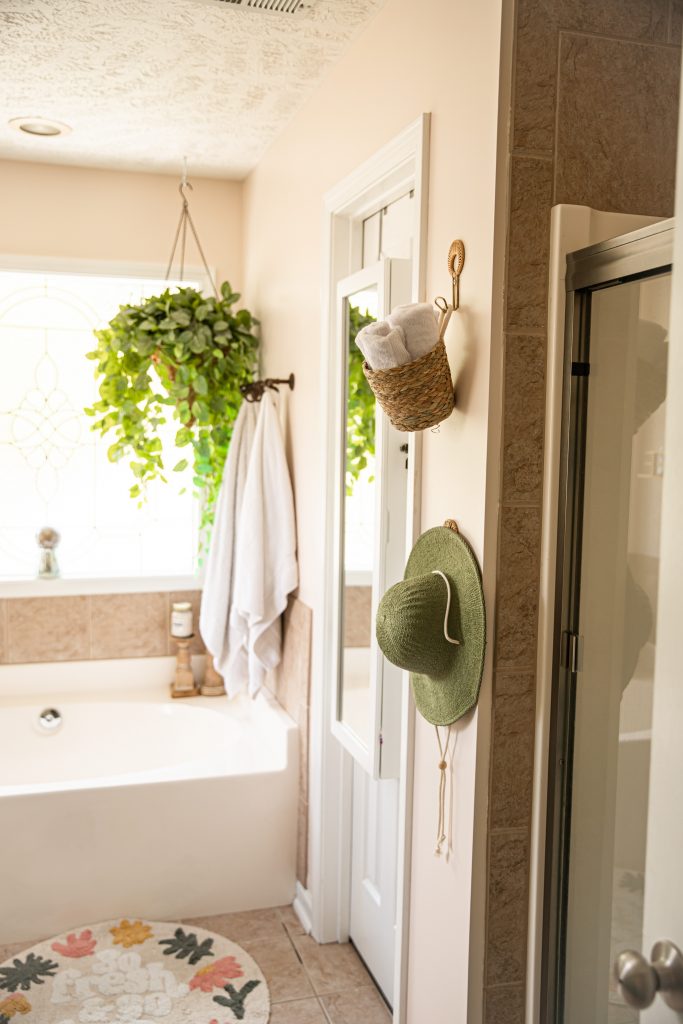 After the mirror was up, it was all about accessorizing and details. Did you know you can accessorize a room just like you can accessorize with jewelry? Yep! Even rooms need a little extra sparkle. My go-tos to make that happen are always shelves, hooks, vases, plants, baskets, and wall art.
Honestly there's even more than that, but for this room in particular, those are a few of what I used to bring it to life.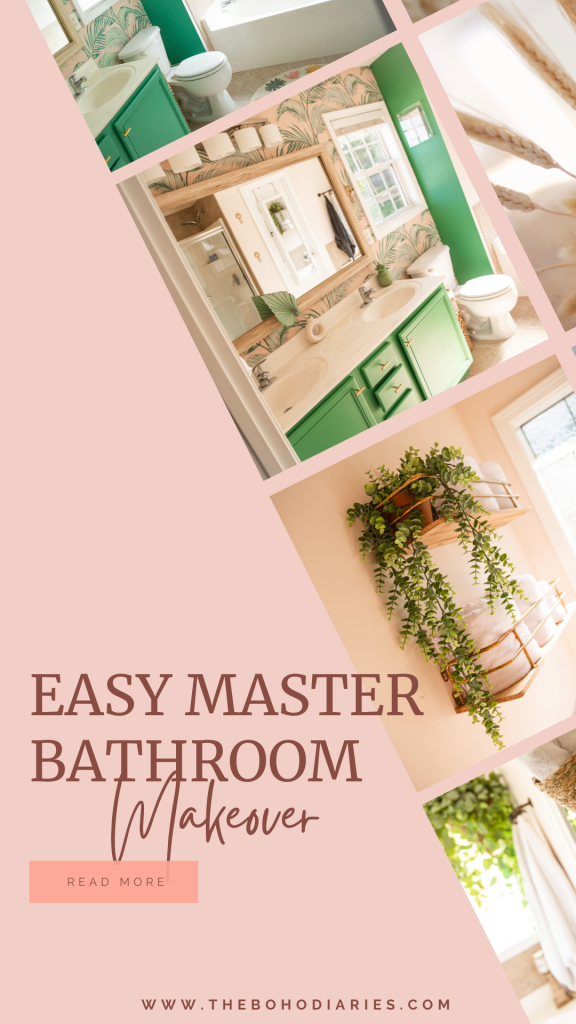 My boho beachy bathroom came to life so well. I am so happy with the way this turned out, and am excited to move onto the next project.
Do you know what it is?! I have been hinting at it all summer.. It's a BIG one.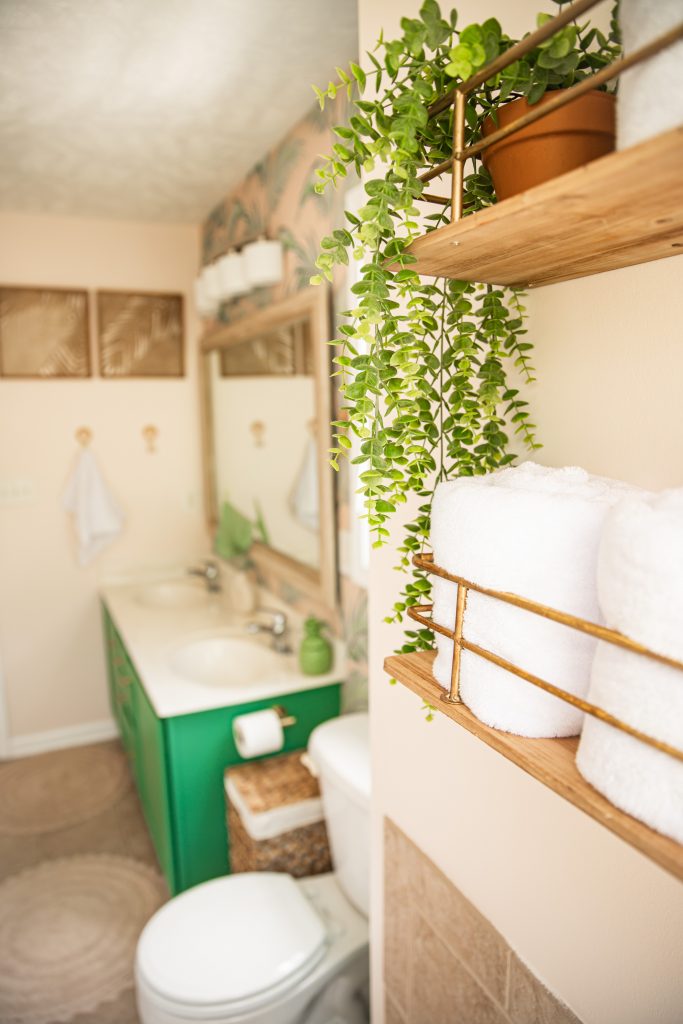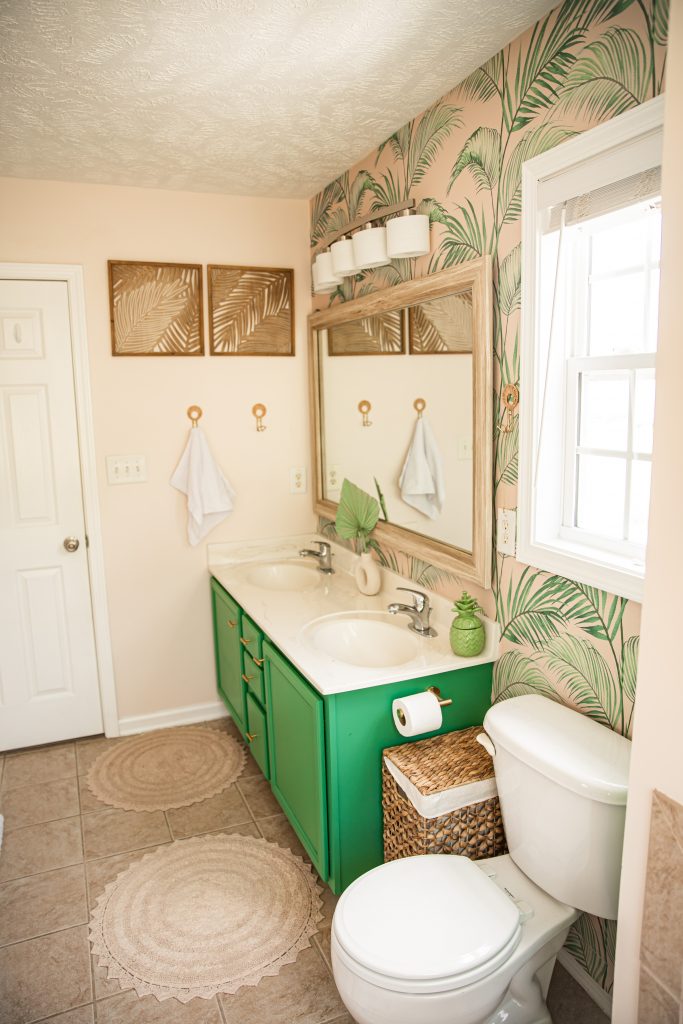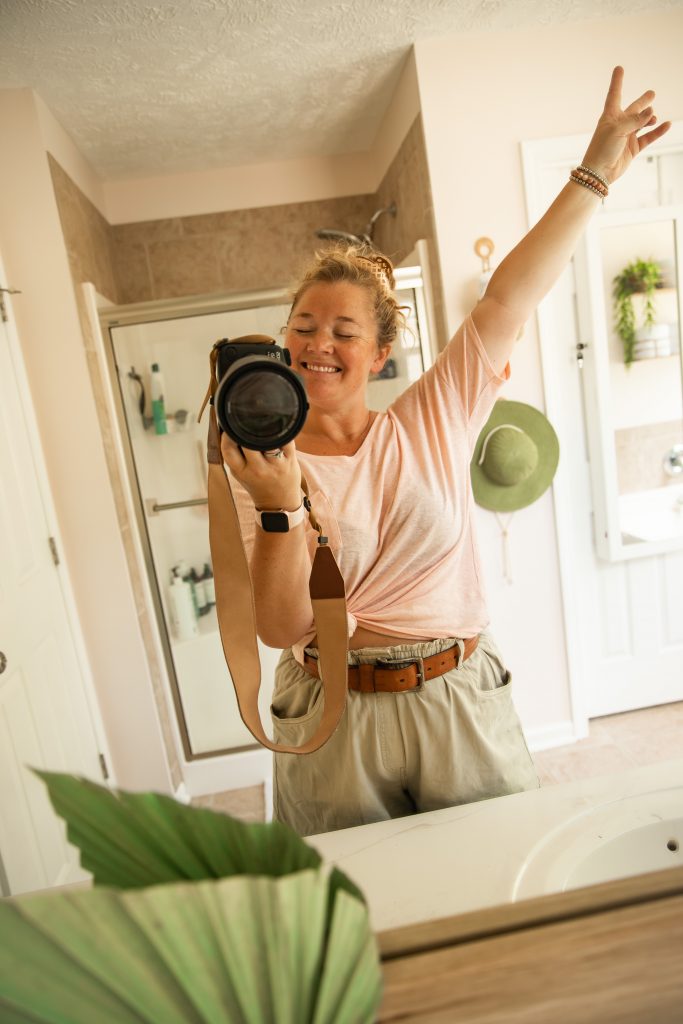 I did it! Proud of me!
---