A person's front door is like one of those first impressions cliche's. You know the "only have one chance to make a first impression" sayings that everyone jokes about but is absolutely true. While I am a firm believer in "do not judge a book by it's cover, that cover definitely has a way of getting your attention if it's crazy, or pretty, or just out there enough. So when we moved into our home I knew I needed to amp up our entry as soon as possible because it was all black shutters, black door, and it just felt BLAH. I was definitely a bit nervous going into the project seeing as to how it was THE first transformation in MY HOUSE, like the one I own, (i never get tired of that 🙂 ) but I was determined to brighten it up and make it feel more like the Odom Abode it now is and prepare if for the new life we're ready to give it!
I'll lay out my super easy step-by-step instructions for you, and I am in NO way an expert but my methods have been proven successful on more than one occasion so here goes!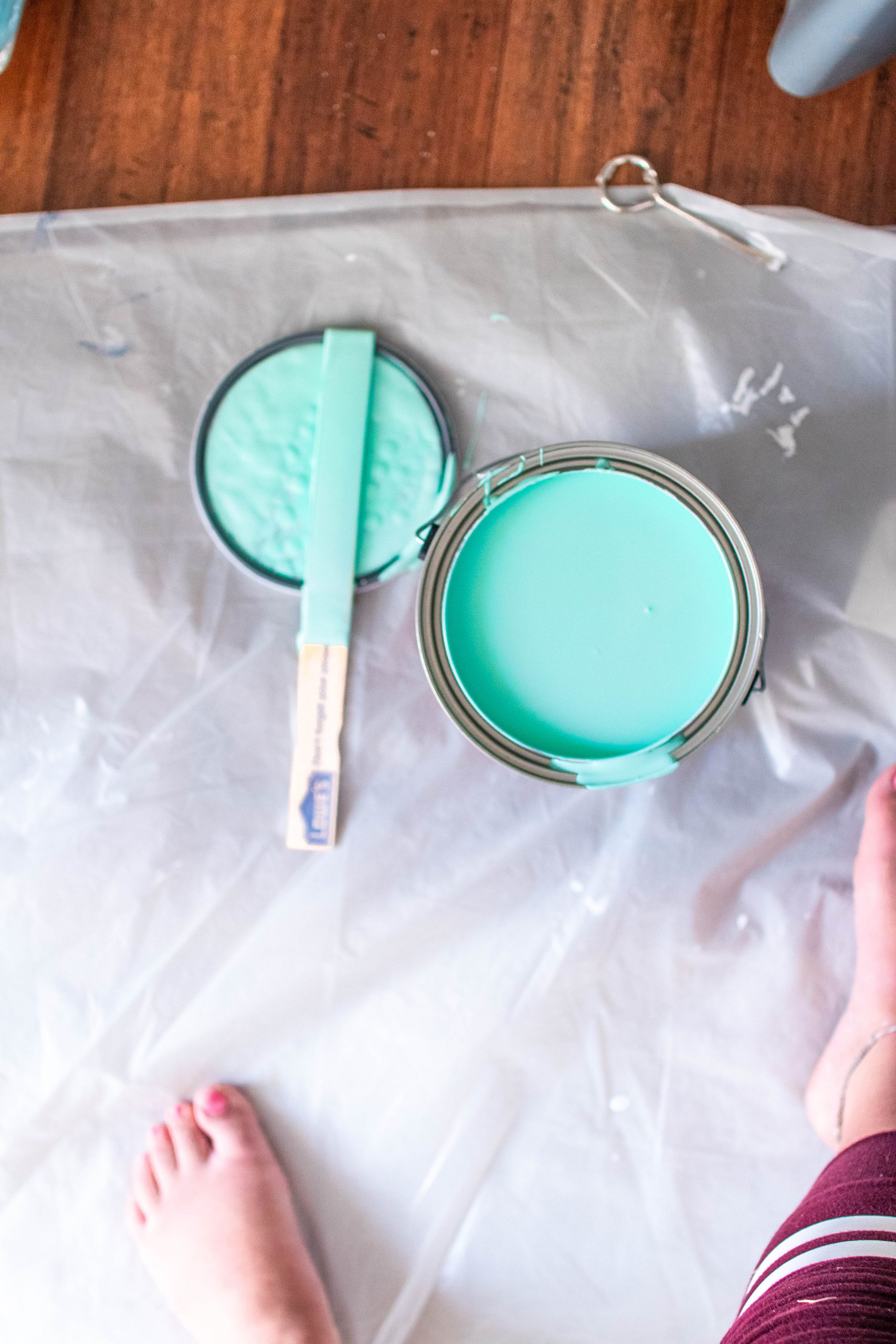 – White Exterior Primer Paint
– Outdoor/Exterior Paint in Color of Choice (Robin's Egg Blue)
– Outdoor/Exterior Sealant
— Depending on what your door is made out of I went between 120 and 80 Grit
– Cheese cloth (Tack Cloth)
– Drill/ Screwdriver to remove handles and locks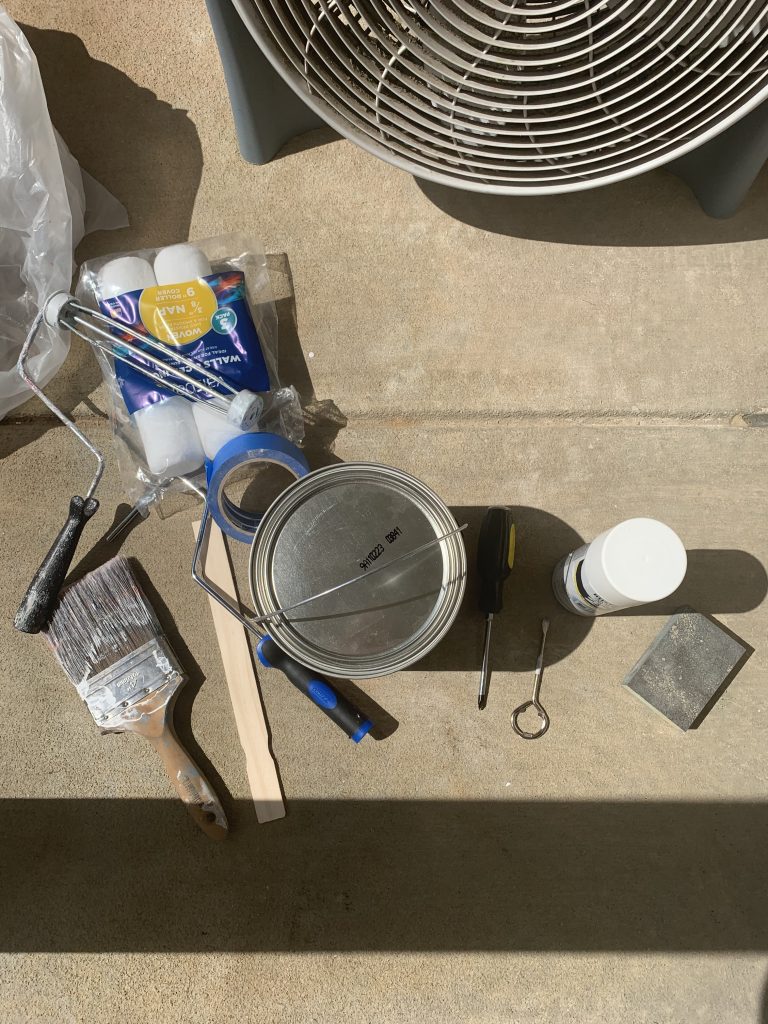 I've linked all the items I like to use below. These are affiliate links so I do make a little if you buy items through these links but at no extra cost to you. It helps continue my projects on T.B.D!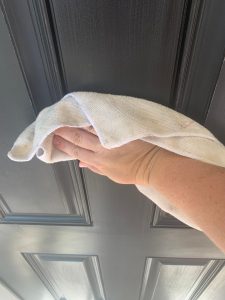 Make sure the door is free of dirt or dust before doing anything. some choose to clean it all after sanding because, duh, you're about to get it all dirty again, but I did it both times to be sure. Use the wet cloth and wash down the door.
Use screwdriver or drill to remove the hardware from the door. I did this a little out of order based on the pictures, but I recommend going ahead and getting it out of the way first.
Using the sanding block, sand down the door to give it a rougher surface for the paint to cling to, as well as smooth out surfaces that may need it. I alternated between the 120 grit and 80 grit due to the ridges and indentions in my door and it worked out great. Once it is completed sanded, use your cheese cloth to clean up the sanding dust and dirt. Use wash cloth to do one more cleaning.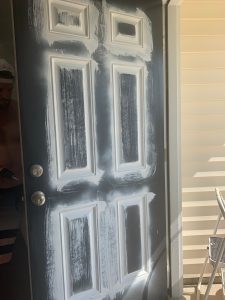 Step 4 – Apply White Primer
Because we would be making such a dramatic change, I wanted the teal blue to be as bold and bright as it could be and there's not better way than to give it a light white canvas background to boost the color. Start with the square indentions with the angled brush and then roll the door completely with white exterior primer. Let dry. It was a warm day and we did have the door open a lot but the temperatures helped the paint dry very quickly so after a few hours the primer was completely dry. Use the drying time to wash and dry your brushes and rollers.
Step 5 – Apply Exterior Color of Choice
Like the primer coat, start with the indentions and the angled brush. Once all the squares/rectangles are painted you can roll the entire door. The color I chose is Robin's Egg Blue by Valspar. I do not believe that color is available anymore, but Bayside 5006 by Valspar is very similar.
Let dry and reapply after it is dried completely for best coverage. Let dry overnight. We didn't close our door all the way until it got dark to give the most drying time.
Step 6 – Apply Exterior Sealant
They make a good spray paint exterior sealant or you can brush it on. This is not absolutely necessary but helps with weathering and fading.
Step 7 – Re-Install Hardware
We bought new locks and handles for our exterior doors and overtime will be updating all the handles, but I love how the brush nickel looks!
And that's it! Super simple! If you have any questions at all please email me at Nicki@TheBohoDiaries.com. I would love to help in anyway I can. I have a few more paint DIYs coming up to stay tuned! Let me know in the comments, have you ever taken on an exterior paint job like this? Would you like to?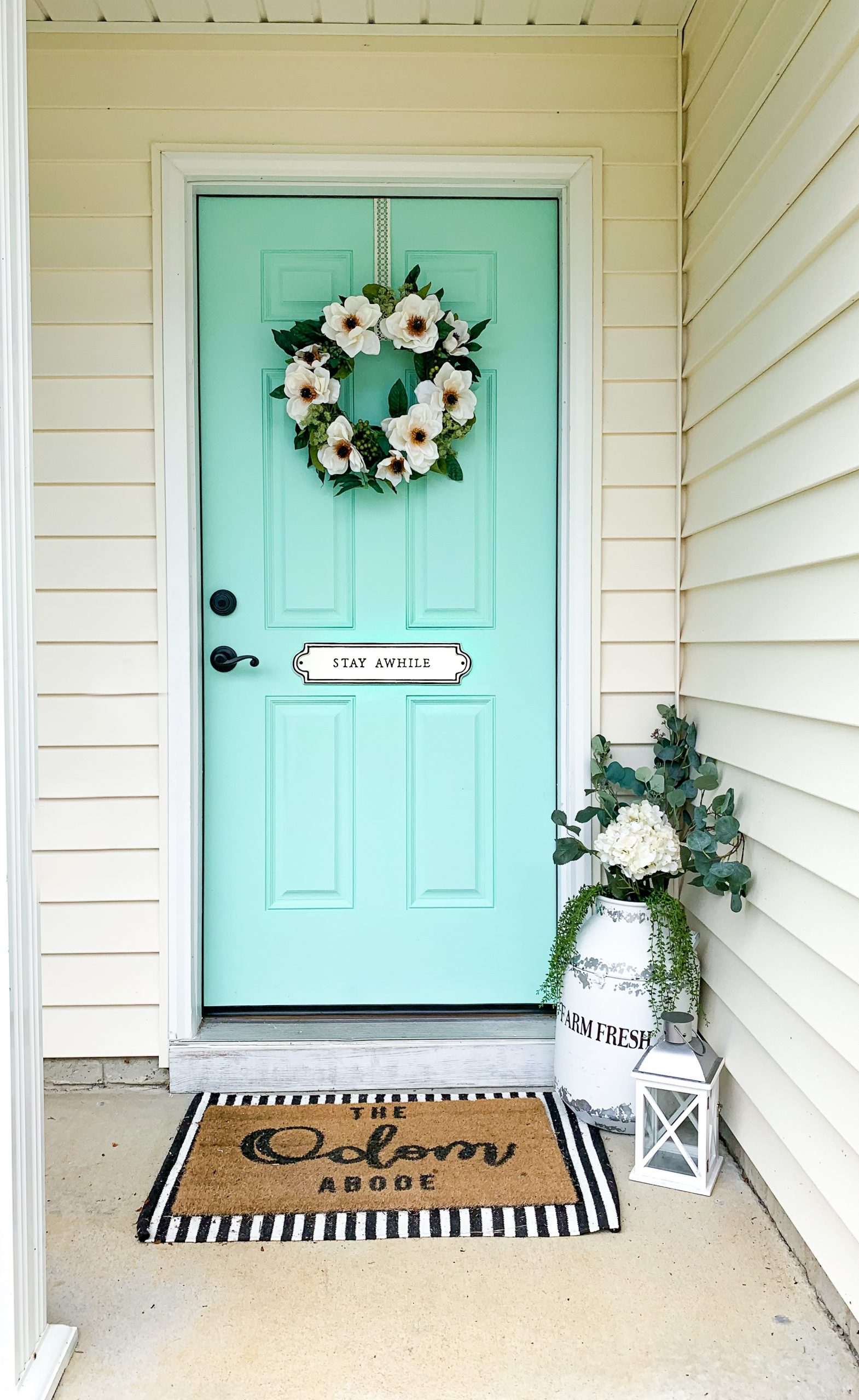 Want More Simple DIY Projects by Me?
Check out these DIYs!