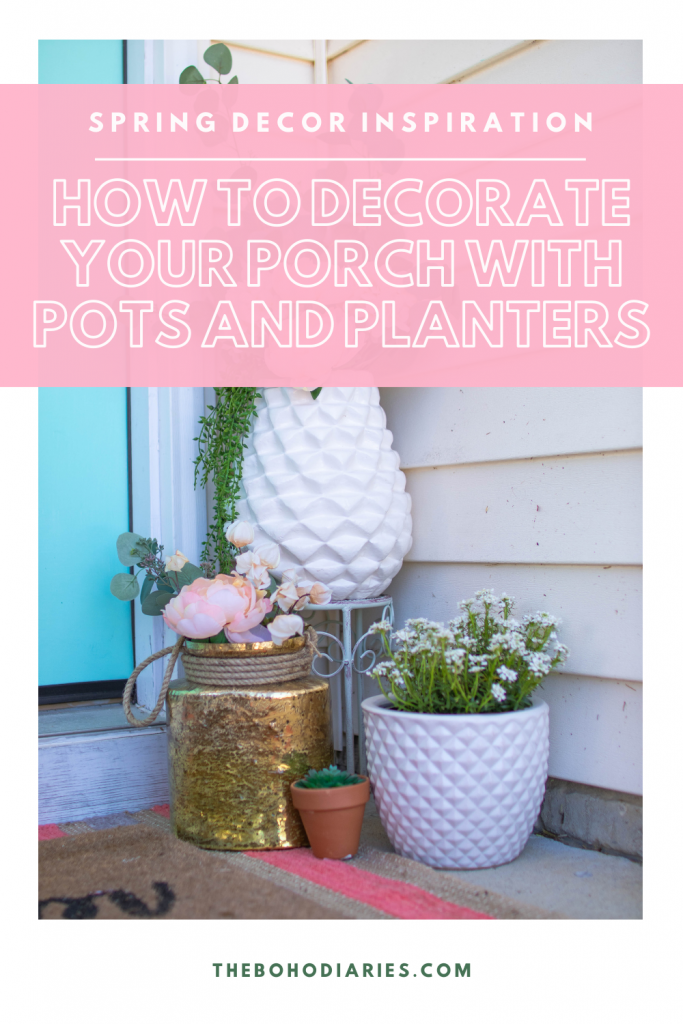 If there is one thing most people would say comes to mind when they think of the south, it's rocking on the front porch with a tall glass of lemonade or sweet tea. Now that we are in our first home, I am determined to make it feel cozy, and a representation of me and my family as closely as possible. Since the weather is starting to reach the warmer temps, I knew I wanted to get our front porch spring ready, starting with finding the perfect pots and planters. I have teamed up with
Old Time Pottery
to show how I styled our front porch for Spring with my favorite picks from their store.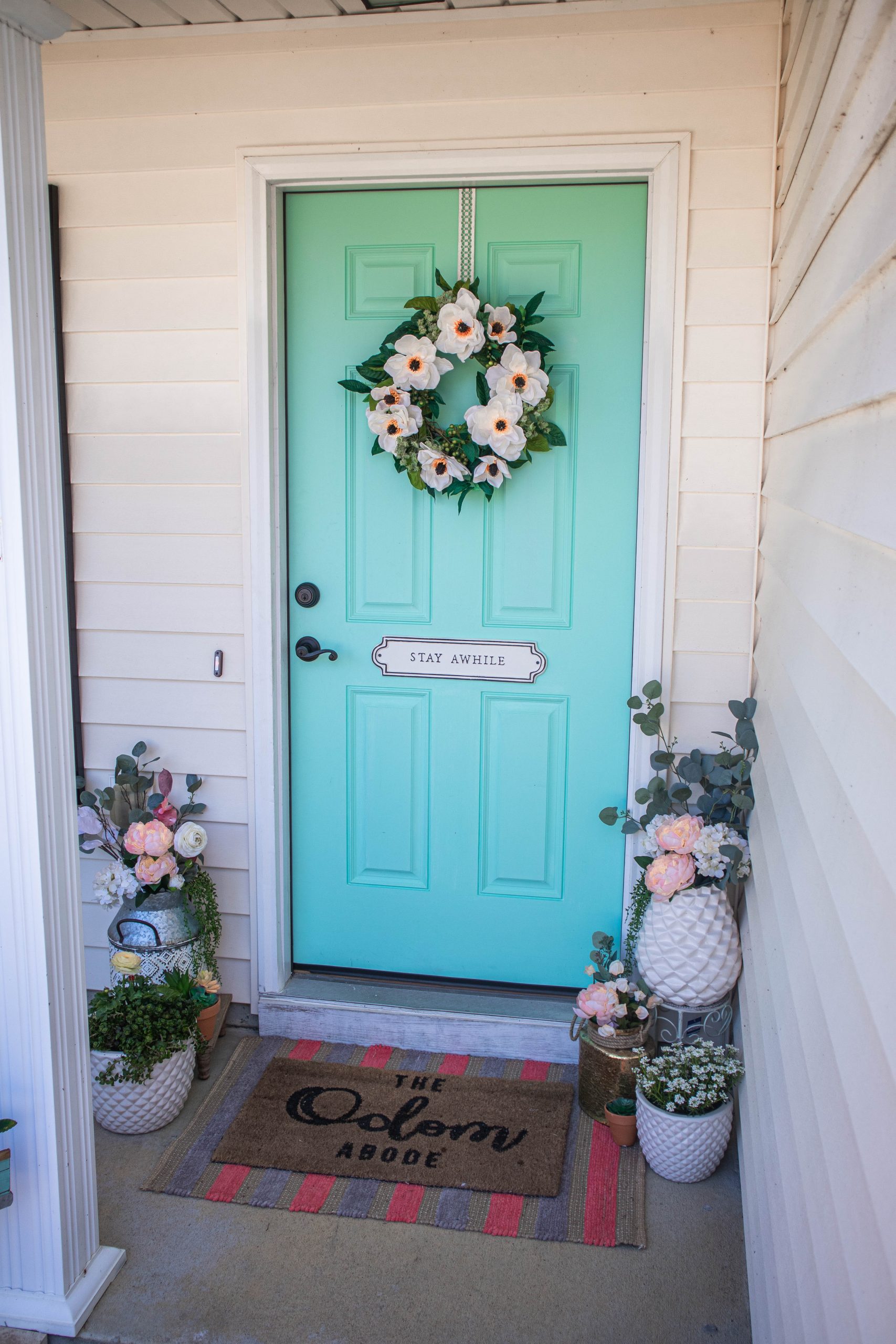 As most of you may know, my style leans towards a laid back, bohemian feel, full of life and greenery and never has a lack of color. Because we already have so much color popping from our
painted front door
, I knew I wanted to keep the pots and planters more neutral, but surround those with fun spring color highlights.
Do you ever find that one item that you get because you know you have to have it and form a whole look around it?
Old Time Pottery has SO many options when it comes to outfitting any space you're looking to decorate. It was extremely hard to choose and I would be lying if I didn't tell you that I probably went to the store at least 5 times until I was completely happy with the porch's look. I had to add a little more each time until I was satisfied with the overall look. It's basically how I shop for clothes too. 🙂
One of my first and favorite finds was the striped mat in front of the door. I knew I wanted one of the accent colors to be coral, and when I came across this coral, gray, and natural mat, it was instant kismet. Do you ever find that one item that you get because you know you have to have it and form a whole look around it? That was this mat for me. Some of you may think I'm crazy, and the truth is, I am, crazy for this mat.
Deciding on the pots and planters was definitely the hardest part for me. I love to mix it up but not so much that it looks out of place or tacky. There are SO many options at
Old Time Pottery
that I know I'll be back when I'm ready to outfit the back deck, but for now, the focus was on the welcoming front porch for all of our guests.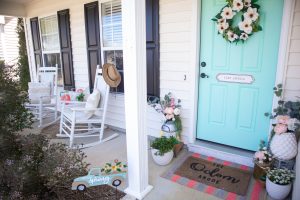 I was really drawn to the geometric look of the white pots and planters, and loved that they came in different shapes and sizes. From tall and rounded, to different sizes in the classic planters, I snagged those first as a starting point for creating the welcoming look. The taller, more rounded geometric pot was really unique and I wanted it to stand out as a focal point so I decided to also grab a stand to elevate it above the rest.
I pulled in a fun metallic pop with this ceramic gold lantern planter because I really loved the whimsical feel it brought to the space. I thought it was unique because it also had a rigid texture on the outside that goes really well with the geometric detailing of the white pots and planters. I also included classic terracotta pots with minuscule plants to add more dimension and a fun little detailing.
Adding to the color scheme, I mixed real and faux plants in all the planters, using faux flowers and stems, all from Old Time Pottery. I specifically brought in stems of eucalyptus and bunches of blush peonies. I am planning to use the blush pinks throughout our home for this Spring season so I believe establishing that trend at the front door will really highlight the pops of the same peonies throughout our home.
I do plan on renovating our front porch concrete with a fun paint project this summer so be sure you stick around the blog for that. This patio was built around 2012 I believe and doesn't seem to have had much maintenance since then, but I have such a cute idea I plan on doing that will update the look completely!
I am a firm believer in mixing different elements, and not being too afraid of color, so with the left side of the door I found a really fun galvanized planter with a bohemian-like white geometric design. After finding that gem and roaming more aisles of Old Time Pottery, I stumbled upon that super cute wooden plant stand. I loved that I hadn't seen anything like it in other stores, and at the time they only had one but I have a feeling I'll be checking back often to get more for the back deck. I knew I wanted to pair the galvanized planter with that wooden plant stand because of the rustic feel that both have.
I added the large white geometric planter filled with real spring greenery and a fun little terracotta pot with faux succulents. I placed them as I did to have the terracotta break up the neutral whites and I love the way it turned out.
Sometimes even the smallest details make the biggest impact on a space. For the seating area on the porch, instead of using larger pots and planters, I went for the smaller, cute additions that were different and I knew would stand out. I found the cutest little white bicycle planter, that I actually picked up originally to go out back by Caroline's playhouse, but realized its subtle cute-factor potential on our porch. I filled the basket of the bicycle planter with faux stems and peonies.
Old Time Pottery
also has an aisle that has tons of smaller faux pots and planters that are purely decorative for inside and outside of the home, which is where I found the adorable broken terracotta planter on the table that has overflowing succulents and greenery bursting on the edges. I have had so many visitors ask me about that cute little decorative piece so I love finding different areas of our home to display it. And guys, it was literally only $7.99! So affordable right?!
Lastly, the round natural rattan accent rug (only $8.99!) fit perfectly as a focal point for the seating area, with the white metal outdoor table placed in its center. It offers a nice central spot for holding our lemonade, books, and whatever else we may want to bring outside on a nice spring day to enjoy our porch. Every seating area needs a good spot to hold a cool beverage, and layering with rugs, and pretty accent pieces just livens it up even more.
Keep scrolling to see more angles of our current favorite spot in the house. I would love to know your thoughts on outdoor spring decor in the comments! Or if you just want to let me know what part was your favorite that would make my day too. Here's to a wonderful Spring season ahead!
I am linking all products down below for your reference. Thanks for stopping by!