Last weekend we took the girls to go strawberry picking at one of our local favorites, Gillis Hill Farms. This was Caroline's third time in her life and Ellowyn's first time going. It was a really hot, spring day with, as you can see, bright sunshine, and we filled our baskets to the brim. We truly love teaching our girls about sustainability and growing your own food. Morgan shows Caroline how the strawberries grow from the root under the giant umbrella leaves, and she loves to find the best strawberries, almost like a scavenger hunt. She can be VERY picky about her choices, it's so sweet to watch.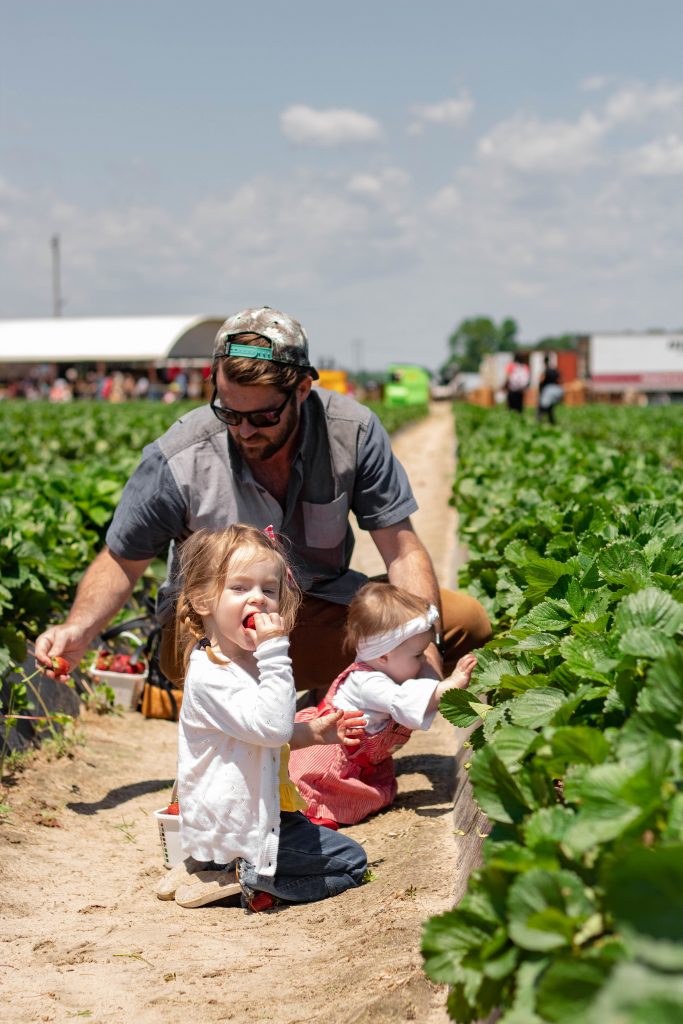 Of course, as we went along the rows, the girls were inhaling strawberries faster than we could stop them. Did I mention we absolutely LOVE strawberries in our household? Someone once told me they were God's candy, and I said that they couldn't have been described any better. 🙂
I think it is so important that my girls understand where there food comes from and how important it is that we are thankful for the food we receive. Morgan and I talk about this all the time at dinner with Caroline now and will continue to discuss it with our girls for years to come. Do you talk about things like that with your kids? Of course Ellie is a bit too young to even take in what we're saying, but Caroline has really taken an interest in gardening and learning how to grow and take care of her own garden, and I'm really hoping it's something that sticks with her the rest of her life.
We were a little short on time this day we went to Gillis Hill, but when you do go, I highly recommend having lots of time to get your produce, let the kids play in their fun playground and giant jumpoline, and end your visit with some of their delicious ice cream! I loving living so close to this little treasure in Fayetteville, and if you're anywhere in the area you should definitely check them out!