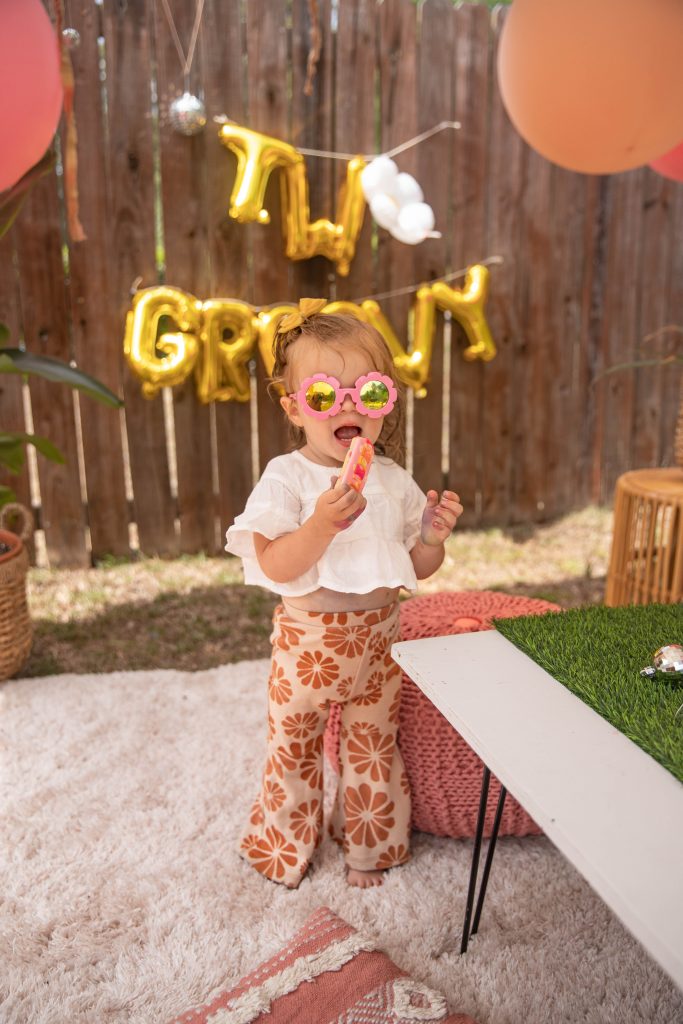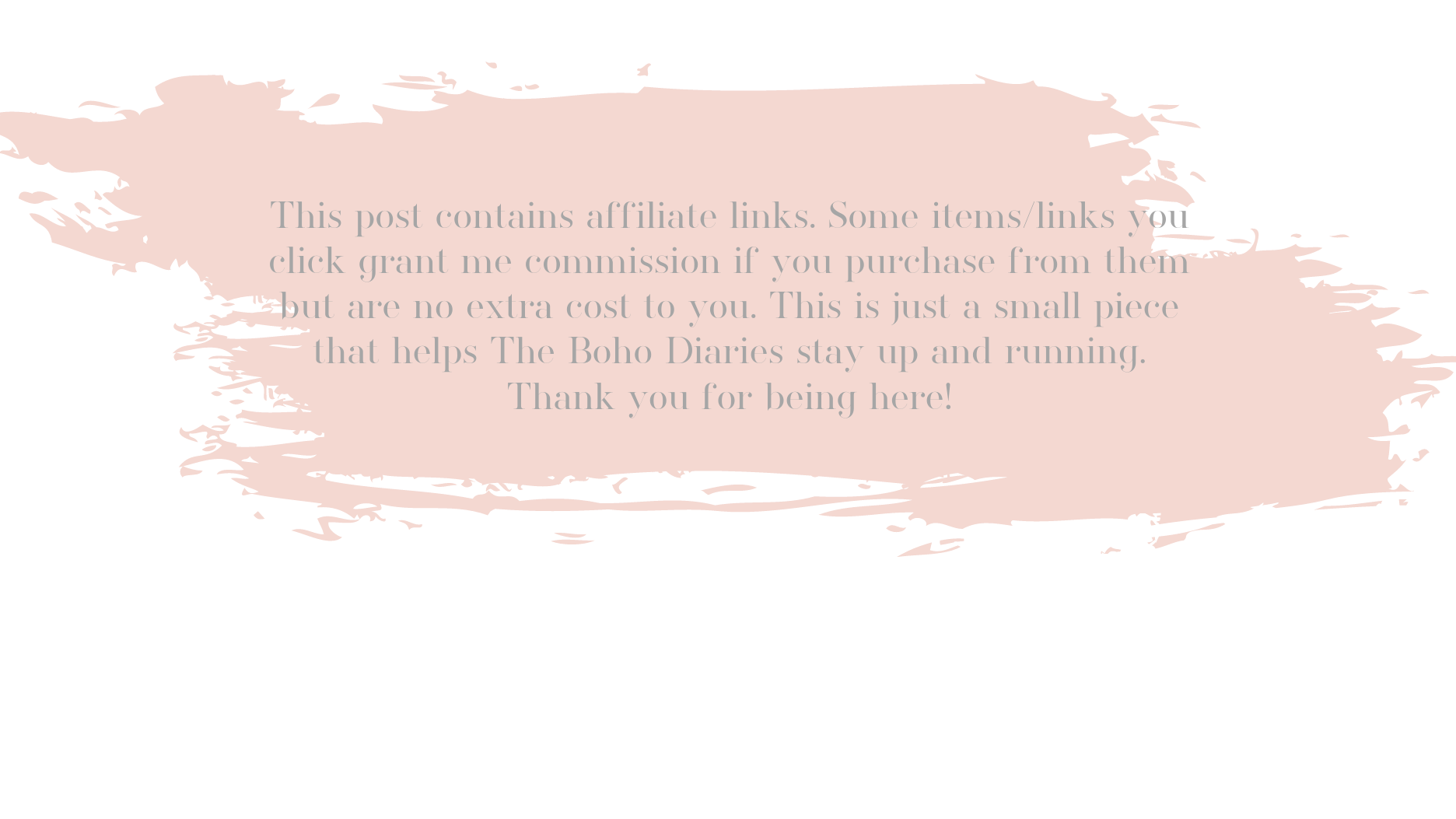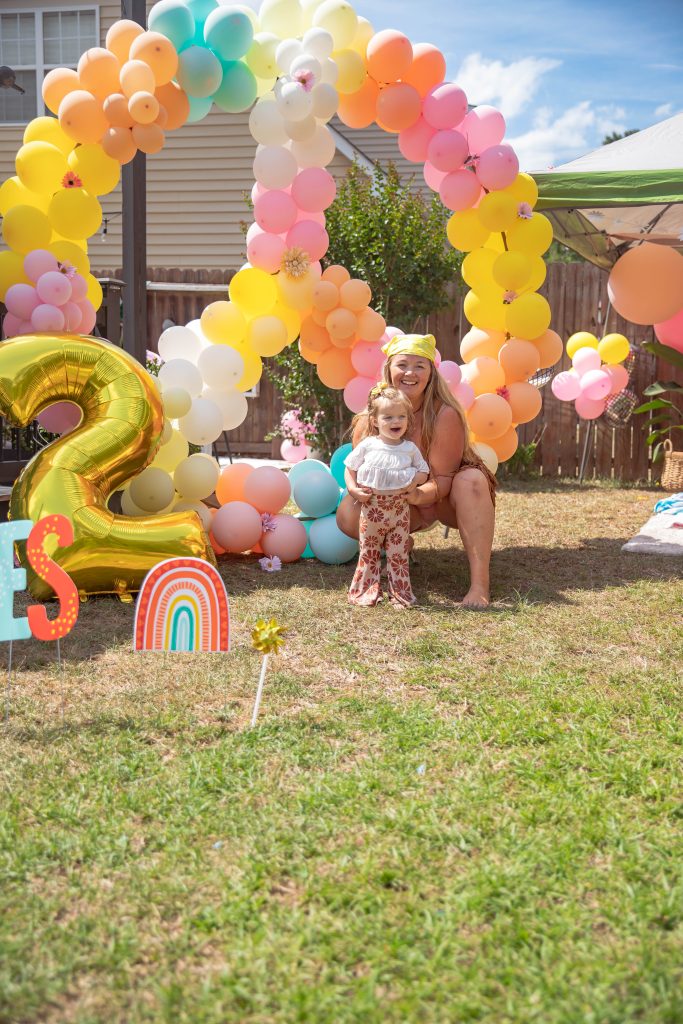 Ellowyn's Two Groovy Birthday Party
was a huge hit and so fun to put together. I absolutely love thinking up and putting together kids parties. With my love for all things 70's and retro themed, this one was extra special. Every year the warmer weather brings back all the retro vibes and I live for it. I try not to think of throwing these parties for my girls as selfish, but I can't say I secretly have been wanting to do certain themes for a while. This one was no exception.
The Two Groovy kids birthday party is such a fun theme, especially if you're a fan of music festivals. Originally I wanted to go with "Elliechella" as the theme (a play on Coachella the music festival if you aren't sure what that means) but I was afraid too many people wouldn't get it for a kids party. I am saving that idea for a more mature guest list :). This retro kids party idea is still great because it includes being able to wear fun costumes, and all the throw back 70s style decor.
Disco balls were a must for this theme, and hanging them outside was so magical as the sun lit them up like a thousand fireflies against our "birthday cabana."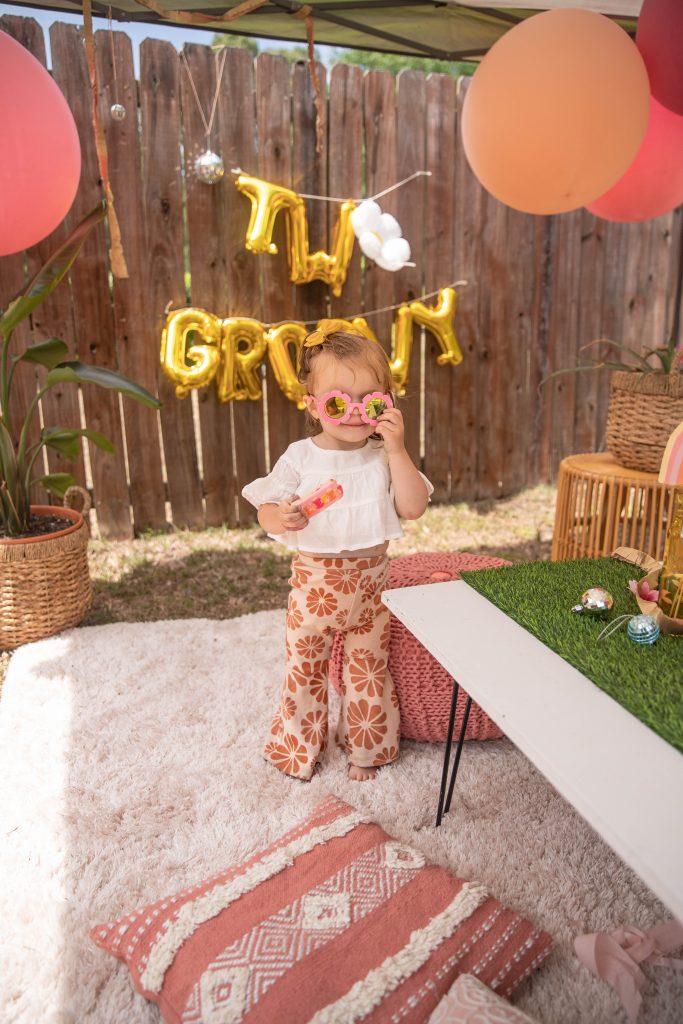 ---

---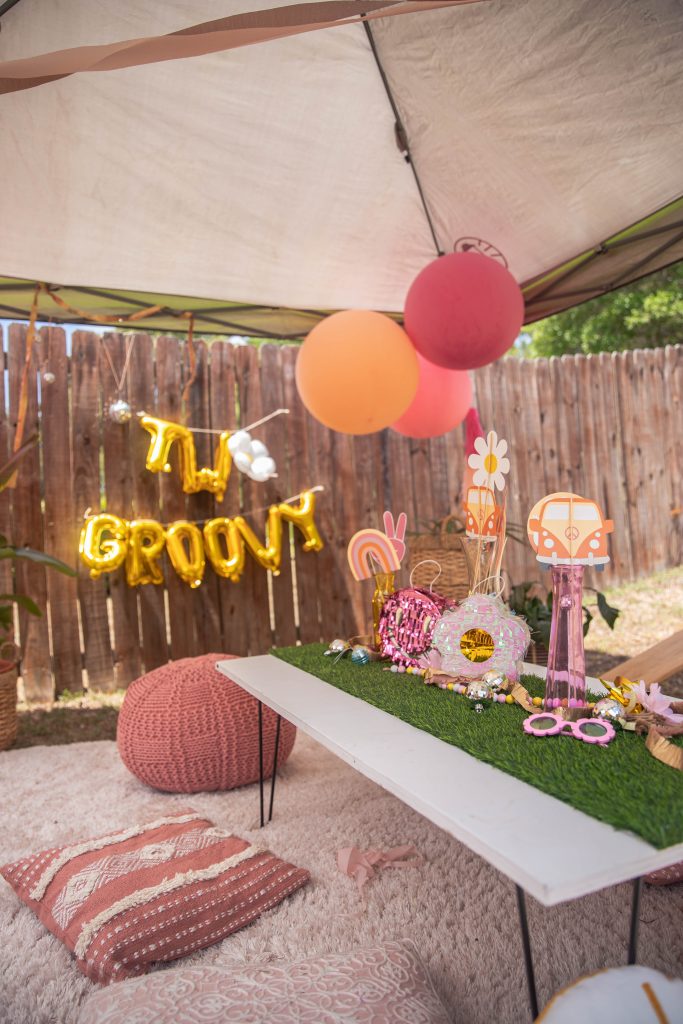 My Best Thrown Parties Consist of
3 main pillars of throwing a successful kids party. I go by these pretty much for all the parties I put on for little ones and they typically always end in success. 80% of the time it works every time if you know what I mean…
If you haven't been here long, the three main pillars you want to hit when throwing a successful kids birthday party (or any kids party really) is
Focal Decor / Photo Ops
Fun Activity
Theme related food/snack area with decorated table
We'll focus on the main focal decor and photo op area first. There are SO many ideas I had, and when it comes to the fun decor out there to throw a Two Groovy Birthday, the possibilities are endless really. I found a cute flag set online and collected some fun items from Party City, Michaels, Dollar Tree, and Hobby Lobby that brought the whole look together under the tent and the balloon art. I am one of those who will go to multiple places in search of the best deals, as well as hoard decorations for the perfect opportunity to use them. The oversized balloons were found at Michaels months ago during an after Easter sale. Don't sleep on those Michaels sales you guys!
I took the colorful vases I found at Dollar Tree and filled them with the flag centerpieces. I scattered disco balls and these fun mini piñata's through the middle, as well as my first attempt at frayed and layered streamers. There will be a fun tutorial I plan to share in the upcoming weeks, as I have experimented more with this and love how it pops as party decor!
---
On top of the extra magical disco cabana, I threw a challenge at my bestie, Ashley, who did the entire Peace sign balloon moment for this party. You could definitely say it was the focal point and SO memorable. I can't wait to do try more creative ideas with the balloon circle and to see what else she builds with it! I bought two of the balloon arch kits that are linked above in the party supplies I used, and she and I both had a few extra packs of white and pink that she double stuffed for the more pastel color scheme.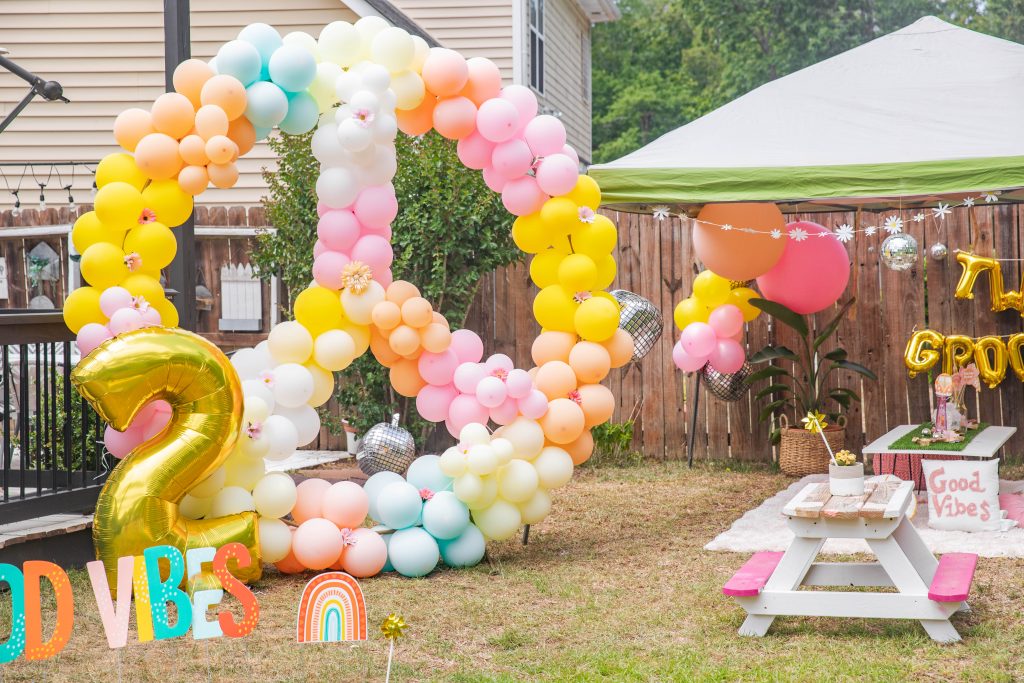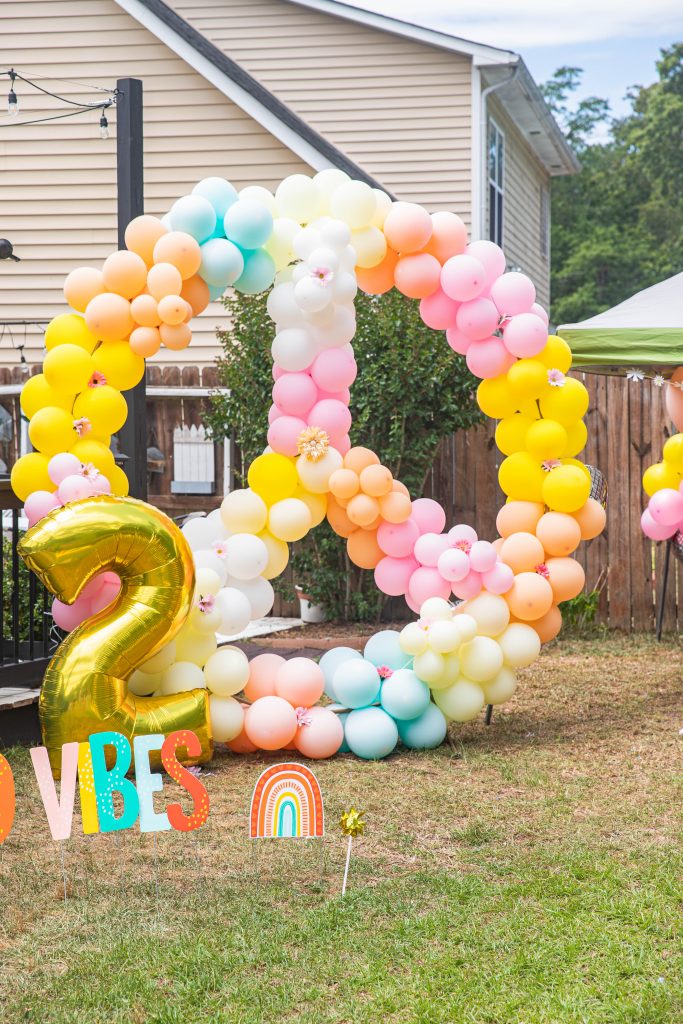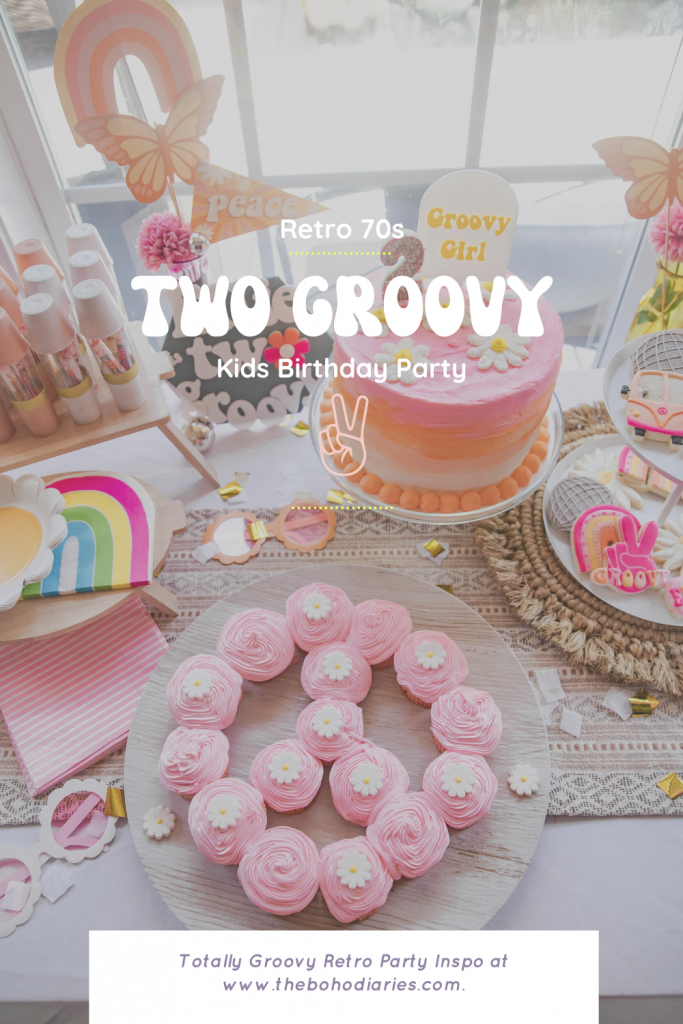 ---
This Two Groovy Birthday is probably my favorite
dessert table I have put together to date. A Two Groovy Kids Birthday Party called for lots of pops of pink and yellow. The array of colors, retro vibes, and small pieces of detail that went into each item on the table bring me so much joy every time I look at these photos. Which part is your favorite?! Now, I do want to point out that I recognize the peace signs may or may not have been made totally accurate… It's one of those really funny stories we look back on and laugh about now because both places were done be completely different people and neither realized anything was missing. You really can't tell at first glance. Did you notice what was missing?
Anyway, the cake was made by a sweet friend of mine Michelle from Icing Designs. Not only did it fit the theme perfectly, but it was DELICIOUS and did NOT last long at this party. Those kids were raving for seconds. The cookies were professionally done by Alivia at The Cookie Shoppe and were so beautiful it was a tough decision to even have them eaten! But they were also delicious nonetheless.
The pull apart cupcakes was my idea, but executed by the teamwork of Morgan and my Mother In Law, Dianne, who is also an amazing decorator and crafter. Love have artistic family members who can help!!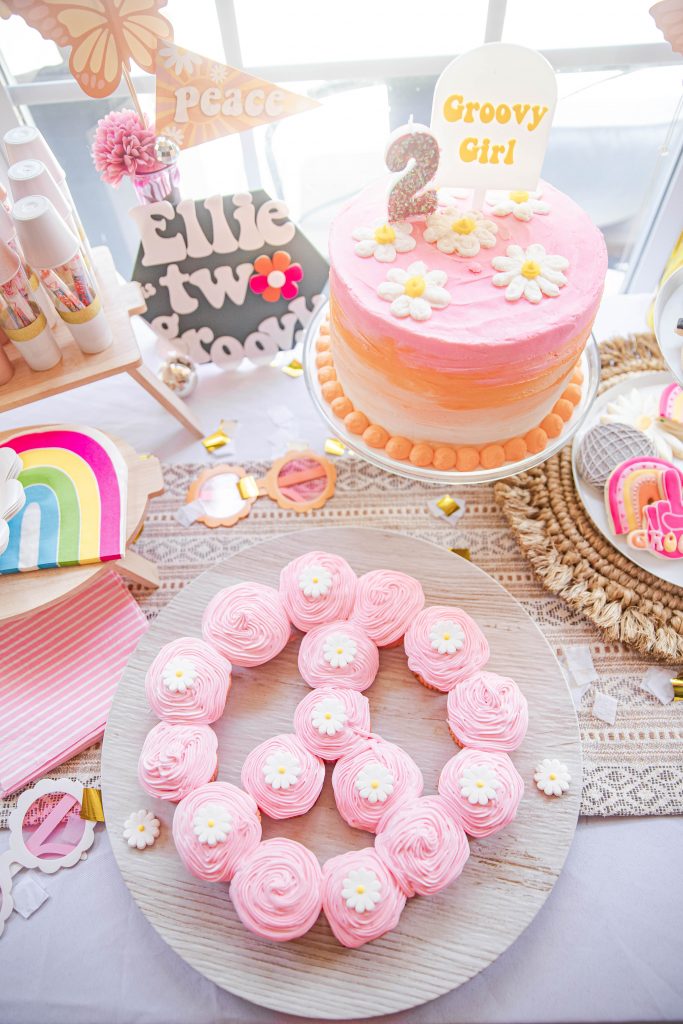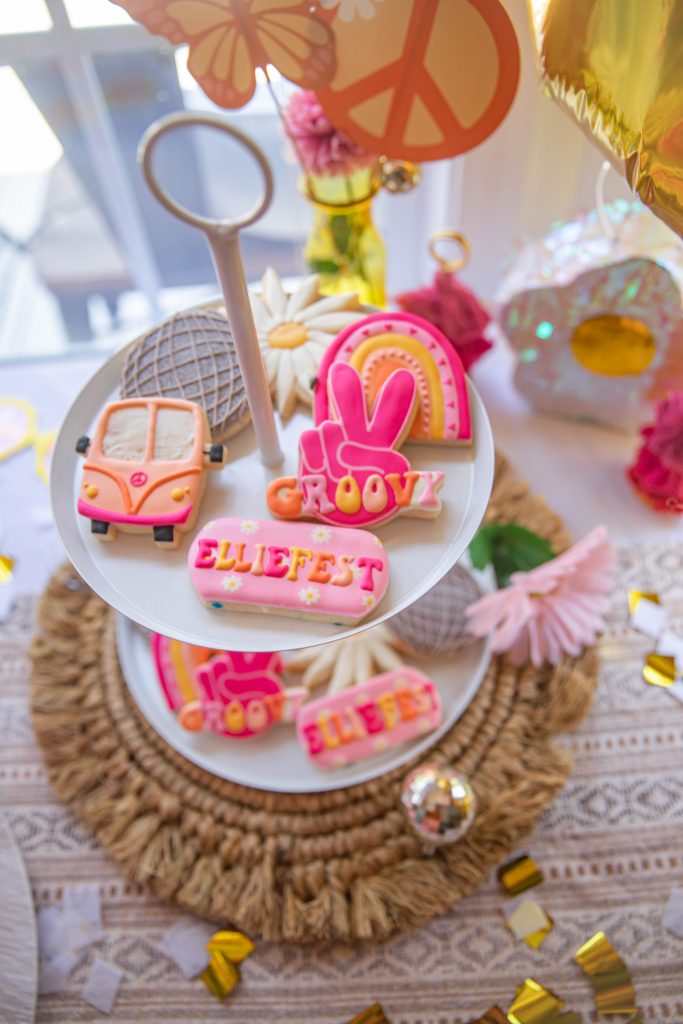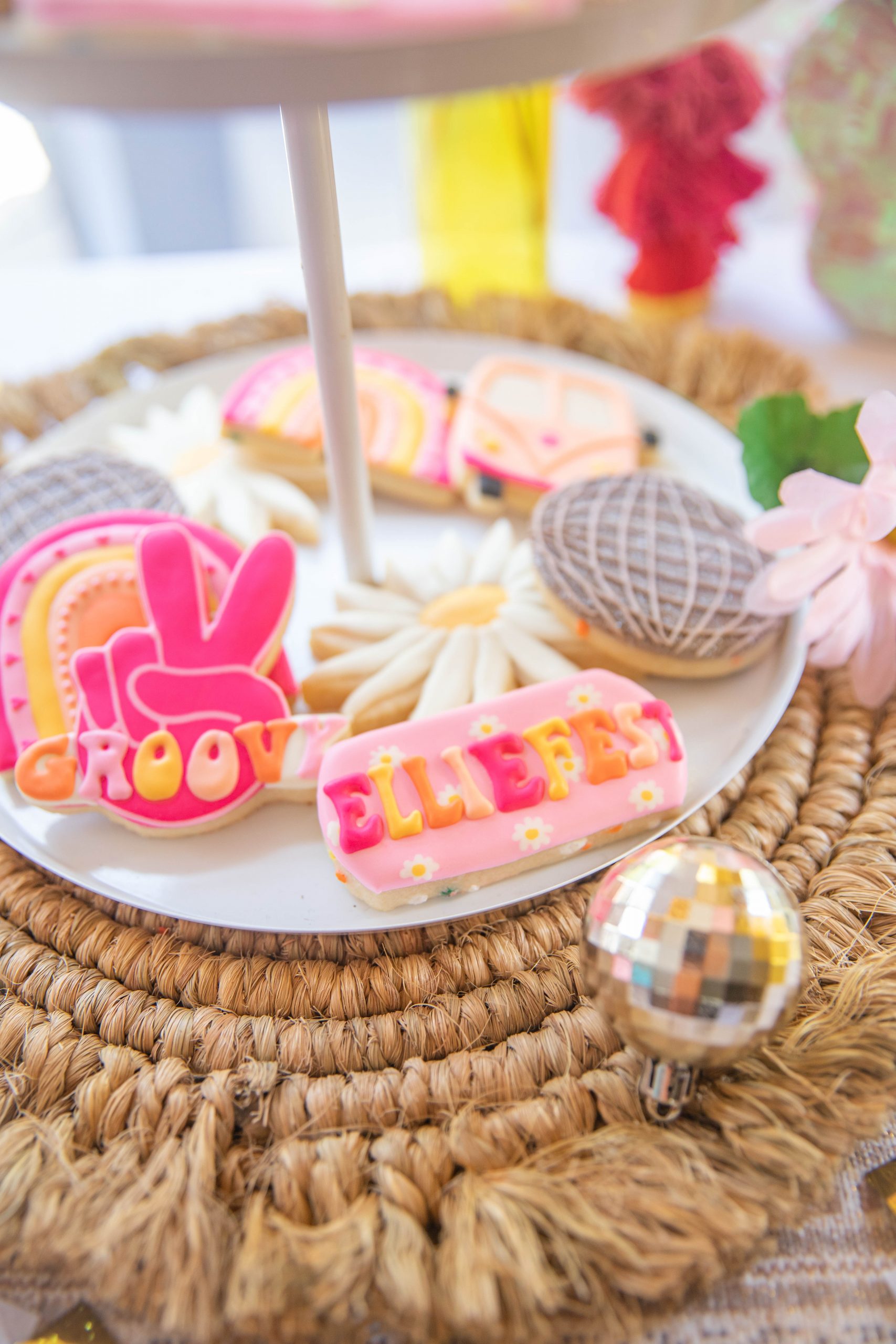 I did attempt an adorable party favor that I found on one of my favorite sites, Handmade Charlotte, but it didn't quite turn out as cute as I hoped. Granted, I did attempt it the night before the party giving me little room for trial and error testing, but I kept them on the table because I felt collectively they looked cute with the decor and the kids loved em!
They are lava lamp candy holders, all made from dollar store items and paint! Definitely refer to the post from Handmade Charlotte to see the best tips on how to achieve the look!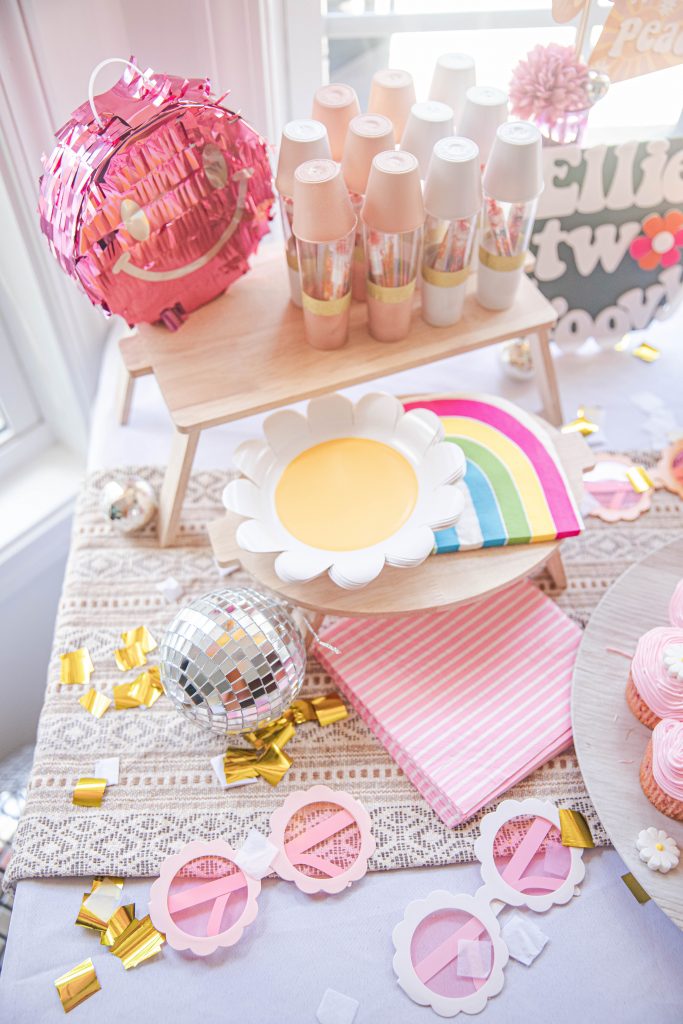 ---
The activity was a risky choice but
the kids honestly had so much fun with it. I had tie dye kits and shirts the kids to make their own psychedelic creations with. I thought it appropriate for a Two Groovy Kids Birthday Party should have something tie dye to top it off. Ellie I think had the most fun with this. She basically tie dye'd the shirt she was wearing in the process. So much for that adorable birthday outfit!
The kits were from Hobby Lobby and came with everything we needed. This included gloves that I neglected to hand out to anyone because I thought they were the bags the kids would put the shirts in when they were done. So unluckily for me, all the parents' had extremely stained hands as well as most of the kids. SORRY PARENTS 🙂 🙂 Another lesson learned!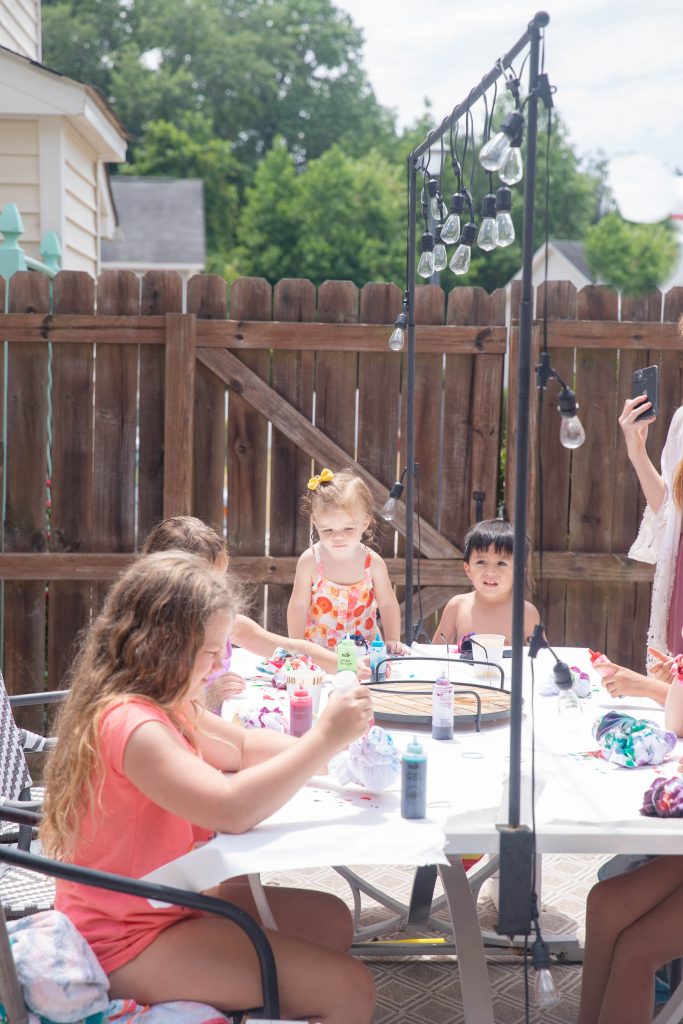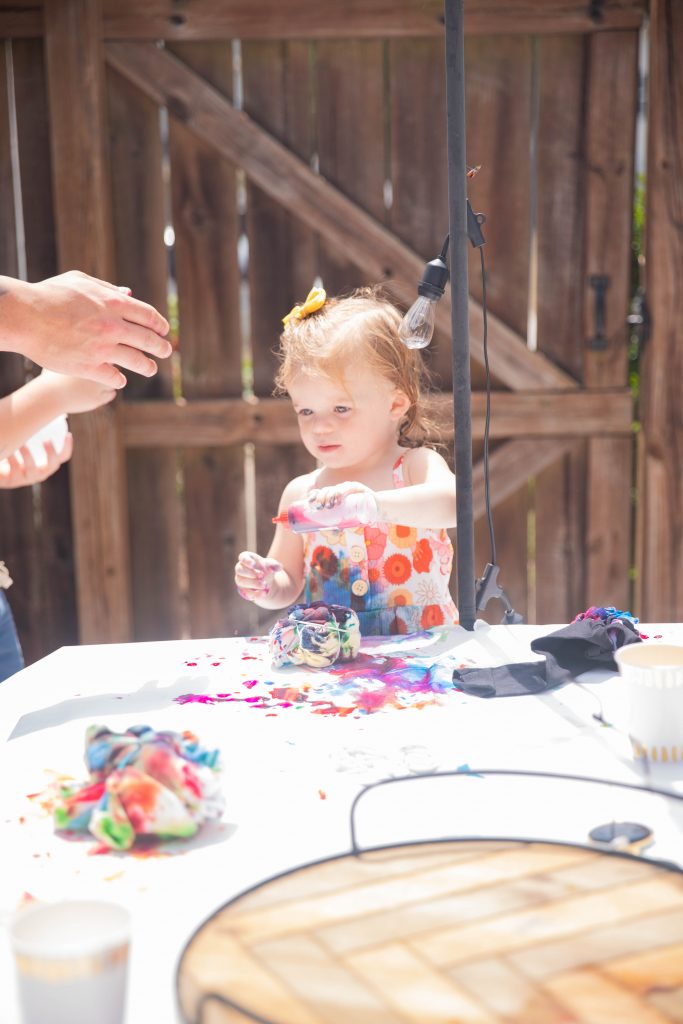 This party was filled with all of my favorite things, over the top decor, delicious treats, and fun, and I wouldn't have it any other way. Take a look at my girl in her birthday outfit, moments after bringing her outside in her birthday outfit. I just wasn't fast enough with the camera to get that girl before she dove in!!
To my beautiful Ellie belle on her second birthday,
You are the wild child I always knew I would have. God wouldn't let me out of motherhood without experiencing one just like me. You have the best sense of humor, even at 2, and you (much like your sister) are very much like the energizer bunny. I love the way you get over excited about Minnie and Mickey Mouse, and how you scream OH TOODLES when you watch Mickey Mouse Clubhouse.
When you play with your sister, it's all cute and fun and games now, and I can't help but think of how it will be 10 years from now. You have made us the perfect family of 4 and I can't express just how much more love and joy you brought into me and daddy's lives. Stay groovy my Ellie girl. I love you so much!
– Mommy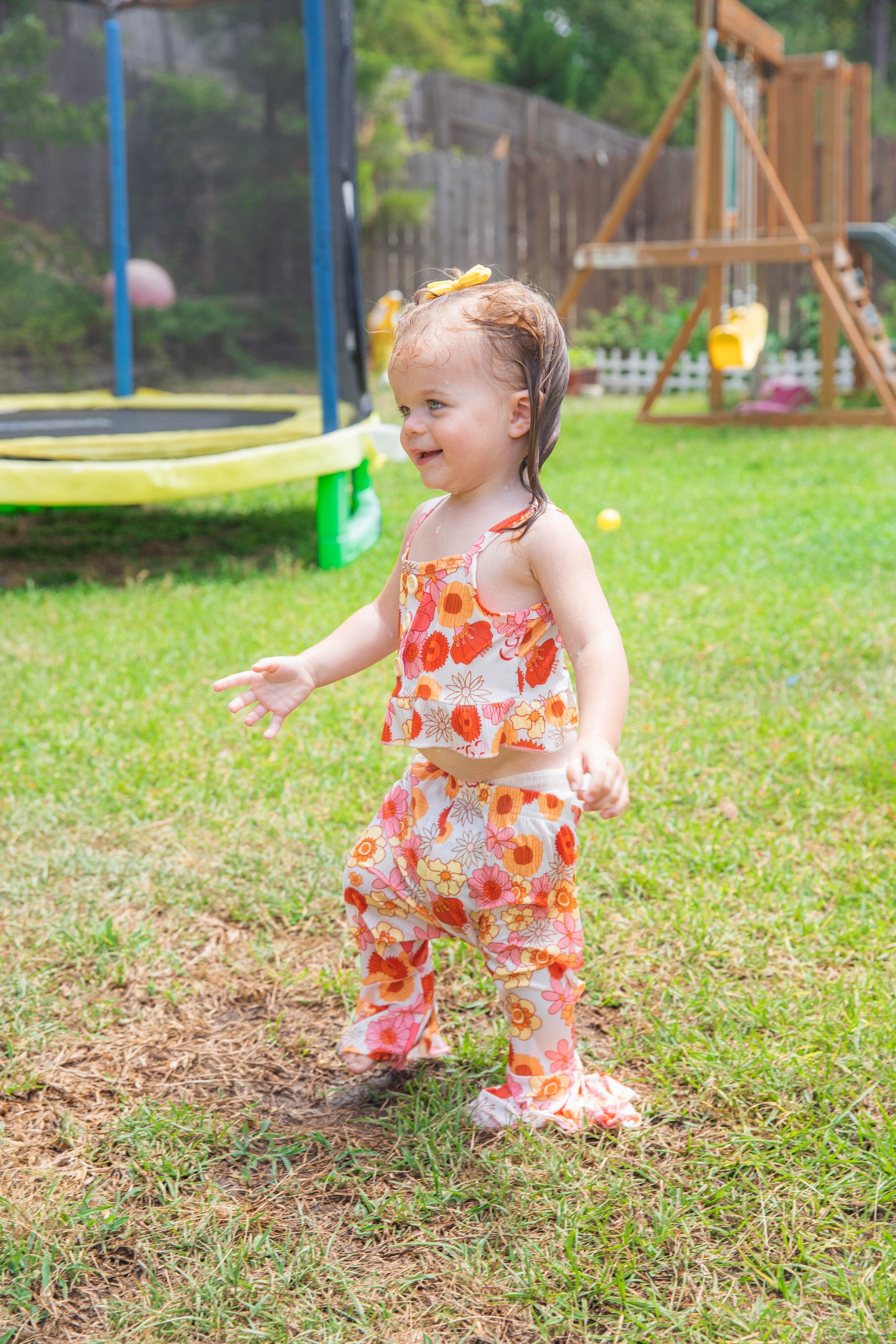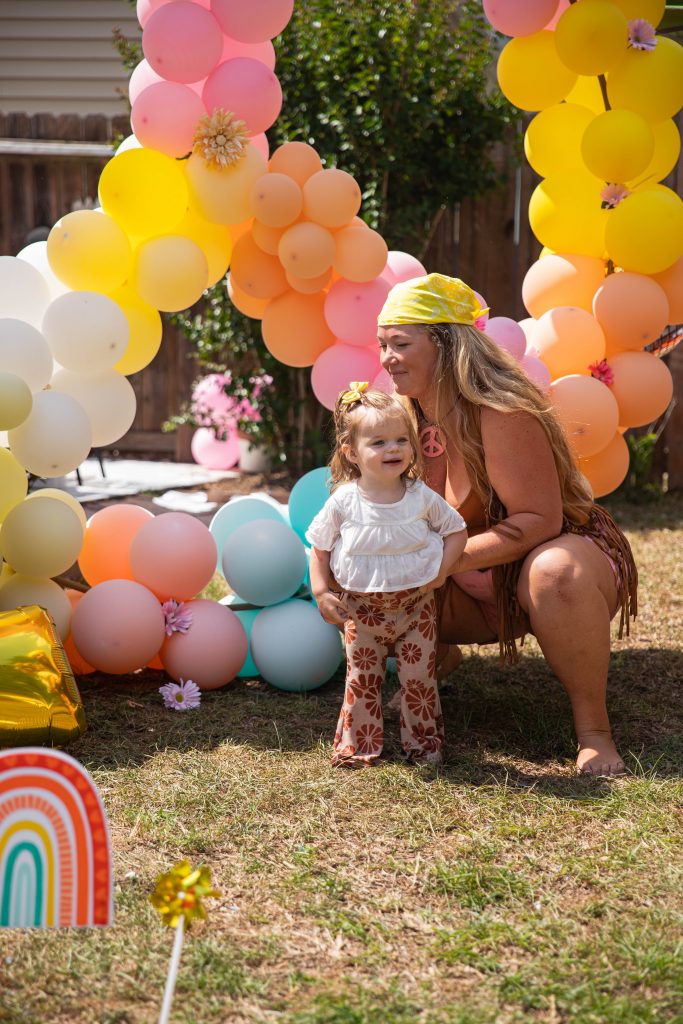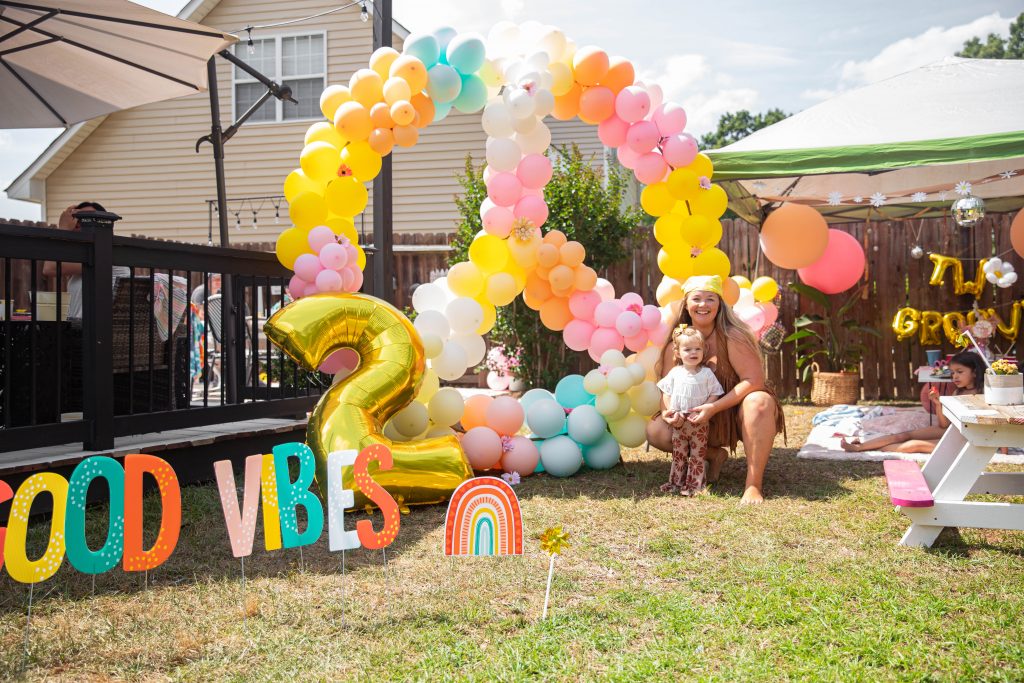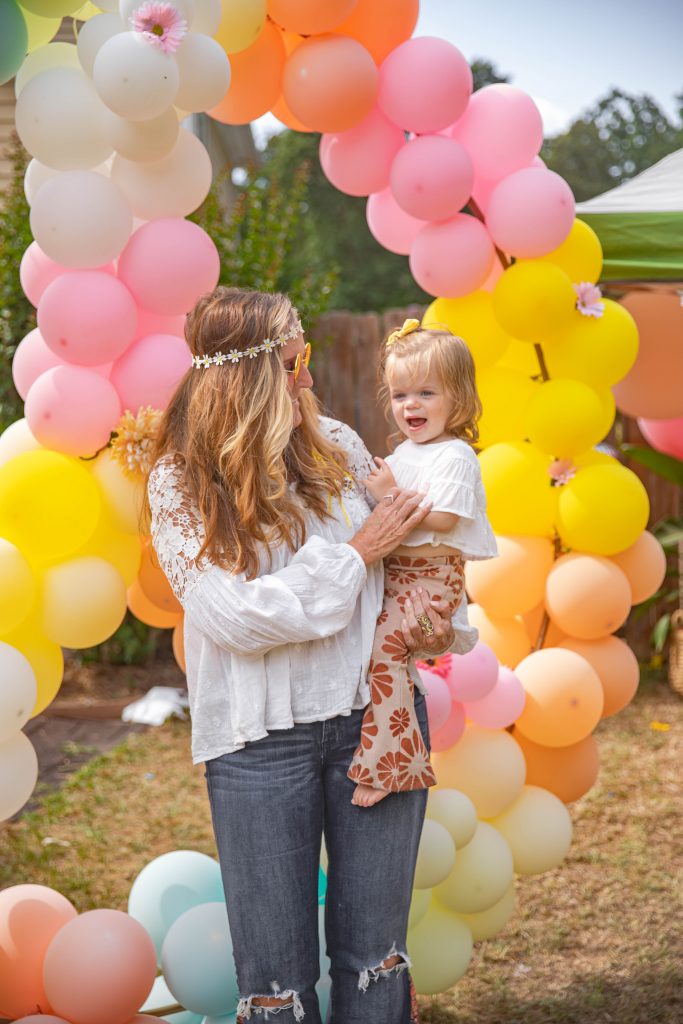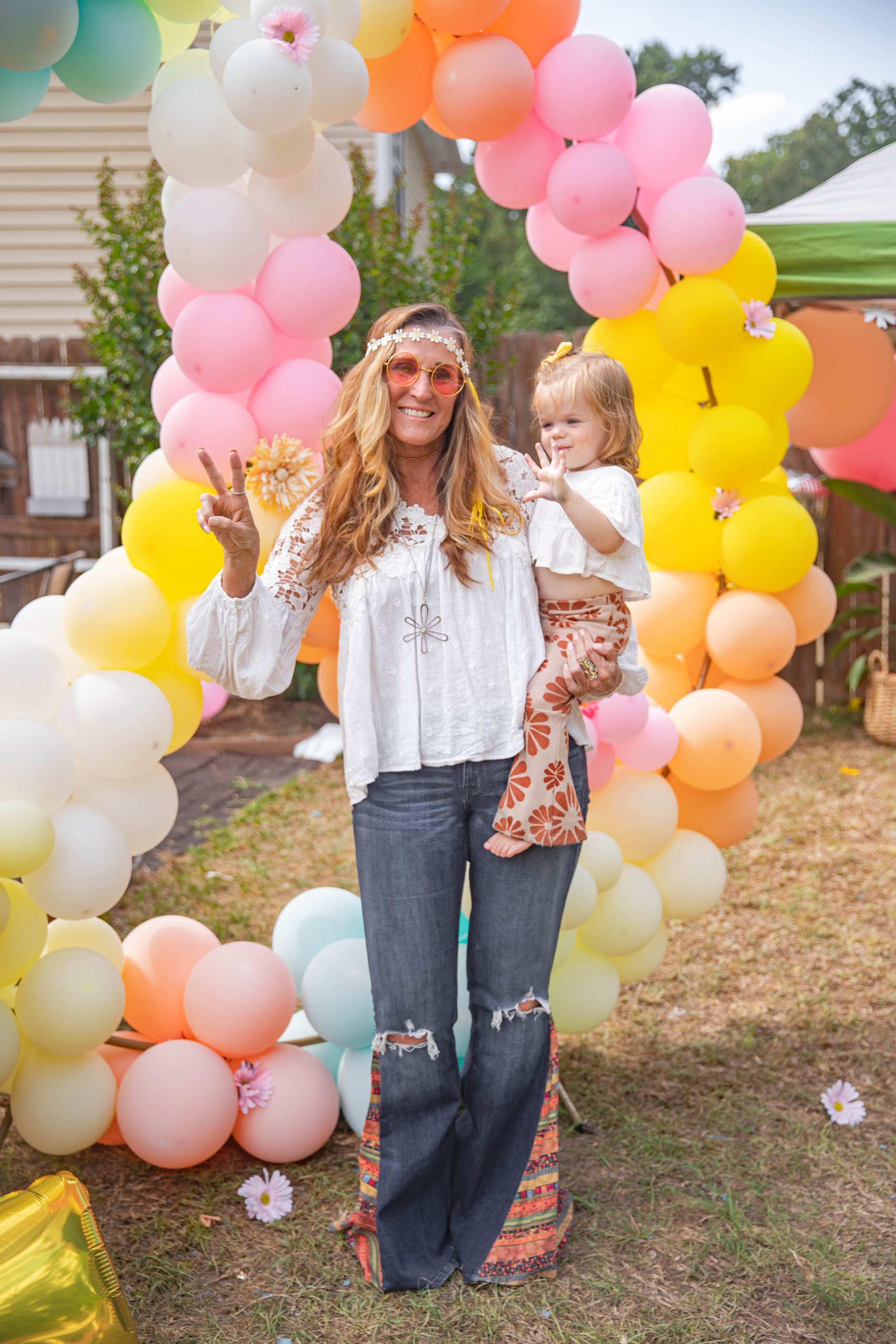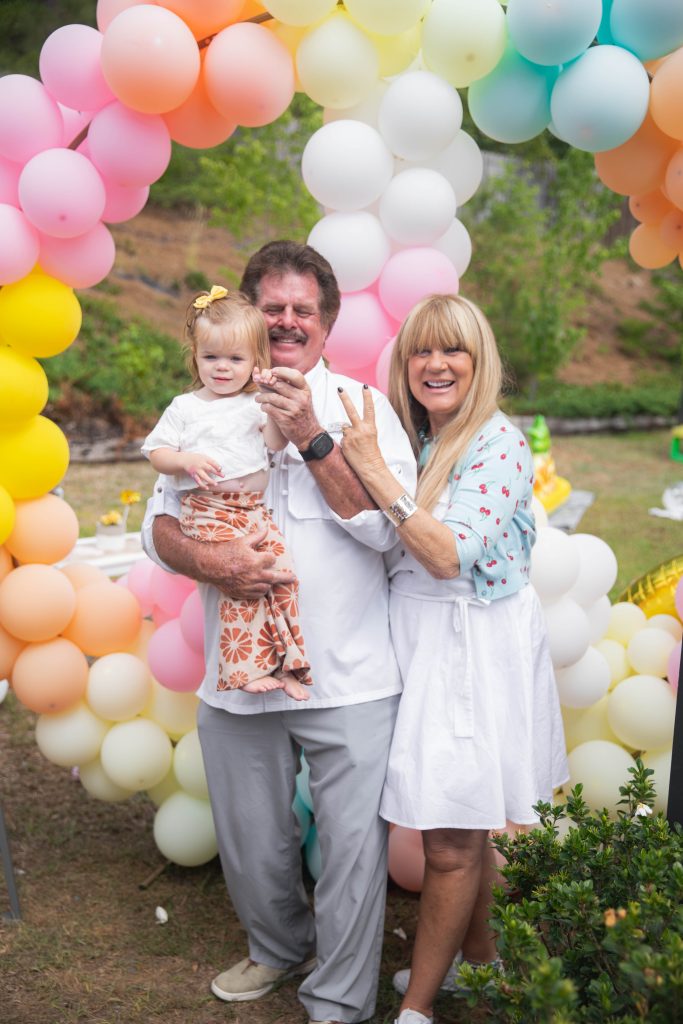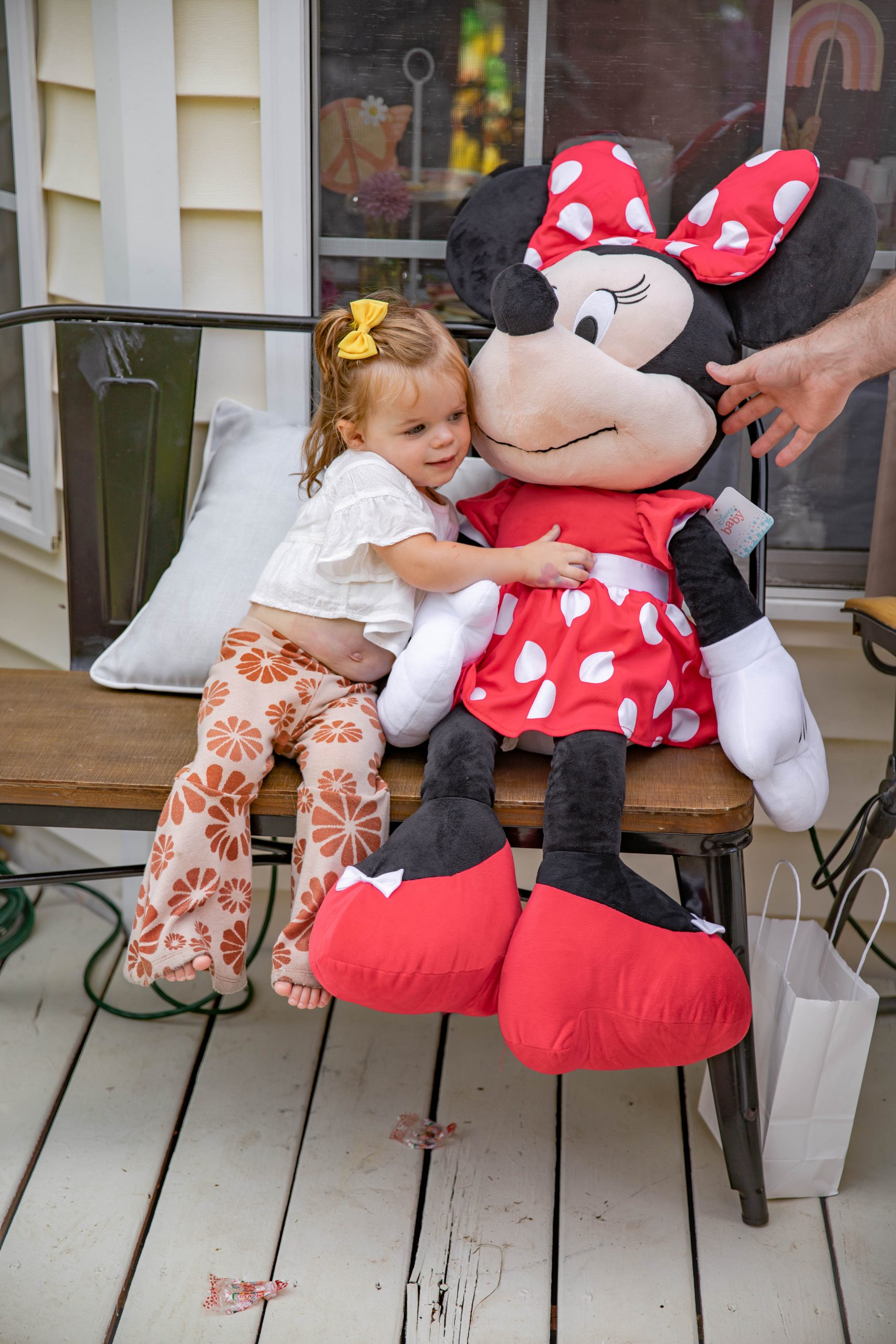 Ellowyn is obsessed with Minnie and Mickey Mouse right now, so Morgan got her a gigantic Minnie Mouse and her reaction is priceless! She didn't know what to think at first, but loves it so much!
I hope you enjoyed our little Two Groovy Baby Girl Kids Birthday Party and found some fun inspiration of your own! Please subscribe to the blog for more inspo and ideas, tips and DIYs that I love doing as a work from home girl mom. Thank you so much for being here and reading along! Be sure to Pin these images to your Pinterest boards to save for later!

---
Want To See More Kids Party IDeas?