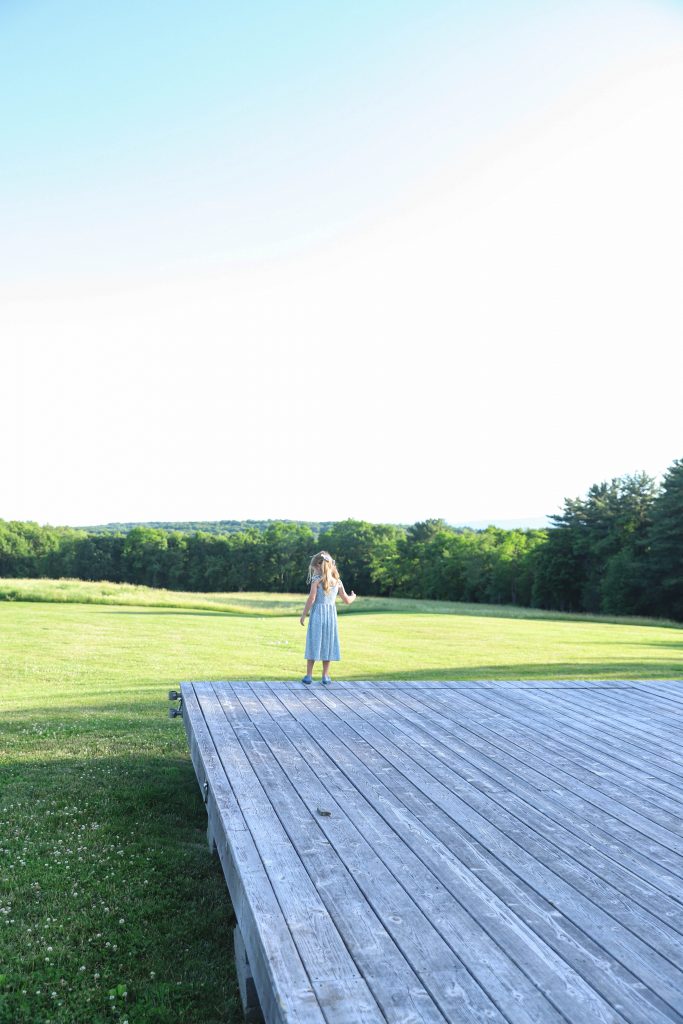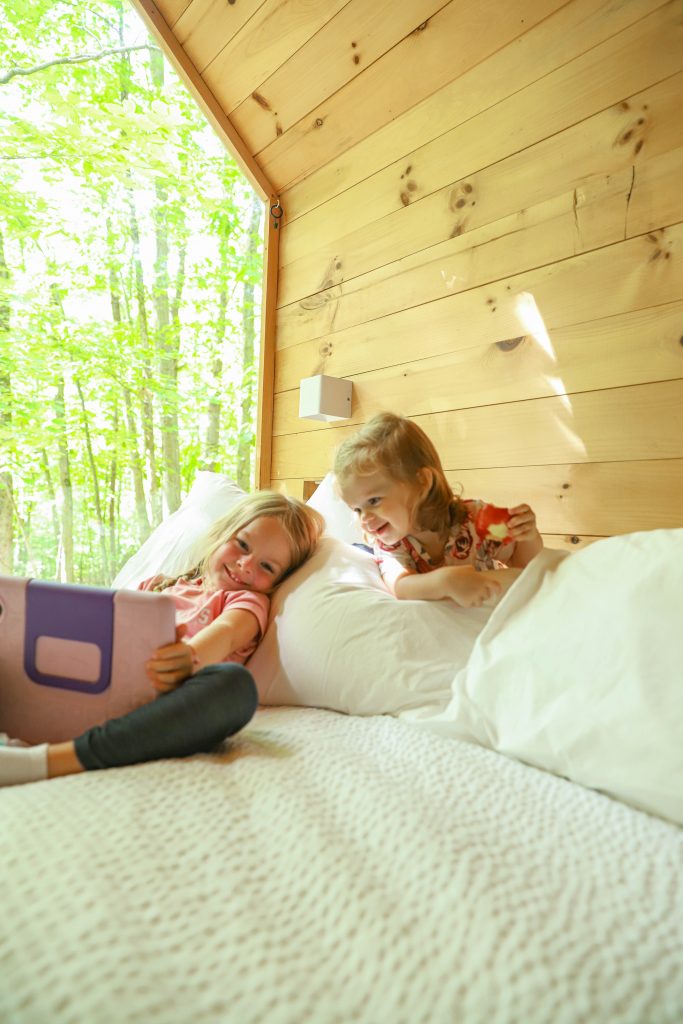 What makes a good mom?
Did you know, that if you Google that question, not once does it mention moms taking care of themselves in the top 10 articles. While putting your kids above everything is a very true way of being a good mom, leading by example is another biggie. We should always show our little ones that self love is SO important. Recently, my daughters and I had a sweet getaway with Wanderlust Family Retreats, a complete self care experience. This unique vacation is centered around self care for mamas, while also enjoying and bringing along our little ones in the heart of nature.
How many of you out there are a mom? Ok, I am assuming since you are reading this you most likely are, or quite possibly a dad or maybe even a friend wanting to find out more about this trip to surprise a mom in need. Well, we all know motherhood is hard. Moms often get put on the back burner and not always by choice, but mostly, because of unavoidable exhaustion and anxiety over ensuring everything else is taken care of first, we just don't prioritize ourselves.
This amazing complete self care experience for moms and children found at Wanderlust Family Retreats, caters to moms looking for ways to relax with the comfort of having their children with them. I have needed something like this for a while. I had been craving a getaway, somewhere I had never been, with women I could connect with. But that mom guilt always creeps its ugly head in. I was nervous at first, thinking about bringing the girls rather than going and relaxing on my own, but I don't regret bringing them for a second and I will tell you why.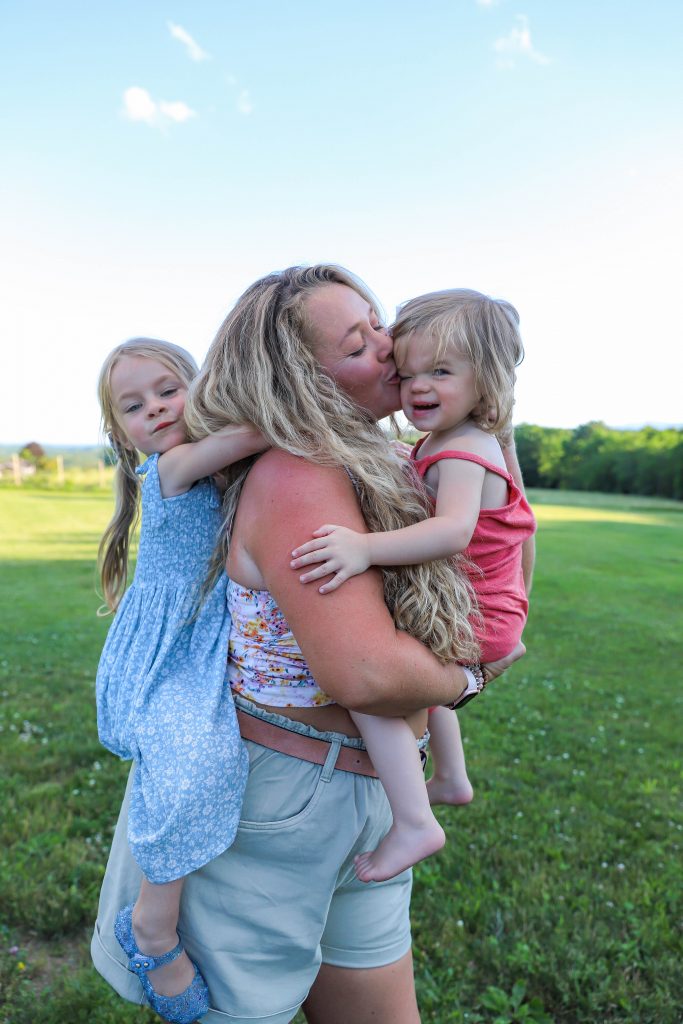 By a show of hypothetical hands, how many of you would think that taking a trip with your children is a form of self care?
When I think of self care I am thinking, a trip to the spa, disconnecting from the world for a bit, quiet meditation, or laying on a beach alone to "recharge my batteries." How many of you can do all of those things and honestly not think about your children? I'm not saying it makes you a good or bad mother if you do or don't, but with Wanderlust Family Retreats you don't have to choose. It is the best of both worlds.
On the day we arrived, we were greeted by the sweetest employee Marie, who you will hear a lot about here because she was just so wonderful. We were given cucumber and watermelon refreshers when we arrived, and shuttled to our cabin by Marie. Wanderlust Family Retreats starts off with giving you the complete self care experience in the beginning.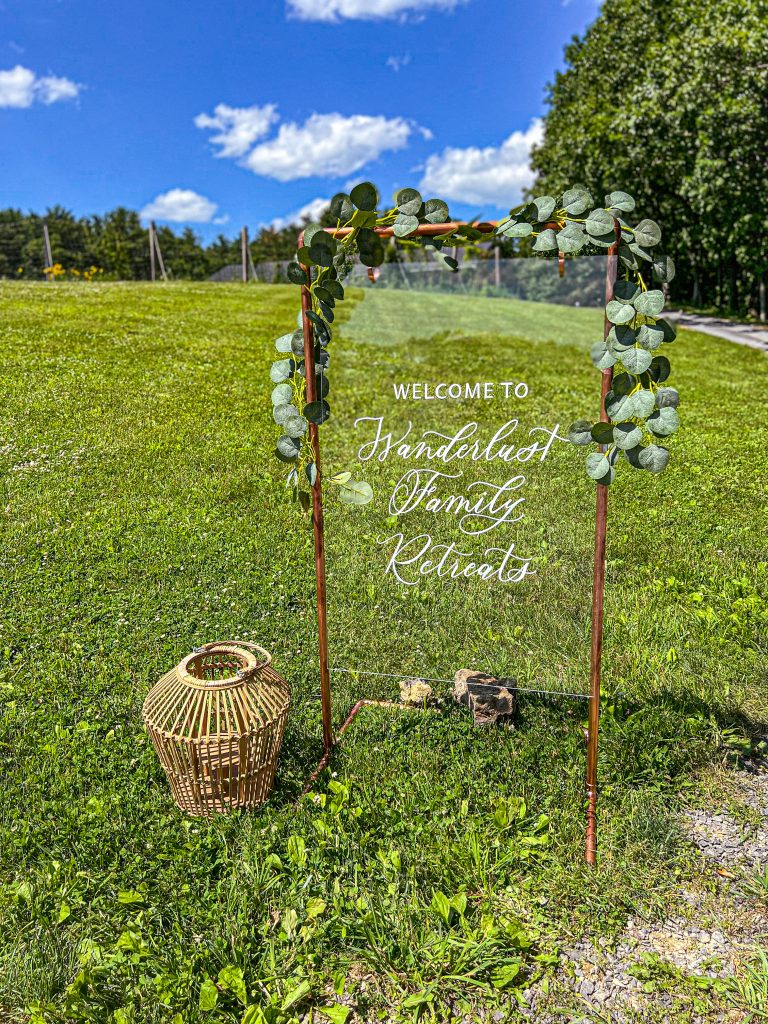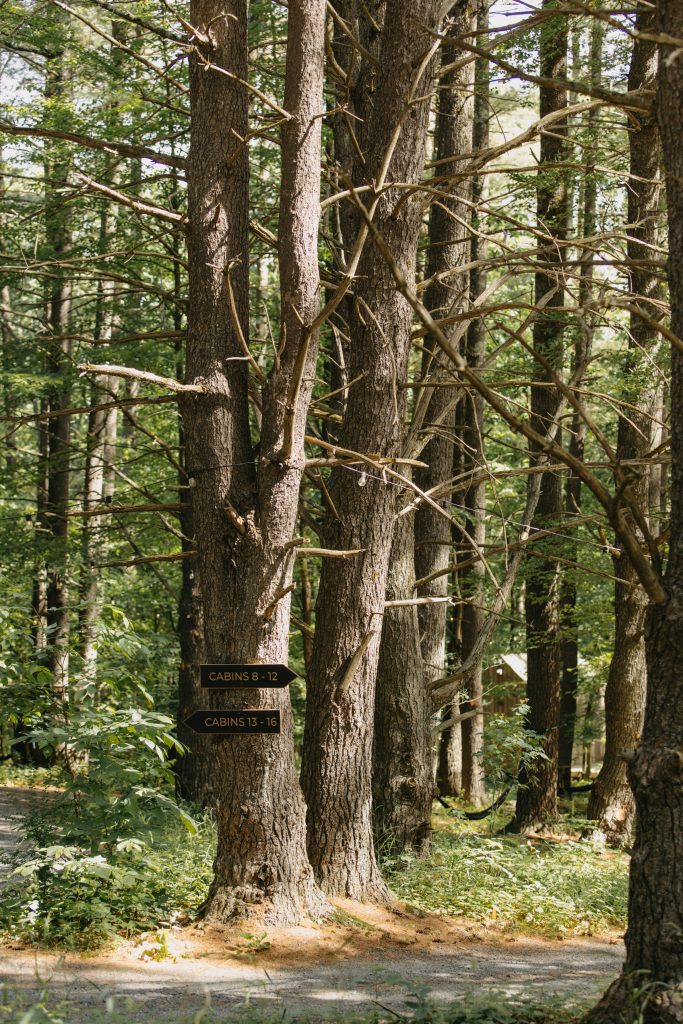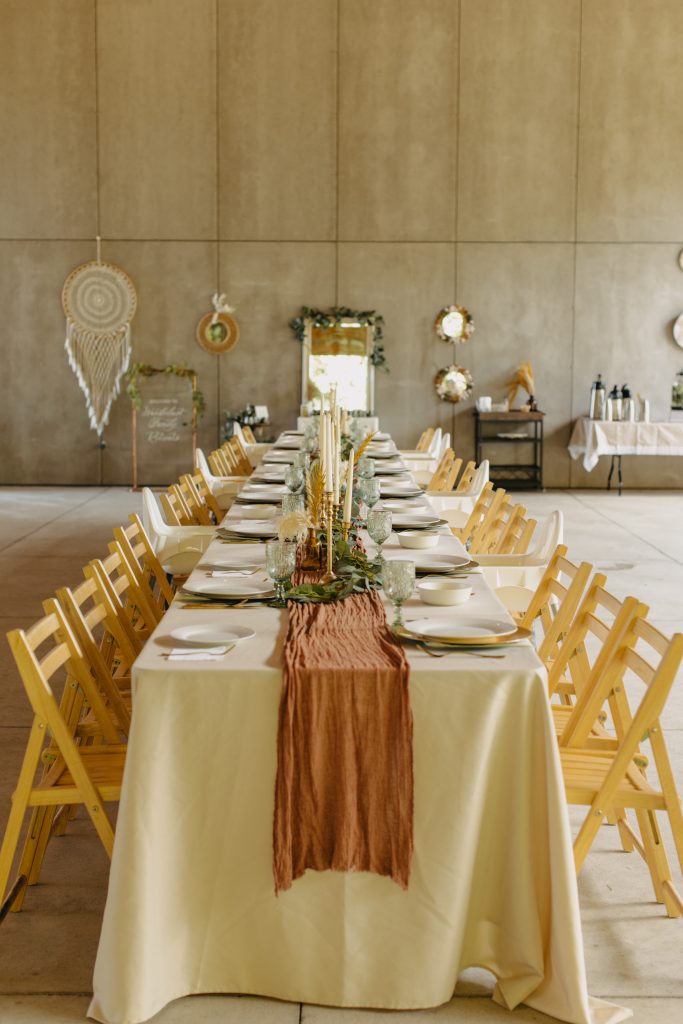 The first day of arrival mostly consisted of exploring our new grounds for the next few days and meeting all the other families. We got acquainted with our cabin for a bit and ventured up to the pavilion after we were settled in. The Wanderlust Family Retreats team setup the pavilion as the perfect focal point for the entirety of the stay. Mostly all meals were held there, the children's time was there, and yoga classes took place there as well. It offered familiarity that kids love and was easy to navigate.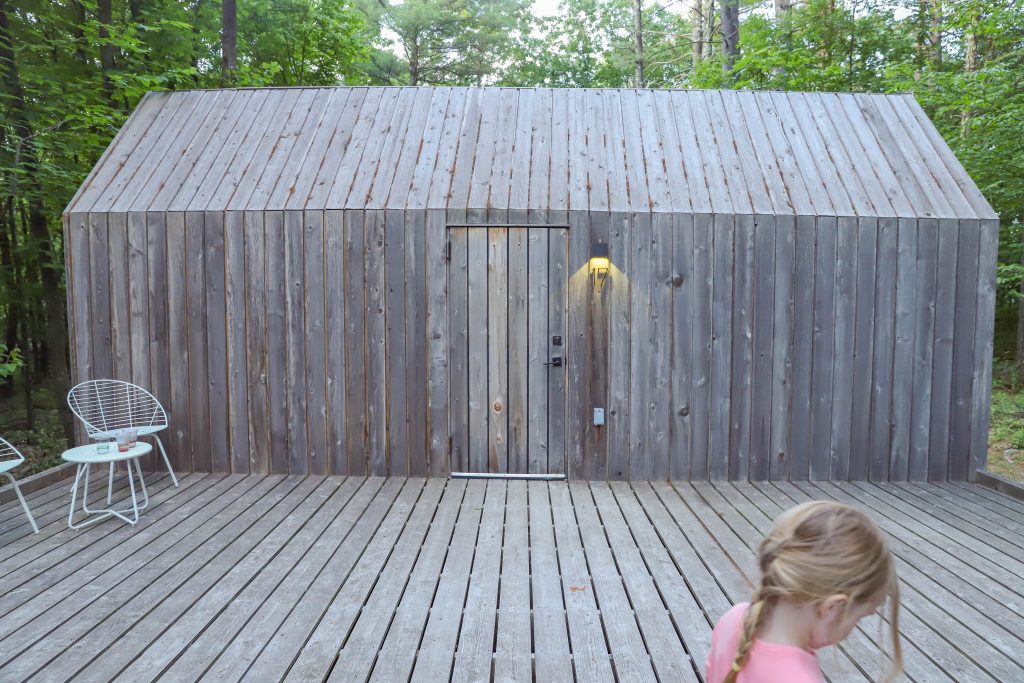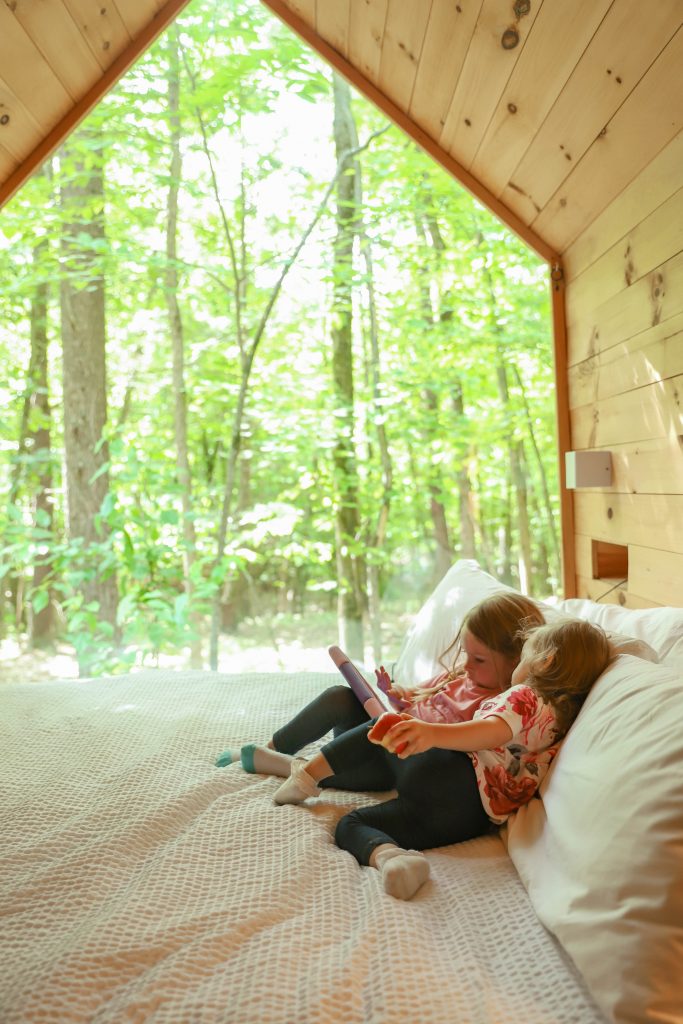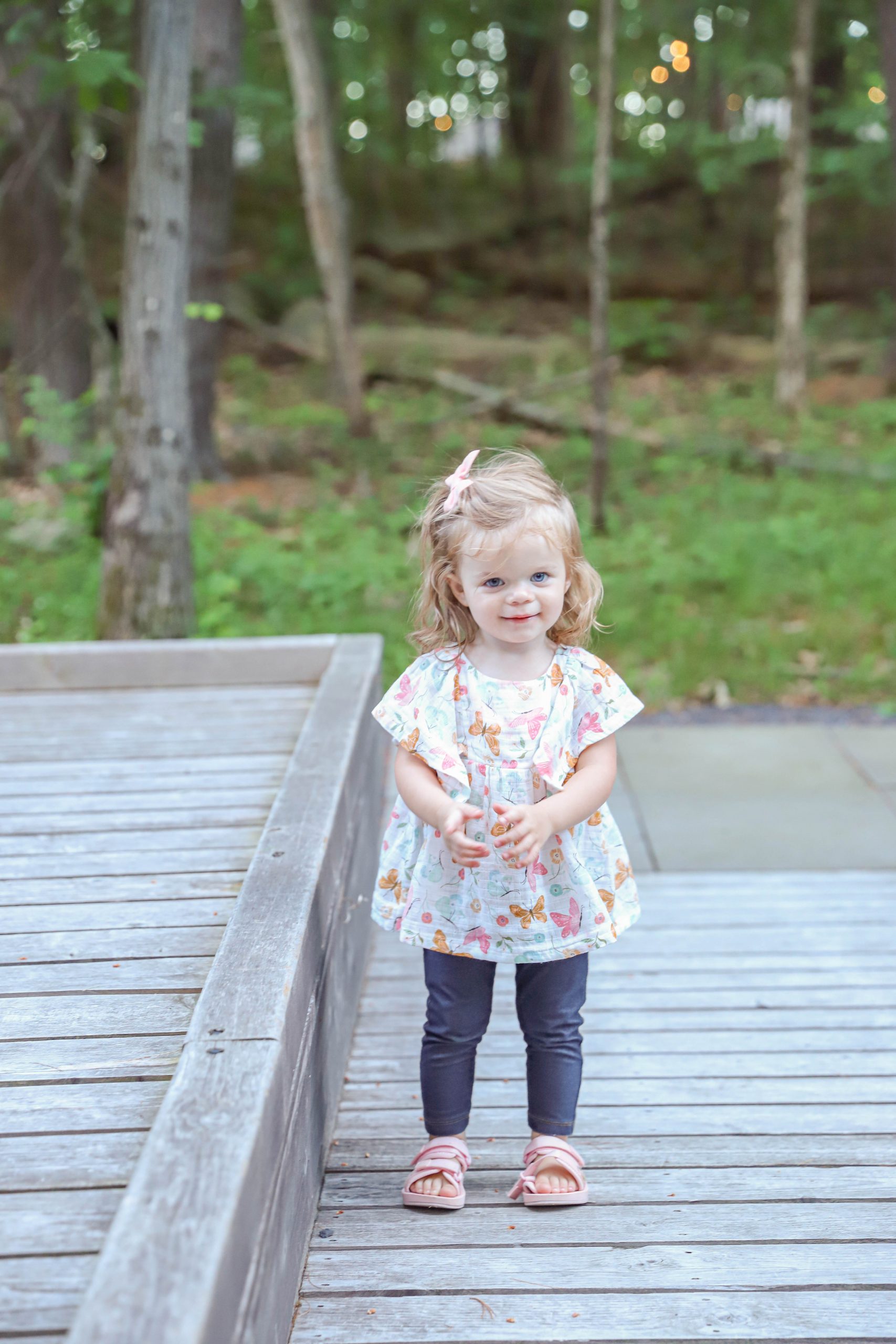 We arrived earlier than other guest so we spent a lot of time playing around our cabin and exploring our new surroundings. Both myself and my girls love and prefer being outdoors. In a previous blog post, I introduced 5 ways to adventure in your own backyard with your kids, so I had a revive that post a little during this time.
The cabins were nice and had everything you would need minus cooking areas. We had a handicapped cabin which gave us more space and worked perfectly for my two girls and I for the week. It was a cozy space and we were so happy with it. The girls named it our "little house" for the week. Our favorite part, of course, was the show stopping window wall. Falling asleep to sunset behind the trees, and waking up to blowing leaves at dawn was just amazing.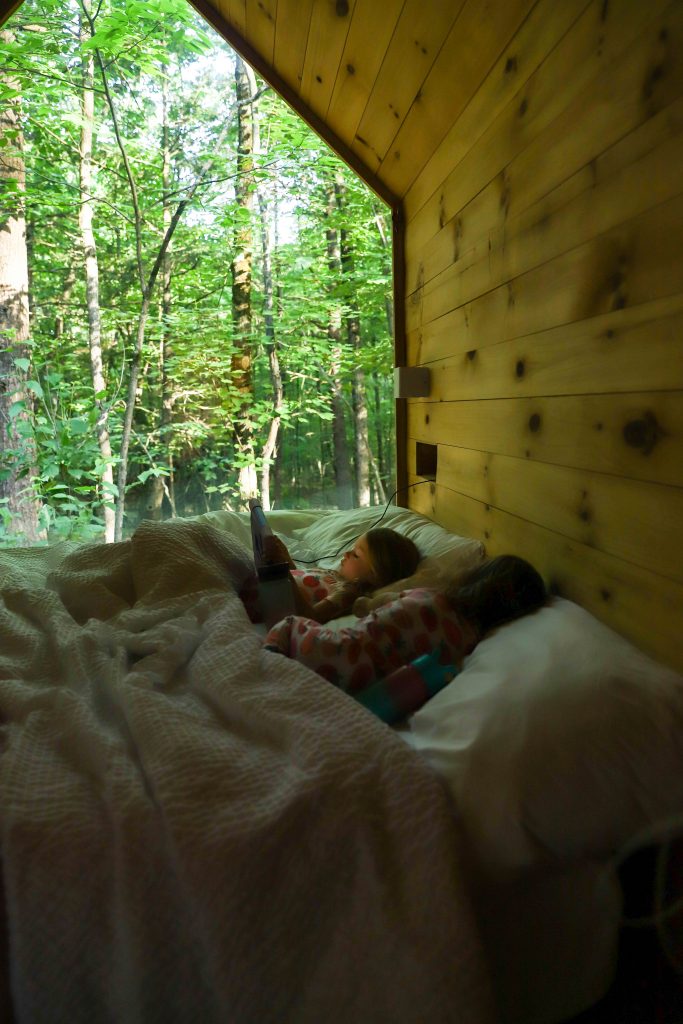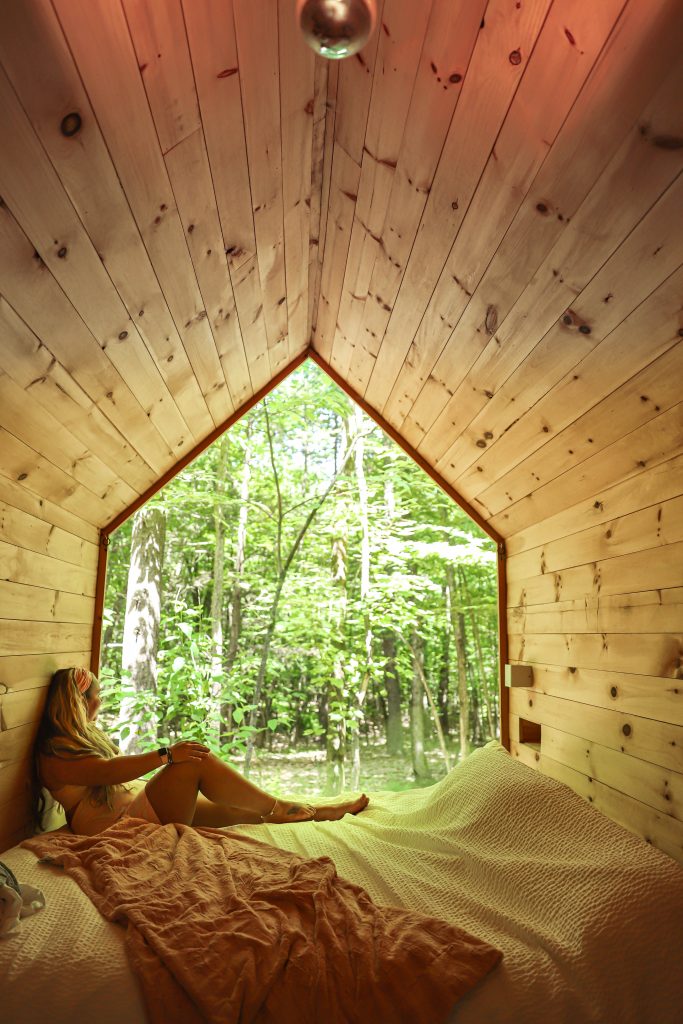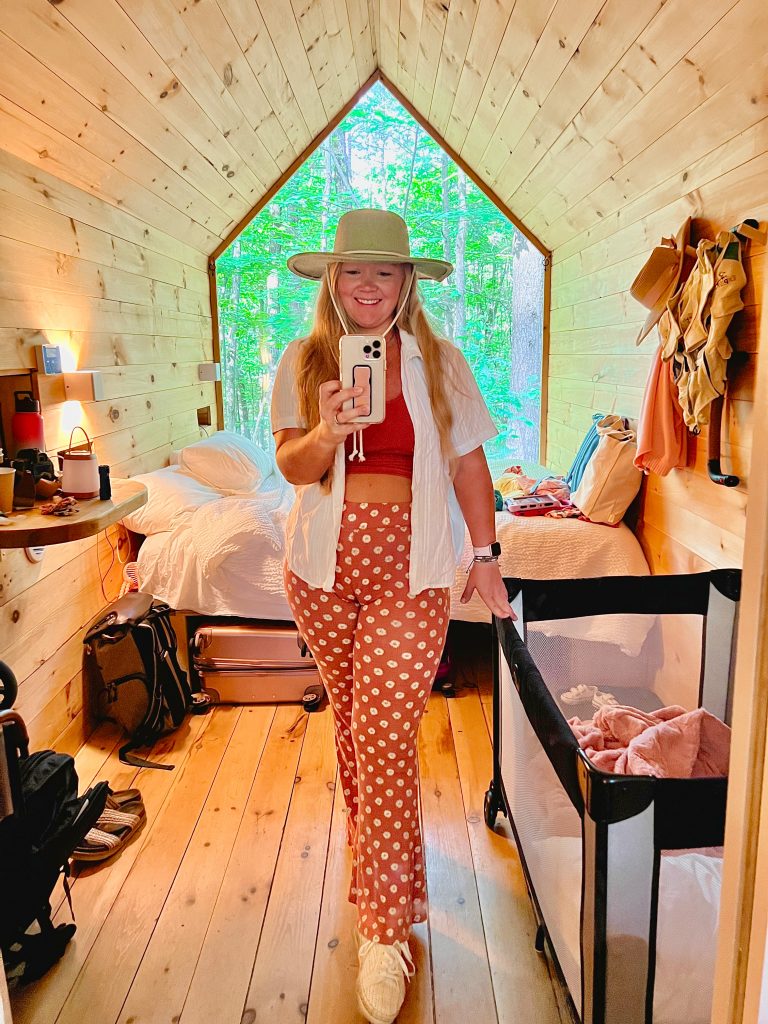 ---

---
It was so calming too. There were a couple of times where the moms have free time during the day to journal or do whatever, and I loved coming back to the cabin to just sit and reflect on everything. I could still be in nature but in the comfort of that AC!
The days are laid out for you with a schedule of meals and activities available. Each morning started with a delicious breakfast and mingling with other guests. The breakfast menu throughout the week was SO great. There was something for everyone, from fruit bowls to scrambled eggs, the chef accommodated as needed and it was perfect. If my girls are happy with their meals, I'm happy with the meals, and they definitely were!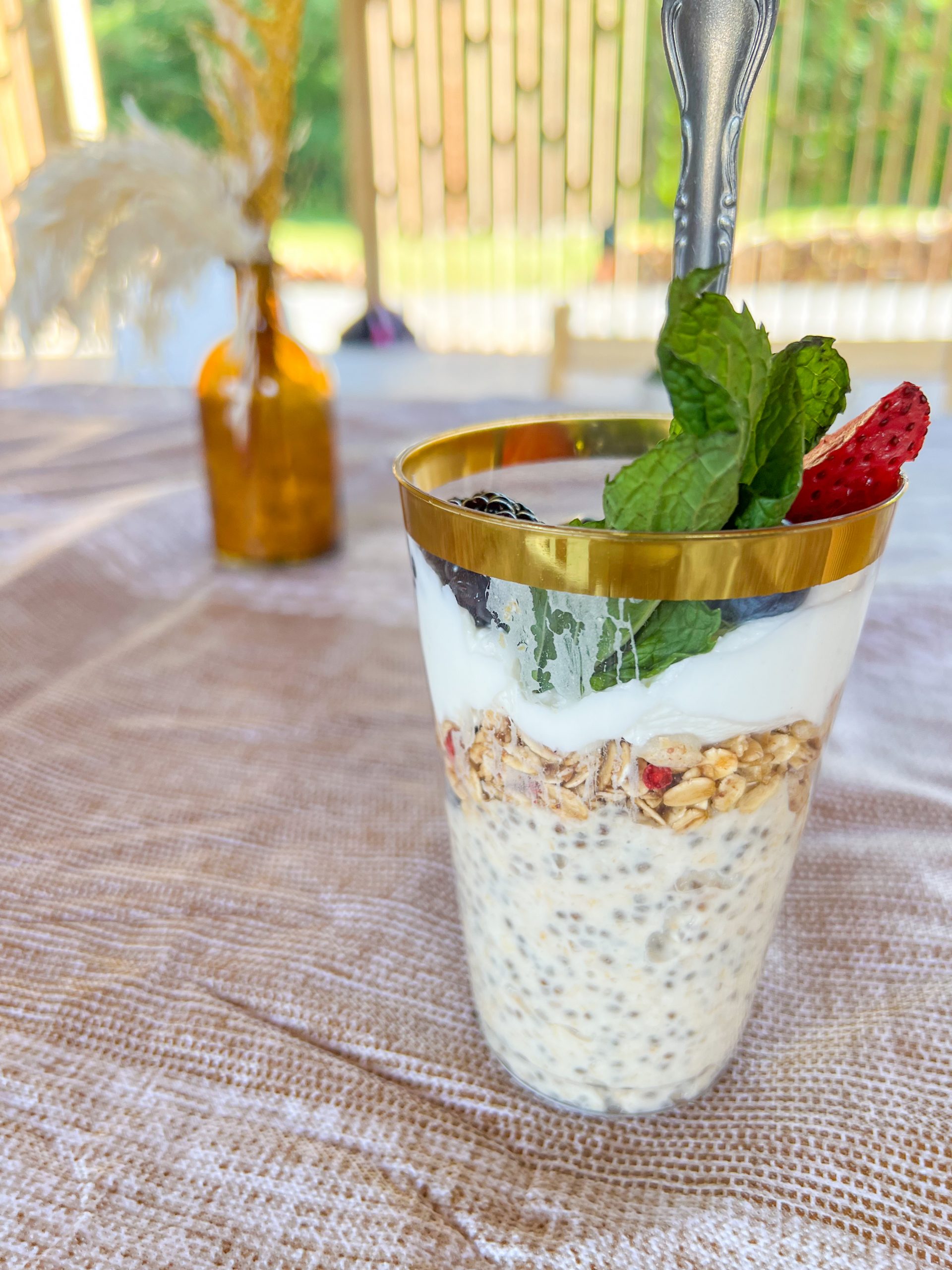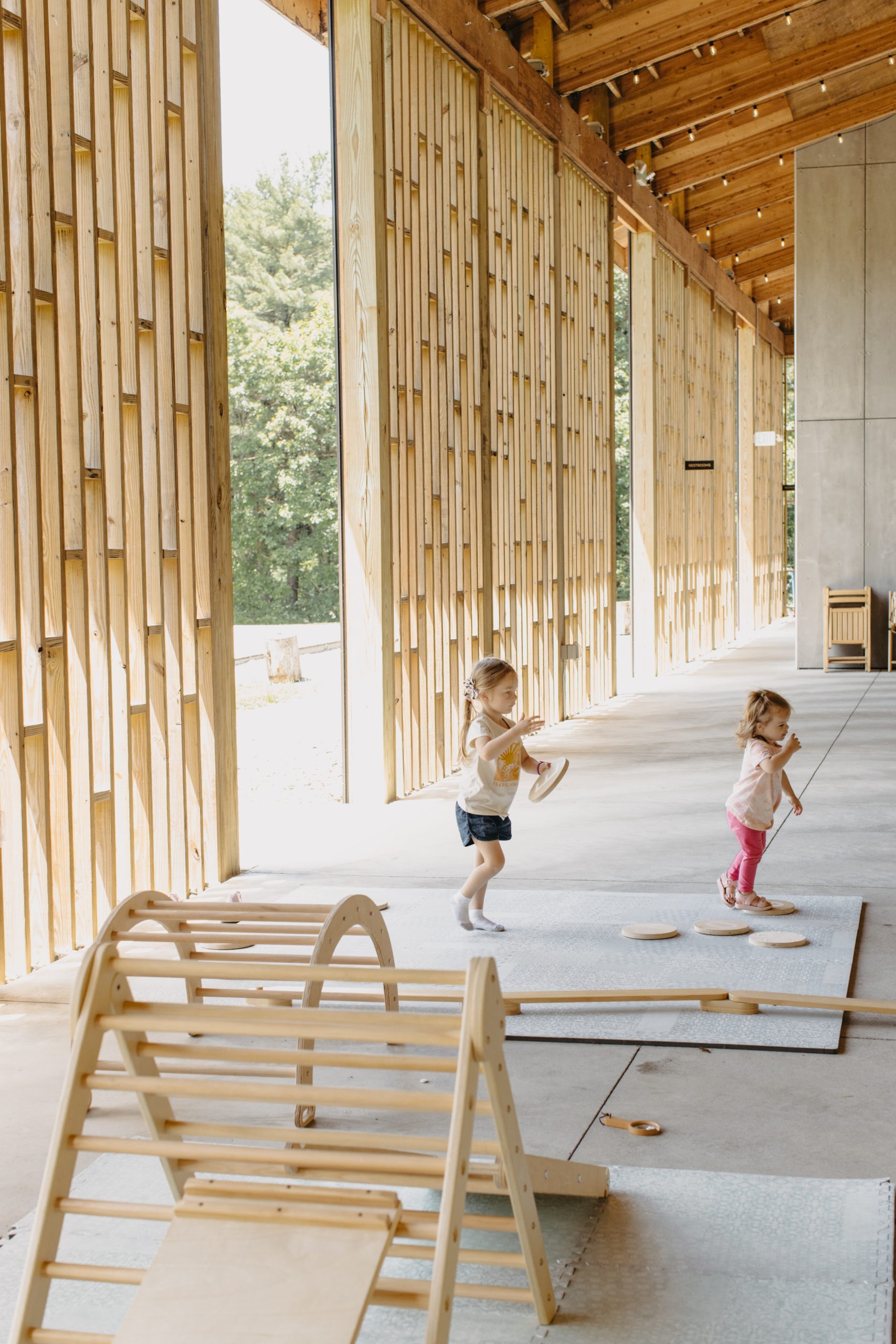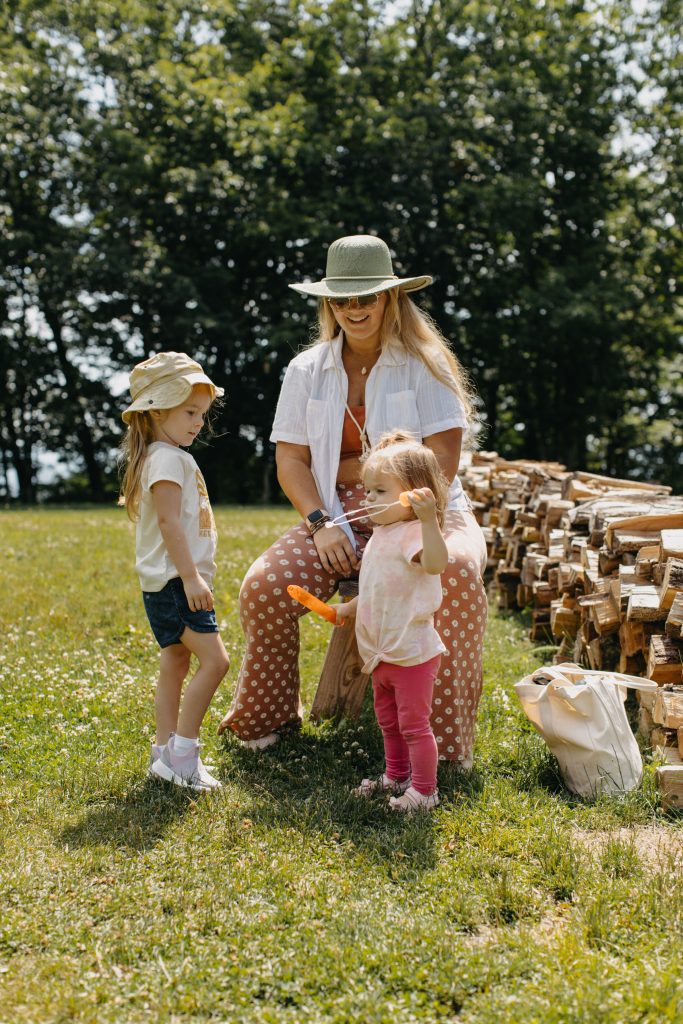 After breakfast each day there was a little bit of time before the childcare, or "kids camp" as I called it. This is where the girls would go until lunch time so moms could have their class time. The childcare was run by an amazing mama who specializes in Montessori teaching, Veronica. I think did such a great job. If you haven't checked it out yet, you should head to my Wanderlust Family Retreats Highlights in my Instagram stories to see all the fun they had.
The first day was a little rocky for the girls staying in childcare. With Wanderlust Family Retreats being the complete self care experience, I was confident the girls would love the kids camp. Kids can be unpredictable, though, and that's okay!
In an unknown place with unknown people, Ellowyn was the first to get uneasy and have a little meltdown, which was then followed by Caroline, but after a little coaxing and adventuring in the woods together, we came back and the WFR team scooped them up in a kind way which allowed me to feel confident about getting back to classes knowing they were safe and happier. Even though my girls do so well with class settings at home, with all the newness I had a feeling there may be some hesitation when it came time for "kids camp" but luckily it was just that one time.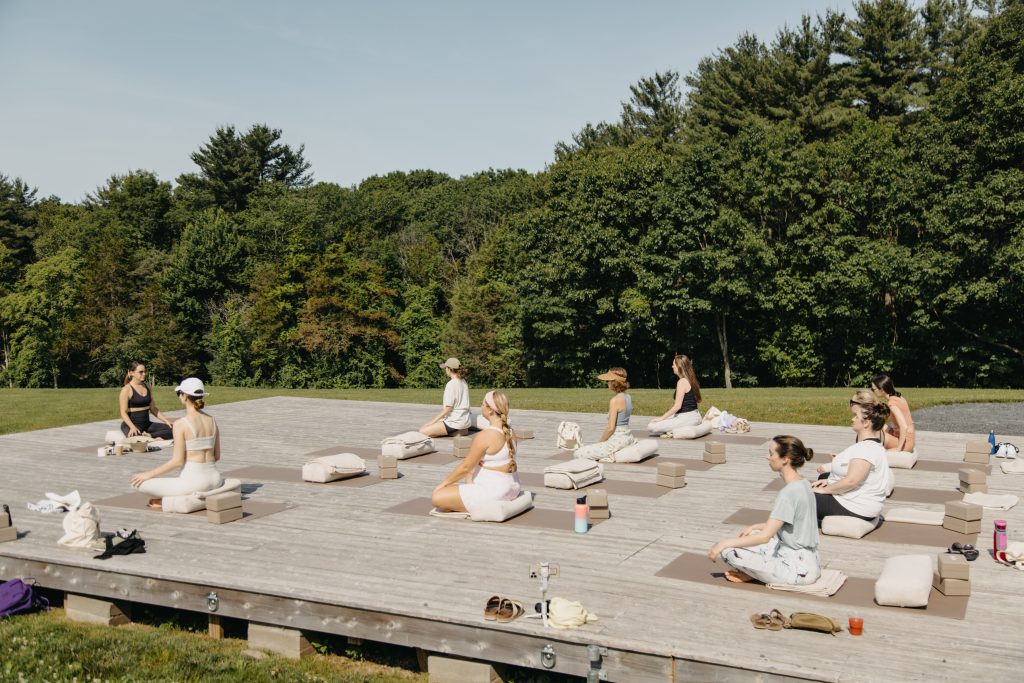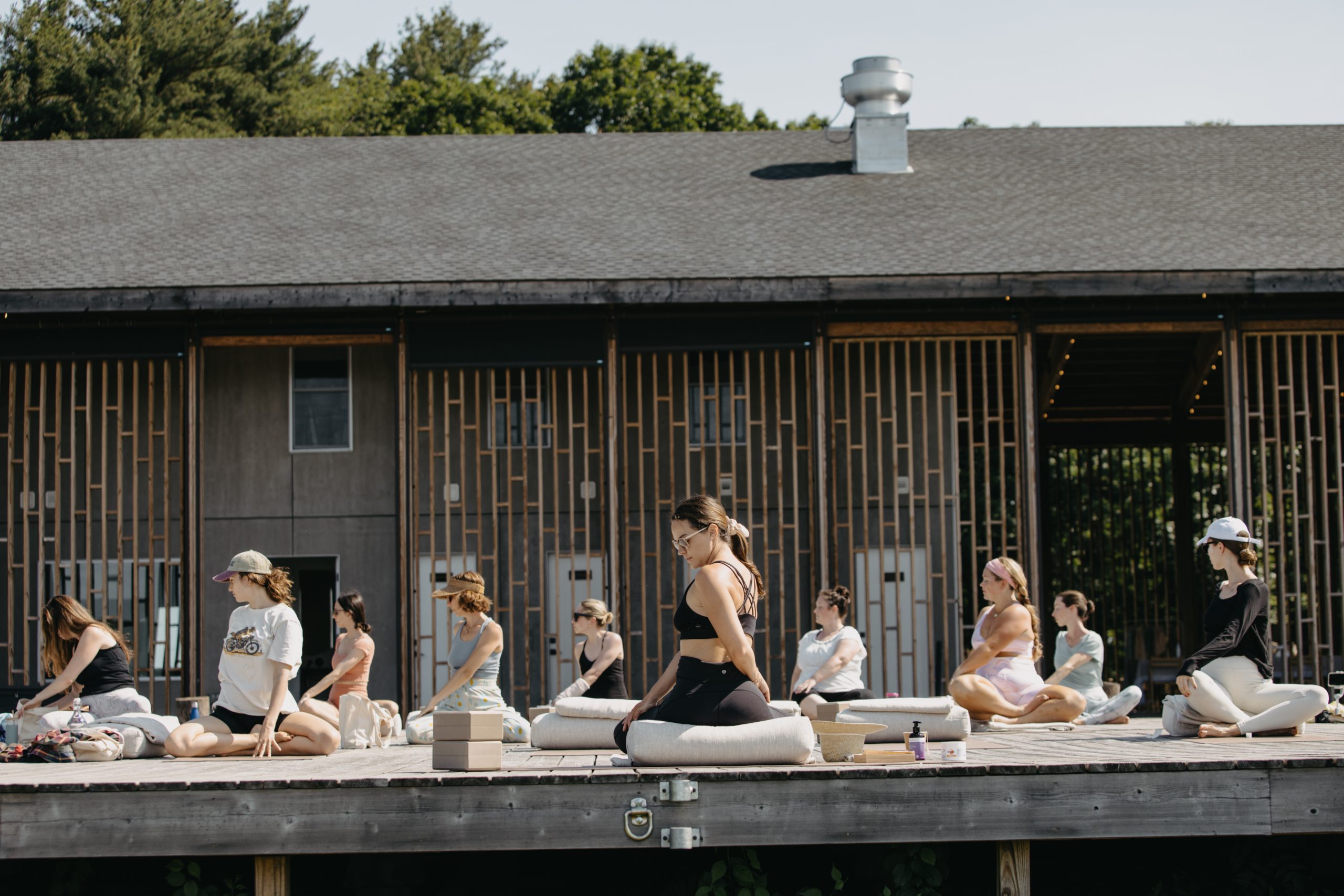 The morning yoga was amazing to say the least. Chelsea is such a master at creating a relaxing space and getting you to really connect with yourself. I thoroughly enjoyed these sessions, and even though it was hot, I loved getting some vitamin D in during these morning stretches. They supplied every piece of equipment we needed for the class so all I worried about bringing was my water!
After morning yoga was the mamas brunch by Shale Pond. This pond is right next to our cabin and adjacent to a stunning wildflower field which you will quickly see as you scroll below I was quite obsessed with exploring with my girls. We had a little time in between the class ending the brunch beginning so I would often stop by my cabin to freshen up or read a little before heading to brunch.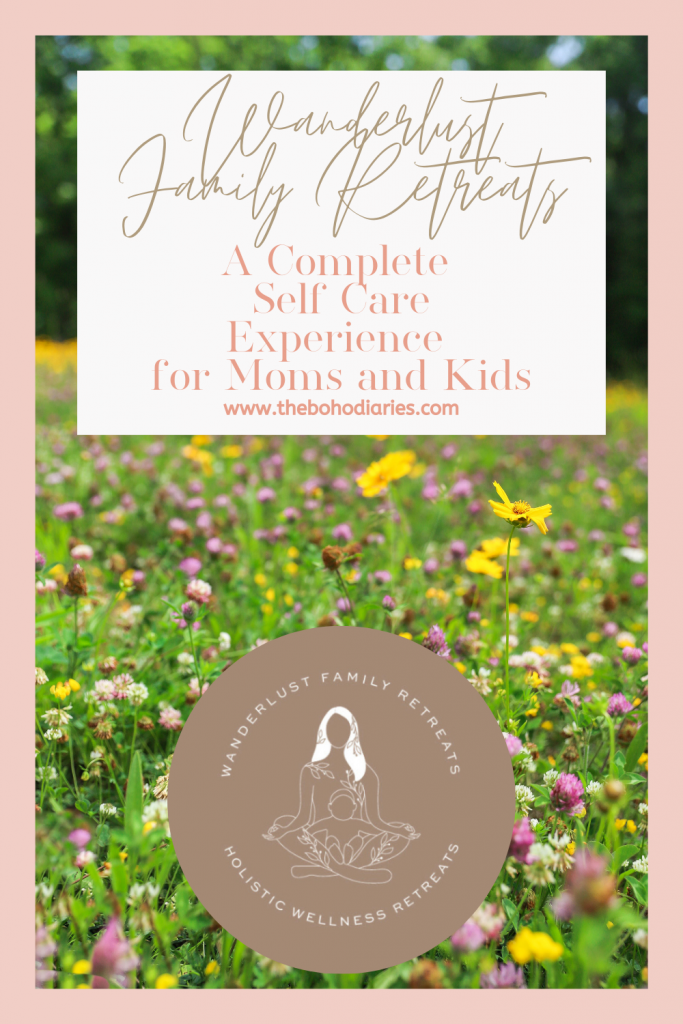 The mamas brunch was really special
to me because I truly enjoy connecting with other ladies. This particular week had a collection of women from all walks of life and I got to know a few quite well. We still keep in touch too! It can be hard in todays world to find friends who you connect with and feel supportive of you, and on this retreat was a lot of other moms who needed the same connections as I did. During this time we chatted about our lives, our kids, our struggles, and enjoyed delicious food under a beautiful setting while doing so!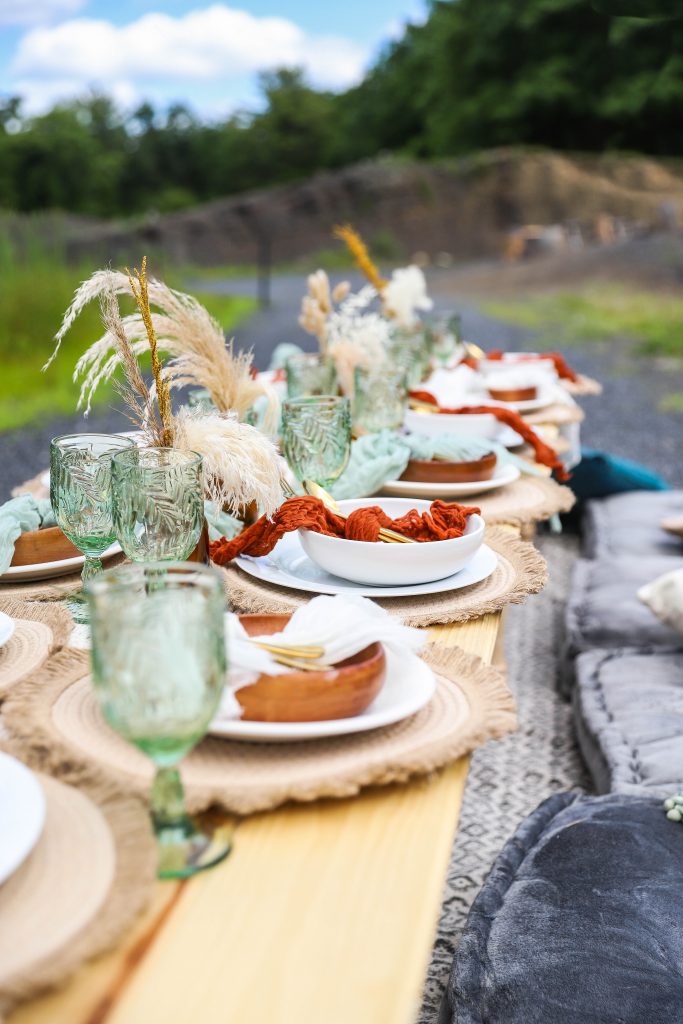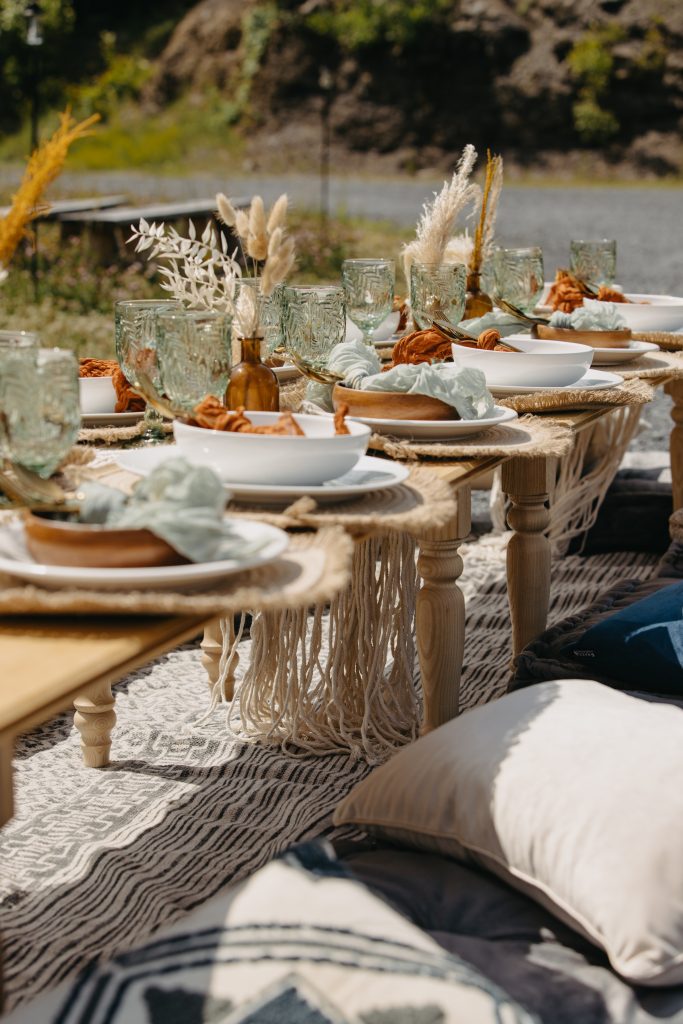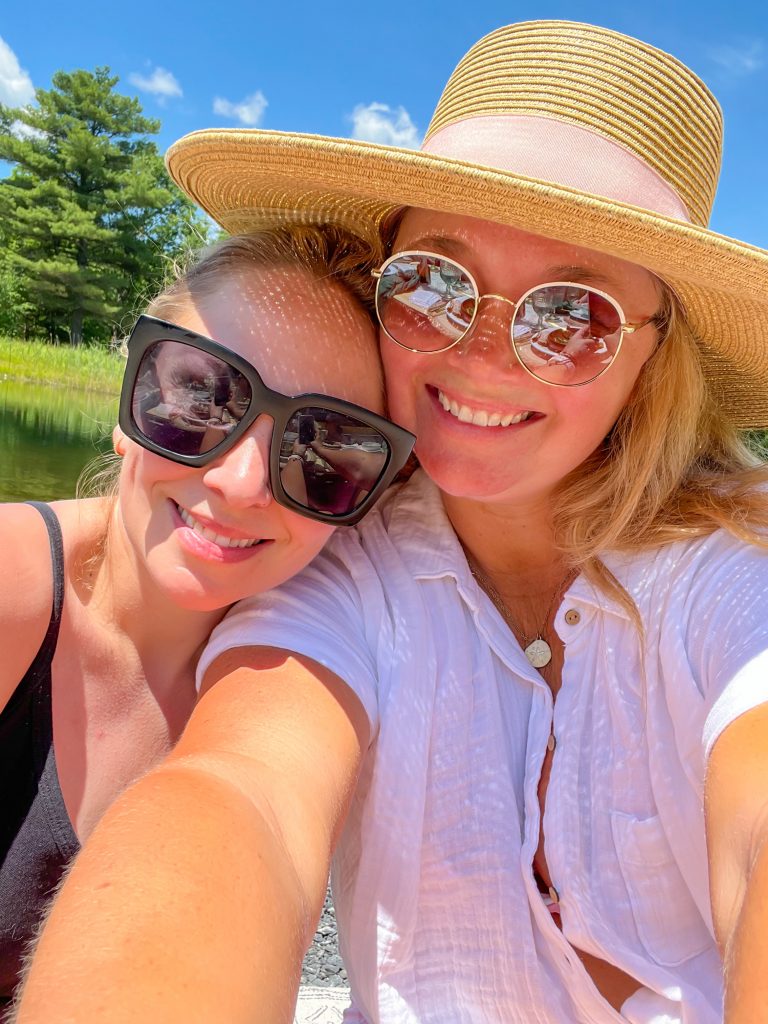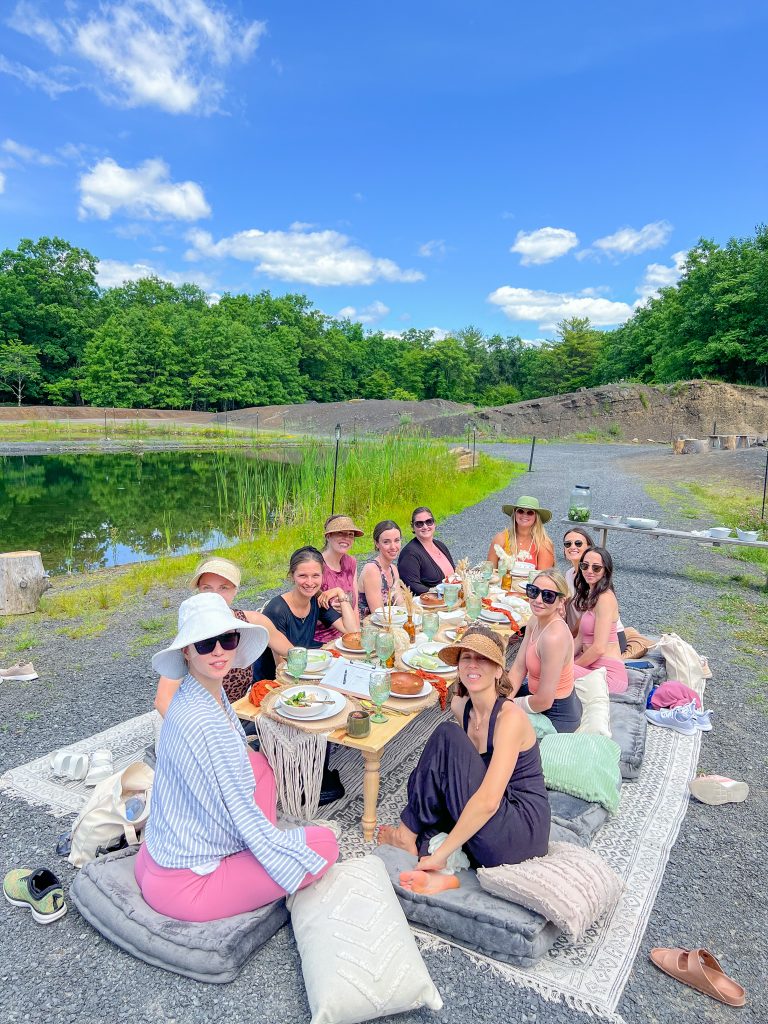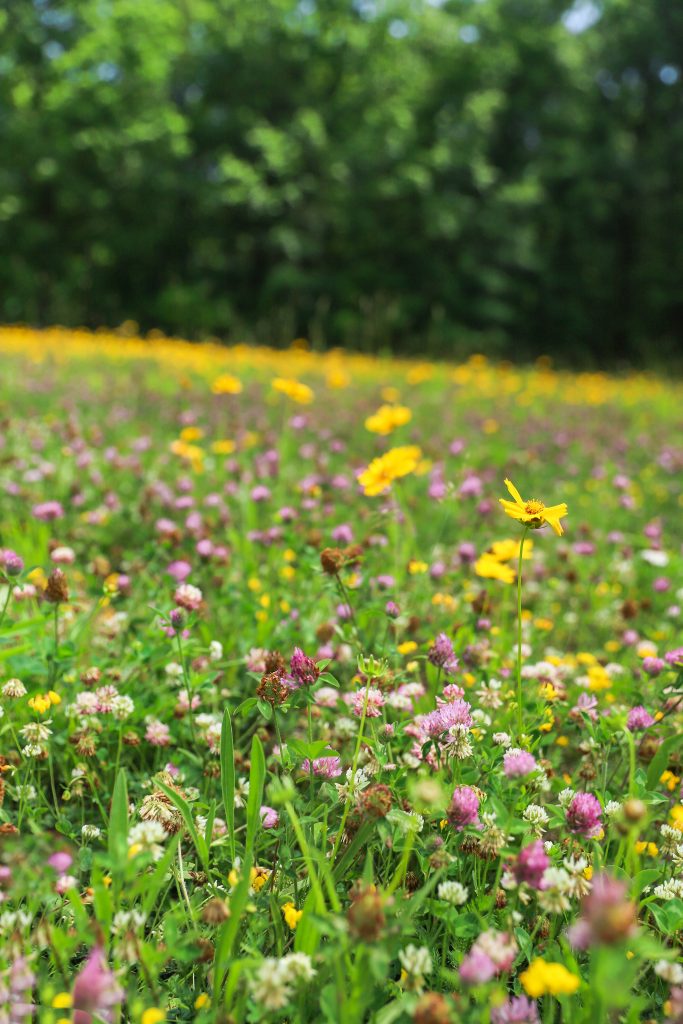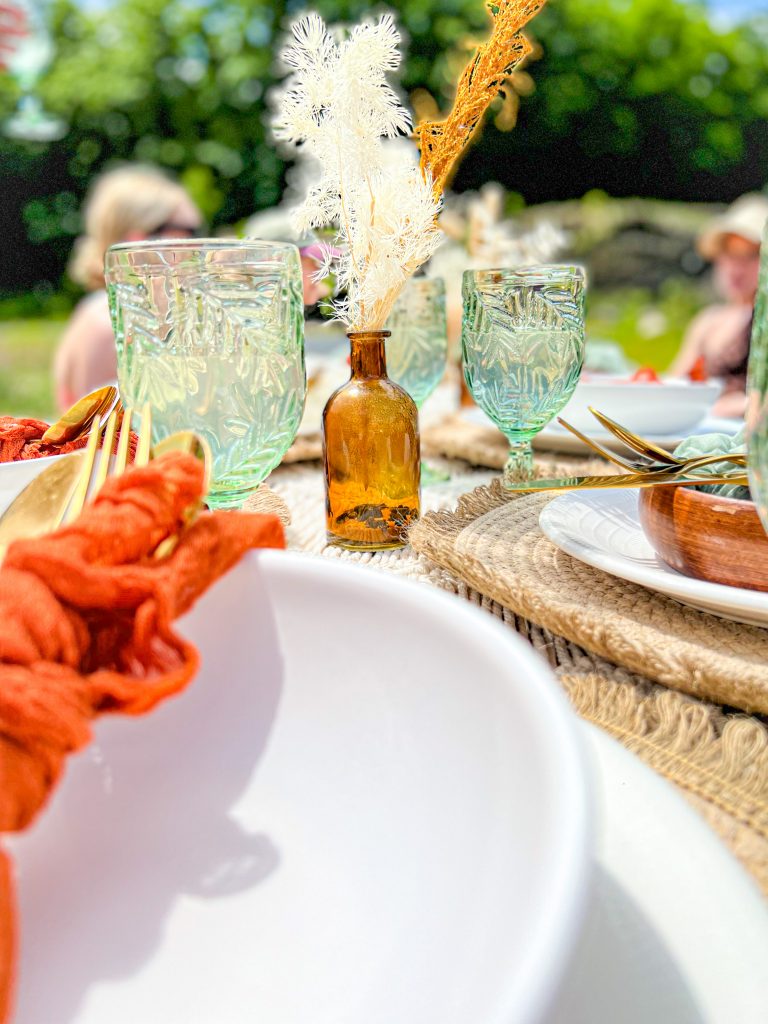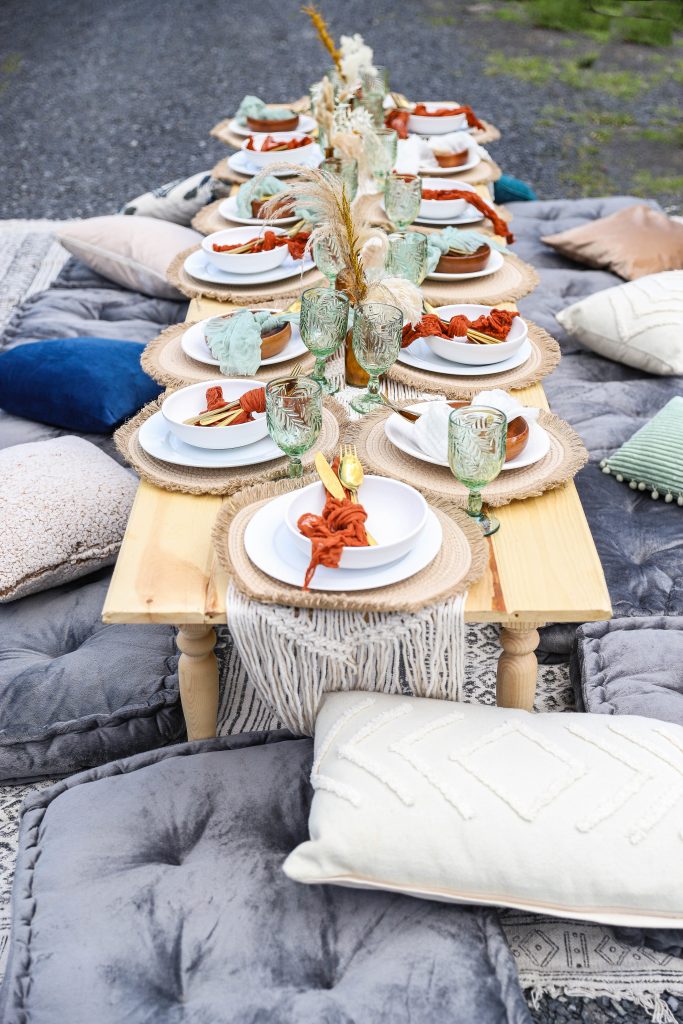 I adored the boho styled decor for this meal in particular but it was all so beautiful! They really did create a laid back vibe with tons of pillows and throws during different activities in the day. The food for the mamas brunch ranged from steamed chicken and salad, roast beef lettuce wraps, salmon wraps, shrimp salad, and more, all while offering non-meat options as well. Here's a couple snaps of some scrumptious brunch items!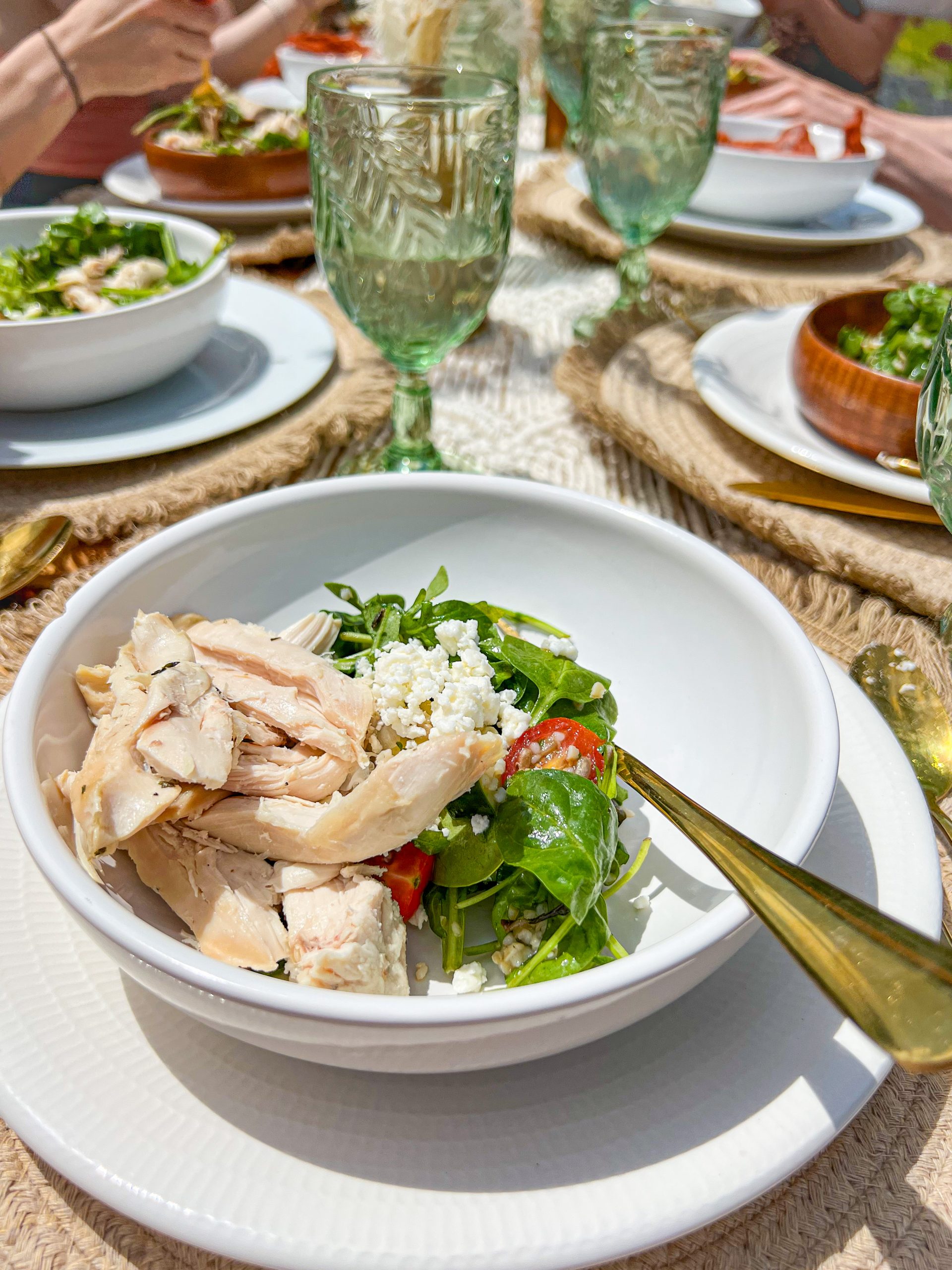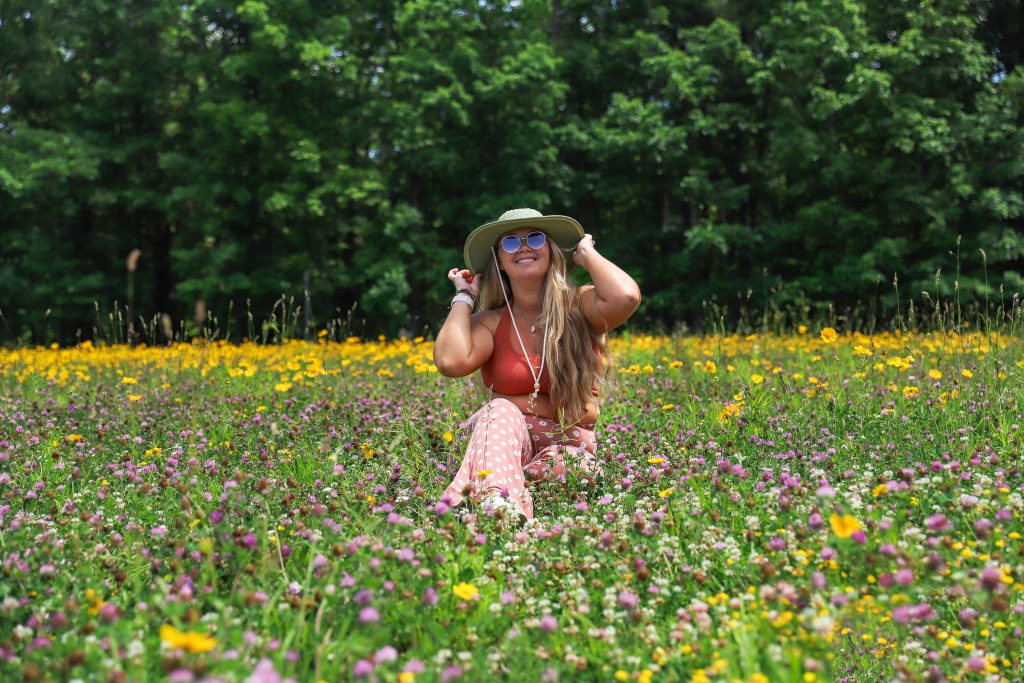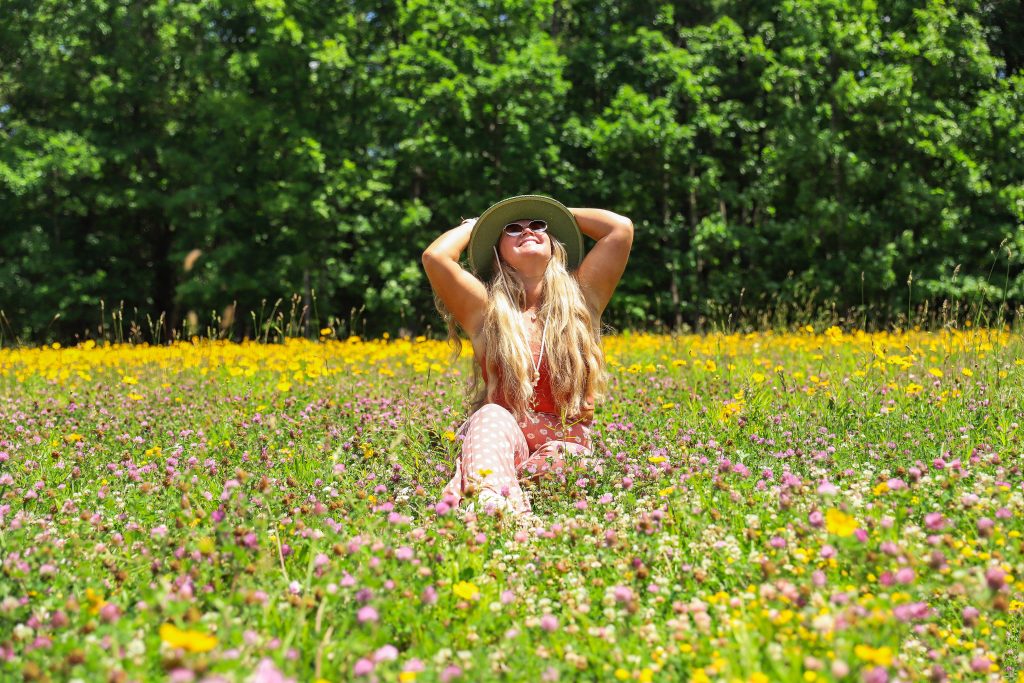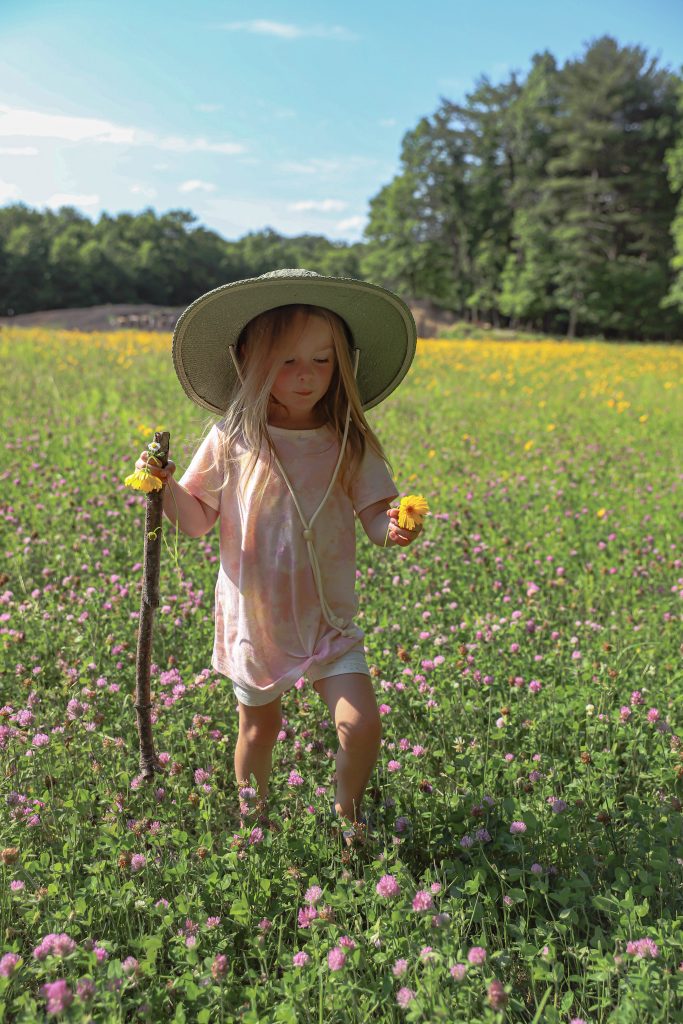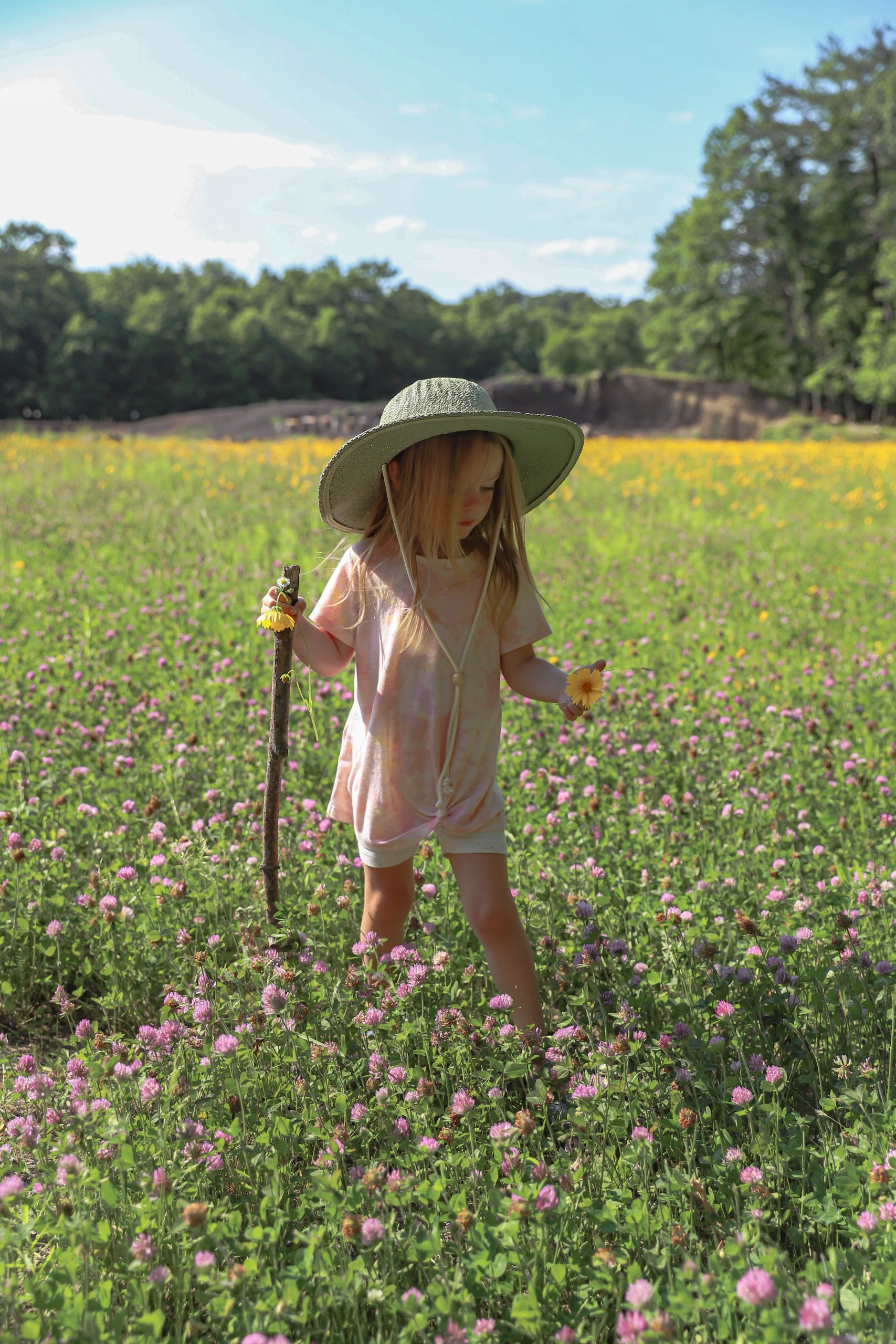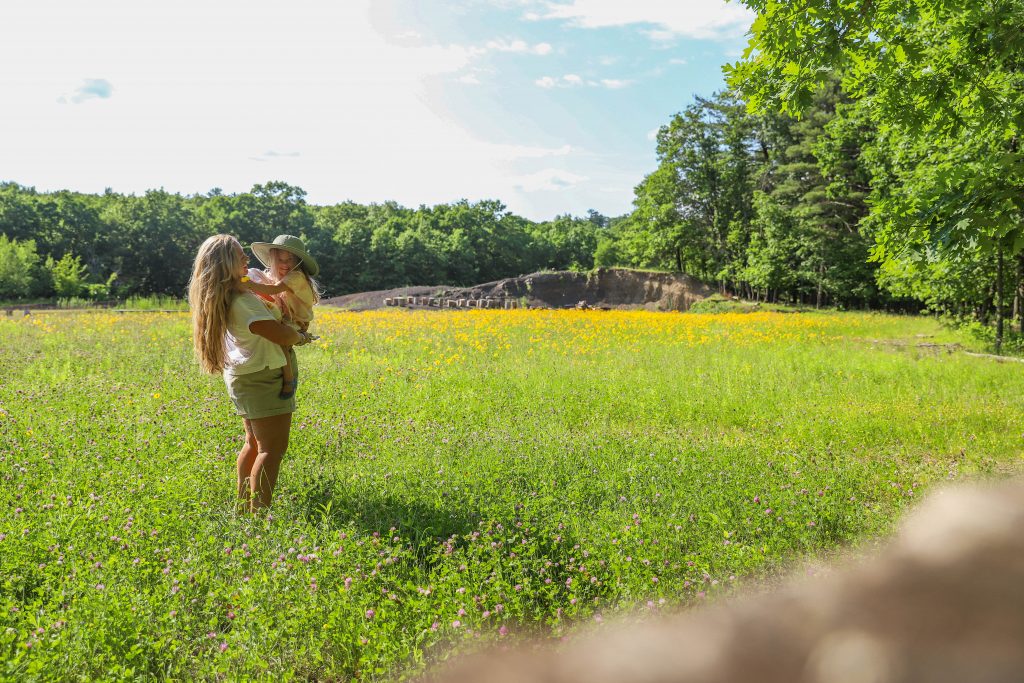 Quickly after brunch, and I say quickly because we usually sat around talking and lost track of time, there was a sound bath meditation with Chelsea. This was my absolute favorite activity of the trip. I have only participated in one group meditation in my life, and it doesn't hold a candle to how well relaxed and at peace I felt after leaving these sessions Chelsea led. If there is one thing you need to make sure you don't miss at Wanderlust Family Retreats it will be the sound bath meditation.
First off, I am a mom who has a lot of trouble turning off her thoughts. I cannot easily just stop thinking about my lists or what I need to do next. This may sound crazy, but during the sound bath meditation, I kind of felt like I transported outside of myself. I shared with the group after the first class, the whole time in my head it was like I was relaxing on the front of my parents catamaran listening to the water and nature around me. I was thoroughly relaxed and disconnected from stress and it felt SPECTACULAR.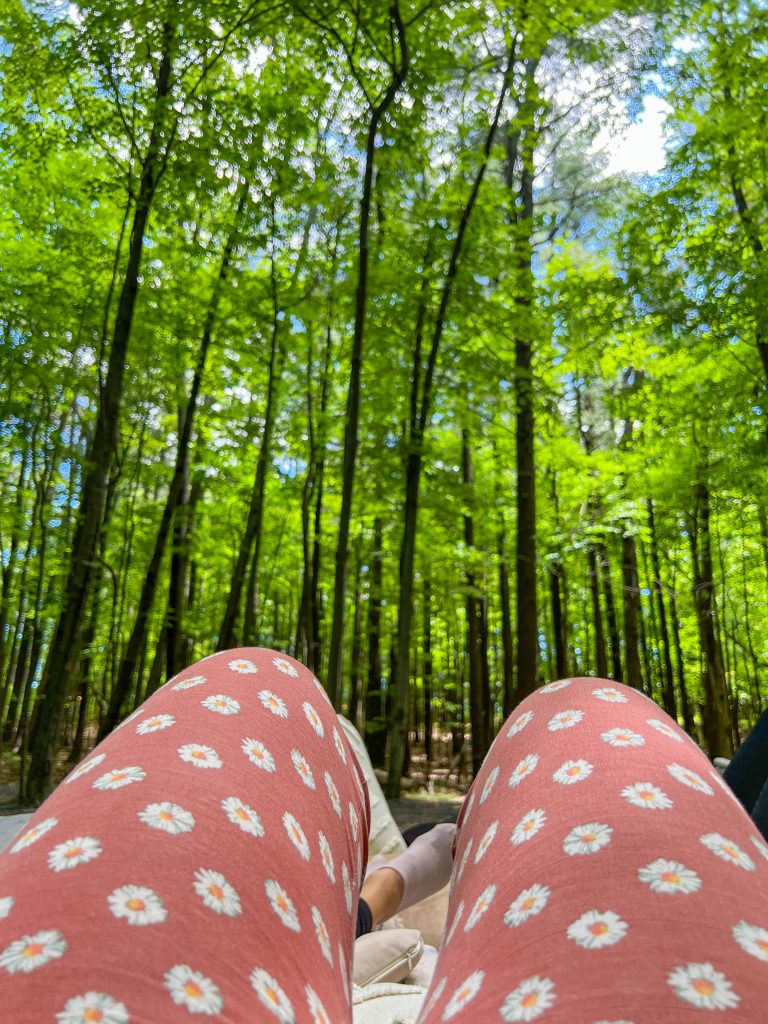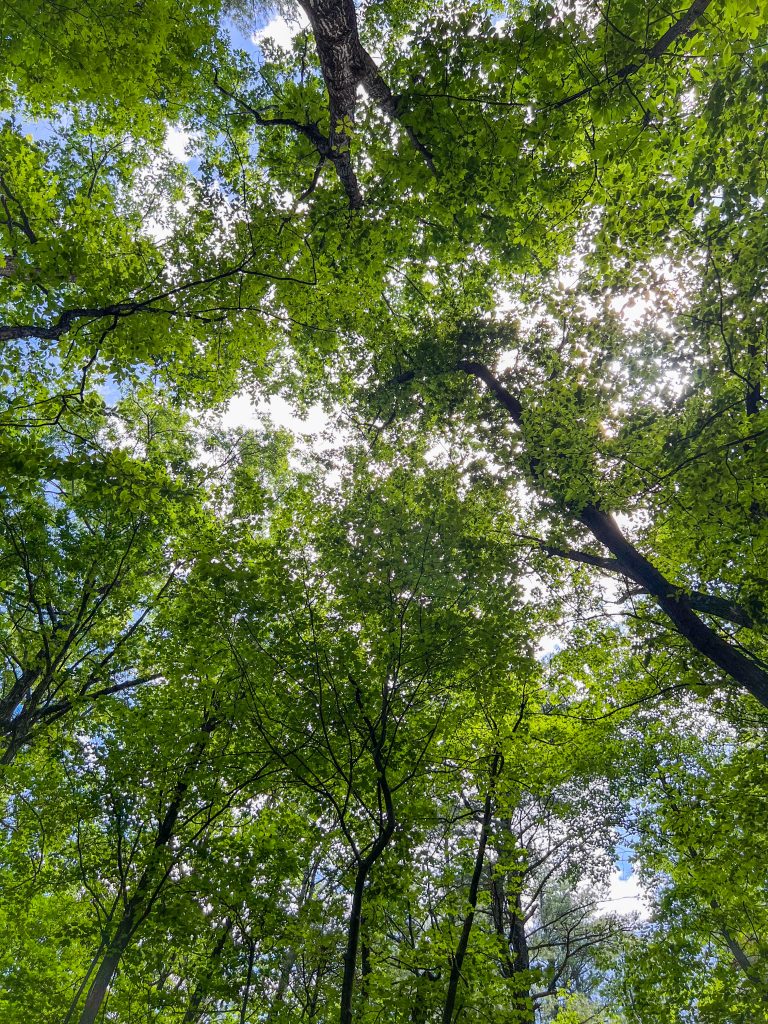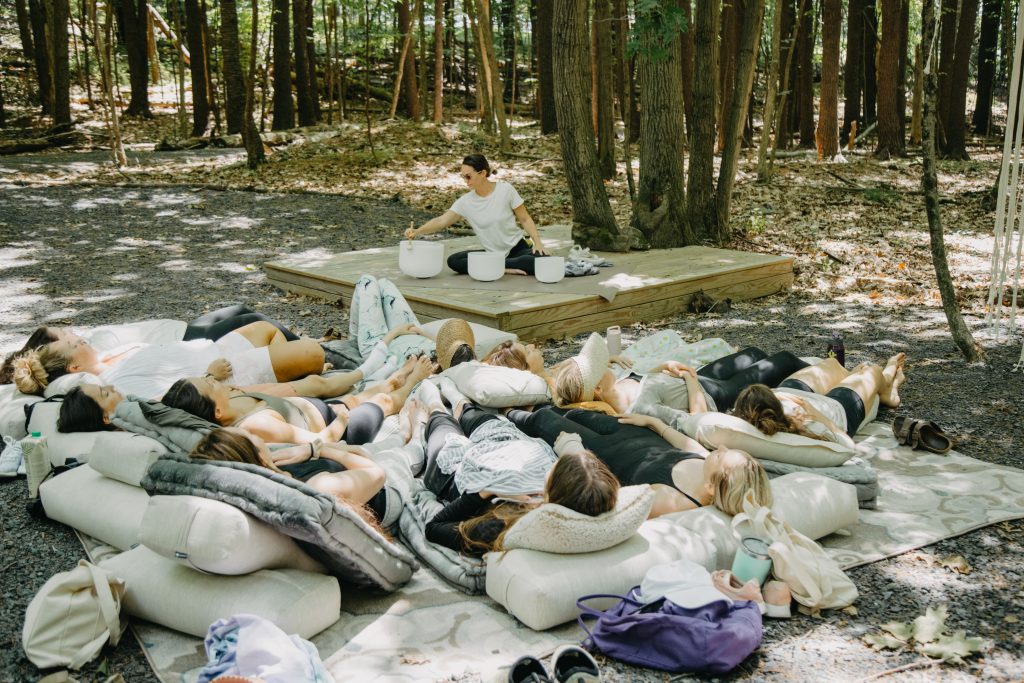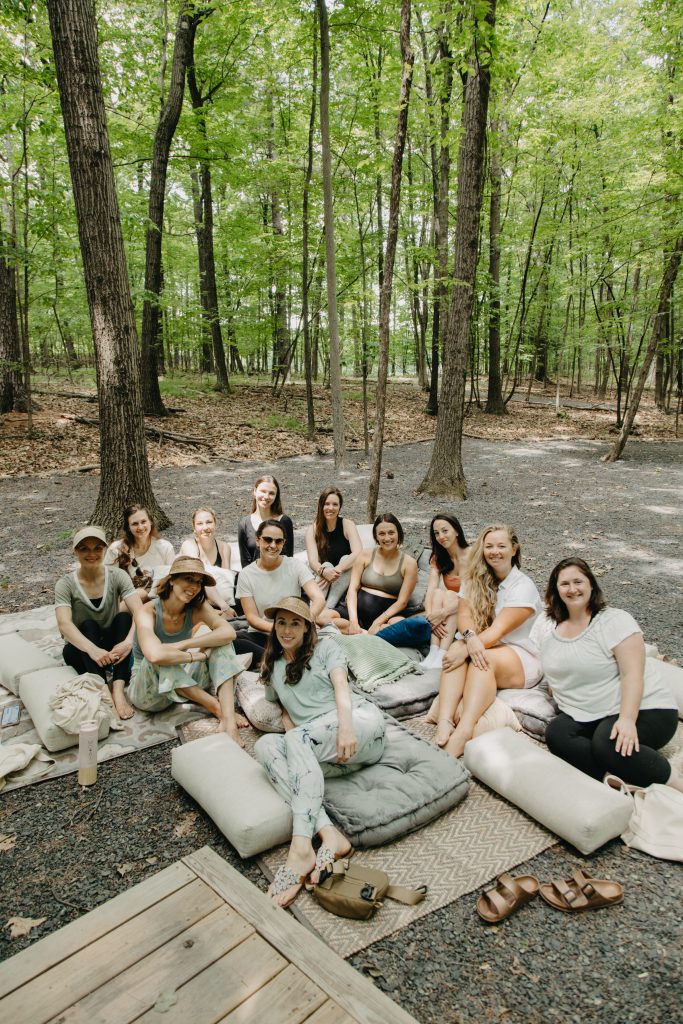 Next was picking up our children to enjoy the rest of the day together. After peeling myself slowly off the ground I would head to the pavilion to get them!
They were equally excited to see me and excited to tell me about everything they did. Ellowyn's explanation mostly consisted of "mama, bubbles, bubbles!" While Caroline talked all about her new friend Wesley, and the babies that she got to play with, and on and on. It is such a great feeling to know I could have my relaxing time and connect with myself, and then have my girls back to spend time connecting with them in nature.
Wanderlust Family Retreats continued the complete self care experience by
organizing and mommy and me hike through beautiful hills and fields near the Gather Greene grounds. We were shuttled via golf cart to the location. Wanderlust Family Retreats had everything we needed to have a comfortable walk. Ellowyn had the luxury seat on my back. Caroline was a trooper and walked, but through half of it, the super sweet Marie had to step in and gave her a little piggy back ride back to the carts. It was an extremely hot day, but I loved the exercise and the views were amazing!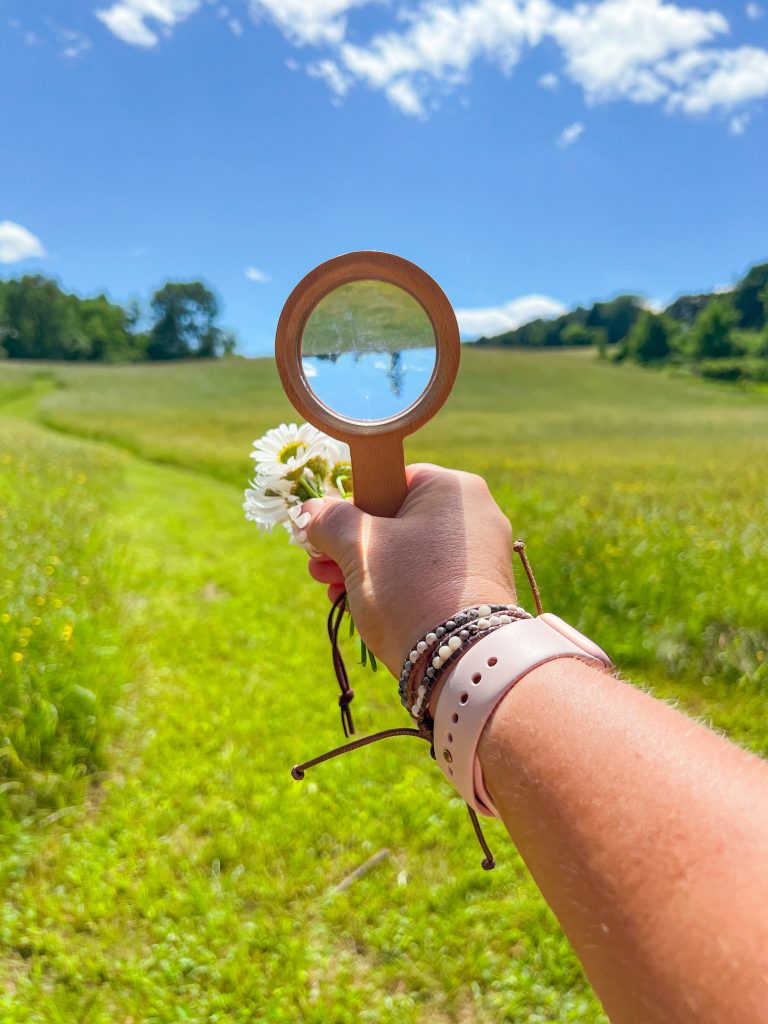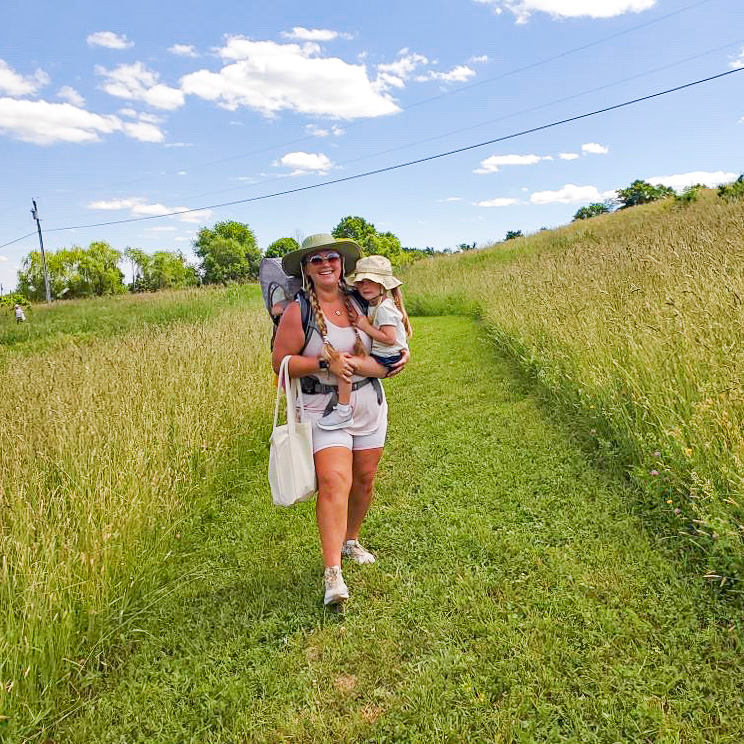 When we returned from the hike, there were delicious snacks available like fresh fruit, fresh guacamole and chips, or fresh hummus. There is an adorable capture of Ellie thoroughly enjoying her guac and chips in my IG Story Highlight reel. Later in the afternoon there was mommy and me yoga. The schedule of the hike and mommy and me yoga alternated some, which I liked, because Ellowyn's nap time was right during the mommy and me yoga the first day. Caroline was really looking forward to it and we had to miss it unfortunately. I did find out the next day that WFR offered to watch the monitor while we had the class, so I was able to have some alone time with Caroline the second day!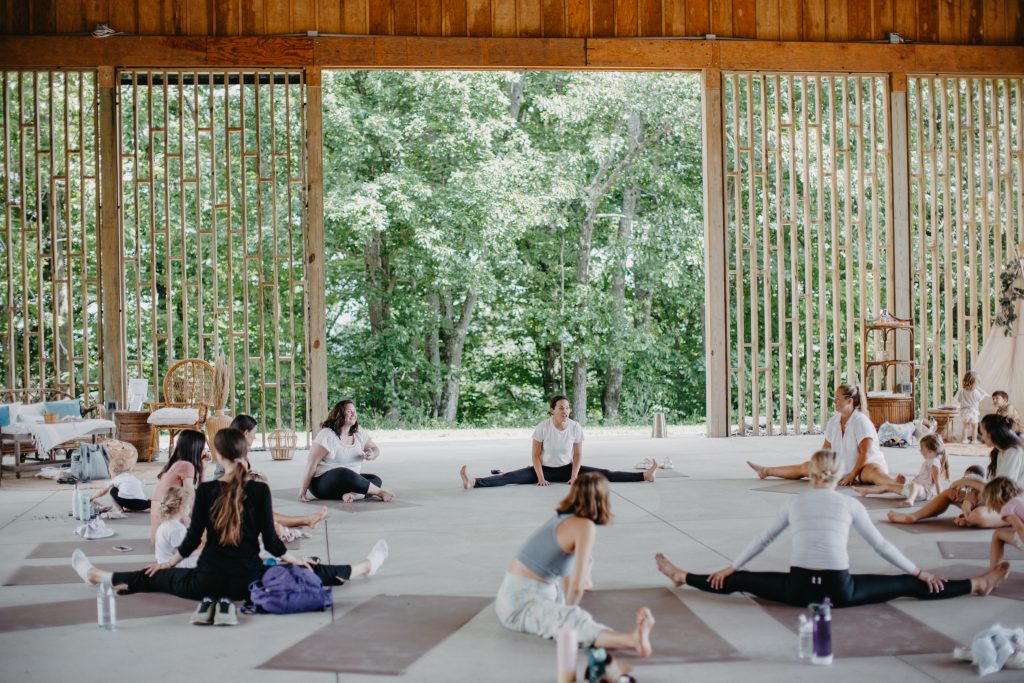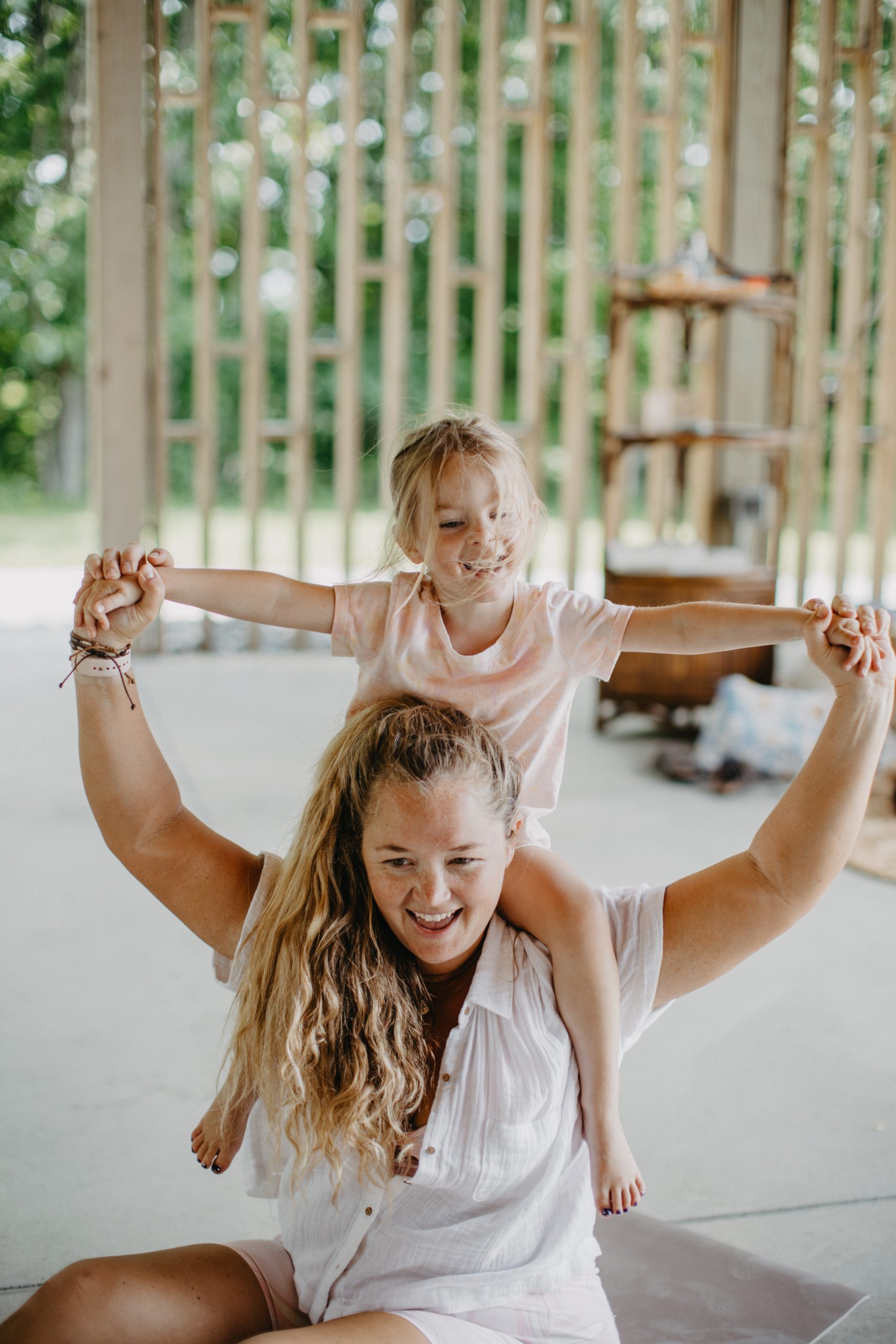 My girls really enjoyed the mommy and me yoga sessions and it was so fun to watch them learn. The sound bowls were included which really intrigued the kiddos. Caroline often does yoga sessions with me at home and learned some moves in dance class. Going to Mrs. Chelsea's class was a treat for her! Here's a sweet snap of the two of them <3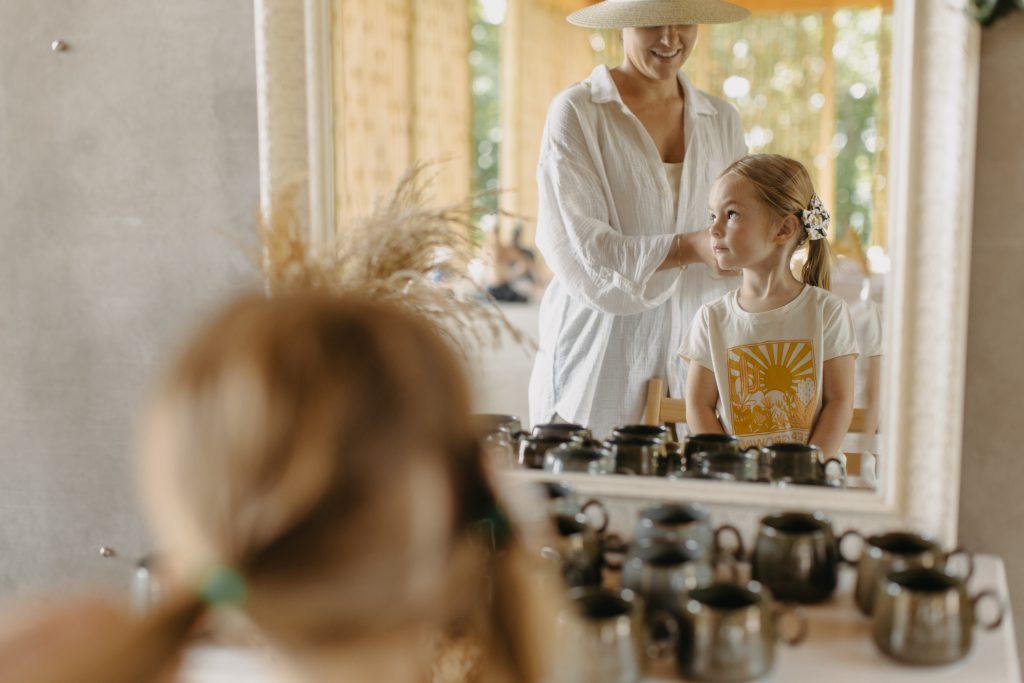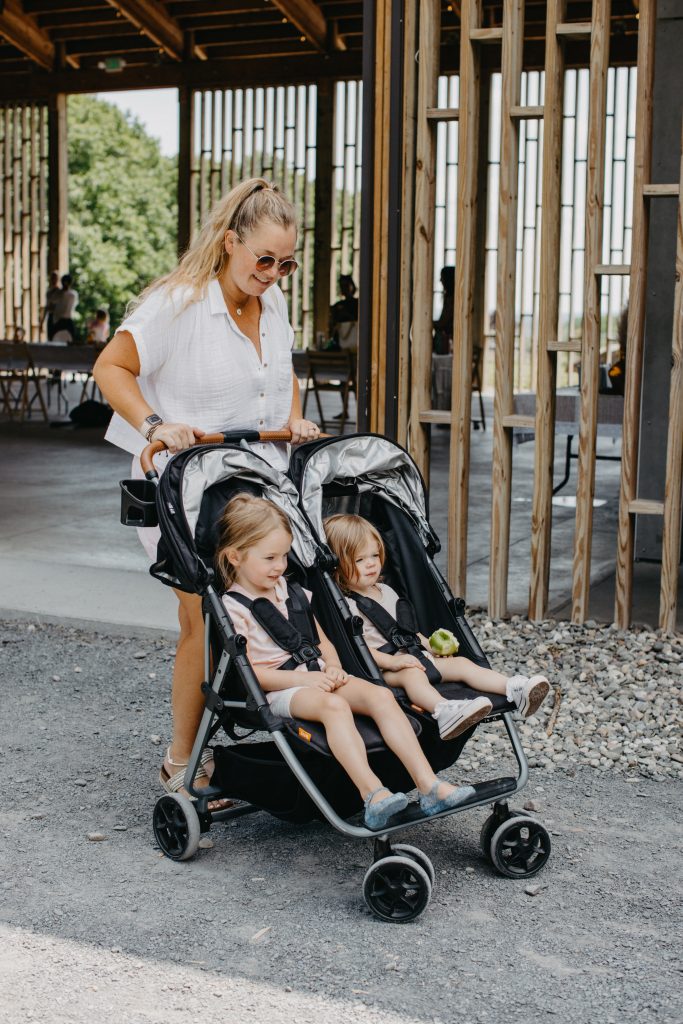 ---
The mommy and me yoga led into dinner time which was between 5:30-6:30 PM each day. My girls and I would head back to our cabin to get refreshed and usually caught the tail end of dinner. Our meals at dinner were so great and filling each night. Story time followed dinner which included a WFR team member reading children's books while they huddled around a pillow pallet and camp fires with different sweet treats each night. Caroline loved story time and sat right next to Marie each night she read.
---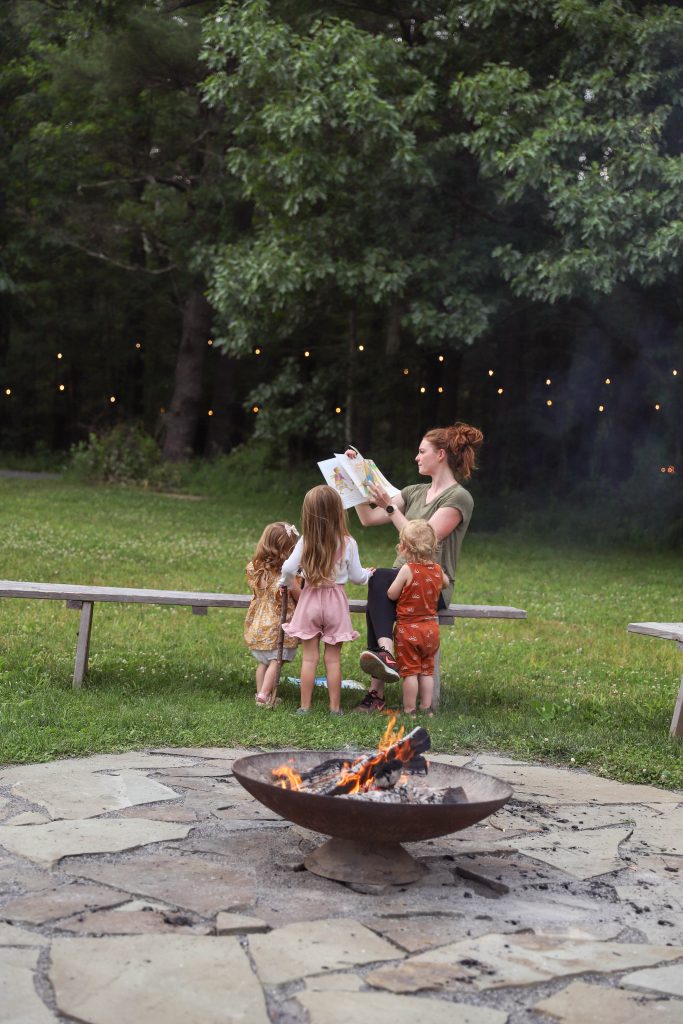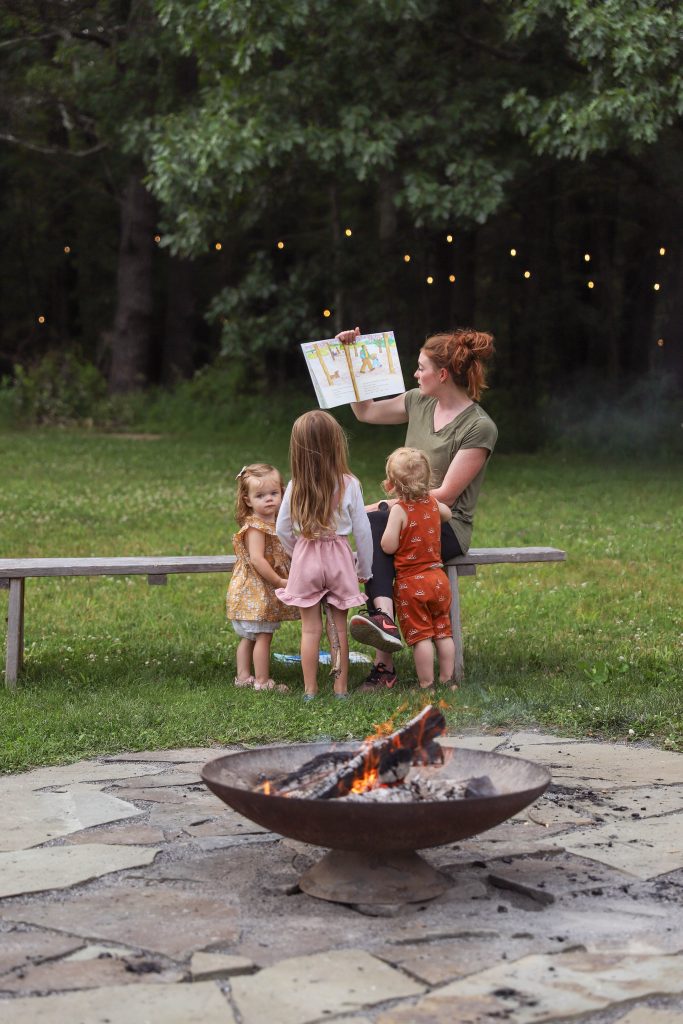 ---
With our cabin being so close to the wild flower field, I took us on a detour for one last bout for energy burn out with a romp in the field. It is with no regrets I show you these beautiful moments we shared there.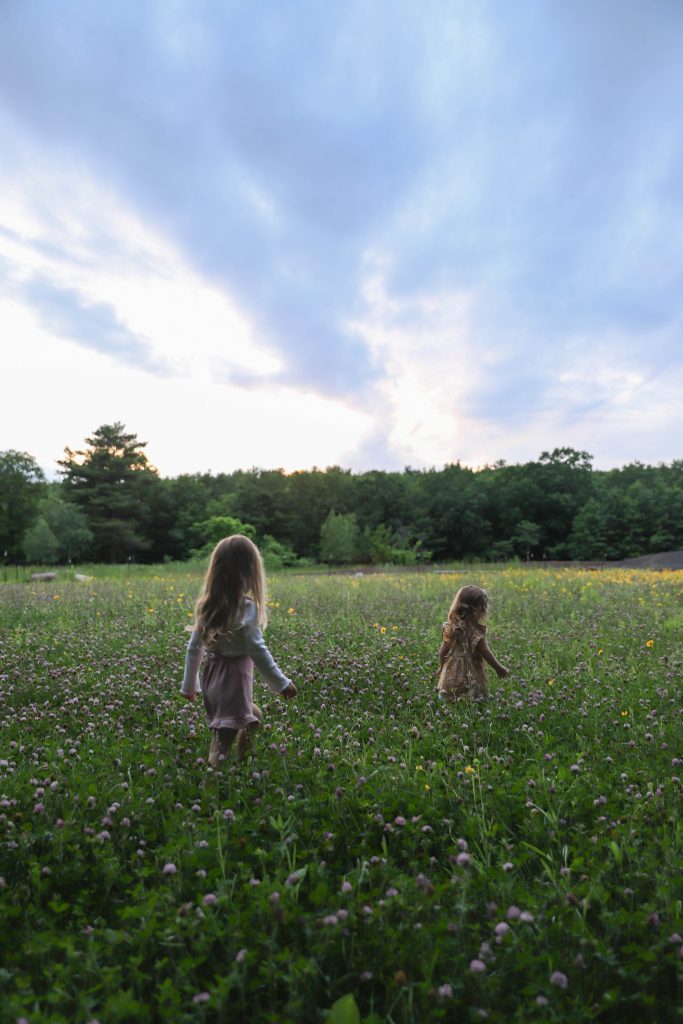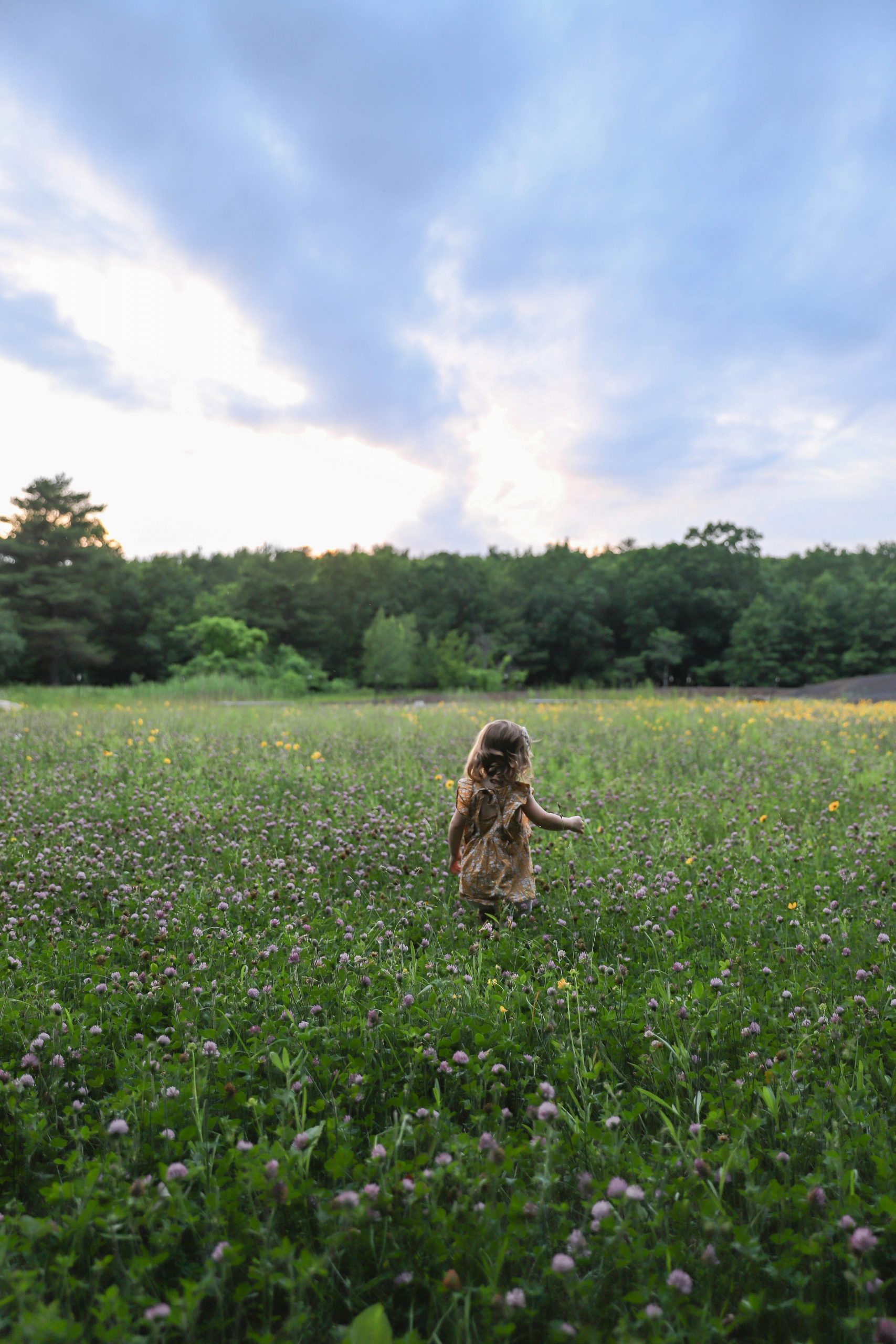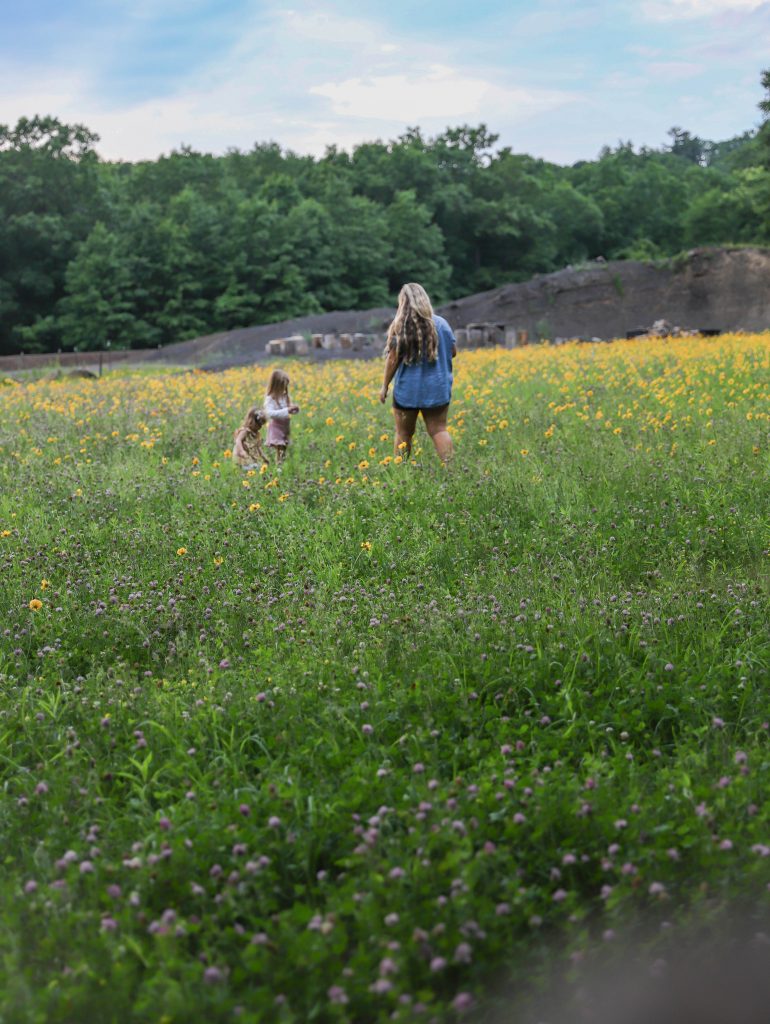 A complete self care experience
was on the forefront of every Wanderlust Family Retreat team member's mind, or so it felt like it to me as a guest. Anything I needed they immediately were of assistance. With this being their first year in operation, it truly felt organized and well thought out. They are so open to feedback as well. I had a few suggestions like offering mommy and me activities in the morning as well, incase other moms had afternoon nappers like me, and they were totally open to it!
I want to give a HUGE thank you to the entire Wanderlust Family Retreats team, and Monica for bringing me on for this opportunity. I can never thank you enough for the memories my girls and I made during this one of a kind trip and I hope we can do it again yearly.
If you are looking for an experience like this I definitely recommend it! Reservations for 2023 will be opening soon, and look out for presale in July. Join the waitlist to have access to the presale and be sure to use NICKI100 when you book for $100 off! Head to their site for more information!
Here are a few more things the Wanderlust Family Retreats team would like you to know:
They currently have Waitlists on their website to sign up for Catskills and Cape Cod Presale. Presale will open first to the Waitlist and they will receive $100 off and a complimentary Bespoke Experience of their choice.
The Catskills Presale will open July 18th, and the Cape Cod Presale will open during August.
Catskills Dates: June 12-15, June 26-29 (Mon-Thurs); Cape Cod Dates: Sept 14-17 (Thurs-Sun).
Payment Options for 2023

2 Payments of $1475 with the 1st due at time of booking, and the 2nd due 6 months before the retreat arrival date.
7 Payments of $435 with the 1st due at the time of booking, and the additional monthly payments made prior to the retreat arrival date.
Additional children are $350 each for those who would like to bring 2 or even 3 kids with them.
Wanderlust Family Retreats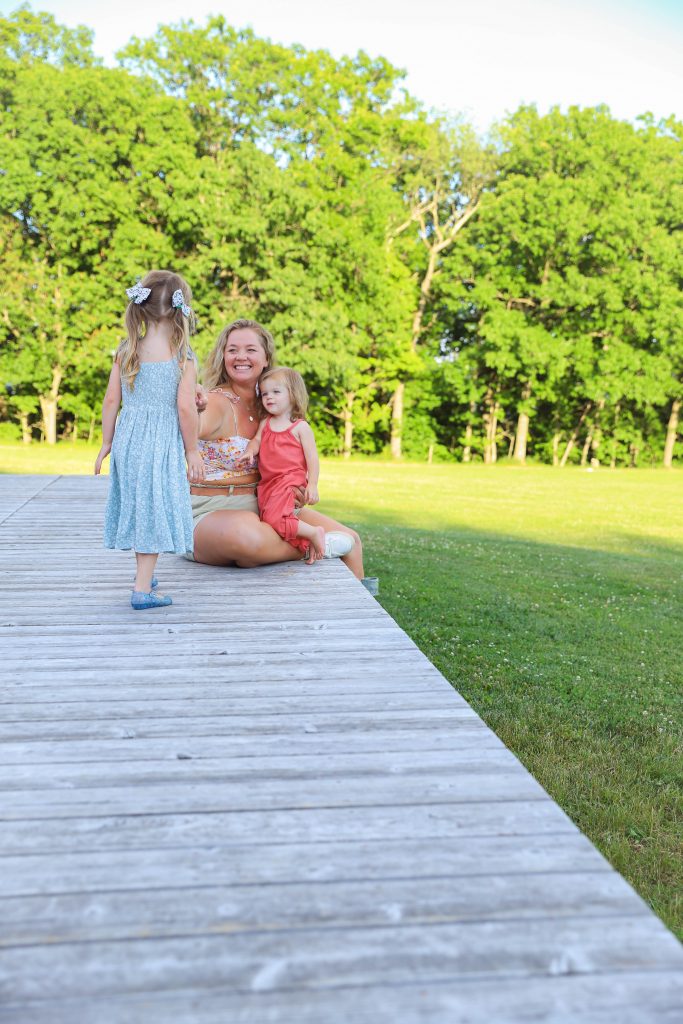 ---
We so often take time alone with our kids for granted. I found myself repeating a lot of the same things day in and out. I craved to break the cycle and needed a reset, and this retreat was a great solution. I know it can be a little scary thinking about going it alone on something like this. I will be honest and say I was so nervous. I started out only wanting to take Caroline, and then felt guilty for how much Ellowyn would miss out on. Although they both had a great time, this experience was most special for Caroline and I. Next year you may just see the two of us going together because she is in a prime age of curiosity, understanding, and adventurous spirit.
Wanderlust Family Retreats invites all children ranging from 3 months to 8 years old. I think 3/4-6 years old is a sweet spot. If you have more than one child, and your youngest is 3 or under and wild like mine, I would recommend leaving your first experience just to you and your oldest. There were times my youngest needed rest and my oldest craved adventure time with me and I was torn. I made it work but I hated to see my oldest a little let down because we couldn't go far while her sister napped. The WFR does offer additional assistance with watching baby monitors and child sitting in the afternoon as needed so don't be shy like me and ask a team member for help if you bring both!
There are so many wonderful aspects about being in nature with your little ones. Wanderlust Family Retreats being the complete self care experience, made my girls and I feel comfortable at every turn. It is wellness for you, and one of the best learning tools for your little ones. Overall the benefits of being outside together are far too great to ignore, and I hope you soak up every minute of it with them.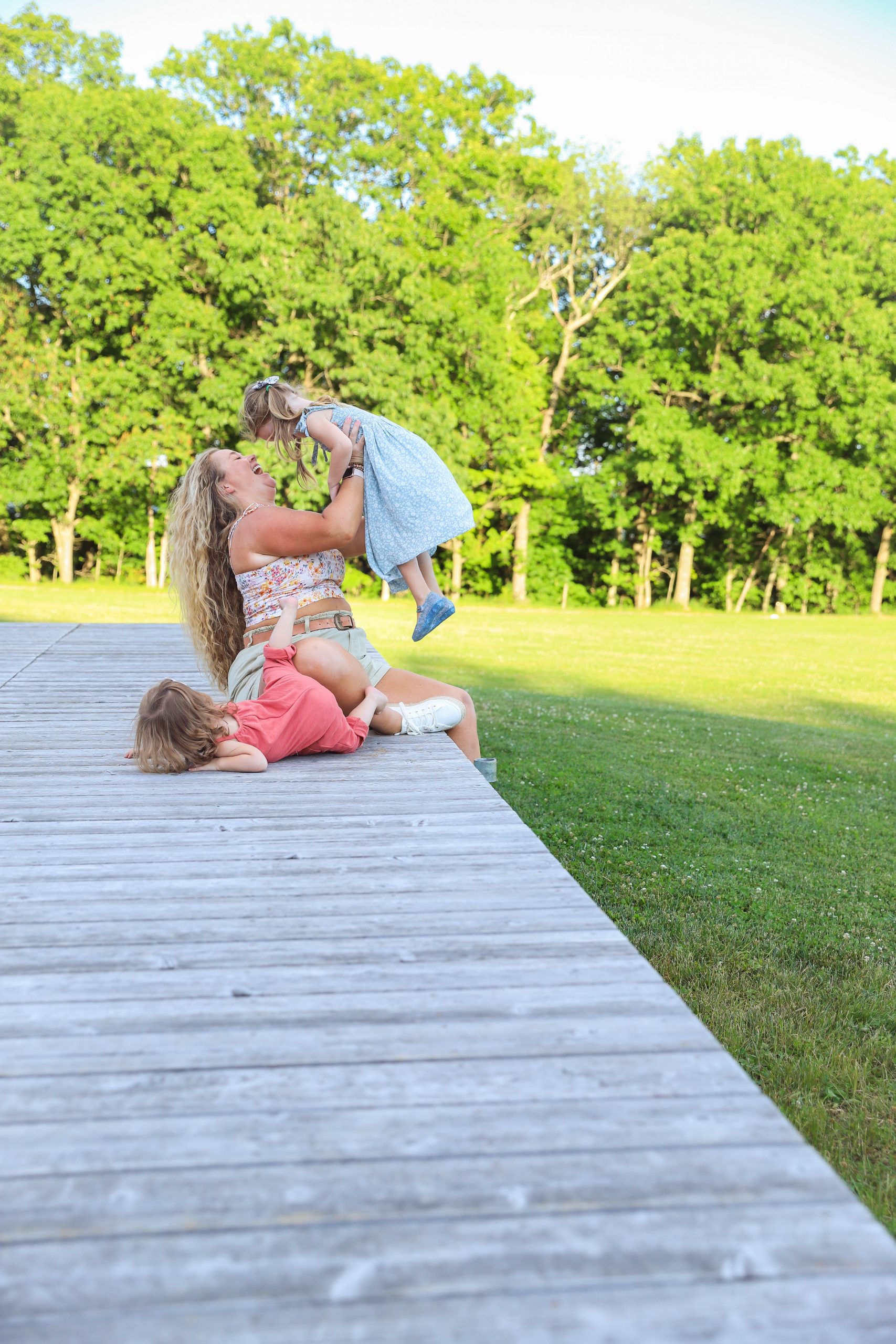 Thank you so much for being here. As always feel free to reach out to me via email at Hello@thebohodiaries.com or via DM on Instagram! I am an open book. If you have any questions for the Wanderlust Family Retreats team they are VERY responsive on Instagram DMs, as well as email at info@wanderlustfamilyretreats.com, and on their contact page I linked above.
Thanks for reading and chat with you soon!
---
Want More Family Friendly Travel Ideas?
CHECK THESE OUT!