Ever since moving into our new home I knew my first completed project would be Caroline's room. I really think it's a compilation of my tastes as a young girl mixed with my tastes now, and now that I'm an adult I have the power to make my visions come to fruition. Luckily, many of the staple pieces in Caroline's nursery were handmade from her loving Aunties (my besties). Literally, almost everything in there was made with love and given at her baby shower. Seriously, I said this in in a previous post but can't stress enough how amazing it is when you pick a baby shower theme you know you will be using in the nursery. On top of gifts, you take home priceless decor that helps the room come to life even quicker than you could have imagined ( or at least that's how it was for me).
If you saw the very first nursery we put together for Caroline you know that this look is very similar. It is still one of my most popular posts to date. If you missed it you can
get caught up here.
I really wanted another light color for her room and wanted to mix in a beach bohemian feel at the same time, so I went with Coral Reef by Valspar for her walls. I probably moved the furniture piece in her room around a hundred times. Morgan got sick of me yelling downstairs for his opinion because his answer was always, "Well do you like it?… Then I like it." VERY helpful babe thanks.. 🙂 I can honestly say I'm still not 100% satisfied with where they're placed not but I do love the openness of the reading corner and dress up area. It gives her so much space to play.
One thing I knew I needed to change up was her bedding. The
Marshmallow 3 Piece Crib Bedding Set
from Trend Lab adds the perfect amount of girly chic and neutral to the already colorful surroundings. It's outfitted with a solid white crib sheet, a long satin-like crib skirt, and a beautiful stitched blanket. Of course it's always good to have a spare crib sheet so I got the
My Tiny Moments™ Painterly Floral Photo Op Fitted Crib Sheet
because the floral ring perfectly matches the accents spread around the room. And who doesn't love an adorable photo opt like this one?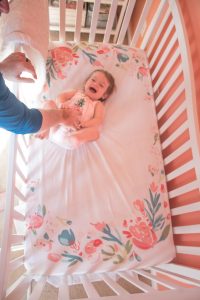 ---
The boho floral mobile was made by Caroline's Auntie Ashley to which I added more neutral rose vines to go with the coral walls a little better. Same for the spray on the wall above her dresser, which was made by her Auntie Sam. The canvas pieces hanging in the play corner were made by her Aunt Ashley (the Dream Big dream catcher picture) and her Auntie Leah ( the hand drawn skull head with floral crown). We got the sweet little
Coral Floral Plush Changing Pad Cover
to match with the coral walls and it's so soft. The biggest projects (other than painting and putting everything together) were the branch ladder, and the branch hanging wardrobe. I have DIY posts coming for those very soon but ultimately they were super easy! Another favorite piece of ours in Caroline's room is her new
Plush Pink Unicorn Chair.
From the moment we received it in the mail Caroline was crawling all over it and it's so plush and comfy! Every night we lay in that corner, she sits in her chair and we skim through books before bed. Trend Lab has so many cute characters to choose from so you can really find anything for any room theme!
As you scroll through the pictures I hope you feel the same joy I get when I walk into every morning, afternoon and evening. I think Caroline truly loves it and feels at home in it too because when we can't find her for a few minutes, she's guaranteed to be found in her here. If you are searching for nursery inspiration I hope this helps and if you have nay questions about something I didn't cover just comment or email me!
Thanks so much for being here! I hope you like, subscribe and share this post with someone you think will appreciate it and
Pin it to Pinterest!