This was a hosted stay from Hotel Ballast. All thoughts and opinions written are my own.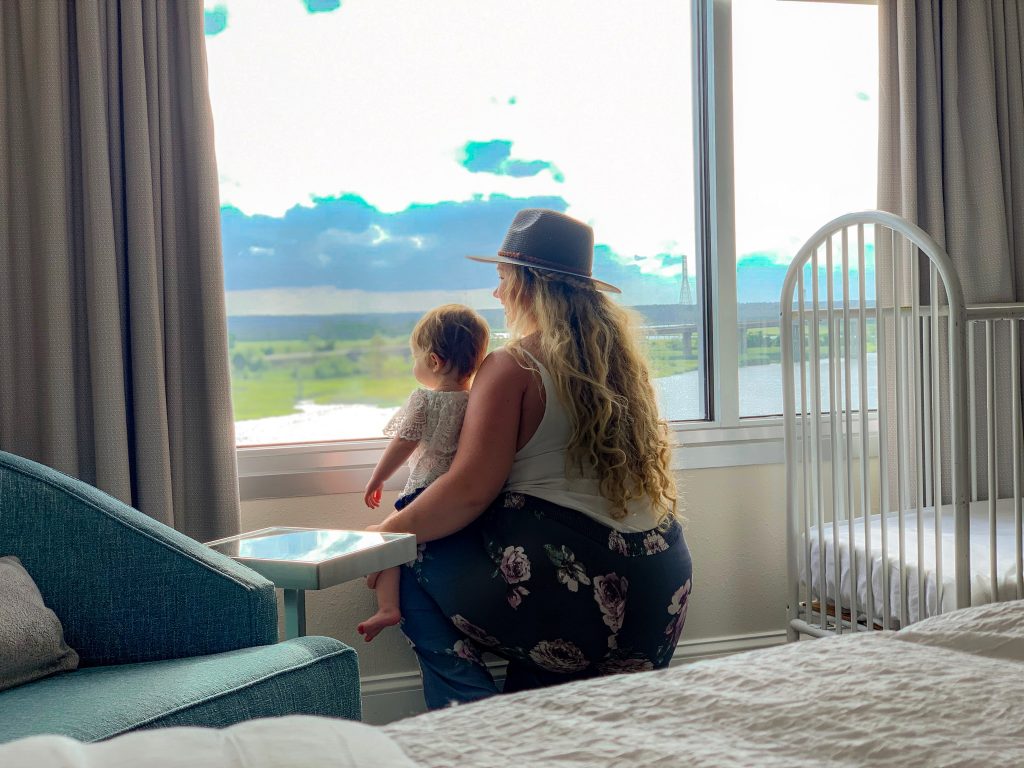 Summertime for me means two things, lots of family time, and travel. Summer offers the best weather, for the most part, to be certain you will have a beautiful vacation almost anywhere you go. Although I may give the illusion that my life is a vacation, being in NC is perfect for finding wonderful weekend getaways. To take off at the drop of a hat on a Friday and know you could head to the beach, a lake, the mountains, enjoy city life, it's all within an easy few hours drive. Morgan and I are trying our hardest to make sure Caroline has the best experiences and fun with her family. This past weekend we looked for a spot we could get almost all of those experiences in one so we took off to stay on the Wilmington riverfront at Hotel Ballast.
We really could've stayed there a lot longer than just 3 days, but even in that time we felt like we did so much. I had heard of this Hotel from friends who had been there for work functions, and just in their descriptions I thought, well this place also has everything for my family and I to enjoy a relaxing weekend. Our room was a king bed riverfront view and was the perfect size for my family of three. The staff had the room ready with a sweet little portable crib for Caroline, and we ordered an extra blanket from the front desk that was brought up within minutes. I really loved the chic aqua accents the hotel room had because it tied into the nautical location of the resort. You can see from the pictures our view was amazing, if you stay at Hotel Ballast you must get a river view. Watching the many boats go by and that sunset in the evening made the trip that much more enjoyable. We had wine and hors d'oeuvres that Morgan and I enjoyed throughout our stay.
If you get a moment, head over to my Instagram and watch the tour of our room on my Travel Highlights. The bathroom was my favorite, that tile was mesmerizing! The shower was huge and so nice. Since there wasn't a bathtub it made washing Caroline a little difficult but she's jumped in the shower with me a time or two so it was no big deal!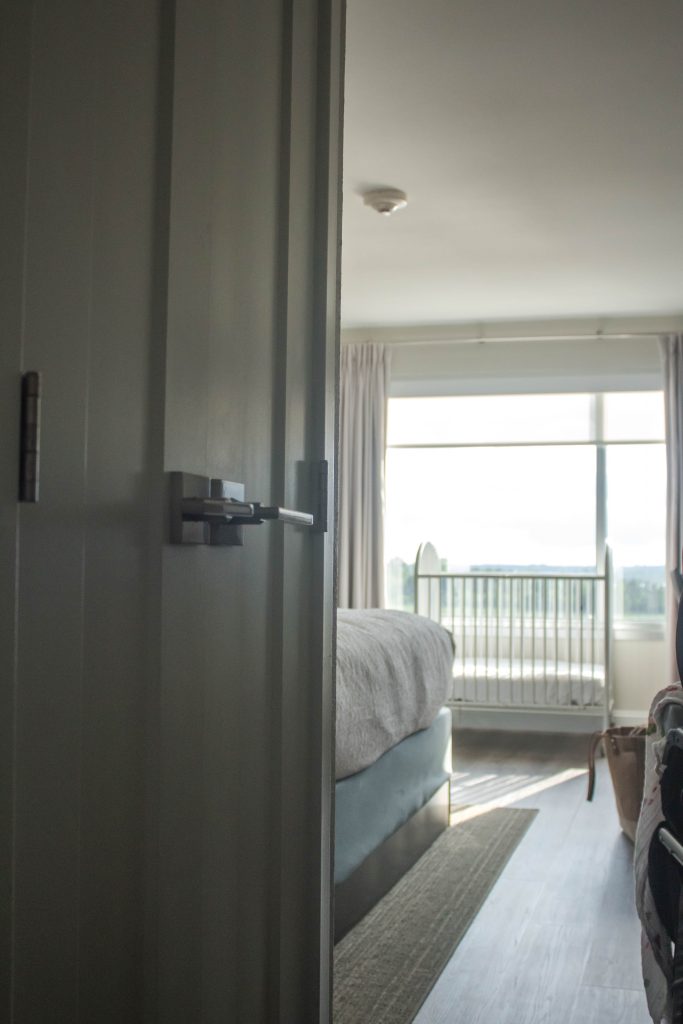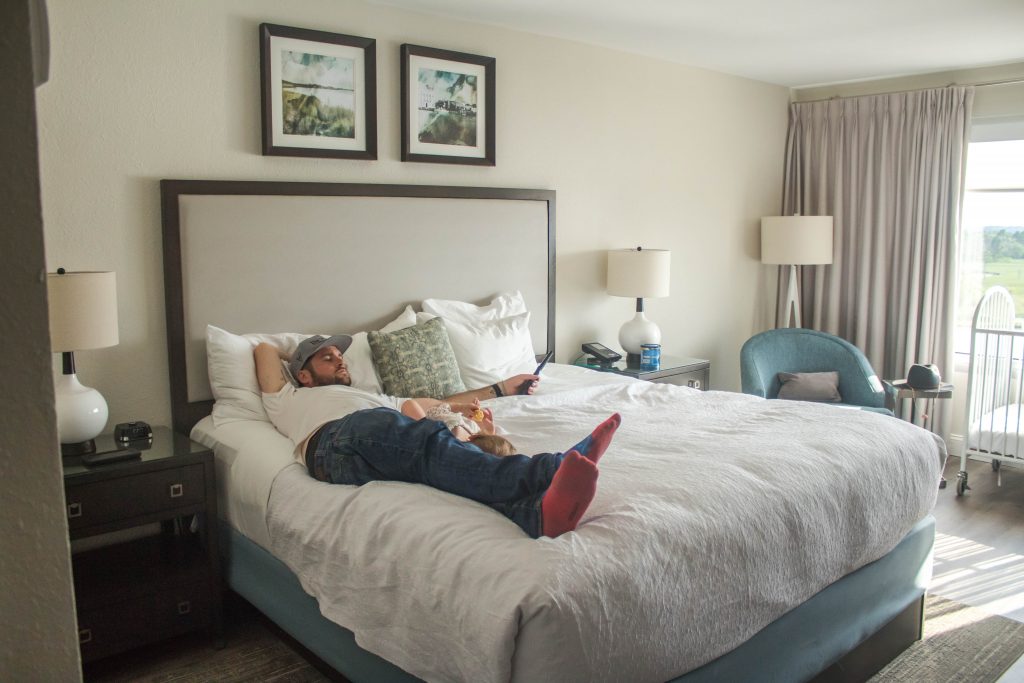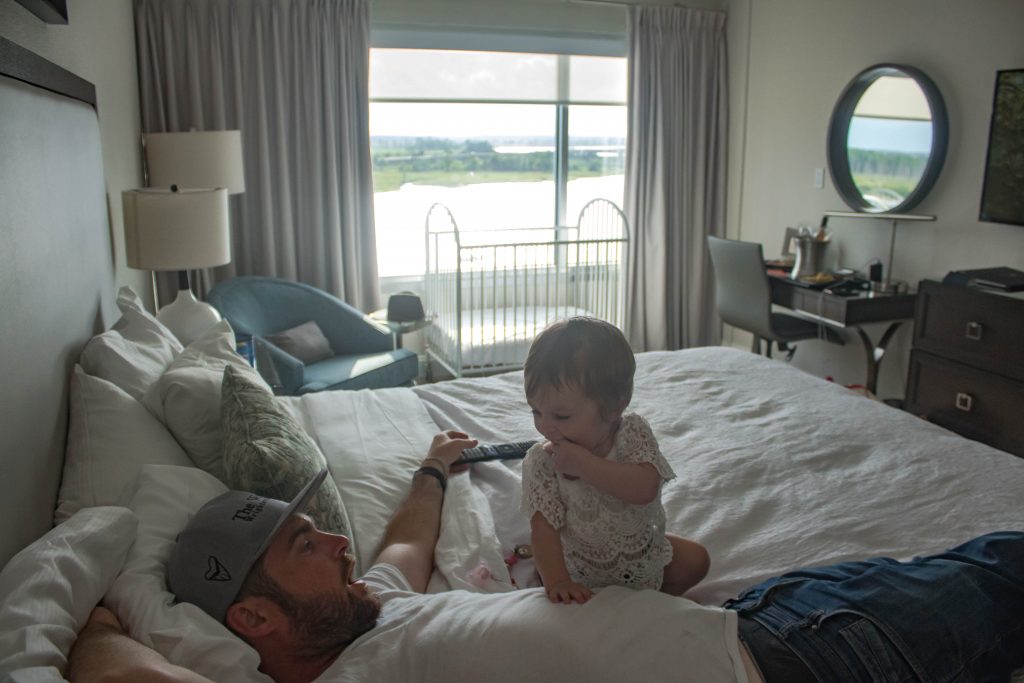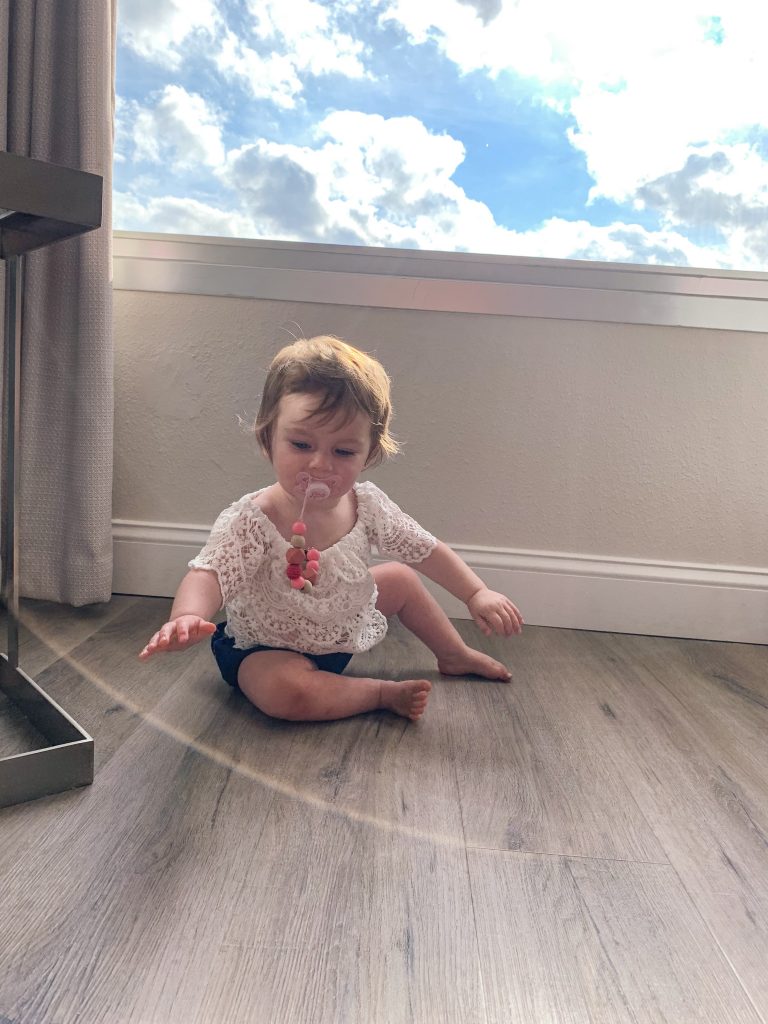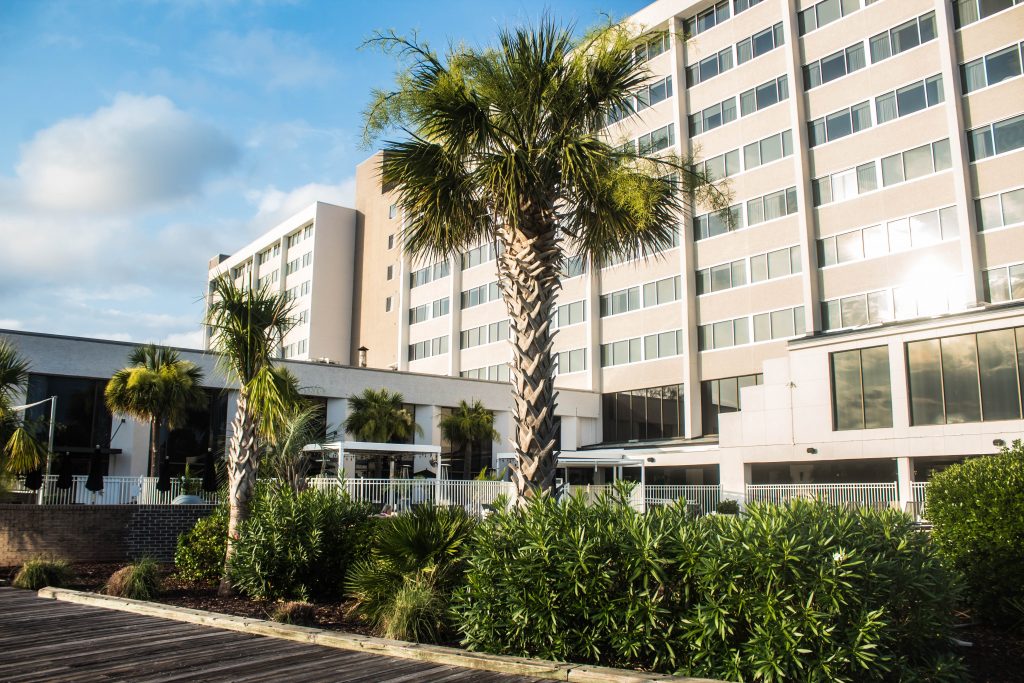 We had some beautiful sunset walks along the boardwalk which was right in front of the hotel and finished up our nights with beautiful evening swims under cotton candy sunsets. Caroline is becoming quite the little mermaid and loves being in the water now which makes having access to a swimming pool so perfect! So we swam at night to wear her out and would head up to our room once the sunset was gone.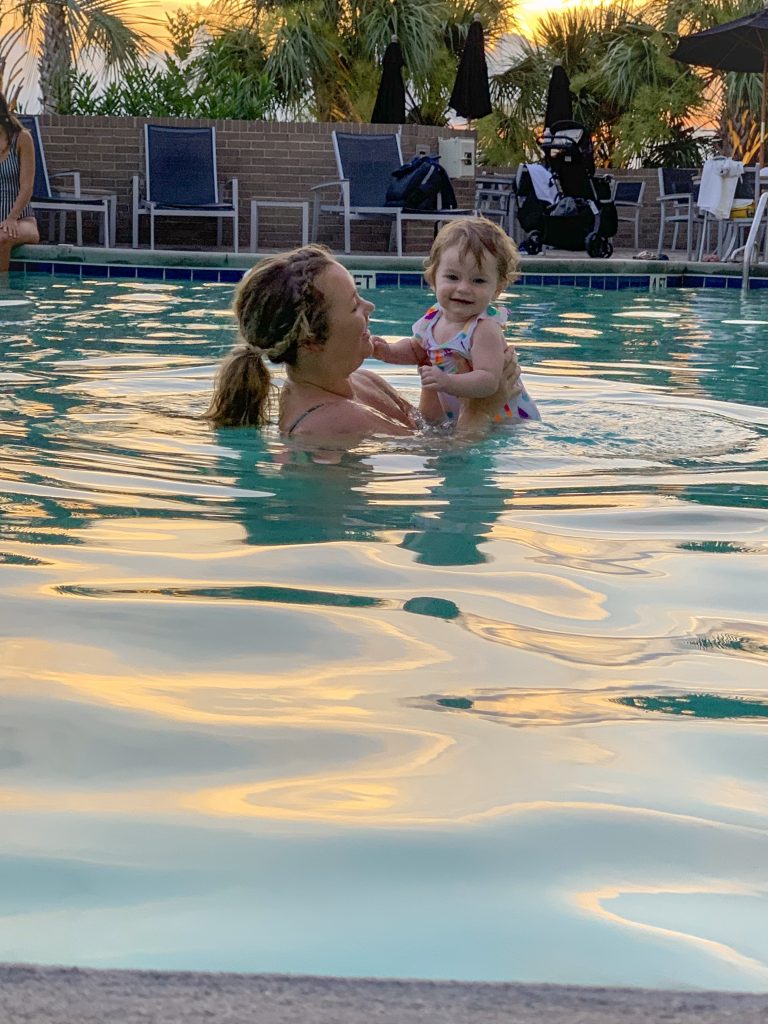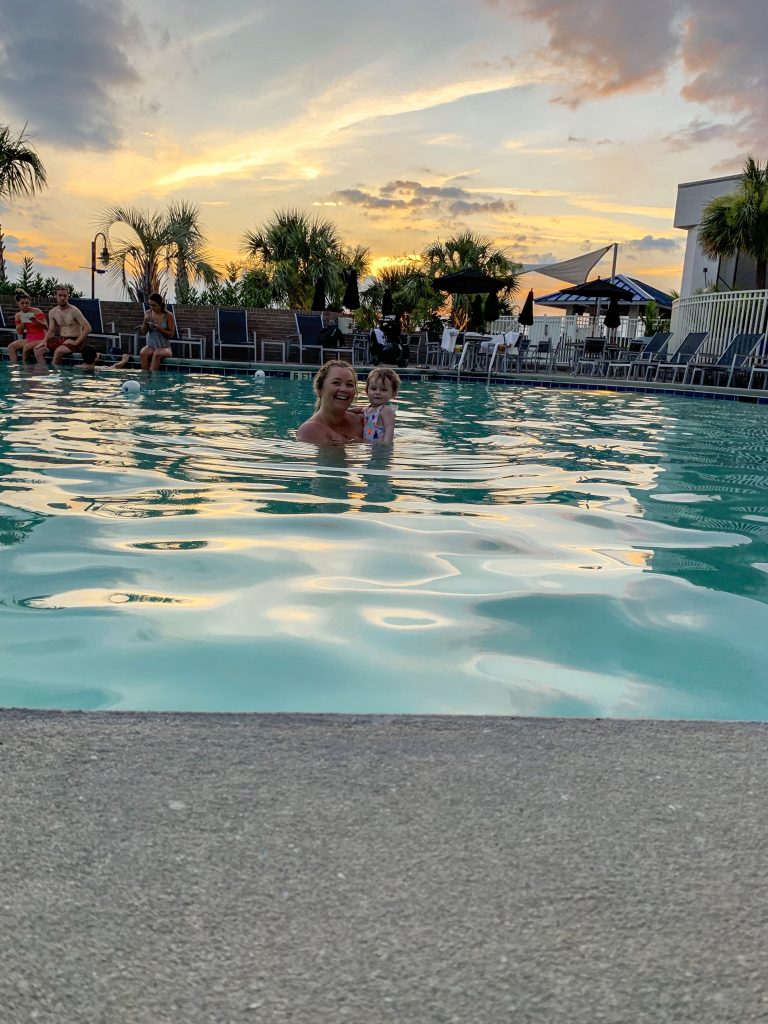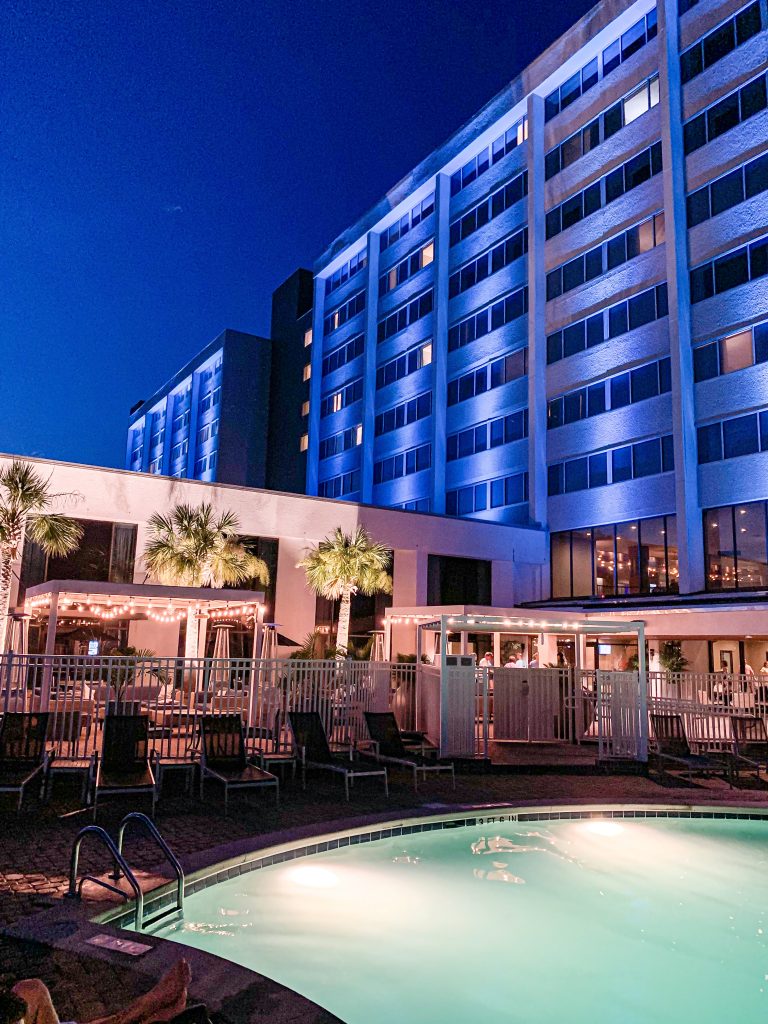 Are you a routine type of family? Sometimes it's easier if you get into some kind of routine when you have kids, even if it is on your vacation, but we found ourselves doing the same things in the morning probably because it was just that pleasant! Our mornings consisted of going down to the Buffalo Bayou Cafe in the hotel and getting some delicious coffee (hot for me cold for him of course 🙂 ) and a little breakfast snack for us and then walking around downtown Wilmington. The coffee at their cute little shop was DELICIOUS, no exaggeration I got it 4 times and it was the same level of yummy every time. I wish I knew the barista's name but sweet dark haired lady who works at the Buffalo Bayou you are awesome!
The Cotton Exchange was directly behind Hotel Ballast which has little cafes and cute shops, as well as there is a children's' museum up the street from there. We didn't quite make it there because we thought Caroline might need to be a little older, so we strolled around for a bit until it got closer to lunchtime.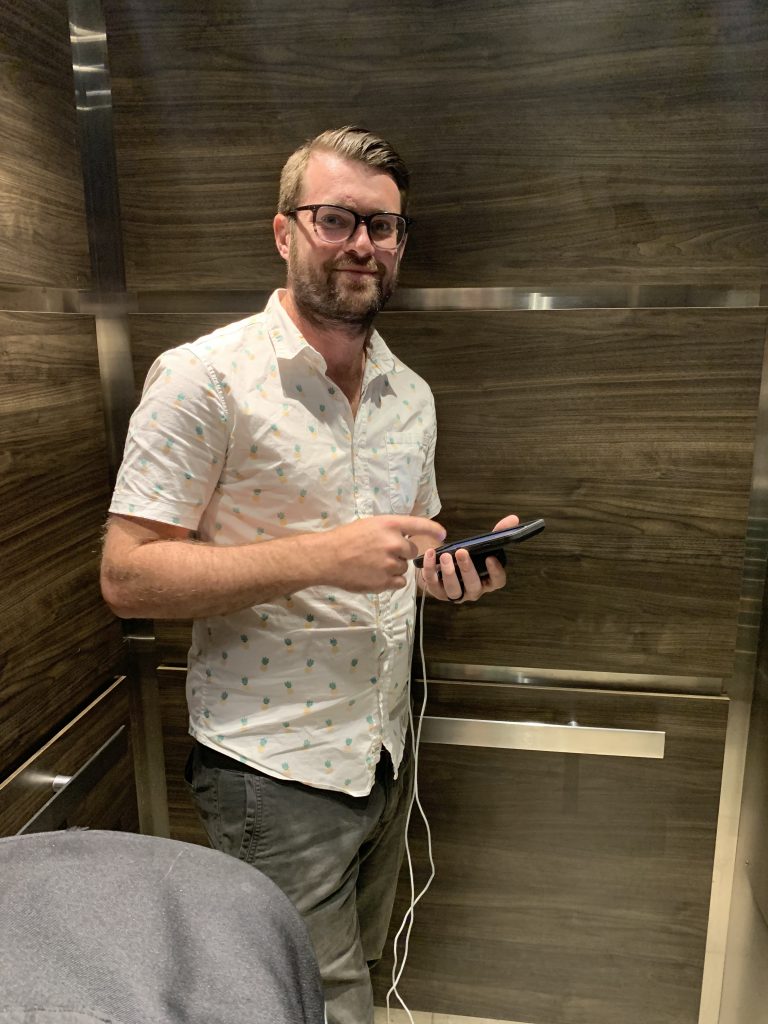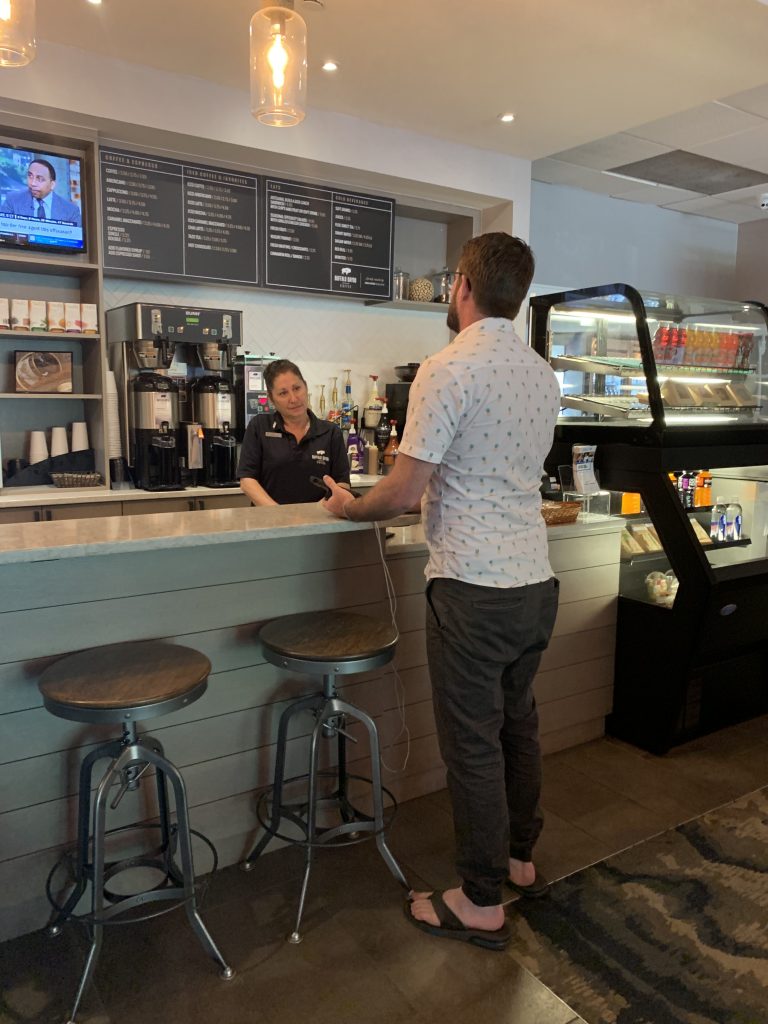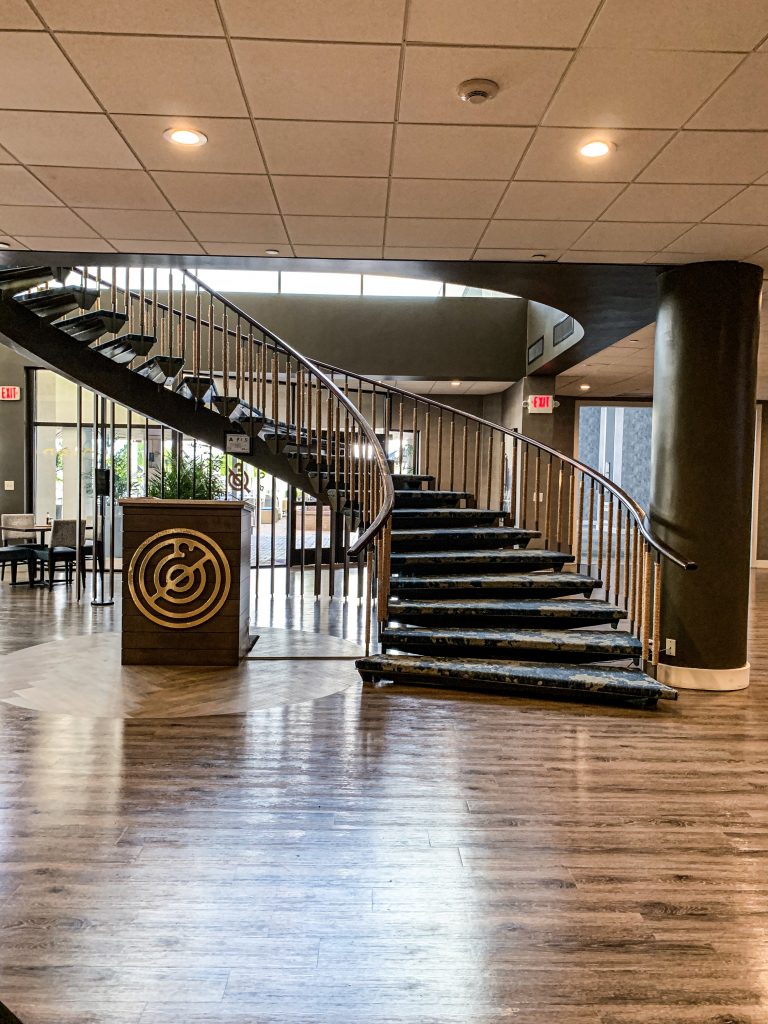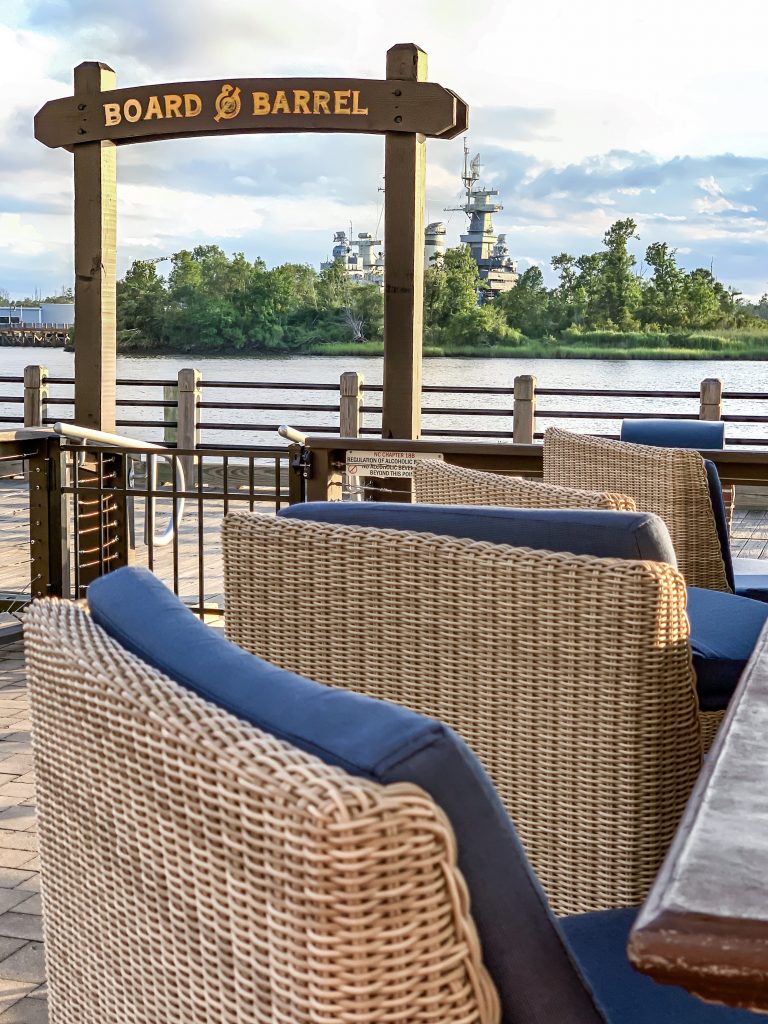 You can grab a great lunch at the hotel or choose from the endless options within walking distance of the hotel which is the beauty of its location! After lunch we would put on our bathing suits and head to the hotel pool to cool off. There were other families there too and Caroline loved watching the kids play. When she got tired we used the hotel's complimentary pool towels and bundled her up for a nap in the shade.
While she napped, mommy and daddy got to enjoy some fun summer cocktails and our own swim time.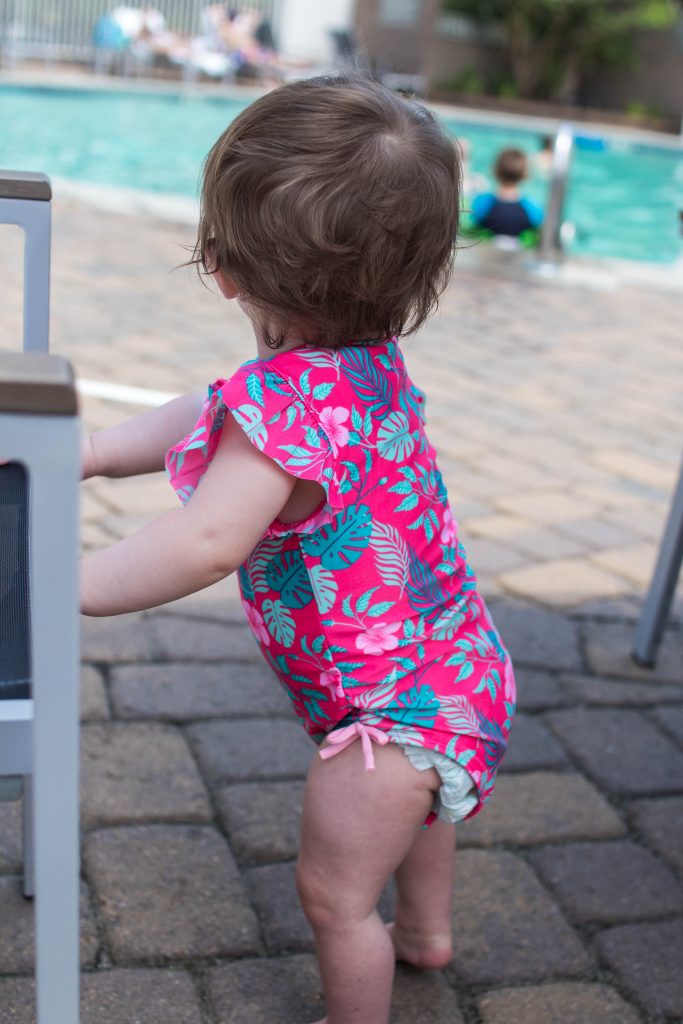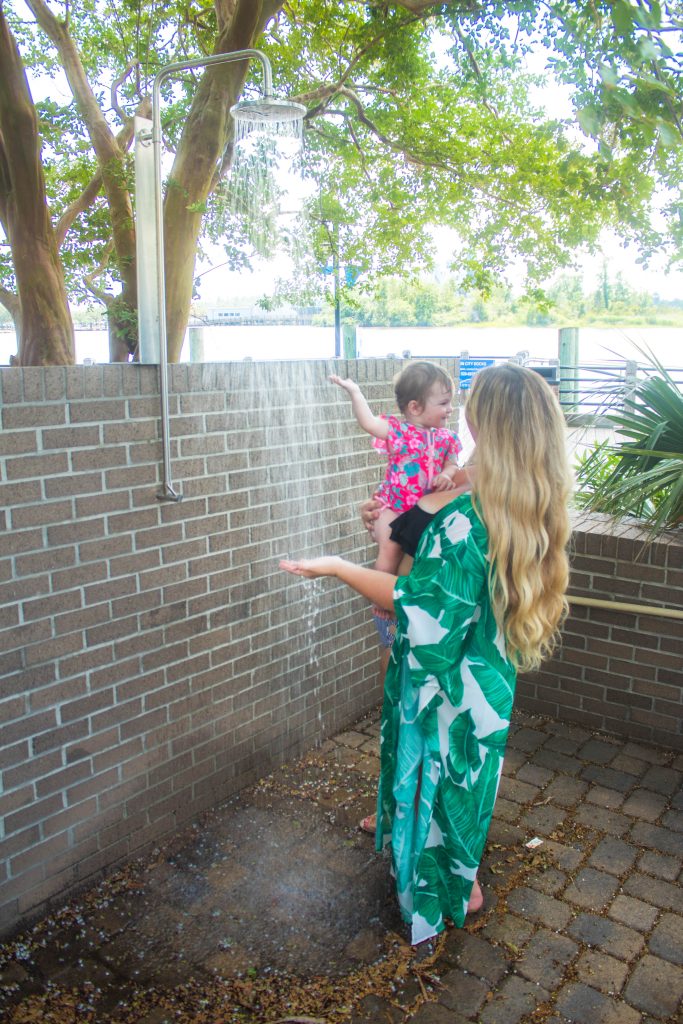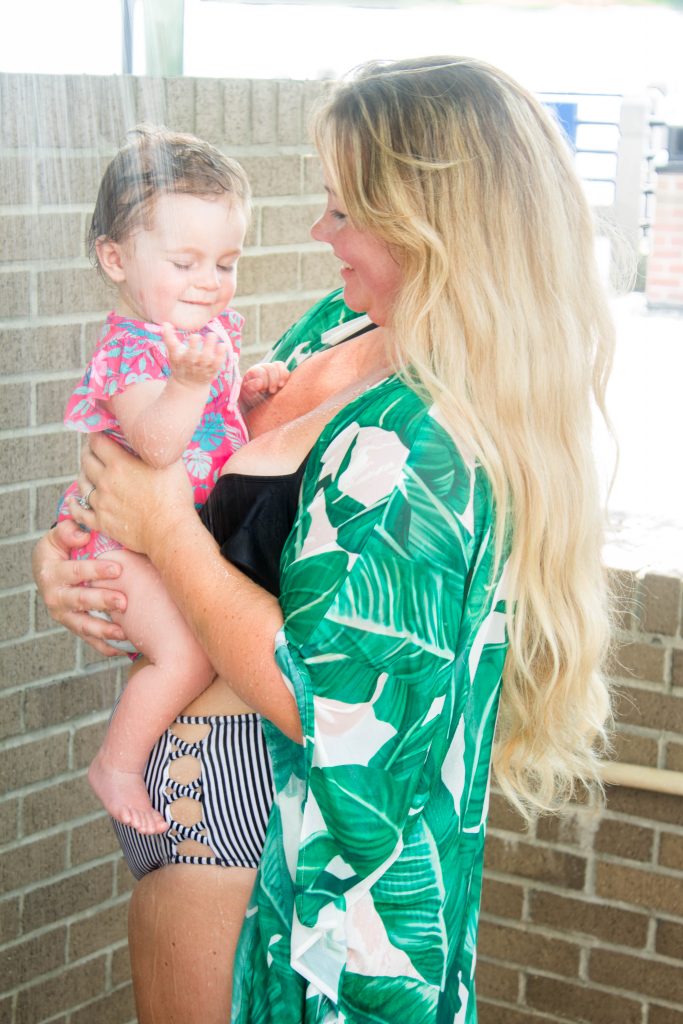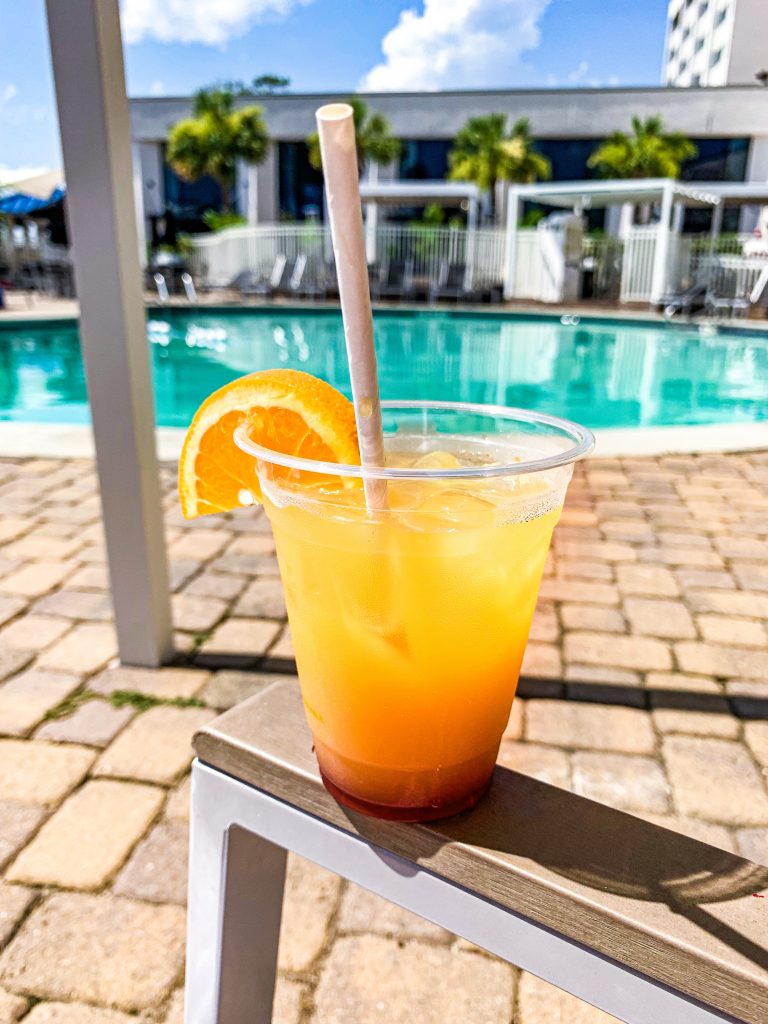 Hotel Ballast has a wonderful onsite restaurant called Board and Barrel that has a very southern, speak easy feel to it and can whip up some delicious cocktails. We tried the Southern Belle, Southern Charm, Tequila Sunrise, and Baybreeze. We had a couple nightcaps at the restaurant which was fun as Carolina just sat in the high chair and got all the sweet attention from the kind staff. We sat down for breakfast on our last morning and got the breakfast buffet and the chicken and waffles which were delicious! We recommend trying out Board and Barrel when you come to Wilmington! Just walk straight in from the boardwalk and you can enjoy your drinks on the cabana patio.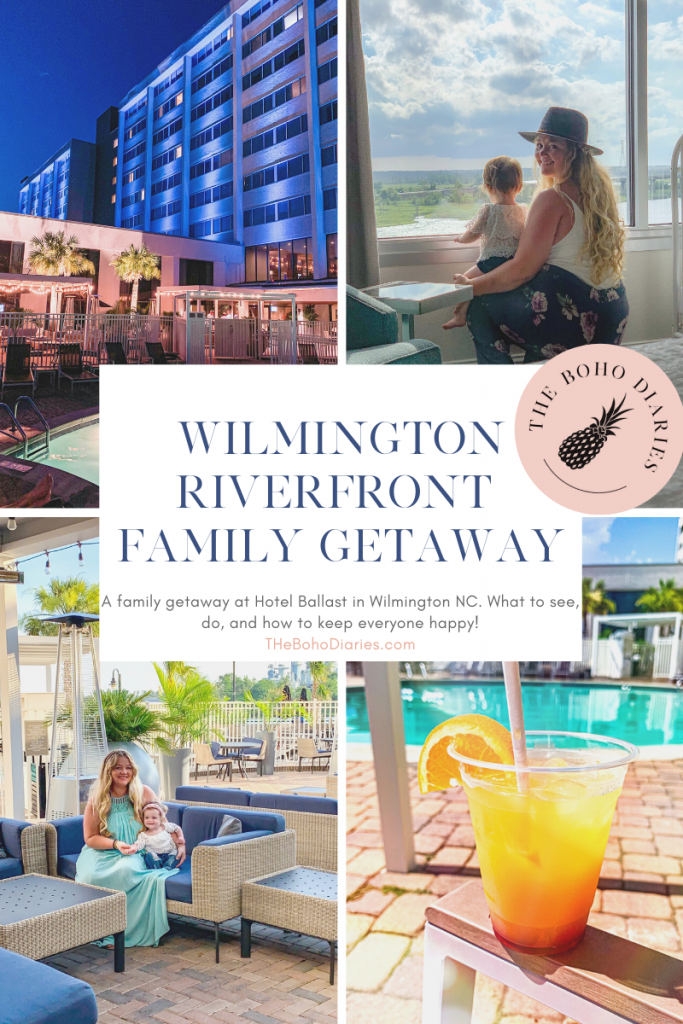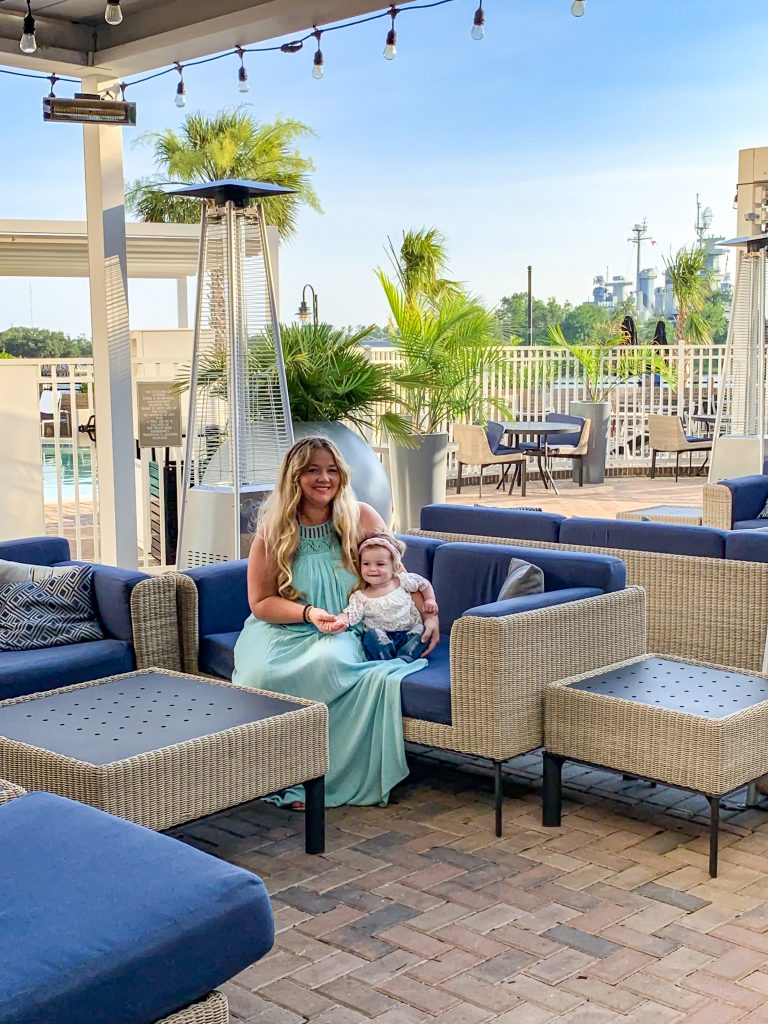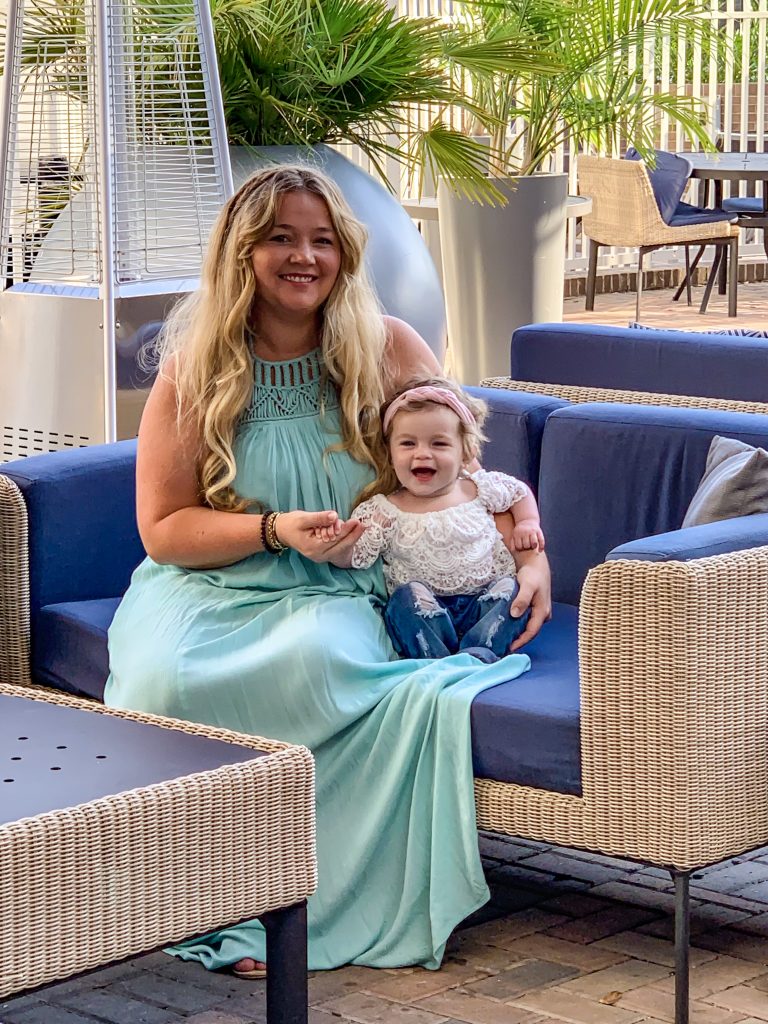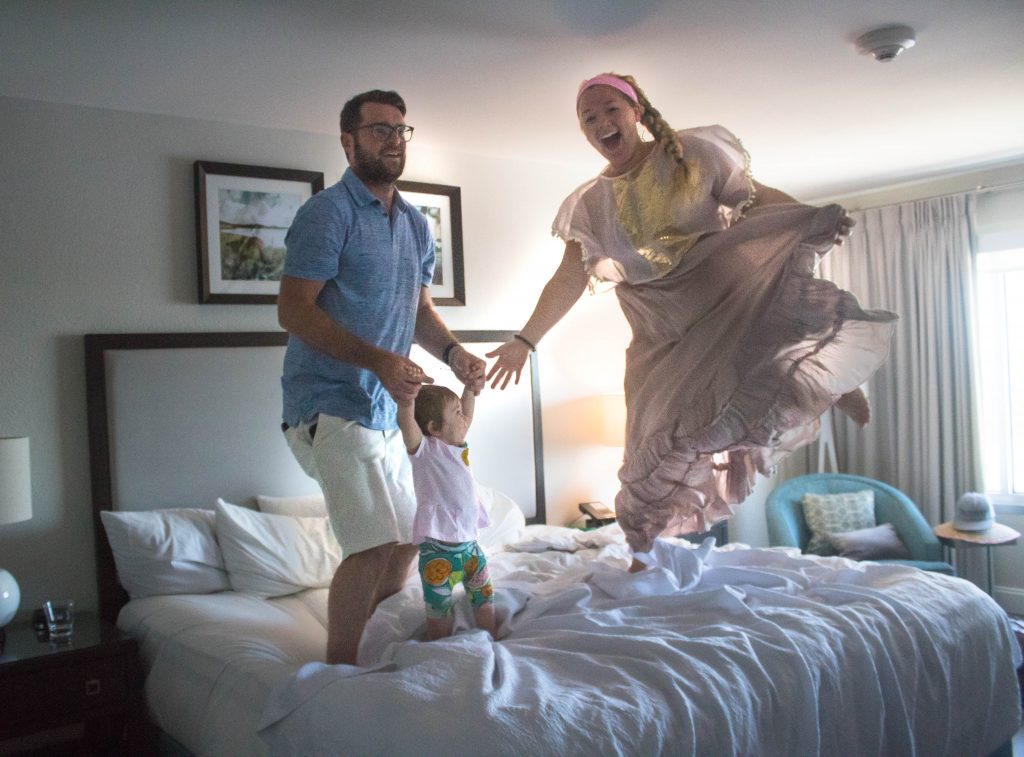 The walk to anywhere downtown was so easy and fun, and to hit the beach it was a quick 15 minute drive. We rounded up our trip with a visit to the NC Aquarium which was only about a 30 minute drive. Overall, if you're looking for a great place to bring your family for the most to keep everyone busy, Hotel Ballast has it all. Spacious rooms, great staff, beautiful pool area, a gym, nice restaurant and cafe, parking, and so much more! Tell them I sent you when you go!
Thank you so much Hotel Ballast we will definitely be back soon!